Week 4 of official marathon training is in the books, and some of Week 5…
And I have tired legos.
But first, I know that you are ALL wondering how our lizard is doing.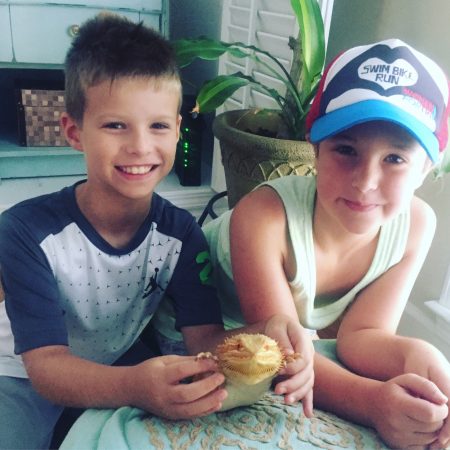 I'll be honest, this pet was not on my list of favorites when we got him.  He's a bearded dragon, and you can read about his homecoming last October here… but I wasn't thrilled about him.
But now, I just LOVE this darn lizard.  Named Matthew (because what else would you name a lizard? I was told that if we got a pig, that he would be named Bill.  Ah, the practical kids.)
If you are looking for a low-maintenance "cool" pet for your kids, bearded dragons are really awesome. They require a little bit of "up-front" investment (habitat and light) and they eat LOTS of live food for the first 6-7 months, but then they become mostly vegetarians, and are so easy. He's a cool lizard and has a personality and an Instagram too, because I was told that too many lizard pictures were creeping out the SBM Insta.
Okay, so that's the lizard update.  Not that you asked.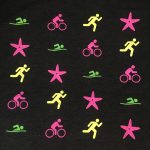 Now, the Running Update
The last week was a 25 mile week, plus 5 miles on the elliptical, so that's a long week for me and (knock on wood), my body is holding up ah-maz-ingly.
I am trying to remember the last time I have run that much – it's been a while.  A really, long while.
Also, I got to experience the Race Chair.
For those late to the party, I am running the Marine Corps Marathon in October as a pusher for this sweet boy, Logan, benefiting the Kyle Pease Foundation.
I am doing this marathon AND the training with the Galloway Method, as I mentioned in the Week 1 update.
Changes to the Race
In the beginning, we thought that perhaps Logan's mom would run as well—I would push, and she would run.  Now, it's officially going to be me running and pushing solo.
There's a fundraising requirement for Logan as well to participate in Marine Corps. I have agreed to take on Logan's portion of the fundraising, so it's one less thing for his mom to worry about.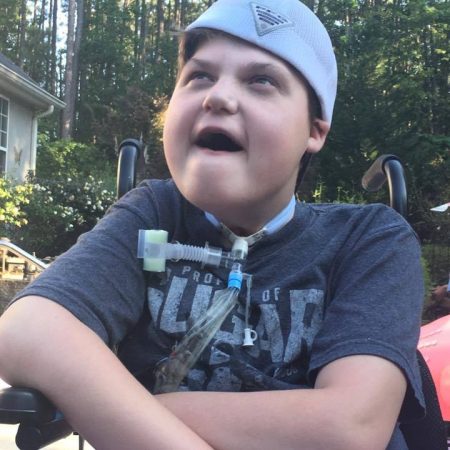 That means that I am raising my fundraising goal to $12,000, which I guess is no small task. We have amazing support for the GIVEAWAY raffle (see bottom of this post), where ANY donation amount makes you eligible for some fantastic prizes.
Scheduling Thoughts
Here's the last week, and half of this week.  Lots of green-o in the Training Peaks.
| | | | | | | | | |
| --- | --- | --- | --- | --- | --- | --- | --- | --- |
| | Monday | Tuesday | Wed | Thursday | Friday | Sat | Sun | TOTAL |
| Week 4 | 4 Miles | 7 Mile | Elliptical | Strength | Strength | 2 miles | 12 Miles | 25 miles |
| | (Tempo) | (Zone 2) | 1:30 | | | Yoga | Race Chair | |
| Week 5 | Yoga | 3 miles | 8 miles | | | | | |
| | | Strength | Zone 2 | | | | | |
Sunday – Long Run with the Race Chair
I picked up the race chair last week from Cannon Cyclery, and I was so intimidated by the task at hand… not gonna lie.
I procured a 50 pound sand bag and hauled up a kettle-bell from the basement to ride as my passenger. I figured I didn't want to put a kiddo in it on the debut run… just to make sure I could operate it. I know it's not rocket science, but you know me.
Klutzy.
The chair is a REALLY tight fit into a Honda Pilot – which is a big car with the seats down.
As I pulled up to the place to run, the rain started. Whomp, whomp.
But like my coach always said, it can rain on race day – so I always train in rain if that's what the day is giving me.
My plan was 12 mile run with 6 with the chair.
I ended up pushing the race chair for 9 of the 12 miles, and it was interesting. Hard, but not. Uncomfortable, but not.
The first mile, I thought, "I can't do this. Not for a marathon."
But I stopped on the side of the road, and got my sh*t straight. Mental toughness is EVERYTHING, and I knew that there was exactly ZERO time to waste on "I can't."  So I had a 10 second tantrum, and went back to work.
Definitely glad that I am practicing with it, but not sure how much practice I will continue to do with the chair—would love some feedback on this from pushers… do you keep running with the chair?
I can tell that the strength training is paying off majorly. Dani Grabol suggested that I work my lats, shoulders and obliques big time, so I spent a good deal of time doing that this week AND yoga… definitely can tell that is one benefit of being me… burly and strong as an ox. 🙂
I managed 12:30 pace with the chair for 9 miles – so I am thrilled with that.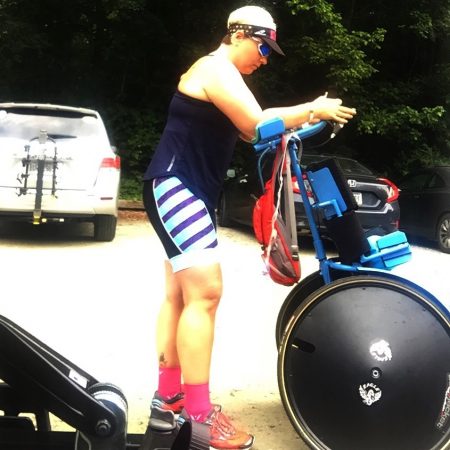 What I Ate on the Long Run with the Race Chair
I had a breakfast of coffee, almond milk, MCT oil, banana and nut butter.
During the run, I had a Huma Gel, and a Larabar.
I ran for 2:30 with Nuun electrolytes and 60 ounces of water in a Camelbak.
Note: the run was HIGH Zone 2, with some Low Zone 3, which is why I ate a little more than last week. Pushing the chair also expended a little more, I'm sure.
I am using Metabolic Efficiency way of nutrition—teaching my body how to be a better fat-burner has been the single-greatest nutritional gift.  It's not an easy or fast process for me, but it's been worth the journey.
It's interesting to me how much nutrition makes a difference in ALL things… from depression to joint pain to training. When I kill the gluten and sugar, my left knee stops hurting and my skin improves. When I cut back the dairy and sugar my head doesn't itch (weird, I know).  Sugar makes me sad–first happy, then sad.  It's good to dial all this in… to make choices and know what is happening to my body.
I really like MET nutrition because of the way my body is using it's most plentiful natural resource for fuel (fat). Ha.
How Training Went
The last 10 days have been great for training and consistent. I hit all my workouts and my nutrition has been great.
Despite some life challenges, I had a really solid training week and am thankful for this opportunity to run with Logan.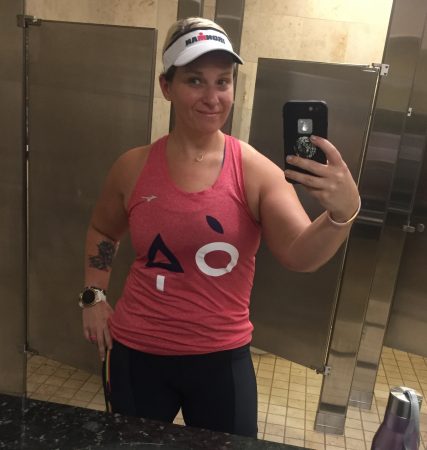 On tap for this weekend is 18 miles over two days (13 one day, 5 the next), and I am feeling good about it.
Legs are tired, but not broken. The rest of me is holding up well too. Again, knock on wood.
Until next week… 🙂
#TeamLoganSBM #KPFMCM2017
---
Giveaway! NEW with a Donation
If you make a donation to Team Logan, you can then enter the Team Logan MCM Fundraiser Mega Prizes Giveaway, where we have amazing donations:
Saris SuperClamp EX Four Bike Rack
Swiftwick Socks
Tailwind Nutrition
Huma Gels
Klean Athlete supplement bundles
Cycling goodies from Cannon Cyclery
Goggles from Roka Sports
jewelry from Athlete Inspired, and more.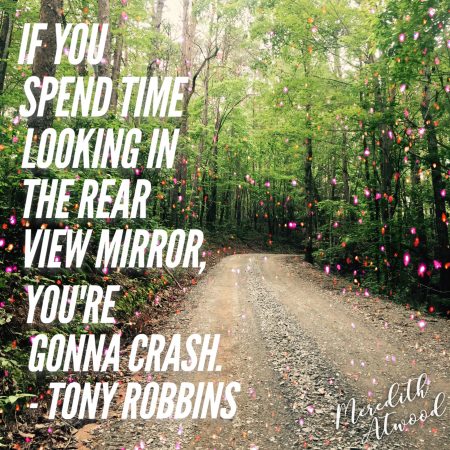 All you have to do is make a donation (any amount) here, and you will be eligible to enter!  Simple as pie. (Mmmmmm, pie.)
To learn more about the race, Logan and more, please make a donation (no matter how small) to help reach our goal of $10,000 raised for the Kyle Pease Foundation.
Each child costs over $3000 to get to a race like Marine Corps. The good news is that in just two weeks, we have reached $3000! So THANK YOU all who have donated—-$5k to go!
With this fundraising, we will cover the cost of THREE children to have this amazing opportunity at this race OR in the future.  #stoked
Go here.