Week 5 of official marathon training is complete. The Giveaway is also well under way – thank you to all who have participated!
The Overall Life and Training Update
I have run 43 miles in the last 8 days–which may not seem like a lot to some, but it is a LOT to many, and a lot to me.  I feel great. Really. Tired, but good. Not any more tired than any other day, I guess.
I released the SECOND Edition FREE book of "Triathlon for the Every Woman" last week. If you haven't snagged your free copy, please feel free to go grab it.
I have adjusted my training schedule to lessen the strength training (lower body) load, and crank up the yoga and upper body strength.  For those just tuning in, I am running the Marine Corps Marathon in October as a pusher for a sweet boy, Logan, benefiting the Kyle Pease Foundation.
I need upper body strength for pushing, and lower body for running. In other words, this type of marathon event is more of a whole-body type thing. 🙂
I am training and plan to race with the Galloway Method, as I mentioned in the Week 1 update.
Changes to the Race
In the beginning, we thought that Logan's mom would run as well—I would push, and she would run with me. Now, it's officially going to be me running and pushing solo. There's a fundraising requirement for Logan as well to participate in Marine Corps. I have agreed to take on Logan's portion of the fundraising, so it's one less thing for his mom to worry about.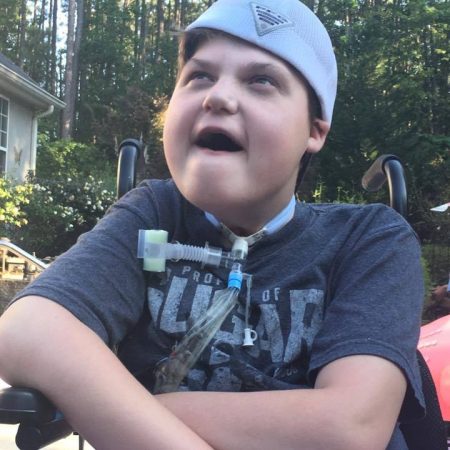 That means that I am raising my fundraising goal to $12,000.
We have amazing support for the GIVEAWAY raffle (see bottom of this post), where ANY donation amount makes you eligible for some fantastic prizes.
Scheduling Thoughts
Here's the last week, and half of this week.  Lots of green-o in the Training Peaks.
| | | | | | | | | |
| --- | --- | --- | --- | --- | --- | --- | --- | --- |
| | Monday | Tuesday | Wed | Thursday | Friday | Sat | Sun | TOTAL |
| Week 4 | 4 Miles | 7 Mile | Elliptical | Strength | Strength | 2 miles | 12 Miles | 25 miles |
| | (Tempo) | (Zone 2) | 1:30 | | | Yoga | Race Chair | |
| Week 5 | Yoga | 3 miles | 8 miles |  Yoga | Off | 13 miles | 5 miles |  29 miles |
| | | Strength | Zone 2 | | | | Speedwork | |
Saturday- Long Run  
I decided against running with the race chair this week for several reasons.
I talked to many "pushers" and they said the benefit is finding out how to be most comfortable and doing a few runs with it. Plus, it was going to be hotter than Satan's lair this weekend, and I was already pretty fatigued.
So I did the 13 mile run solo with no chair, and also tried to stay in Zone 2.  I am slow in Zone 3 and 4, let alone Zone 2, so running for me is always a lesson in patience, persistence and the power of positivity.
At Mile 1, I was not digging this running thing. I was lethargic–majorly–and I didn't know why. I was pouring sweat.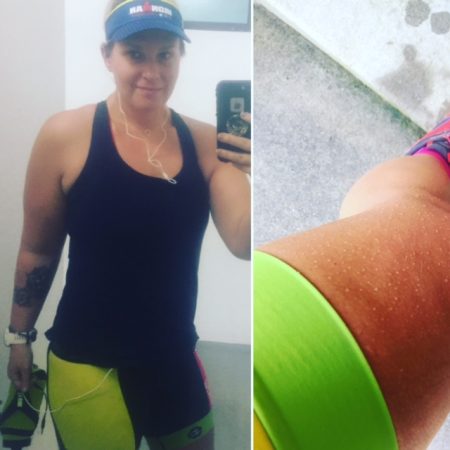 Every mile was a pep talk, and by the end, I was doing a weird version of the IRONMAN shuffle, then a walk, even though I didn't know why.
It was VERY hot. I got it done. Sometimes I feel like, "yeah I always do."  Speed is frustrating, but marathon training suits me – it's a long, slow game for the most part, which is my specialty.
I am doing speedwork 1-2 runs a week, and that's definitely a good thing.
More good: my feet were great. My current formula: Brooks Transcend, Swiftwick socks FOURS and Trail Toes lube – I have been really pleased with this combo—I used to have blisters and hot spots creep up after 8 miles of anything–but I think I have found the magic combo after the Footpocalypse mess in Lake Placid in 2015.
What I Ate on the Long Run 
I had a breakfast of coffee, almond milk, MCT oil, cashews, and 8 Mary's Gone Crackers.
During the run, I had 2 Huma Gels, 4 Nuun tablets. I ran for 3:05 and I could have used a little more fuel on this run… but my stomach was ick, and I just wanted to get through it.
Note: the run was mid-Zone 2, with some Low Zone 3, which is why I ate a little less than last week, but could have used more.
Nutrition Methodology: I am using Metabolic Efficiency way of nutrition— which means less sugar-fuel and more efficiency in training nutrition (and every day nutrition).
How Training Went
The last 15 days have been great and consistent.
I hit all my workouts and my nutrition has been okay, save a head-first dive into key lime pie this week. It's those little things that make me realize how much I NEED to eat healthy–for my body and mental state. Sugar makes me mean and sad. 🙂
Despite some life challenges, I had a really solid training week and am thankful for this opportunity to run with Logan.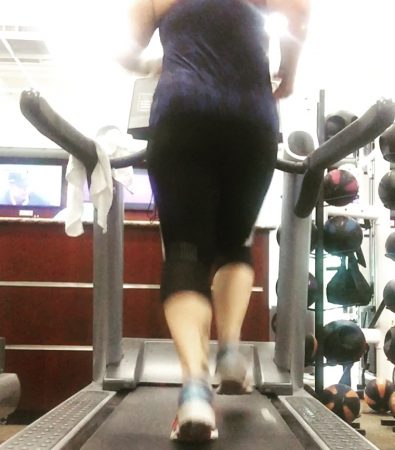 I have a 14.5 mile run on Wednesday, which will be my longest since Ironman training in 2015.
I am skeered. I am tired, but not broken. The rest of me is semi-holding up well too.
Until next week… 🙂
#TeamLoganSBM #KPFMCM2017
---
Giveaway! NEW with a Donation
If you make a donation to Team Logan, you can then enter the Team Logan MCM Fundraiser Mega Prizes Giveaway, where we have amazing donations from these sponsors:
Saris SuperClamp EX Four Bike Rack
Swiftwick Socks
Tailwind Nutrition
Huma Gels
Klean Athlete supplement bundles
Cycling goodies from Cannon Cyclery
Goggles from Roka Sports
jewelry from Athlete Inspired, and more.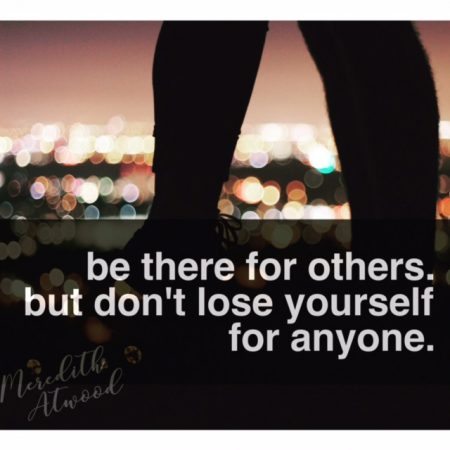 All you have to do is make a donation (any amount) here, and you will be eligible to enter!
Simple as pie. (Mmmmmm, pie.)
To learn more about the race, Logan and more, please make a donation (no matter how small) to help reach our goal of $10,000 raised for the Kyle Pease Foundation.
Each child costs over $3000 to get to a race like Marine Corps. The good news is that in just a few weeks, we have reached over $5000! So THANK YOU all who have donated—-$7k to go!
With this fundraising, we will cover the cost of FOUR children to have this amazing opportunity at this race OR in the future.  #stoked
Go here.