In 2002, I remember distinctly this one "date" night. I spent time carefully putting on my make-up, styling my hair in a way that was appropriate for a night out.
And then I threw my arms into a thick black cardigan, black pants and a giant black purse.
It was August in Georgia, and the temperature was sweltering.
(Again, I was wearing a cardigan.)
Why was I wearing a cardigan in Georgia in the middle of August?
Well, for starters, I hated myself.
Pure and simple. I hated myself enough for my skin to be completely hidden, to heat up and sweat through the make-up I had spent so much time applying.  To soak my hair, that I had spent time flat-ironing. To go to such great lengths to hide my large arms.
The date night was ruined, because I was miserable.  I was sweating. I was hot. I was gross.  And it was all about hate. Just pure and simple hate for the skin I was living in.
I look back on it, and I can't figure out why or where all that hate came from. I knew I was "fat" and I had struggled with my weight my whole life, but by this time, why was I still fighting with myself?
I still don't know what it was all about back then.  But I know it was real.
I have spent the last few days on Spring Break with the kids, my two friends and their kids. The Expert and I were both caught in the Atlanta weather-Delta-debacle on Wednesday.  My flight with the kids eeeked out at 10:45pm and we arrived in Florida 17 hours from the time we left the house. His flight from DC prevented him from getting out of Atlanta that night and also on Thursday.  We didn't bother on Friday and good thing, since Delta cancelled yet another thousands of flights on Friday and Saturday. What was supposed to be a family vacation turned into something different—but it's still been a good trip for the kiddos.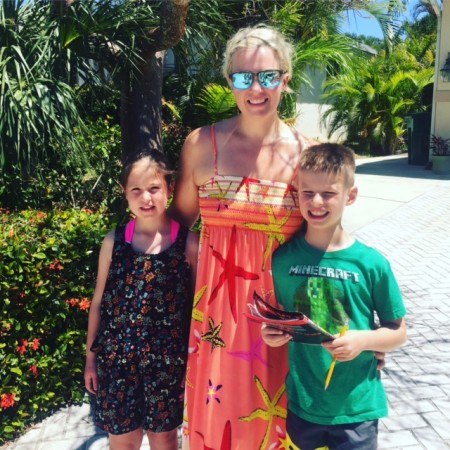 And during said trip, I brought a bikini or two.
And while I haven't necessarily been "loving" my skin lately, I have crossed a few bridges this trip.
Number One:  In the event that I think I *might* have a trip where I have a 1:30 flight AND the entire trip takes from 9:30am until 2:00am the next day, I will just drive.
Number Two:  My body will seriously, like never, be perfect.  My body is a roadmap of scars and stretch marks and loose skin, and a whole mess of stuff that I can't even describe at this point.  John Mayer did not have me in mind with "Your Body is a Wonderland."  Maybe "Your Body is a Funhouse."
[Why not? Sure it can be scary and fun, all at once?  Yes.]
Number Three:  When our bodies have the ability to do things (like travel and run and walk and surf and quilt), then we should DO these things IN our bodies – and rejoice in the skin we are in.
Sometimes I think (and I know) that it feels impossible.
But then, I think back to my "sweater wearing days" (as the Expert likes to call them), and I wonder why in the world I deemed myself so awful that I could not bear to show anyone my arms… that I would rather sit in a cardigan in the hot as balls Georgia sun than show anyone my arms?
Because really, no one cares what my arms look like.
People are too busy wearing their own cardigans and hiding their own flaws to even notice that I was wearing a cardigan.
When I made this realization, I thought to myself: "Self!  If no one cared that I wore cardigans in August in 2002, does this also mean that no cares that I NOW wear bikinis in 2017?  And not like the high-waisted bikinis. But a small one where my mom-pooch can escape, a bottom where there are stringy-things, and a top with no boobage support whatsoever?"
And then I realized, "Yep. That applies. No one cares."
So this Spring Break was a bit of an awakening for me. I have worn some two-pieces, but sparingly, since my teenage years—and only at the gym pool where I could run away quickly.
But I wore a bikini every day for three days.  At the pool, at the beach, walking around.
And while I could feel the stomach wiggle, and the trunk trying to close on my junk jiggle, I just kept walking around. Holding my head up.  Just being me, in my skin.
Because lawd, the skin tells the story.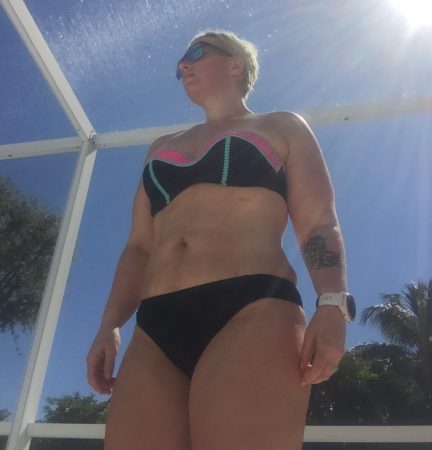 The skin tells the story of kids incubated and birthed, massive self-abuse, addiction, 65 pounds gained and lost and gained and lost… it's a damn story, people.
So, why would I bother hiding it any more? It really seems silly, when I think of it that way.
There is nothing wrong with the skin I am in.  It's just a part of me.  And how wonderful is skin? I mean, really. Skin, in general, is a powerhouse.
Yep. Even when broken and saggy and sad-faced belly buttoned.
This weekend, I realized that part of the reason I really loved triathlon in the beginning was just maybe because it was a chance to expose my skin to sun and wind and air—even when I didn't feel comfortable doing so—because I "had to wear a tri kit" in a race or whatever.
Then I kept going, because it continued to be something brave.
Kate Northrup once said that, "People piss us off to set us free."
When I started reaching and looking for something different in my life, back in 2010, I was actually the person doing the pissing off— I was pissing myself off.
The way I treated myself. The self-hatred. The food. The booze. The job.  All of that.
But if I was the one doing the pissing myself off, then I knew that I must also be the person who would be responsible for setting ME free.
And it turns out… that is true truth right there.
Learning to love ourselves is not an easy process. I think if someone asked me, "How did you learn to love yourself" that my response would be this: Well. I still do NOT love myself.  (And that, yes, still makes me sad.)
But what I can say is this:  I like myself.  When I am alone, I don't mind hanging out with me.  I am nicer to myself. I say nice things like, "You look good today" or "What a great run."   I refrain from "You are a piece of shit" and "You really suck ass."
Those latter things are NOT part of my inner dialogue anymore. So, really–that is a form of self-love.
And the only way to get to any part of self-love is through. When Robert Tepper said "there is no easy way out, and no shortcut home," he clearly was talking about self-love.
Because we meet ourselves where we are–when we begin anything.  And truly–there is only one way to get through the mess, the struggle and the pain… and that's walking right slap through it.
By taking on the sport of triathlon, that was one way that I knew would push me through the self-hate. I had to face a lot of struggles and demons and inner dialogue to do a triathlon.  But that process, and continuing to race over the years has continued to push me through.
I am not going to spend another second of another day wearing a cardigan… unless it's 55 degrees outside, or I am re-taking the SAT.
Starting from a cardigan in August to a bikini in April, I have to think that some sort of major self-love right there. (Even if I am not ready to admit it quite yet.)
But I will keep working on that self-love thing–because I have a girl right here (and a boy, too) who need me to keep moving forward—and through.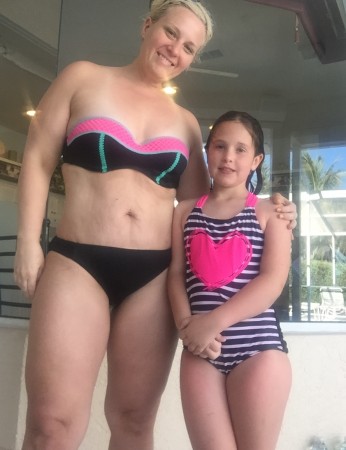 Have YOU broken through to self-love? Are you still working on it?  Where are YOU in this journey?