Yesterday, I went to ride. Forgot my pump, and my tires were stupid-low… so I did an unscheduled 10 mile run instead. That was fine, and for once, I was glad I brought my running shoes.
Today, I went for the second time is a charm for my ride.  Woke up super early, worked for a few hours, and then made it to the route on time in hopes of doing 60 miles before I had to be back working.
I started off.  My power meter battery was dead–not fatal, but it was a race-rehearsal, so that threw me.
I was way-improperly dressed for the ride and the weather (not sure what I was thinking).
The sun coming through the trees was blinding me, and making me see things.
I felt nauseous.
Strangely, too, my bike-fit felt completely wack-a-mole.  I stopped and adjusted my seat and aero bars–Allen wrench and all–three times.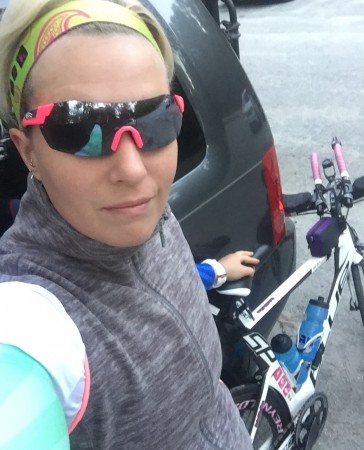 So I made it two loops (~10 miles)—and bailed.
I haven't felt this kind of just sheer "quit" in a long time.
I am not sure if I am failing to follow my own discipline versus motivation philosophy.  Or, if I am having a hard time picking myself up and going from recovery to peak week this soon after Augusta after all.
Or if I am losing my mind. Stressed.  [Could be all of the above.]  Anyway. Short post. Toldya.
Now… y'all tell me something good!