Addiction is a hideous thing.
And alcohol addiction is a real pain in the ass, the wallet, the waistline and the mind.
Some of us can have a lovely glass of wine with dinner. Others of us, well… nothing less than a martini and a bottle of pinot grigio.
ABC News anchor Elizabeth Vargas just yesterday bravely shared her story on her alcohol addiction.  Yes, THE Elizabeth Vargas.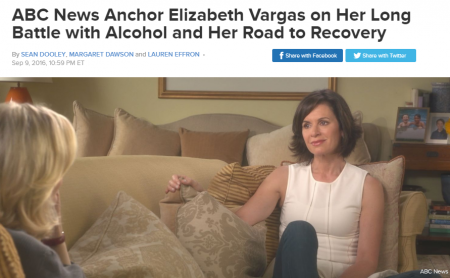 And I loved her before, and now I love her even more for speaking out. For another person out there attempting to bring this into light.  That yes, even wildly beautiful and successful women like her battle with addiction.
What she said stood out so big to me:
Today, when Elizabeth Vargas walks down the streets of New York City on a warm evening, passing wine bars filled with people enjoying glasses of wine, it's a very different experience for her than it once was.
"I don't look at them and think, 'I want one,'" Vargas said. "But I look at them and I think, 'I miss that.' I miss that time when, you know, it felt so innocent and romantic.
But that's just me romanticizing something that turned out to be really monstrous for me."  (Source)
There are dozens and dozens of different addictions and ways to screw up your life.  So, really, it's a matter of picking your poison, and hoping that when you "chose," that you chose one of the "good" addictions versus the social stigmatizing and life-destroying ones. 
("I'm just 
addicted
to pink shoes! Aren't I fabulous?"  Why yes, yes you are. 🙂 )  
I truly believe that everyone has an addiction of some sort.  Maybe yours is more socially acceptable, or perhaps it's mild ("I'm addicted to positive thoughts!"), or perhaps it's beneficial ("I'm addicted to meditation!" and "Running!").  Of course, everything is probably fine–if you do a
little
of it–for the sake of argument.
Everything in moderation is FINE, right?
Actually not really.
Just ask me (or Elizabeth Vargas).
Addiction and moderation are really awesome together.  Like an explosion.  They usually cause a big boom, and if you are around when the boom hits–watch out. We start with "moderation" to quiet the voices, release the anxiety, to sit down, calm down… many reasons.
But then, before we know it… *boom*.  We have become unrecognizable.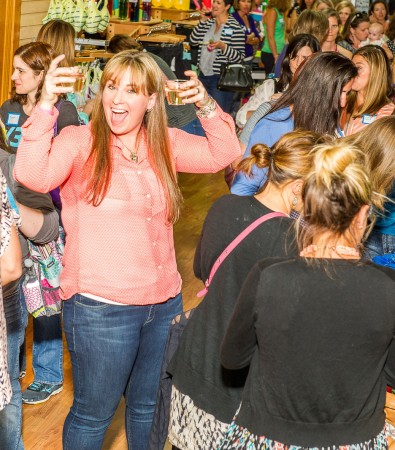 I really love the site Hip Sobriety, and especially her manifesto.  It's a break from the traditional AA structure and mentality (which works for bazillions of people), but for those of us who didn't quite resonate with AA…  check out the manifesto:
You do not need to hit rock bottom. Some 90% of folks who struggle with alcohol (in the US) are not clinically addicted. We have an idea that we need to be falling down and lose everything to address our relationship with alcohol. Not true. If you're worried about your drinking, if it's causing shame or fear or keeping you from the life you're dreaming about, that's more than enough to begin. And the sooner you start, the easier it is.
It's not scary. I know it feels scary and like death. I know it feels like the end and the worst case scenario. I promise you it is not. I promise you that it is only the death of the things that are no longer serving you. And that it is the beginning of so much more. It is the beginning of you.
You're not weak or powerless. You are STRONG and POWERFUL and YOU CAN DO THIS. Just by coming to this site, just by reading this page, you are far beyond where most people find themselves. So few of us stop to examine our lives, and even fewer take action. As Donna Meagle would say, You Can Get It. So get it.
–> Source here.
Elizabeth Vargas said, that it is an "act of grace that she is alive tonight." And I, as someone who has been through this same battle, I understood exactly what she meant.
Tomorrow, I am nine months sober.
I remember finishing that awful Disney race in November, getting back at 3 in the morning… my family tucked all in.  And in the dark, I poured a glass of wine. I had one.  [And that was the only time in my life I think I had one.]  Only because I was with full knowledge that my sleep for the night would be three hours, and I was just out of time.
It was a stifling feeling. To not being able to go to bed without a drink.  To need a drink to lay down. To calm down.
Elizabeth said, "There are days when you wake up and you feel so horrible–that the only thing that makes you feel better is more alcohol." At one point she had a lethal level of alcohol in her system, and even that– wasn't enough to scare her.
I have also been there.  And after that night, I stood up, dusted off, and was not even scared. And kept going. Kept drinking.
So now, I have stood in my addiction and wine truth for nine months.  And it's not pretty. It's more than that.  It's a miracle and a second chance.  And it's tough, sure. But it's also these:
A measure of grace. Forgiveness. And a never-ending necessity and desire  to keep moving forward.
And I am SO thrilled and almost moved to tears to see people like Elizabeth Vargas coming forward.
Especially women who are breaking the silence–there are SO MANY OF US who are struggling with this.
In her interview, Elizabeth said, "I would die for my children, but I couldn't stop drinking for my children."  And wow.  No mother wants to admit that.  So the ones who are struggling, just DON'T admit it.  But so many of us, keep on drinking–knowing this very fact.
We continue hiding. Pushing down the anxiety.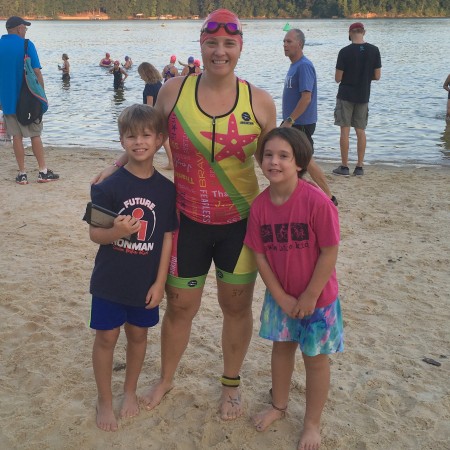 It doesn't have to be this way. There is more to life.
I promise.
After my post last year, I had over 150 emails and messages of "me too" or "I have been sober for __ time" and "I don't know where to start."  There are so many more of us out there than you can imagine.
With this post, I just wanted to put it out there AGAIN.
I wanted to reshare my struggle. I wanted to post Elizabeth Vargas' brave share.  And I wanted to be proud of my almost 9 months.
Because there are so many of us out there who are struggling.  And especially triathletes–wow.  So many of us. (You are not alone, trust me. You are NOT.)
Do I miss a glass of wine?  Yep.  But as I have written, I was never able to have A GLASS of wine.  Like Elizabeth Vargas, I look at that now–and know immediately that I am just romanticizing something that was a huge monster in my life.
I am one of the lucky ones who was able to put my finger on it before it killed me. Before I lost my job.  Before I lost my family.  I am lucky, blessed, and I have this blog where I must share.  If something I can say or write matters to ONE person, just one, then it's worth it all.
I have accepted with a full heart that this battle is now a permanent part of my life. And with gratitude it is part of my story, part of what I must share, and say and do.
I'm not embarrassed, at all.
I'm empowered.  I am blessed.  And I'm thankful.  Most of all, just thankful.
And you know what? There's no promise that I will be sober tomorrow. Because every day is what matters. Every single choice not to drink.  I will continue to do the best I can.  That's all any of us can do.
But I will tell you… waking up on a random Saturday morning with only a bit of sleep in my eyes (and not a massive headache in my head) –that is a gift that keeps me going.
Love to you all,
Meredith
================================
For those of you who might be struggling, please ask for help.  I'm also here if you want to chat or confess or just need someone to talk to.  And I really do mean that.
Resources:
http://www.hipsobriety.com
http://www.drinkerscheckup.com/
http://www.aa.org/
http://al-anon.org/
https://www.na.org/
https://www.psychologytoday.com/basics/addiction
http://www.addictionsandrecovery.org/what-is-addiction.html
SMART and SMART Friends and Family
(*I am not a psychologist or health care provider, and am not pretending to be. Just sharing some links. Feel free to add your own that might be more helpful in the comments below.)