Well, it happened. I started working on a new book. Wait! Before any of you get too excited (or not excited at all)… it's a three-year project. So, I have been slowly working on it, and realizing it's a long process, but I was feeling good about it.
During talking about the new one, I had a conversation with a friend about my first (er, only) book. 
She said, "I can't believe you wrote that book."
I said, "Yeah. I don't know where I found the time with the kids so young. It's all a—"
"No," she interrupted. "That's not it.  The book. The voice in it. It doesn't seem to… match you."
Oh, another one?  Waaaaaaa —-we like the OLD Swim Bike Mom!
I didn't respond, and kind of stared at her. Okay?
She went on, "It's not that it's negative. It's just—something else. I don't know. I can't put my finger on it. ANYWAY…  I am looking forward to your new book!" she smiled, and that was that.
Okay?
I went back and flipped through the book.
Ah, I think I see…
Short story: I wrote Triathlon for the Every Woman in 2012 – after finishing my first half Ironman race in Miami, long before any Ironman finishes, long before coaching education, many injuries and the like.  So, yeah, it was a long time ago, that I wrote it.
[Triathlon years are like dog years.]
I am so thankful that I wrote it when I did. Because so many of the feelings, emotions, thoughts and doubts that are in that book–I would have forgotten 90% of them had I not penned them down at that time. I would have forgotten to break down triathlon terms to the bare minimums, to talk about packing a gym bag, the tiers of goals, the open water panics.  I wouldn't have remembered the details necessary to be so open about the trials and troubles I faced with starting out in the sport.
Of course, I see many things that need updating, changing, and some statements that are generally wrong (at this point, over four years later–of course), but as a whole, I still stand behind the book.
But the voice in it… I see what my friend meant.
My voice has most assuredly, most definitely changed since I wrote the book.
People who didn't like the book and have posted reviews—their main complaints are basically:  The writer has no confidence! She complains about being a lawyer!  She complains about being fat! The book is so long! She is fat and has no right to give advice! I am sad for her and her children!
Guess what? I am fairly certain that all those things can true, to a degree.  Everyone should be sad for anyone's children, by the way–parents are notorious for screwing up children. Take a look around. And I am very certain that the book is long–it's a giant book, I'll give you that also.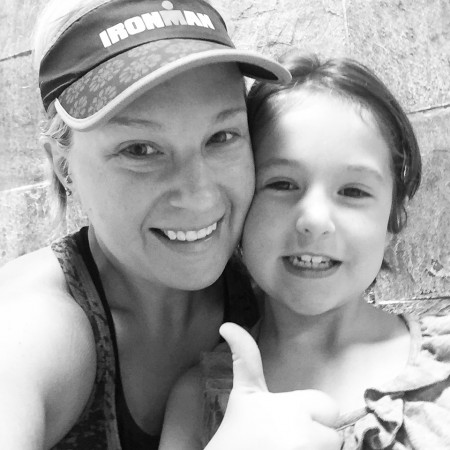 But again—I don't regret anything I wrote in the book (aside from the things that I would logistically change, now)… because all those words, those stories, those emotions? At the time of publication?  They were truths.  

And the backstory of that entire book?  My entire life, at the time?
Well, it can be summed up in a few words:  Truth. Fear. Compassion. 
I shared my TRUTH, because I understood what it was like to have FEAR, and I was COMPASSIONATE to anyone–anyone at all–who had experienced a smidgen of those same truths, those same fears. I was there to help, in the only way I knew. To talk about it.
The war within my head, and many of the same issues, still exist–to a degree–but my voice has changed.
Where I no longer fear the open water or my body publicly running, I have other fears:  failure, embarrassment, purpose, regret, timing.  
I have made a vast improvement on the funny fat girl routine. (Case in point at the gym today, I cracked a weight joke about the teetering steps that I was supposed to use, and my trainer said, "Was that a joke?" and my friend said, "Nope, not funny."  Okay, fine… Touche. #WorkInProgress)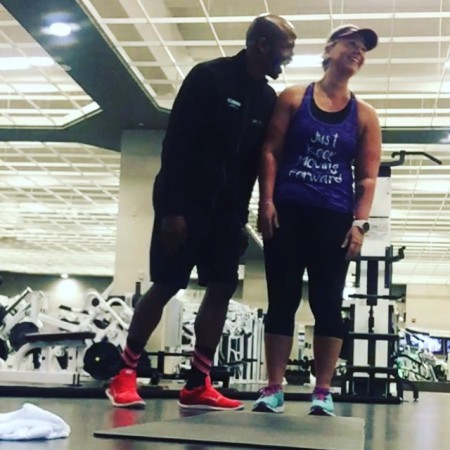 Sometimes I sit in front of the computer, and just stare, tho. I used to write constantly, and all the time, about whatever.  About the kids, the time I threw the cupcakes, our hell house adventures, the Expert.
But I tried to dial all those things back, especially as the kids are older… it's funny to talk about the time Stella spread poop all over her room, because she was 2. Not so funny if I was to say the same now (and no, she didn't do that recently.)
And the Expert and I used to ride bikes together–until he had the "man-trum" (man tantrum), followed a few months later with massive blow-out fight on a ride that culminated in: "I am never riding with YOU again. And keep me off your stupid blog." (Hence his notable absence from the blog—for, I don't know, the span of more or less the last two point five years.)  Whoops, I guess I talked about it afterall.
A rare cameo. 🙂
So yes.  My voice has changed.  And that's okay.
I fear that when I write now, because so many more people are reading (or opening, and then clicking "unlike"), that the things I say don't matter. That writing what I know or feel, or even just writing "for myself" isn't enough–it isn't enough to even try, sometimes.  That I need to go-go-gadget arm to write, and to REACH someone… Who is out there? Who is scared? Who refuses to run in public? Who is sad, alone, fat (real fat or self-though fat, whatever), and needs a goal?  Can I help? How can I help? What can I do? 
Truth. Fear. Compassion.
I realized today that the war within my head, or heart–is largely a game of perception, pain and truths. The things that I tell myself when I lay down to sleep, are the things that I need to deal with, talk about, write about–maybe not write about everything, but those are things that started my journey in the first place. So those are the things and the path that matter, too.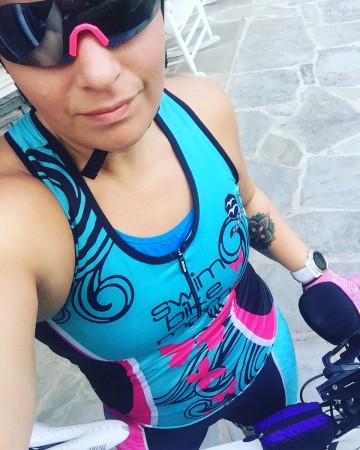 Sure. At the end of the day, it doesn't matter what I write. Who cares what anyone writes, right?  It matters what I say, what I do–who I am, what my tapestry is made of.  It matters what the three other people in the walls of this house think of me, as their mom and wife.  And to them, doesn't matter if I race another race, run another run, or quit entirely–in the grand scheme of things.  (Well, it might–because an endorphin rich momma makes for a happier momma). 🙂
Being on a journey like I have been on, for the past six years, has been tough on my family. But tough in a good way, I think they would say. I have become a completely different person through triathlon, and it's a good thing.
Sure, my voice has changed–because I have changed.  And change?  Well, it's good.  And it's okay.
I am not the same person the Expert married. He's not the same man I married, either.  The kids are actual PEOPLE now, not just drooling, crying-things smashing Goldfish into the car seats… humans.  How scary is that?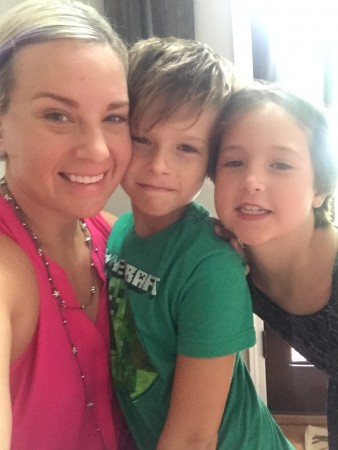 As I look back on the truth, I have this:  gratitude.
As I think about the fear, I have this one:  losing those who I love, those with whom I have built my little history.
And with the last element, compassion, I say this:  I thank you for being a part my journey, for as long as you have–whether since 2010, or last week.  And while I don't know how useful I am sometimes, I do hope that you know you can always reach out to me… if you ever think of someway I can help you, your cause, your tri journey.
And I had a Chick-Fil-A cookie shake for lunch, which wasn't ideal and a bit of a side step from yesterday's clean eats and new size 10 jeans. But it's Friday, it falls under something I am not going to stress about, and it wasn't "the Number Five, twelve count nugget, large sized with diet coke and shake" too.  So that's good. And hey–I'm not pouring a martini right now. I'm not having the internal battle, trying to figure out how I can drink all the drinks tonight, and still pull off a 4 hour ride tomorrow.
Sobriety, for me, has been the biggest truth and the biggest fear–I am grateful for every day.
It's been a rollercoaster of a last six years–all kinds of loops, screaming, and upside downs–many things that are public, and many more you probably couldn't imagine.  So with my internal battles and with all the compassion I have in me, I lay down the mouse and walk away from the computer for the day, and say:
I'm here if you ever need me. And I really do mean it.
Have a great weekend friends.
#JustKeepMovingForward #RamblingPost #WhatElseIsNew
M