We're doing it again!  This is our third virtual race for an amazing cause.
We are excited about the dates, the swag and of course, our friend, Andrea.
Heroes & She-roes from Andrea Lytle Peet on Vimeo. Registration Link Here.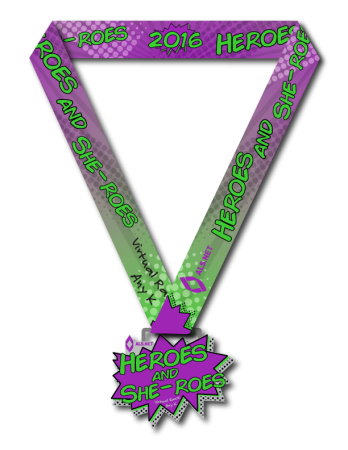 What: Heroes And She-Roes Virtual Race: Any k!
Who: You–and especially your kiddos, nieces, nephews, brothers, sisters and grandchildren … neighbors and neighbor kids! Super-hero themed!
When: Labor Day Weekend, 2016. (Friday, September 2nd – Monday, September 5th)
Where: Wherever you are!
How Far: You choose your distance! 1 mile, 5k, 10k, Any k!
Why:  To join together in honor of Andrea Peet, one of our dear Swim Bike Mom & Tri-Fecta friends who is fighting ALS; to raise money for ALS.net.
Why The "Super Hero" theme?  Andrea said, "Because you're never too young to be a hero (or she-ro) in the fight against ALS! In all my fundraising efforts (like Be Brave Be Thankful), I've realized that kids WANT to be involved. They see you training, they spectate at races, and they want to do it too. So this is the perfect opportunity for the kids in our lives to do something with us–to realize that they can make a difference in the world and help people fighting this disease."
How To Talk To Your Kids About ALS:  But aren't kids too young to understand what ALS is? Andrea tells us, "Actually, the best explanation I've ever heard about this disease came from a 5-year-old. He said, 'ALS is when a person's nerves are broken so they get confused. They stop talking to the muscles and telling the muscles to move. Eventually the muscles get so weak that they can't move anymore and the person dies'.  Of course, uou don't want to scare them, so you can explain that it is a rare disease, but the people who have it really need help. The race will give the scientists money so they can keep looking for a cure.
Here is a printable ALS Activity Book for kids from the St. Louis Chapter of the ALS Association if you want to go into more detail."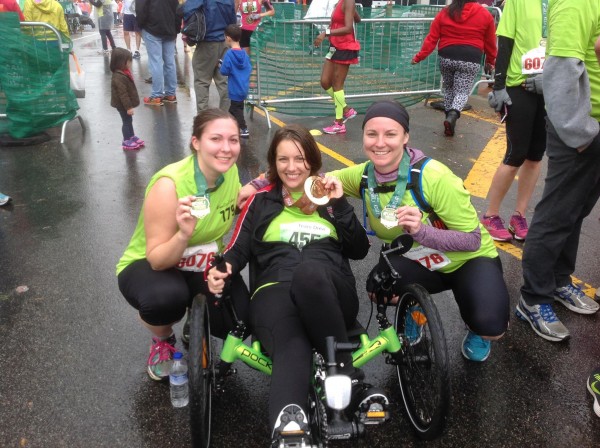 Guaranteed Registration Deadline: Sunday, August 28th (for guaranteed t-shirt and medal); registration  is open until September 2nd (if extra t-shirts and medal are available, you will receive one on first come, first register basis after the 28th).
Race Swag: If you register by the deadline, you and the kiddos in your life are guaranteed to receive a race t-shirt in your and their size (chosen at Check-Out). Registration will stay open until September 2nd, but t-shirts and medals are not guaranteed if registration is after 26th of August.
[ALS donations will still be sent on all race registrations after the deadline.]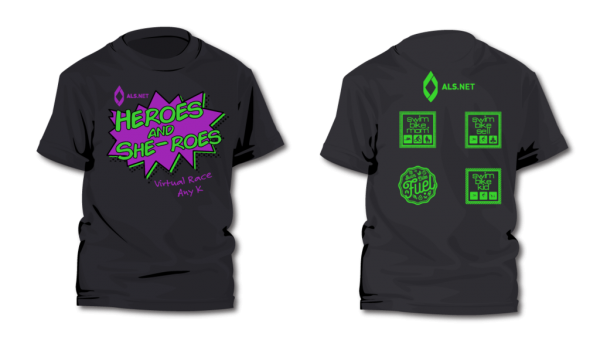 Entry Fee: $35 ($30 plus $5 shipping for t-shirt and medal)
But I Don't Want a T-Shirt or Medal: If you'd like to donate an additional amount to ALS, please do so here – donations will be added to your cart at checkout and the amount from this option will go directly to ALS.
Get Your Medal: After the "race," you can share your participation on social media with the hashtags below. We will pull your pictures and save for our results blog!
Social Media: Raise awareness and celebrate your & your kid(s)' accomplishments. Post photos and comments about your race on Facebook, Instagram, and Twitter. Tag your "race photos" on social media with the tags:  
#HeroesandSheroesVirtualRace #TeamDrea #TriFecta #SwimBikeMom
How Much Is Donated:  We will be donating all registration fees, after fees and costs are paid, directly to ALS.net  (Note: the full amount will be disclosed at the conclusion of the event. We do not know what that amount or percentage is until we know the total number of registrations. The total amount donated is based on the number of race registrations, after costs, medals, t-shirts and fees are paid. Go here to read about our results from our last virtual race benefiting ALS. Through our first BE BRAVE BE THANKFUL Virtual 5k, 10k, Any k race, we proudly raised $4,133 for ALS research!)
The Swim Bike Mom Match:  For every $1000 raised for ALS, Swim Bike Mom, LLC will be donating an additional $100.
About the Benefiting Organization: *ALS.net is the world's first and largest nonprofit biotech lab dedicated solely to finding a cure or effective treatment for ALS.   A Cambridge, MA-based non-profit biotech company, they develop new therapies and drugs in their labs. Their unique and comprehensive approach leverages over fifteen years of treatment-focused ALS research and applies it on an industrial scale to get therapeutics to today's ALS patients as quickly, efficiently, and cost-effectively as possible. The translational research environment brings together more than 30 full-time scientists whose expertise include assay development, computational and molecular biology, pharmacology, and protein biochemistry.  100% of additional donations on top the entry fee will be sent to ALS.net.
More About Andrea:
After I was diagnosed with ALS in 2014 at the age of 33, SwimBikeMom's Tri-Fecta  group rallied around me. They encouraged me, did races in my honor, and then BLEW ME AWAY with generosity with the Be Brave Be Thankful virtual race last Thanksgiving.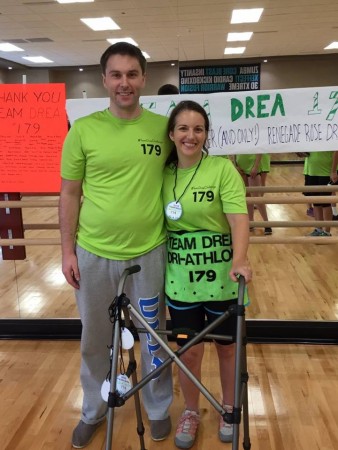 ALS is a neurological disease that often quickly leads to paralysis and death, usually in 2-5 years. I did 5 triathlons in 2013 (including a 70.3) but now I walk slooooowwwly with a walker…and I'm considered to be "slowly" progressing.
Of all the beautiful messages and photos I have received, the ones that have touched me most deeply are from children.
It's partly because kids are no longer part of my life's plan, but also because they have just been so genuine in their concern, love, and eagerness to help in some way.
So this race gives kids a chance to be a HERO or SHE-RO for ALS.
To run a race and feel proud of their accomplishment, knowing they are helping others. Because it's never too early to teach empathy, charity, and (oh yeah) the fun of being part of a community of athletes!
While this race is designed with kids in mind, parents and non-parents of all ages are encouraged to take part with the kiddos in your life.
You can even organize groups of friends to get together and run, bike or swim.
I'd LOVE to see some superhero capes in the race photos! Make it fun… because so much of ALS is not.
Thank you for your support! I am grateful.
Share on Social Media here:
FACEBOOK EVENT PAGE!
If you'd like to donate an additional amount to ALS, please do so here – donations will be added to your cart at checkout. This amount over the race registration will go straight to ALS.