This weekend was a victory – a victory of a long-time coming sort.
As I round the corner, quickly approaching the six-year anniversary of my crazy ass decision to "become a triathlete," it's true that I have been (publicly) wondering whether or not I even want to swim, bike and run anymore.
I have been implementing the discipline versus motivation tactic for the past few weeks – in really full-force – trying not to make excuses.  Trying to summon the love for triathlon back, or figure out if I even care any more.   [Also probably known as burn out. Whatever you want to call it.]
I have come to one conclusion in the past few months:
People who keep telling me to "do triathlon only for fun!" are annoying as hell.
(And no, I don't mean you, April Gellatly.  YOU are allowed to tell me to have fun–because triathlon is your JOB! :))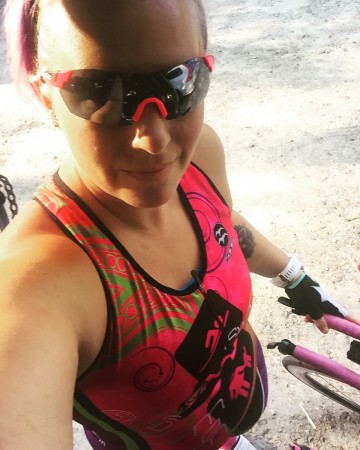 We all have our own personal reasons for #WhyWeTri, and my reason does not have to be even close to yours.  And if you are telling me to "go out there and have fun," then I know we don't have the same reason for starting this sport in the first place.  (E.g., we are not speaking the same language, so don't even try.)
My definition of fun is pretty much limited to the following: roller coasters, movies, ice cream, new books, painting, laying on the couch with a kid, a hot cup of coffee, music and a bath, and water parks.
Do I like to swim? Sure.  Do I like to bike?  Yep.  Do I like to run?  Yes, I actually do. Still?  Nope, triathlon is not really on my top of the list fun list.   Okay, maybe it's on the fun list – like dead last.
I, personally, do triathlon because I am a competitive person – and swim, bike and run is my competitive outlet. And no I'm not competing with YOU… I'm competing with me. And I started the sport because I wanted something for ME.  Not something weeeeeeeeee! that's fun!  It was something scary and challenging and huge.  Something that could show my kids what mom was made of.  Somewhere to figure out who I was.  A place to try and get healthy so I didn't die at 35, choking on my own fat neck.
Fun was never really on my list, I'll be honest.  So quit trying to tell me to have fun.  It was never my intention.
And guess what?  My reason for tri-ing is perfect.  It's mine.  Not yours.
SO when I am struggling with the sport, the fact that it's not fun – has nothing to do with my state of mind.  I never sought the fun anyway.
I do believe that a lot of the time, our desire to do something can ebb and flow — but quitting or walking away — is not always the best option.  It's sort of like divorce. You shouldn't pull the trigger on blowing up your marriage until you have exhausted all available avenues of reconciliation.
"Triathlon is not like marriage."
Um, the hell it isn't.
You start out with great intentions
You love
You love all the shiny newness
You celebrate "firsts"
You find out that you might be burned out
You work harder
You maybe burn out
You try and come back
You fight for it.
You figure out if the fight is worth it
You sign up for Ironman
Anyway, I'll drop that analogy. And post a picture of the Expert cooking homemade pasta yesterday, as an example of how to keep the love alive. 🙂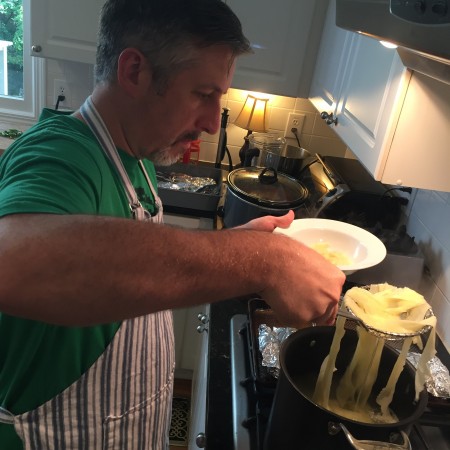 But it's very similar – at least for me.
I don't quit easy, and I don't give up on things. I am paralyzed by making the wrong decisions; I am paralyzed by living my life with any regrets.  (Just ask the Expert how easy Movie Night is around here. I can't even decided on a movie, for "fear" that I pick the "wrong one" and waste two hours of my life. Yes, OCD. I got it. Check check, I'm crazy. )
You don't just quit. You keep working.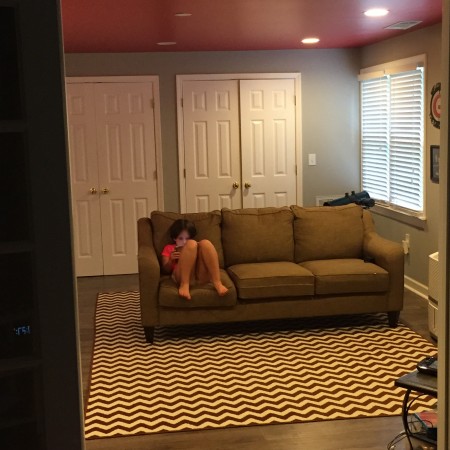 (My view from the treadmill this AM.)
Earlier this year, I was on a triathlon high in February with training, and then I ran myself into a stress fracture. When the competitive outlet was whisked away, I really sunk into a depression about it.  If I couldn't work hard at something, then what was the point?
Fast forward to mid-May and early June, when I was able to start really working hard again.
Well, by that point, my body decided it wasn't going to cooperate like I had hoped it would.  Meaning really, I was just old-fashioned out of shape. The small fact was that I hadn't been able to run, I chose not to swim as much as I could, and I lost a whole lot of fitness. (Not fun.).
So I just turned into a robot.  A crabby robot, but a robot.  Doing workouts, not thinking about it.  Just motion. Whatever.
But then yesterday and today, it clicked.
For the first time in all of my almost-six years in this sport, my body and my mind found themselves on the same page. I had an amazing two-hour ride and thirty-minute, 3 mile, brick run yesterday.  It was a sweat-fest, but it was almost effortless.
And by effortless, I mean that my body and mind were in sync.  I just went. All this "do or do not" that I have been forcing upon myself finally kicked into a gear, and it was automatic.
Really, I was sort of on Cloud 9 about it.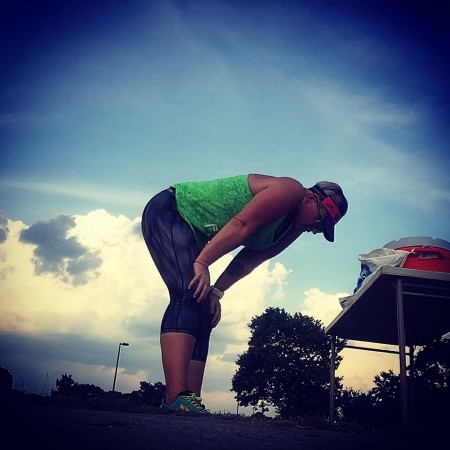 Then I woke up this morning super sore from the week of training, and was thinking of a long list of reasons not to do my hour easy run.  But I just got dressed, and I moved. I acted and went.
About 40 minutes into that run, I realized how effortless it was.  And again, I just mean that my body and mind were working together.
For the first time I can ever remember – my body didn't seem to be fighting me.  My mind wasn't fighting me.  I was just running.  And I was running well.  I finished my hour, and could have seriously gone for another one.
(But I learned my overuse lesson a few months ago.)
Then it clicked for me.  Ohhhhhh! Those people who talk about having fun?  They are actually good at swimming, biking and running. They might actually be talented in this sport.  Or maybe they have worked so hard that it has become fun, because they are proficient, efficient, and speedy. ( I also get that some people might find sucking at triathlon to be fun. And just like to get medals. That's cool too.  To each her own.)
I am certainly not "talented" in this sport.
I have clawed my way from the beginning of my first run where I bruised the bottoms of my feet, and I have done so with every single workout and race.  It's never been fun for me… because, well, it's been hard.  It's been horribly ugly.  Because in the beginning, I really, really sucked at swim, bike and run.  And along the way, I semi-sucked at it. [And even though I have finished a ton of races at this point, I could still fall squarely on the suck scale, depending on who you ask.]
All I am saying is that triathlon, over the years, has served a different purpose for me than "just do it for fun."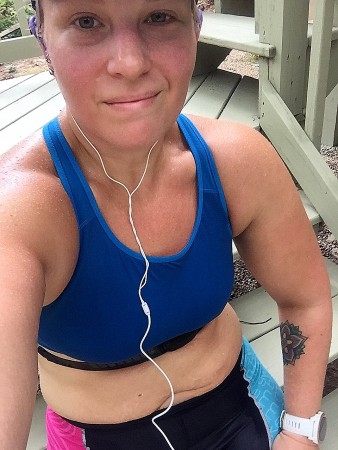 Triathlon has been a massive challenge. Something so weird and out of the ordinary for someone like me… and THAT was exactly the allure.
Over the years, sure, I have gotten better.  And yet, I'm still not "good" on the race results.  And being a competitive person and also knowing that I may never be competitive in triathlon is a wee bit of a struggle, I guess, if I am being honest.
But I keep going, because it keeps something alive in me.  Hope. Drive. Desire. The impossible.
So maybe that's why I haven't been able to reconcile the smiles and the "just have fun" things. It's more than that to me.
But now, I sort of get it: Yesterday and today, my mind and body cooperated, and it was like a freaking symphony.  I have never, ever felt that way on workouts before. Never. It was sort of amazing.
I don't know what to make of it. I don't know if it was a fluke. Or if the stubborn, bull-headed persistence is (finally) starting to show dividends.
But I will say that I am glad I didn't quit.
And I will also say (holding my breath)… that it was fun.