*Note: This post was written before the recent events in Dallas.

On July 4th each year, Atlanta is the home to the world's largest 10k race – the Peachtree Road Race.  This was my third year running it, and in true 'Merica form, the whole red, white and blue event did not disappoint. (Here are the race reports from 2011 and 2014.)
I came in 18,772th place overall.   [No, really.  I did.  57,000 people.  Now THAT is a big race, people.]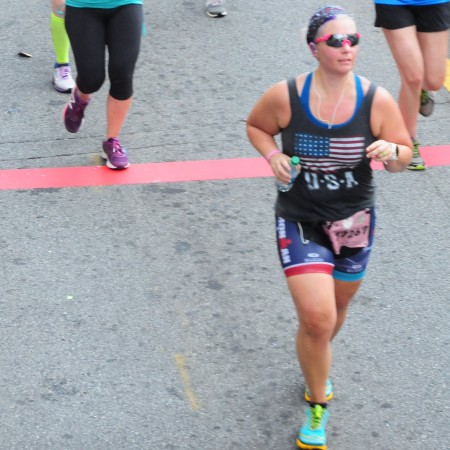 The Peachtree is fun for a million reasons – the energy, the crowd, the wacky outfits, the fact that it's on a holiday, the funny spectators with their costumes and beer and shenanigans. Also, watching people come out of the woodwork to ride the MARTA train (public transport) for the first time (sometimes ever) is also hilarious.  Tons of stinky runners on a train, leaving puddles of sweat on the seats. Who doesn't love a good sweat puddle on public transport?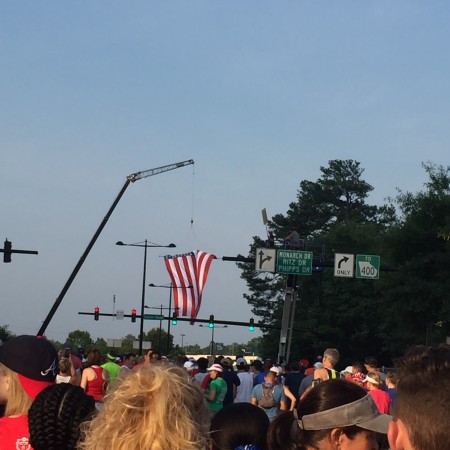 This year's race was a HOT one.
During the run, I watched the sign of heat advisory switch from "warning" to "danger" – and I felt it, too. Wowzers. Traditionally, I am a sweat bucket anyway, but I was drenched before the start and my feet were super sloshy by the end – and I didn't even run through the sprinklers.
My tri friend, Todd, better known as Swim Bike Nap and on this particular day, Richard Simmons, was on the Peachtree adventure with me – he and his family were staying at our house this week – so he and I hopped the MARTA down to the race.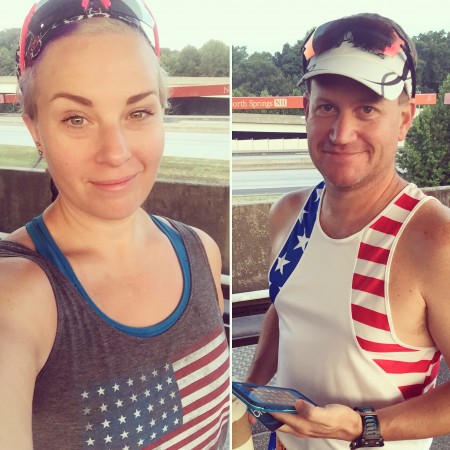 "Richard" and I were running this race on some tired legs – having been riding the hills of Roswell on Friday, and then Stone Mountain on Saturday with the Expert.  As tired as I have been this week getting back into the swing of regular training, it's a great feeling not to be able to lower oneself down onto the toilet.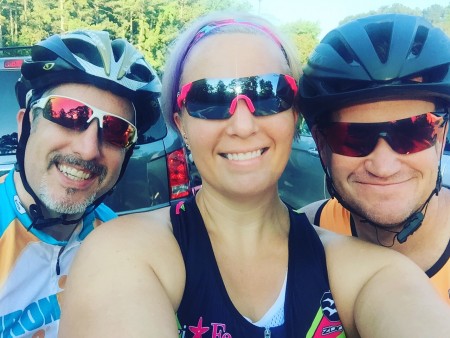 [And hello, the Expert has turned into a beast on the bike. #ThatIsAll]
"Richard" and I started together into my Corral "L" (I think he was in C or D).  He said he would pace me on this run, or at least make me laugh.  I think he made me laugh more than he made me speed up.  I didn't race any qualifiers this year to improve my corral position.  And even if I had, it probably would have only improved a few slots – but it was just fine.   [Plus, you know I like to not race qualifiers OR submit race times, just so I can later complain about my corral (#KissMyAssDisney #eyerollllllll)]. (And hello, I am not complaining here.)
I think the Peachtree is an ass-kicker 10k.
It's usually hot as balls or thunder-storming or some crazy.  It's deceptive. It's sneaky.
I mean it's deceptive, because you feel pretty amazing on the first half – no matter what.
The energy is awesome…. AND the first 3 miles or so, are a net downhill…  Then comes "Cardiac Hill" and the rest is just a series of sneaky little up up up, that leave you thinking, "Okay, that had to be the worst hill."  Atlanta is full of hills and I don't run nearly enough of them… so I am always gravely sorry and cursing myself during the Peachtree.  I pray to God, "If I can survive this race, then I promise I will run more hills."  I don't. But I will. 🙂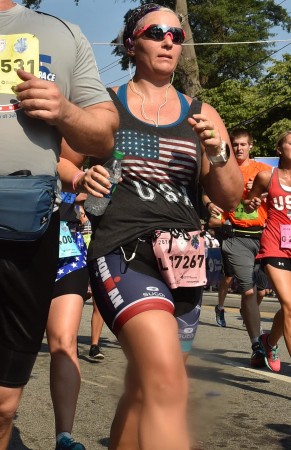 I started to fade around Mile 4.5 – my longest run since the stress fracture in February being less than four miles.  I felt really strong  in the legs and even my running form…  but lawdy my endurance SUCKS thanks to the months of not running and not being diligent enough in the pool running and elliptical.  Pace was good the first 4 miles, and then at Mile 5, I was like, "I am not having fun, my heart is going to come out of my throat, and I am going to die of heat stroke."
So I decided I would take a breather and walk until I stopped hating running and my life (kidding, sort of).
I walked a bit, cooled off a little, and then sort of made it the last 1.5 miles (yes, it's a 6.2 course, but with all my zig-zagging, I ended up with 6.5 miles – that's pretty standard for Peachtree… IF you have fun and look around. )
Still a good Peachtree PR, even with the walking, and most of all I enjoyed it.  1:08:38, and 10:34-ish pace.   A good day.
I really am enjoying running lately… and riding, for that matter, was fun on Saturday – even in the blistering heat. And I swam today.  With this confused look on my face the entire time, yes.  (It was bright outside. Selfie garbage…but proof that I was at the pool.  Well, not really – hair isn't wet yet…. anyway, I did swim.)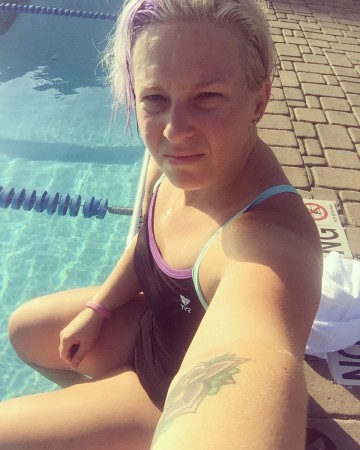 So these things are happening… these things called training. And sometimes just getting movement going and getting back in the swing of a training routine is enough to bring back the love.  I had a great week of training, actually… to be continued through the weekend.
Oh, and by the way, my children are for sale if we have any interested buyers.
This one here is the ringleader. She's cute, but don't be fooled…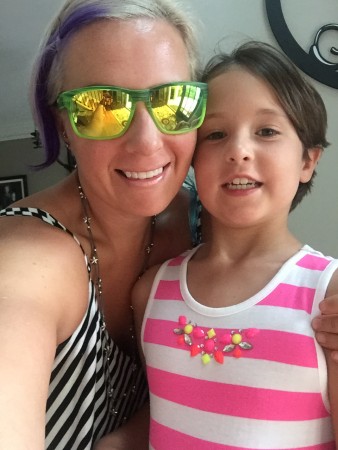 Case in point:  we were at the pool on the day before the Fourth, and I waded into the walk-in part of the pool… at which point, the kids brought a bucket over to me, and proceeded to dump water on me saying, "Keep the whale wet until we can return her to sea."
As I said:
Two kids: for sale.  🙂  I jest.  BUT… lawdy, when will I be able to go to a pool without someone dumping water on me to keep me moist to be returned to sea? 🙂 To be continued…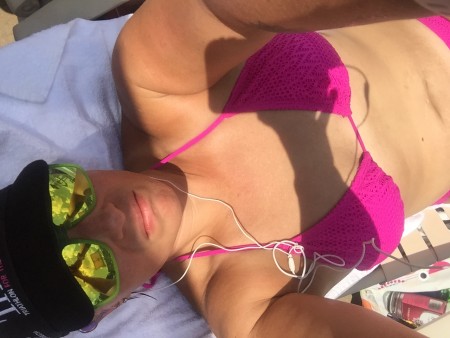 After the Peachtree, we all (including Todd's family) went to the local fireworks.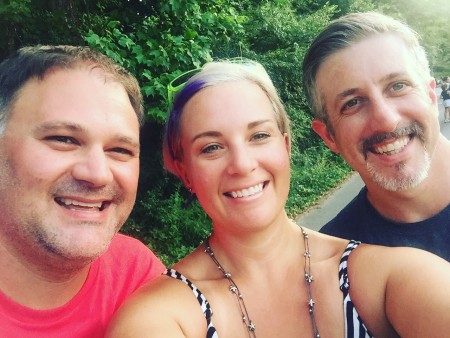 Oh… and always a joy running into our LBS guy, Curtis, at the fireworks — a second year tradition. 🙂
We cooked a big ole 'Merica meal, and ended the day just right— with some apple pie and ice cream.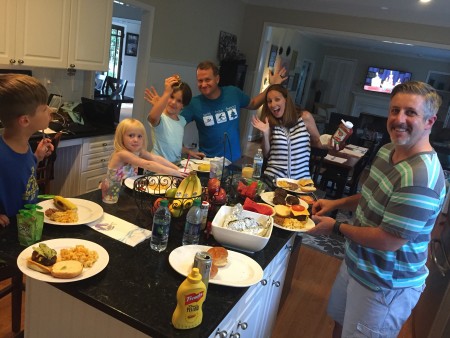 (I was in sugar shock after that, and don't remember much after that.)
And also after this (not mine… the Expert's).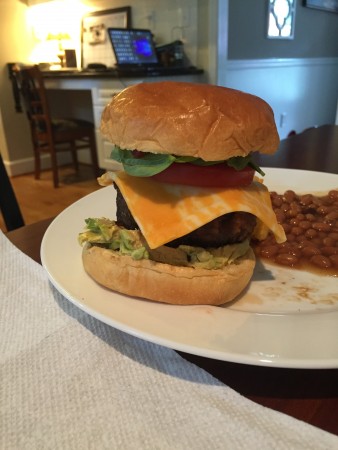 By the way, I was kept moist to be returned to sea BEFORE this meal.  My morning meal was a smoothie, for the love.
Okay, I am dropping that story now.
Now, time for the weekend. <3