This was my third year completing the PT Solutions Allatoona Sprint Triathlon.  And I had the kind of day, where I thought: I am not even writing a race report about this one.
But then I realized that I was being a brat.  (Still am, actually. But here's the report anyway… in spite of myself).
So here goes.  (Race reports from 2014 and 2015, for your reading pleasure).
What: PT Solutions Allatoona Sprint by Georgia Multisports
When:  June 26, 2016
Where: Dallas Landing, Acworth, Georgia
Distance:  Sprint – 500 meter swim, 16 mile bike, 5k (3.1 mile) run
Me: 7th place 35-39 Age Group, Overall time: 1:39
Full Race Results Link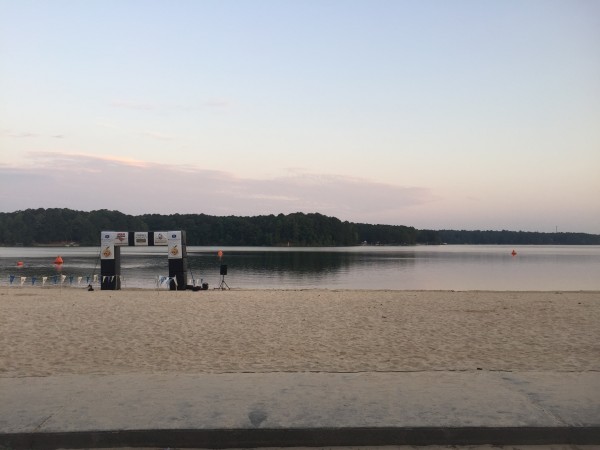 One of my favorite races, the Acworth Women's Tri (now, the Georgia Peach Women's Triathlon), has a similar course to this race – slightly shorter and less hilly.  I have done that race several times:  2011, 2012, 2013, 2014. Missed last year only due to bike crash… and I will be there this year, for sure and God willing.)
So I guess essentially, I have raced this course, more or less, seven times.
I have been cycling and swimming and running, steadily, for all of–let's see–three weeks since my injury.  I have been active–lots of movement and weight lifting–but I have not been training for triathlon, in the traditional sense.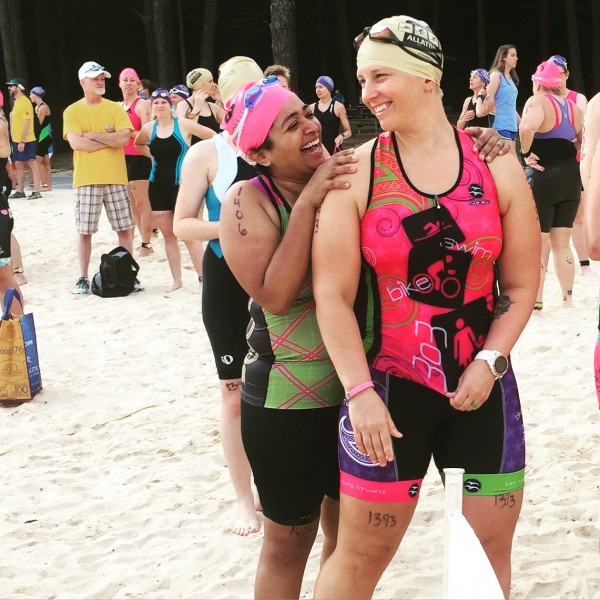 My PR at this race was 1:33 – and that was last year, about 3 weeks before Ironman Lake Placid (I have done sub-1:30 on the women's course, but it's shorter).
So let's just say that, last year, I went into this race in the shape to do an Ironman. [And this year, I was not anywhere near that shape.]
But in my mind–I was.
And I somehow expected to show up and PR my time from last year. I don't know where that expectation came from.  Delusion? The fact that I have raced the course so much? I have no idea.  Maybe when you race a course many times, you sort of expect to go into it and do better each time. I don't know.  Either way, it wasn't a PR day… but it WAS great in many, many respects.
Pre-Race
So hot. Sweating in line for the Porta Potties.  You know it's gonna be a good one.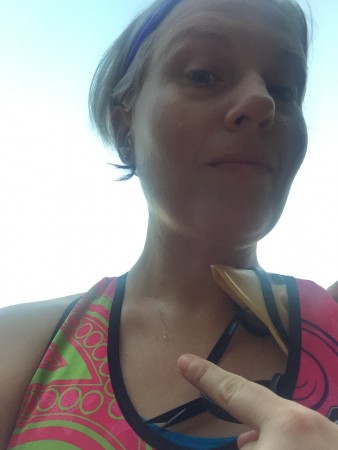 The Swim
First off, I am a swimmer, I guess.  I joked with local pro triathlete, April Gellatly, at the swim start that she better watch out, because I was going to draft off her bubbles.  Our buzzer went off, and I dolphin-dived right behind her–three times, and then I was ready to grab her bubbles.
She was gone.  Whoops.  (BTW:  April won the overall women's race with a time of 1:15.  Yes, for the whole race).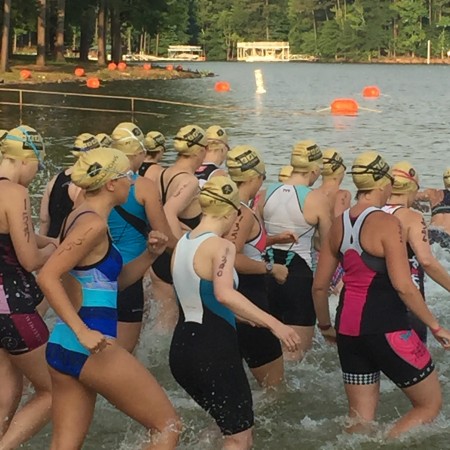 I had a decent swim.
I could feel the lack of open water swimming almost immediately. I wasn't anxious–in fact this was the strongest mentally I have ever felt going into open water, and I felt great in that regard.  But my neck and shoulders were just screaming at me from sighting.
I was just thankful for all the strength training I have been doing or I would be paralyzed today from the pain.
I was fourth out of the water in my gold-capped age group (35-39).
(I'm going to go ahead and say that swim was farther than 500 meters—OR, I at least swam more than 500 meters.  But of course, it doesn't really matter.  I wasn't on the podium anyway. 🙂 )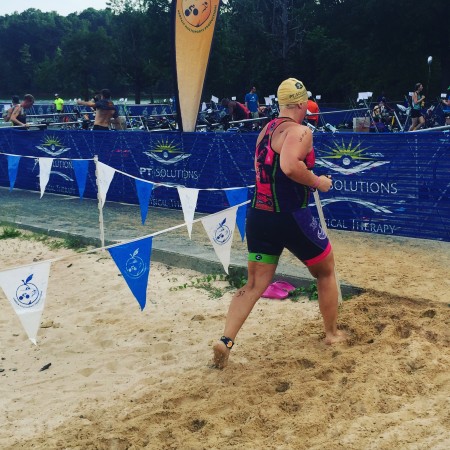 T1
I may not win the race, but I won my age group in T1.
51 seconds, baby.  
I have mastered T1 at this race. The end. 🙂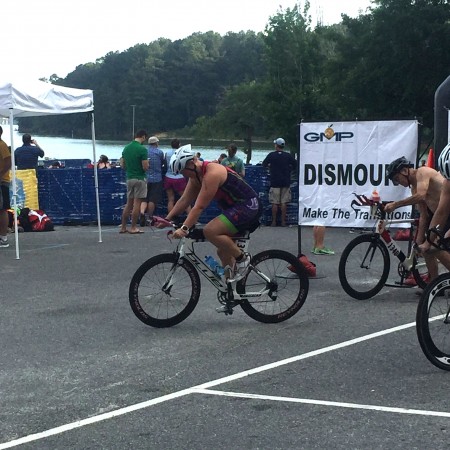 The Bike
So the funny thing about cycling?  Really nothing can replace time in the saddle.  I guess that's not funny – but it's so true.  You have to ride your bike in order to survive riding your bike.
I have been strength training. I have literally been doing hundreds of lunges and squats and presses per week… but my actual bike time in the saddle? Wellll…
And it showed. A little less than 2 MPH slower average than this time last year. I dropped from 19.4 MPH to 17.7.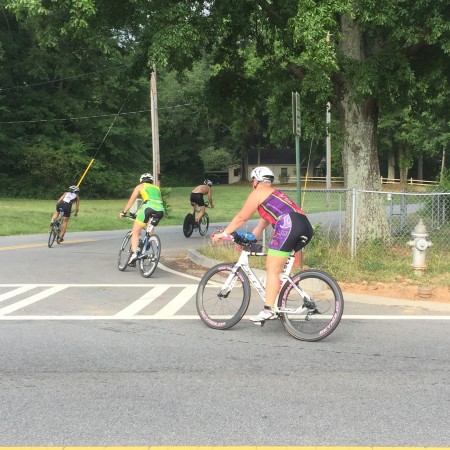 Of course, I am NOT training for a hilly Ironman. And I have ridden my bike outside ONE TIME… yes, once since February.  So.  I guess I should count my lucky stars at that pace.  And 17.7 isn't shabby.
The ride wasn't hard, but I could feel that I didn't have any really power behind the climbs and none of my traditional speed on the flats.  I was tired and ready to be done.
Moral of the story: one must ride in order to ride.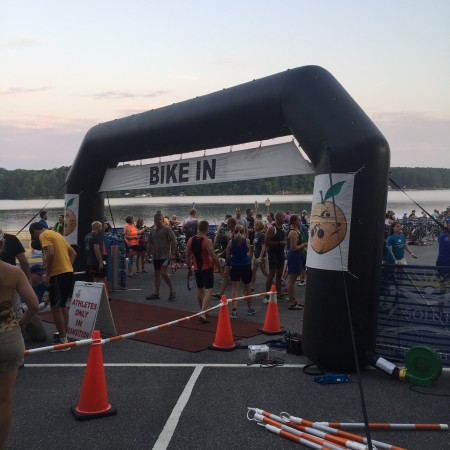 T2
I didn't win T2—- But I was second in my AG! 🙂  One minute even in T2, and out on the run.
[Winning!]
The Run
I felt pretty good heading out on the run, until I hit the third hill.
[This is a hilly run, by the way. ]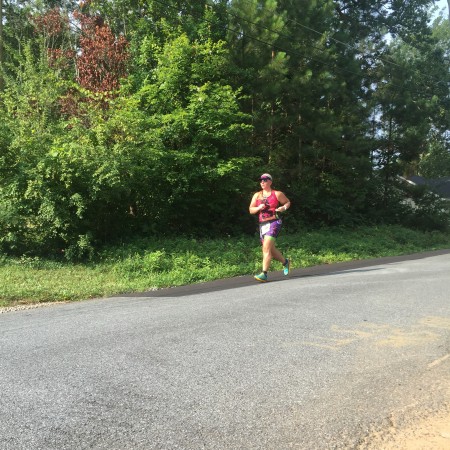 I realized that I had only been back running for a month.
And I could feel it.  Not in my legs.  Not in my glutes.  But in my lungs.  The expanding and contracting of my lungs was murdering me.  I had clearly kept some leg strength and run stride, but my cardio endurance was where I tanked.
Ouch.
As I passed mile 2, I said, "Eff this." And I stopped. I walked.
Then I saw April Gellatly, and she screamed at me, "Aren't you having fun? …Run!"
I said, "NO. No I am not."  (And I was serious).
And she said, "Well, then we run until we have fun."
She took off running with me, having already finished–as pros apparently have plenty more running left after races.
(I did not have any more fun running, by the way!)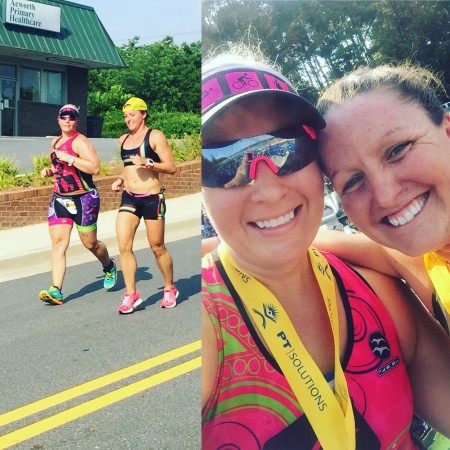 I am glad she grabbed me and eventually (around the last 0.0001 of a mile) snapped me out of it, because I would have had a miserable race time otherwise, all my walking I was about to be doing. (Not that there's anything wrong with walking… I am famous for plenty of it, plenty of times!)
And that was that.
Finished in 1:39.
1393
MEREDITH
ATWOOD
SWIM: 11:58
PACE: 2:24
T1: 0:51
BIKE: 53:02
BIKE PACE: 17.7
T2: 1:00
RUN TIME: 33:10
RUN PACE: 10:41
OVERALL TIME: 1:39:59
Post-Race
So a few things.   I'll admit that I was pissed during and after this race.  I told Coach Brett:  I didn't have fun. 
And I really didn't.
I don't know what it was. The race itself was fine.  Volunteers were fantastic, etc.
I don't know what in the world I expected out of the race.  And it was all me, and in my own head. I didn't listen to my usual advice of: be brave, be thankful.  I didn't race with a happy heart. I was annoyed by little things out of my control at the start.  I started the race tired.
I came to the whole event with the wrong mindset. Despite all the things I have worked so hard on this year, (my attitude being one of them), I really rottened-up this event–and it was my fault.  I should have just been so glad out there running–but I was mad at myself that I wasn't running faster. That my endurance was gone.  That I was starting over.
At the end of the day, I was a brat about the race because I am in position of starting from ground-zero.
And by God, I feel like I have started over so many times in this sport.  I am sick of it.  I am no longer a "good" swimmer or cyclist.  I am not a good runner.  (Depends who is measuring, I know).  And it's not for lack of trying–it's just the circumstances at present.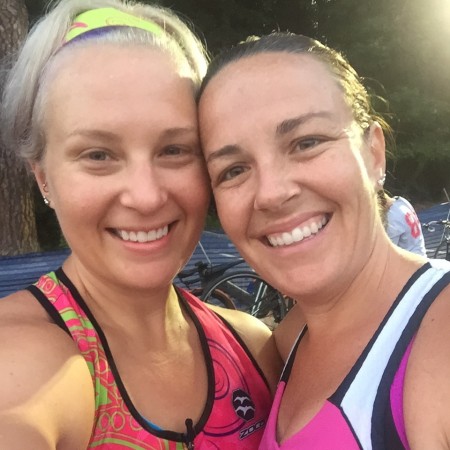 I have to keep moving forward. I must keep working. I can't give up now.
[But I don't want to "start over" either.] Sort of in a pickle, eh?
But that's life. Life is about two steps forward, one or two steps back. And those who never get injured or (seemingly) don't have bad races, like ever? Guess what? It's coming. It is. And probably when they wake up and feel the best–that's the day it hits.  Not waiting for the shoe to drop—but it's just life.  It's triathlon. It happens.
Some of us just feel like it's a predictable cycle. Which is tough when, for once maybe, we aren't using our weight or food or alcohol or injuries as excuses–we are really working to push past them. And the monkeys in the head are all loud and mixing everything up.
Anyway.
Today, I went and looked at my time, trying to come to this from an objective place.
I was 7th in my AG, out of 17.  I finished in 1:39—less than 6 minutes slower than last year–when I was Ironman ready.  And I am coming off a 14 week hiatus from pretty much all heavy tri training.
It. Was. A. Good. Race.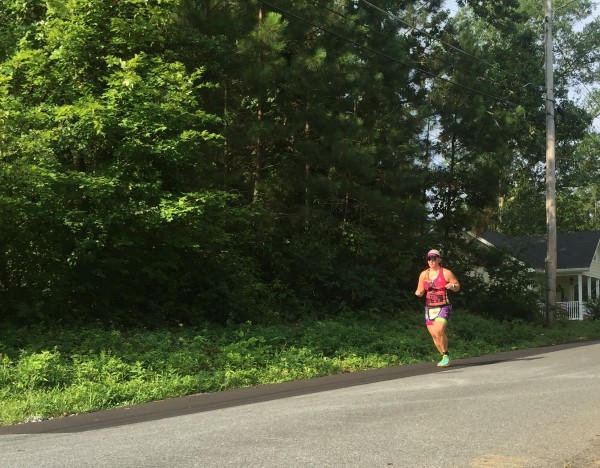 Expectations
So in that regard, a little on expectations… I don't know if comparison is the thief of joy, or if having expectations is the real thief of joy.
If I had gone out on race day just to have fun, I might have been better off.
(And actually another TMI caveat? When I got home from the race, my pee was dark brown. That's a [gross] sign of dehydration. Yes, it was hot outside, but we had family in town for the past few days, and I just didn't drink nearly the water I normally do, just being busy and not wanting to use up all the ice in the ice machine 🙂  … so I think that might have been a part of it, too.  I didn't fee super great out there.)
[Or maybe I truly am burned out with the sport entirely. I don't know.]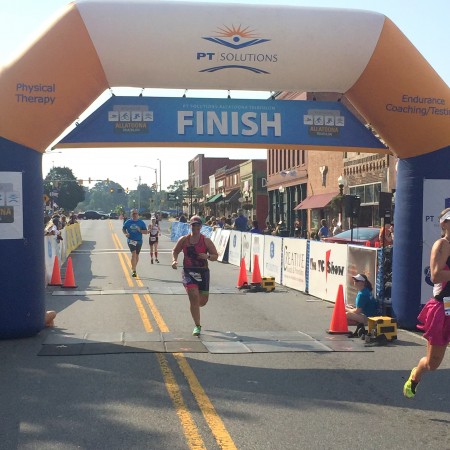 If I had raced my time last year? I would have placed 2nd. And I'm in this weird place of comparing myself to my pre-Ironman self… and that's stupid beyond belief.  So maybe it is comparison, and I have written about how dumb that is before. I didn't realize it would be Me versus Me, in this scenario…
And I couldn't wait to run yesterday, even after the race. I was ready to run again.
But swim? No.  Bike?  Not really…
"When it stops being fun, you should stop."  People will say about triathlon.
I don't know if that's true, or if I agree.
Because lots of things stop being fun – arguably EVERYTHING at some point, for some period of time isn't fun – marriage, jobs, life… but you don't just check out of life and marriage because it's waaaaaaaa, "not fun."
But I do think you have to find the "why" and the purpose behind it all.
I used to do triathlon because it gave me some "me" time and it made me feel strong, despite being a bigger girl.  I don't have those same needs, six years later, I guess.
Triathlon is a different "why" now.
So I am asking myself, I guess, if my current"why" is enough to keep going? Where does "Swim Bike Mom" continue to be in this whole triathlon journey?
I just don't know…  but for now, gonna #justkeepmovingforward.