As I wrote in this month's article in Triathlete Magazine, I have two amazing, wonderful children–who could not be more different.
They had their second ever triathlon this past weekend.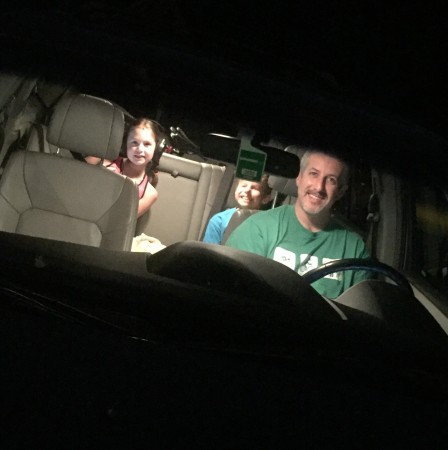 Stella (age 7) jumped out of bed at 4:45am, with her little warm face pressed up against mine, whispering, "Mom, mom, mom. I am so excited."
James (age 8) – a/k/a Captain Careful – rolled over and groaned, "Oh no. Not a triathlon."
So no, despite my triathlon obsession, I actually don't make them do these things.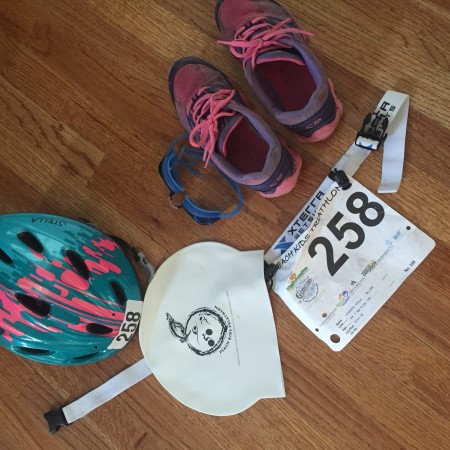 I ask them both very extensively before I pay the registration fees–do you want to do the triathlon?
Every answer (from both) is a vibrant, excited nod… until the race day gets closer. Stella gets more excited and cocky–in a good way–"Mom, I'm going to win."  Then, Captain Careful worries more and more.  But that's his personality, and the apple doesn't fall far from the tree–I was so the same way at his age. Still am, sorta.
Even as we practiced transitions in the living room the night before the race, their personalities began to shine. Stella raced excitedly through practice and wanted more.  James refused to put on his shoes and threw on his helmet with the attitude of someone headed into a colonoscopy. I really didn't know what would come of the race–I really just wanted them to have fun and like to be active–really that's all.  The Expert and I don't make them race–but we do make them start what they finish. And do what they say.
And James started this one, so he was in it–like it or not.
(He apparently did not like it, according to his attitude.)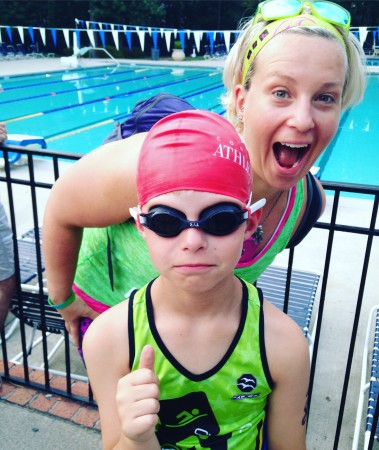 Anyone who has followed this blog or my former, now-dead, parenting blog knows that our oldest kiddo, James, is "famous" for refusing to smile and being generally a kid with a defiant personality. He's the most precious, sweetest and smartest boy–who happens to have a side of ODD (oppositional defiance disorder).  We had the ODD under pretty good therapy and control for years—but in recent times, it's rearing a new-stage (which is growing as he grows) and we are working on new tools in parenting. #alwaysanadventure  (The Expert noticed it most recently during baseball when he just refused to cover second base when he played second base. Or home plate when he was catcher.  Not because he didn't understand–but because he didn't want to.  Oh those are fun times.)
So anyway – seeing the triathlon coming up and the dear, sweet boy's apprehension—I really expected (and braced myself for), the starting buzzer to go off–and for him to stand there, refusing to get into the water and staring at me with serial killer eyes, like "Mom, I hate you and I hate triathlon."  I was ready for it. I almost expected it.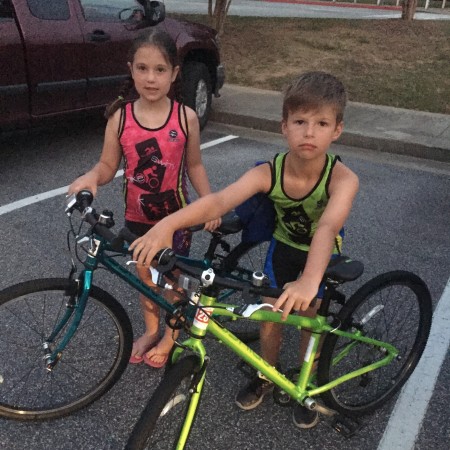 As someone who is not a trained therapist and who was raised to get a Southern-style ass-whooping whenever even a moment of defiance showed up, it's been a challenge to frame my thinking as a parent of a kiddo like James.  Now, when our son acts up–I have to look and see that the problem is with ME–not the kid. With ODD, it's the way you talk and interact with a child that matters regarding behaviors. And of course, it's the easy way out to just demand they comply with your will– (and you'll also have a bloodbath on your hands)–but it takes a patient and thoughtful parent to try and work through this stuff, and change behaviors for good–not just temporarily.
And hello– I am not sure I am either patient OR thoughtful–but I try to be. #goals
So on race morning, with the early bird wake-up call, this was Stella: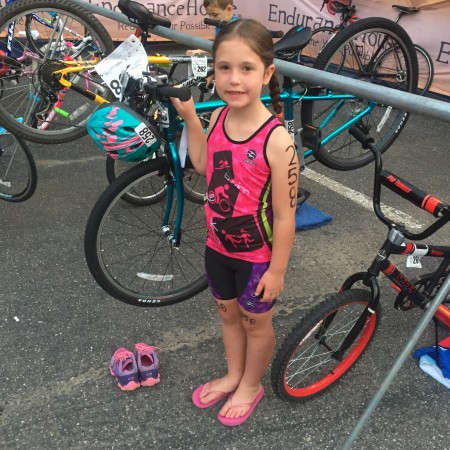 And this was James: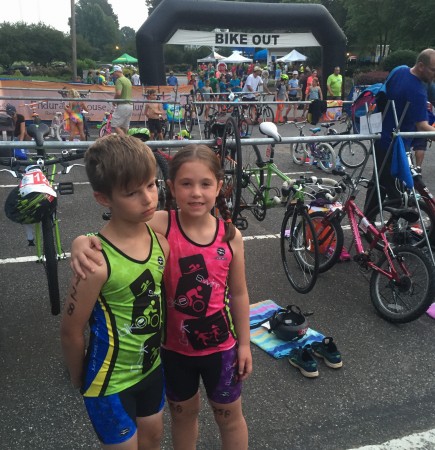 It was not off to a good start for my little buddy.
But we were in it–and it was happening.  We attended the Georgia Peach Kids triathlon–a fantastic, USAT-sanctioned youth triathlon by Georgia Multisports.  A great event put on by Jim Rainey and company, and full of all sorts of kiddos–and parents (another blog for another day…wowzers).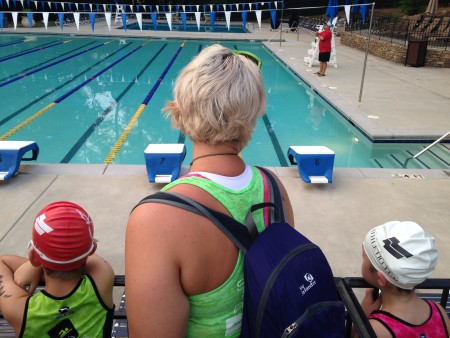 James was in the intermediate age group (ages 9-11), and as they waited for the older kids to go, I could sense his nerves.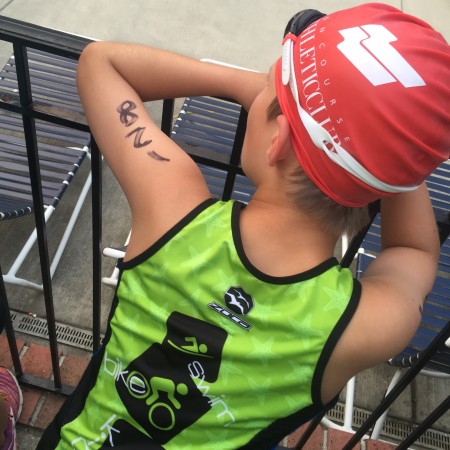 And Stella was more and more excited, leading a warm-up of jumping jacks on the pool deck.
As James went down on the pool deck to get ready for his wave, I was nervous. I'll give you that.  Even last week when we went to the pool to practice, he refused to swim freestyle- saying that he was going to dolphin dive the entire 100 yards.  This is where he floats down to the bottom of the pool and pushes off from the bottom.  (He knows how to freestyle, just doesn't want to. Again.)
The Expert told him that they might rescue him from the pool if he did that, thinking he was drowning.
Still, I really just expected him to do what he wanted–there are no guarantees when the defiance shows up. And really, this situation was prime for it.
As he lined up, our neighbor had brought her kiddos to watch.  James looked up and saw his little friend, and this is what I saw: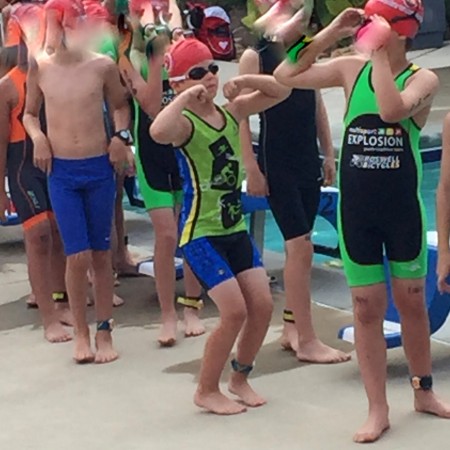 A happy dance? What?!
And this?  Is this a smile?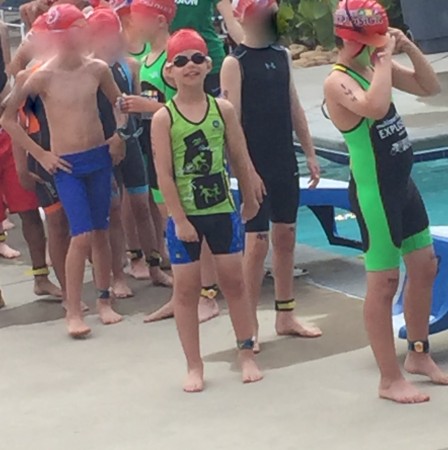 As he jumped into the water, he immediately went into freestyle.  No dolphin kicking or diving or whatever.  He just swam. He's not a super strong swimmer, but he did amazing for 100 yards – resting on the ropes a few times – yet, gathering himself together and getting right out of the water.
Wow.
As he took off on the bike, I was so happy for him… I just knew what a victory that was internally for him.  He was awesome!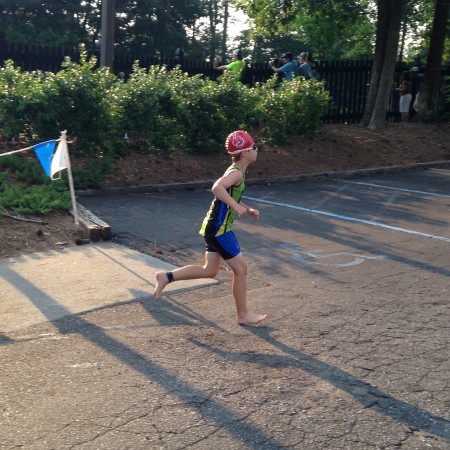 It was barely a blink and he was off on the bike.
…And it was barely a blink and he was BACK from the three mile ride.
Uh-oh…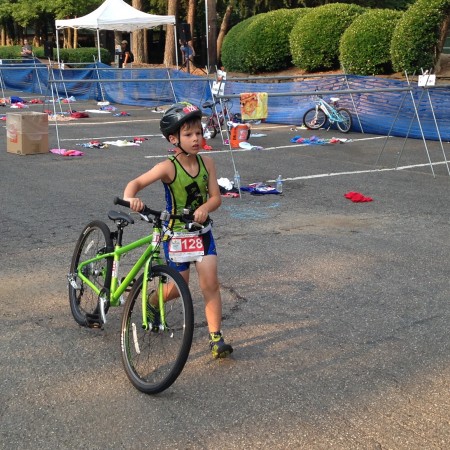 Wow – that was fast, I thought.
And it was. Because he missed the second loop.  ACK!
I totally wasn't thinking as I cheered him out on the run, as the Expert comes flying down the hill, shouting and gesturing to me to grab James before he leaves transition… "He missed the second loop. He only did one loop. I was hollering at him, but he didn't hear me.  He's going to DQ."
I looked, and he was out on the run.  Too late.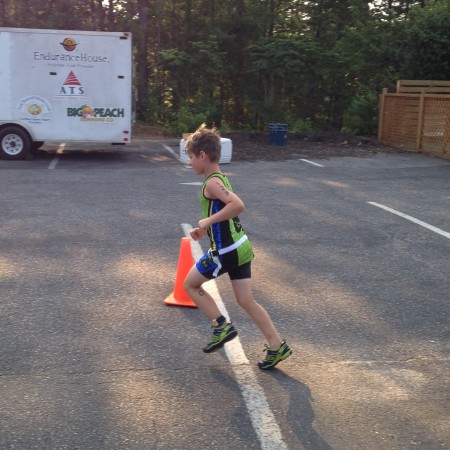 Immediately, I thought, "Shit."  Not because of anything other than–man, that's not what he needed.  He needed a positive experience. He was out there giving it his best, and he didn't need to get kicked down for it.
[And I certainly didn't need a reputation as raising a course cutting athlete. 🙂 Ha!]
So, the Expert went over and told the race officials as James went out on the run.
As James finished nice and strong with a wonderful run, he was so proud of himself.  I was SO proud of him. Look at this smile.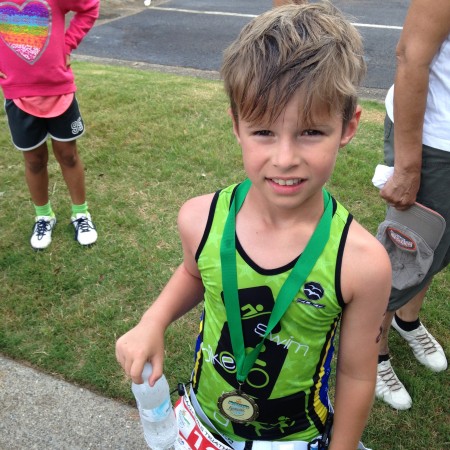 The Expert and I decided not to say anything to him (this time) about missing the second bike loop.
It was our fault for not educating him properly that he needed to do two loops. It's our fault that we didn't let him know to be more aware of the volunteers shouting instructions, etc.  It was a learning experience (for us, as tri parents) that did NOT need to take away from his victory–at all.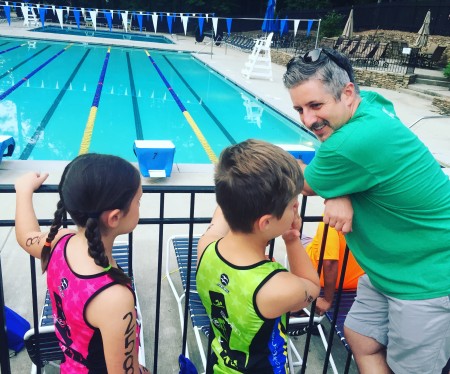 He doesn't have an official time.  But honestly, he doesn't know and he won't know (at least until he's older and reads this race report… but by then, he'll have many other victories and it won't matter–right? Right… that's my story.)
The fact that he went out there and seriously gave it his all–I was so stinking proud.  He did so amazing.  So so proud.
Next up, was Stella girl.  Eager and ready to rock.  And she did.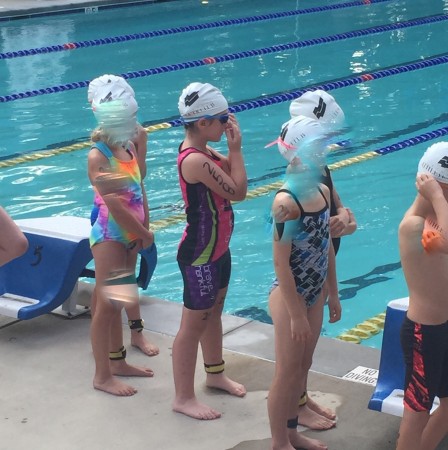 She hit the water with a take-no-prisoners attitude, right on to her third place podium finish.
We need to work on her transitions–she took a picnic in T1, but otherwise, girl was so fast and happy. The joy on her face was amazing.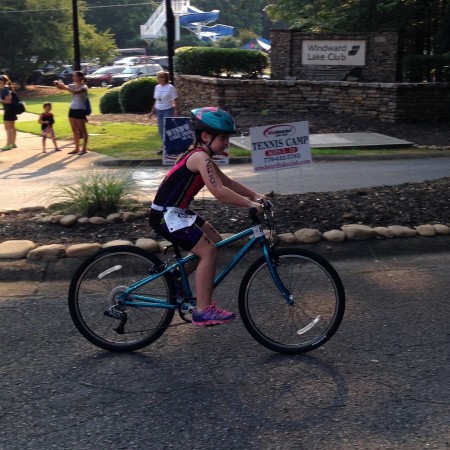 And this running form? Are you kidding me?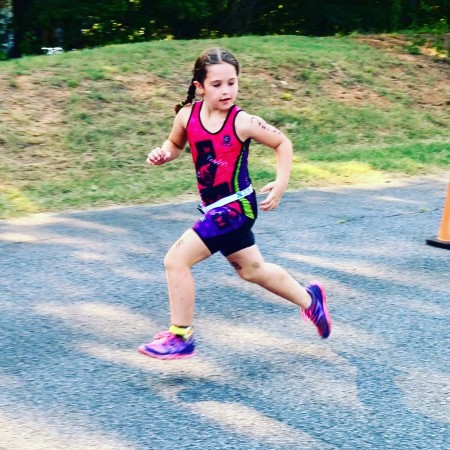 We didn't stay for the awards, and only found out later that she placed third.
Neither James nor Stella was focused on first, second or third place–they know they got a medal, a t-shirt, and they were happy. They didn't even ask who won–because in their minds, they did what they came to do–and that was it.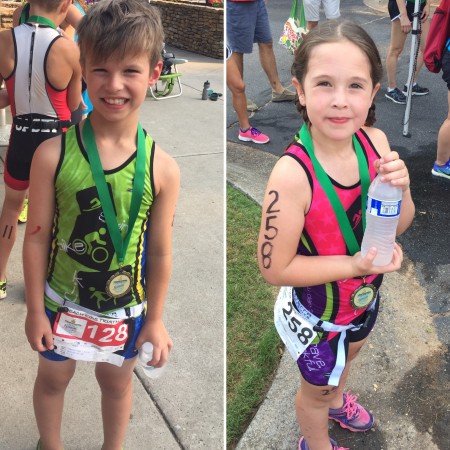 Still, this was a tricky one for me…
Because Stella certainly deserved to celebrate her third place victory.
But James also deserved to celebrate his effort and giving his all out there, especially when I knew what a challenge it was for him, fighting his inner negative nelly.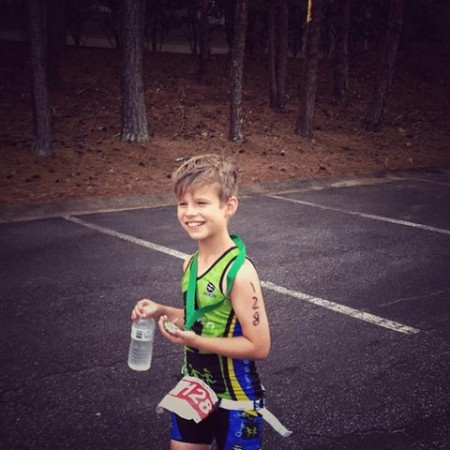 And the Expert and I didn't know how to allow both to happen without some sort of damage to the other kiddo.  And yes, I get it… life isn't fair and all of that. But I don't think there was a valuable lesson for EITHER of them in having Stella awarded a third place with James making a mistake on the course–a mistake that was arguably our fault, too.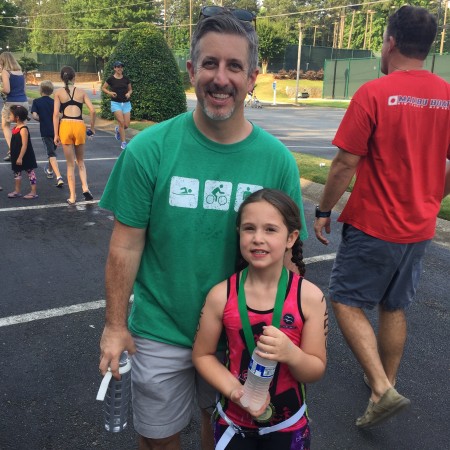 There's a time and place to crush hopes and dreams–life will do that to you eventually anyway, in some shape or form. And while I am certainly not a helicopter parent who tries to protect my kids from hurts and everything under the sun, I do think that we could do good here–and keep it simple. Why not protect them in this situation? I don't know….
So we kept it as "everyone did their best" and "everyone finished and did amazing" and now "let's eat pancakes."  Not sure if this was a parenting win or fail–but it's the best we knew to do at the time.
As quickly as James' joy was present, we have photographic proof that he is a stinker.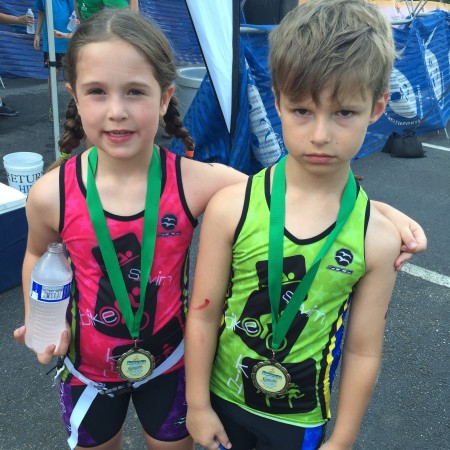 I love them.
Gosh, I love these kids with all of my heart and soul. I love them for their strengths, their weaknesses, their courage and their joy.  I couldn't have asked for a better day.  They are so very BRAVE!  Man.  (Mom brag alert.)
At dinner each night, the Expert and I ask the kids "High/Low" – which was totally shamelessly stolen from the movie, "Story of Us" where the Michelle Pfeiffer and Bruce Willis characters ask the kids at the dinner table to share their "high" of the day and their "low."
When it was my turn last night, I said, "My high today is watching you both swim, bike and run.  Just being there and watching you do such amazing things. And trying your best. That is my high."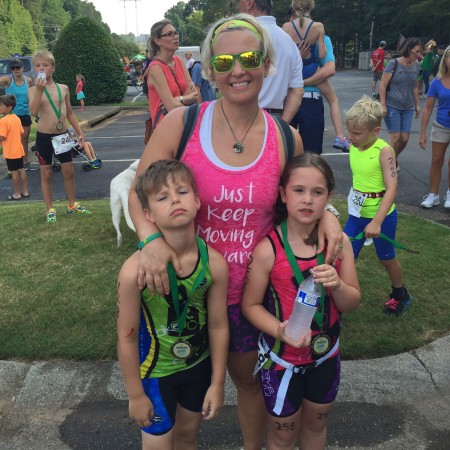 And it really was my high for the day–and maybe, just maybe, the entire year.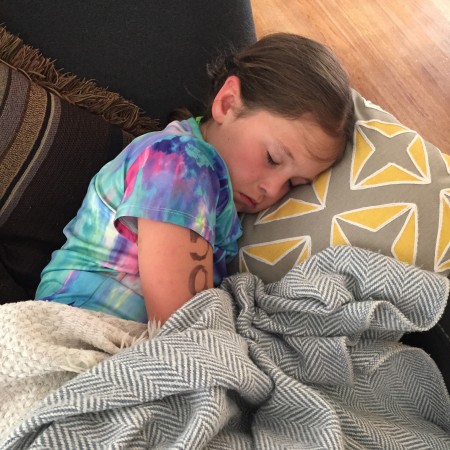 Just wondering… would you all have handled this situation differently?  Knowing the circumstances of James and our behavior struggles? Did we do okay, in your opinion… just would like to get your thoughts… xoxo