Tomorrow I start to rebuild.  Rebuild the running, rebuild my tri season (if there is one to be salvaged), and decide what in the world I want to do.
In light of the Expert's fantastic showing at Ironman 70.3 Chattanooga Choo Choo yesterday, I am finding myself in a place of utter fear.
Oh okay, intermission. Here's the Cliffs Notes Version of the Expert's Choo 70.3 by Me:
Hopefully, the Expert will give us a race report.  [Lawd knows this blog should at least have ONE race report this year.]
He had a fantastic day where, despite an asthma attack that hit on Mile 8 of the run, he continued and pushed through to a PR at the 70.3 distance— at a 5:58 finish time.
For those of you wondering, what a 5:58 breaks down to, these are his splits:  32:48 swim (1:41/100 pace) (1.2 miles) /  2:47:57 (20 MPH) on the bike (56 miles) / 2:28:48 (11:21 pace) on the run (13.1 miles) = 5:58
That's an almost 2 hour PR from his first 70.3 in 2011.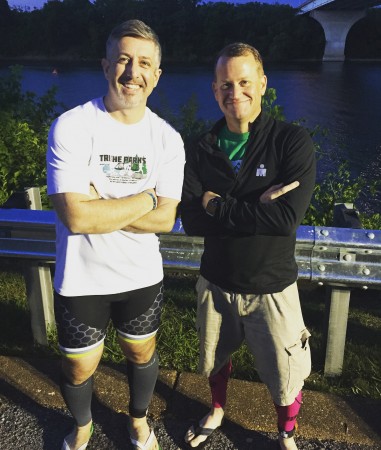 And yes, I did continue to coach him for the last 16 weeks. I was told that was a dumb idea, but we really worked well together–and it was a joy to have another athlete (and spouse) who followed and trusted the plan.  I look forward to his race in Augusta later this year.
I am proud of him. He is proud of him. That's good stuff. 🙂 The End of the Race Report by Me.
I enjoyed "sherpa-ing" the day at Chattanooga, hanging with my coach who was also spectating and seeing all the friends. We turned the trip around pretty quickly, as it was only a couple hours from the house.
I definitely will keep that race on my radar – due to proximity and convenience.
The hotels were close and plenty to eat and access. That's always nice from a racing AND a sherp-ing standpoint.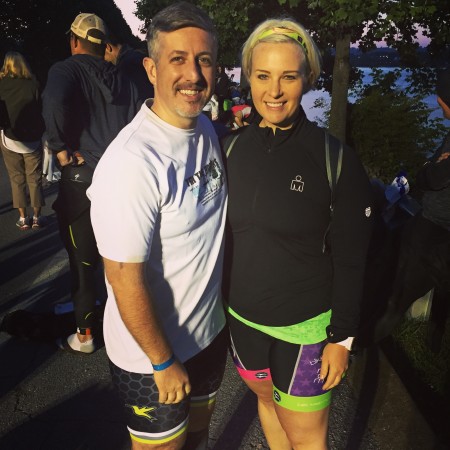 So back to work and home today, and it turns out that tomorrow is the day to run.
I will start to run again. Slowly, building from the ground up like a brand new baby foal.  A slightly larger and more awkward-than-most baby foal, but still going anyway.  Whoops. Fat joke. Delete.
I was going to wait and run the first week in June.  That was my timeframe, as today starts the medical "freedom" timeline. I thought I would add a week or so to that. But now, I am realizing that it's do or die time.  Not in a real-real sense, but in a "I think I am going down a black hole" sense.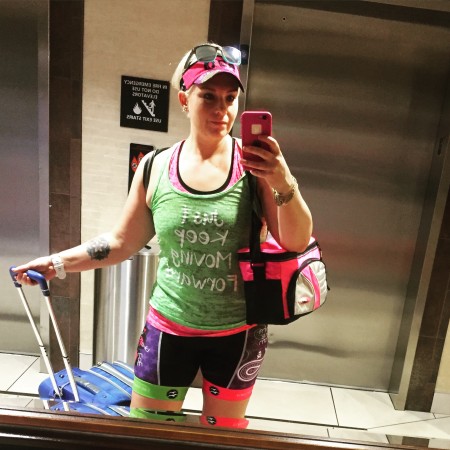 I can justify not running and not cycling when I am burned out or injured or unmotivated (and hell, even undisciplined).  Those all make sense to me.  But right now, I am starting fresh–and I am not any of those things. I am strength training and eating amazingly–I am motivated. And frankly, I *think* I am also quite disciplined.
But I can't seem bring myself to swim, bike and run like the banshee that I was just twelve weeks ago.
I am scared shitless about it.
The "other" F word.  Now I have three. And I don't really know why.
Category A:
I am scared for the reasonable reasons:  I might re-injure myself. I might favor the leg that was hurt and injure something else in the process. It's going to take a long time to rebuild all of "this"–and regardless of appearances, yes, there was stuff built there.
Category B:
I am scared for the unreasonable reasons:  I might fail.  I might never run faster than a 10:01 pace on a half marathon. I might never be able to run a full marathon from start to finish. I might… blah blah blah.
In moments when I find myself in this headspace, I do what I normally do to get out of it.
I stick my head in the sand.
Or into a box of cookies.  Or a bottle of wine.  Or coffee.  Or ice cream.
And guess what?
When I don't have those buffers to ease the scared shitless feeling? When I say, "No, those things are not what I need right now. I need to sit with this emotion and deal with it."  Well, that's no fun, and it's also a wake-up call. Big time.
So here I sit today.  Scared, and dealing with my emotions with no filter. And I don't like what precise emotions are making me uncomfortable.  I don't like how I feel at all today.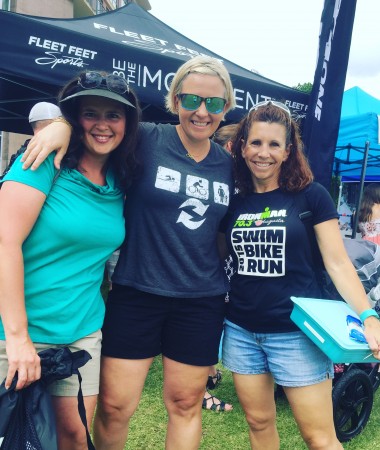 I went back to my discipline versus motivation post… and decided that the only thing to do right now is practice what I preach.  That I should call this a lack of motivation, but not a lack of discipline.  Call a spade a spade. And fix it. Put on the shoes. Put on the heart.  Remember why I started this in the first place.
When I started working out and running, way back in 2010, I was scared of different things, sure.  But when I think back, the core fear was the same:  what if I fail? 
I haven't figured out how to get past this fear right now.
Last year, I didn't worry about failing so much.  Maybe because I had the confidence in my training. Maybe the nightmare (yet amazing) experience at Ironman Lake Placid hadn't happened yet, so I had a sort of confidence that was nice.  Then Lake Placid happened last July. A case of  "Well, I worked hard for this race and it was still ridiculous… so there's no guarantees."
But of course, there are no guarantees.  There are no real reasons to just pack up and say, "Well, I'm done" just because the day didn't turn out like I had hoped.
So after tossing that around awhile, I gathered myself by the bootstraps and finished the season on a high with Ironman Louisville, despite crazy circumstances leading up to it.
But then I got hurt in March, while I was out there building confidence and working really hard again. (Cue the same tune as Lake Placid. I "deserve" a good race! Whatever.  It doesn't work like that.)
So I think the theme may be this:
When I am out there, giving my 110% in training and something "happens" to cause me to not be able to "implement" allllll that hard work on race, I go into some sort of head-in-the-sand mode.  Where I can't seem to put myself back together again.  Like in high school, when we get our feelings hurt, and we decide that even though the friends or whoever said "sorry," that we just can't move past it, because it was so tragic and dramatic.
That's what triathlon training and this injury cycle is.  Dumb high school drama.
Sure it feels heavy when we are going through it. But for the love, it's triathlon. That's all.
I used to do this sport because I could. Because I loved the challenge. Because I would give anything to do it and be healthy doing it. I am at the point where I am almost there again—and I am sitting here, wasting it–because I feel scared.
And I am scared. And it's stupid. Ugh. I can't even stand myself writing this.  Lack of motivation.  Nope.  Lack of discipline. Lack of gratitude.  Lack of seeing the opportunities in front of me. Yep.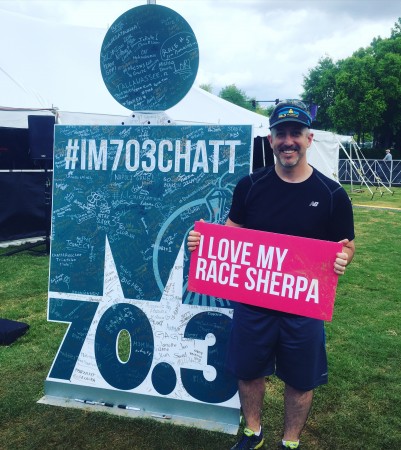 One of the the things I really admire about the Expert is his lack of fear.
Or perceived lack of fear, at least.  (He hides it well, if he's scared at all. We'll never know.)  I mean, he is willing to go out and race and train, and just do.
Like Andy Potts' said in his 2013 interview— Andy's word of the year was "inertia."  Little does Andy know, but our household adopted that.  The Expert looooooooved that.  So he says "inertia" like every day.  Mostly when the alarm goes off and we can't get out of bed. The Expert says, "Inertia!" and then leaps up.  I roll my eyes.  And then I leap up.
It turns out that inertia is contagious.
Less discussion, more action.  I enjoyed coaching him because while he would often argue that he knew better (damn Expert in everything, I tell ya), he would for the most part, just go and do the workouts I gave him.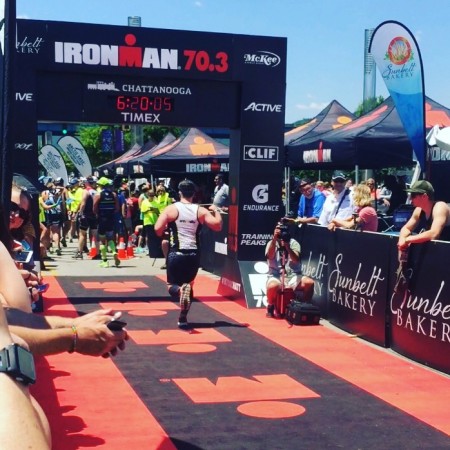 Even when they were really "scary" for him.  He would get up before the sun, haul his bike to Stone Mountain, and climb 4,000 feet in 4 hours, and come home. He didn't fear it. He just did it.
I admire him for that, and I didn't realize how much I needed that example he showed yesterday.
So tomorrow, I'll stop being a scaredy cat.
I'll try inertia. I'll lace up my shoes. And see just where they take me.