If you want a flat course, then the Tybee Critz Run Fest on Tybee Island (Savannah), Georgia is for you.  The race consists of a two-day run festival, where if you do all the events, the mileage adds up to a marathon (mileage-wise)— Friday night: 5k, Saturday: 10k, half marathon, 2.8 mile beach run and finally, a 1 miler.  Equals 26.2 miles.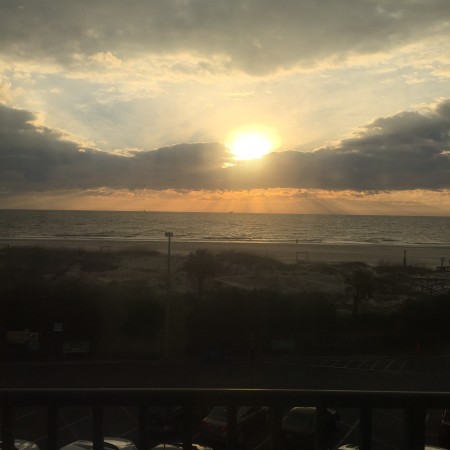 I am a special breed of crazy, but not quite that crazy–at least not this early and in the winter… so I opted for my third run at the Tybee Half Marathon. This was the Expert's first timing running it.  (Race Report 2012; Race Report 2013).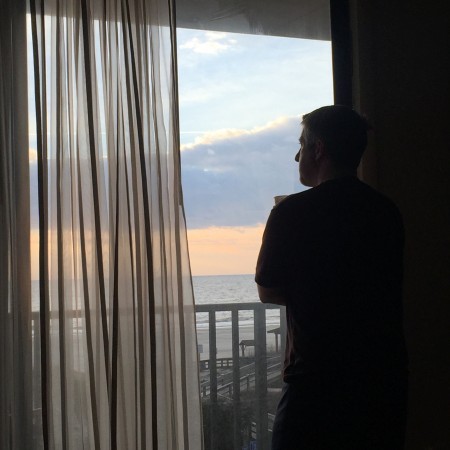 We stayed at Hotel Tybee, which was actually pretty nice, and 1 block from the start line.
It has like 2 stars on the website/Expedia, BUT it's a good hotel for Tybee.  If you put it in the middle of Atlanta, sure, I can see how it would be two stars. But for a beach hotel at Tybee, I thought it was actually really nice. Comfy bed. Nice beach view. Air conditioning and heat that works.
We woke up around 7:00, and left the hotel at 8:10 for an 8:30 race start. Easy as pie.
And we were off before we knew it.
The race was uneventful in the sense that I had absolutely no drama, aside from the fact that I forgot to start my Garmin at the race start… I realized at the 1/2 mile point, and then pressed "start."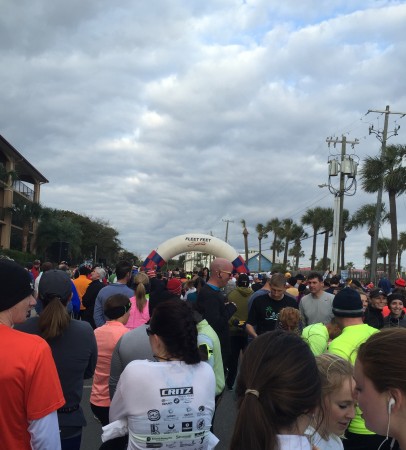 Sort of the method to this race madness, Cliffs Notes version:
I raced smart.  (I used my brain to make the race what I wanted it to be. Which, from the start, was a massive PR in my half marathon. My most recent half mary was in December, and that was 2:21; this course PR was 2:27.  So, I went into the race with a goal of hitting a 2:12 race time. And I envisioned that and sort of programmed it into my body and head.)
I focused, constantly. I suffered, willingly.
I race faster than I had planned.  (And I did this faster stuff, smartly… constantly asking myself, "Can I sustain this? Can I keep going at this pace?" A constant check-in was a good thing.)
I raced in control.  ("You're going too fast. Dial it back."  Or… "You're going too slow. Pick it up. Suffer.")
I hydrated. (Didn't carry hydration, since it was 45 degrees. Just relied on the water stops, but I did take some at each stop.)
I fueled.  (Larabar for breakfast; 3 Huma Gels on course (Discount code here for Huma if you are interested)).
I pushed when it hurt.  (I pushed harder when it really hurt…)
Negative split. I brought in the last mile at a 9:08 pace.
Good music.  You can check out my Running Playlist here: Listen to Half Mary PR  by Meredith on @AppleMusic.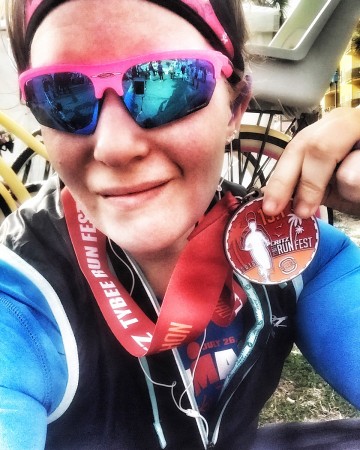 I finished 22nd out of 57 in my division, and with an overall pace of 10:01 min/mile.  I surpassed my half marathon PR by well over ten minutes, and this race by fourteen minutes–Race Report 2012; Race Report 2013
The Expert had a lovely PR (thirteen minutes) as well.  (And his momma was there too to cheer us on! <3 )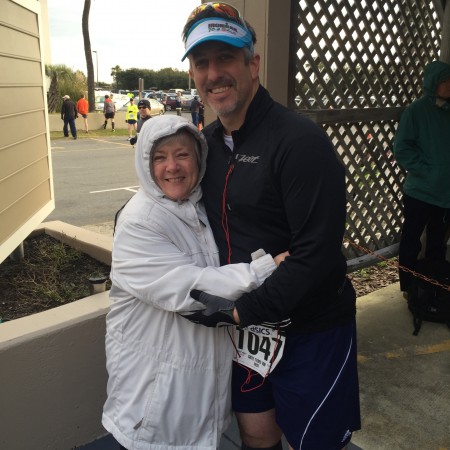 Super happy with the race.
Happy with my (our) overall nutrition and fitness. 
Happy with (us both) getting stronger and running harder (and thus, faster).
[Update: Turns out the Expert hasn't fired his coach, either.  Turns out she's doing a pretty good job coaching him.  Code: I am coaching him, and we're doing okay with that SO FAR! :)]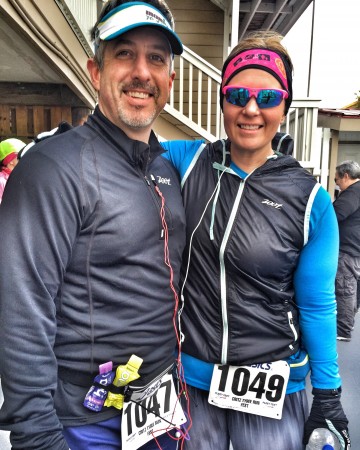 Overall, I am thrilled with what's in store for 2016.
Next up?  Ironman 70.3 Oceanside on April 2nd.  The #FiveRaces Countdown begins, starting with O-side.
It's kind of a big ole epic year.
And that's pretty much all I have to say about that.
#JustKeepMovingForward