Sponsored Post.
FTC Disclosure here.

Swim Bike Mom Friends Save 20% on orders over $35
Use code P20SBM at www.bluelizard.net.
Expiration 9/30/16
As triathletes, we are out in the sunshine… like, pretty much, a lot, and even in the winter (although maybe it's just our noses sticking out of our helmets and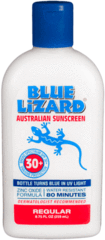 beanies!) 🙂
So, I have serious sensitivity issues to most sunscreens out there—they sting and zing my face, which makes the whole sunscreen experience miserable. However, the Blue Lizard® Australian Sunscreen (sensitive) provides broad UV coverage and did not zing or sting, which was a welcomed change!  [The Baby & Sensitive are paraben-free, chemical-free and fragrance-free; Face is also oil-free and all formulations are mineral-based containing Zinc Oxide.]
So, what's the deal and why is this sunscreen any better than something you'd pick up at the grocery?
Blue Lizard full spectrum sunscreen was "born" in Australia, where standards for sunscreens are the highest in the world. Although the products are now manufactured in the U.S., BL continues to adhere to the most stringent Australian standards, thus protecting our skin to the max.  It's ranked as one of the top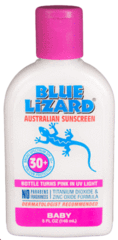 sunscreens by the Environmental Working Group (EWG).
SERIOUS BROAD-SPECTRUM UVA/UVB PROTECTION
Blue Lizard's Sun Protection Factor (SPF) is 30+. Although the Food and Drug Administration (FDA) limits the maximum SPF value at 50+, check this out: if you buy a sunscreen that advertises an SPF of more than 30+, you're paying for something that doesn't really exist, like vegetarian chickens. And speaking of chickens, our products are never tested on animals.
Blue Lizard not only protects you against the burning UVB rays but also against harmful UVA rays – the rays that cause sun damage most associated with aging and melanoma, the deadliest form of skin cancer. Not all sunscreens have this capability. All of our products are broad spectrum — and that's kind of a big deal in terms of skin safety.
WATER RESISTANT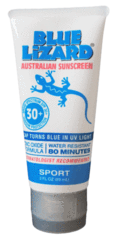 Sport & Regular are extremely water resistant. These formulas meet Australian standards of staying on in 240 minutes of whirlpool water.
Manufacturers can't make claims that sunscreens are waterproof or sweat-proof, but they can claim their product is "water-resistant" for up to 80 minutes in still (not moving) water. That's the highest claim allowed in the U.S.; Blue LizardAustralian Sunscreen, Regular and Sport formulations, meet this U.S. water-resistance standard of 80 minutes. Remember those Australian standards we talked about earlier? In Blue Lizard's water resistance test, Blue Lizard® Sport stayed on for 240 minutes in whirlpool water. That's four hours of continual coverage in 105 degree moving water. We can't state it on our bottle, but we can back it up.
HIGH QUALITY MADE IN THE U.S.A.
Blue Lizard is manufactured by Crown Laboratories in Johnson City, Tenn. We're a pharmaceutical company that makes prescription-grade dermatology solutions, not just a cosmetics company like those brands that produce most of the sunscreens on the market. All Crown Laboratories makes are pharmaceutical-grade dermatology solutions, and we have extraordinarily high standards and use only the highest quality ingredients.
Go here to read more FAQs.
TRUST THE LIZARD. WE'VE GOT YOU COVERED!
Doctor and dermatologist and pharmacist-recommended Blue Lizard Australian Sunscreen delivers clinically proven broad-spectrum UVA and UVB skin protection. Our products offer the most advanced, high-quality formulations to provide the ultimate in safe sun protection. Blue Lizard's patented BPA-free Smart Bottle™ serves as a valuable educational tool, as it turns blue (or pink for our Baby formula) in the presence of harmful UV rays. That's right. You bring the sun, Blue Lizard brings the magic.
There are five sunscreen formulas available:
Baby,
Sensitive,
Face,
Sport
&
Regular
All are broad spectrum UVA/UVB coverage (SPF 30+…all the coverage you need!)
Baby & Sensitive are paraben-free, chemical-free and fragrance-free.  Face is also oil-free and all formulations are mineral-based containing Zinc Oxide.
 
#WeveGotYouCovered
#BlueLizardSun
#BlueLizard
Follow Blue Lizard: Website, Facebook, Twitter, Instagram
Swim Bike Mom Friends Save 20% on orders over $35.
Use code P20SBM
at www.bluelizard.net.
Expiration 9/30/16