So this is not a post to pat myself on the back.  It may seem that way in the beginning, but let me finish and…then you can throw tomatoes if you want.
I was at my Grandmother's visitation and funeral last weekend, where I had done a careful job of trying to look nice. However, due to the Savannah heat, I was just sweating like a madwoman. I didn't feel like I could keep makeup on my face, and my hair–let's not even talk about hair and Savannah humidity. Coupled with the Igor-like limp I had from the bike crash, I was a hot mess, but felt like I pulled myself together pretty well under the circumstances.
But those of you who really know me (or have read this blog for a while), know that I have the self-confidence of a squirrel.
I don't really have any confidence, despite the fact that I am loud and take more selfies than is really healthy. But that's called content, people. Content. 🙂  Anyway, in real life, my equivalent of Nicky Manaj's "Damn, I look good" would be, "Eh, at least you are standing upright and don't have lipstick on your teeth."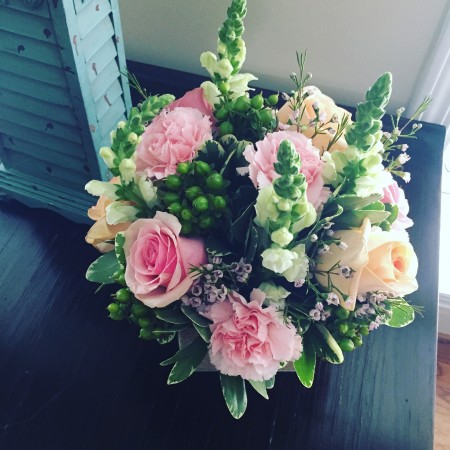 So at the visitation, people from the past and those I haven't met before, one-by-one, would come up to me and say, "Look how pretty you are" and "Look at those guns!" and "You are so beautiful."
It got to the point where I seriously thought there was a hidden camera, laughing at me. The people had to just be running out of things to talk about. Or I was on hidden camera show. Where was Ashton Kutcher?  
I was seriously humiliated.  Because… the truth of the matter is that I don't feel that way. At. All.
My gracious response was, "Oh geez. Well, thank you but I don't feel that way. But thank you."  [By the way, who says "thank you" like THAT anyway?]  My poor Mom was privy to many of the comments, watching me drop my head and turn beet red.
After a few days when I returned home, I mentioned it to the Expert, telling him how embarrassed I was. How when I look in the mirror I see nothing but a laundry list of mean things:  fat.  slow. sad. (sweaty).
And the Expert said something that made me pause.
He said, "You ARE. You are beautiful. You always have been." (Well, he's my husband. He's "supposed" to say that.)  
He went on, "But here's the thing… you have CHOSEN to make triathlon your PLAYGROUND.  And it is a playground of lots of fitness, thin-ness, and speed.
"It's a playground that will mess with your mind, too.  It's full of kids who are different than you are.  And maybe somewhere along the way, you've ingrained that in your own head way more than you should have. And of course, looking at the wide picture, hey, maybe you DON'T technically 'fit in.'
"Those triathlete kids on the playground are swinging high on the swings, fast and furious.  And you're over there, hanging out on the monkey bars, doing your tri thing to the beat of a whole other drum.
"But you are LOVING it! And you love it so much that you tell EVERYONE about it.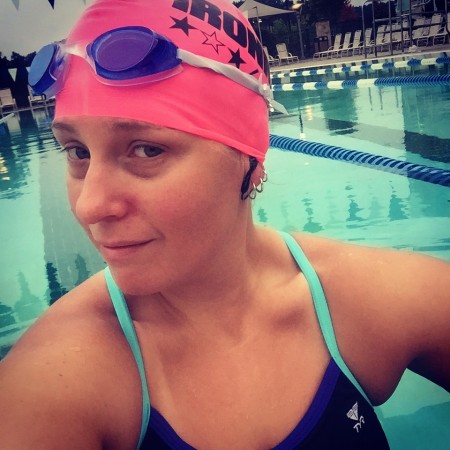 "In reality, the fast and furious kids on the swings don't care that you are on the monkey bars–they're too busy with their own stuff.  And sometimes, hell, they come to the monkey bars too—" (to which I interjected, "Yeah, but I can't make it over there on the swings!"  The Expert frowned at me. Moving on…)
He continued, "Nevermind the swings.  You are doing your thing.  And wait–don't forget the kids who aren't even ON the playground. The ones who are looking at ALL OF YOU from the street thinking: 'Wow, I wish I had the courage/balls/strength to do what they are doing! That crazy blonde one on the monkey bars looks like she is having so much fun!'
"Mere, you have worked so hard in this sport and only YOU can change YOUR perception of yourself.  Be beautiful in your own mind, and keep being a damn triathlete. It's YOUR playground too. You need to step back, realize WHO you are and what you have accomplished FOR YOURSELF.
"Now get back on the monkey bars."
Wow.
That Expert is pretty smart, first of all.
And here is my  next point: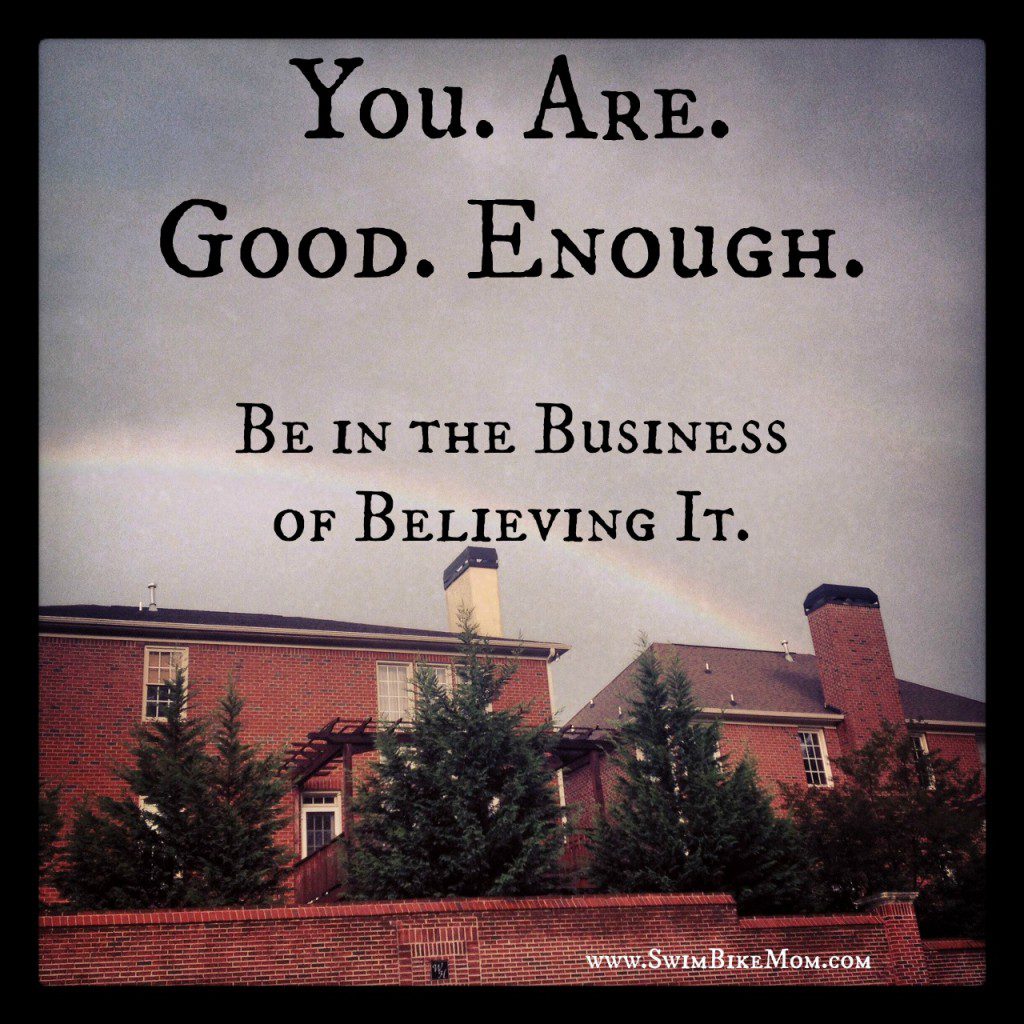 Triathlon is actually a sport that is fairly diverse.
When you are in an Ironman race, you wouldn't believe the sizes and shapes and ages of everyone.
However, what we each CHOOSE to see about this sport may be another thing.  We may see the super-thin and fit people (some of us are those people) and maybe how we can never catch up.  We might compare ourselves to them, thinking, "I am not a 'real' triathlete."
And trust me, love muffins… I FEEL THE SAME WAY.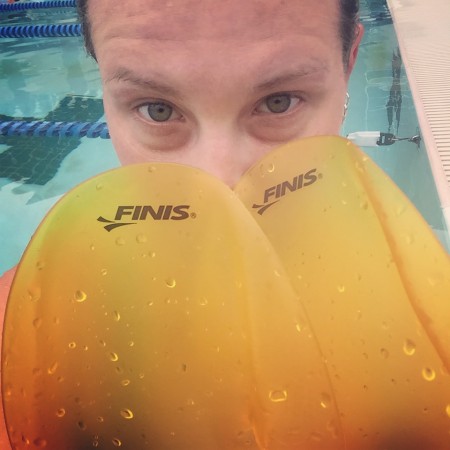 Even funnier to me is when I see super-fit folks on the course and have conversations later with them… and they don't feel good about themselves either. (What in the heck! None of us "get" it, it seems!)
Of course, there's me…. a three-time Iron distance finisher, and I am still like "I can't (or shouldn't) play with anyone on the playground."
(What kind of messed up sh*t is that?)
So here's the thing… we are all on this playground and we should act like it.  We. ARE. Triathletes.  (or)  We. Will. Be. Triathletes.
And whether you're on the swings, or on the monkey bars WITH ME, I do take joy in the fact that we are all on the same playground.  Triathlon is a playground of beautiful people of all shapes, sizes and ages… all united by one common thing: Spandex.
And for those of you who are outside the playground… just head on over to the Monkey Bars.   I promise that neither I, nor our little community, will let you fall.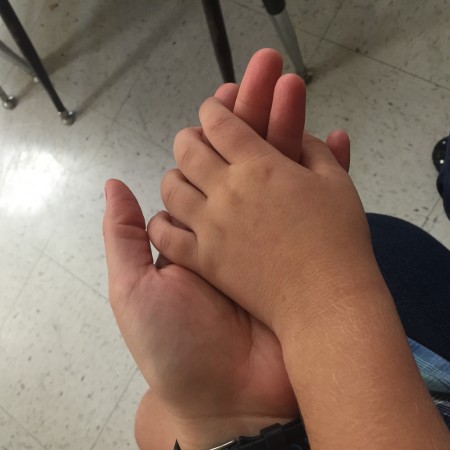 * * *
"Five years from the date of the attack that changed our world, we've come back to remember the valor of those we lost—those who innocently went to work that day and the brave souls who went in after them. We have also come to be ever mindful of the courage of those who grieve for them, and the light that still lives in their hearts."

New York City mayor ­Rudolph Giuliani
at the World Trade Center site in 2006
* * *
Join our Facebook Group:
TriFecta
: Family, Life and Tri