Spotlight for this post is on SBMAT Ambassador, Teresa Morgan.
Teresa is a ROCKSTAR and will be joining the ladies at
IM Louiseville in just a few weeks.


Teresa Morgan
City/State: Minnetonka, MN
Age Group: 45-49 (2015)
Biggest Inspiration: There are so many people that inspire me on a daily basis so it is rather difficult for me to choose.  If you asked me today, it would be Meredith Atwood.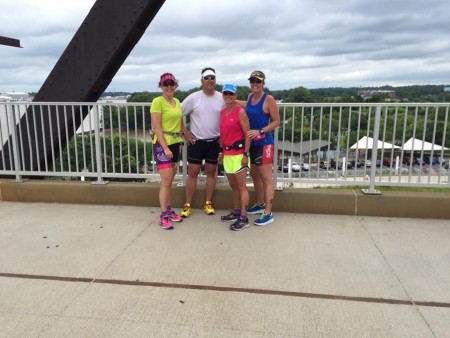 Scary 2015 Goal Complete 2 Ironman's in just over a year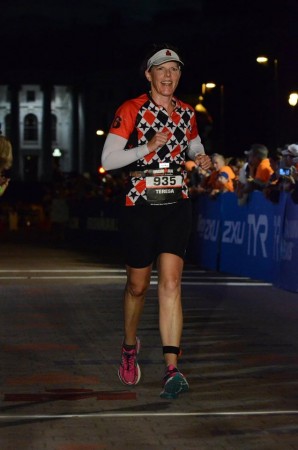 How Triathlon Changed Me: I hated moving to Minnesota. I had lived in Illinois my entire life which at that time was 29 years.  We moved shortly after we were married in 1999.  I was miserable.  I was overweight and gaining more by the day.  I had no friends and I was telecommuting.  Then, I stumbled upon this amazing group of people in the running and triathlon community and started doing things I never thought I could. I made some pretty awesome friends and found an amazing support group.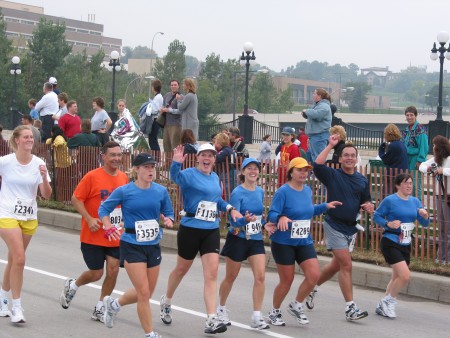 Being involved in this community and sport has changed me in ways I cannot even begin to describe.  I have found a new sense of self, gained confidence I have never had and realized that I can do anything I set my mind to.
Favorite Piece of Gear: Gadgets!  Specifically, my Garmin and my Power Meter.  I am such a geek when it comes to stats and love to look at them during (which is a problem J) and following my workouts.  I love to analyze where I am and how I can get better.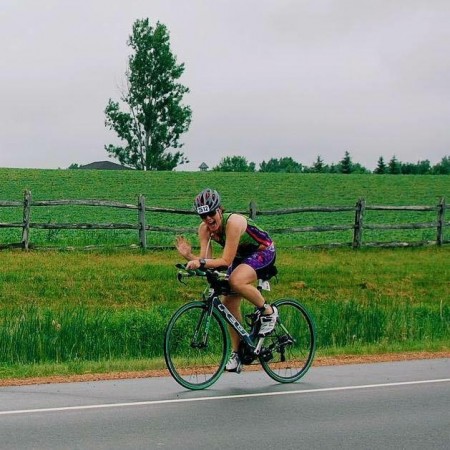 I Race For: My daughter.  I want her to know that she too, can do anything she sets her mind to.  I want to show her what it means to be brave, to face and fight her fears, to never quit, to believe in herself and to know that she can overcome anything with the right tools and mindset.  Her possibilities are endless.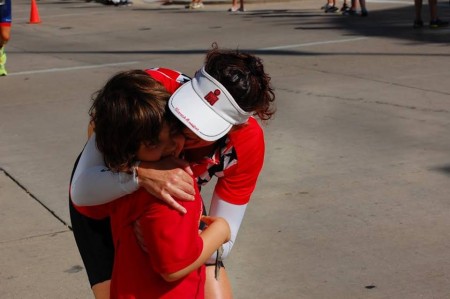 By training and racing, I also remind myself each day of what I can do and the impact I may unknowingly have on others.  I race for those who never thought they could because I am proof that you never know what you are capable of until you give yourself a chance!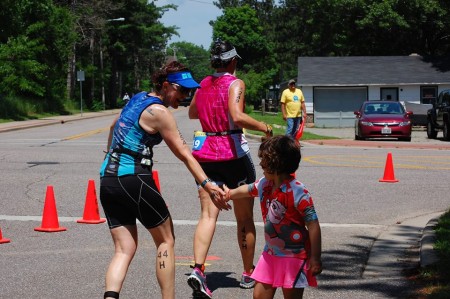 How I Pay It Forward: I do my best to volunteer when I can at local races.  This year, I really want to do more of it, volunteer at smaller races and those I haven't done as well as at my daughter's school.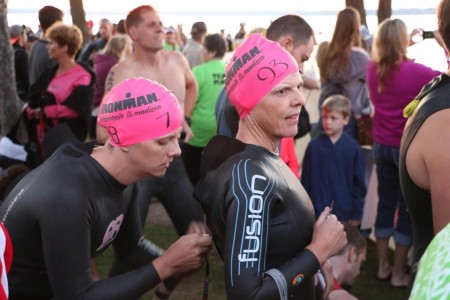 I want to give back to the community as well as help the newer triathletes, Mom's who are just getting started, and those who may have issues in the open water.
What Else You Should Know About Me: Oh, now that is an open ended question isn't it??  Let's see…I have been married to my husband Kyle for 15 years.  We have a daughter, Emerson, who turned 6 in December.  I work full time at the Aveda headquarters in Blaine, MN and have been there for 13 years.  I was never a swimmer, biker or a runner.  I really didn't like doing any of them.  Running only when chased sound familiar?  Oddly enough, out of all three, running was the sport that started it all for me.  I had done a race or two prior but I really started running at age 31 when coaxed by a coworker to go to this new running store where they had group runs.  I remember telling him that I couldn't run very fast or far.  He told me they do this walk run program which seemed ok.  So, I went, only because he promised we could go for drinks afterwards!  The next thing I knew, we signed up for a half marathon.  After completing that, I remember thinking…well, if I can do that, I probably could do a marathon.  So, we signed up for the Twin Cities Marathon.  In doing so, I met a woman who would become my training partner for years to come and a wonderful friend.  Six marathons later, we were growing tired of running.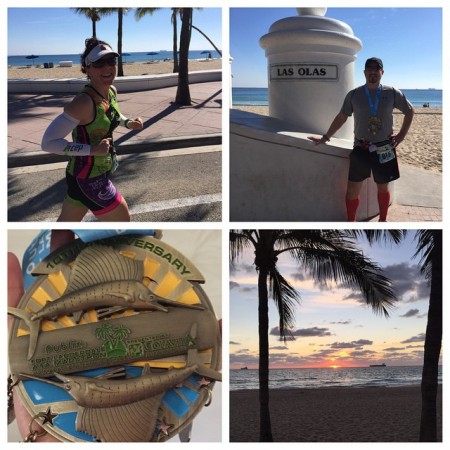 We heard about this crazy thing called Ironman from some of our running friends who were triathletes.  I remember thinking, I would never do something like that and they were clearly insane. Right?  We virtually watched them finish the Great Floridian and that same year, I watched Kona…and cried my eyes out.  Then I thought to myself, holy crap, I am doing that someday!  When I mentioned this to my husband, he laughed at me.
Now, before you go throwing him under the bus…my husband has always been my biggest fan/supporter/cook/Sherpa etc and he did not mean to hurt me with this reaction.  Given the fact that I hate swimming and barely rode a bike, he couldn't help but laugh. Can you blame him??  My reaction to that was simply….GAME ON!  So, on a mountain bike with little swimming under my belt, my training partner and I did our first sprint triathlon the summer of 2005 and then, …gulp…signed up for IM Wisconsin.  Something like four triathlons later, I completed my first Ironman in 2006 in Madison, in the (insert expletives here) rain and just completed my second IMWI this past September.  It is so addicting that I have just signed up to do Ironman Louisville in October, 2015.  I really love the challenge of the Ironman distance.
Other thing to note…I am really stubborn and determined.  When I started getting back into triathlon after Emerson was born, I started to panic in the open water.  This had never happened to me before.  Ever.  If it hasn't happened to you, it is really hard understand what it feels like.  I have never been so scared in my life.  I would panic in nearly every race for 2 years leaving me with no energy for the bike or the run.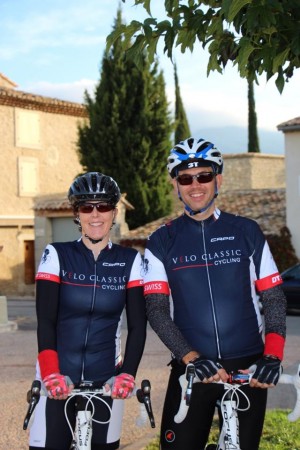 Several times I was the last triathlete to finish and doing triathlons wasn't fun anymore.  I wanted to give up and quit and had planned on throwing in the towel after my last race in 2013.  Note, never make a big decision when you are hanging on a boat in the middle of a giant lake.  But, I really wanted to do IM Wisconsin for the second time.  I finished that last race and decided that giving up was not me.  Was this the example I wanted to set?  Not at all.  This past summer, I worked very hard to overcome what I thought were physical issues to open water…come to find out that it was my mental toughness that needed work.  I learned that my body was doing exactly what my mind was telling it to and I was so focused on my fear of panic that I was causing it to happen.  My body was having a physical reaction to the panic and I could not get through the swim without stopping, hanging on a boat, and coughing up a lung.  After a summer of focusing on the mental aspect of training/racing with my coach and a sports psychologist, I have finally managed my fears.  I began to focus on process related goals and using mental imagery along with a host of other tools and have had solid swims ever since.  I can't even put into words how amazing knowing how to deal with this huge fear feels.
On the lighter side of things….I am a HUGE Bears fan and will do just about anything for donuts, fried food and beer.  I love spending time with my family and my husband travelling, biking together and going to see live music.  I love a good musical and enjoy going to see Broadway shows with anyone who will go with me, especially my Mom and Emerson.  I am known to break out in tune at any given moment.  I love to dance.  Cleaning the house usually falls below the "suck" line.  I try to cook but I love to bake.  I am a rule follower.  My happy place is on my bike; this girl loves to climb!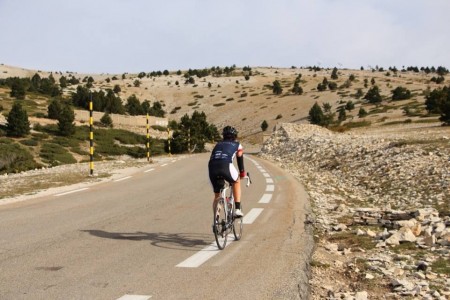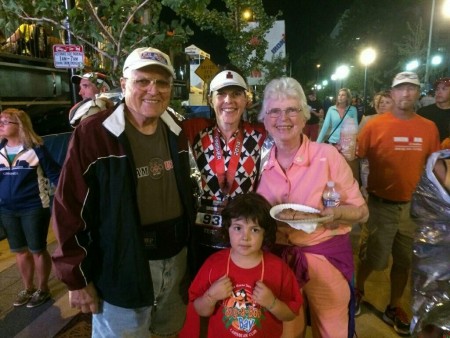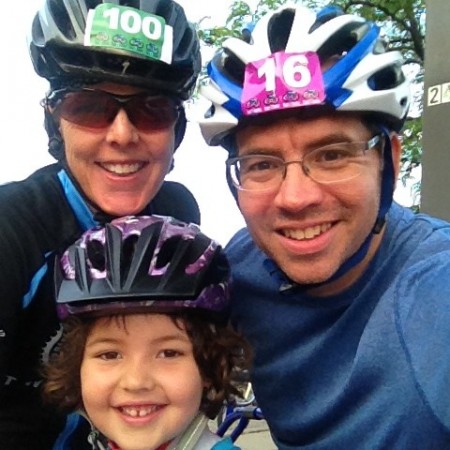 How to Follow Me:
Twitter :https://twitter.com/rockbeebster
Instagram: http://instagram.com/rockbeebster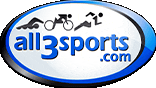 Use Code "SBM15″ to get 15% off through the end of the year at All3Sports!