On Sunday this week, my mom texted me, "How are you today?  A week ago, I was just thinking about you as it was getting dark."
She was referring to the beautiful and hot sunset at Ironman Lake Placid last weekend.  [And how I was still out there trucking along, walking and relentlessly headed towards the finish line–like a crazy person. In the dark.]
I don't really remember much about the race now. I am glad I wrote a race report, so I can go back and read it–it's like reading a stranger's report.  Funny, and glad that I worked on my race report the day after the race. Because the memories have really (really) slipped since then. Arguably more evidence of the mild concussion on the swim… I know I know…
I hardly remember anything from the bike portion.  The run is a blip.  Though I know I did a lot of crying on the run, because over a dozen people have also mentioned my weeping on race day.  🙂
I remember waking up on Monday (after the race), and talking to my Mom… Telling her that I was going to work on long-distance open water swimming and probably not race Ironman Louisville (or triathlon ever again).  That was around 8:00 in the morning.
By noon, I was dying to register for 2016 Lake Placid, and by dinner time, I was lobbying the Expert for it.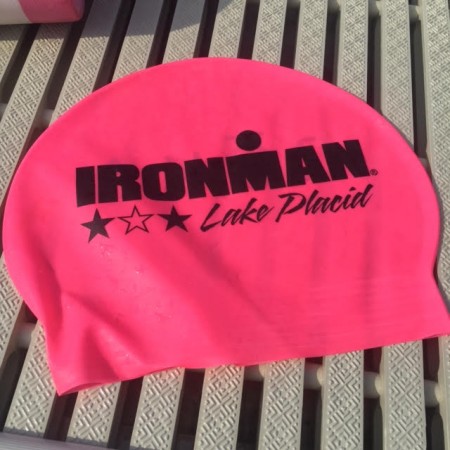 Why in the world does this happen?
Well, contrary to popular belief, it's not an illness.  [At least not a documented one.]
In complete short-form analysis of my race day, I had two major limiters:
1) a possible mild-concussion from the head blows in the swim… at best, the most severe migraine of my life with an added bonus of lost vision during the bike; and
2) foot issues that forced me down to a walking marathon (if I wanted to finish the race).
Two things that were really out of my control on raceday:  head blows and blown tootsies.
For me, when things out of my control dictate my day, I simply don't want to be defined by those circumstances.
I loved the course in Lake Placid.  The bike was gnarly, but fun.  But it was exactly what I had ridden in training. The hills. The unexpected heat.  I loved it… but then, I didn't.  Because of circumstances.  The pounding head and inability to see out of my right eye. That kinda sucked.
Me on that bike course without a headache? With full vision? I don't know what that would be like… (I want to know).
Then the run course.  I was down 20 pounds. I had reduced long run, "Zone 2" running pace almost 2 minutes per mile. The run course was beautiful.  And hilly.  And my feet were falling apart.  I loved it… but then, I didn't. Because of my feet. Because I couldn't run without ripping my feet open.
What would my run have been like without the migrane concussion? Without the foot issues?  I don't know.  (But I want to know.)
That's why I am going back to Lake Placid in 2016.
Text with my mom:
Me: I'm going back to Lake Placid next year.
Mom:  Okay, honey. 🙂
And that's why I am racing Louisville in a little over two months. Because I don't know what else to do–other than move forward.
And those are my reasons.
And guess what?  I have so many people who me and Swim Bike Mom and all of it. And that's awesome (so thank you!).
But I don't do these things for others… Or for reactions.  I do them because I want to.
[Yes, I know.  Haters are most certainly gonna hate.  People are gonna flap their stupid mouths behind their two-faced backs. And that's fine.]
But I don't have to explain ANYTHING to those of you who think my decision is dumb. (Yet, here I sit… furiously typing away anyway… because somehow I do.)
I don't have to respond to those who say "What an IRONMAN finish isn't "good enough for you?"
What really rips me up about a comment like that… is that I actually clawed my way to that finish.  Lawd, yes… it's "good enough"!
But then I ask myself… was it?
And the answer… is actually, YES. It was the best finish I could have imagined under the circumstances. Yep. It was good enough.
It was good enough where I want to do it again.
(Plus Mike Reilly never misses Placid!)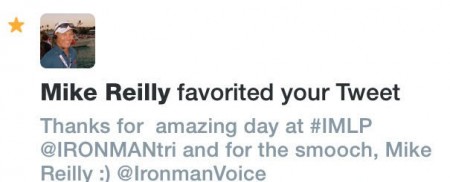 I am going to continue to work hard to be the best ME possible.  I share my journey hoping that it will resonate with people, help people dig themselves out of addictions and depression, or hell, just to make folks laugh. Whatever I can do, I write and Instagram to be a point of reference or inspiration or silliness. I am just me… nothing has changed about that.
I loved Lake Placid. I want to race it again.  Under different circumstances and see what happens.
Maybe the circumstances will be better.  Maybe not. But I am willing to gamble on it and enjoy the ride of the new hashtag: #IMLP2016
And that is my journey.
#JustKeepMovingForward