Kathy reached out to me in an email, and we chatted a little.  Her story really resonated with me, and I wanted to share with you all.  Thank you, Kathy for your inspiration to #JustKeepMovingForward …no matter what.
"I had been a runner on and off since my early twenties, but when I married and had children I put my fitness on the back burner like [many] moms–work and family came first.
My sons were born 16 months apart and always involved in sports. By high school, Drew (my youngest) was swimming on a national level and Randall (my oldest) was running cross country and track and swimming for the high school.  I attended every meet and loved every moment of it, trying to get a run in when possible.
Drew signed in November of his senior year to swim for a wonderful college and received an academic scholarship as well.
But at 10:07 p.m. on May 17, 2013 everything changed.
Drew had just called and said "I am on my way home, love you" and while changing lanes he flipped his SUV and died.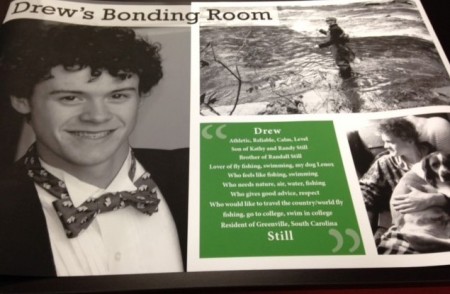 My life changed forever that evening.
The first few weeks were a blur, but I continued to remember something Drew told me after he had missed a qualifying time for a national meet:
"It's all gonna be alright, just gotta breathe, breathe in and out and try again."
So I started running again, swimming and–scariest of all for me–biking. And breathing in and out.
The first few months I was swimming I cried most of the time in the water; so glad no one could see my eyes because of my mirrored goggles.
I signed up for the Beach2Battleship half iron in 2013 and managed to fumble through it.
First thing I did after the finish was to sign up for the full iron distance at B2B in 2014.
I got serious about my training–53 years old training for a full ironman–yet I knew I was going to make it, I was going to be "alright."  So I trained, and my sweet husband biked with me–teaching me how to clip in and other cycling things.
The morning of the race I am getting ready for the swim thinking, "It's all gonna be alright."
I had a wonderful day finishing in 13:59:10–well below the 16:30 that I was aiming for.
And after getting approval from the race director to take my son's hat and swim t-shirt from my husband to wear at the finish, I knew I was not finishing just for myself but for Drew as well.
I am a warrior – I am strong not just physically but mentally – and yes, "It's all gonna be alright, just gotta breathe, breathe in and out and try again."