I messaged my coach this morning: I don't think I want to do Ironman Louisville.
Why?
Because I damn near DNF'd Lake Placid, and I don't feel like reliving that.
Stop it.  [To which, I wanted to respond, "NO YOU STOP IT!" like a five year-old. And stick out my tongue.]
Okay, I will stop. [Then I did stick my tongue out at phone].
Please do.
How did I get here?  I don't know.
The two Ironman year is intense, sure.  And somewhere along the way, I have lost track of what it means to be a triathlete–and by that, I mean a triathlete–not an
Ironman
.
I have lost touch with the fact that when I go to the gym and I run 3 miles on the treadmill at a PR pace, that it is something to be PROUD of–and I don't need to listen to the shit in my head.  And you wouldn't believe the stuff inside my head. MAN. I am mean.
Yeah, you may be PR'ing that treadmill, but you can't even RUN, really.
Who says that?
Ironman is wonderful. But it is a serious mind you-know-what.  You really do lose touch with reality.  The bar set for the triathlon "norm" is skewed and raised. No longer is a "long run" six or seven miles. It's like fifteen miles or three hours, or whatever.  A long ride is no longer three hours… it's six or seven. And like 100 miles.
And that is fifty shades of stupid.
We have some family staying with us, and they asked me this morning, "How far did you just run?" …to which I responded, "Just three miles."
I coulda slapped myself across the face.  Just three miles??!?  JUST?
I wanted to scream AT MYSELF, "Three miles?! Let me tell you about three miles! Three miles is a LONG WAY TO RUN! And hard! And it never seems to get easier, because just when you think it is—you try to go FASTER–so that makes THREE MILES hard again! Three miles is Hard. As. Shit."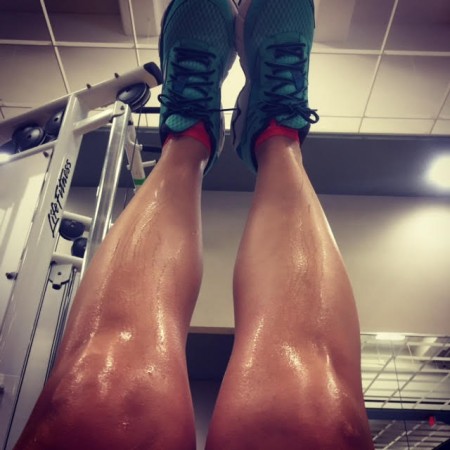 Right now, I am down on myself because I still have an hour and a half bike to complete at some point during my free time today, and I haven't.  So I feel like crap.
Total mind numbing stupid crap.
But I think, at the end of the day, all these monkeys in my head come down to FEAR.
Someone sent me an email about getting pulled from the bike on their half Ironman race. They were looking for words of wisdom about how to dust off and "just keep moving forward."
The same question applies to me right now, really… sending the text to Coach Brett this morning.  Why don't I want to do Louisville?  Why do I find each workout so hard?  Pure and simple fear.
We're scared that we are going "fail" again.
And please note that "fail" is widely defined here.  The "failures" we see are in our own heads. Getting pulled off the bike course during a half iron is actually not a failure–it's just what occurred.  It also means that you just also completed a 1.2 mile swim.  It means that you biked further than probably 90% of the population can.  I finished IM Lake Placid before midnight (success), but did not have near the race I wanted (perceived failure).
All perception. All kind of silly, really.
So as I go into my ramping up for Louisville, I guess I am feeling FEAR.  I think that's what most of us go through when the big goal creeps nearer…
As we try to pull ourselves over and above the prior "failures," we are simply scared.
What if I "fail" again?  What if I don't finish? What if I hurt myself? What if I hurt someone else?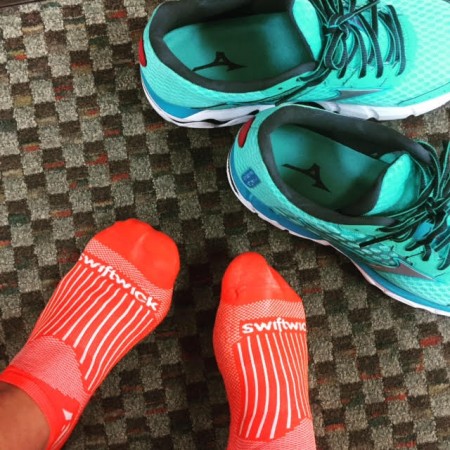 The funny thing is that I don't have any real advice about how to dust off and move foward and hurdle the fear… except to just do it.
Physically force yourself to lace up the shoes, get on the bike, and go.   That's always my advice…. make the move.
Show up. Do the workouts scheduled.  
Show up again.  Do more.  
When you quit and give up, don't beat yourself up. [But next time don't be a quitter.] 
Show up again.  Do even more.
Show up. Push harder.
Breathe in, breathe out.
Eventually, the mojo gains momentum, and you're suddenly on some sort of roll.  As you tick off the workouts, the fear diminishes and in its place?
Confidence.
At least that's how it happens for me.  Make the body go.  Eventually, the mind goes too, and everyone is plugging along.  The fear monster goes away…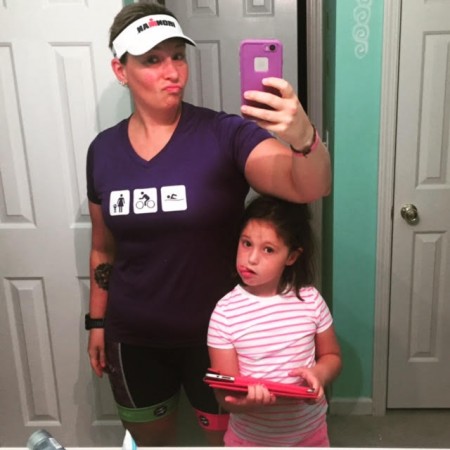 And that's my story. So I'll stick to it.
Now… onward to Louisville. Right?  Right.