Spotlight for this post is on SBMAT Ambassador, Holly Gray.  Holly is such an awesome spirit and full of energy and amazing vibes!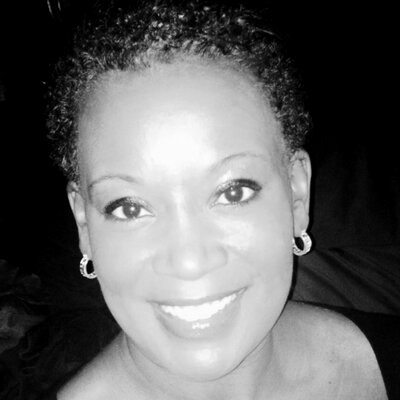 Name:  Holly Gray
City/State:  Upper Marlboro, MD
Age Group: 45-49 (2015)
Biggest Inspiration:  My family
Scary 2015 Goal:  Complete my first half-iron distance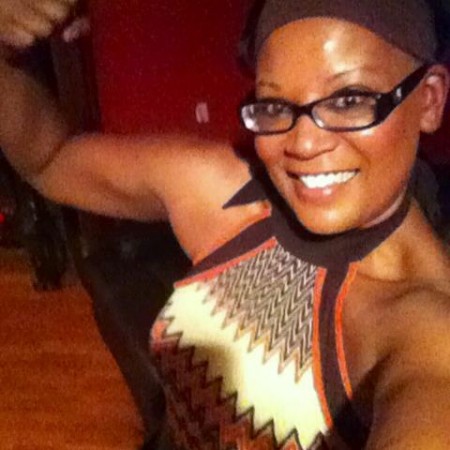 How Triathlon Changed Me:  Triathlon has changed me in many ways.  Chief among those changes are an increased fitness and confidence level.  It also helped me to strengthen my resolve. In the past, when confronted with something physically taxing, my mind would give up well before my body would.  Running a mile,  prior to triathlon, would seem to me like a journey cross country. Triathlon has taught me to "just keep moving forward" and trust that my body will take me where I want and need to go.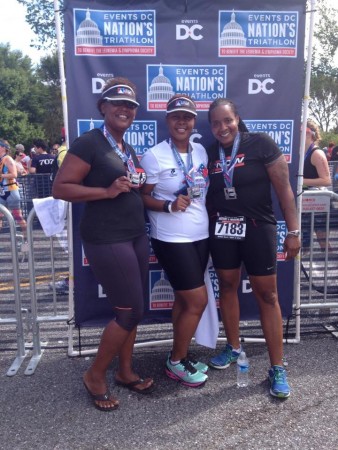 Favorite Piece of Gear:  My SBM Tri Kit and Blanche Devereaux (my bike).  I love my SBM kit because it symbolizes being a part of a triathlon team, it also symbolizes the validation of who I am as a person & triathlete.  Someone liked me enough to say "yes"!  I am in love with Ms. Blanche Devereaux because she was my first real piece of triathlon equipment!  It all started with her. She's not the fanciest of road bikes. She's a total starter bike – 2014 Trek Lexa SLX, but I absolutely love her. She's has fallen with me when I was first learning to clip in, supported me on every training ride and carried me through many a race.  I call her Blanche Devereaux after the character from the Golden Girls.  She's fast & racey! Thank you for being a friend Blanche!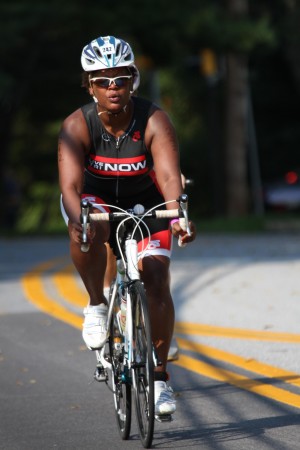 I Race For:  I race for myself.  I became a triathlete after losing approximately 50 pounds.  I had previously been diagnosed with hypertension and had to be put on medication.  I also had been informed that I had elevated blood sugar and cholesterol levels.  My doctor said that the hypertension would continue and eventually I would become a type 2 diabetic if I didn't lose weight.  Part of what I did to lose weight was to begin a regular exercising routine, which eventually led to my triathlon participation.  I race as a reminder of my accomplishments.  I race to acknowledge my Creator's hand in healing my body. I race to keep my body healthy so that I will continue to be here for my children and grandchildren.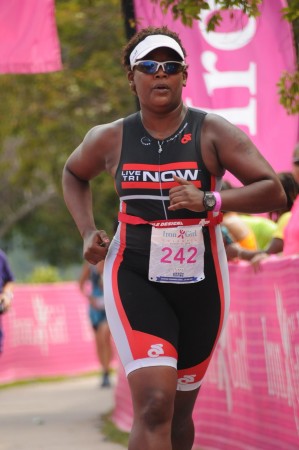 How I Pay It Forward: I tutor children in my community in math and Spanish.  I also volunteer my time and services with a local charity called Strive2Tri.  This charity teaches children about the importance of proper nutrition and exercise through introducing them to the sport of triathlon.  This year, as a SBM Ambassador Team member, I am doing whatever I can to get more women to tri.  I have gotten several women, who are new to the sport, signed up for races individually and/or on relay teams.  I've met so many women and I try to give them as much help, guidance and encouragement as I can. Lastly, because of the important role nutrition has played in my road to health and wellness, I became certified in fitness nutrition.  And now, I teach others about proper nutrition in order that they can live healthier happier lives!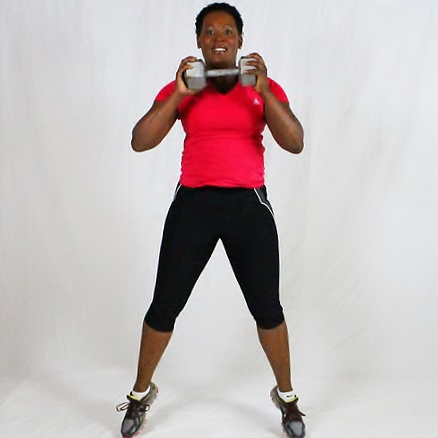 What Else You Should Know About Me:   I am the oldest of three children.  My parents have been married for 47 years and still live in the house in Bowie, MD where I grew up. Our family is very close and they are the most important people on this planet.  I am divorced and I have three daughters – two biological daughters Hannah-21 & Carly -15.  I also have a daughter, Brittany- 25 who was God's bonus gift.  I have always told her that I may have divorced her dad, but never her!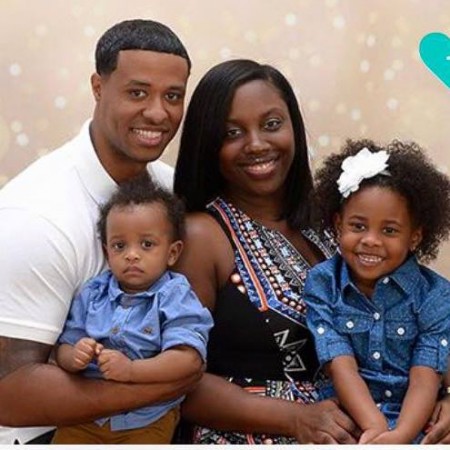 I am super proud of all three of my girls! They keep me young, grounded, and forever on my toes.  They are my biggest cheerleaders and it makes me feel great when they are at my races cheering me on.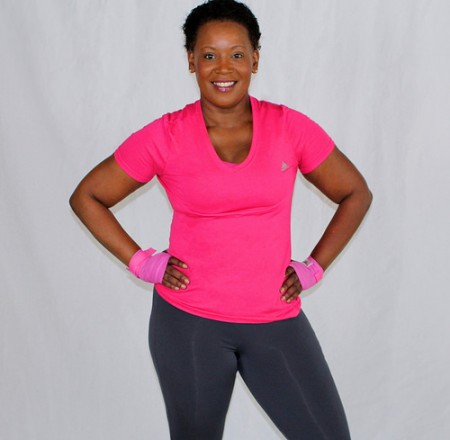 I graduated from the University of Maryland, College Park in 1992 with a B.S. in Accounting (GO TERPS!).  I currently work as the Controller of a real estate investment trust (REIT) in Washington, DC.   Little known fact is that I NEVER wanted to be an accountant.  Truth is, I didn't quite know what I wanted to be… After I graduated high school, I knew I was smart, determined to be successful and my favorite classes had been Social Issues and Spanish.  I informed my daddy that I was going to major in Spanish.  He in turn told me that women who majored in languages weren't trying to find careers, they were trying to find husbands… a "MRS" degree he called it. He then proceeded to give me a list of approved majors and an accountant was born.  Twenty three years later and I'm still counting beans!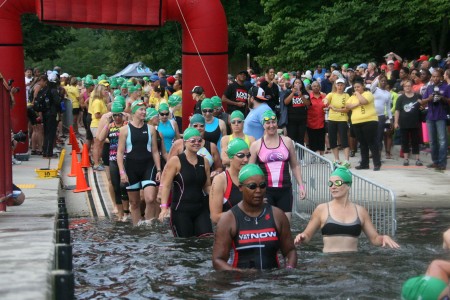 My deep passion for all things healthy came from my own personal battle with weight loss and depression.  In 2005, I found myself in my mid-thirties, divorced, a single mother of two young girls, feeling very overwhelmed, depressed and filled with anxiety. I sought comfort in food & wine and paid no attention to the effect my behaviors were having on my body and health. As a result, I packed on an astounding 75 pounds!! After several years of fad dieting, prescription weight loss medication, purchasing memberships to gyms I wouldn't use, trying to hide my body in body shapers, being diagnosed with high blood pressure and put on medication, I finally decided to get serious about my health! Over the course of 18 months, I changed my relationship with food, began a regular exercise routine, learned what proper nutrition really was and got healthy! I can still vividly remember the day when my doctor told me I no longer had to take that high blood pressure medication!  That was an awesome feeling!!!  I also decided that I wanted to share everything I had learned with others and be a help to them in their journeys to health. My desire to be a help to others led to me earning my nutrition and health coach certifications and ultimately, to the creation of Veggie Rap, my nutrition counseling and health coaching business.
People who know me most often describe me as being funny, outgoing, a good listener, loyal, a fierce mama bear, sensitive, caring and a good friend.  I'm sure my siblings and parents would also add bossy, loud, and at times cranky. My sister would also add that it's my way or the highway.  This is also true – I'm the oldest & wisest.  Why would anyone want to go against me??   My biggest flaws are that I can be a procrastinator, I am the queen of "YES" – I totally have to learn to tell people "no".
I enjoy most sports – I am football fanatic.  My favorite team is the Washington Redskins.  I've turned an enclosed portion of my back deck into a sports bar and lounge called Veni Vidi Bibi (Latin for I came, I saw, I drank) The beverage you will almost certainly see me drinking when I'm watching a game, is wine – specifically Chardonnay or Malbec.  Mmmmm Malbec!  Music is another love of mine- all eras & genres.  My favorite shows are The Walking Dead, Scandal, Being Mary Jane, Empire & Real Housewives ( Atlanta, NJ and NY) I'm also kind of old school – I love entertaining, cooking, knitting and sewing (don't judge me).
Have a great 2015 tri season everyone!  #justkeepmovingforward #triathlonisamother #SBMAmbassadorTeam
How to Follow Me:
Twitter:  https://twitter.com/veggierap
Facebook:  https://www.facebook.com/VeggieRap
Blog:  https://nutritionwelldonewithasideoffitness.wordpress.com/
Pinterest:  https://www.pinterest.com/veggierap/