The Swim Bike Family headed to Acworth, GA early Sunday morning for the PT Solutions Allatoona Triathlon — a sprint distance local race consisting of a 500 meter swim, a 16 mile bike, and a 5k (3.1 mile) run.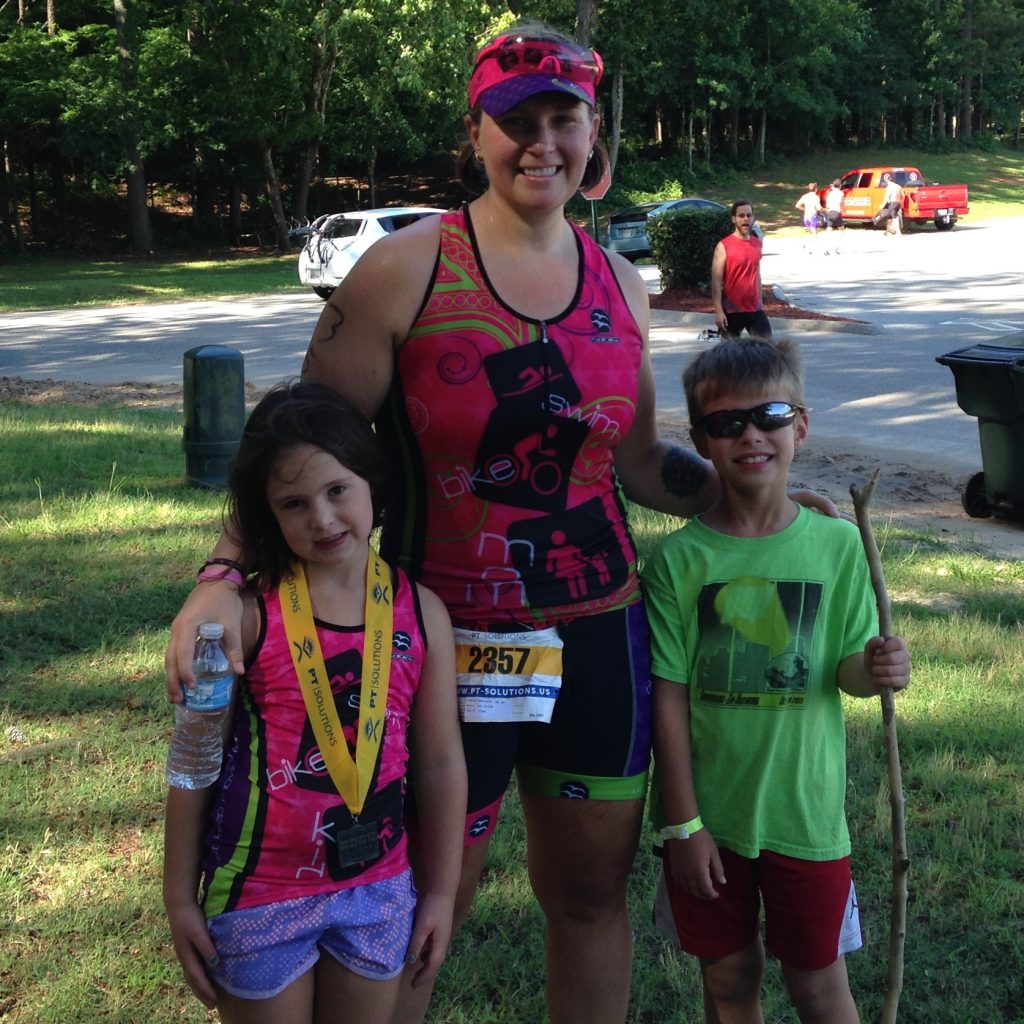 Last year, I had a good race and finished in 1:43…
This year, I had a good race and… finished in 1:33.  Boom!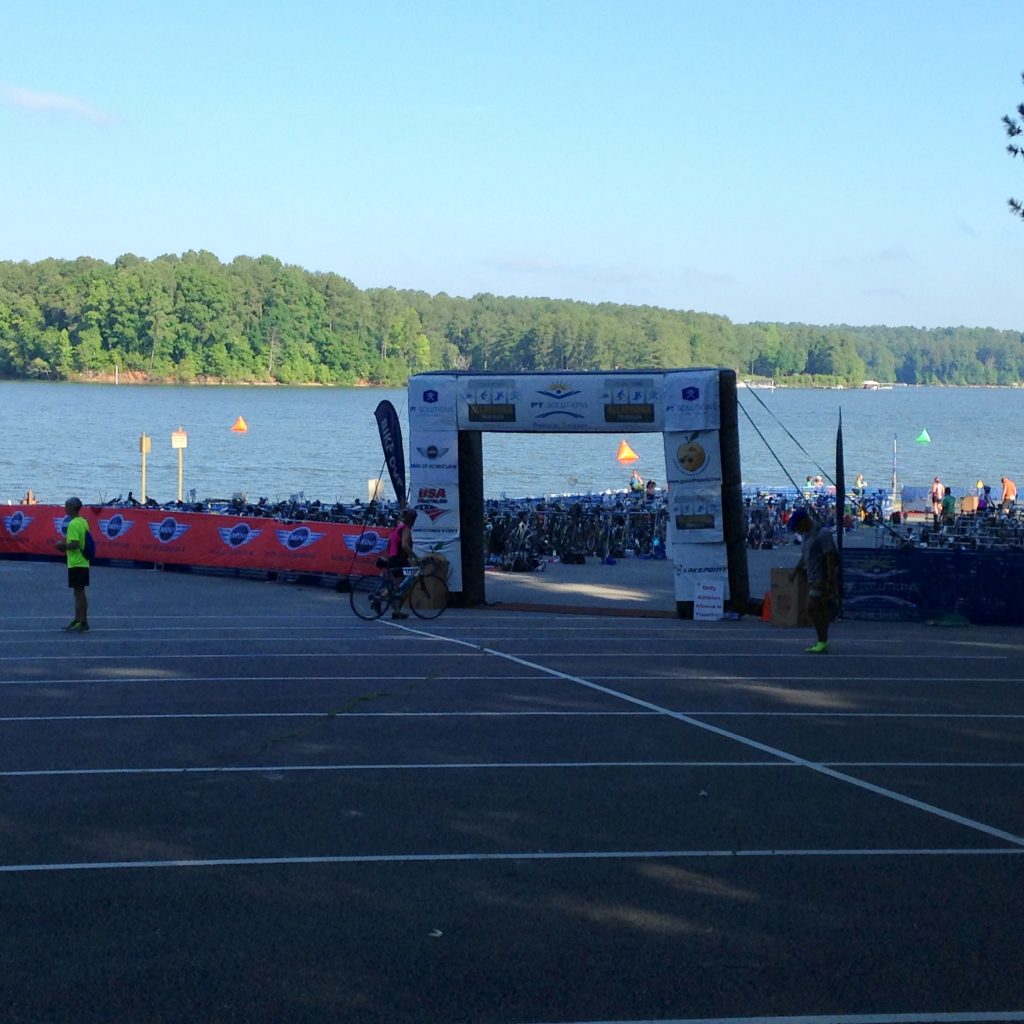 I went to bed at 8:30 the night before—after much mocking by the Expert—and I slept great.  I have, in recent times, been a serious night-night nerd.  I go to sleep early, and I am sleeping like the dead.
Much of it has to do with Ironman training, I am sure.  Also, the food I am eating… for the most part, I am off sugar, dairy and gluten.  And I think (er, I know) that has made a huge difference.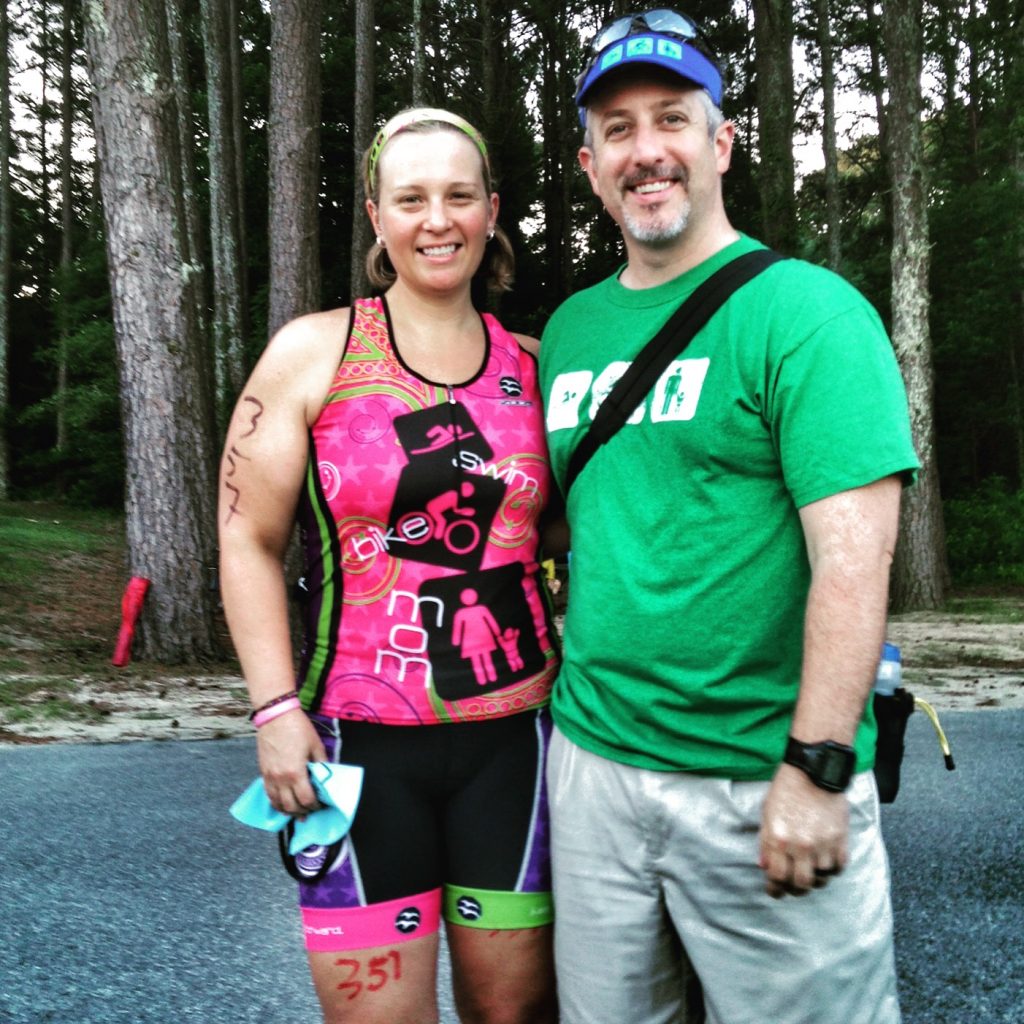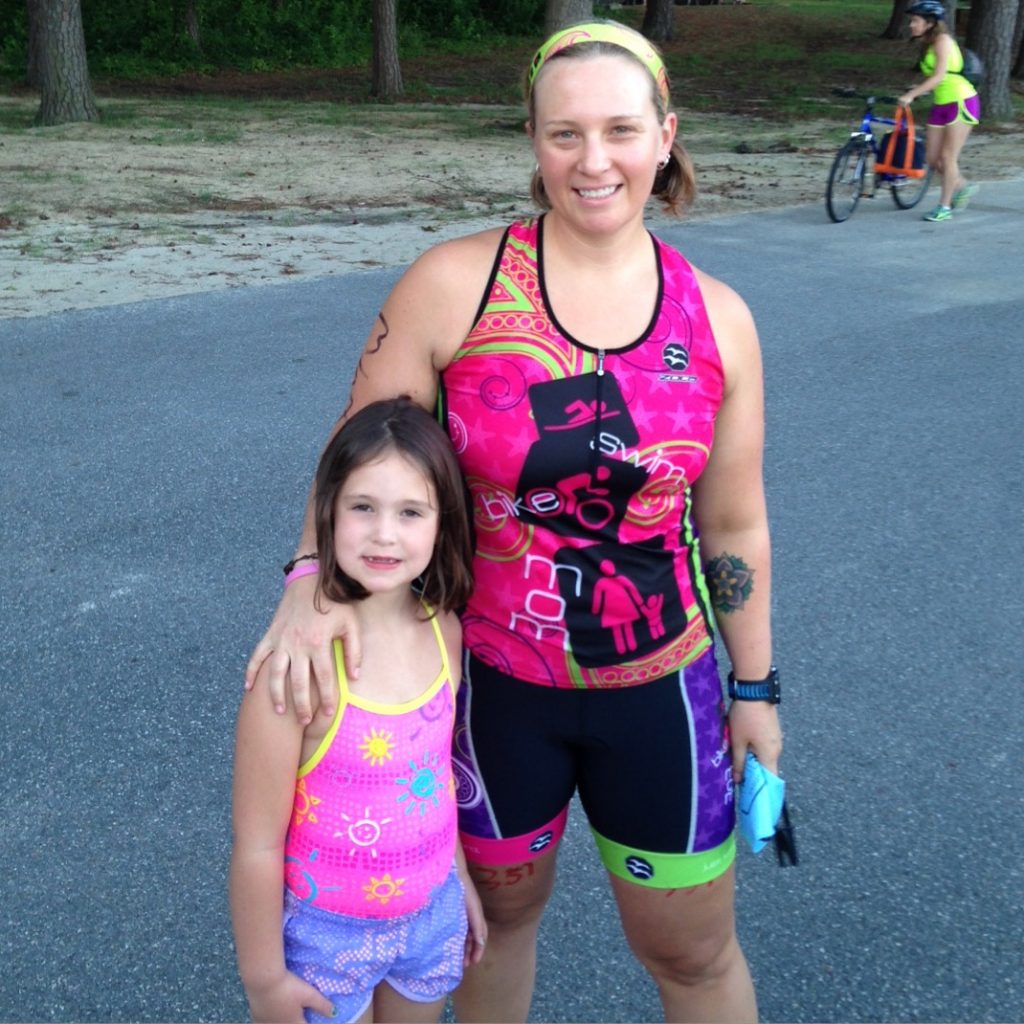 The weather could not have been more perfect. It has been HOT here… and race day was lovely.  A great day to find a big stick.
Had chances to meet up with lots of SBM friends—new and not-so-new—and hug necks. That's what we, in the South say–hug necks.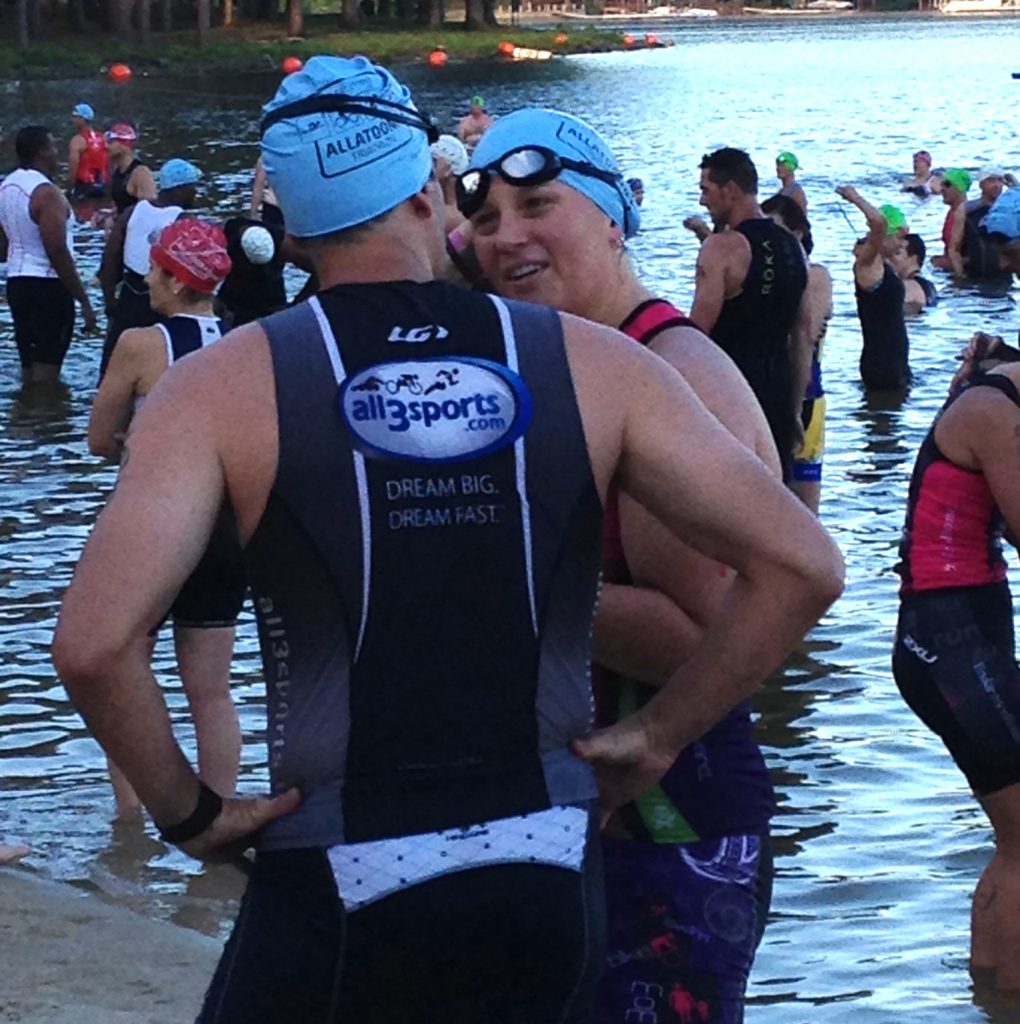 The swim is a 500 meter lopsided rectangle.  It always feels longer than 500 meters, but it's over in a jiffy.  Slower swim for me–not sure what I was doing–taking a tour of the lake, I guess.  Finished in 11:18 (2:16/100 pace).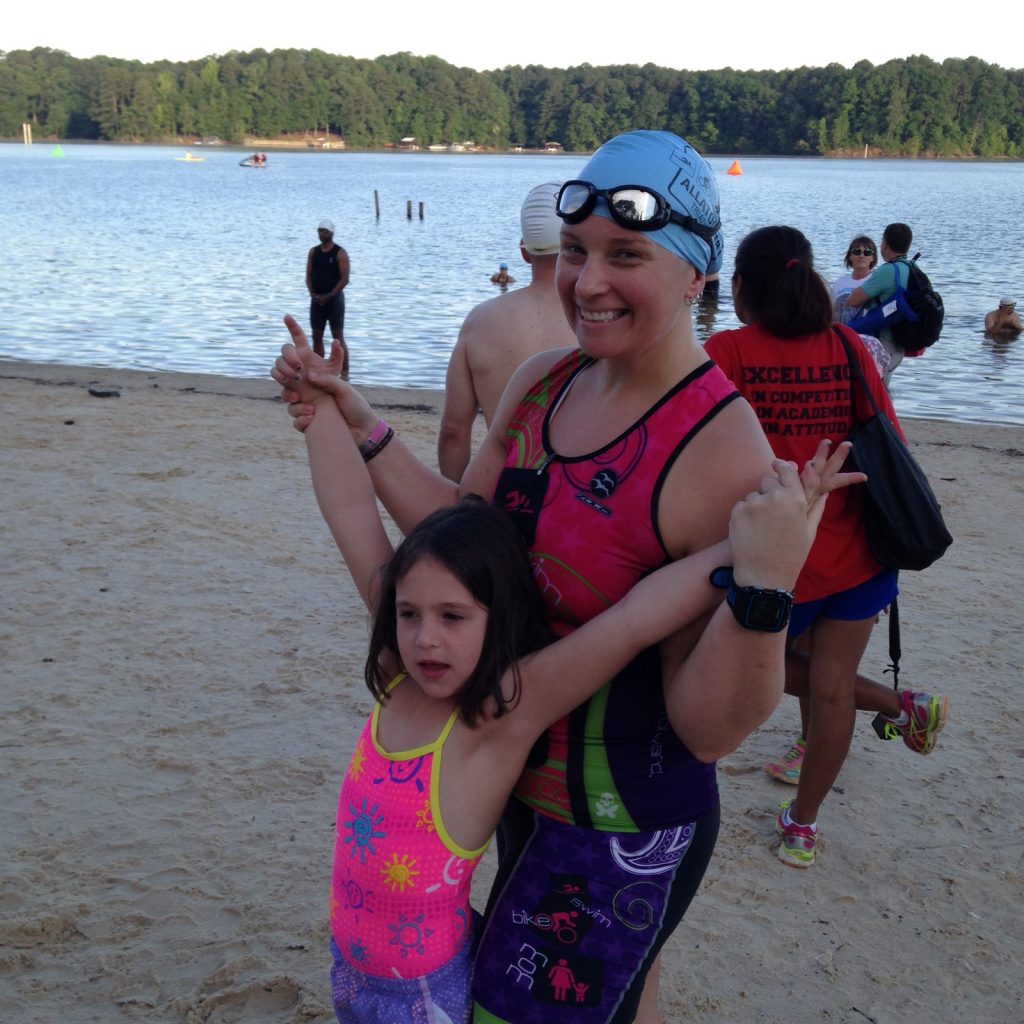 I noticed as I was coming out of the water, my legs didn't feel as dead as they normally do running uphill through sand. That was a good sign. Ran my feet through the baby pool at T1 entrance to get the sand off.  Sunglasses. Helmet. Bike Shoes (no socks). Race number belt (turned backwards with number towards the back), and I was out of T1 in 1:01.
Making some sort of gang sigh, apparently…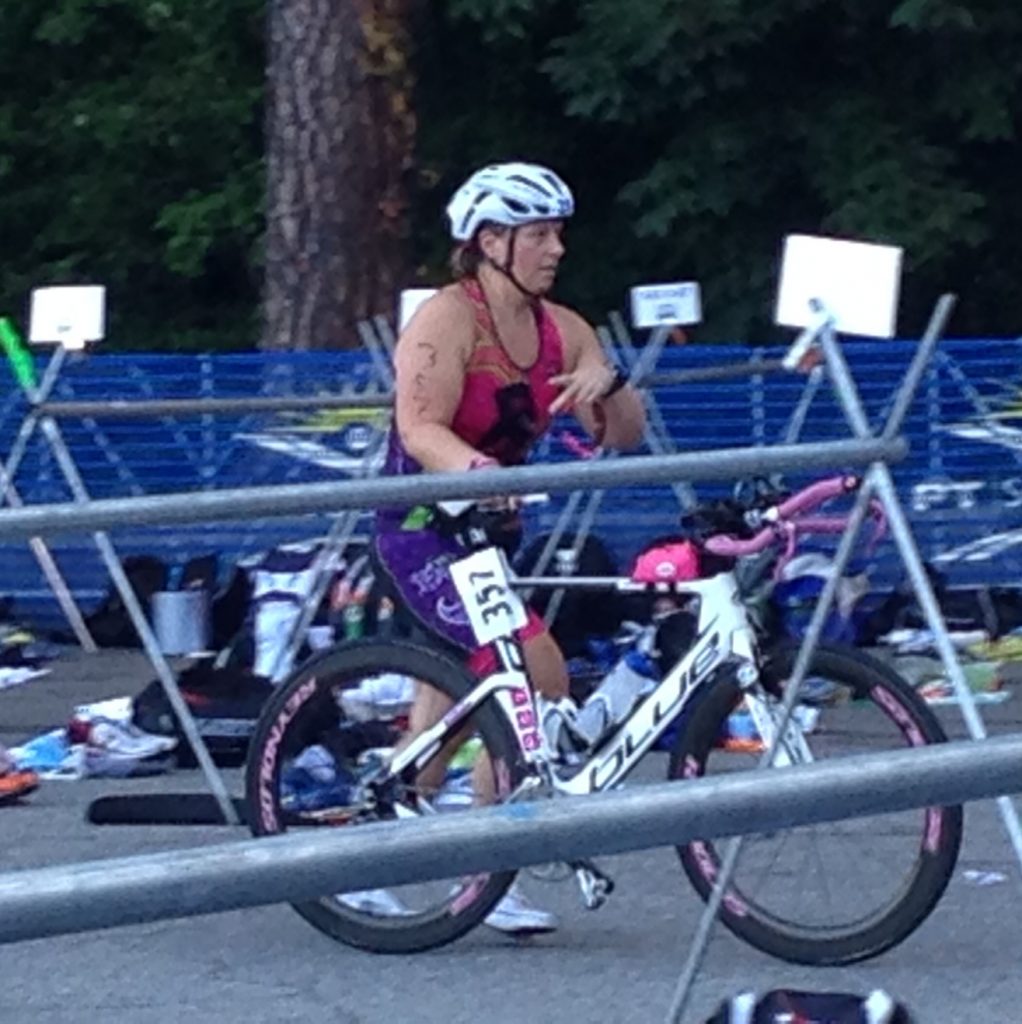 Oh, so this is my buddy Luis telling me to get going out of T1. I was taking my damn sweet time getting on the bike–what in the world.
"Are you going to go?" he asked me.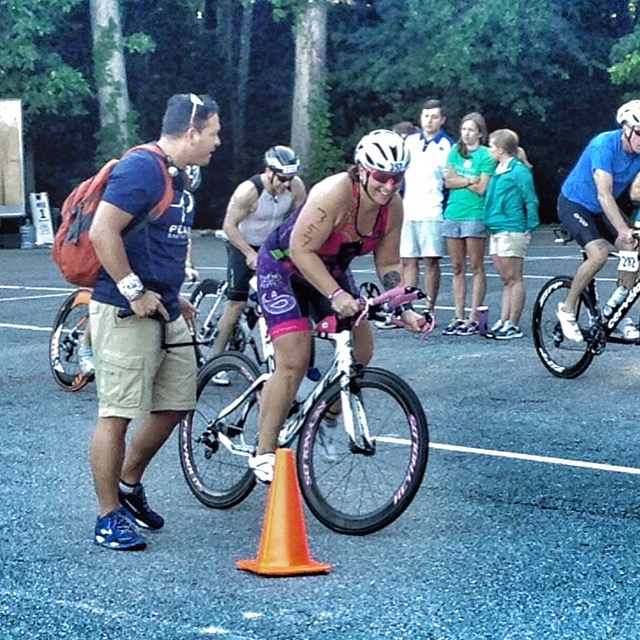 Here's one of Luis' fantastic GoPro shots. Okay, maybe it's not so flattering of me… but you can see the photo genius.  (Photo credit:  @LFabian2015)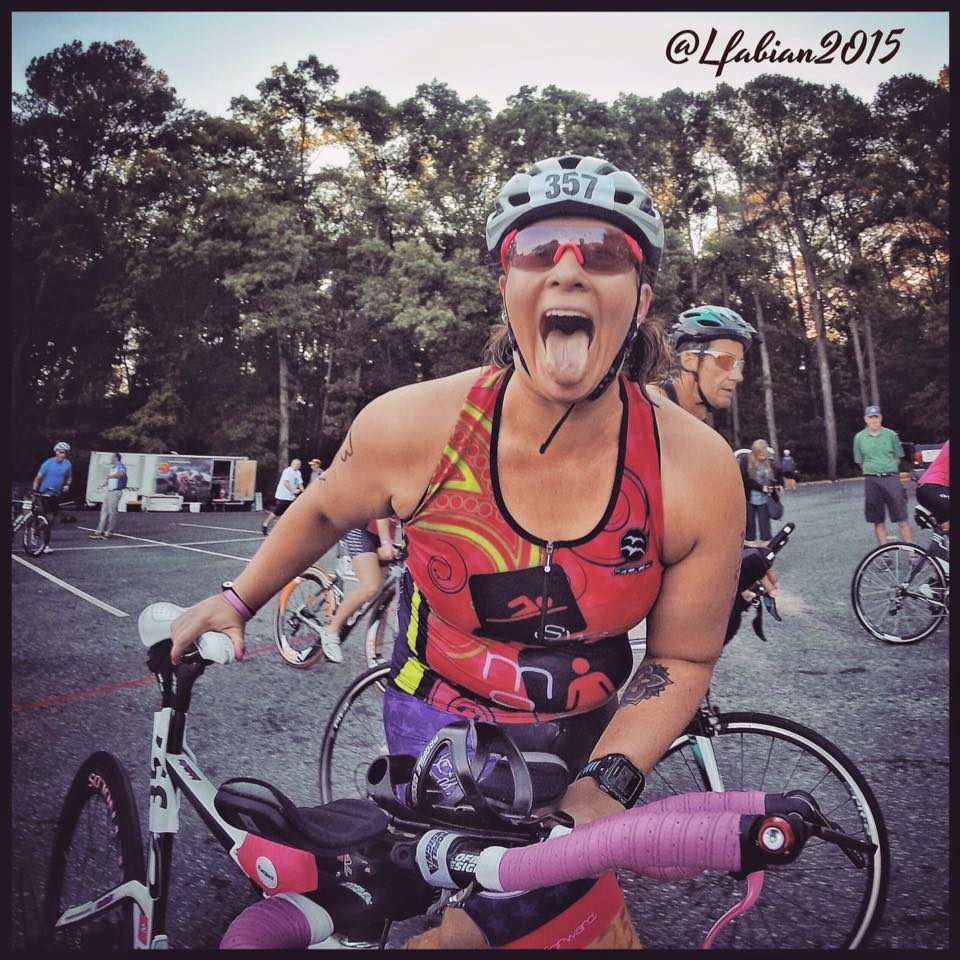 Out on the bike.  I felt like I had lead for legs.
Going into this race, I had a two or three day "taper," just to give me a break, but I have really spent some major time on the bike lately preparing for Ironman Lake Placid (in less than 25 days).
[The good news is that I had my 11/26 cassette on the bike swapped out for an 11/28.  While I didn't feel much of a difference on race day, I can report that today's workout/ride was MUCH easier on an 11/28… so that makes me happy.]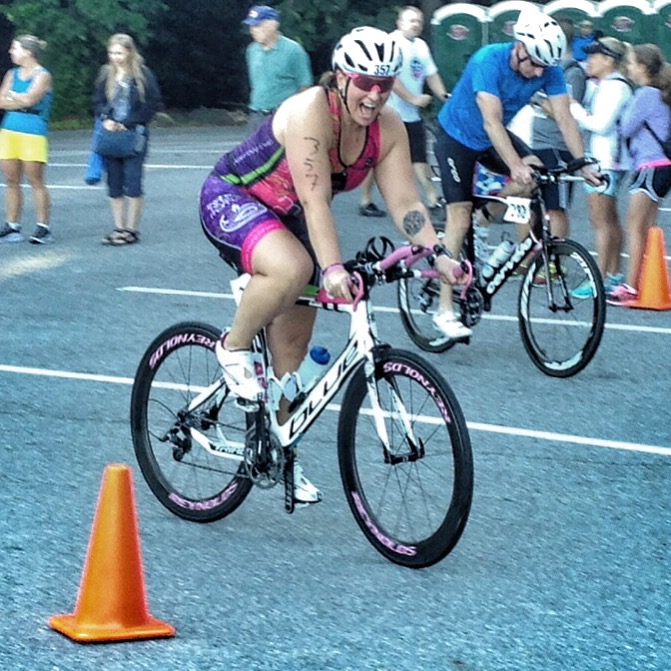 I averaged 20 MPH on the first 10 miles of the bike, then dropped a little in speed once I hit some of the climbs. Finished overall with a 19.4 pace (49:33), so can't complain.
Into T2, and out of T2 in a jiffy (1:09)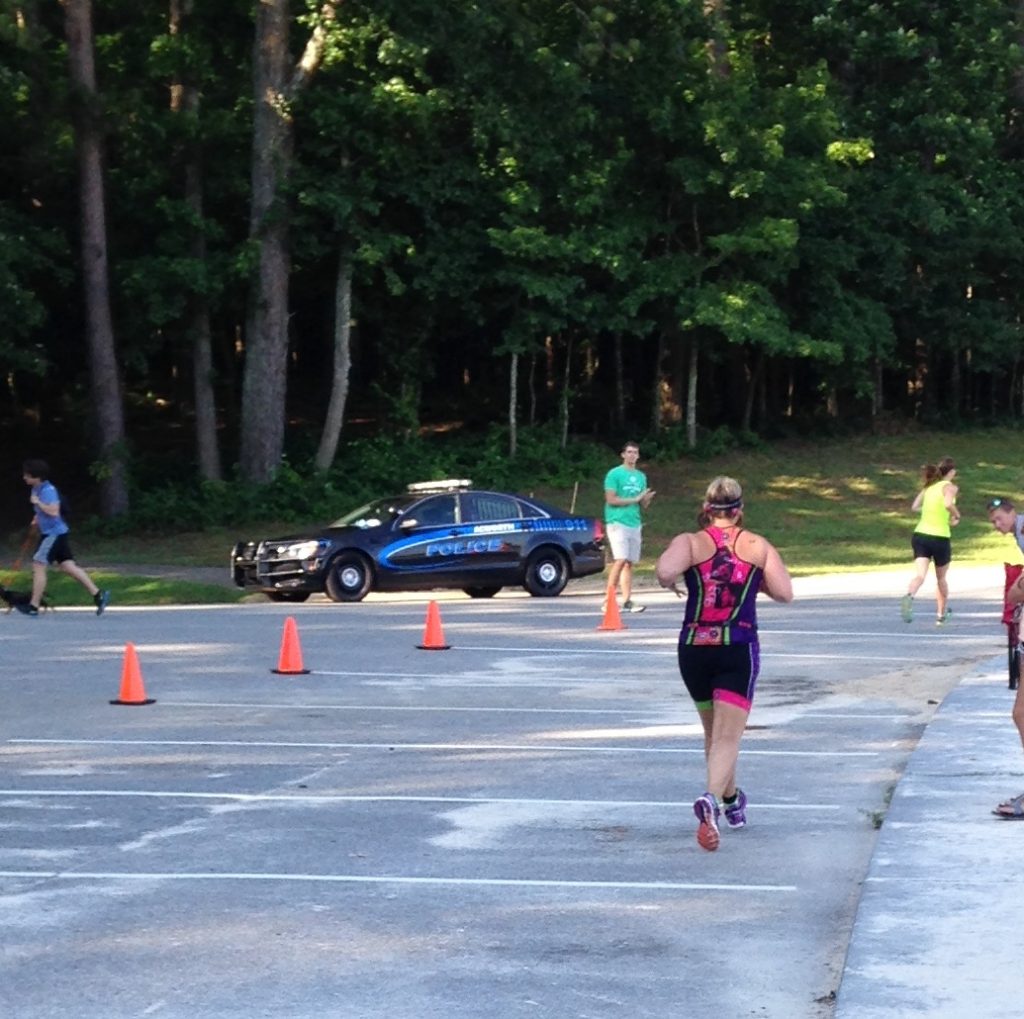 Time to run.  Le sigh.
I always dread the run. But in recent times, I've dropped a few pounds and have been working on the run.  And on this day, I was determined to have a good one.
The Expert and the Swim Bike Kids cheered me on out of T2.  The kiddos had clearly had a fun swim in the lake while I was out on the bike.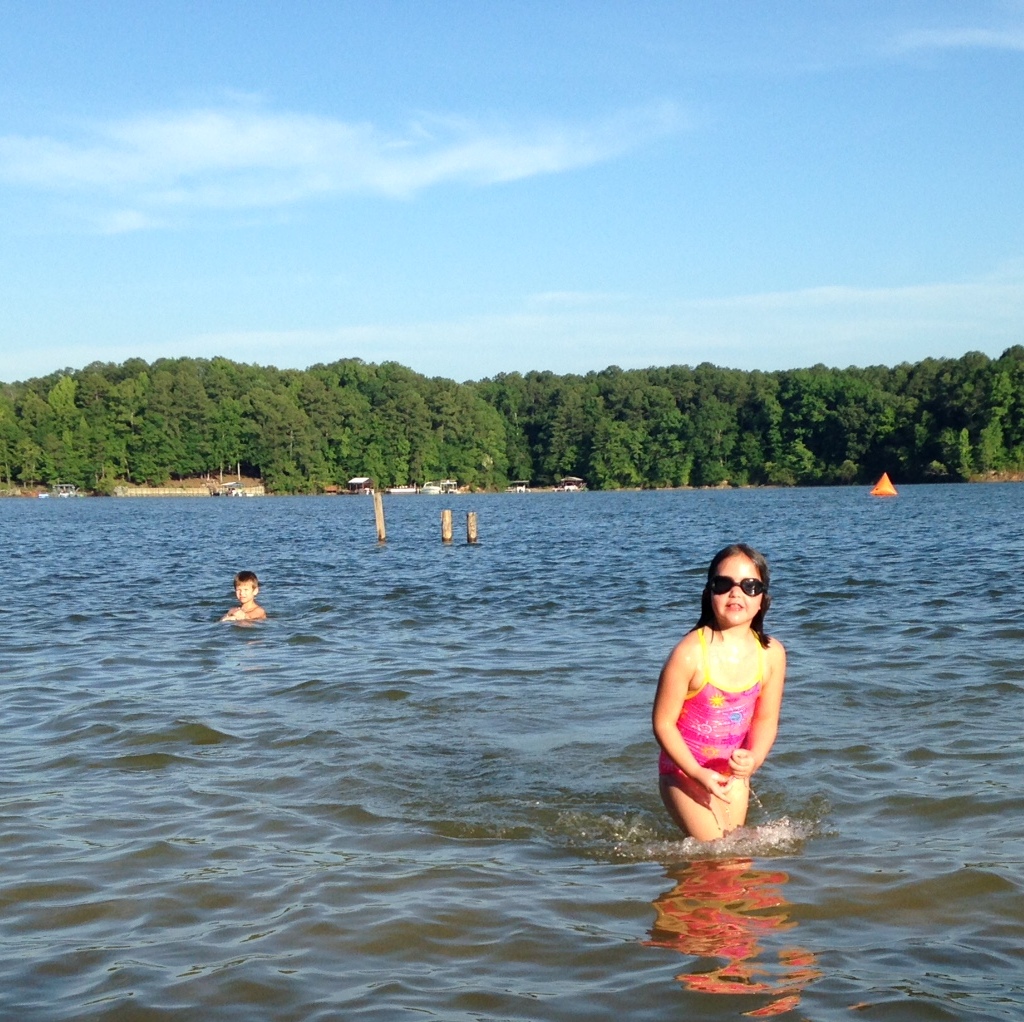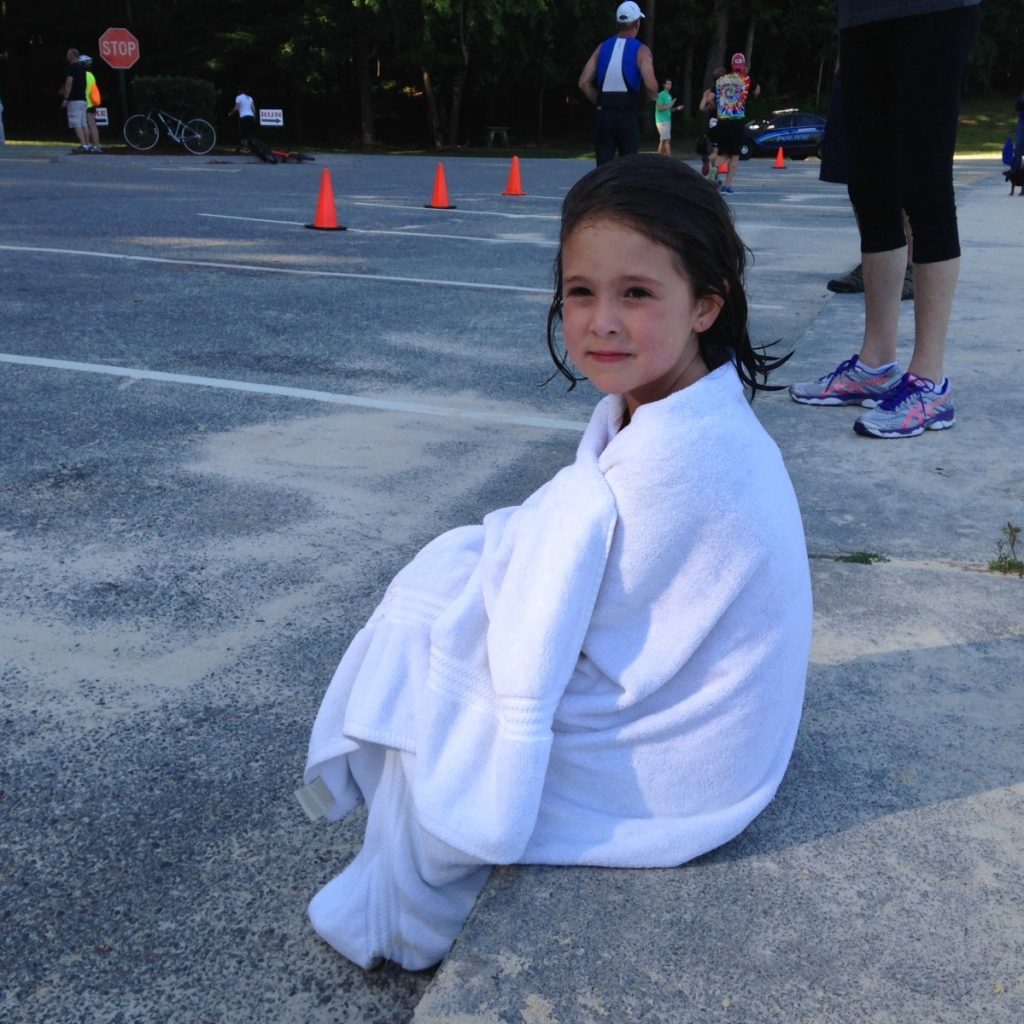 I slapped some hands as I ran by and the Expert screamed, "You better get going faster than that, woman!"
Another crowd-goer nearby actually gasped, and said, "Oh my lord" when he said that.
I laughed.  I looked down at my watch, and was pacing 11:30… yep, I guess I should get going.   3.1 and done. Move it.
Right out of the gate this run starts going up, up and up.
I am historically a pretty weak runner in general–not to mention when someone throws hills at me.
But on this day, I just went up with the hills, paced myself well, and kept right on trucking.  I could tell a huge difference from the race last year… where I did a shameful amount of walking. Not that there's anything wrong with walking–but for me last year, there was a ridiculous amount of it.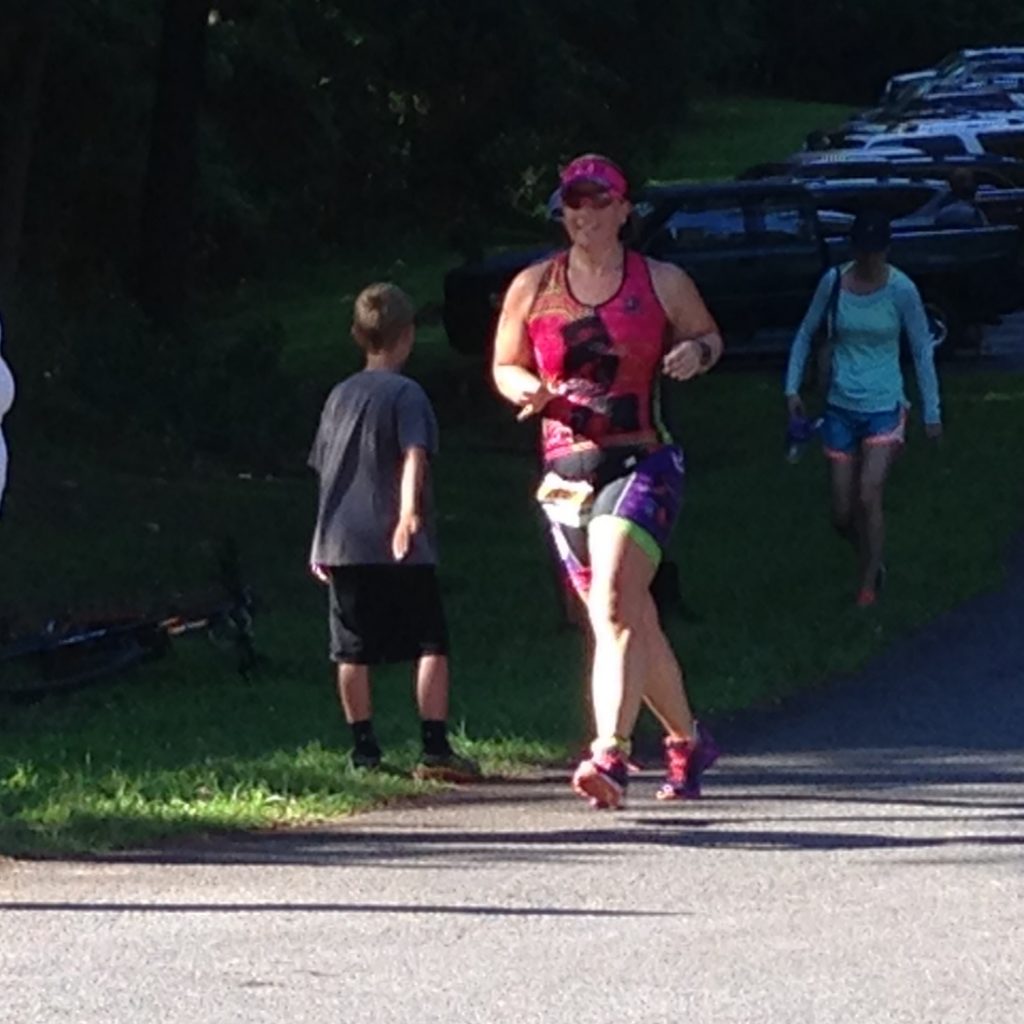 I ran. I smiled. I actually passed people on the run. (WHAT?!) Happy. Obviously ten minutes is a pretty decent PR, especially for a sprint.
Of course, the speedy folks still went flying by me, but I noticed a large decrease in the passing on the run this time. Was a welcomed change.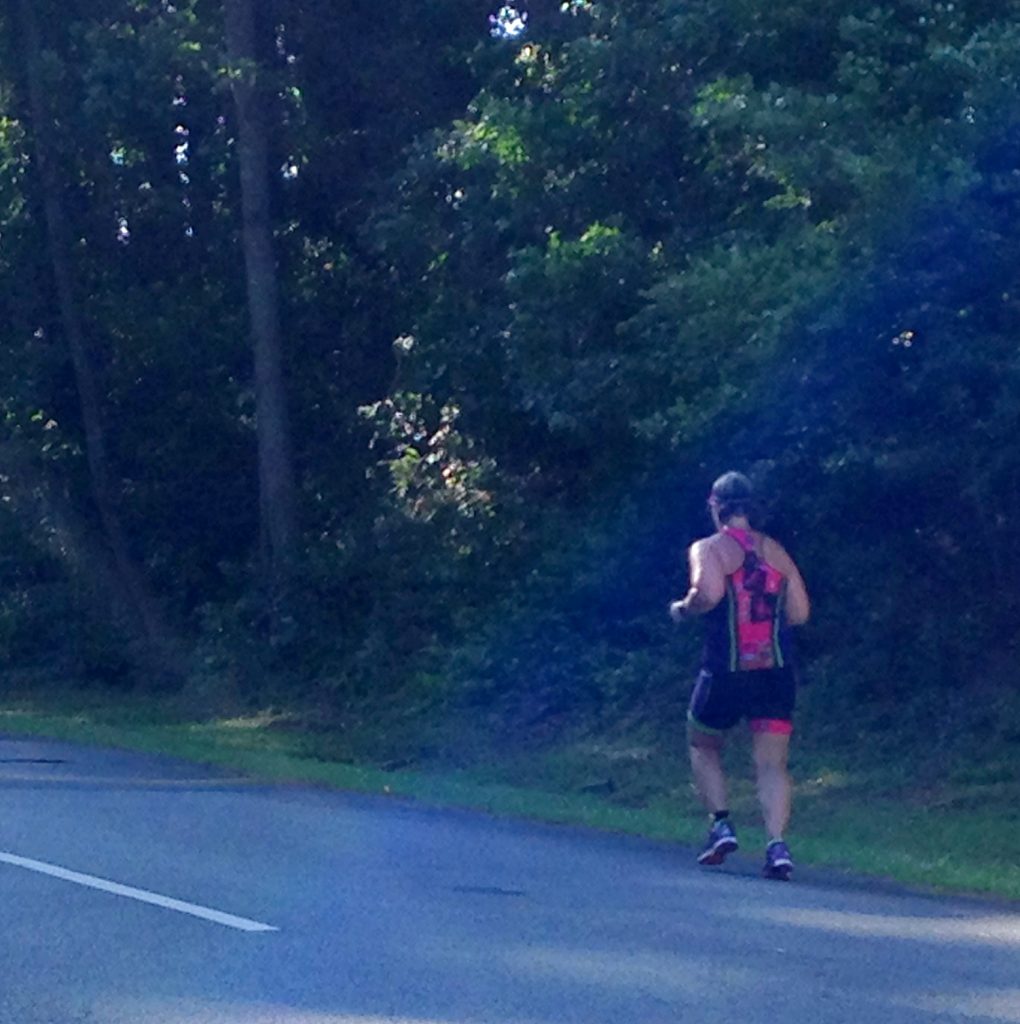 Interestingly, my swim and bike were "fair" for me… and the run was where I had my first opportunity (like ever) to shine (for me)… ending up with a 9:53 pace for the 5k.
Yes, I realize that is not lightning fast (e.g., Coach Brett averaged 6:50 pace… what the heck)… but I am quite happy.
I took a little time off the swim and the bike from last year, but improved drastically with 8 minutes on the run—last year's pace was a 12:30– and a 38 minute 5k.  This year, 9:53 pace.  I will take it.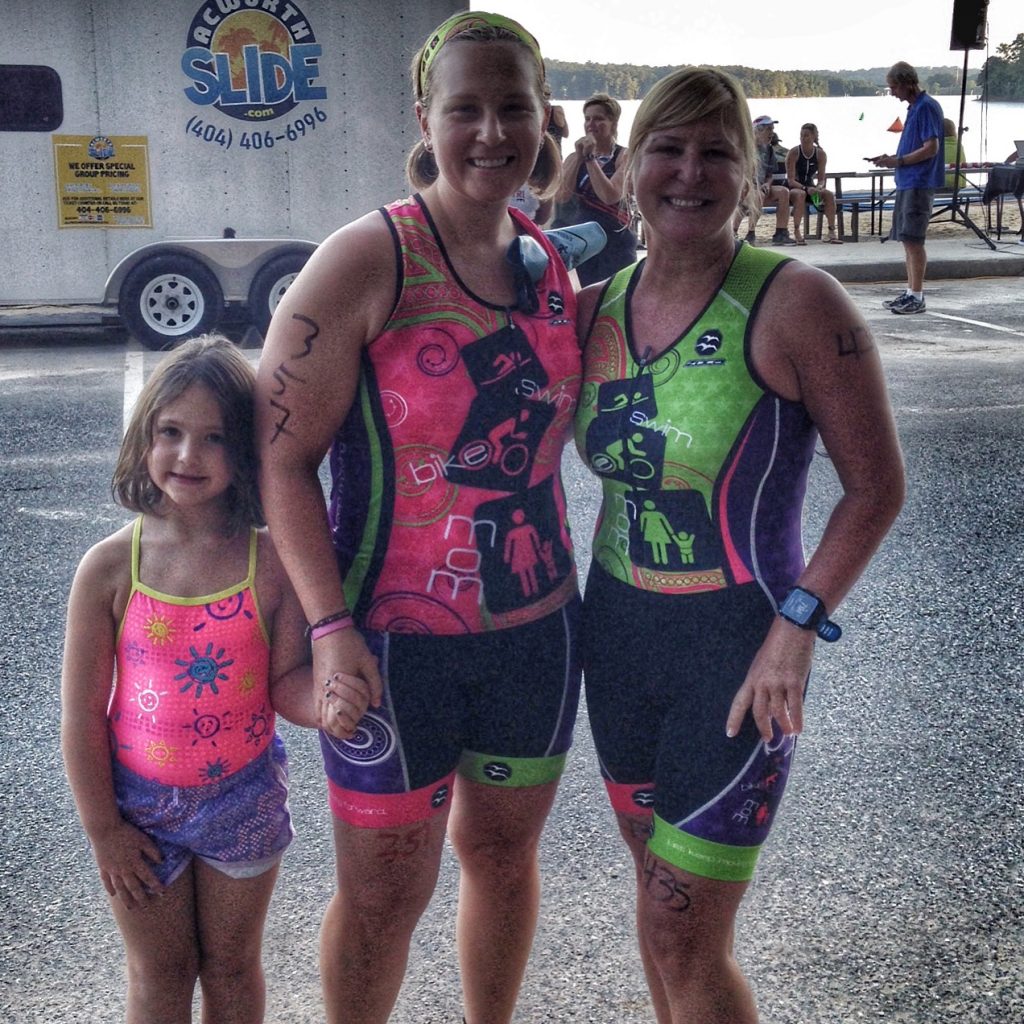 Overall time was 1:33:41, and it was a fantastic day at the races. 8th place Age Group finish. And always time for selfies with the Coach.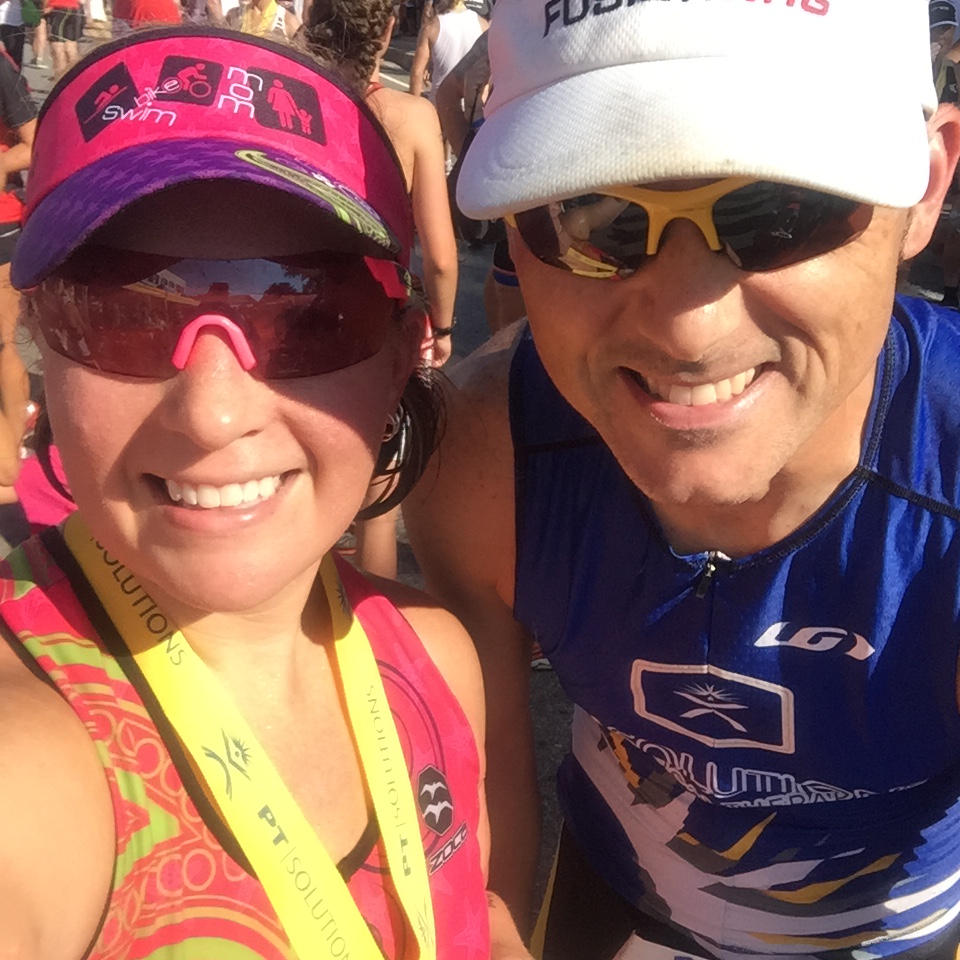 Also, a little side-by-side body comparison of about 18 pounds of weight loss from last year. [Yep, I'll take that too.]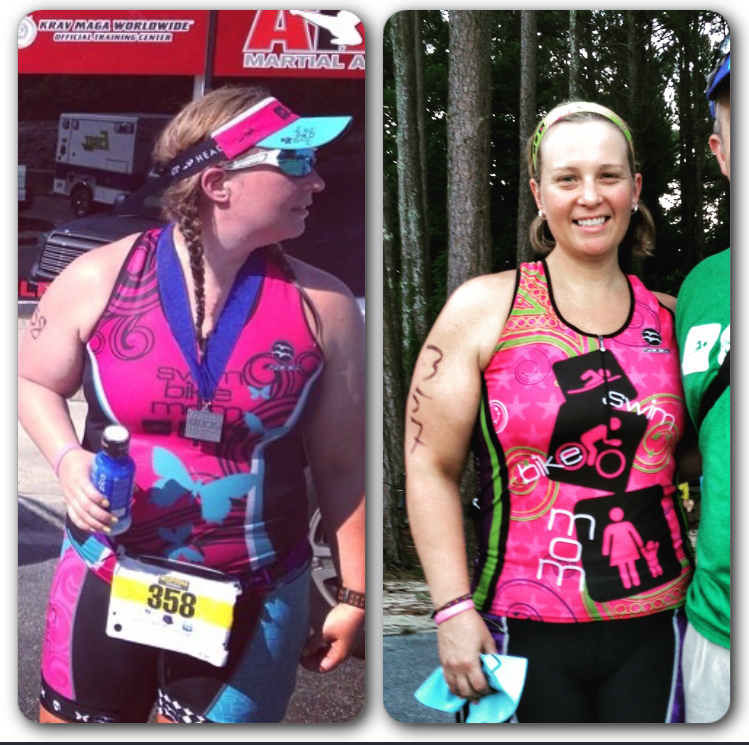 Next stop is the Peachtree Road Race (10k) on Saturday, and a killer ride through the Gaps with Coach Brett on Sunday.
Then, ever so slowly, taper will be creeping up and it will be time for Lake Placid. Wowzers.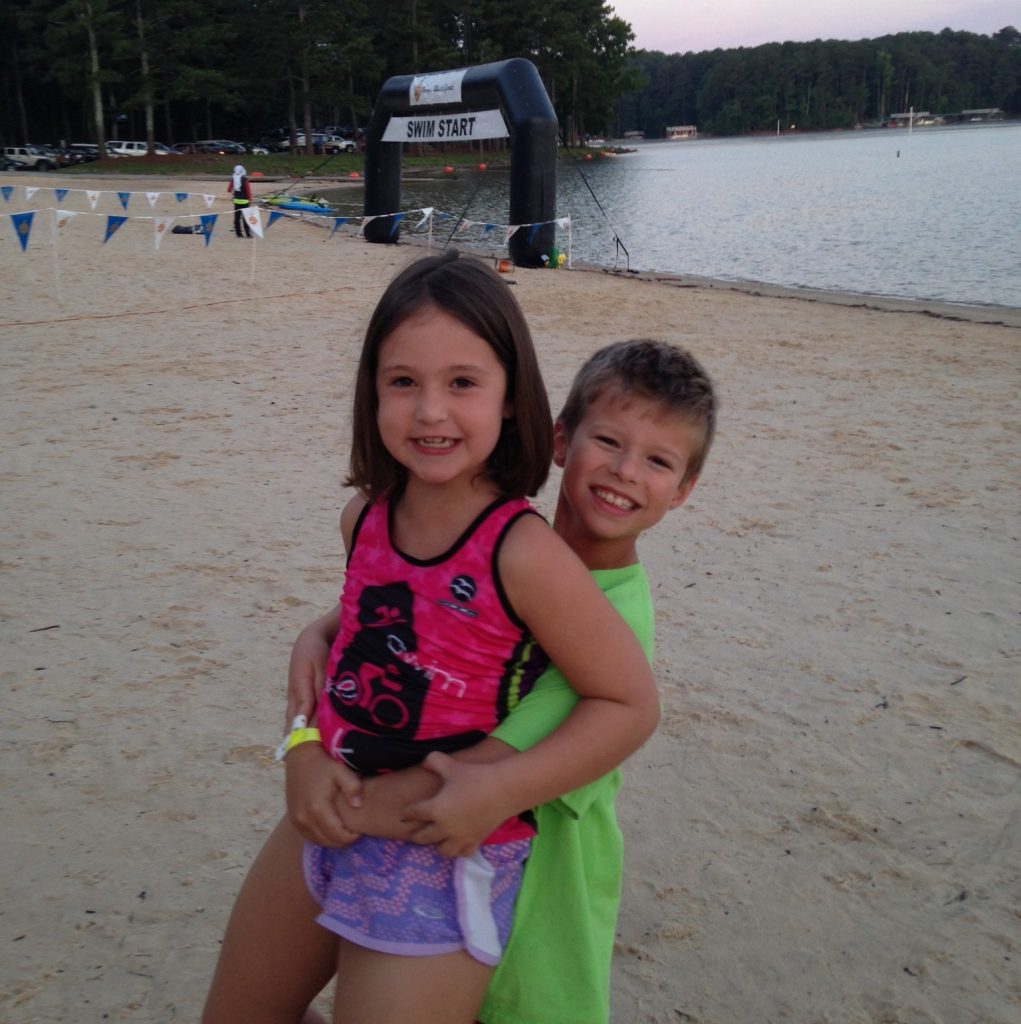 Thanks to the Expert and the kiddos for always making a fun race day even better.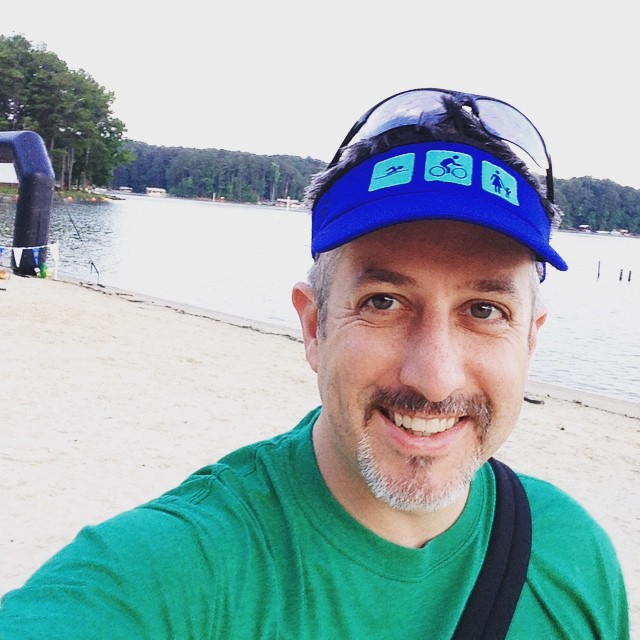 Happy Tuesday! #justkeepmovingforward