I "sat down" with John Young ("the Hammer") to get the scoop on what inspires him to "just keep moving forward" …all the way to Boston this year …and on to 140.6.
His story is the epitome of crushing through barriers to acheive a dream.  John is a 49 year-old LP (little person) who started competing in sprint triathlons in 2009. Since that time, he has completed more than 30 triathlons, 4 half-iron distance races and 3 marathons, which included both Boston and the NYC Marathons. He completed the NYC marathon for the 2nd time, earning a 40 minute PR, qualifying him to race in Boston 2015… which he just finished.
"Reach high, for stars lie hidden in your soul. Dream deep, for every dream precedes the goal." – Pamela Vaull Starr
Here's my interview with John.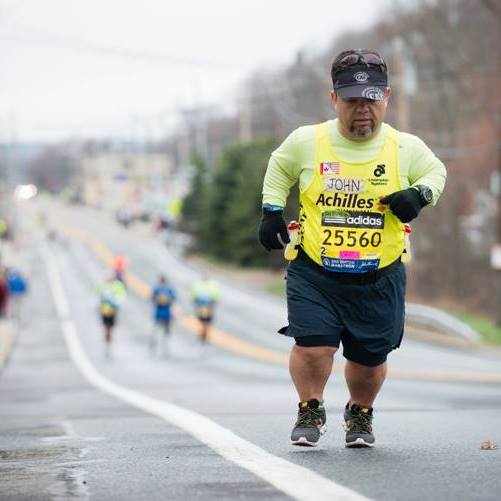 Photo by Matthew Muise
What's your athletic background?
I teach high school math at Pingree School, north of Boston where I am the varsity swim coach as well. I have always been a swimmer, but had never done any endurance racing until 2009. I had started to become more physically active after being diagnosed with sleep-apnea in 2006. I had got back to swimming and started to do some cycling as well, but then in the winter of 2009, someone sent me a link to a video of Dick and Rick Hoyt completing the Ironman triathlon. After watching that video I thought I could possibly complete a triathlon. I had never run more than once around a track in my life. So at the age of 43, I signed up for my first race.
First race details?
My first triathlon was the Mill City Sprint Aquabike. It was a 1/3 mile swim in the Merrimack River and a 13 mile bike. After completing the race somewhere around 2 hours, I watched most other athletes get off of their bikes and run 3.1 miles. So what I realized is that I had not really done a triathlon.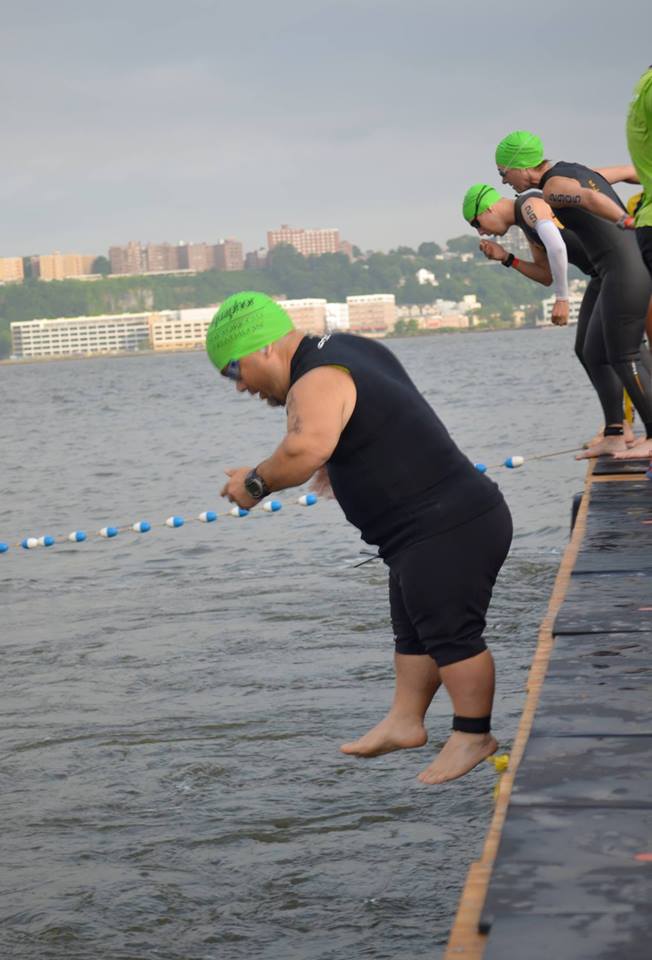 So three weeks later, I raced in the Witch City Sprint Triathlon, in Salem, MA, which is actually the city we live in. It was a 1/3 of mile ocean swim, a 14 mile bike, followed by a 3.1 mile run. I walked most of the run portion, but I completed it!!!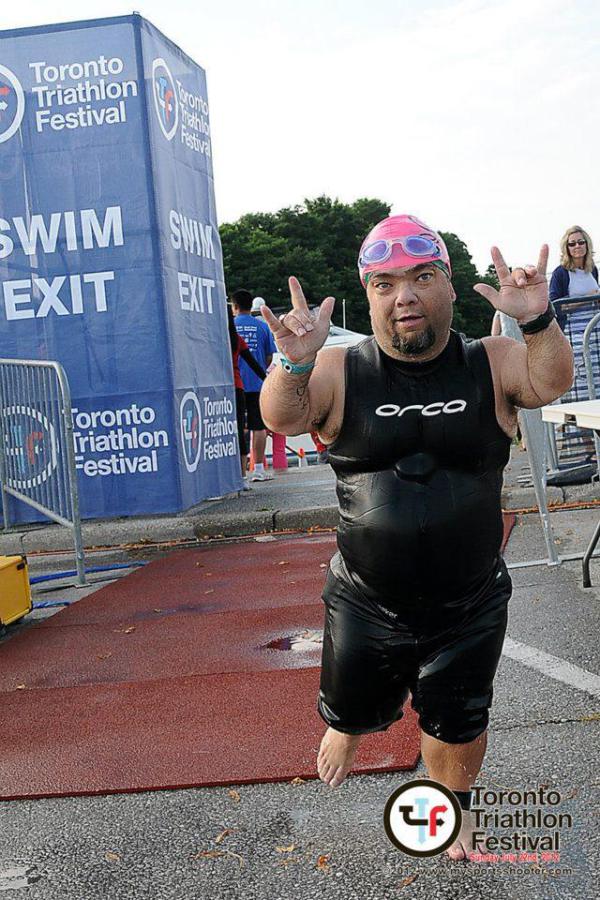 What is your big goal this coming year?
I have signed up for three different 70.3 races. The first is the Patriot Triathlon on June 20th, in Freetown, MA. I have the Timberman 70.3 in August in NH and then the Pumpkinman Half in Berwick, ME in September.
I am hoping to be the first person with dwarfism to complete a 140.6. I have my eye on a couple of different races in 2016, when I will be 50 years old.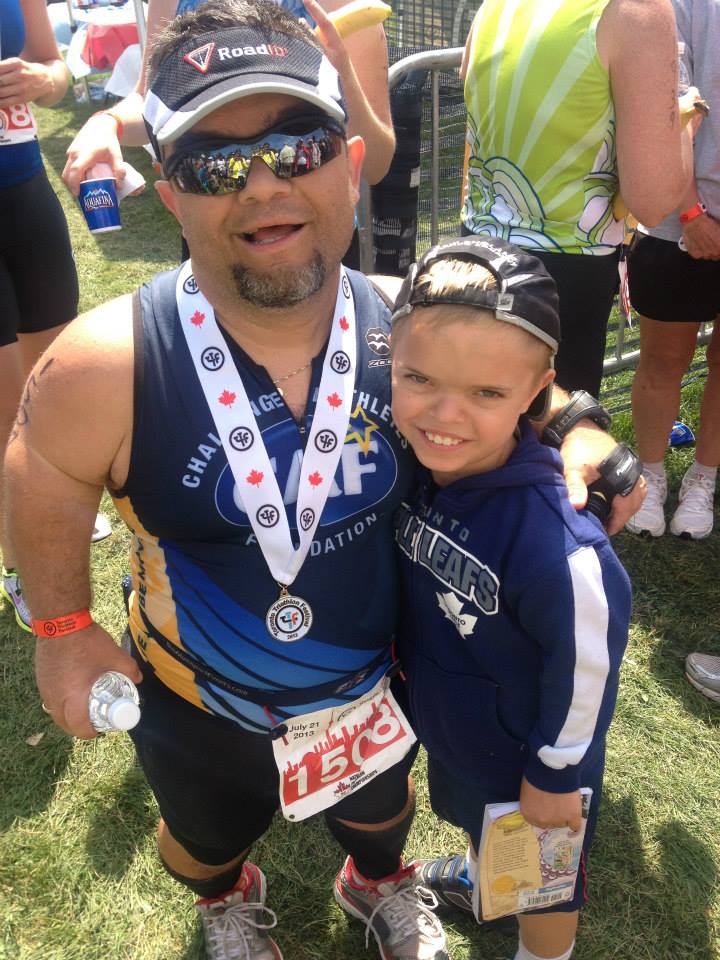 Tell us a bit about Boston
Boston was a LONG journey for me, and not simply the race on April 20th. (His race report here). I had run in 2013, when I was going to be one of the first people with dwarfism to complete this historic race. Like 1000's of others, I was stopped about 3/4 of a mile from the finish line when the bombs went off. I got to race again in 2014, but unfortuneately, I fell ill with the flu around mile 10 and had to withdraw. My original entry in 2013 had been an invitational entry and so I needed to qualify if I was going to have a chance to run Boston again. So having completed the NYC marathon in 2013, in a time of 6hr37min, I chose to race NYC again in 2014 to try and qualify. A mobility impaired athlete in my division needs to finish in less than 6 hours to qualify.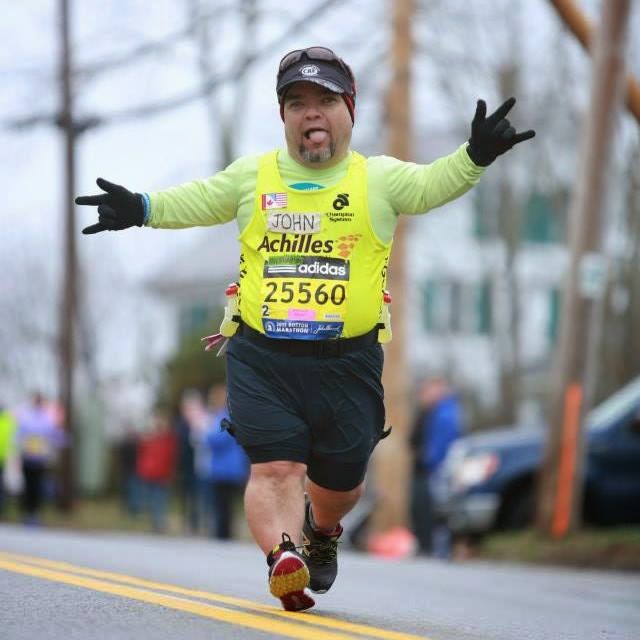 Photo by Bradley Rhoton
With the help of my coach, Brian Hammond, I had the race of my like in NYC, finishing in 5:57:42, securing my spot for Boston 2015. I had all the intention of racing well on April 20th, but that didn't happen. I don't know if it was the rainy cold weather or just simply the emotion of waiting 735 days to complete this journey, but by about mile 12, I knew I was not having a fast race. I re-assessed my goals and was determined to make this a race I would enjoy. I was able to finally reach the finish line in a time of 6hr39min. I was happy to have my wife and son there to see me cross, since they had been there in 2013, when the bombings had occured. So this race was much more for all 3 of us, then simply my race.
How has triathlon/running added to you life? What are the positive things it has brought into your life?
I am certainly healthier with all the training and racing I do. More importantly I feel I am a good example for our son, who sees me go out and give my best effort and feel good about improving as opposed to caring about where I finish ranked against other athletes.
Tell us about how you have taken perceived barriers and broken through them? What kind of mindset does that require?
Throughout my entire life, my mother taught me not to make excuses and when you do something, be sure to see it through to the end. I believe that has a lot to do with how I live a lot of my life. I don't look at daunting tasks and wonder whether or not I can do them. I think more about, how am I going to be able to do this. Living my life my short-stature, is so much about adapting a world that is not made for me.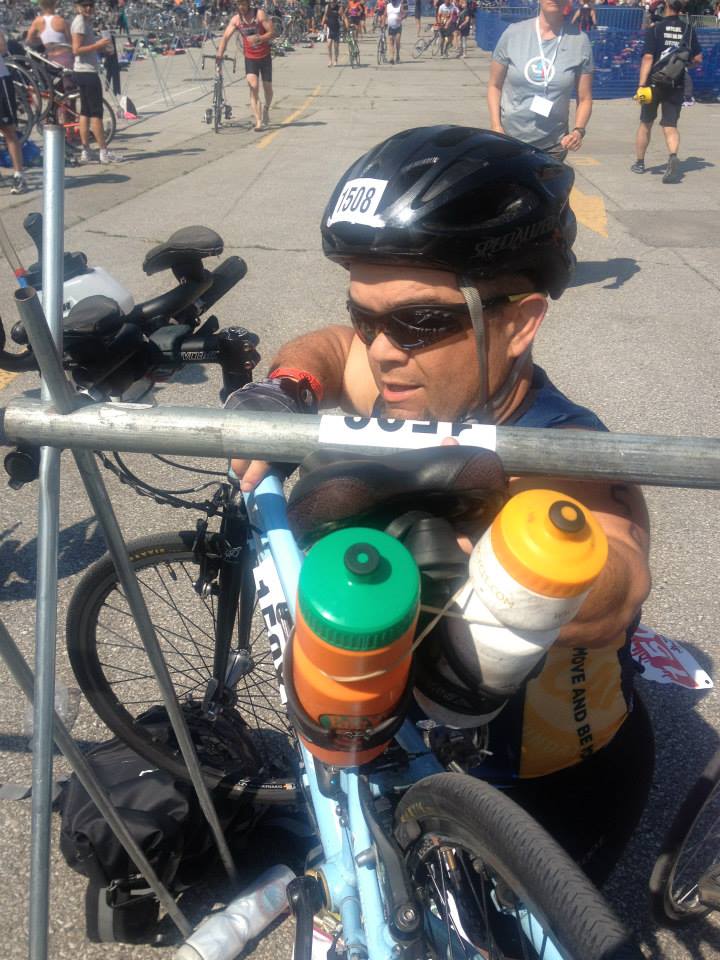 So when I have someone say, "Oh, you can't do that", that simply fuels my desire even more. Doctors have been telling people with short-stature for years, that we should not run because of the pressure it puts on our backs. With my curved spine, I actually have more difficulty sitting or standing for long periods of time, as opposed to running. I think doctore need to re-think what they say to people, because there a lot of senditary people with short-stature, who are that way because doctors have been too quick to suggest all we can do is swim or possiby cycle.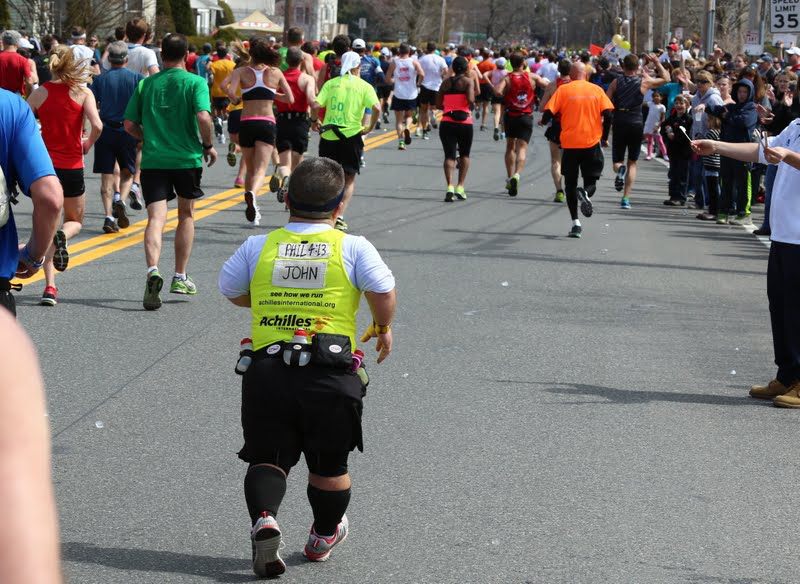 I continue to hear from many other people who are now doing 5K races or walks or whatever to get active, simply because of hearing about what I and others with short-stature are doing. There are two other accomplished marathoners, Danh Trang and Juli Windsor who have both raced Boston. They are both much faster than I am, but mind you, there are both more than 20 years younger than I am.