Spotlight for this week is on SBMAT Ambassador, Karen Vickers.  She's one of my athletes who I coached to her first 70.3 last year.  This is my favorite coach picture moment at the finish of her first 70.3 last year…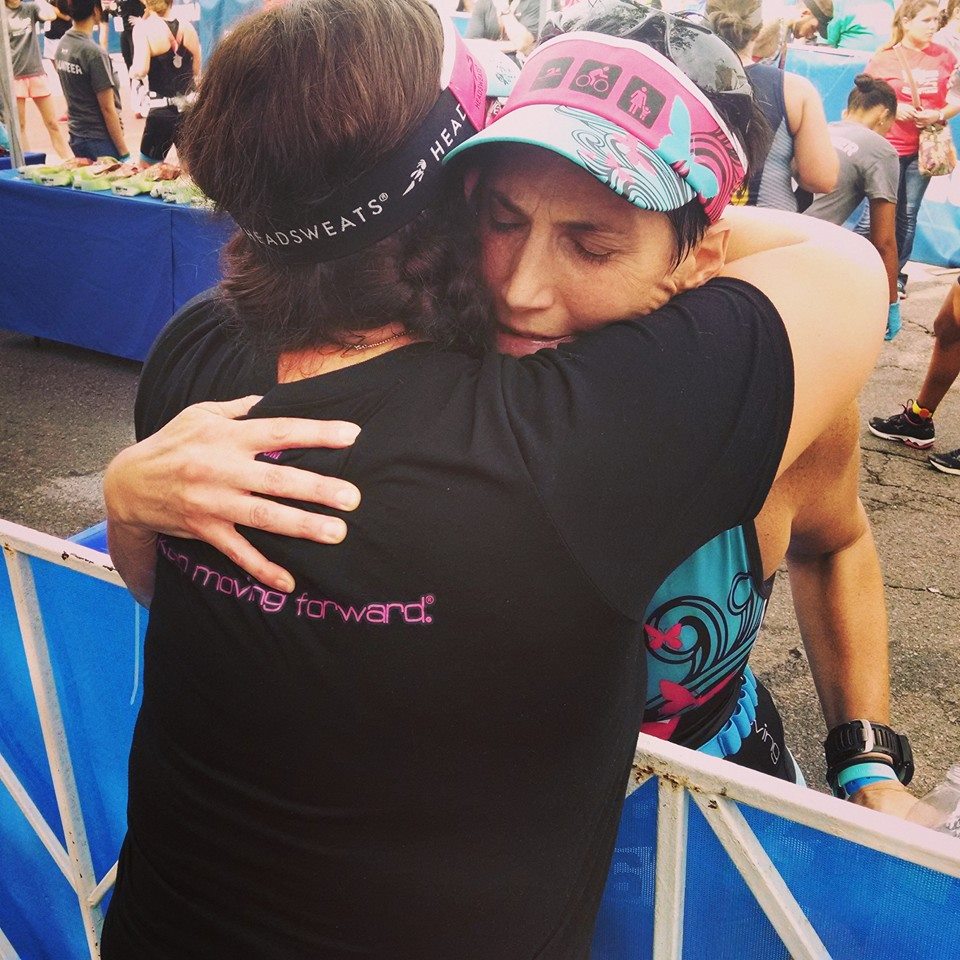 I brag about Karen all the time—because I think in the 10 months that I coached her leading up to Augusta 70.3, the woman missed two workouts.  She is working towards her second 70.3 in a few months, and her training has been the same. Consistent.  She's is a Swim Bike Mom to the four-legged, furry kind. She has a heart of gold and cares very deeply. I am proud to not only have her as a member of our team, but also to call her a friend.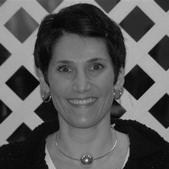 Karen Vickers
City/State:  Kennesaw, Georgia
Age Group:  45-49
Biggest Inspiration:  "You defeat defeatism with confidence." –Vince Lombardi
There is a little monster of doubt that rides on my shoulder.  It whispers in my ear.  Its voice prods me.   Sometimes it's quiet and sits in waiting until the time is right to attack.  It sides with all of the people who don't think I am capable, who tell me I can't, who doubt that I will succeed.  It is always there, slowly trying to chip away.  Sometimes it instills anger in me – and this is the inspiration, the drive to fight back, the mental and physical power I possess to stop the naysayers in their tracks and show them they are wrong.  I am inspired by believing.  Believing in the true voice that says "I can."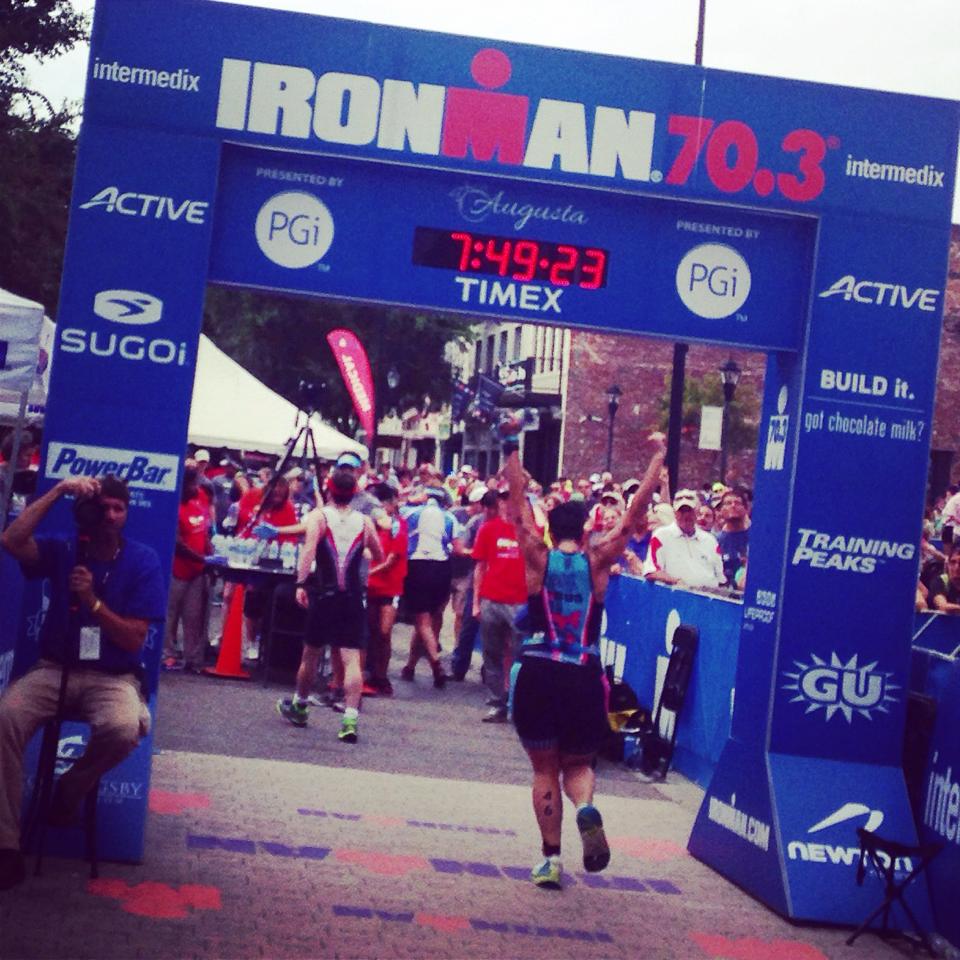 When I was in my 30's, I had been unfit for many years and decided it was time to get back in shape.  I hired a personal trainer.  I started walking.  Once my fitness started improving, I graduated to short, slow runs on the treadmill.  My trainer invited me to participate in a local 5K.  The doubt monster whispered thousands of excuses in my ear.  I listened to it and declined her offer.  My trainer did not take "no" for an answer, so I showed up at the event.  Crossing the finish line gave me confidence, which inspired me to be a better runner.  I registered for my first marathon.  I finished my first marathon.  I signed up for my next marathon.  That's when the real monster appeared in my life.
In 2002 I was diagnosed with a tumor on my pituitary gland.
Being too small to warrant surgery to remove it, I was put on a course of treatment to shrink the tumor to a manageable size.  The comments from the doctor went something like this, "This treatment may make you very ill.  There may be days when you are too weak to get out of bed.  You might have to cut back on your exercise.  And you might not be able to run."  Mightnotbeabletorun!  Those were the only words I heard.  And it made me angry!  What do you mean I might not be able to run?! Don't you realize I am training for a marathon?  Take those words back, and take this stupid tumor and your stupid treatment and let me run!  This monster was real.  It took permanent residence in my head and it wasn't leaving – ever.  And as I sat listening to all of the negative impacts of the treatment I was about to take, the fight welled up in me.  I was going to fight the monster.  And I did.  I took my treatments as prescribed.  They made me sick.  There were mornings when I could not get up from the bathroom floor.  I fought the sick, and I ran.  And I kept running.  And I trained for my marathon and I ran.  Inspired to fight the monster in my head and with 8 months of treatments in my system, I crossed the finish line of my second marathon.  The monster still lives.  It's been quiet and under control, without treatments.  I know it's there.  It knows it's there.  But I don't let it defeat me – and I don't let it stop me.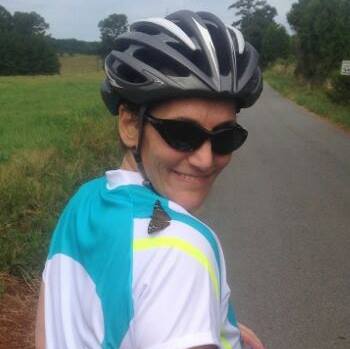 The doubt monster and I go toe-to-toe quite a bit.  The doubt monster has been good for me, as it inspires me to fight back.  It constantly reminds me to focus on my confidence and work on believing in my mental and physical strengths.  I am learning what it takes to make the doubt monster cower in its corner – I am inspired to surround myself with the people and things that support and build my confidence.  And despite the naysayers and challenges, I am inspired to believe in myself.
Scary 2015 Goal:  Hitting the registration "submit" button for the full Ironman event (TBD) I want to do in 2016.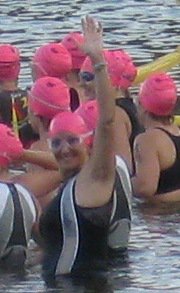 How Triathlon Changed Me: Over the course of 4 triathlon seasons, triathlon has taught me focus and has helped me to learn balance.  NOTE: Learn balance, not achieve balance.  There is a huge difference between the two.  The achieving balance part is still a work-in-progress.  It is not hard to focus on training for triathlon IF that is all you have to do.  But since I have a job, a husband, a dog child, and I serve as co-chair for a local non-profit foundation, my focus is rarely dedicated to me or my sport.  Having to train for 3 separate disciplines and make sure the house doesn't burn down isn't easy.  Taking on the commitment of training for my first Half Ironman has changed me in that it has shifted my perspective on the day-to-day.  I am forced to plan better.  I have learned, but don't always succeed, how to schedule time for myself and my training.  The biggest change that came from focus and balance is that I don't feel as guilty as I used to about training or going to races.  I know that everything is taken care of (or is scheduled to be taken care of) both at the office and at home.  Focus and balance have given me some peace of mind and this year especially, have helped me to be a better person, a better employee, a better wife (most of the time) and a better triathlete.
Favorite Piece of Gear:  Compression anything – pants, socks, knee sleeves, calf sleeves.  There's nothing more wonderful than struggling myself into something compression after a tough workout.  Getting into compression clothing is comedy gold.  But it makes me feel oh-so-good, like a hug that never stops!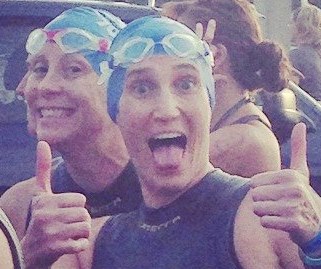 I Race For:  Being a triathlete is so much more than simply preparing one's physical self.  The mental self – thought processes and confidence – needs training, guidance and preparation too.  For me, the joy of the race is the time I take to bond with fellow triathletes.  I listen to their stories, their journeys in the sport.  I find the morning of race day during transition set-up to be an amazing opportunity to learn from triathletes of all levels.  And when I have the opportunity to engage others, I share my journey of how I was transformed into believing in myself and how they, too, can believe in their inner athlete.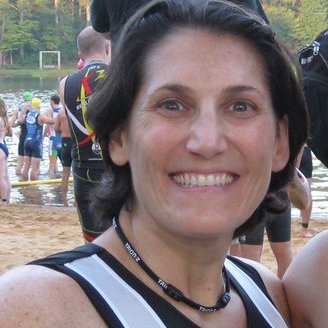 My first triathlon was at Calloway Gardens, GA in 2010.  After the event was over, my friends gave me a "Tri" sticker to put on my car.  I was in the parking lot getting ready to peel the back off the sticker when a very young, fit triathlete (male) walked passed.  He stopped and asked "was this your first tri?"  I responded "yes."  He told me not to put the sticker on my car and to wait until he came back.  A few minutes later he returned with 8 other people.  They said finishing my first tri was a huge accomplishment and they wanted to be a part of the "sticker ceremony."  So they all stood around me and clapped as I affixed the "Tri" sticker to my back windshield.  They will never know what that moment meant to me.  Every time I think of it, it reinforces what beautiful and supportive people make up the triathlon community as I know it.  I race for this community and for the people I have met who have impacted my progress in the sport.  I will continue to race so I can engage with and learn from other triathletes who share the true spirit of the sport.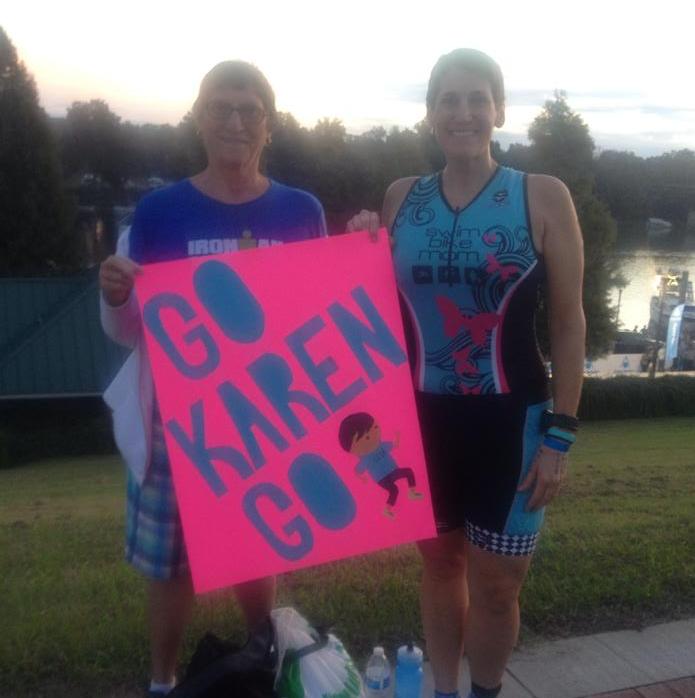 How I Pay It Forward: 2014 is the first year I started giving back to the triathlon community by volunteering at a local race.  I was stationed at the packet pickup tent and was asked by 2 first-time triathletes if I could help them.  It was my pleasure to show them how to put the numbers on their helmets and bikes, and to answer all of their questions about the race.  I could tell that by stepping out from behind the packet table and taking a few minutes to give someone new to the sport individual attention alleviated some of their anxiety.  I don't remember her name or her race number, but the young lady who hugged me and thanked me for "being so nice this early in the morning" made my volunteer experience worth every minute and made my love for this sport even stronger!  I will continue to volunteer at races in 2015 and in the future.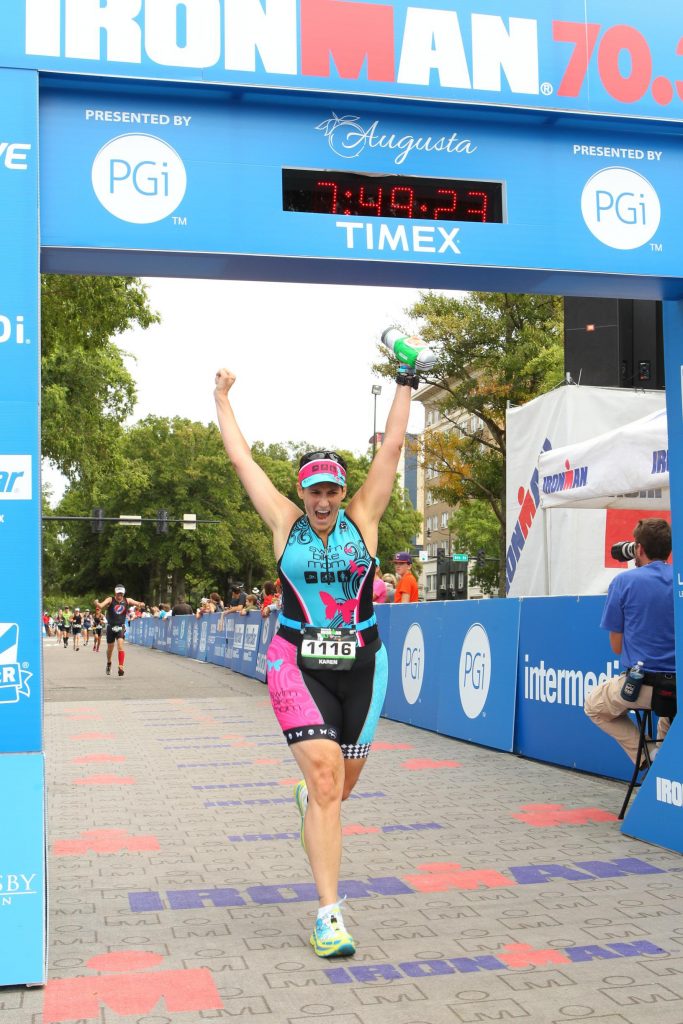 I am researching opportunities with an organization that supports special needs children (particularly children on the Autism spectrum) in training for triathlon so I can mentor a child athlete.  I have reached out to Swim Bike Kid and will be sponsoring, in some capacity, a child athlete for the 2015 season.  I want to be on the course supporting the child athletes and cheer them to the finish line.
I am rather shy, private, and a bit introverted.  I think it takes a healthy balance of "people person" people and "quiet people" to attract an audience.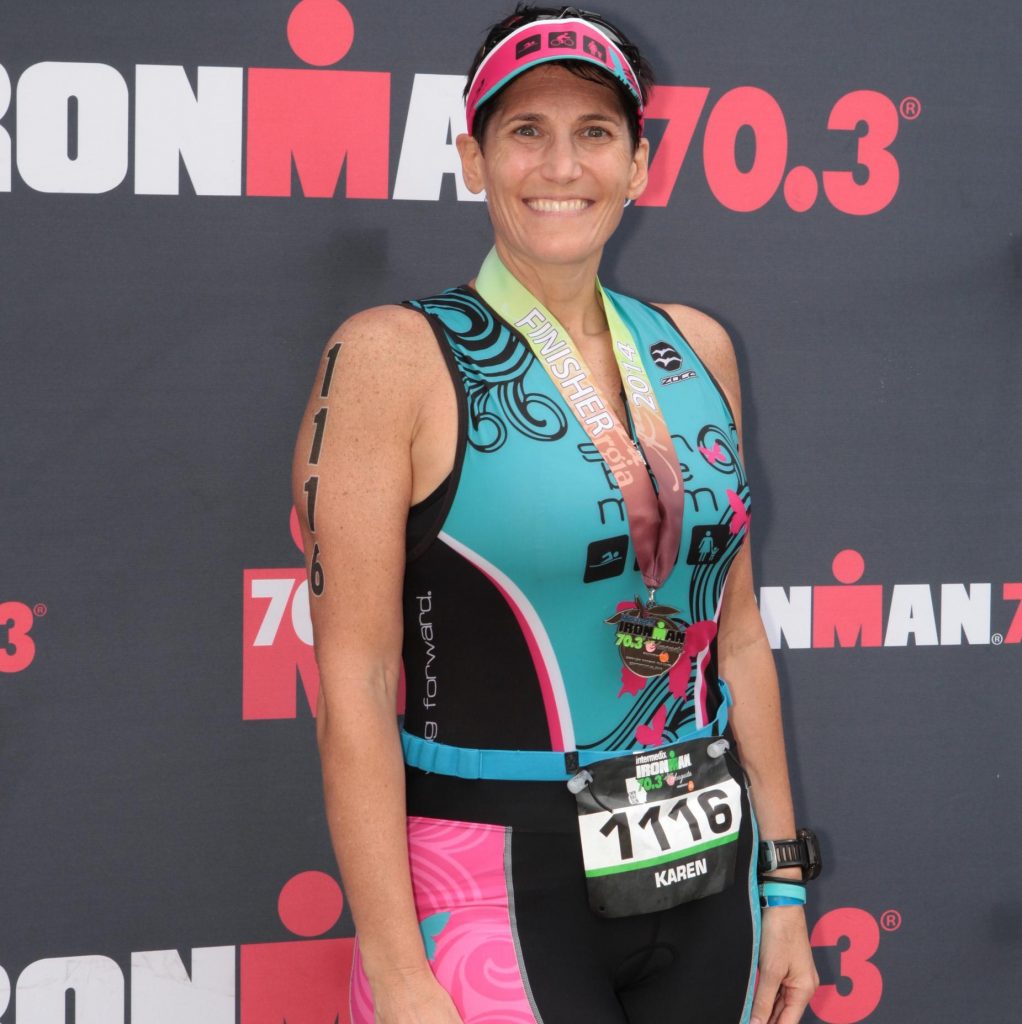 Not everyone needs a cheerleader. Some people gravitate towards quieter, more reserved people who will listen and act as a sounding board.  As an Ambassador, I can give back to the SBM community by carrying the spirit of "just keep moving forward" to other women who are either afraid to take the first step into triathlon or who are not confident about taking the next step in the sport, whatever that may mean to them.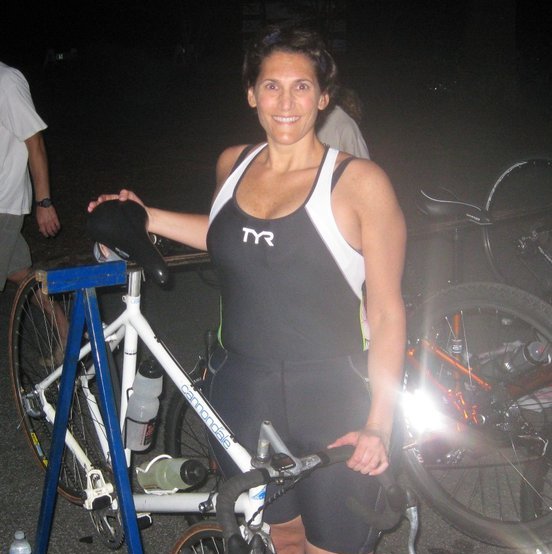 What Else You Should Know About Me:  I am 46 years old and have been active in triathlon for 4 years.  My husband Patrick and I are avid hikers, were married at the Grand Canyon, and recently celebrated our 10 year wedding anniversary.  We are parents to one very spoiled fur-child, Mazie, our 3 year old miniature Schnauzer.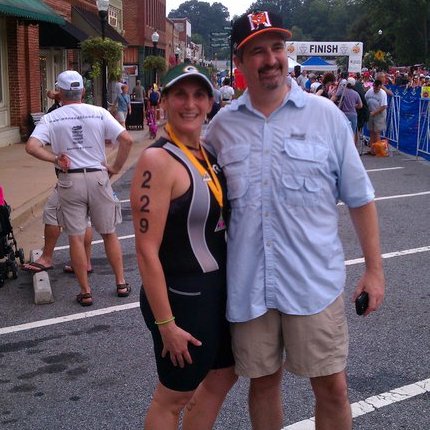 I am a water baby – swimming is my favorite discipline in triathlon.  I swam competitively throughout my youth and high school.  I trained with the University of Florida cycling team from 1987-1990.  Cycling is my second favorite discipline.  I didn't start running until my early 30's.  I have completed 2 marathons and 3 half marathons.  Running is the bane of my triathlon existence.  I only run because my Coach makes me.  Oh, and I can't call myself a triathlete if I don't run.
2014 has been a HUGE year for me in triathlon!! I tackled my first Olympic distance races this year, and completed my first Ironman 70.3 in Augusta on September 28.  2015 will prove to be a phenomenal year with the Ambassador Team and the 2 HIM distance races I have planned.  My ultimate goal is a full Ironman distance event in 2016.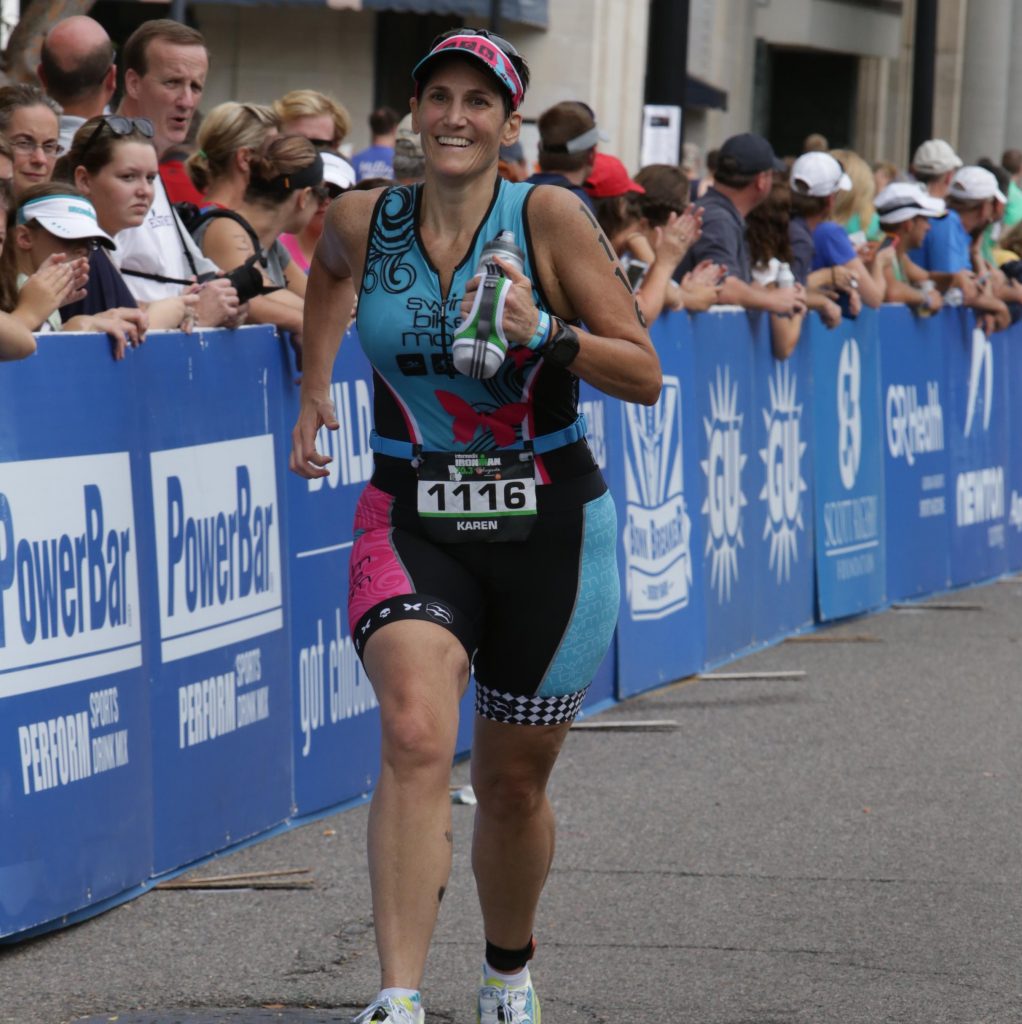 How to Follow Me:
Twitter:  http://twitter.com/desdemonarocket
Instagram: http://instagram.com/desdemonarocket