The most daunting part about triathlon for me, in the beginning (and still), was (is) running.  I think, for the most part, people come to triathlon as runners.  Or swimmers.  Or cyclists.  Me?  Well, I came to triathlon as Choice D, "None of the above."
But I think there is a natural progression for runners to become triathletes.  And while runners, historically, may not make the best swimmers if they are new to swimming, they survive the transition to triathlon pretty well, sinking legs and zero bodyfat and all.
So here's the issue.  What happens when you want to run—but you "can't" run? When you seriously suck at it? When running doesn't look like running….like… at all?
Well, the non-runner?   She was me.  She, arguably, still is me.  I'm a turtle. But a running turtle, nonetheless.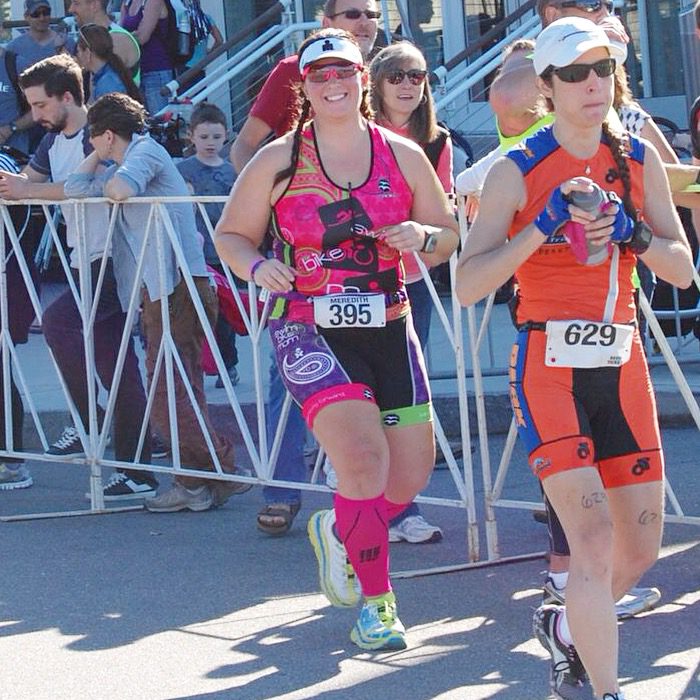 When I was a little girl, I never ran. I read books and wrote stories. My mother would push me outside, "Go play!" and I would say, "Can I bring my books?"
Enter middle school where all the cool kids were trying out for basketball and volleyball.  I wanted to be cool, so I tried out for all these things. I made the teams (not quite sure how) and I began to run (but only where necessary… in the games and at practice).  My dad was quick to note my terrible running form and scream at me from the bleachers on game day, "Pick up your knees!"  Bless his heart.  My dad who was a hotshot runner in high school had a daughter who dragged her legs behind her like weighted paddles.  I was a great volleyball player (not much running there), and mediocre at basketball (tall, but too tired to score goals from being too exhausted from running down the court).
From learning a little bit about coaching youth triathletes, I found that running is something that is learned and mastered as a child.  So if you didn't run much as a child, you're behind the eight ball as a running adult.  I could use this as an excuse.  But I am a triathlete (see that? I said it!)… so by default, that makes me also a runner. So I'm still a work-in-progress on the running myself…  but really who isn't?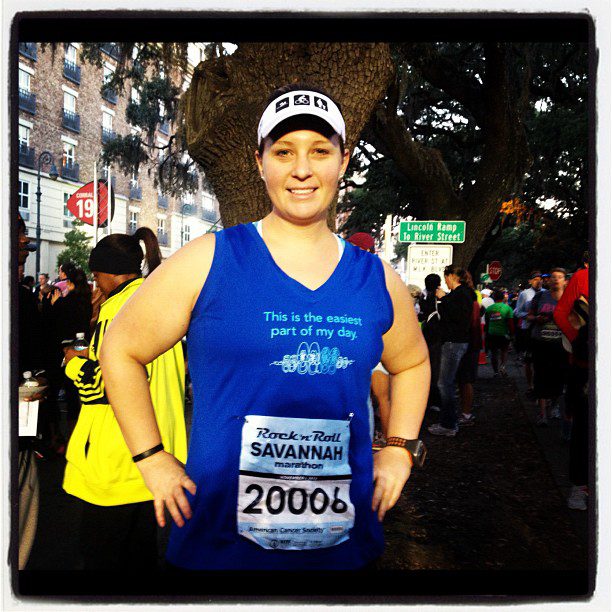 But here's the thing… over the last four years, my running has greatly improved. Four years ago, I couldn't run a mile without stopping. And I could never go out and truck for 10, 12, or 14 miles.  Now, I can.  Slow and steady, and get it done.  When I want to go fast, I can easily do a 5k in under thirty minutes.  And when I want to Fartlek (excuse me!), I have seen a 7 minute mile pace. (It was quick. I fartlek'd).  So overall, I have grown as a triathlete and a runner.
But starting out running? As a newbie?  Wow.  It's tough.  Seriously, tough.
I receive emails all the time: "I'm new to running. I can't run at all. How do I start running?"
So I thought I'd write a little blog post from non-runner to non-runner about how to become a runner–no matter how slowly you go.
First, throw out all expectations of what it is to be a runner.  Get yourself a nice shoe fitting, a cute running top and socks that wick–and decide that you (yes, you) are a runner.  Because you are (or you will be, very very soon).
Second,  start slowly and be patient with yourself.  Seriously.  Do not attempt to go from the couch to a half marathon in a week. It won't happen. That's like the binge diet of triathlon training. You may run thirteen point one miles, but you'll end up in the ER or on the injured list.  Furthermore, getting on the treadmill and busting balls for three minutes is not going to get you anywhere either.  First, it will be crazy discouraging.  Next, you won't train your aerobic engine either–so you're not going to get any better aerobically.
So what then?  Well, take your time and run slowly (Zone 2 training, as it is called—keeping your heart rate in Zone 2 or in the "Carry a Conversation" zone), which will build your aerobic engine.  Keep at this for weeks and weeks. If you are coming straight off the couch, especially. Work hard to build a solid foundation of aerobic "base," good running form and habits.  Read more about heart rate training here.
Yes, sometimes this means that your "run" is going to be a walk.  I mean it.  Walk until you can jog without being breathless.
Going slow does work. If you structure your training in a methodical way, the simple adaptations to your body will happen to make you a better runner. Eventually, the speed and distance (and speed over distance) will follow.  Once you nail some "going slow" training, you can start building in some intervals, speed work and fun things like Fartlek'ing to build your anerobic and fast engine. (Yes, I said it again!).
Next, leave your mirrors (or other reflective surfaces) at home.
Do not worry about what you look like when you are running.  Pay attention to your running form–yes–but do not think about what faces you are making, what body part is jiggling, or what the kids on the bus are laughing at.  (It is probably you… just let it go.)
This sport is not always the prettiest. Just get out there and be you–the new runner.
Work on staying positive and consistent in training.  The more you run, the better you will be.  Of course, don't run everyday. Three times a week is great for triathlon training, and even you can add in some shorter runs after the bike, to get the body accustomed to running off the bike, up to as much as five times a week (and by short, I mean 10-20 minutes off the bike).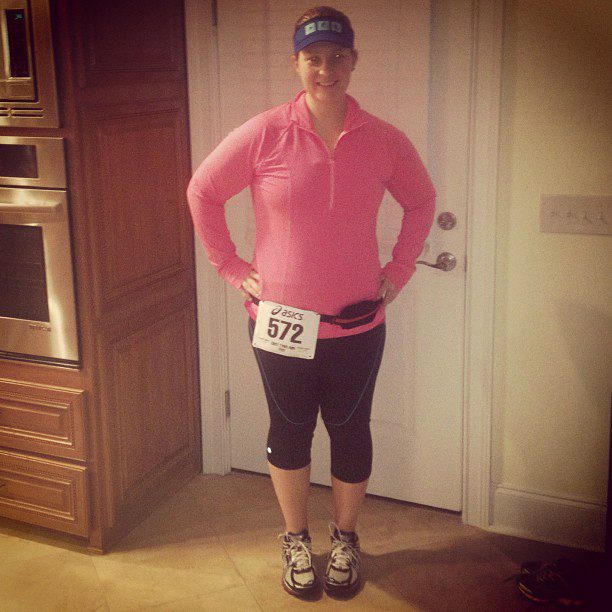 Finally, wrap your mind around the fact that you are a runner.
"I only ran for 3 minutes."  So what!? You ran, didn't you?  The biggest part of this sport is mental. You must believe that you can–what you believe, you will acheive.  If you say you can't run–then guess what? You can't.
The definition of a runner?  "A person, thing or animal that runs."
Well, there you go.  Whether you are human or thing–if you go for a run, you are a runner.  Start acting like one. 🙂