So I ran a half marathon on Saturday night.
Correction.  The half marathon ran me.
In my fourth stand alone half mary, the Roswell GA Alien 13.1 Half… a nightime half marathon… I not only had my slowest half marathon time… but also, the absolutely most painful run of my life.  Also, in four half Ironmans… this was the slowest and worst run.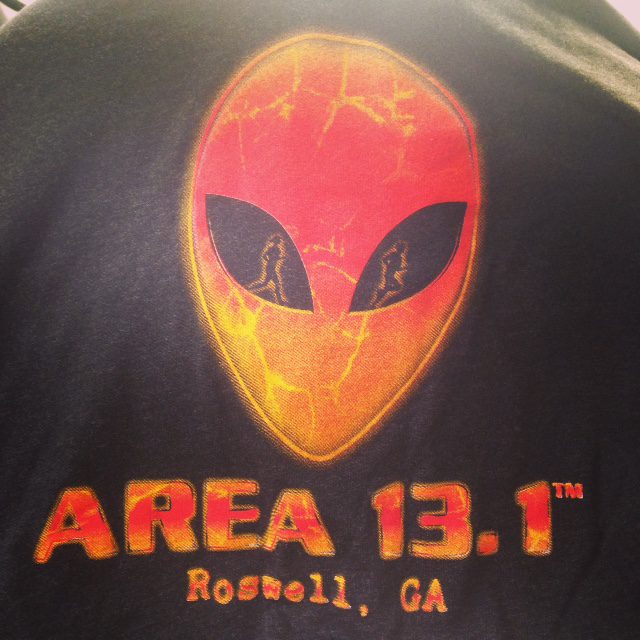 Coach Brett said I had "gone rogue" and that the run was "not approved."  Me, in all my stubborn glory, decided that I would run easy and it would be okay.
For a few reasons, I think this run escaped me.
First, I was only 14 days off from my 140.6  – I felt recovered. But I wasn't.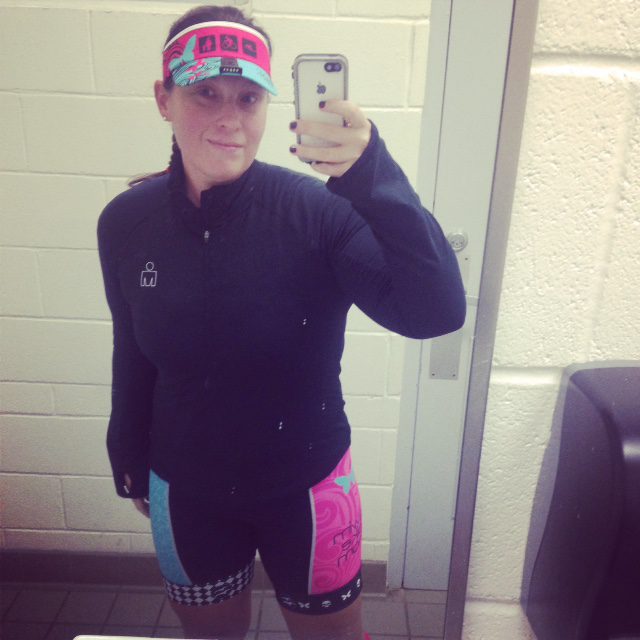 Second, I was 10 days off from the Emergency Room, my diverticulitis announcement (yaaaay! Swim Bike Mom's poop tales!), and the horrible ensuing 10 days of antibiotics.
I was weak, who was I kidding.
But "I just did an 'iron' distance race! What is a half marathon?"  (The idiotic thought process.)
Oh, let me tell you what IS a half marathon.
A half marathon is half of a marathon. It's THIRTEEN POINT ONE FREAKING MILES TO RUN. And that is a stupid distance to run. I mean, really… all of us crazy tri people out there.
Think about how most people refuse to 
commute

that far to work.  In a car. And we RUN that far.

It's dumb.  Just admit it. You'll feel better.

The run started right at dusk, and had a great crowd. I felt pretty good. My stomach has still been unsettled, but I go to the GI specialist this week, so I've been holding out.  I was feeling okay. Ready to get back on the horse.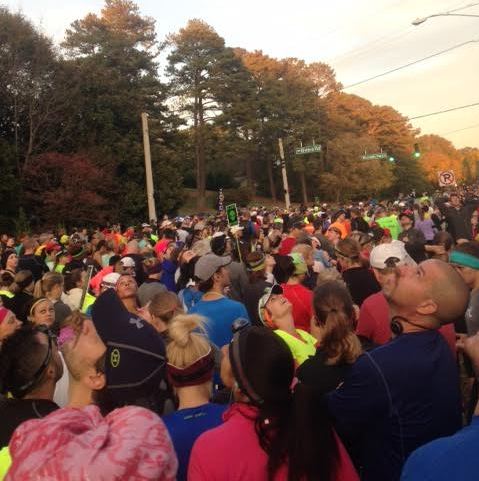 I felt pretty darn amazing for the first 8 miles.  I was running FAST!  I was going!
Then I actually looked at my pace.  I thought I was flying.  And I was going 12:30.  Then 13:00.  Then 13:30.  By Mile 10, I was still "running," and my pace was 15:30.  Running.  That, my friends, is no longer a run. That is the death march shuffle.
And it was dark, which was weird. I liked it. I had my headlamp that Yoda gave me for Beach 2 Battleship. But I rarely run in the evenings (like, never)… so that was bizarre too.
Mile 11, my body seized up from the back of my neck to my Achilles.  I was one giant cramp.  And I don't historically cramp.  I promise you, I would rather do the iron distance marathon over again, than that run on Saturday. It was just that painful.
And COLD.  When I was "running," I was staying warm. But once the sad shuffle commenced, I got seriously cold.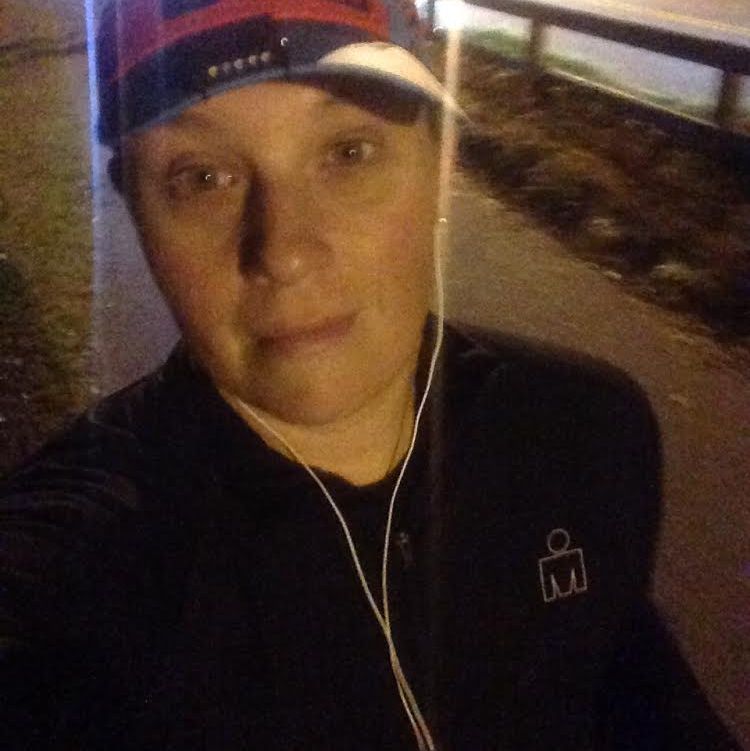 Then an Alien Angel appeared.
I don't know who she was, but she walked me right home for the last half mile.  Don't know where she came from, but maybe she saw my jacket and felt like maybe I wasn't a complete fraud (or she did, and wanted to get to the bottom of it so she could report me to the M-Dot authorities) …so she just skipped along with me with way more energy than I had. Stopping when I stopped to double over in pain and stretch my hammies… she walked and talked and stopped and helped me along.
And just as quickly as she appeared… she was gone.  Not 100% sure that I didn't imagine the gal.  Or maybe she was an alien.
Either way, angels or aliens… I dragged myself across the finish line.
I have never, ever, ever walked across any finish line. [Not that there's anything wrong with that, it's just my thing… try to run them all in.] BUT of course,  I have done plenty of walking in a race. Plenty, but I always try and buck up and run the chute of any race.  I want to run. I want to finish, running… And I always do.
But…. I walked right on through this grand finish line, with a finish time of 3:13:00… at a 14:30 pace.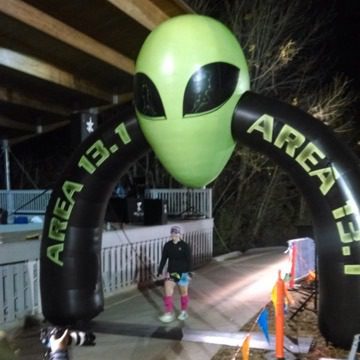 And I was just glad to be done.
And yes, it's true. I always smile at the finish, no matter what. (What's not to smile about? You're DONE. Finish deserves smile. You can quote me on that one.)
I drove home, hobbled up the stairs, got into a boiling hot bath and could not stop shaking from the cold.  A tough race on an "easy" course.  A tough handful of lessons that I learned… and while I may not be the smartest tool in the shed (or is it sharpest? 🙂 ), I can say that as much as I wanted to call the sag wagon to pick me up… I grimaced through it, and earned my 13.1 medal… the hard way.
The Expert once said, "Mere, you know that you force your way through life."  Because it seems that I never relax, I never stop, and I never slow down. I push and push my way through whatever walls, whatever is there… Boom boom.  Push right ahead. Relentless forward motion. Just Keep Moving/Pushing/Breaking/Plowing Forward.
But…
I think maybe I will take a breather… and stop forcing my way through life so much.  Just let life unfold around me for a bit.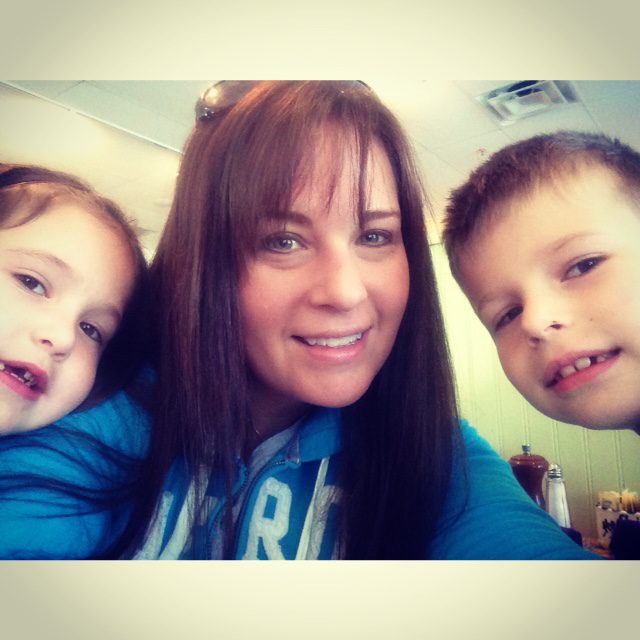 Maybe if I do, I will stop imagining aliens… and start believing in the miracles. 🙂
Have a great week, friends.