I've been going through some insomnia recently, which is not unusual for me. About two times a month, I survive for a few days on less than four hours of sleep a night. It's just a weird thing, and then I go crazy and eat waffles, and I am good as new.  Or as new as I can be.
Surprise! Race photos are enough to scare anyone back to reality.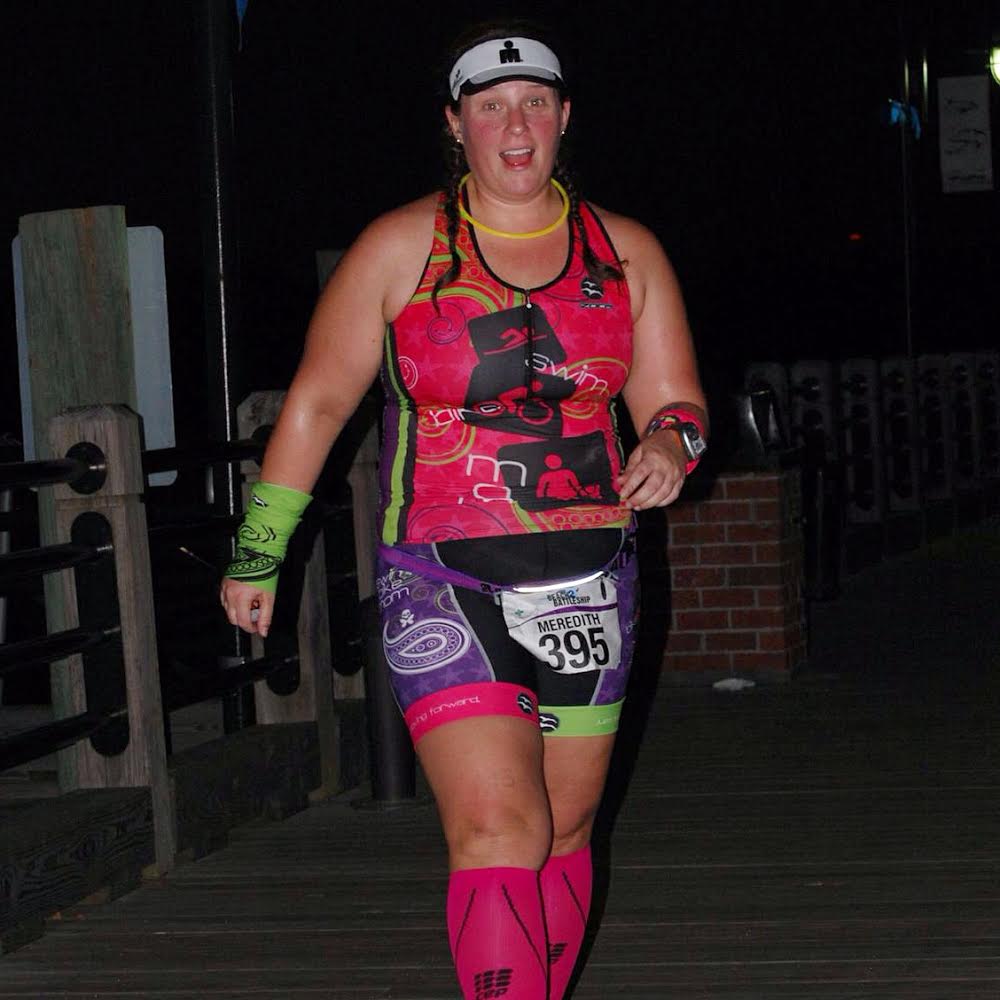 So Saturday, I finished Beach 2 Battleship. Then I spent Tuesday in the ER with severe stomach pains.  Certain that I was going to have my appendix ripped from my body, I listened to the Expert (in this case, not an actual expert on the subject, though he doesn't have his appendix, so that made him a mini-expert… anway.)
Long story short, we went to the hospital. After contrast CT and blood work, turns out I have a lovely colon disease called diverticulitis (it's disgusting, don't read about it… really… don't)… either way, it's a sh*tty problem to have. All puns intended. Runs in my family. Also, pun intended.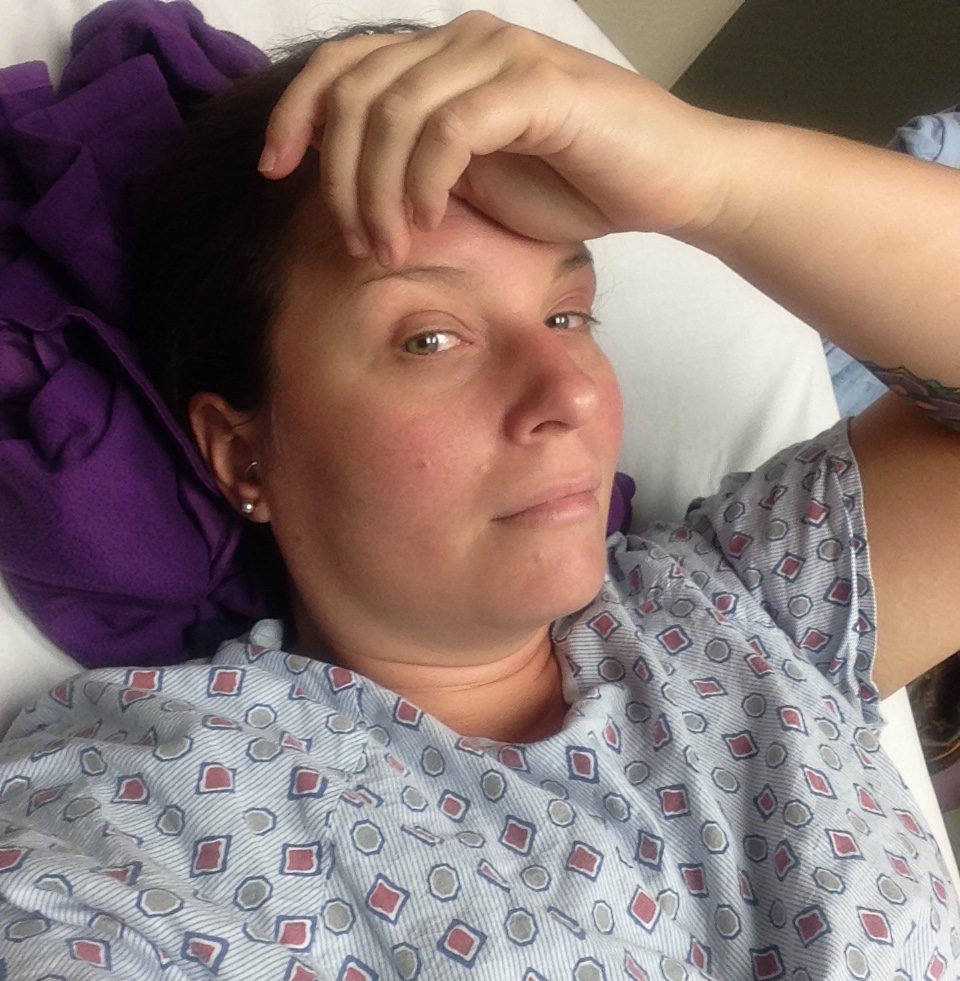 Kind of laughable since I told Yoda after the race, "Good thing about treating your body like a garbage can? You can eat anything on the race course and be fine!"
(Dodging the lightning there. Boom! ER a few days later.)
So, I follow up with a GI specialist next week, but suffice it to say, the iron distance probably didn't cause the situation–but it certainly was a big factor that caused the flare-up and onset. Recommendations for helping with diverticulitis? Exercise. I kid you not.  Ah-hem.  Hey doc… ummmm….
Anyway, I felt like death for two days, but woke up wide awake on Thursday night around 2 am.  I was so behind (pun intended) on work (the day job), Swim Bike Mom (Yoda said, "You were suspiciously absent from all things social media for a few days, but I just thought you were taking a break." Me? Taking a social media break, puh-lease)… and my second deadline article for my new magazine gig was due that day.  So I woke up.  And shot out of bed.
I started working on my magazine article first.  And while I won't spoil (pun intended…okay, I'll stop) the topic or the surprise, I will say that I had some pretty interesting revelations during the drafting.
The revelations slapped me in the face yesterday.  I ignored them on Thursday, of course.
I was taking the boy Swim Bike Kid to the dentist to get his gimp tooth repaired, and I searched my bookshelf for something to read. His current dentist frowns upon cell phone use in the waiting room. I usually thing, Screw 'em, but I thought I'd grab a book for a change.
I picked up my copy of Women Food and God, which I never read more than 10 pages before… and considering the fact that I have been shoving Halloween candy into my pie hole like it was my job, it seemed fitting.
So sitting in the dentist waiting room, I started having Oprah-type ah-ha moments, left and right, reading the book. This book which summary says, "No matter how sophisticated or wealthy or broke or enlightened you are, how you eat tells all."
Oh my.
Now, I read books all the time and sometimes I have these moments… but not that many.  (Other time: Brene Brown's TED talk here, where I shocked the Swim Bike Mom Army by revealing my introvert status… I push people away.  I retreat.  I swim harder.  I run faster. (Or I sulk, and eat more–depending on the day)).
I have long talked about my eating disorders in a very public way.
Unlike the skinny disorders, I have the opposite ones.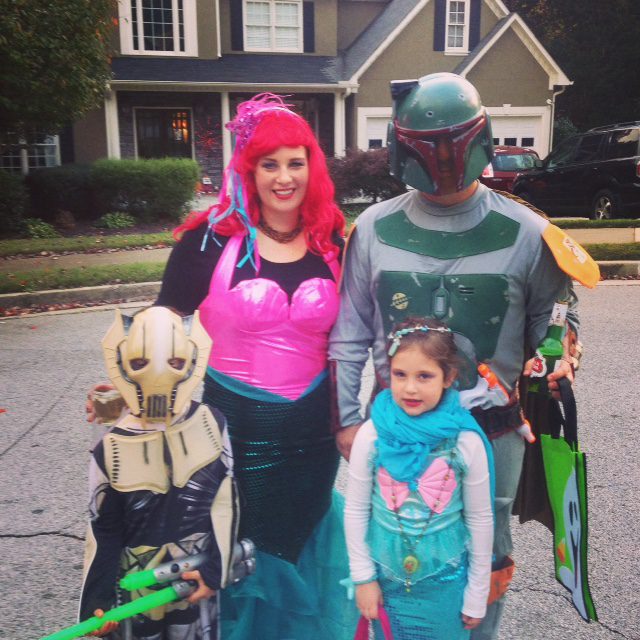 I eat anything that isn't tied down.
And even then, I will sometimes just start to gnaw on the object that is tying the other object, and then when that's free– I'll eat that too.  No food is too fattening or too safe from me.  When I am binging, I don't care what food it is.  It's all fair game. That coupled with the fact that I love a good beer, a delicious glass of wine?
Well, I'm a bloody sugar-buzzed nutritional nightmare.
"But you're NOT FAT!" people write me, "You're an Ironman!"  Yes, I am an Ironman.  And yes, I am FAT.  Because in my mirrors and my mind and my head…. I will ALWAYS be fat. Always. (Or at least that's the role that I am playing—working throught that angle too…. anyway).
But in my mind, no matter how many Ironmans I tackle, no matter how many skinny jeans I conquer. No matter how many long, lengthening sweaters I buy: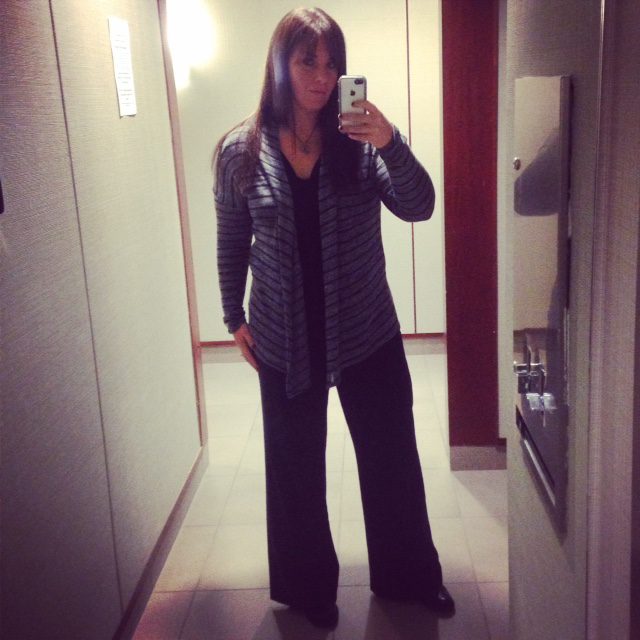 [Ooooh, la la! Voila! Lengthened! …My closet ranges from Size 8 to 20, and if you need a "little" black dress–I have one right in your size. Feel free to borrow any time.]
No matter what, the voices in my head have always been… "fat fat fat."
"But just stop eating," I have received that email a few times.
And my response to that?  I have no response.  That makes me just go:
In 
Women Food and Good, 
the author writes,
"…compulsive eating is basically a refusal to be fully alive. No matter what we weigh, those of us who are compulsive eaters have anorexia of the soul. We refuse to take in what sustains us. We live lives of deprivation. And when we can't stand it any longer, we binge. The way we are able to accomplish all of this is by the simple act of bolting — of leaving ourselves — hundreds of times a day" [by binging on food]
Yesterday, I had a particularly rough day.  I was feeling like an Elephant wearing a fat suit.  Shocking to believe I had done 140.6 miles only a week or so before. Unreal.
So there I was, reading Women Food and God in the children's dentist, and having a moment looking like a spaz monkey.  No longer were the office ladies giving me the hairy eyeball for my incessant cell phone usage–they were looking at the tears running down my face–and the sobbing shoulders.
I just suddenly became so tired. So. Tired. Of. Caring.
"Weight (too much or too little) is a by-product. Weight is what happens when you use food to flatten your life."
I realized that my stomach–my gut–my extra rolls of fat… are literally always what I am thinking about.  Like crazy. Obsession. Incessant. My day is dictated by what Big Fluffy is doing.  (Big Fluffy is SBM Team Member, Anne's, nickname for her stomach after having three kids… cracks me up every time…)
What a grand waste of time.  Who CARES what Big Fluffy is doing?!?!  (Now, that is a quote for the new SBM tees.)
Then I read this: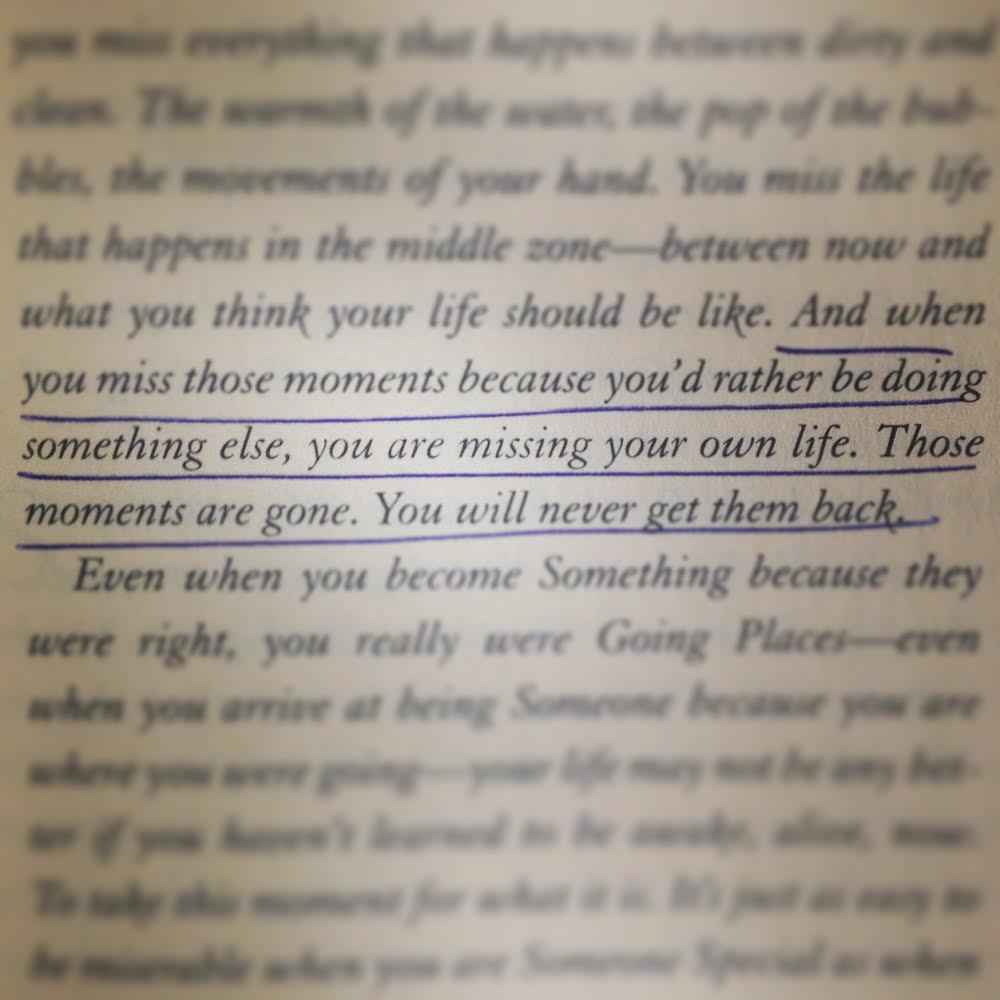 Ah-ha.
So did I make some grand breakthroughs yesterday? Yes.
Did I solve it all?  But of course I did. 🙂  Of course, not.   But every day is a little more enlightening, and I am closer and closer every day and year to understanding the why behind the 4,500 calorie day.
And no, that was not a typo.  I easily hit 4,500 calories on a binge.  I'm Meredith, I'm disgusting.
In the meantime, I will continue to write (to figure out what the hell I am saying!)… and hop along this path to somehow better.
But I know right now that I care NOT a hill of beans about my gut.  I care about going to pick up my kiddos and having a relaxing night, in the middle of life's chaos. Last night, I snuggled up to these precious little feeties.  And I am happy to report that I didn't miss a moment last night…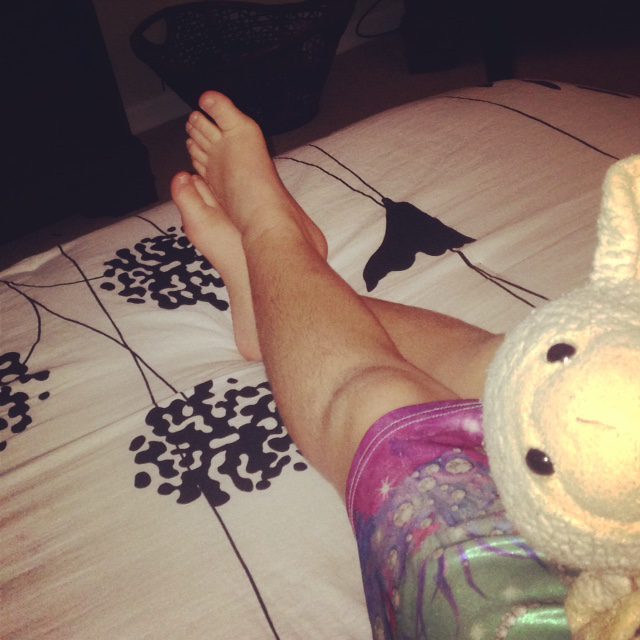 …and I'm going to do my best to repeat that tonight.
Have a good night, friends.