The Race
Ironman Augusta 70.3
Sunday, September 28, 2014
Augusta, Georgia

Swim:  1.2 Miles (0:00:00)
2013: (28:22)
2012: (29:15)
Bike:  56 Miles  (0:00:00)
2013: (3:17:12)
2012: (3:08:26)

Run: 13.1 Miles (0:00:00)
2013: (3:05:37)
2012: (2:49:23)

Total Time:  0:00:00
2013: (7:03:44)
2012: (6:36:44)
What is with all the 0:00:00??
Oh, did I forget to mention that I did not race?  I didn't even plan to race.
I was there in fun new capacity–as expert cowbell ringer, coach and general mischief-maker.
The Pre-Race Fun & Dinner
Through the online Facebook group, we all agreed to have a pre-race photo op at the Finish Line on Saturday, the day before the race.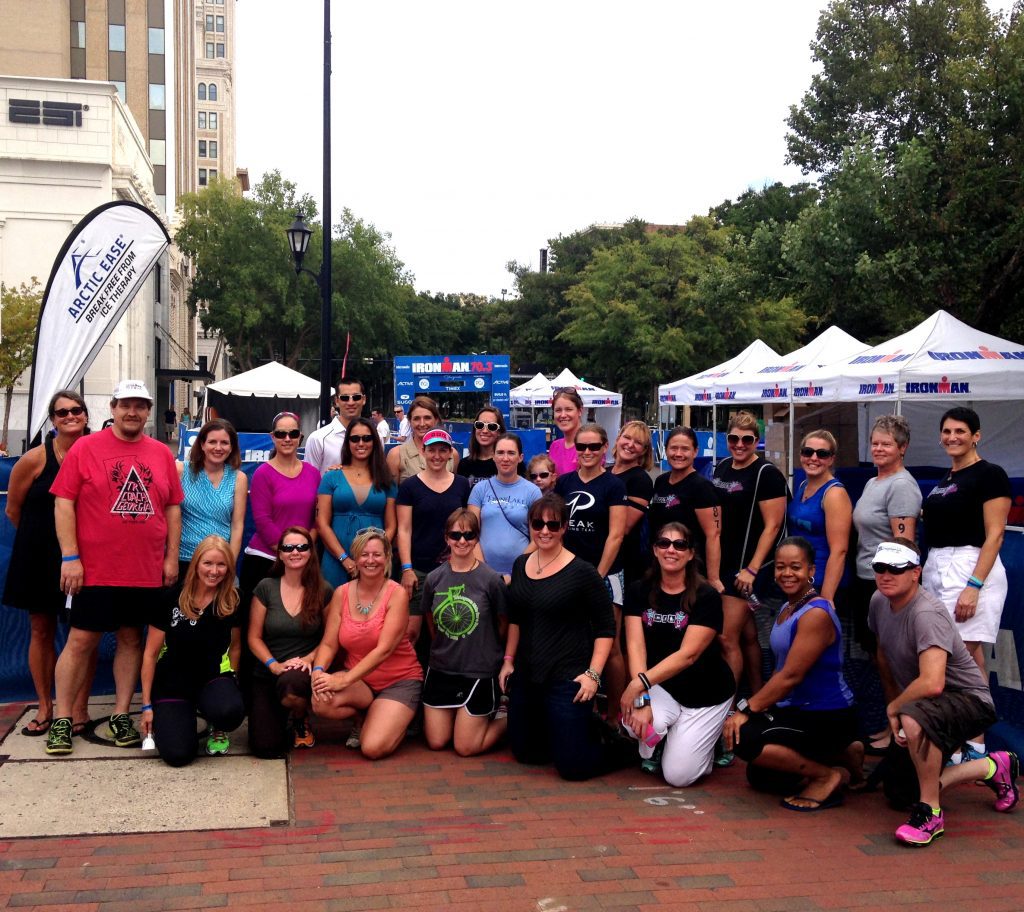 Had the chance to meet several members of the Ambassador Team who I haven't met in person!  Margarett, who you will read about soon, in the Ambassador Spotlight…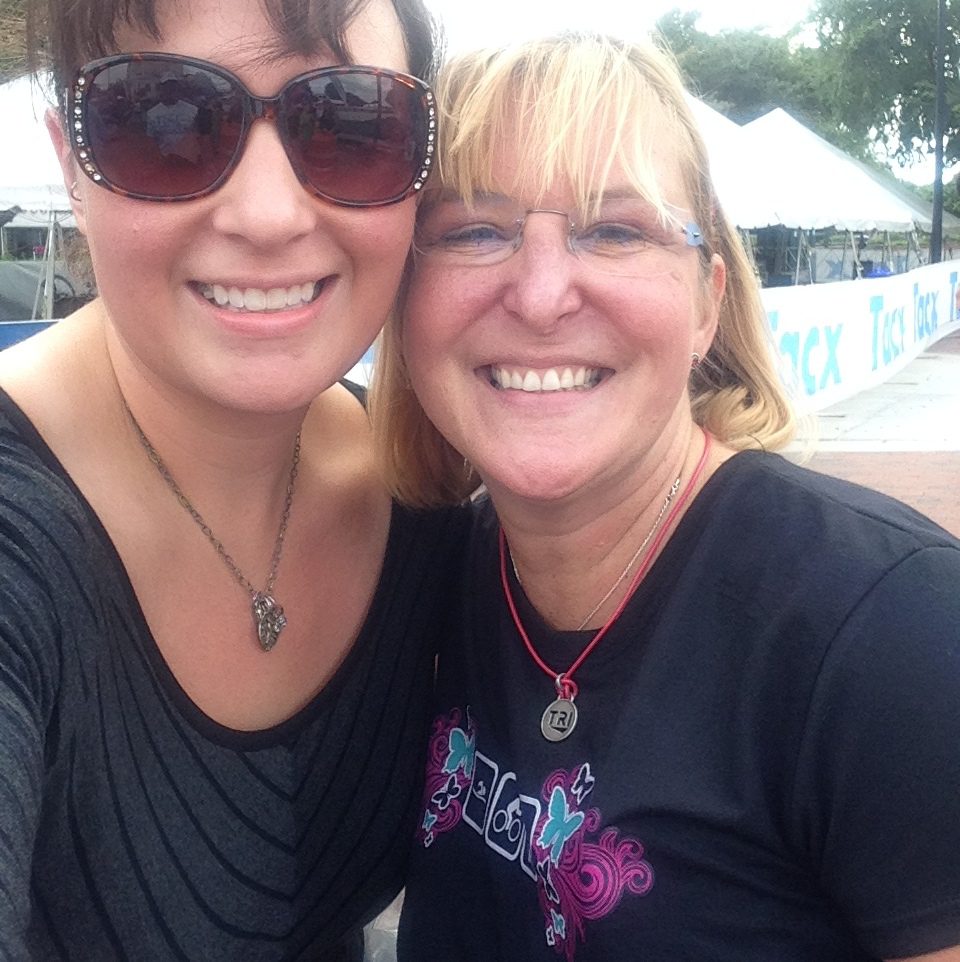 ..and Sarah Long, who I met on race morning.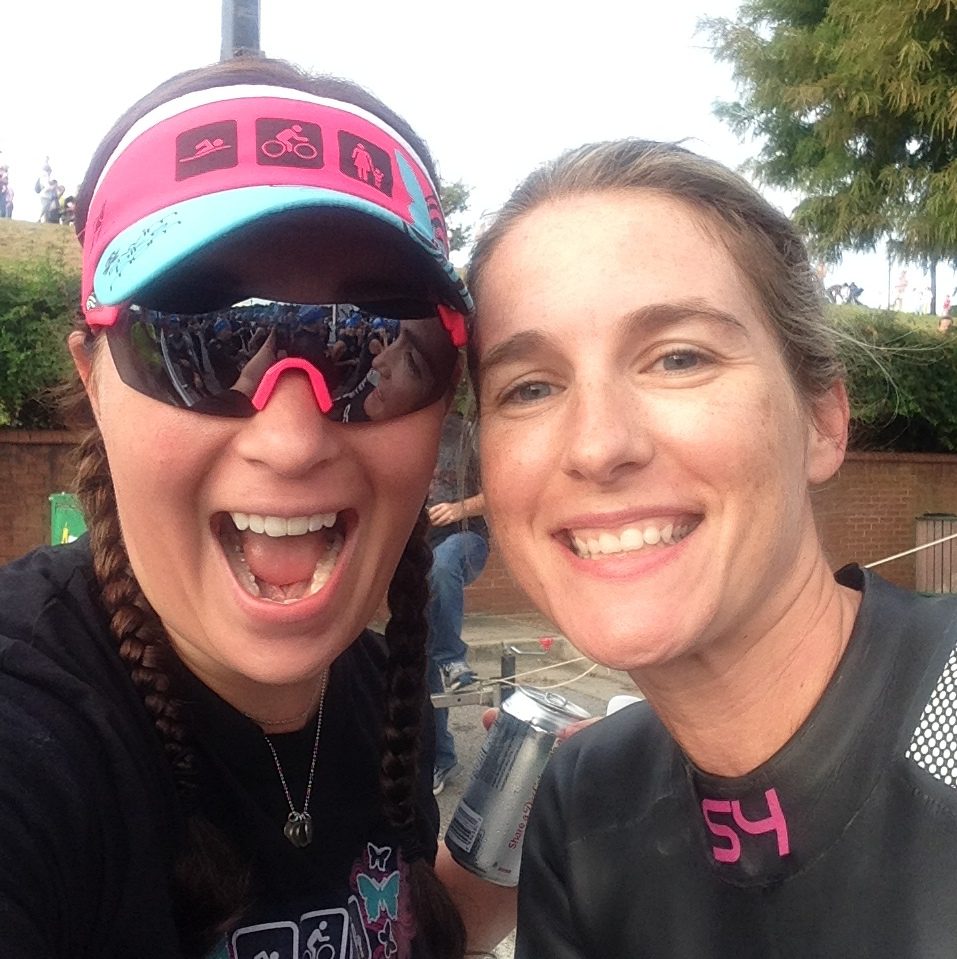 And Cynthia fromYou Signed Up for What?and I finally met.  We've been blogger and online friends for a while now.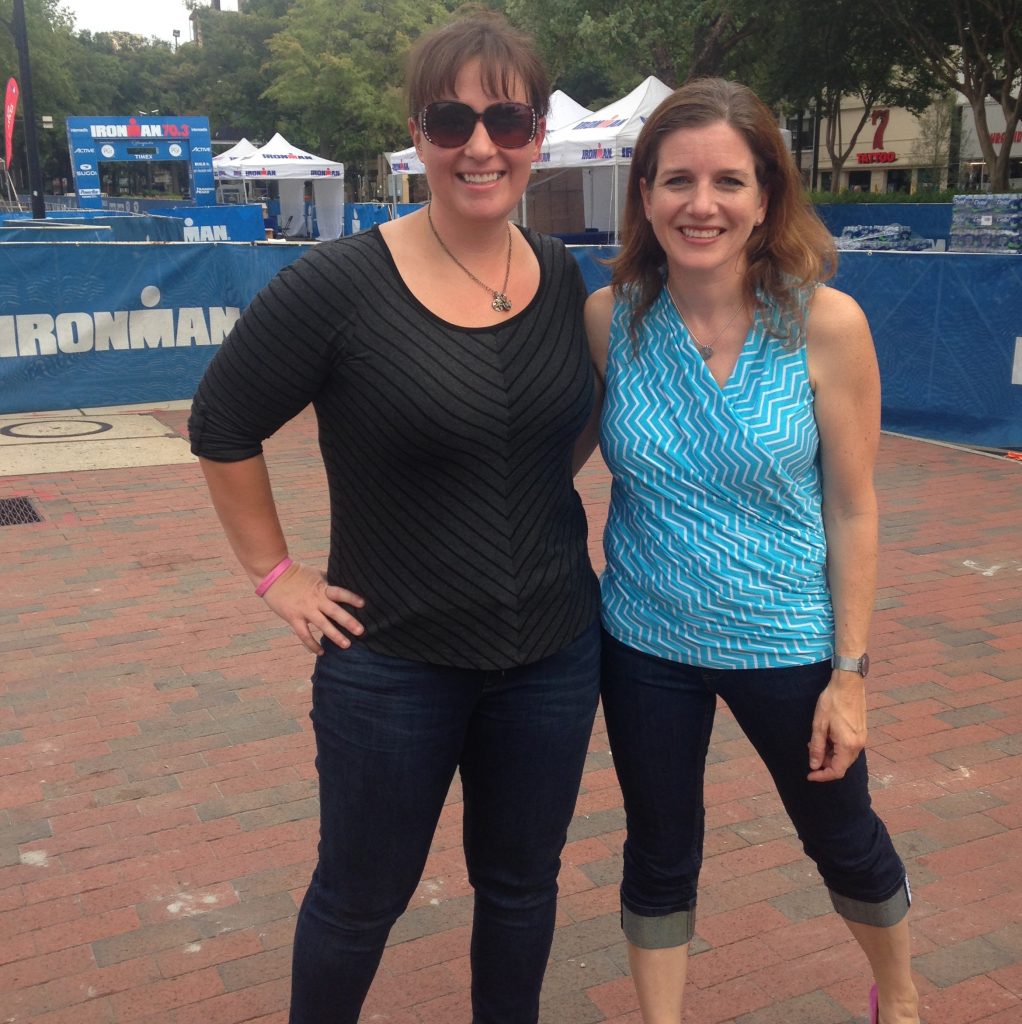 I tried to tell Cynthia that you have to sling out the leg and put the hand on the hip and you lose 10 pounds in a photo for use on the web.
She just laughed at me. But I swear it's true. Picture one, above…. and now, Picture 2, below.  🙂  Sassy!  (Okay, maybe I need to work on facial expression.)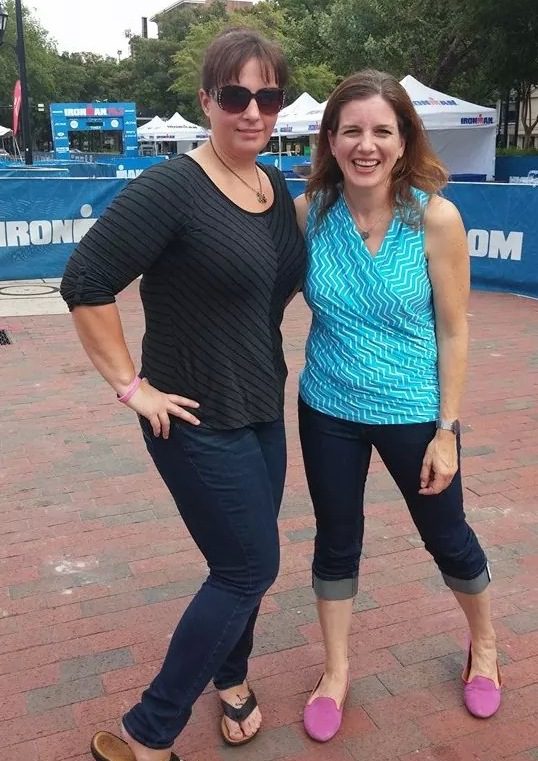 Later on race day, her dad listened to my advice when he struck a pose with his SBM race tattoo.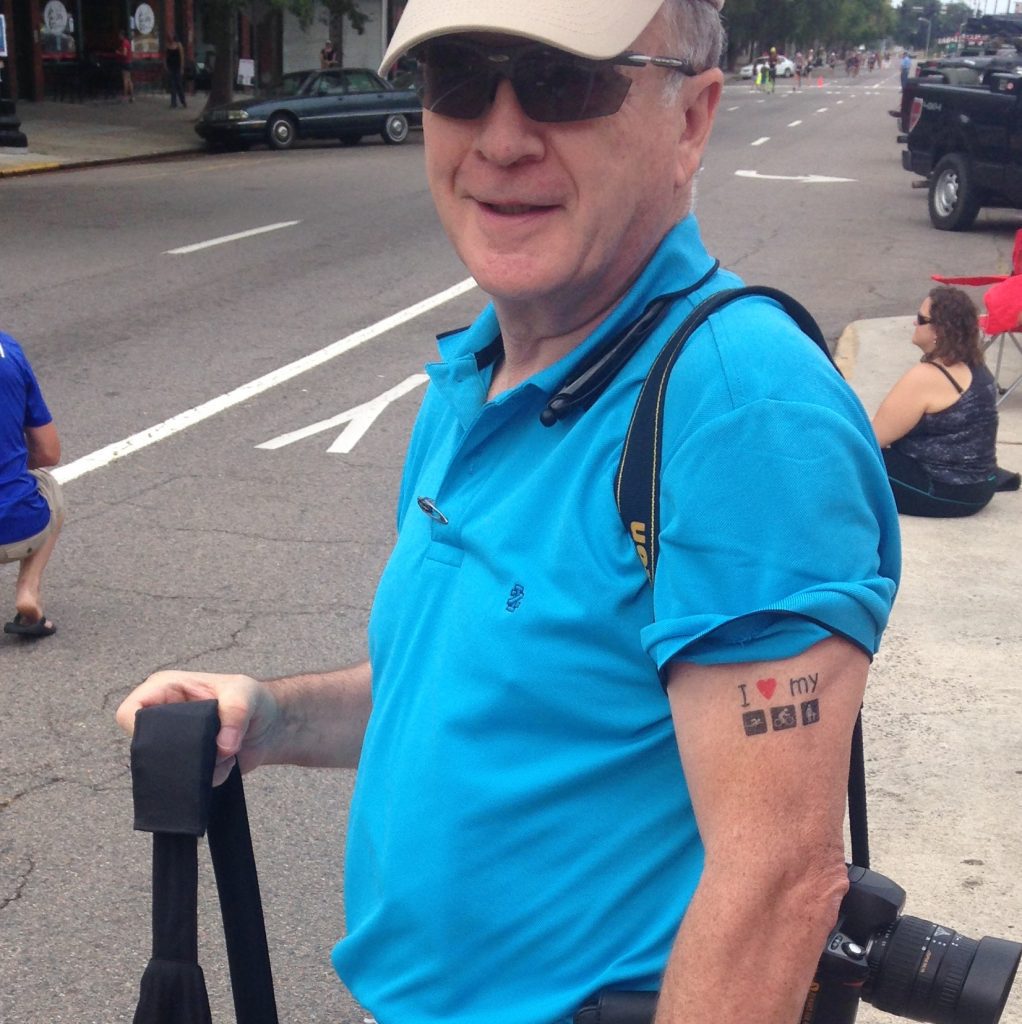 My athlete, Precious, was surprised by her husband and kids flying in from New York to watch her race. Love!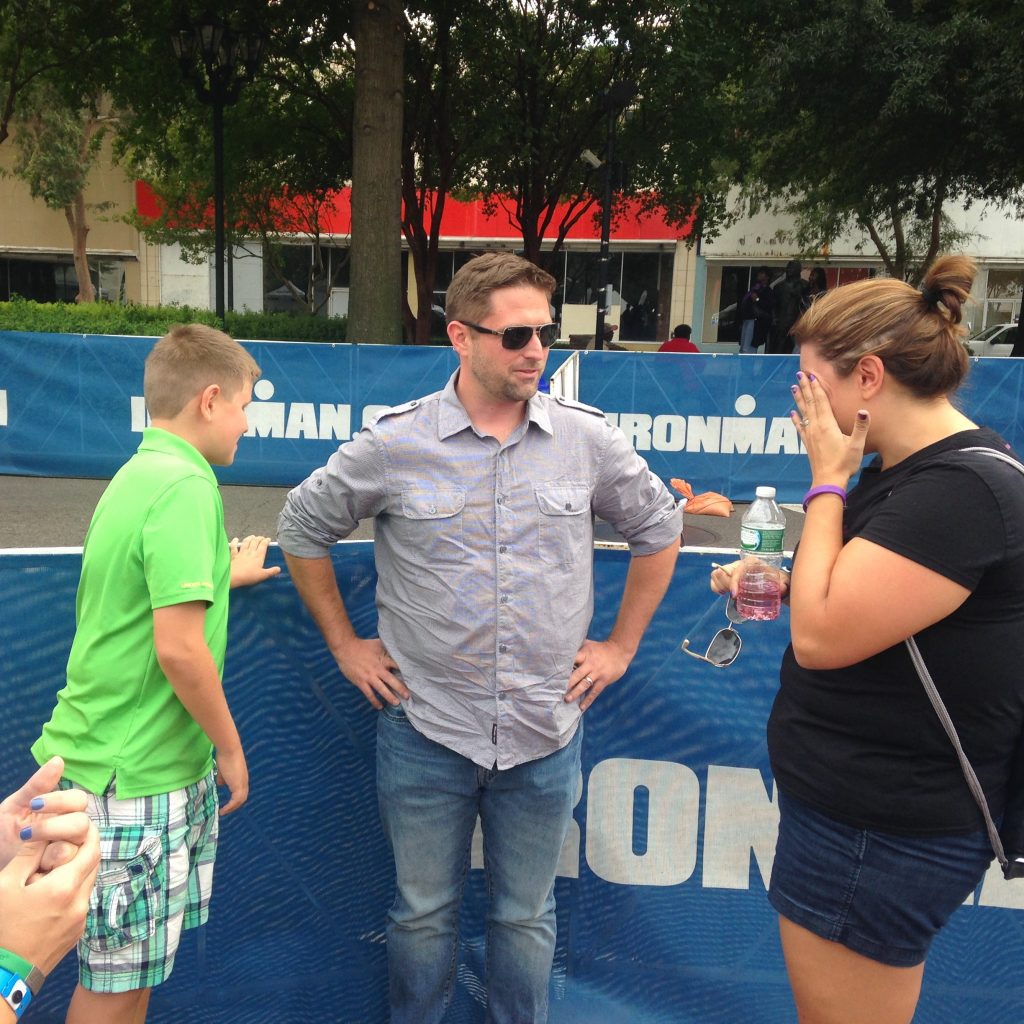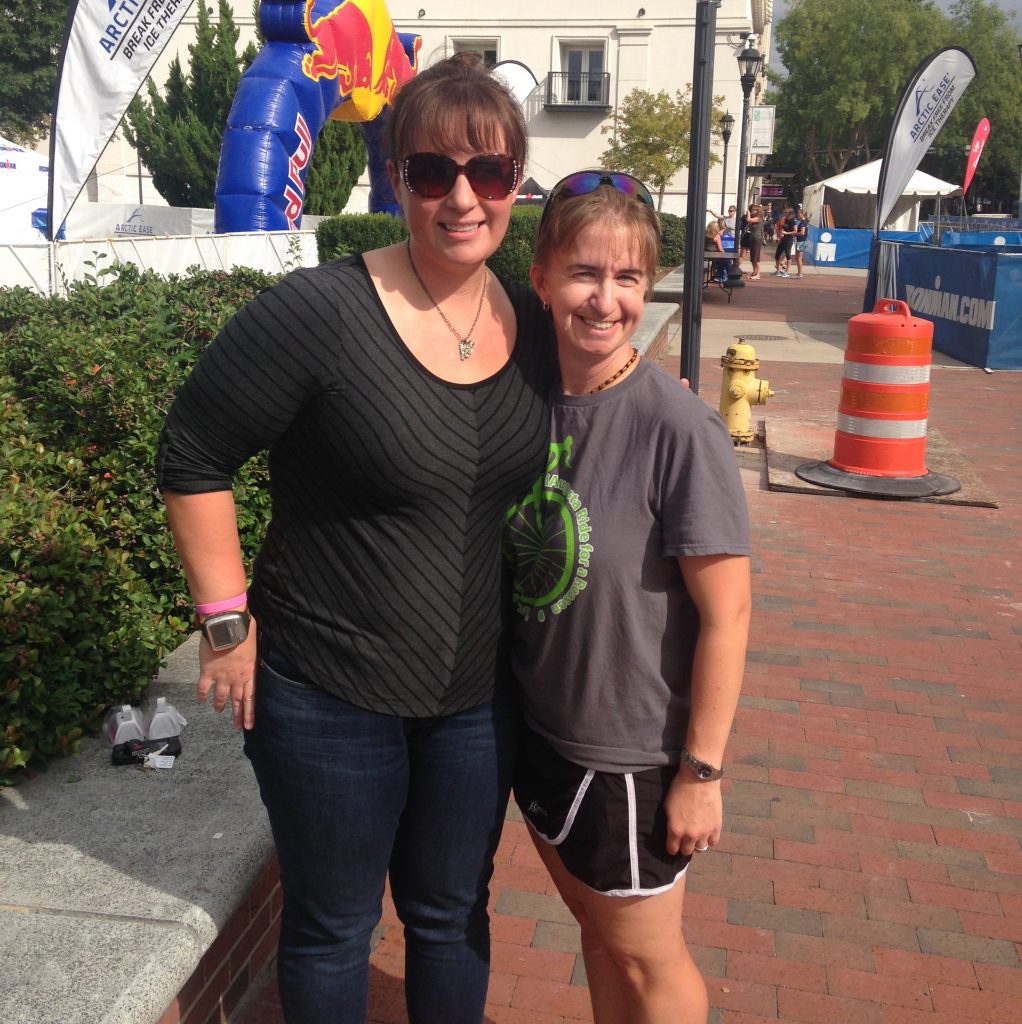 So we're all gathering around for the picture, and we look over, and there's Swim Bike Kid's Todd… taking a nap again. Swim Bike Nap.  His name remains. That is all.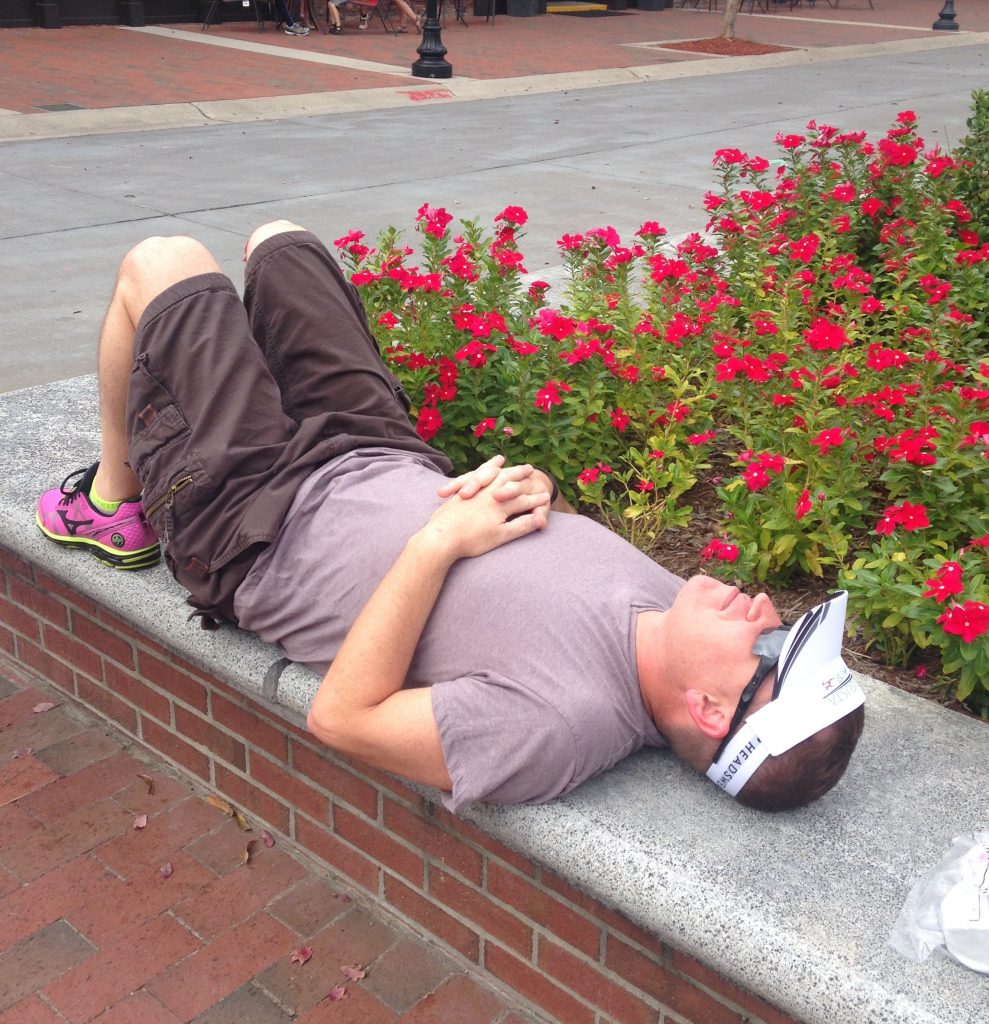 A lovely dinner of about 25 folks at the corporate Outback Steakhouse down the road and we were all off to the night night land for early wake-up for race day!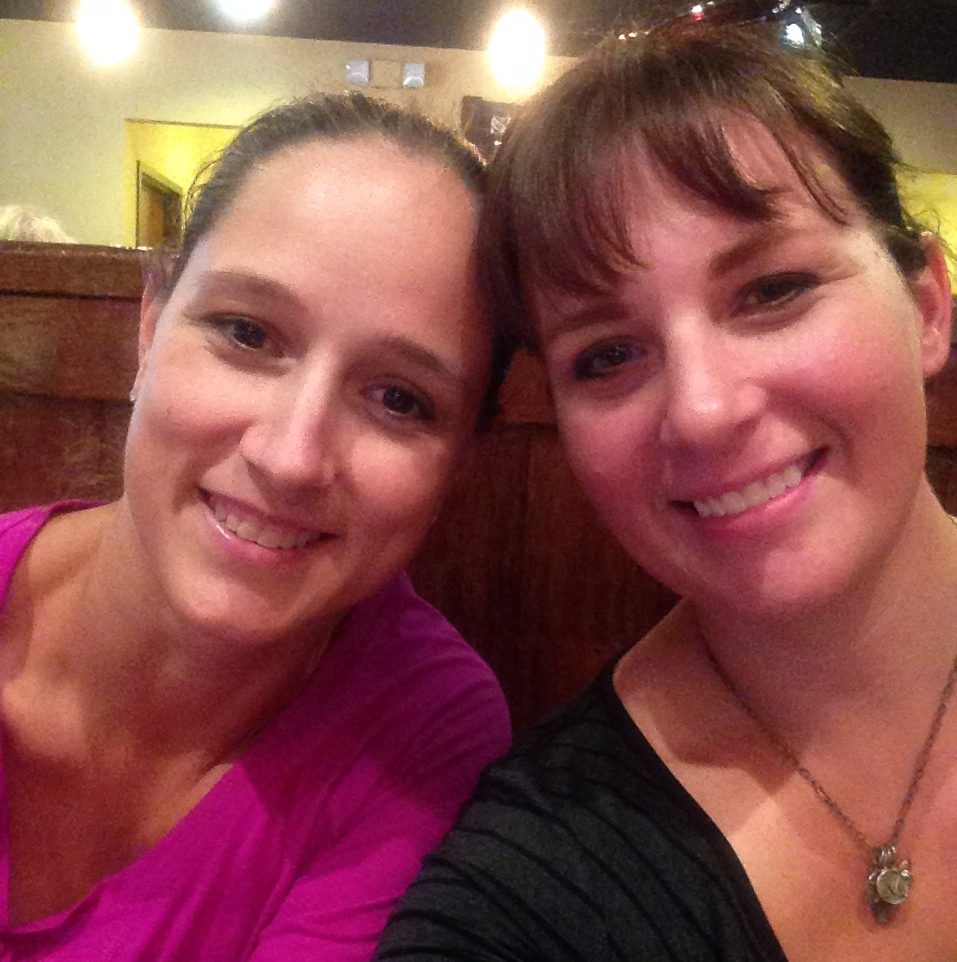 Before the Race
It was weird not racing this year.
You can read my actual race reports from 2012 and 2013 here and here.  So this report is more from a few perspectives: that of a semi-sherpa… an Army general …and a coach of FOUR athletes racing.  So I was kind of busy this go-round as well.
I wish I had worn a pedometer. I am fairly sure that I stood and walked from 6:00am until 7:00pm.  I considered it a cross-training day for Beach 2 Battleship.
Because I didn't actually race, I don't have much to report except lots of wonderful pictures and friends.
The Swim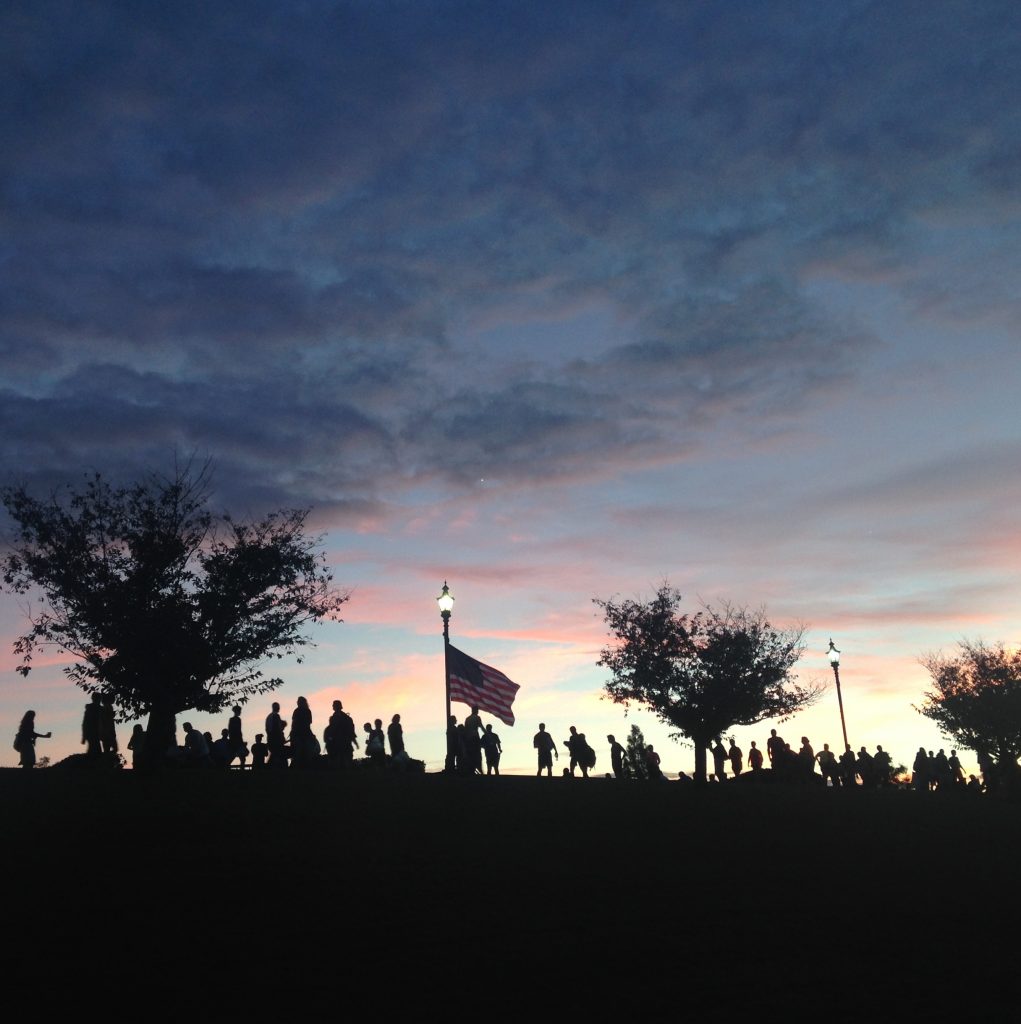 Augusta is preeeeeety darn neat in the way that they bring in the American flag for the national anthem. Don't see anything?  Look closely…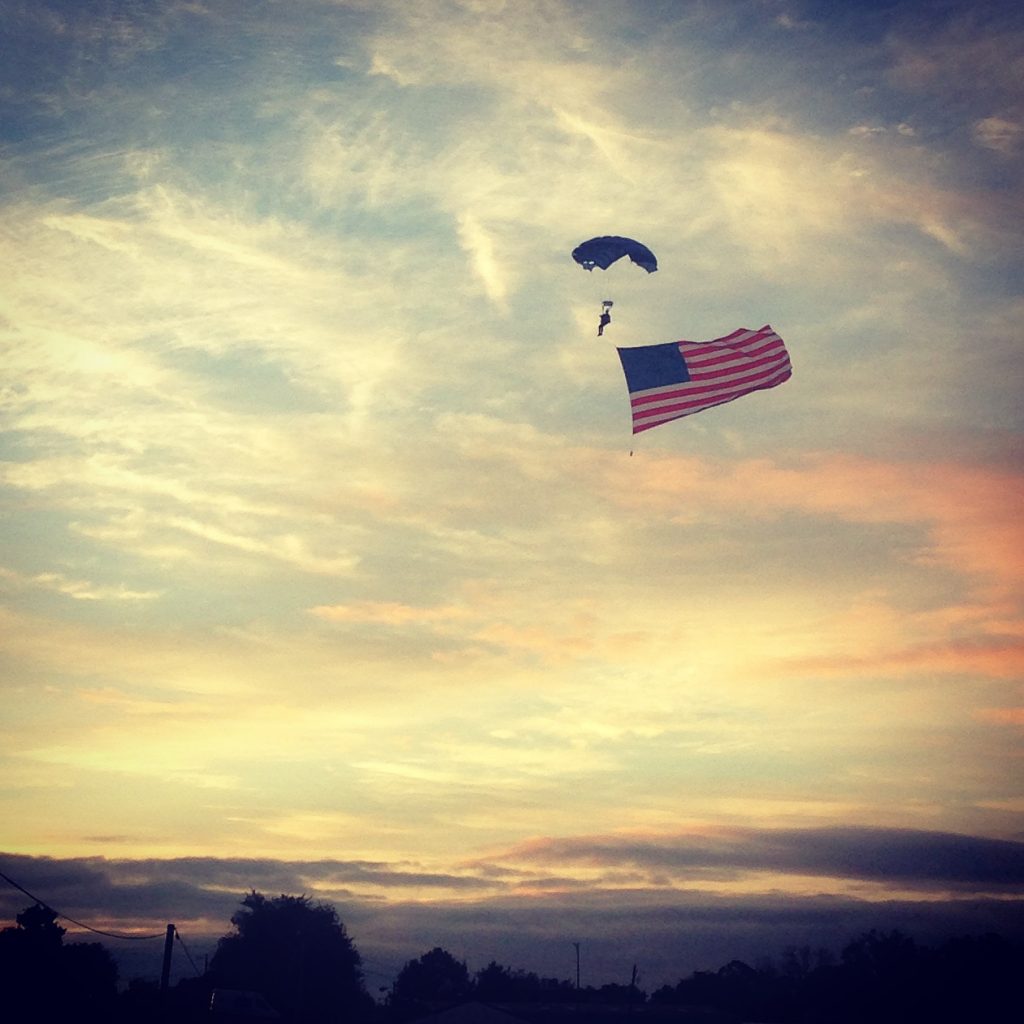 This just took my breath away last year–and did not fail again this year. How beautiful and amazing.
Of course, a pre-race-I'm-not-racing-but-I-wore-braids-anyway selfie.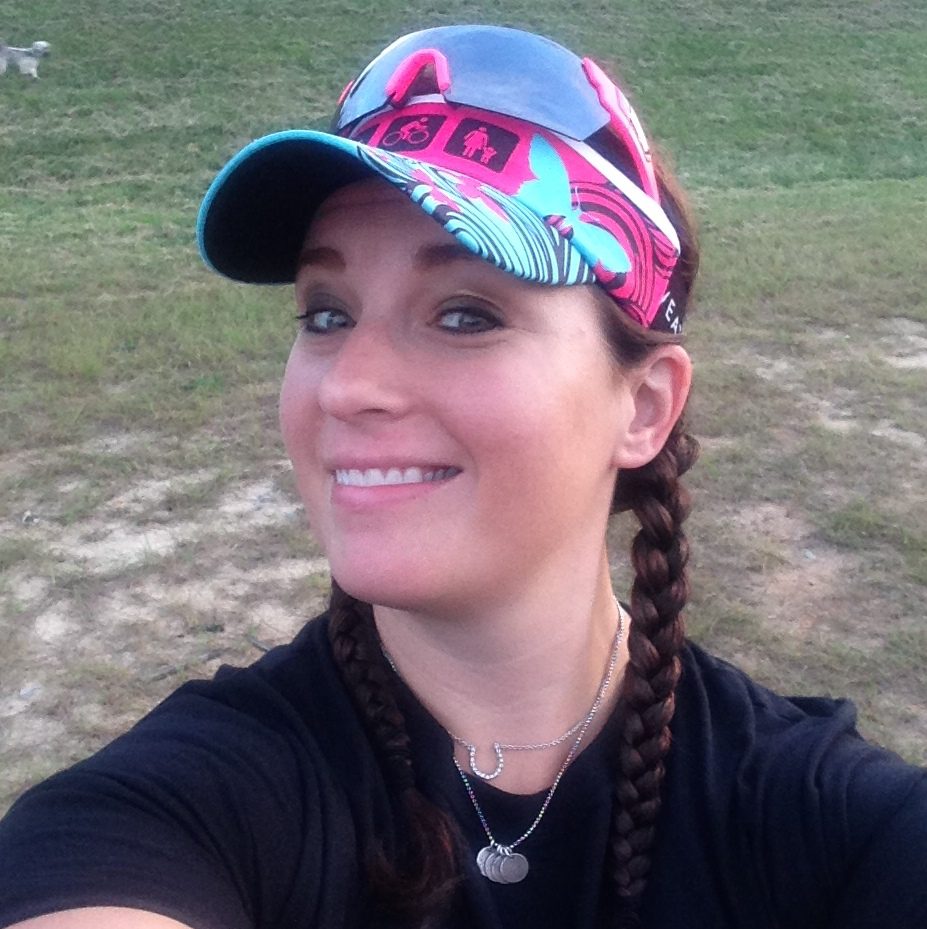 This is NOT the Expert.
But could be his long-lost bro!
Bryce, the husband of one of my athlete's, Bree, represented the Dad life during the day.  That's their daughter Maegan (she told me how to spell it correctly ten times, but I'm still not sure–sorry!).  My daughter was TICKED OFF when she saw the pictures — "MOM, who IS that girl and WHY was I not there?!?!"  🙂  Possessive, much?
Okay, to her credit… it does look like Stella missed all the fun.
This is me and Bree.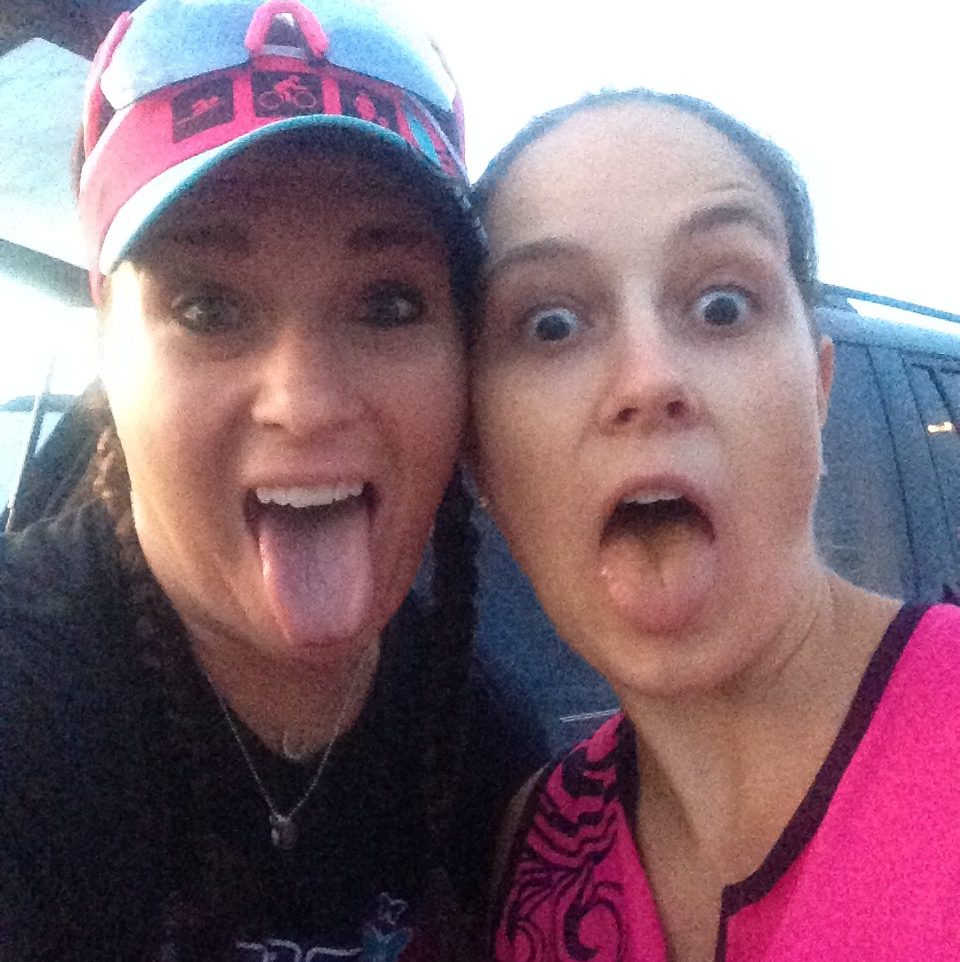 I've coached her two years–this was her second Augusta.  Don't want to spoil the race report—but let's just say that she shaved AN HOUR off her time from last year.  BOOM, Bree!
I picked up my FOUR love muffin athletes and drove them to the transition so they could drop their bags. I had poor Karen in a tizzy, because we waited until late to pick up.  But I tried to let them sleep a little more. We had plenty of time. Plenty! (Right??? 🙂 )
We had sooooo much time that there's not even a group picture from the swim start with my four girls. BUT… I did snag lots of wetsuit-wearing pictures of other SBMs though!
The Bike
I did not see the bike. The end. 🙂
Okay, maybe not "THE" end. But during the bike, there was much hot pink tent setting up and socializing, and watching the pros zoom down the run course.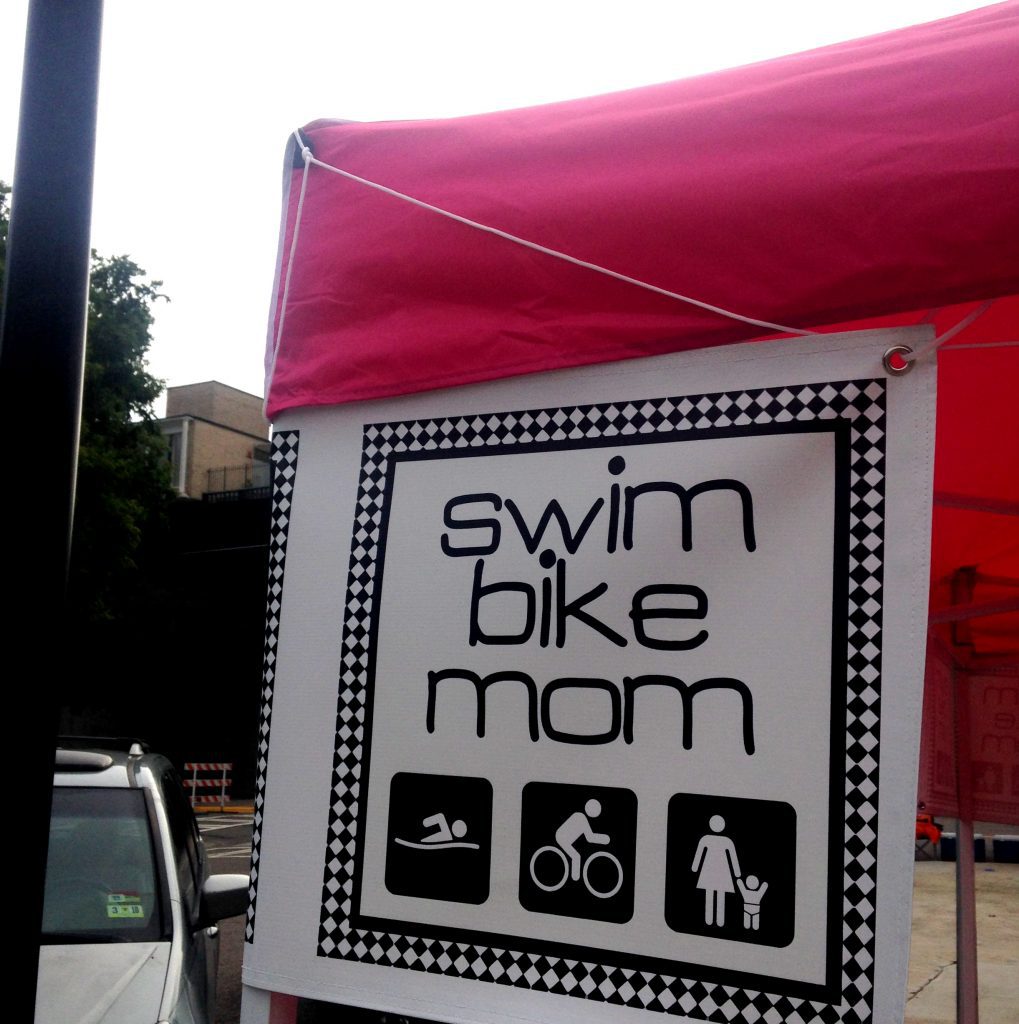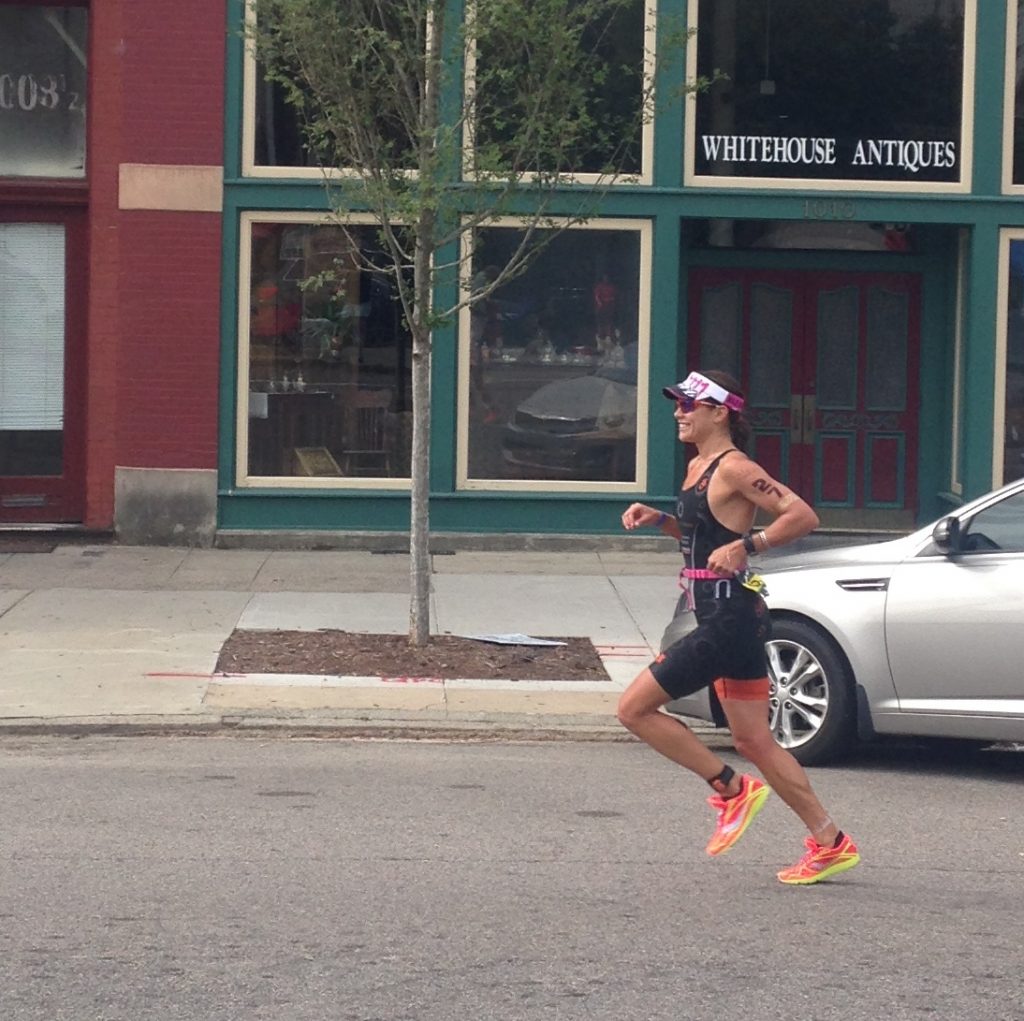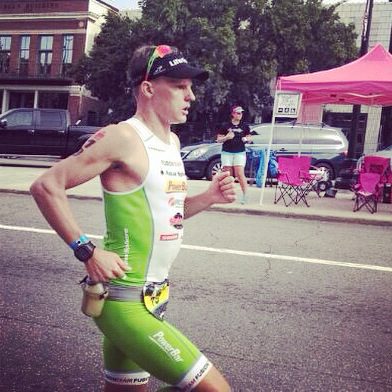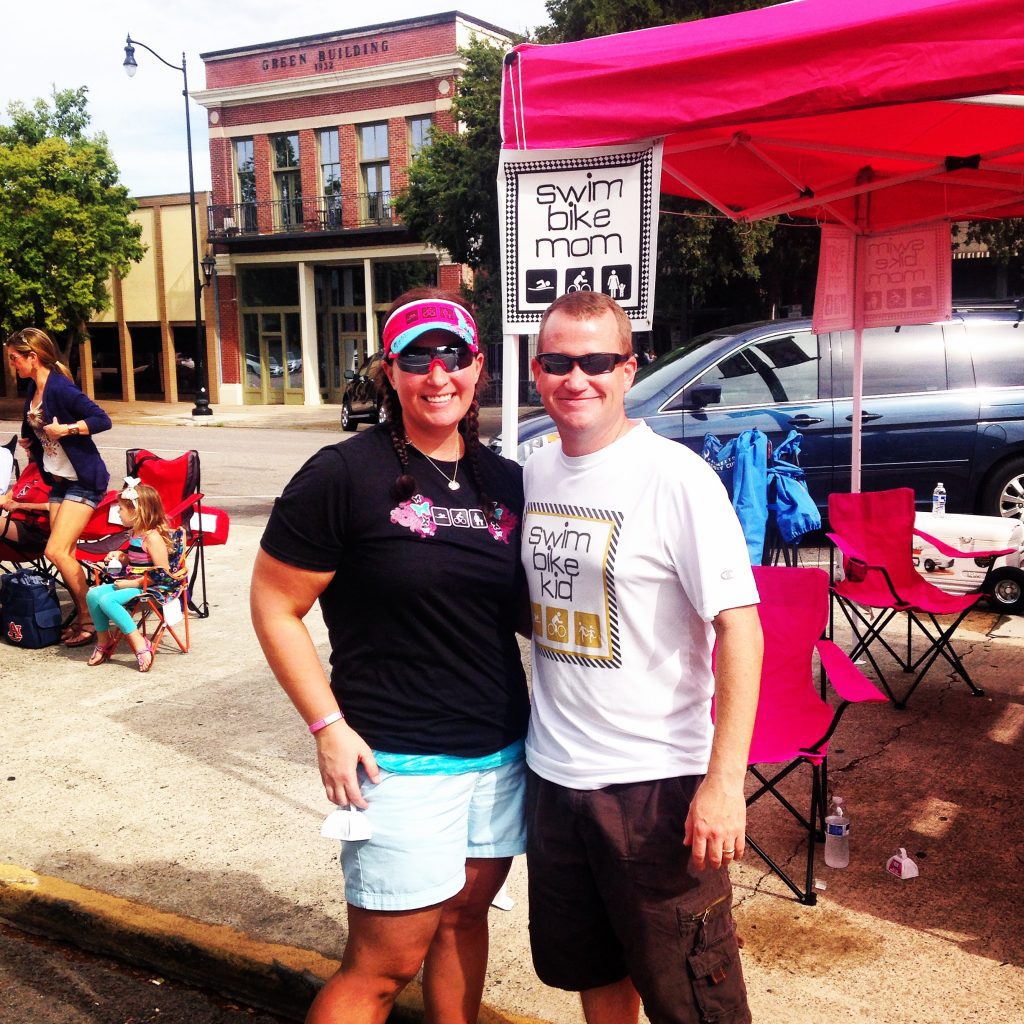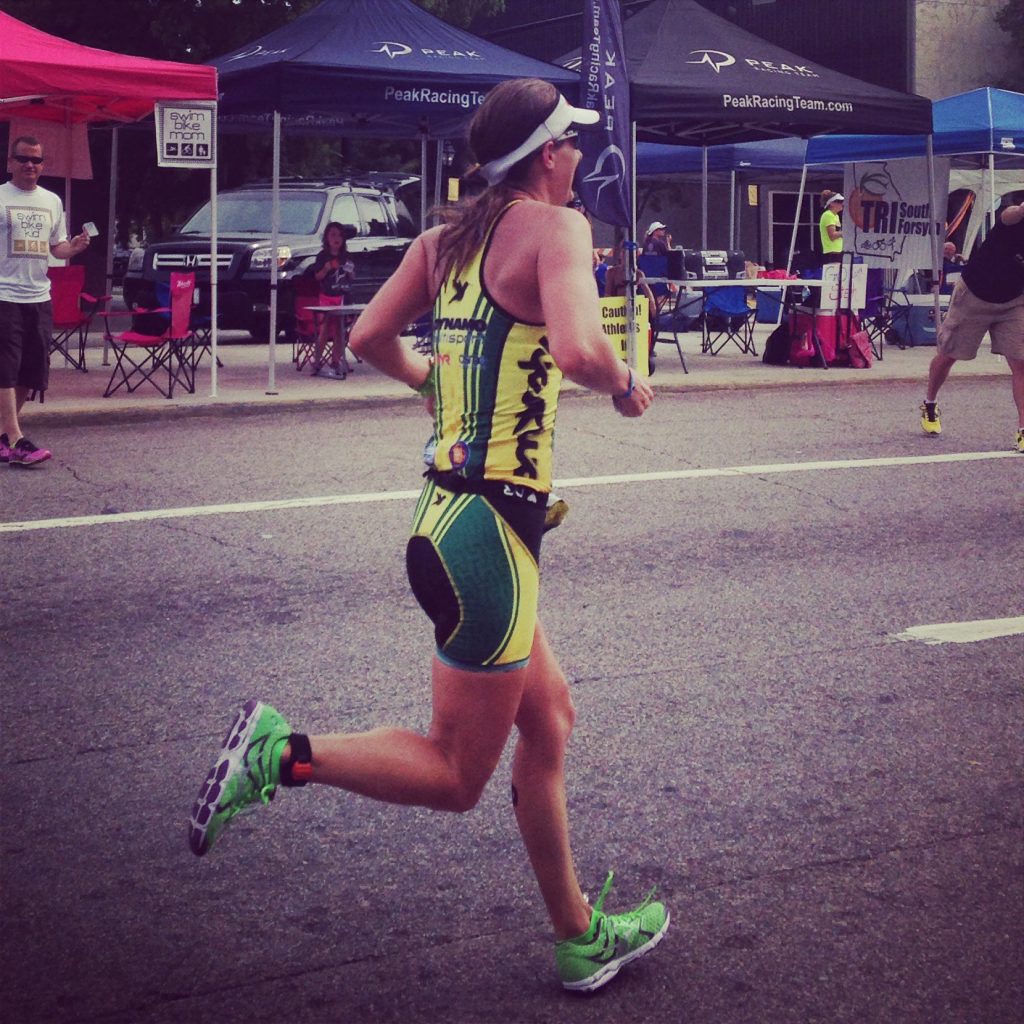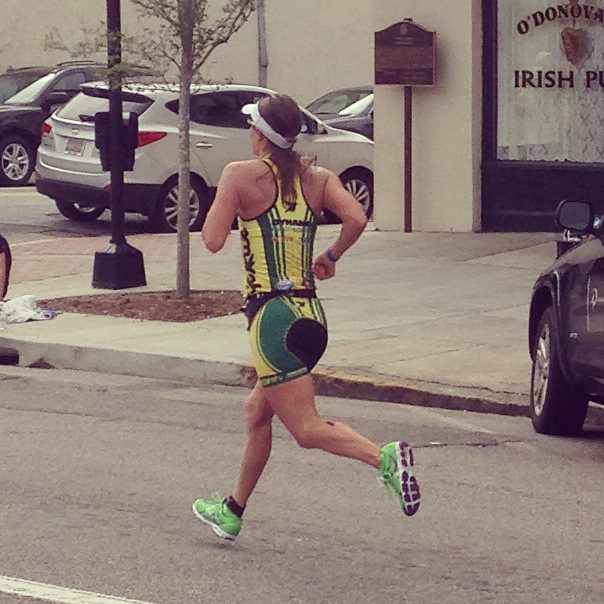 The Run
The age groupers began to pour in, and this is where the fun began, and the cowbell ringing went to new heights.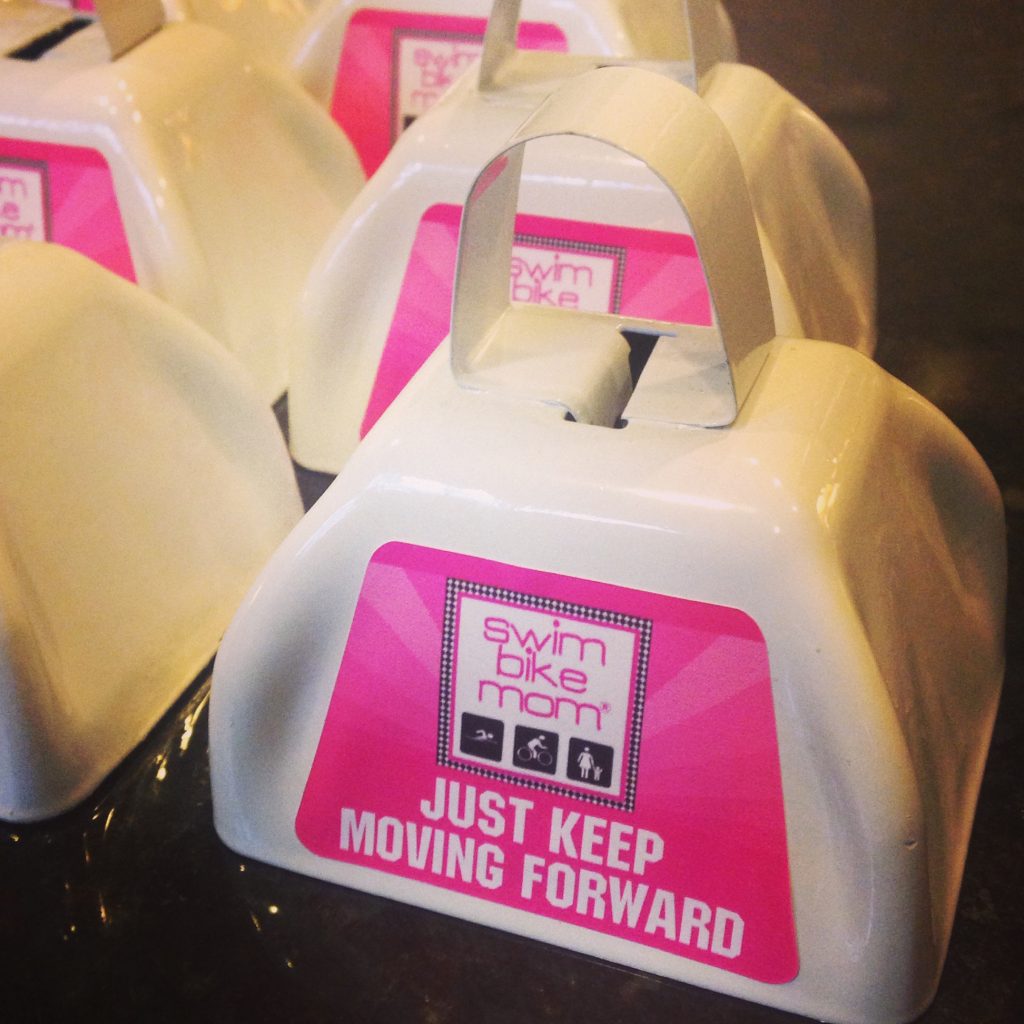 Moms are the best! I just loved Karen's momma!!!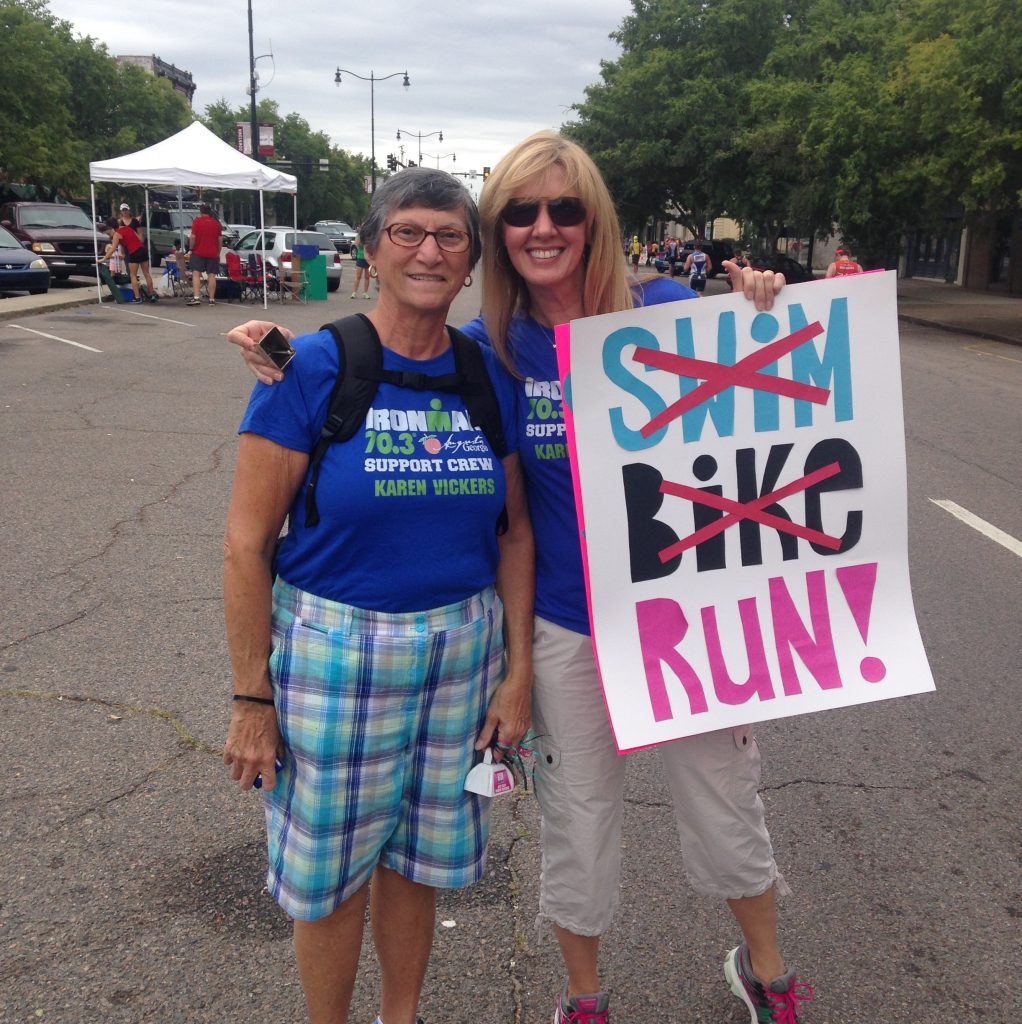 Inspiring Swim Bike Mom Ambassador Team Members, Margarett and Cara, trucking the course together…and keeping each other going.
Bree had lots of love from the family on race day! Bree was so calm, and so cool on the course.  And at the end of the day, she took an entire hour off her time from last year. What a success story.  You go woman!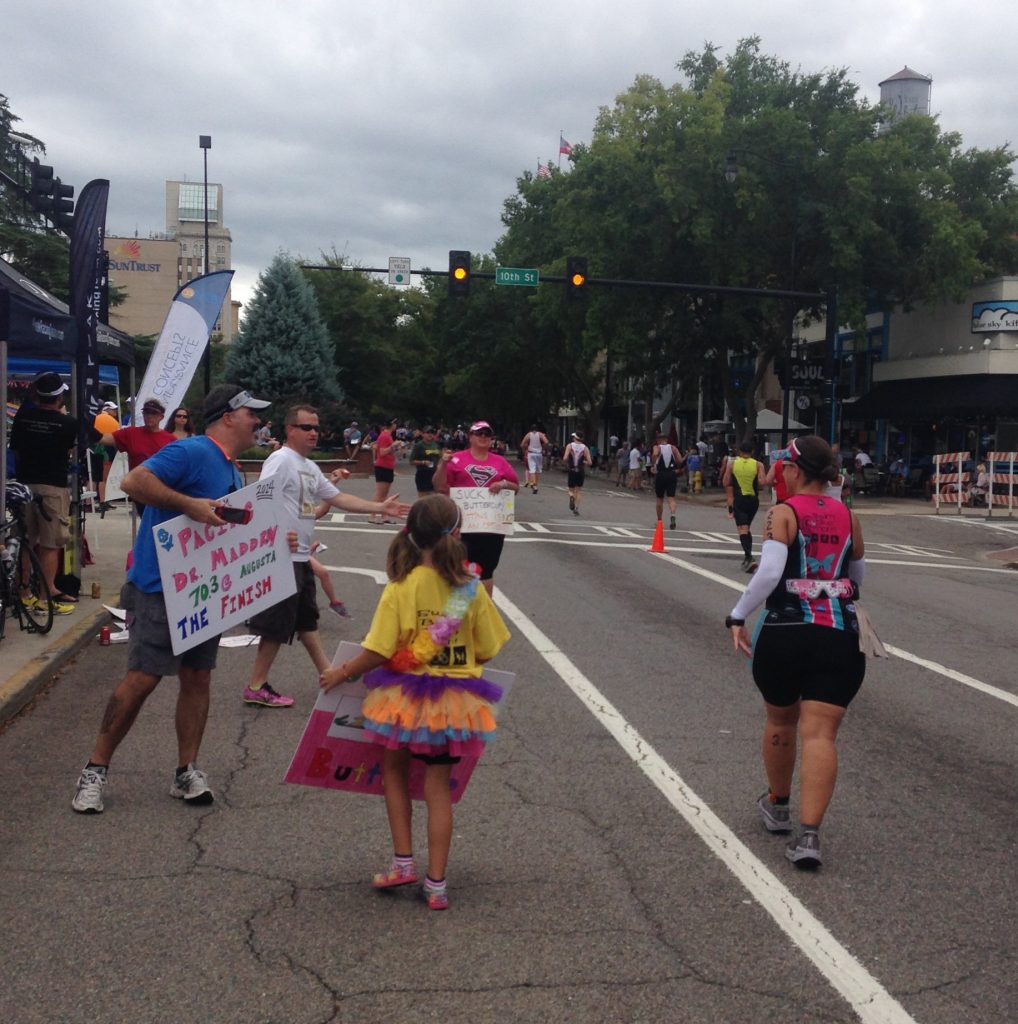 Lots of love on the course, with SBM-coached athlete, Laura and her daughter.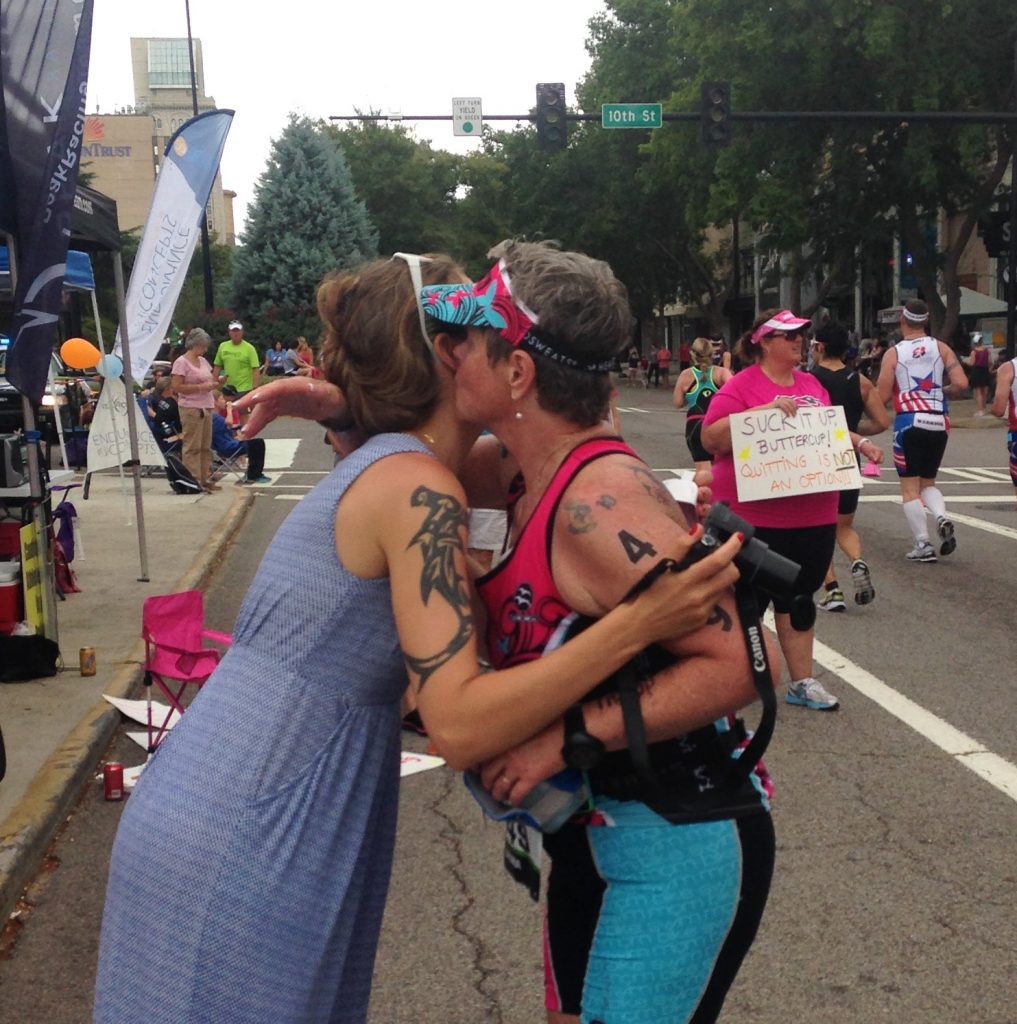 And now, THAT is love! Smooching when you're all sweaty!  Laura proved to be tough as nails on that course, when blisters started at the beginning of the run.  I haven't seen grit and determination like that in a very long time.  You really pulled everything you had into that finish, Laura. So PROUD of you, lady!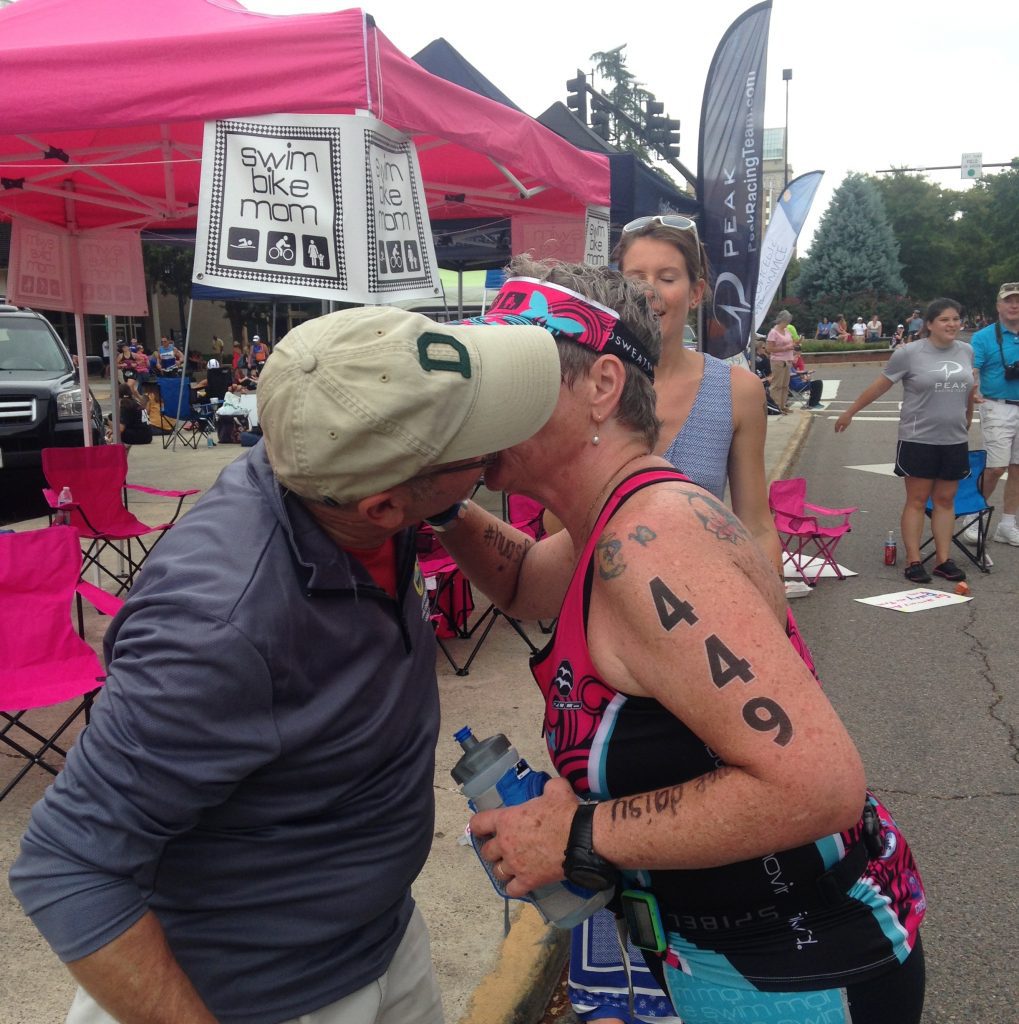 And… all the way from Canada!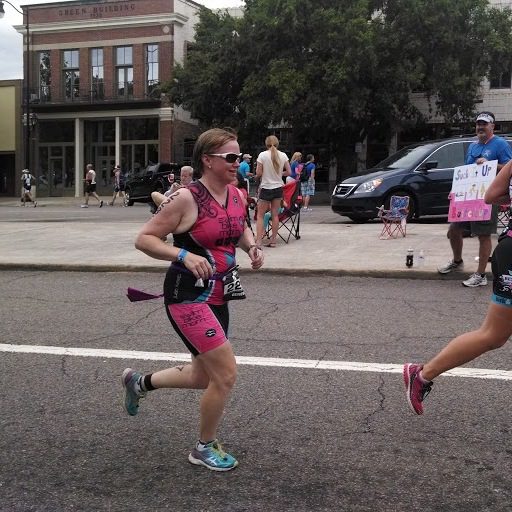 Janel! And me standing there, looking clueless, as usual. 🙂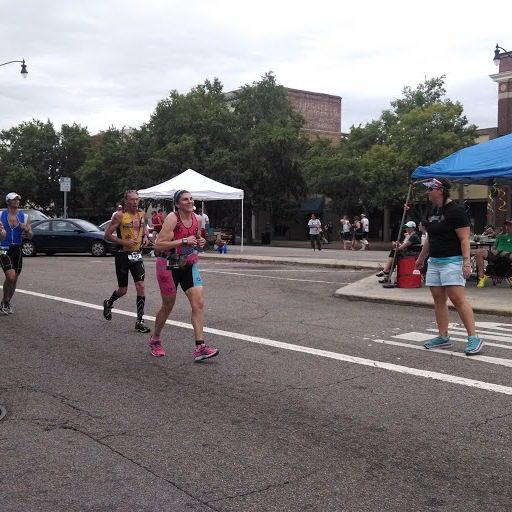 Of course, the awesome inspiration of the PC athletes abounded.  Scott Rigsby, here, guiding one of his athletes from the Scott Rigsby Foundation.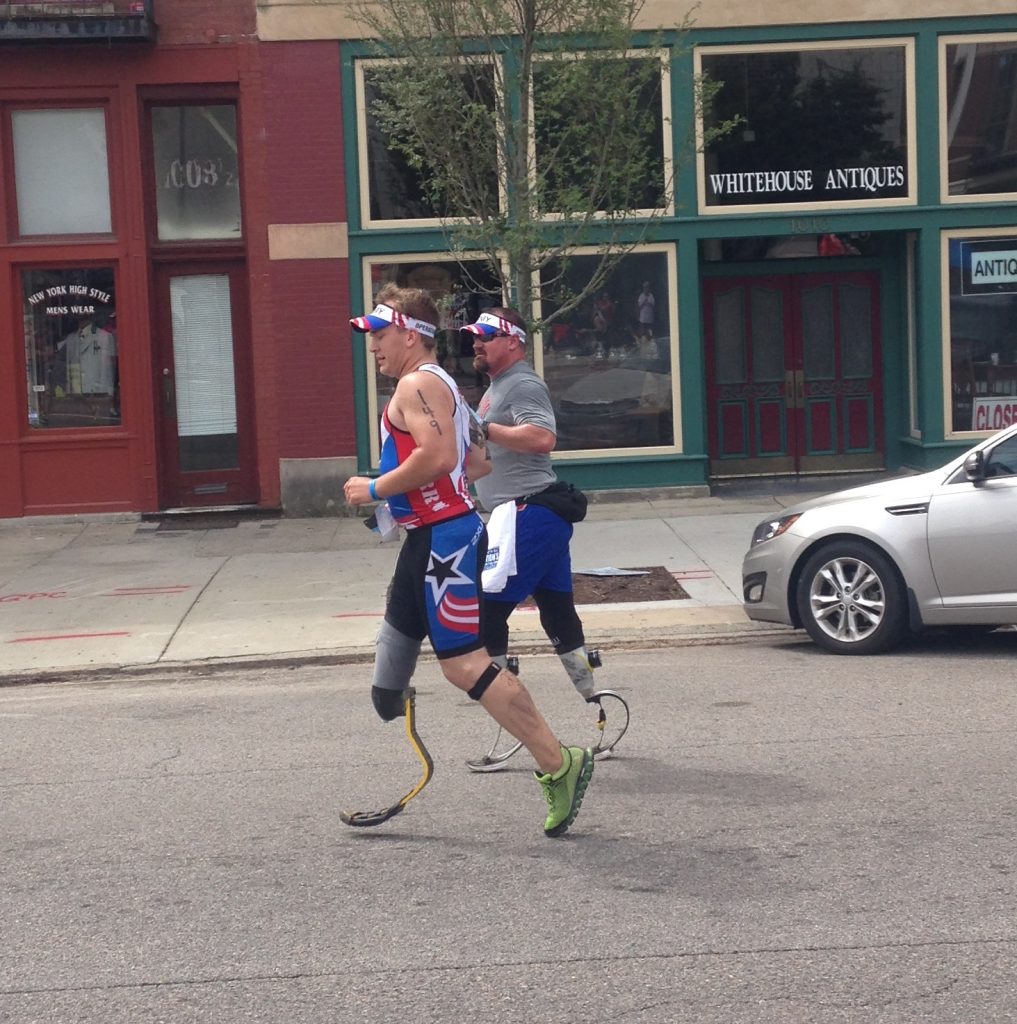 I high-fived everyone I could get my hands on.
(And STILL missed some folks!)  …Here, I snagged a high-five with Lisa from Atlanta.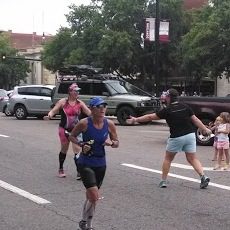 Go, Sam Go!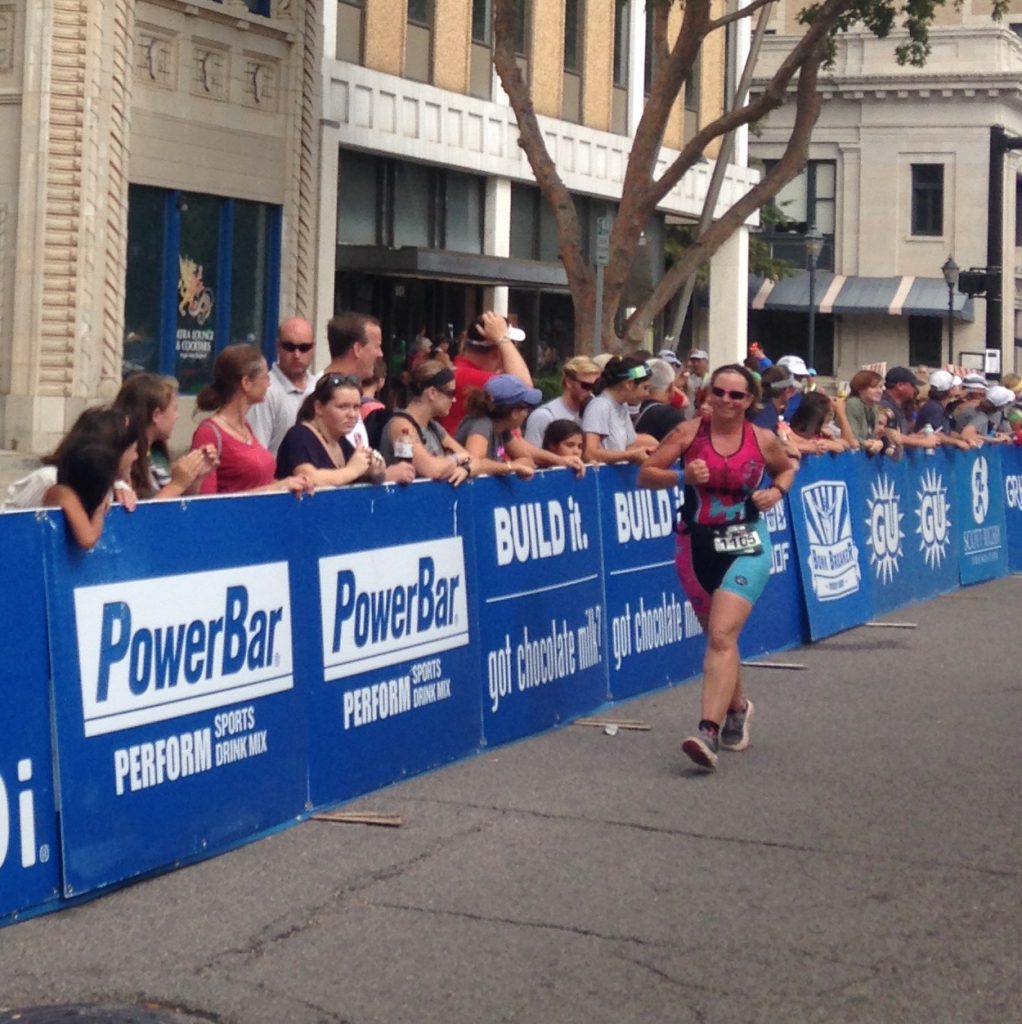 Somewhere along the way, Swim Bike Nap (Todd) decided that he would take a selfie with everyone he found.  I won't post the thousands of pictures, but here's a few highlights–complete with outtakes (Todd's forehead).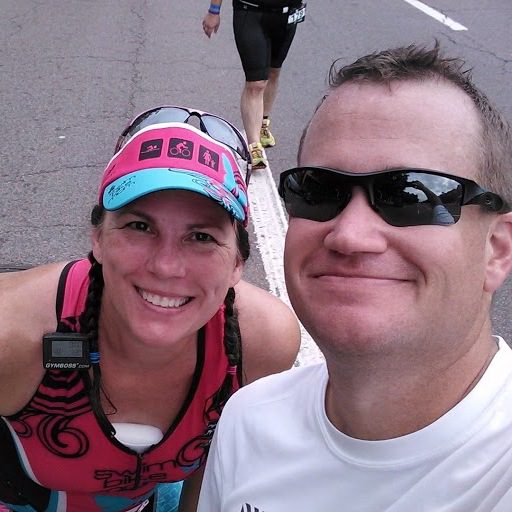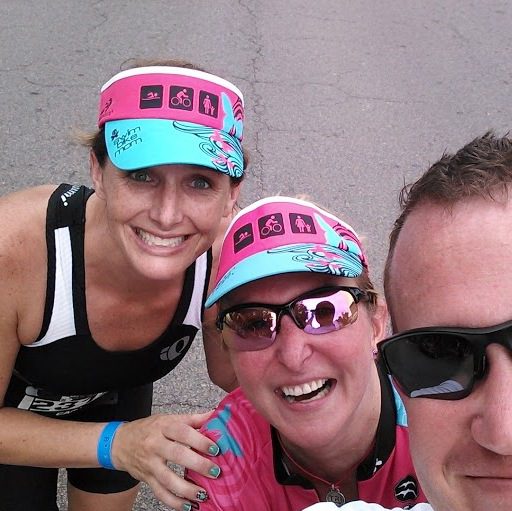 Then me… taking a picture of him taking a picture of himself with Cara and Margarett.  🙂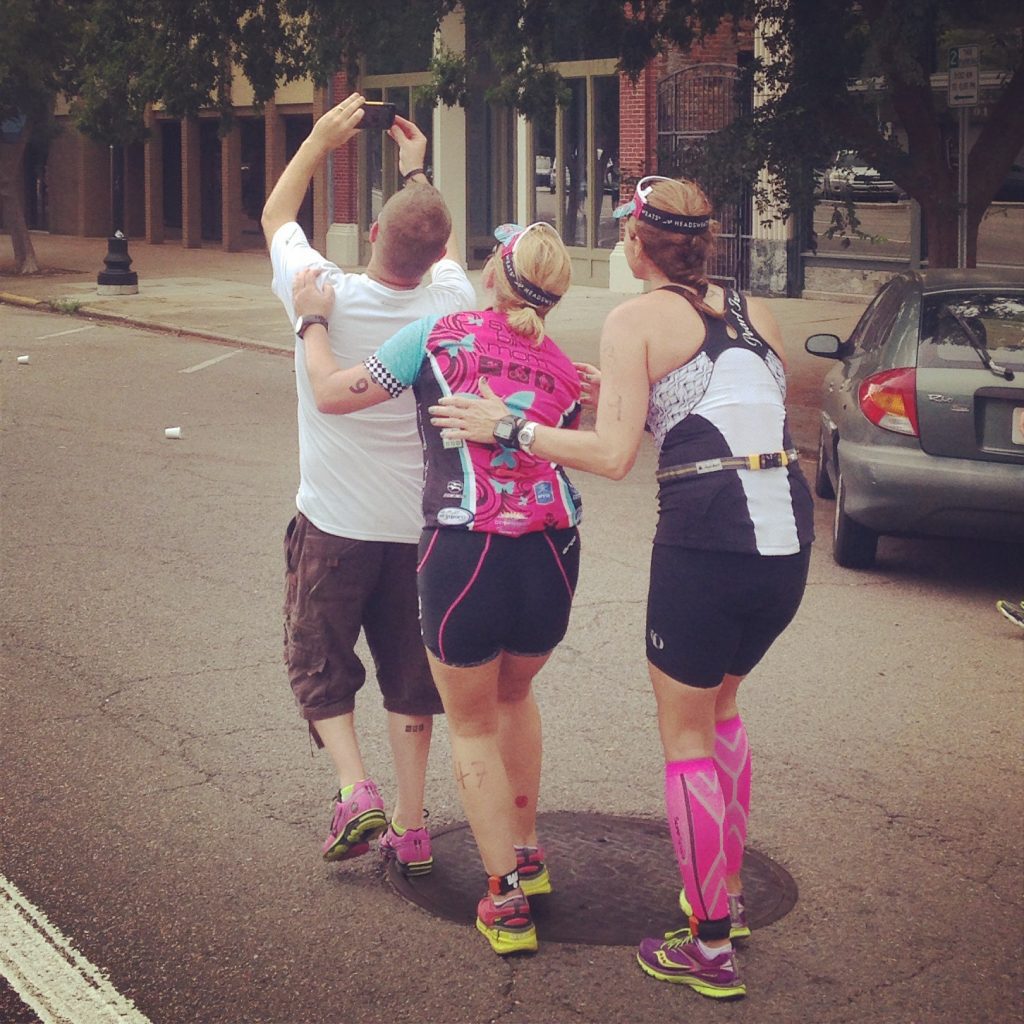 Lawdy. He can share more on his own blog post. We don't have all day here, people. 🙂
Karen and I had a series of hi-fives, and laughed with joy at the last turnaround.  Before her race, I had told her that she was going to have a fantastic race… and she did.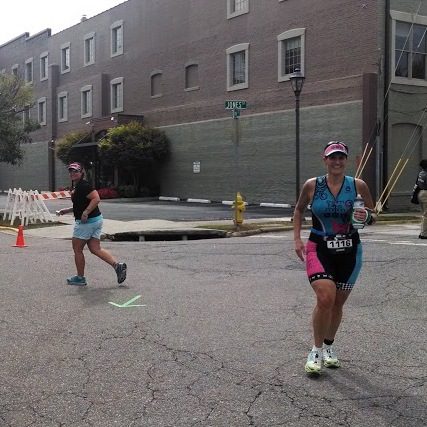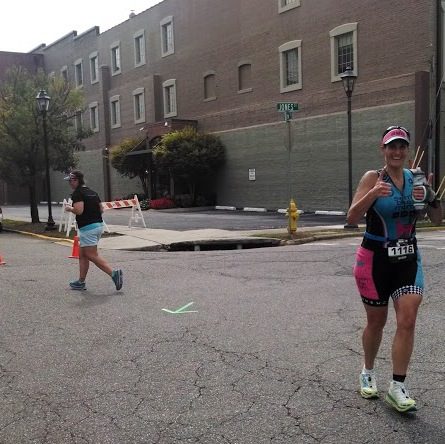 Karen's jubilant finish.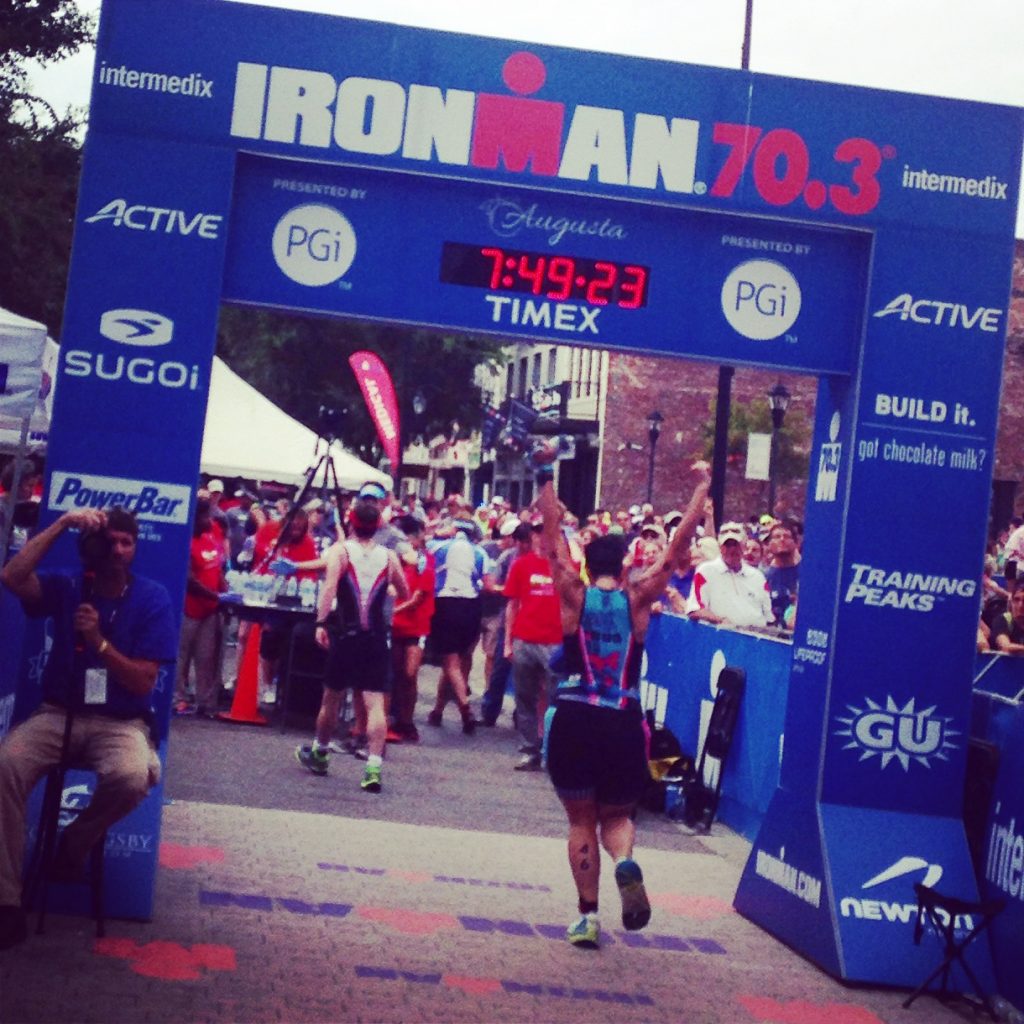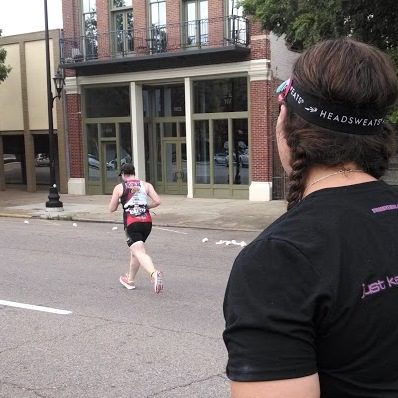 Lots and lots of cheering and bell ringing and LOTS OF HUGS.
Every sweaty one of you  I hugged–I loved it!  You all were awesome!
My athlete, Precious, had a rough bike, with mechanicals and more… this was me taking a few seconds to coach the next portion of the race along.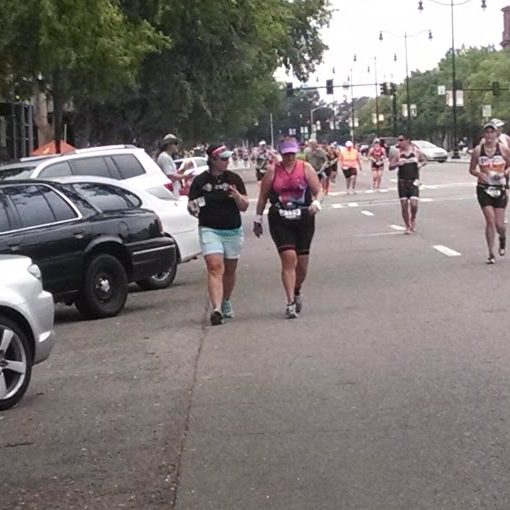 I took a few steps with her, and then we stopped (because you can't pace anyone in a race…against the rules)  …We talked for another minute…and she was off.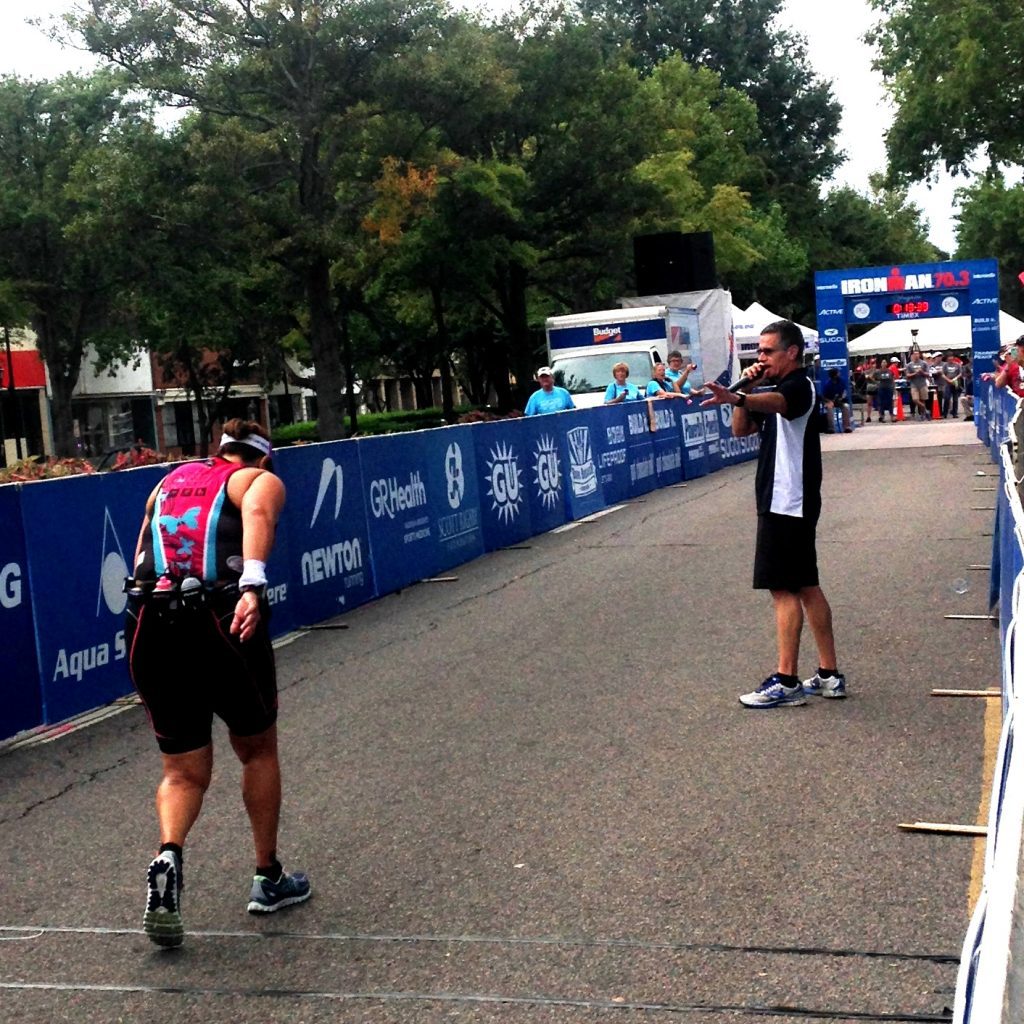 By the way… a few hours later, Precious had one of the most righteous finishes I have seen in a long time. I wasn't sure if she was going to collapse before or after the finish line… but luckily, it was after.  Proved what the mind can do when the body is fighting… she did it.  And showed her boys just what it means to never give up.
Way to go, Presh.
And post-race piggy resting with Bree and her baby girl.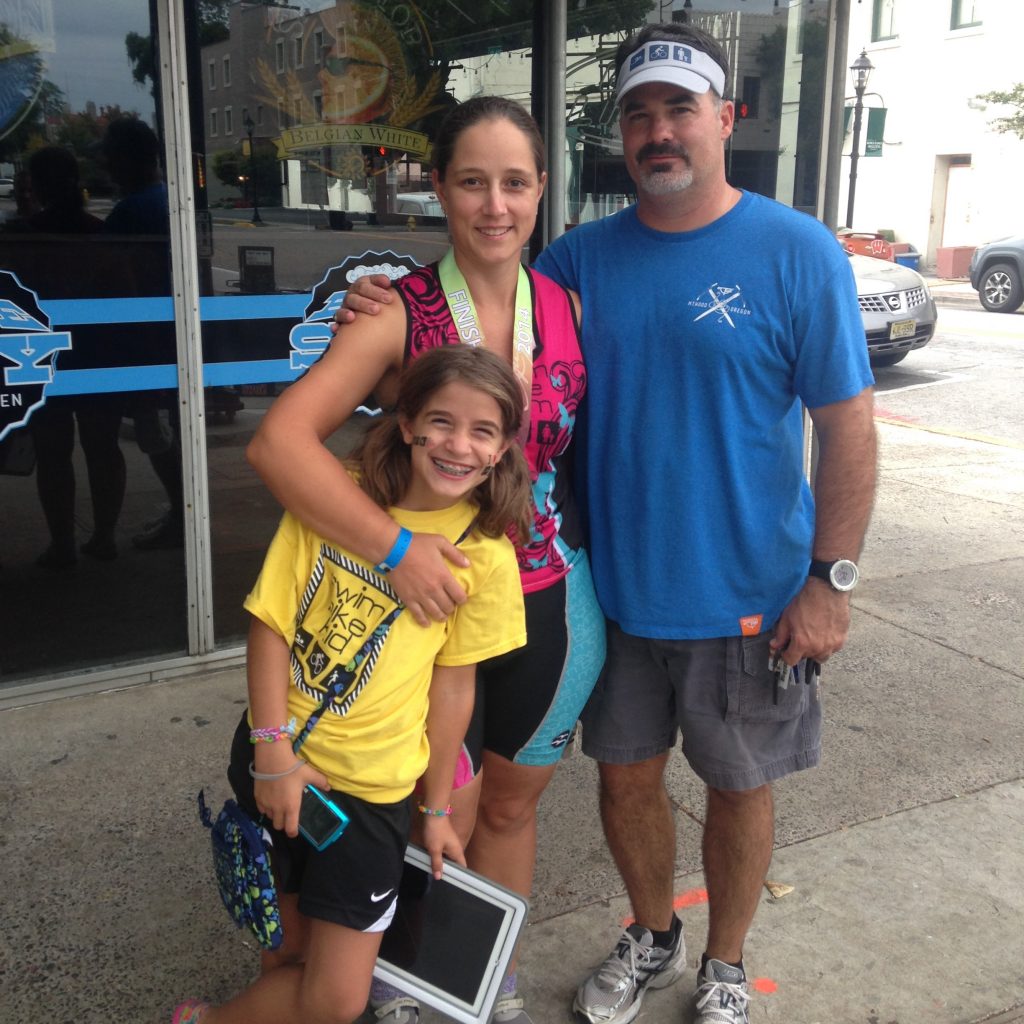 I saw Maureen (below) around Mile 9 or 10 of the run course, and she was in a dark place. I mentioned something about how far she had come and to adjust her attitude and maybe a few more things.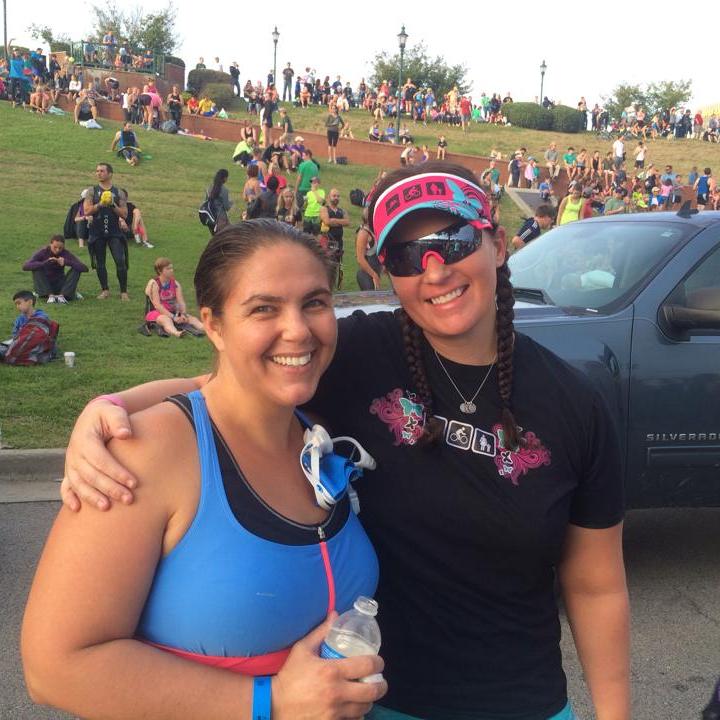 Then I felt bad afterwards, because I think I was cranky and was wearing down in my cowbelling. 🙂
She later said, "Thanks for going all rogue Swim Bike Mom on me today… Insisting I have an attitude adjustment is one of the factors that pushed me to the end."  Whew good. At least she's not out to kill me. 🙂
In closing, I have two photos that I think sum up my experience at this year's Augusta.
First, this photo. Enough said.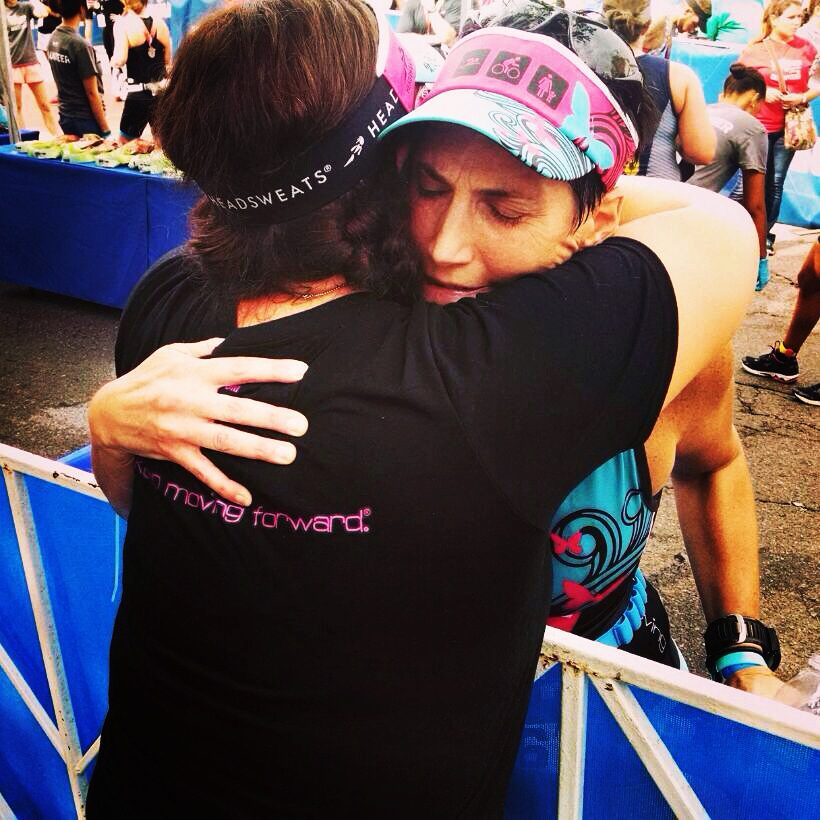 Me and my girl, Karen, at the finish of her first 70.3.  A well-earned finish, and tears of joy from both of us. Coaching moment worthy of a frame. Gawrsh… I can cry now just thinking about it.
Not just because of this photo, though… but because of what it represents.  I just love coaching women and I love helping them realize their potential.  I can believe in them even before they begin to believe in themselves.  Then, they eventually come around.  And we have finish line, after finish line. Amazing.
And finally…this photo.
As the last athletes passed the final loop, I was walking back from the finish, and looked around to see only this sight.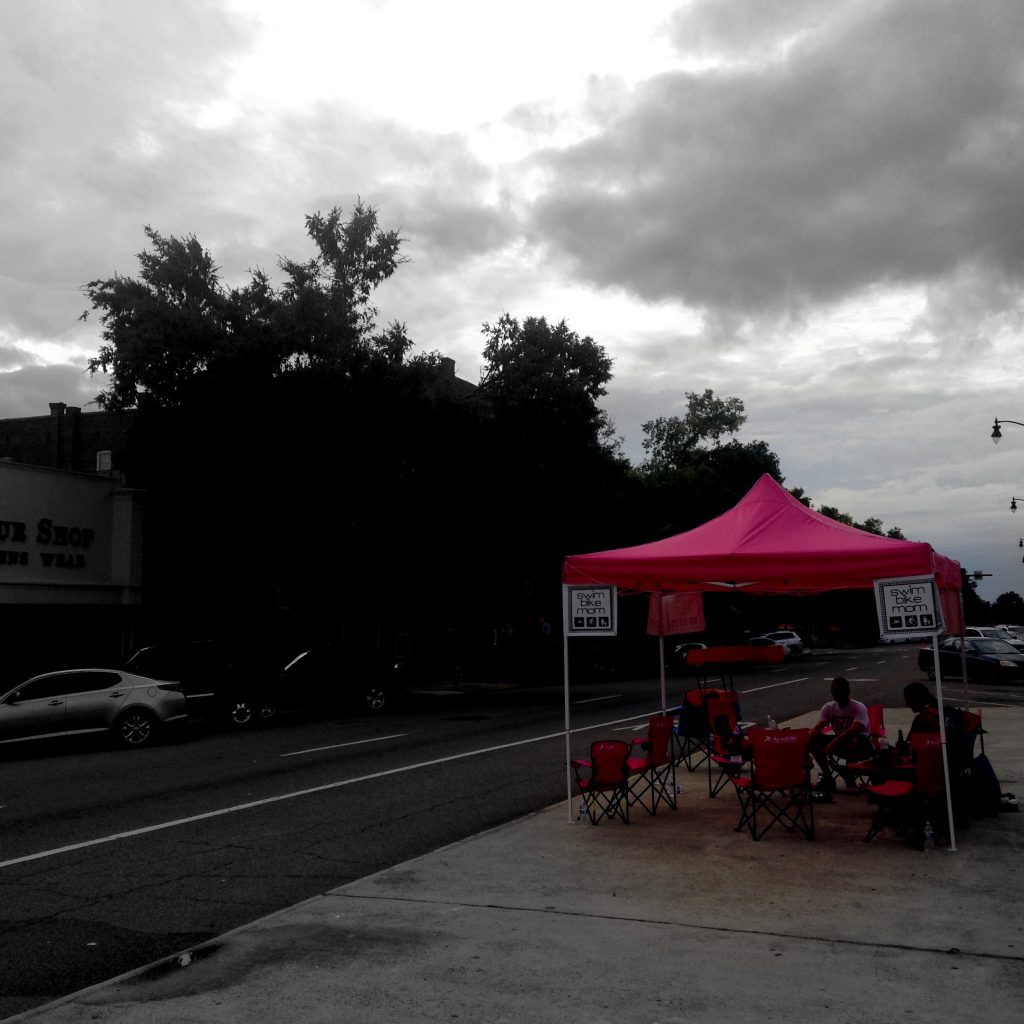 The hot pink tent… waiting to bring home the final athletes in the race.
Most of the crowd had left.  All of the other spectator tents and folks were gone. All that was left… was the small SBM group… like a girlie-girl beacon calling everyone home.
I took great pride in being a group of the last few spectators standing on the race course… right along with the last few athletes coming in.  To me, I could look at our group, at my fellow Swim Bike Mom family and say, "We were with you the whole day."
No one left behind… until it was finally over. The way it should be.
…Until next year!