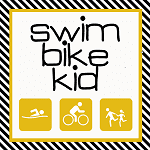 Hey Guys! Todd here!
I've totally slacked off and wrote this a couple months ago and just now getting around to putting the pics in but here goes…
This race was by far one of the most exciting races of my coaching season. Of course, nothing ever goes as planned but it somehow always comes out well.
Saturday, I swam and rode the Augusta 70.3 course with a childhood friend who's doing the race this year. As we were packing, the car getting ready to head for our 3 hour trip for the kids' race, my friend called and said he may have left his helmet on his bike rack when he pulled out. As any good friend would do, I drove back down to Augusta and back tracked but unfortunately didn't find his great helmet.
So we headed on off to Dawsonville, GA, three hours from Augusta, GA for the youth race on Sunday. The ride was uneventful and the kids were really good the whole way, surprisingly.
Now, this is the same race location that my 8 year old daughter had to walk the bike up the hill. By coincidence, she "forgot" her sneakers. Now, whether or not she did accidentally or on purpose, it really doesn't matter to me. All I know is she wasn't upset with not racing.
This left my five year old racing by himself. I don't know if it was easier or harder to worry about just one racing and watching two others or having two race and just watching the youngest. I think it was easier just having the one race because as "coach" and dad, I could just concentrate on my five year old.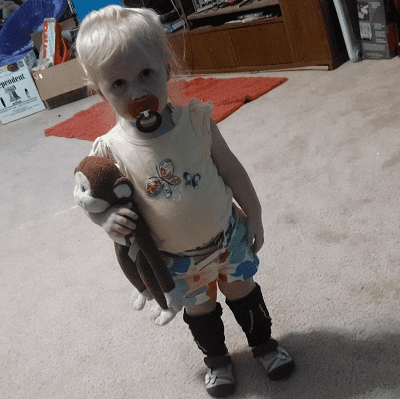 Bit by bit, I fed him information about the race. I didn't try to overwhelm giving him 30 minutes of instructions because I know he just would day dream after about two minutes. So, I reminded him, "don't worry about the other kids, you have to bike as fast as possible. You can look at their helmets and bikes as much as you want to after the race." He replied, "Can I look back?" I replied, "No, don't look back, I can tell you everybody will be behind you if you're ahead of them."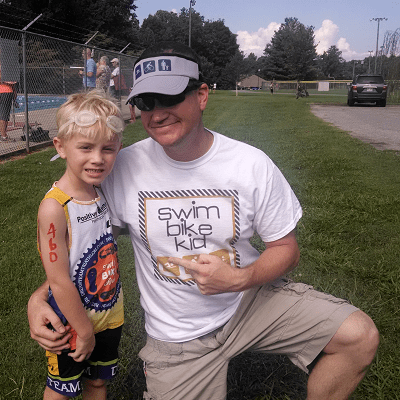 During the 8-9 race, a young boy was crying, walking out of the transition for the run. As a coach and father, I felt obligated to help. I ran up and spoke with him and kept asking him what was wrong. He simply kept saying, "I'm ok." I offered to run with him if it would help but he refused. We finally got to where his mom was watching and she took it over from there. She was wearing sandals so I told her I would be running to run/walk the course with him but she shrugged off the offer. It was difficult to accept offering a hand being refused to help but I had to accept it.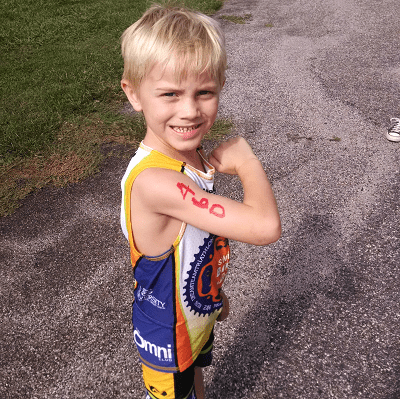 Since my five year old was up soon, I headed back to the pool area. The little joker, with swim wings, positioned himself in front of the time trial start. Apparently he's getting cocky do to his swim lessons and felt he was fastest. Well, to my surprise, he truly smoked the swim compared to the last race!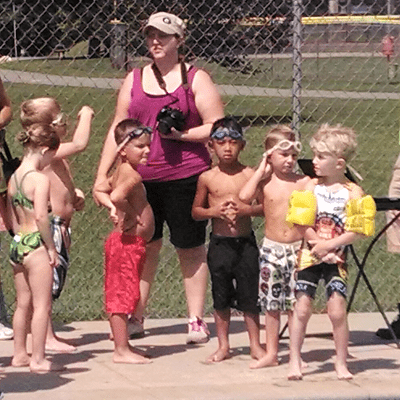 He ran into the transition zone and nailed his transition. It was an effortless transition. Apparently all the transition practices from two weeks truly paid off. Helmet on. Boom. Shoes on. Boom. Race belt on. Boom. Unlike half the kids, he did as he should and ran to the mount line and did his flying mount and took off. He got to do something coach/dad never gets to do: follow the 1st place lead bike guiding him around the course! Yes, the race director led him around the course just like a motorcycle leads the pros. Mommy and I kept screaming "catch him! Pedal, pedal, pedal!" while the RD kept saying, "he's really making me work!"
He finished the bike portion and did his amazing flying dismount (that coach/dad can't do) right at the dismount line, again, unlike most of the other kids who blatantly rode through the transition zone. He quickly took the helmet off and neatly set it down and grabbed his water bottle. He took a few swigs while I kept saying, "you don't need it, let's go!" Obviously he felt he did but he was spending precious seconds there. Note to self: have him take the bottle if he must but don't stand there and drink!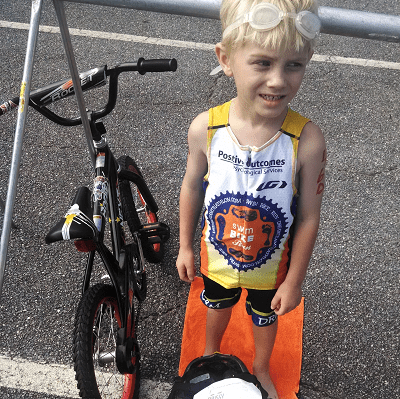 The run was great. It was all downhill to the finish line. He was trucking! Really trucking! I was terrified that he was going so fast that he may fall over from going so fast down the incline.
And there it was, the finish line! I hollered, "There's the finish line, turn it on! Turn it on!" And sure enough he did. It was the fastest swim, bike, and run I've seen him do, ever.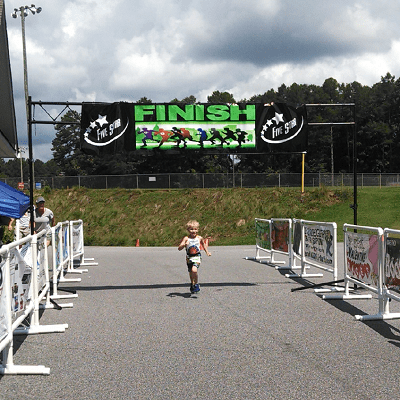 So once the race was over, he got his finisher medal and I gave him a big hug, told him how he smoked the course, and how proud I was. It was truly one of the greatest moments of my life. We waited for the awards ceremony knowing he surely had a top three performance.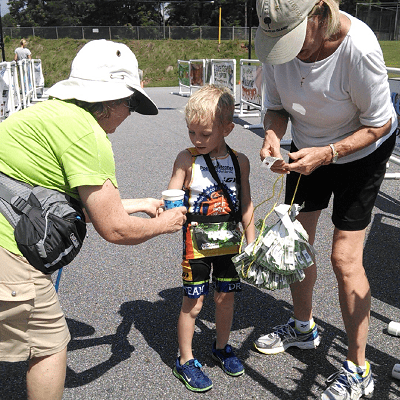 We waited through all the results, boys and girls, 12-13, 10-11, 8-9, 6-7, and then the five and under. He sat there rocking back and forth anxiously waiting for the results. To our surprise, his name wasn't called for a top three.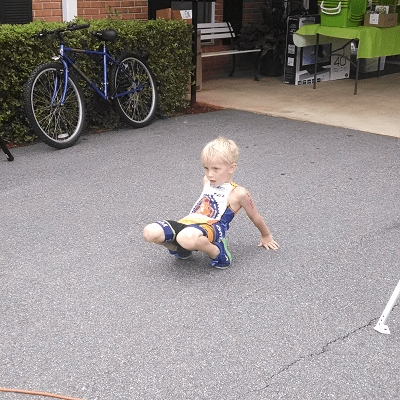 Surely there had to be something wrong because he was so much faster than last year's performance and he came in third. So after looking at the results, they had his start time as around 9:00 am showing him completing the course in over three hours! Knowing he was the first in the wave around 12:15 the RD was able to easily adjust his start time and BOOM. There it was, he was actually first in his age group.
The RD gave me his 1st place medal and I went over to see him while he was playing.  I said, "Buddy, I have good news and bad news for you.  The bad news is they screwed up your timing badly.  However, the good news is… You got first place!"  His eyes lit up and he gave out a "yeeeeeh!"  It was priceless.
We took a picture of him and he threw up the "number 1" hand gesture just like Andy Potts aka the Muffin Man does.  So I told him, "since you love Dunkin Donuts Munchkins so much, you're now the Munchkin Man."  He giggled and replied, "No, daddy, you're silly."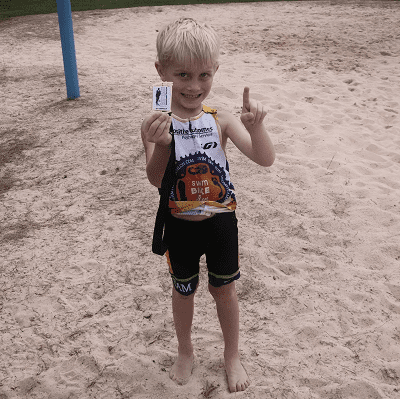 I was so proud of his performance, not only as a dad but more so as a coach. It was amazing to see how far he has come in a year. The little booger is so motivated when it comes to triathlon. He's so eager to do anything related to swimming, biking, or running. And times, it's almost annoying to be honest. I just have to say, "relax! Chill dude!"
I refuse to be the overbearing parent when it comes to my children and the sports. I always ask them if they want to do their activities. I never sign them up. He has chosen to swim because he sees me swimming. Even though I'm the tri club coach, if they don't want to practice, I don't make them. My five year old? He always asks when the next practice is. I never have to ask him if he wants to come. He always does.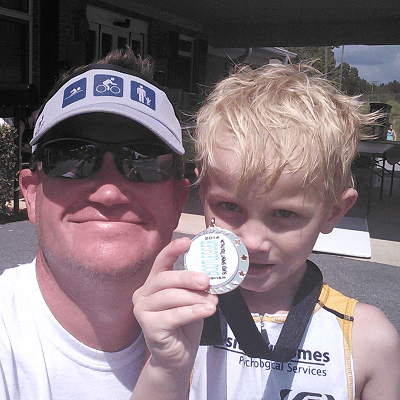 Why was I so proud? Last year at the same race, he took third. He did another race earlier this year and took second place. He has truly dedicated himself to becoming a better swimmer this past summer taking weeks of classes. I was so grateful that he was able to be rewarded for his hard work.
He listened to every tip and bit of advice on race day. I cannot complain or correct anything he did during the race. He executed it perfectly and it paid off.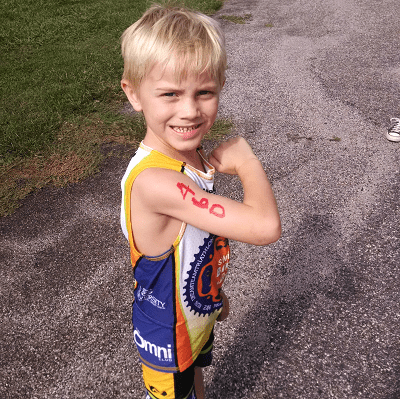 Now if he just listened that well at home… 😉
– Todd
Todd is a husband, father of three, youth triathlon coach, and 140.6 finisher.
He's heading to another 70.3 this season, and is our new voice of Swim Bike Kid.