Last year, I wrote a post about the famous (er, infamous) Silver Comet Trail (SCT), and it was called The Silver Comet Curse.
A little adventure on Saturday solidified the fact that I am never showing up to that blasted place again.
At the trail, I met one of my athletes , ZM (real name is Karen… don't ask… ya know everyone in my life gets a nickname :). It was early in the AM and we had the intention of riding at least 50 miles… I was hoping for 80…but would have been thrilled with 40 (aw, hell it was one of those weeks!).
Ran into another tri pal in the parking lot. Group selfie. Click!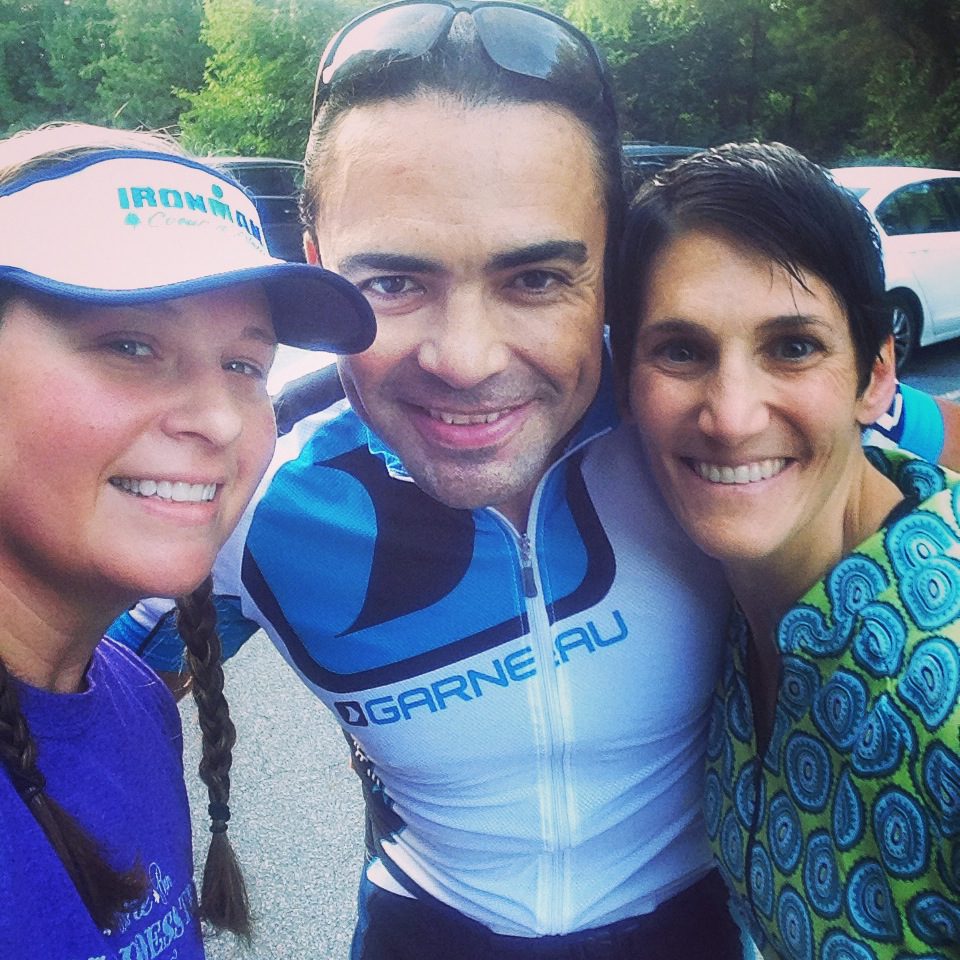 ZM and I headed out.  My power meter wasn't talking to my Garmin, which sucked.  Knowledge is POWER. I mean POWER is knowledge. I mean… Blast!
We planned on a nice Zone 2, easy ride. Lots of catching up to do.  Lots of coach/athlete-y things to discuss.
Around Mile 5, we witnessed a cyclist do the nightmare thing—a low-speed tipover at a stop light.  So embarrassing. Totally feel for him. We stopped, and helped him up–because he was still attached to his pedals.  I was able to tell him all about how I have low-speed tipped over about 10 times at that very light.
ZM and I took off again.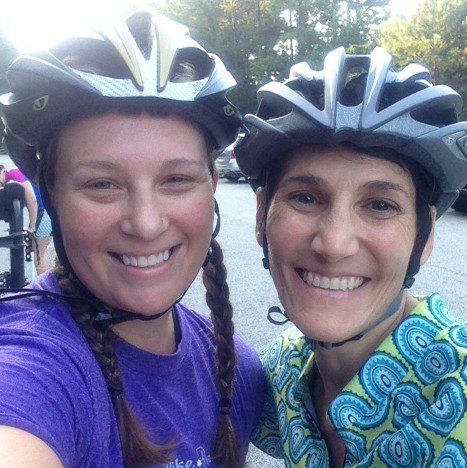 The SCT has grown more and more crowded since I started riding there in late 2010.  The first 10 miles are starting to feel almost unmaneuverable on a bike with all the people.  So many inexperienced cyclists and walkers and runners and dogs and strollers… it just felt dangerous.  Kids riding without helmets. Parents without helmets.  Top it off with debris from the storm the night before.
About 10 minutes after the encounter with the low-speed tipover cyclist, he went flying by with two other men on bikes.
One who was not wearing a helmet.
I swear everytime I see that, I lose my mind.  (I actually saw people riding with their helmets hanging from their handlebars this time too. Holy sh*t. What good is that going to do you?)

It wasn't 3 minutes after the trio flew by us, that ZM said, "We've got a yard sale ahead."
I looked, and there was a cluster of people and bikes strewn across the path.  A cyclist down.
Oh, crap, I thought.  Please don't let that be the guy without the helmet on the ground.
As "luck" would have it, the moron (and I do apologize. I do not know the guy. He's a rocket scientist for all I know. But anyone riding a bike without a helmet is a moron, in my book)… so anyway, Mr. Sans McHelmet was up, walking.
Whew.
ZM and I pull over, and she immediately begins first responder stuff to the cyclist on the ground.  He's crying out and his arms are in crazy positions.  So I stand with three bikes.  I don't even know how I ended up with a third bike to man.  But I  DO  know that when we pulled up, I handed over my bike to someone, and the dude promptly threw it on the concrete.  SO I took over property – and ZM took over the persons at the situation.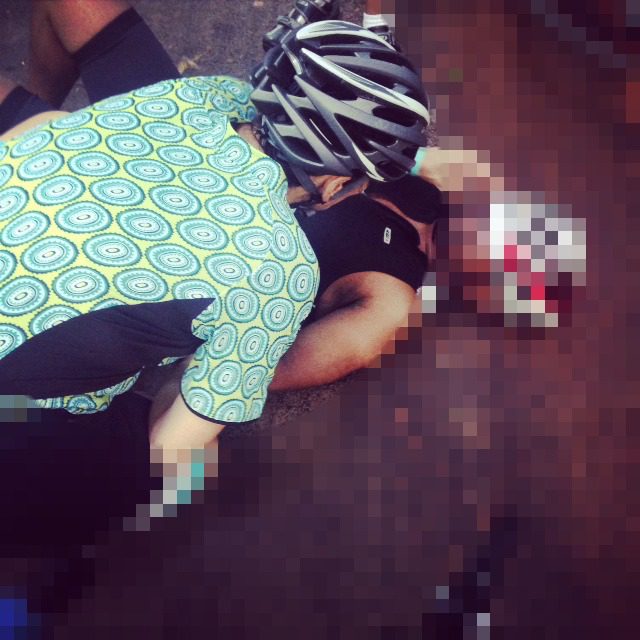 Ambulance called. Paramedics arrive.  ZM did a phenomenal job calming the cyclist, getting his DOB, his allergies, the meds he took the night before. His arms were finally straightened out, so I think he was just holding them in a weird way when we arrived. I swear, I am going to bring ZM with me EVERYWHERE going forward. She was amazing.
And at that moment, I took that opportunity to totally berate and yell at the cyclist without the helmet.
I was a little strong.  [I am not sorry.]
We turned the scene over to the good folks (and fast responders!) of Cobb County,  I phoned the cyclist's wife, and  we headed out once again for our ride.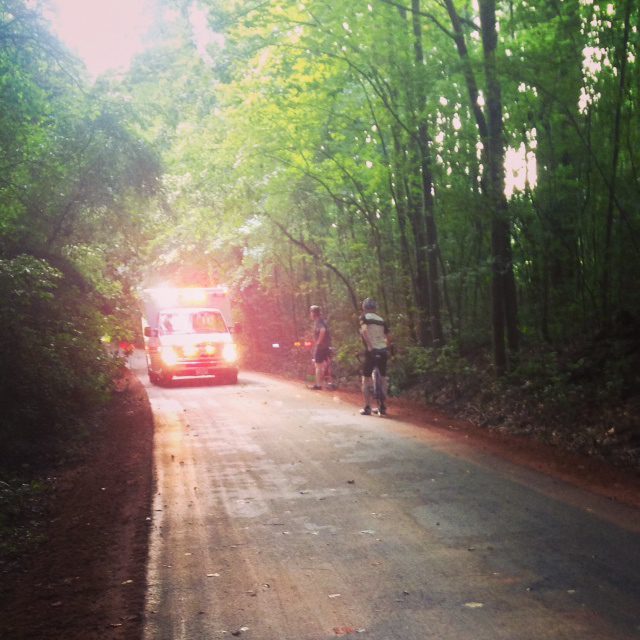 ZM and I were both not feeling it.  Something in my gut was not right.  Hers either.   She was still pretty shaken from helping the guy too.
We turned around at Mile 15, and on the way back, we encountered idiot after idiot after danger after danger on the ride back. People turning in front of us without looking. Dogs.  Branches. Kids.
I have never been so tense on a ride in my life.  Right down to the fact that someone nearly mowed me down in the PARKING LOT, about 10 feet from my car.
Insane.
I have never been so glad to be back at my car.  The ride was not hard.  Not all all, but the emotional toll was intense.  I kept thinking how one mistake, one idiot can ruin  your  life.  And that wasn't the day to test them all.
The rest of the weekend was uneventful in training.
There's been some emotional turmoil at the Swim Bike House.
For many reasons–all of which are of course my fault—and many that I won't blog about right now.  (Some of which I will). So in light of being emotionally exhausted and pooped in general, I caught on up on laundry, roller skating, a salon appointment and some Swim Bike Kid snuggling.
Like I tell my athletes, sometimes, you have to let the training go, skip it, and snuggle.
Today, I got back to work and the Swim Bike Boy stayed home with me… he's been sick and we've been up all night with him several nights as well… have I ever mentioned that parenting is intense?
I accomplished a good run this morning, but that's about it.  Then I put on my Peachtree shirt and repeated, "I am a runner. Even if I never run."  #truestory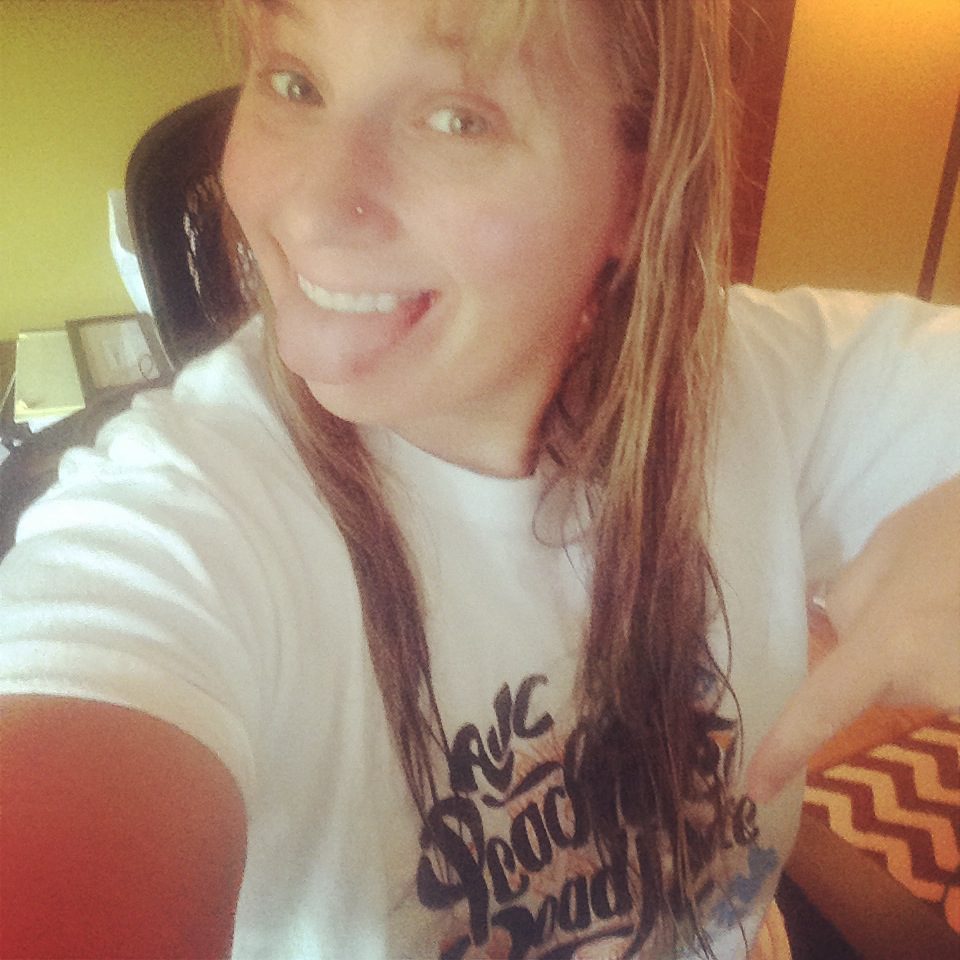 Really, I am panicking about my 140.6 which is a little over 100 days away.
I'm thinking that all signs are starting to point to "nah, we won't do that."  Then I read some of my posts leading up to Coeur d'Alene last year, and thought, well, I might as well go for this.  I feel like I was in better shape—but I really don't think so.
So I am spending this week re-centering myself and focusing on the training.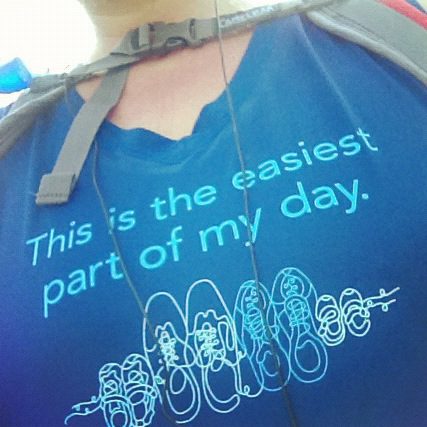 The Expert has shifted his support for my 140.6 training over the last few days in pretty amazing ways.  And I am so thankful… It is no secret during the ramp up to Ironman last year that our marriage was on the rocks and the training was taking ridiculous tolls on us – along with life in general.
As my training got pretty busy a few weeks ago, I saw all the signs of it happening again.
And I know nothing is worth busting up the family over–especially not triathlon–but I have been really struggling with, "Hey Expert, training is what makes me happy and why don't you want me to be happy" and the like.
Kind of selfish, sure.  But at the same time… is it?  I mean, I am working and providing (too) and taking care of laundry and kids (also).  I mean check out the laundry room below.   I'm doing my "jobs" around here…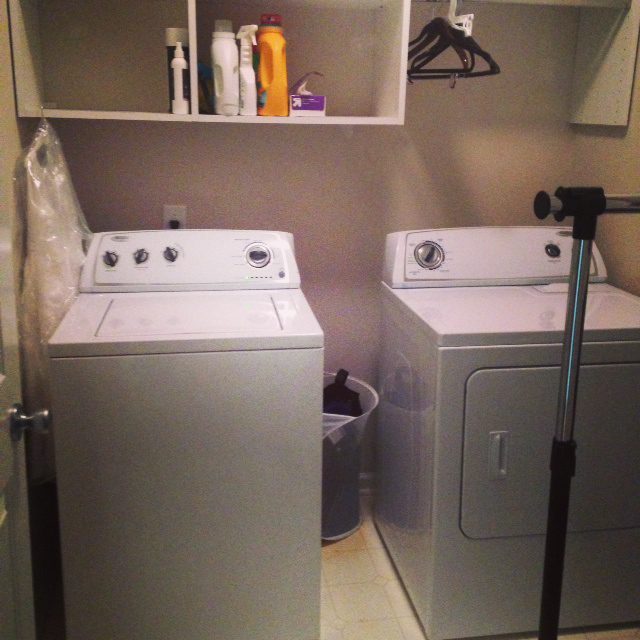 … so is triathlon training really selfish??  The burning triathlon question.
I kind of wanted to scream, "Seriously, I am going to move out of this damn house."
(Okay, maybe I did scream that.)
Triathlon families require a very special kind of balance. Very big understatement.  And we're teetering and balancing and falling down, and doing it all again. That's the story of life, I suppose. It's always something going on.
How to balance it all and not kill people is important.
The late Ruth Graham, wife to evangelist Billy Graham, was asked one time:  "In all of your 35 years of marriage, have you ever thought about divorce?"
To which she replied, "No, I've never thought of divorce… but I did think of murder a few times."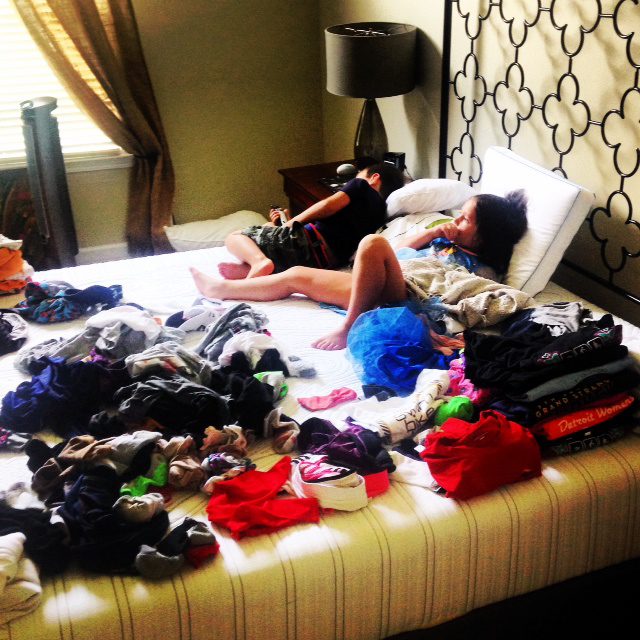 #PrayForUs  🙂
But seriously, the Expert has made some gestures that have really helped me out lately.  Brought me some calm. And I am very, very grateful to the balance he (usually) brings to me.
And the flowers.  I do like the flowers too.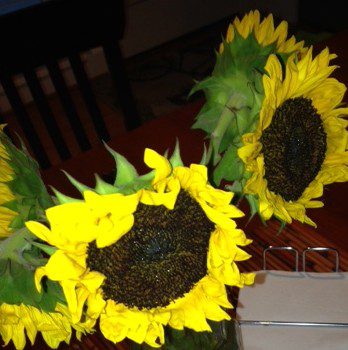 I'm not the easiest person to live with–boy, do I know that.  My dad actually apologized to the Expert one time… because he had lived with me and he understands.  [I felt totally betrayed by that comment, by the way….Dad, you're supposed to be on MY side! ]  🙂
But what I lack in tact (words from my first boyfriend… "you really have no tact"), I make up for in passion and work ethic and hysteria and (apparently HAIR these days)… so I think it's a good balance.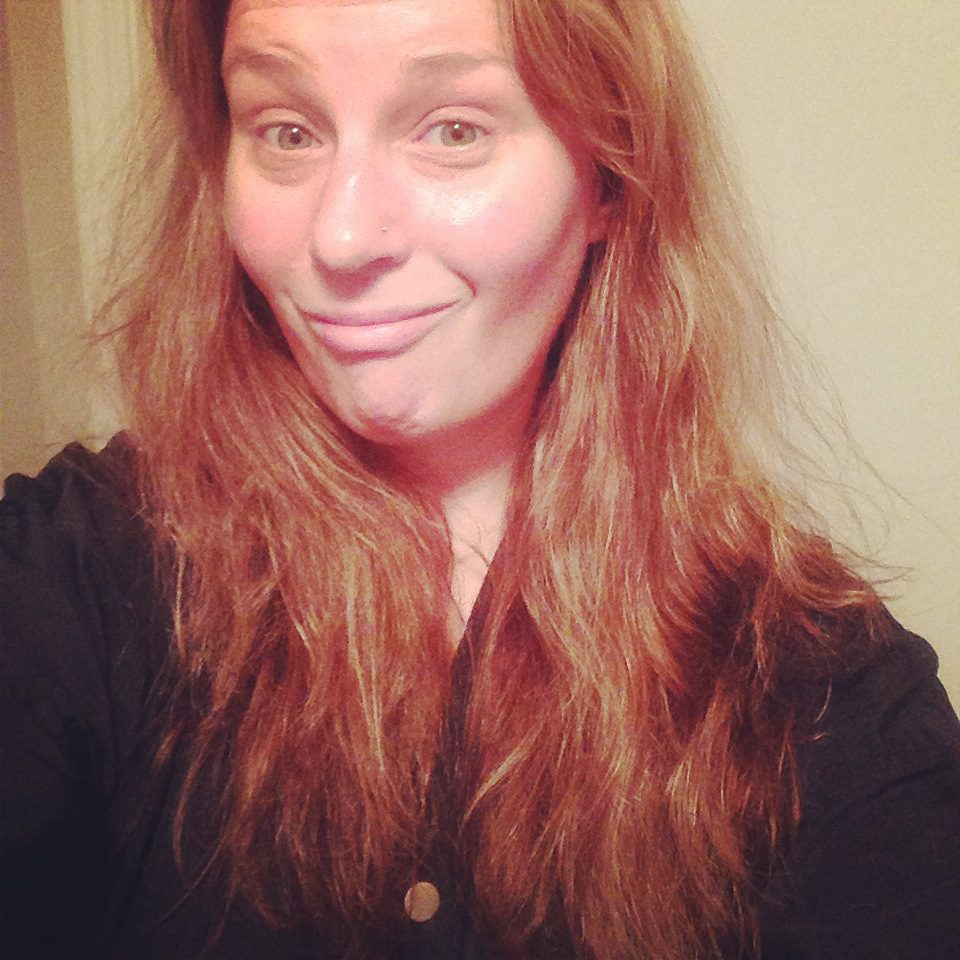 It takes a very special person to love a hot mess.
And I am pretty blessed, because that means I have LOTS of special people in my life… because I feel lots of love most of the time.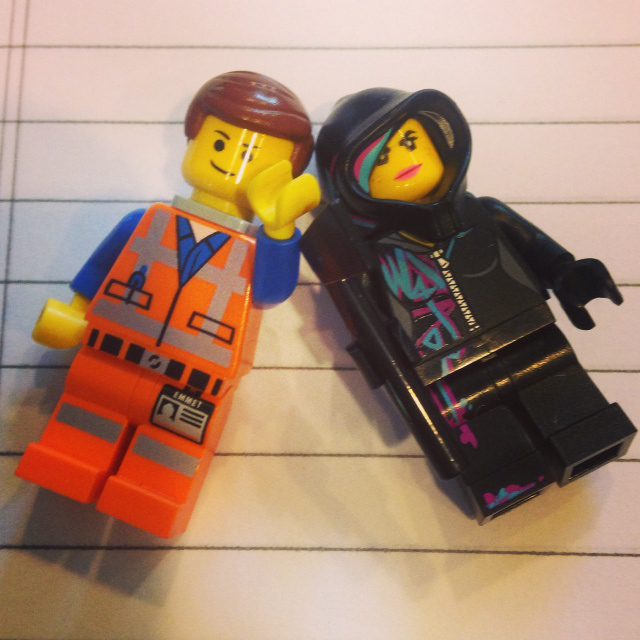 =====================
Looking forward to this weekend in Rome, New York at the Delta Lake Tri!
Sweet Red and I are hitting the road on Friday, and excited about the festivities, which includes a kids' race (Swim Bike Kid's Todd will be there for the kiddos!), a BBQ, an expo and me trying to put down an Oly distance race on Sunday… woot.
If you guys can come out, please do. Check out this post – not to late to register and get discounts on hotel too.