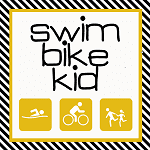 Hey Guys! Todd here!
Friday started off just like any other race weekend… mass chaos!  Every race weekend is hectic… true. But this was even more hectic because I didn't have to worry about me— I had to worry about my kiddos.
After months of coaching and training my own children…they were finally racing!
Enter the dram-o-rama.
My 8 year-old daughter exclaimed, "I'M NOT DOING THE RACE!"  She was adamant about it and refused to pack her stuff.  So, knowing how "she is," Mommy and I packed her stuff because… well… she's an 8 year-old girl.
We were travelling to an "away" race, so on Friday, my wife and I got home from work and began the orchestra of controlled chaos: scrambling to get everything and everyone packed, praying we don't forget something (or somebody), and to make it to our destination at a reasonable time of the night.
We made it to our destination, starving, with our takeout food in hand.  [Don't judge!]  Fed the kids, walked the dog, and got ready for the race.
Saturday! Race day rolled around and we started getting ready.  Our 5 year-old boy was great!  He got ready – no questions asked.  He had been waiting for this moment for almost a year.
The 8 year old daughter?  Well, she wasn't so keen.
That is, until she saw her brother.
When she saw her brother in his tri kit ready to go, she started rethinking her decision.
She came to me and said, "Daddy, I think I might want to race… but I don't have my running shoes."
These shoes of hers have been a sensitive subject to me, as the coach.  She wears slip-on flats to practice instead of good running shoes—drives me crazy. She's just asking for foot issues. Oh, and as her coach, I worry—and as her dad… I super worry.   I also recognoized that this was  one of those moments to lose a battle to win the war.
I replied to her simply, "Sure, baby.  You can wear the shoes."   She spontaneously replied, "Yay!" and ran off with a smile to get ready.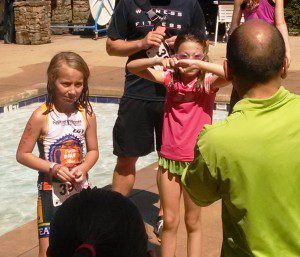 Notice the bib number not matching the body markings?!
We got to the race, registered the kids and  began trying to figure out the course.  There were no directional arrows on the course maps.  We also quickly noticed the course wasn't as "closed" as we thought it was when we saw cars driving on it occasionally.
[Which caused Mommy to go into full mama bear mode.  She quietly asked me for the keys to car. I handed them over not even wondering why.  So what did she do?  She took the van and drove the course just to see it herself.]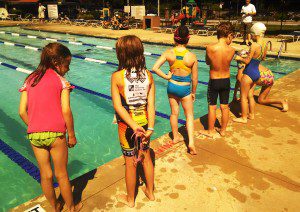 My daughter and her new "friend" chatting it up.
She came back, determined it safe for the kids, and my daughter was about to start….  Just as she was second in line to start, I heard her exclaim, "Daddy!  I have the wrong number!"
I realized that I had reversed the kids' bibs. Oooops. Ran over to my son, took his off and ran to her.  Thankfully, she had already taken her number and handed to me.  I got the bib on her and she was ready to go just in time.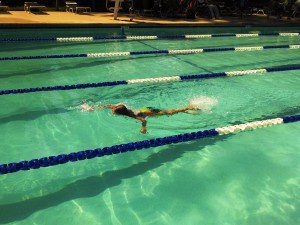 She did her best on the swim and did great in the transition area.  She followed all the rules and then headed out on the bike.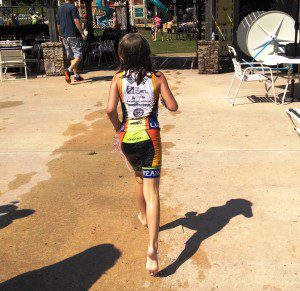 The bike is the only reason she didn't want to race because of an incident last year.   In the last race, she struggled with a hill and was quite embarrassed because she had to walk her bike up the hill while all the other kids rode their bikes up the hill.  She had proclaimed, "I'll never do a race with a hill ever again!"
[Well, this course was much more difficult than that one but I sure didn't say anything!]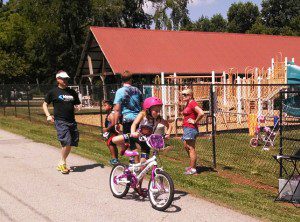 So she headed out and I waited impatiently having no idea how long it would take her.  I waited and waited.
Then, I noticed the kit off in the distance.  It was her!  Here she came, smiling ear to ear zipping down the hill about ¼ to ½ miles long!  She's smiling!  That's all that matter at that point!  She came around a second time and into transition.   She made it off the bike without any issues…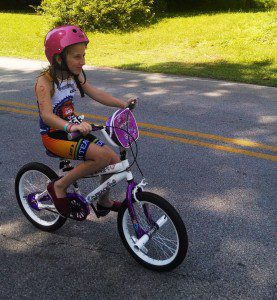 The race director allowed  parents on the course so I went off to run with her.
She was doing really well until we caught up to her "friend" that she had been chatting with.  As soon as she caught her, they began talking and walking together.
I kept telling them, "right now you both need to run.  You trained to run so you need to run.  You both can talk as much as you want after you finish.  The sooner you finish, the sooner you can talk."  It seemed to work.
"The sooner you finish, the sooner you can talk."
Then we got to the younger kids turn around and were almost to their turn around.  Between the two turnarounds was a cone.  The father with the other girl decided to cut the course and turn at the cone.
I told my daughter, "You are not cheating.  We're running to the turnaround.  You've trained for this.  You got it and I'm here with you all of the way."
We made it to the turn around and started back.  I told her, "Now you need to go catch up to your friend.  You got this."  She began to run harder and harder and was almost up to her with about 25 yards to go.  Then it happened…. Just ten feet from the finish line, he caught the girl and passed her without cheating!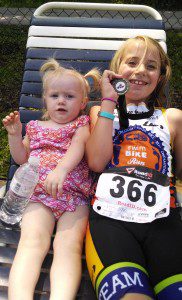 Then my son was up to race.  He really struggled with the swim after half a lap.  Not really sure what happened but it seemed like he forgot everything he knew about swimming.  He managed to get out of pool and onto transition.  He smoked the transition and came out.
He did a flying mount which I can't even do!
From watching him on the bike, he listened to my pep talk before the race.
I told him, "Don't do what you did last time and admire everybody's helmets and bikes.  You can look at them all you want afterwards.  Just pedal as fast as you can!"
Sounds rough but at the last race, he didn't comprehend it was a competition and just wandered around the course watching everyone else.
"Hey Daddy, check out his angry birds helmet!" as the child rode right past him….
Sigh…. 🙂
Well, he smoked the bike course and came to the dismount line and performed a flying dismount.  You could hear comments around the dismount line saying things like, "Whoa… how old is that kid?!"  To be honest, I didn't teach him the flying dismount, he just picked it up on his own by watching other triathletes.
He then made it in and out of transition flawlessly.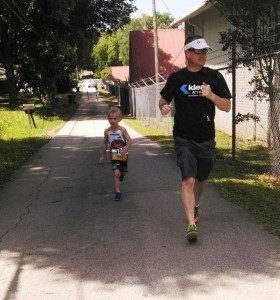 We headed out on the run and the lil joker ran the whole .33 mile!
He and I joked around laughing about the bike course and him filling me in on it as we ran.  As we approached the last corner, I told him, "Okay, buddy.  We're almost there.  When we hit this corner, I want you run as hard as you can and show me what you got!"
We hit the corner and BOOM!  He took off!  It was priceless to see him sprint the last 25 yards.
His performance landed him a third place in his age group!  Oh! And this wasn't one of daddy's third places where he podiums because three were in his age group.
This was third out of five! Woot!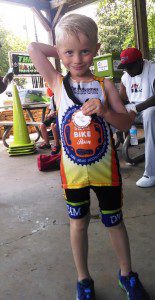 Fast forward to Father's Day, the wife says, "I wish you had a better Father's Day."
I replied to her, "Seeing my daughter overcome her fear of hills while enjoying it, seeing her beat somebody who cheated, and seeing my son place third after struggling in the swim is the best Father's Day gift I could ask for."
Father's Day wasn't about Sunday.  It was about being able to teach my kids valuable lessons that will stay with them the rest of their lives.
That was best Father's Day gift.  And yes, better than underwear, socks, or a tie…
– Todd
Todd is a husband, father of three, youth triathlon coach and 140.6 finisher.
He's the new voice of Swim Bike Kid.