Atlanta has a wonderful multisports community, as many major cities do.  But I have met some of the most amazing people here in the ATL— including Mike "McBlessings" Lenhart.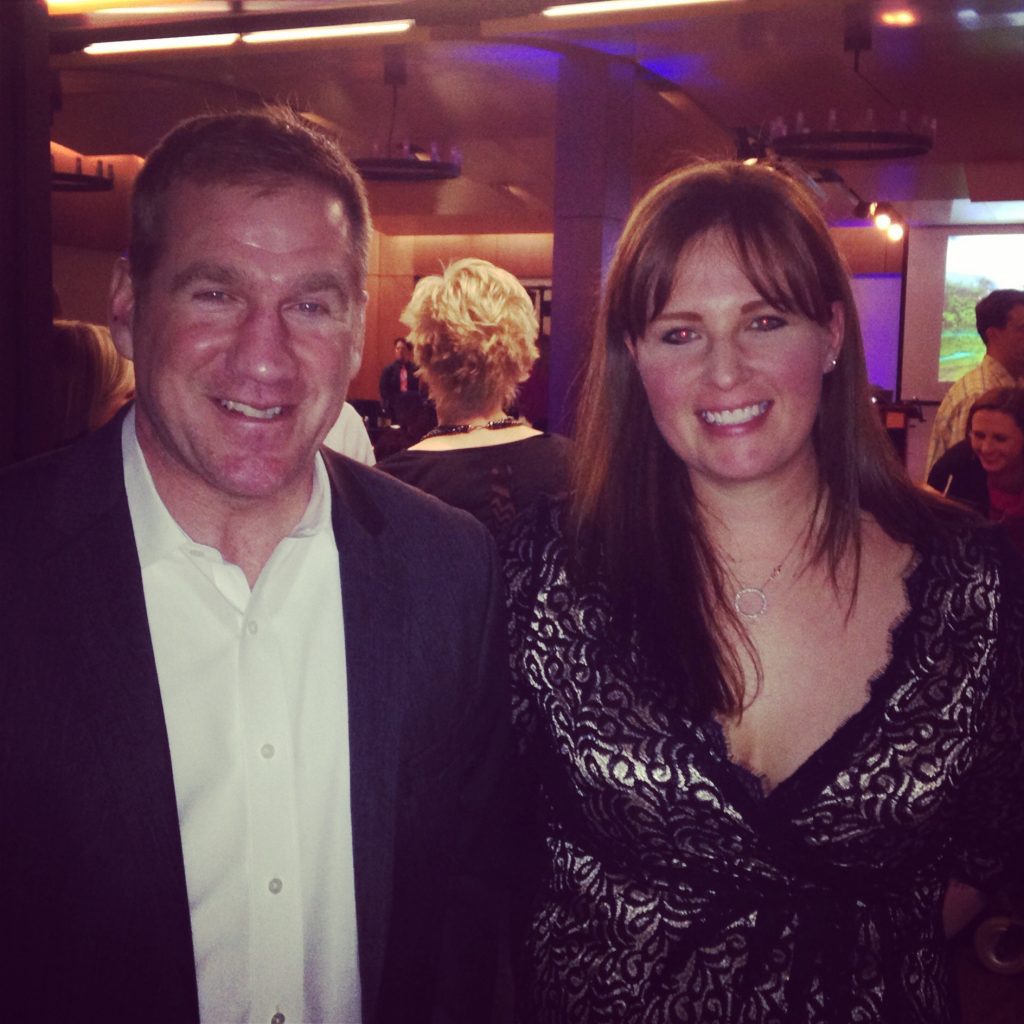 McBlessings can throw a great event, too, so when the 2014 Gear and Glimmer Event  benefitting the Getting2Tri Foundation was announced, I was stoked.
It was a fabulous evening of celebrating the multisport athlete—really can't say how much fun and how special Saturday night was for the multisport community.  And I had a super special time.
I was way honored to be nominated for "Best Comeback Athlete of 2013", and more honored to share the category with Janelle Tuck.
In summary, I am way less inspirational and comeback-y than Janelle, who is amazeballs–and while I received the "Glimmy," I can't express how much Janelle has inspired me over these past few years–she's incredible.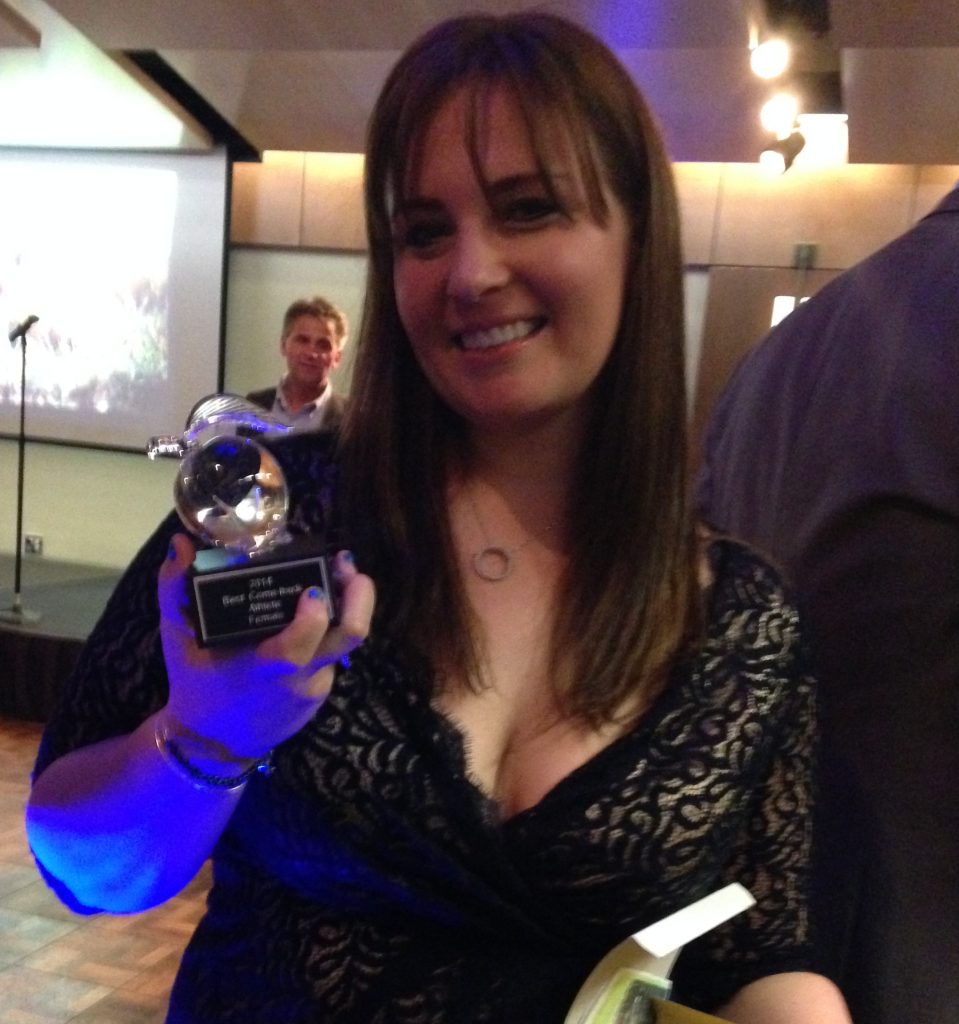 You can read a little more about Janelle's story here.
I'd like to thank you all for supporting me in the voting–I know the Army did–and I hope that I can make you guys proud by doing my best to continue to spread the love of triathlon to the 'every' person.
I also got to hang with my pals Brent & Kyle Pease (please ignore that Brent and I could clearly be funny-faced siblings).
A "Person of Courage" award went to the amazing swim coach Pete Farren, a wonderful keynote speech by Joseph Kapacziewski, and a room full of people who share the love for triathlon.
What a fantastic night.  What could be better than a room full of triathletes!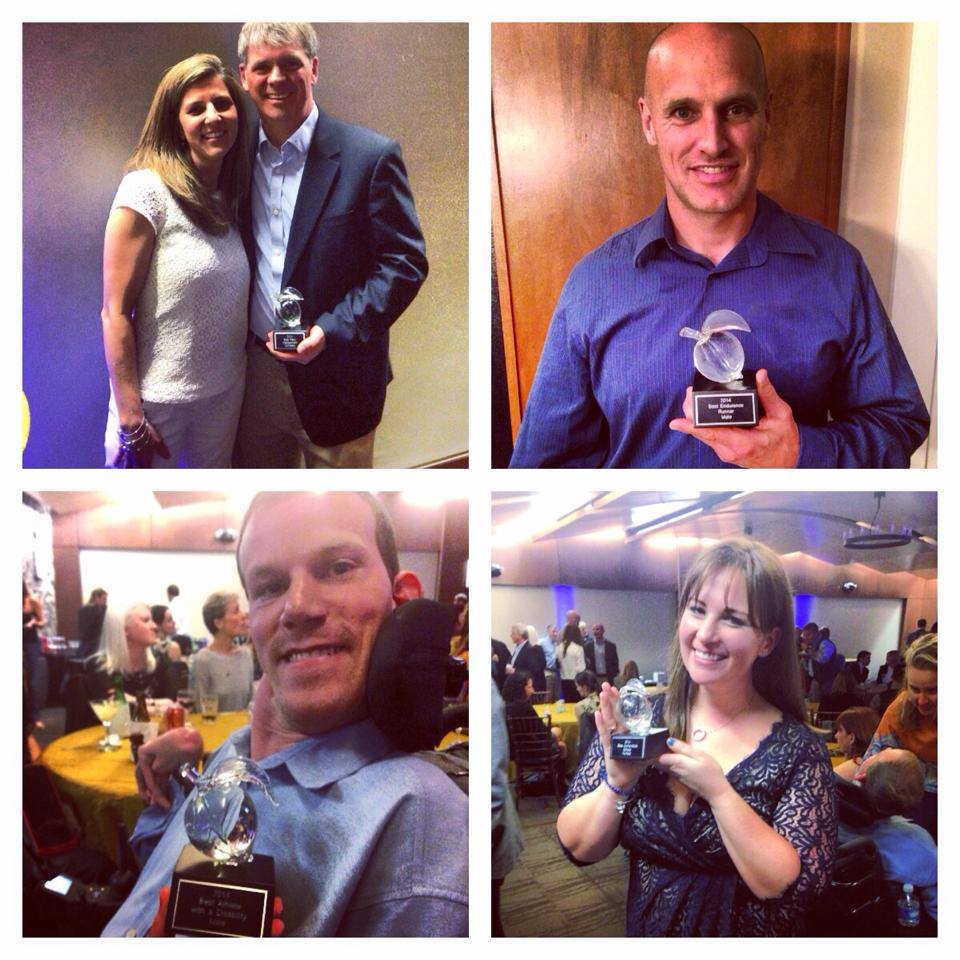 ——And the winners are… Congrats to the 2014 Gear and Glimmer multisport awards winners who were announced at last night's celebration.
Best Multisport Athlete, Male: Ken Brown
Best Multisport Athlete, Female:  Bethany Rutledge
Best Endurance Runner, Male:  Jason Overbaugh
Best Endurance Runner, Female:  Tatyana Spencer
Best Athlete with a Disability, Male:  Kyle Pease
Best Athlete with a Disability, Female:  Kelly Casebere
Best Come-back Athlete, Male:  Howie Sanborn
Best Come-back Athlete, Female:  Meredith Atwood  (<—that's me! 🙂 )
Best Multisport Retailer:  All3Sports
Best Race Management Company:  Tri Blue Sky
Best Multisport Healthcare Service Provider:  1st Choice Healthcare
Best Multisport Club / Organization:  Atlanta Tri Club