The first 5k I would like to discuss was today's.
I woke up early for the Heart and Soles 5k sponsored by the Atlanta Track Club.  SBM friend, Carrie, has been hounding me, saying that my motivation has been lacking because I "need a finish line!"  Meaning, I needed to race something. So I reluctantly agreed to a 5k.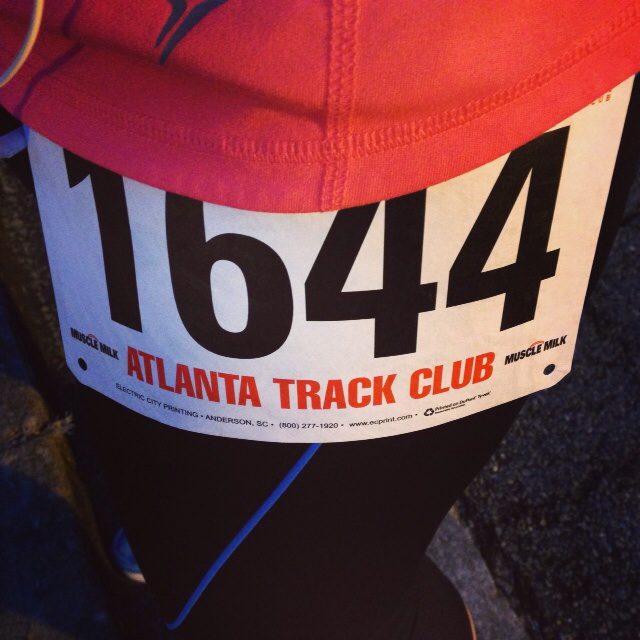 I have a love-hate relationship with the 5k.
Things to love:
1) Race is short;
2) All sorts of body types and people at races; and
3) Over before breakfast. Time for Waffle House.
Things to hate:
1) Race is short;
2) I don't really love the sensation of cardiac arrest. I'm kind of an LSD gal; and
3) Awesome snacks at the end are usually lacking
But I agreed to the race.  And I think Carrie was right, I needed a finish line.
Ran into SBM Army member, Lisa, at the porta potties. 🙂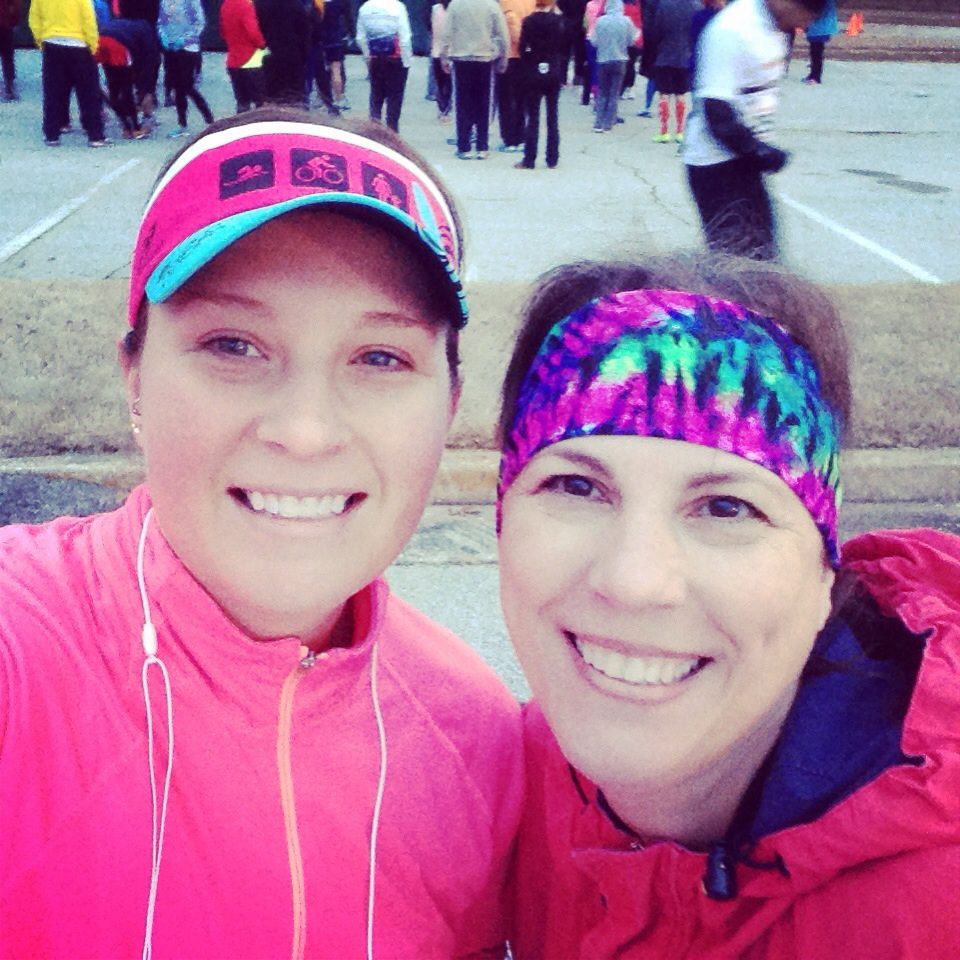 I had a sub-30 minute 5k back in November.  It was a bit of a fluke, though. The course was pancake flat, and I almost went into cardiac arrest.
I wasn't thinking I was going to repeat the sub-30 minute mark today, despite being 12 pounds lighter and doing more interval runs.
My car is in the shop, so I've been driving a rental.  The rental car keys are enormous, but luckily could fit them in the rear zipper of my capris. The zipper pouch was directly above the bum.  However, when I started my warm-up jog, I quickly learned that the keys, inside the pouch, were sliding down in my butt crack.
Oh no, no no. That won't work.
So I stuffed the giant-can't-separate-all-three-copies-of-keys into my Nathan belt and barely fit my iPhone in there as well. I was running with a huge belt. Lawd.
And it was time to run.
3-2-1… gooooo!
And off I went.  I felt really great for the first 1.5 miles. Looking down at my watch, pacing between 8:40-9:10 pace–which I knew was completely unsustainable. Such a crappy negative splitter, I am.  Plus, I have no idea how to run "fast" well.
Then I noticed that the vast majority of the first 3/4 mile was downhill. Which means, what goes down, must come up.  On the last part of the race.
At the turn-around, I completely bonked.  I was screaming internally, "TURN OVER, LEGS" and my legs were smirking at me, "We're going 11:30 pace right now, so there."
I grunted. "Legs! Now!"
I was surely about to walk.  And then I didn't and I kicked into some weird gear, and I was back at a 9:10 pace.
With 0.6 of a mile to go, I glanced down at the watch and it read: 25:30   I had less than four minutes, 30 seconds to finish. Crap.
And there's that hill.
And there's the freight train. (The freight train was me. Huffing and screeching and wheezing).
I grunted up the hill, and thrashed and flailed the last 0.2 to the finish.
29:43
Cardiac arrest.  And I saved my sub-30. Yay.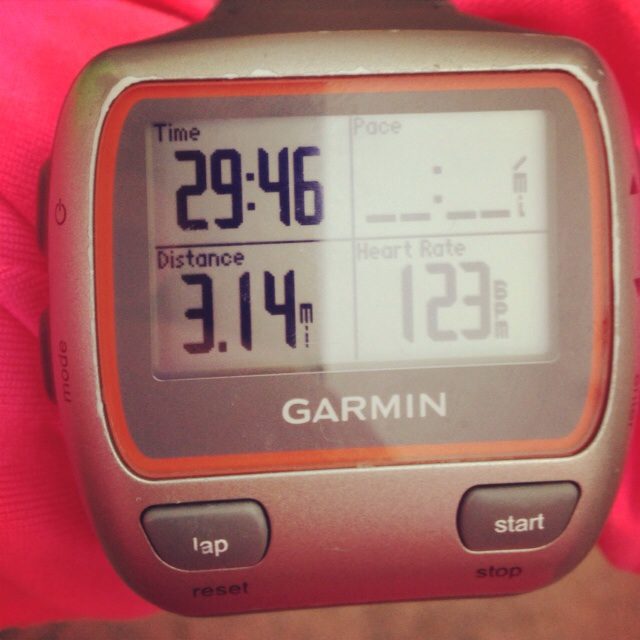 So this post is titled, "A Tale of Two 5ks" …what the heck am I talking about?
Well, as I was driving home, I thought about my first 5k, on the triathlon journey. October of 2010.
That race was SO very hard. I sounded like a serious freight train, just like today. The effort was almost identical. Both races I thought I might die by the end.
But three and a half years later… the same distance race was 10 minutes faster.  I haven't trained for 5ks…I haven't been doing much speedwork (at all), but just plain, ole general fitness (well, and a big ole side of Ironman, I suppose)… but my point being, is that sometimes I forget just how much fitness and 5ks milestones truly matter.
And short. Wow, it's so nice to be home by 9:30, in time to monkey with the kiddos.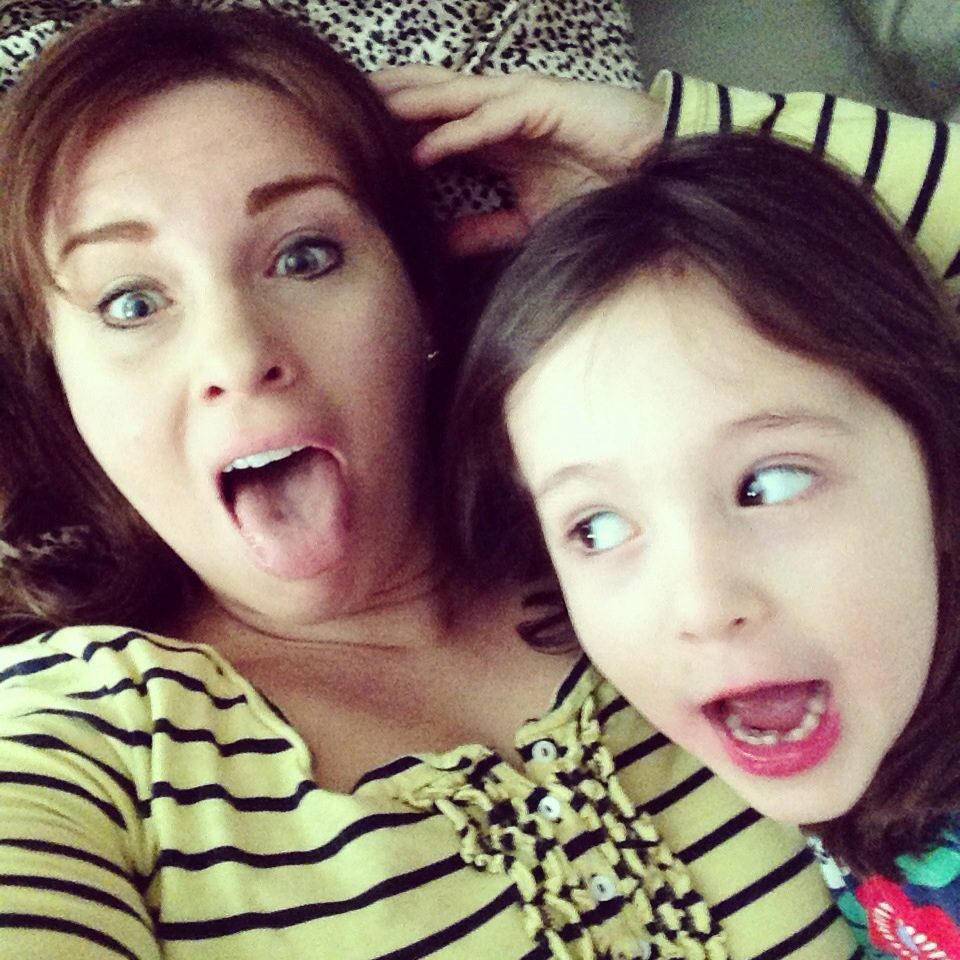 I am proud of a second sub-30! Average pace of 9:38 per mile.  Now, don't get me wrong – I could not have gone another 20 feet at that clip. Still–I hope that I never see the other side of  30 minutes, although with some of the courses I have seen in Atlanta, I  am sure I will.  It really is fun to grow and get faster and see the progress… even if the scale or the dark sides of my brain don't see it. Race results never lie.
Happy weekend my friends.  Tomorrow, Andie makes her first outside ride debut. Yay!