Sponsored post. All opinions are my own. FTC Disclosure here.
The folks at AudioFlood.com asked if they could send me a waterproof iPod shuffle and buds to review.  Yes! I was stoked.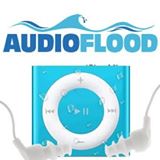 But I didn't forget my friends either–I asked them for an extra to giveaway to one lucky ducky SBM Army member.
Wahooooo!  So here we go.  Review first, giveaway second.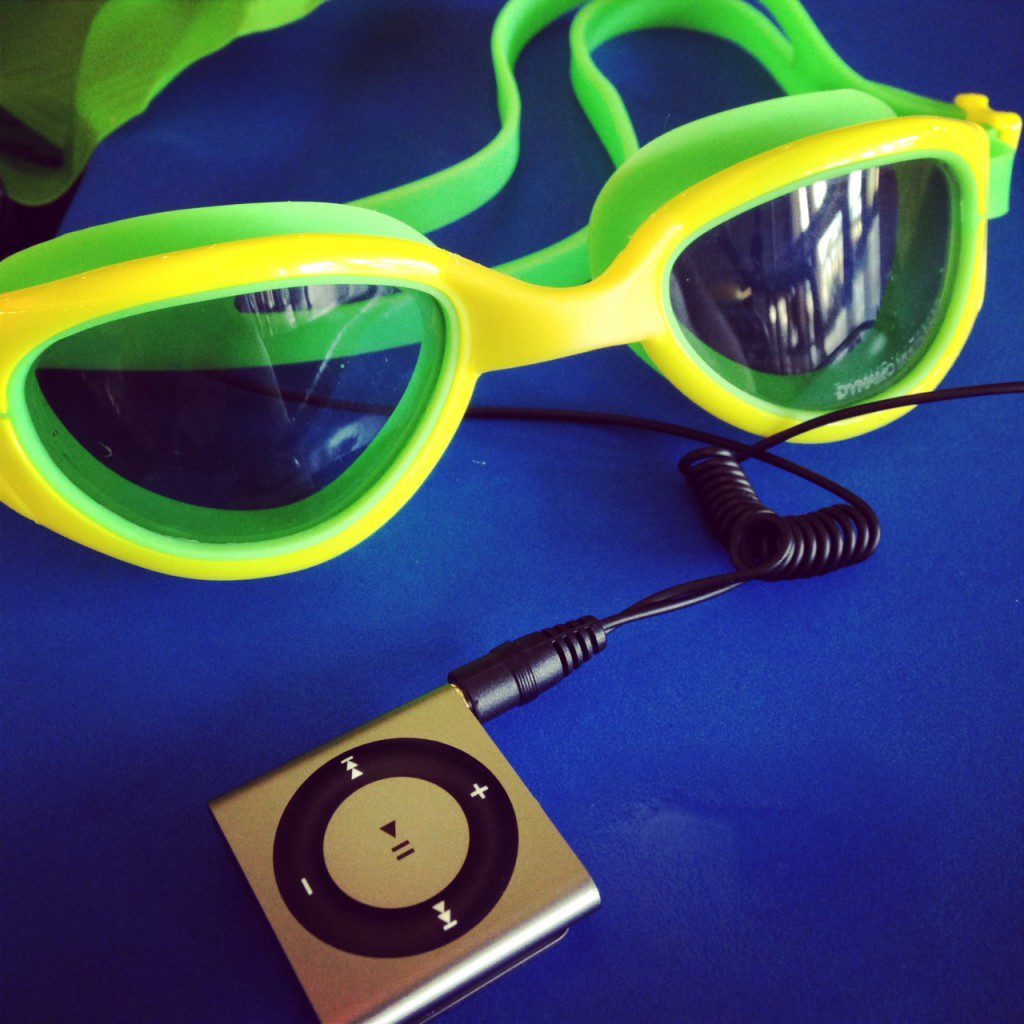 Swimming With Tunes
I started swimming with music during Ironman training.  I have tried several audio systems: one which was a waterproof case for my iPod.  That one scared me to death. If the case leaked, then what? Oh, that's right… my iPod was ruined. I used it once or twice, and then I threw it in the back of the tri closet. (What? You don't have a tri closet?  Oh. Well, it's actually the coat closet. But we put our tri stuff in it.)
The second swimming music system I used was Finis SwimP3.  I liked it okay, but the left jawbone piece started buzzing after 5-6 swims–to the point where I had to clip it on the back of my head so I couldn't hear the buzzing.  Not cool.
But I love swimming with music, so my quest continued.  When AudioFlood approached me, I was stoked. I had seen a few folks at the pool with the waterproof iPod shuffle, and I "needed" to try it!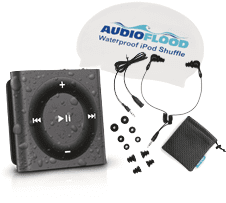 Not Just for The Pool
Yes, this puppy is waterproof and you can swim with it.
But you can also SWEAT on it–so this is an iPod for all the hot, sticky, sweaty activities. I am about to ruin my iPhone from all the running and sweating–so this is an excellent everyday music system alternative.
What I Think
Setup is a piece of cake. Unlike the Finis system (where seriously have to convert your audio files to a new type), you just plug this baby into iTunes and handle as usual. Charges via your computer, syncs like any other Apple product.
Easily clips onto goggle strap.
This waterproof iPod is an ear bud system. I was skeptical. Me and ear buds do not, historically, mix.  But this system came with about five pairs of buds to try – different sizes and shapes (oh, and the folks at AudioFlood will work with you until you get ones that do work).
I have swam (swum? 🙂 ) with the iPod for three swims now.  The first set of buds did not work for me, and I had to stop and fix them every so often. Still, was able to enjoy music under the cap.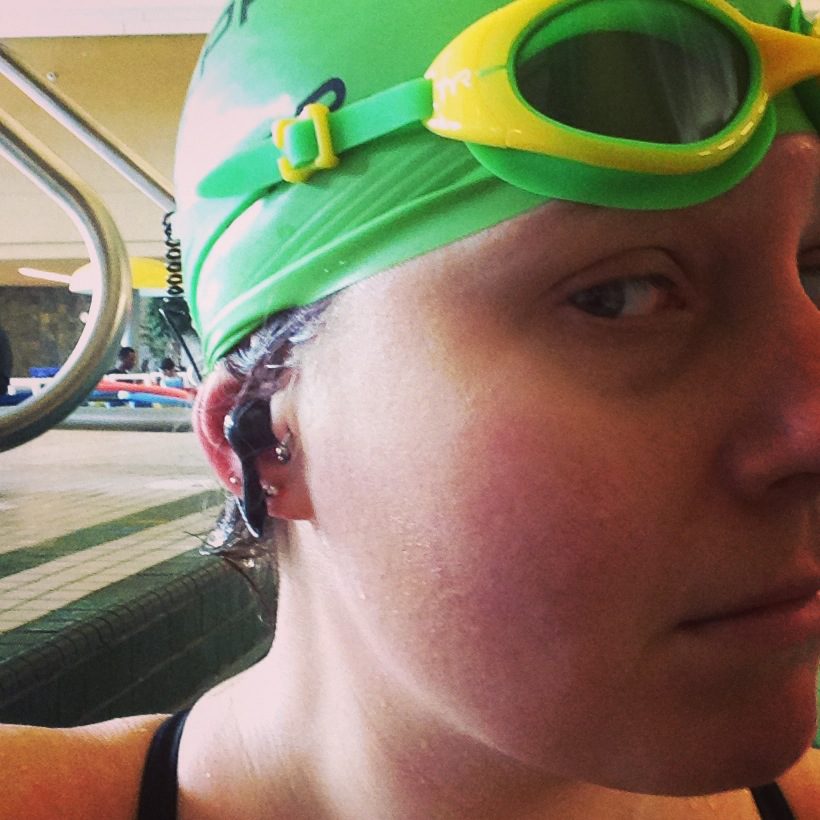 The different set of bud during the next swim were good, but I still did not achieve a full swim with no issues.
But this morning, (buds #3) were perfect.  I achieved an excellent "seal" and the right bud stayed in for the entire 2600 meters, with only one slip on the left ear. (I am thinking my left ear might be weird–and for the next one, I will try a smaller bud in the left ear, keeping the same one on the right).
Regardless, with the swim cap over the left bud, I was able to keep it in place.
Soooooo…. for someone who usually can't "do" buds, I was very impressed.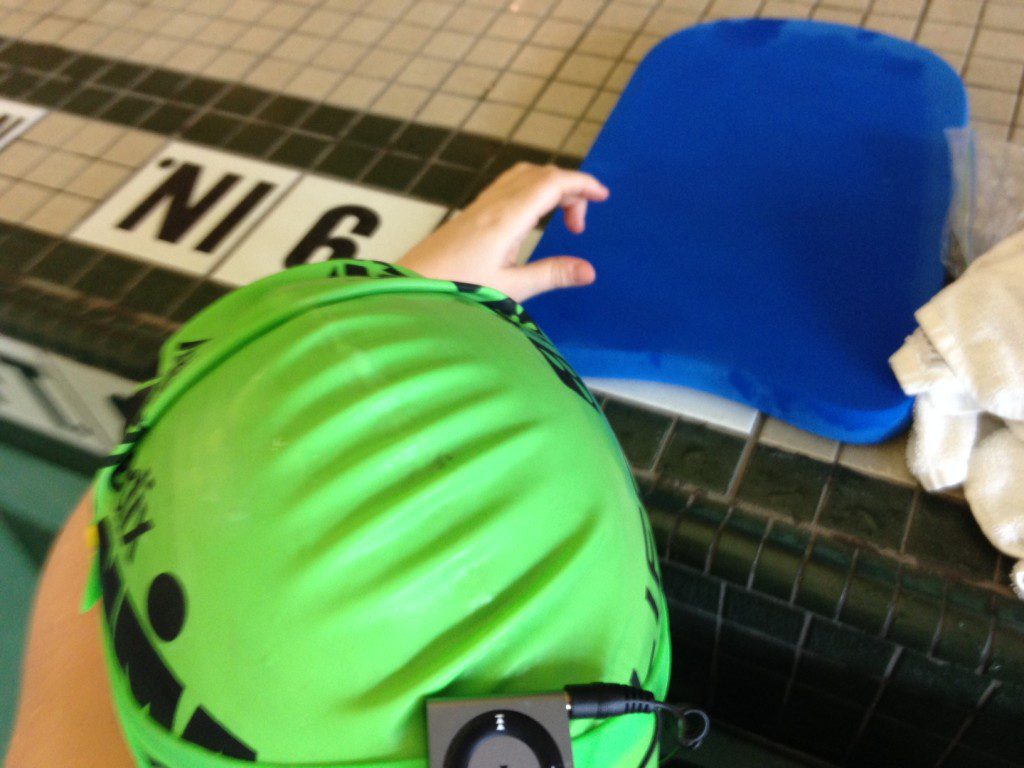 The Sound?
Amazing. Same sound you'd expect from the iPod–just loving you up while you swim.
The Grade
Solid A.  The sound is amazing.  The service from AudioFlood was amazing. They had a real interest in making sure I was happy with the product and the buds.  If you haven't tried swimming with music, it will blow you away.  Amazing how quickly you'll see 2000, 2500, 3000+ meters tick by when you have some of your favorite tunes to jam.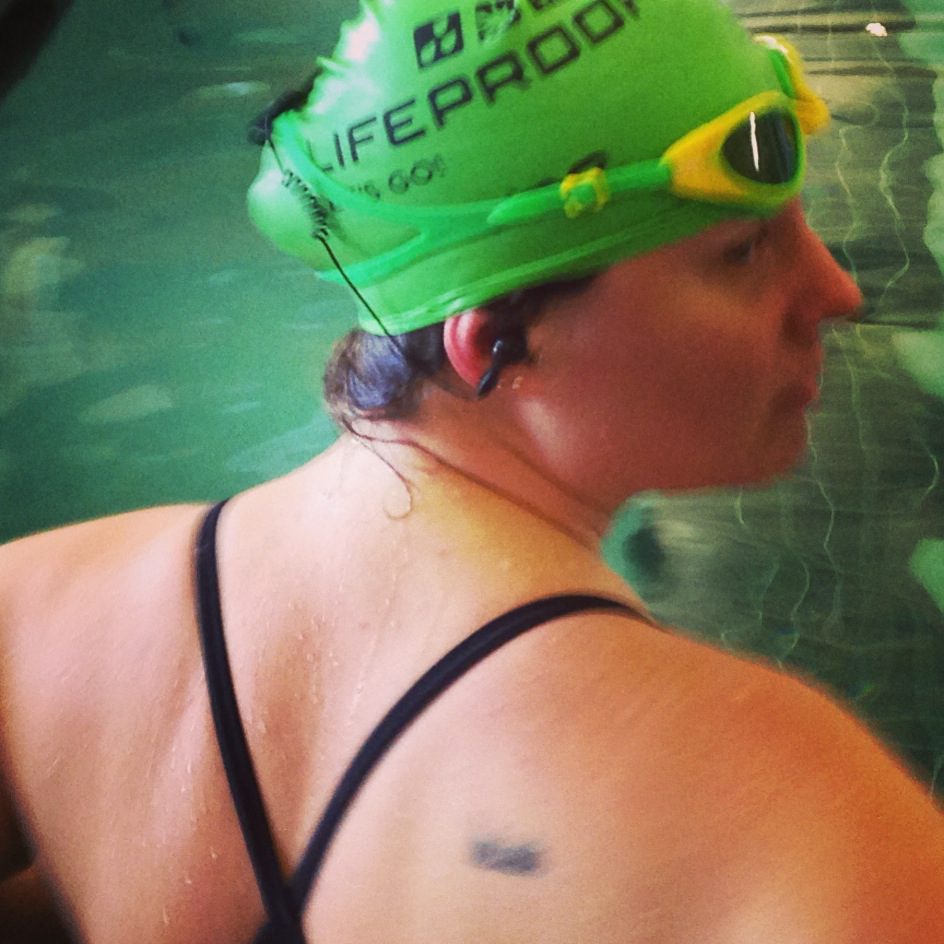 The Playlist
I like to swim with slower, singer-songwriter stuff.  I like to run with Eminem and hip-hop.  Just for fun, here's a sampling of what was in my water today. 🙂  A 'lil nod.
Let Her Go – Passenger
Wings – Birdy
The Space Between – Dave Matthews
Parachute – Ingrid Michaelson
I'm Yours – Jason Mraz
Say Something – A Great Big World
Volcano – Damian Rice
You Found Me – The Fray
My Skin – Natalie Merchant
At My Most Beautiful – REM
Battle – Colbie Caillat
FM Radio – Joshua James
Orange Sky – Alexi Murdoch
Sometimes the Sky – Charlie Mars
Falling Awake – Gary Jules
Summer is Over – Jon McLaughlin
Possession – Sarah McLachlan
Where to Buy
You can get the waterproof iPod at AudioFlood.com, for $125, or the bundle (which includes headphones) for $140.
The Giveaway
Click on the giveaway below. Winner will be displayed on the widget and contacted via email, so make sure your email is correct.  You can tweet about the giveaway daily–gaining more entries!
Enter now!
a Rafflecopter giveaway
* * *
SBM News You Can Use
Registration for March's Swim Bike Food ends on the 28th! Don't miss out on changing your relationship with food… it's a great thing.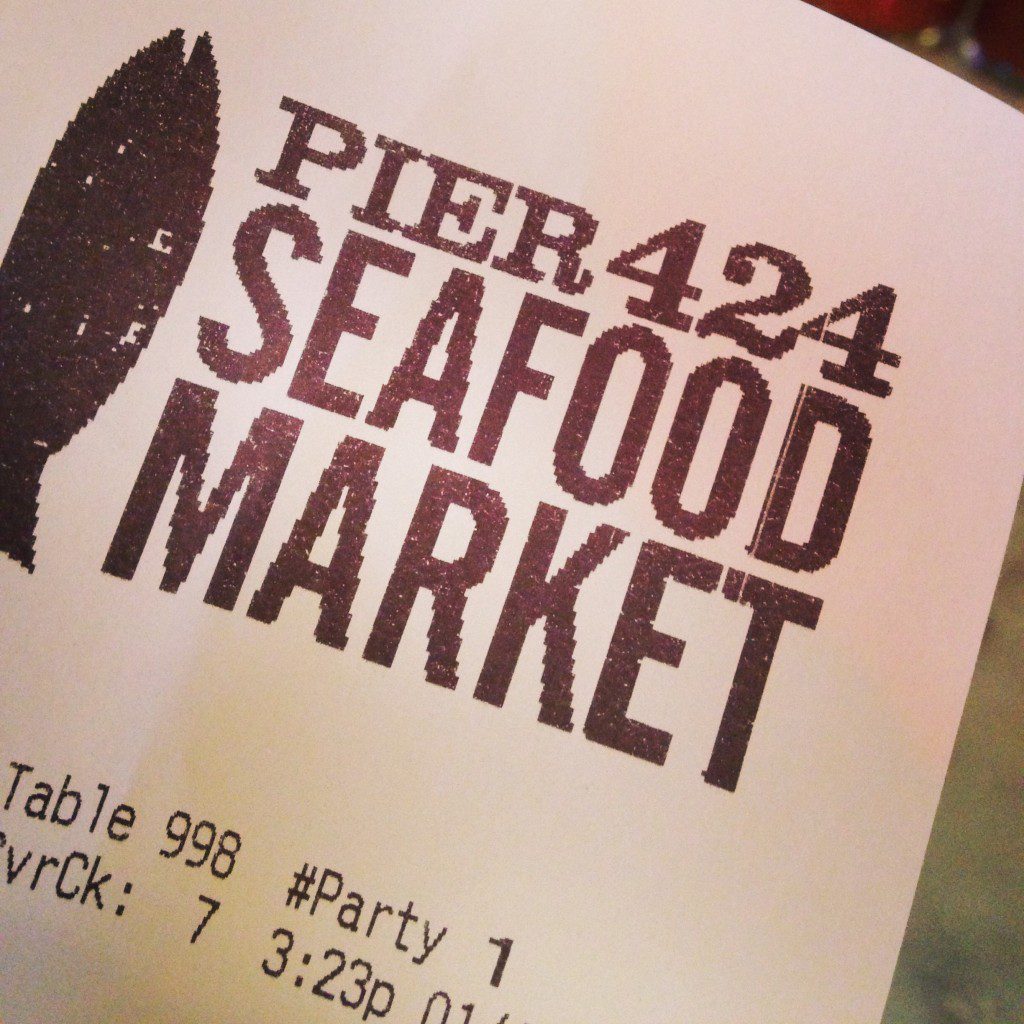 These super cute, super soft 2014 Tech Shirts are available to ship now!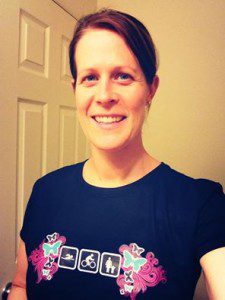 Finally, don't forget to check out the newest venture, Swim Bike Train powered by PTS Sports. Training Plans and online support for your sprint, Oly and Half Iron races!