Oh, the South is a joke.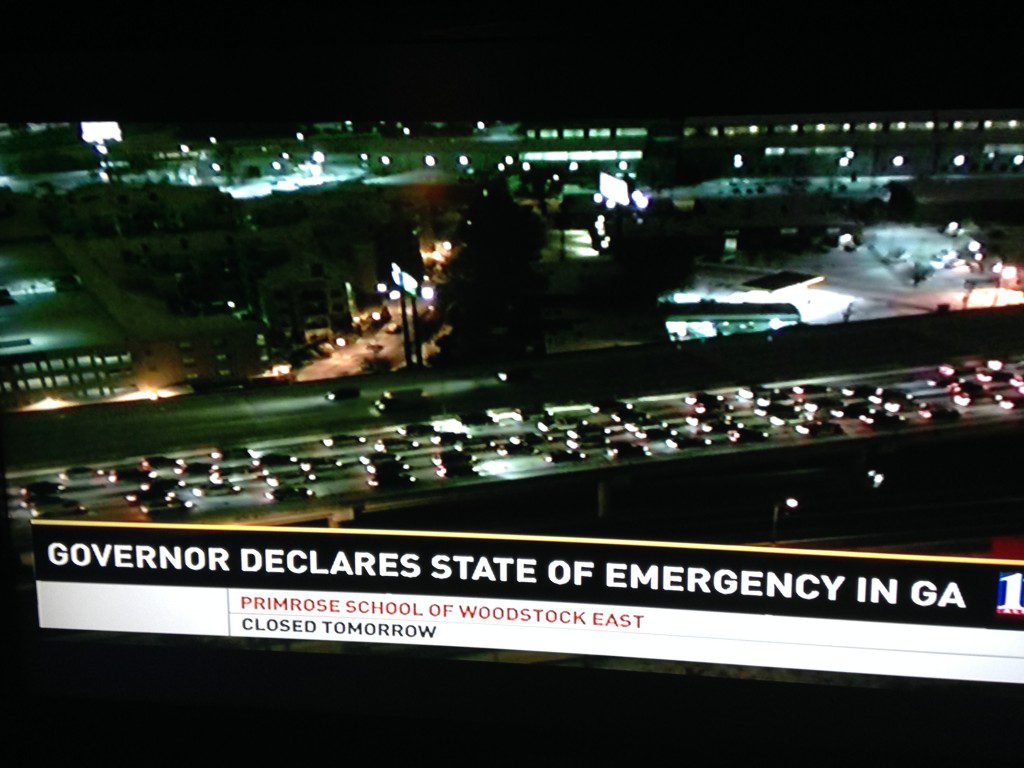 News… we are.  For reasons out of our control.
*Do NOT base you opinions on the pictures in this post. Because it looks easy. Read. Don't judge. It's 1:00am, and kids are still in BUSES.*
Jokes. Well, not the individuals who live here. Not the kids who were (are still) stuck on the buses. Not the parents breaking their fists across the steering wheel, just praying the kids would be okay. Trying to get home.  5, 6, 7, 10+ hours in the car… just trying to get home.
The snow in Atlanta was not funny.  Because for those of you who don't know, there's like 6 million people in Atlanta, and today… everyone left at the same time.  To get their kids, to get home, to avoid the ice.
And I have never seen anything like it.
I work 7 miles from home. (A miracle in itself, considering I used to be 33 miles each way).
I left the office at 12:11pm. 
Between 12:11pm and 2:00, I was rear-ended in the car. Sitting still.  Wha-pam! Smack!
Whiplash.
I picked up my kids at 3:00. I drove 200 yards to them. And it took me an incredible amount of time.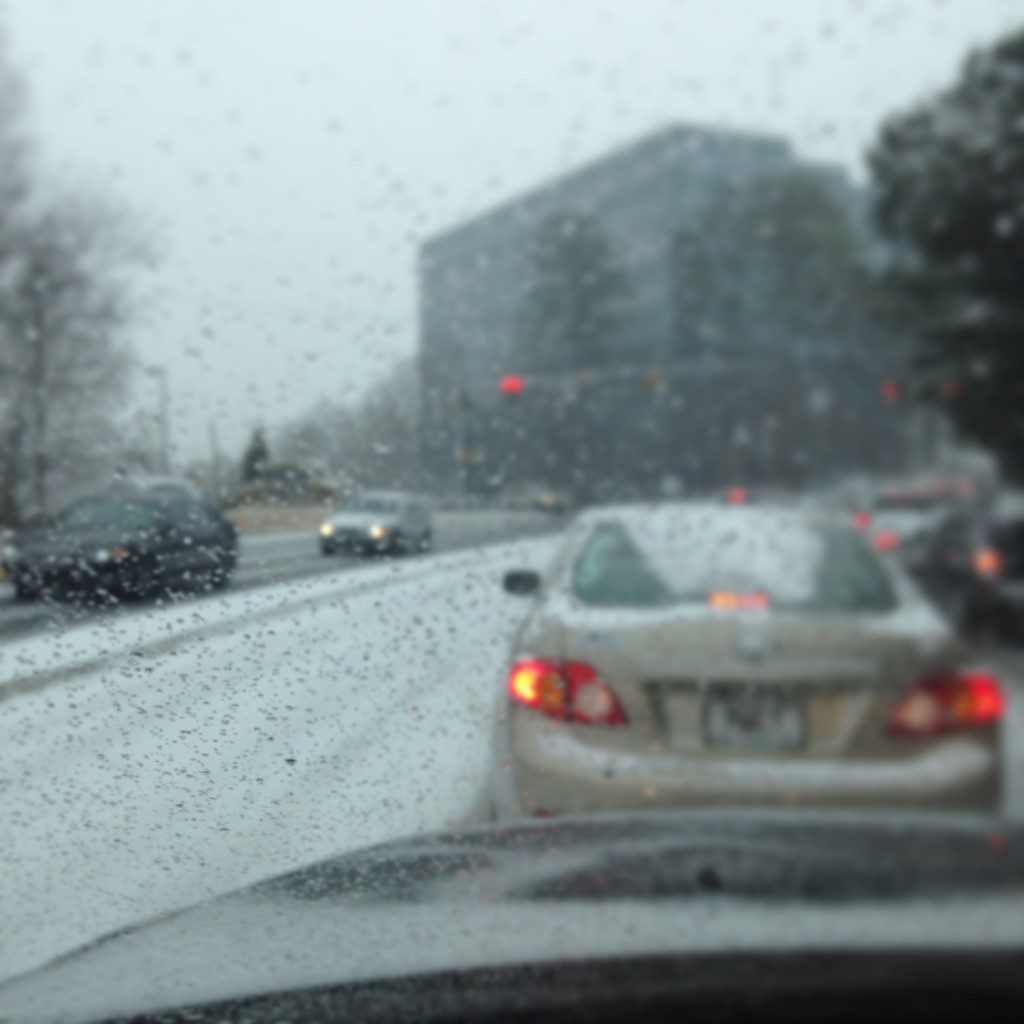 "Well why didn't you get out of the car and walk???!" you ask.  (Well, that makes you stupid. You can't abandon a vehicle and expect 5 and 6 year old kids to walk in snow with sneakers for 5 miles. Idiots.)
I made it to the kids (with the car), who were super excited about the snow. Silly kiddos. "Yay snow!" So let them enjoy it for like, oh, 20 seconds before I hearded them into the car.
At 4:25pm, after moving 45 feet, I pulled over and made the kids put on socks and spare shoes.
I said, "We're walking."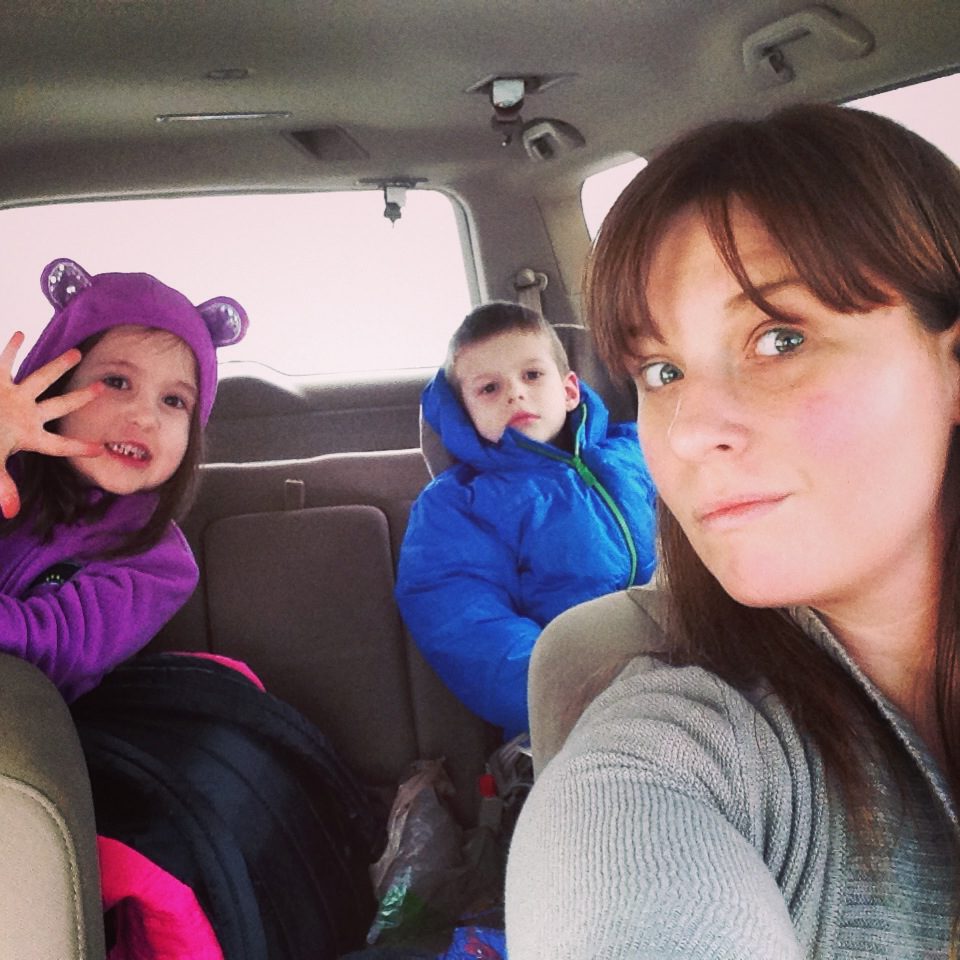 I stepped out of the car, and the snow blast and chill (22 degrees) hit me.  I had on a thin shirt and a cardigan.  (We don't know how to dress in this weather, either. We take for granted that we won't need to trek 3-4 miles home.)
I looked at the kids. They had fluffy jackets and hoodies. They'd be okay.
I looked at my cardigan.  If I pass out from hypothermia in this 2 mile walk, these kids have nothing. I would freeze in what I was wearing (thinking of my coat, draped over my office chair. Stupid.)
"Back into the car!" I screamed.
"Whyyyy," James whined.
"Do you not see this snow?"  I cried out.
"Whoooo! Snow!" said Stella.
Gawrsh.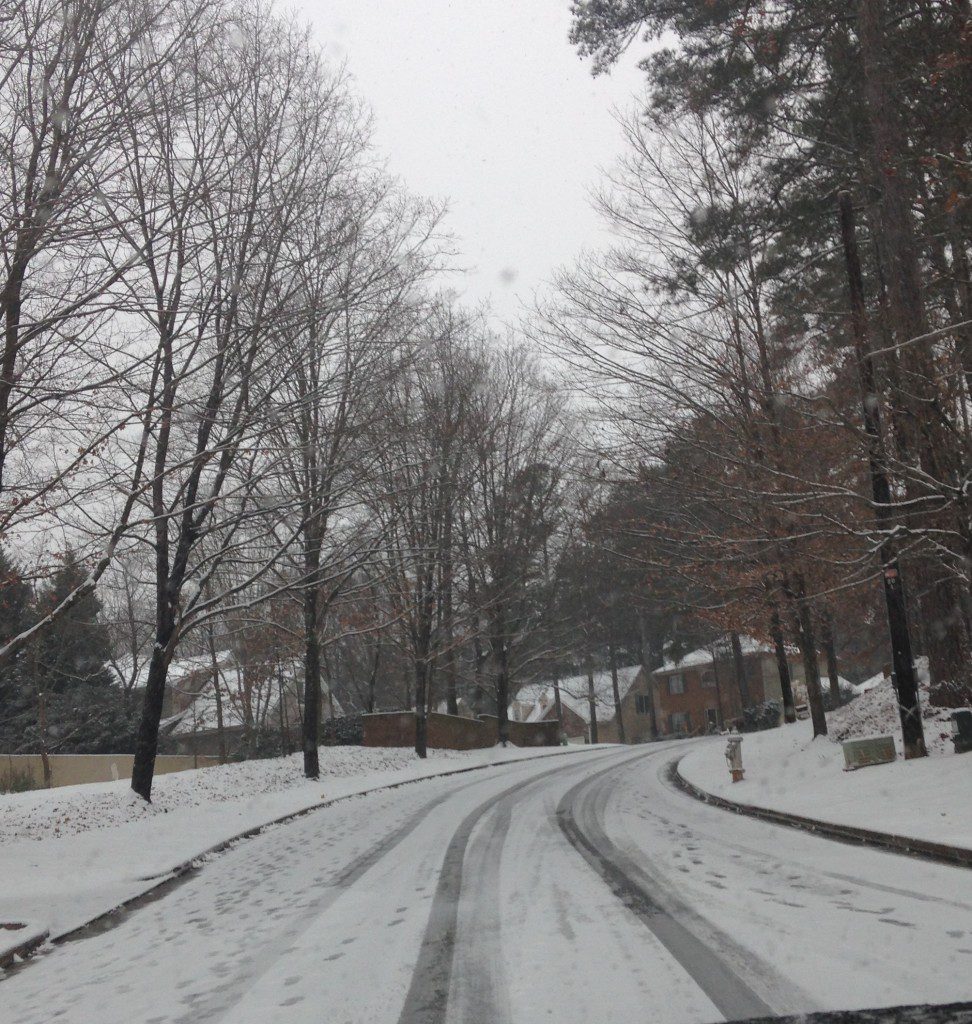 It may seem stupid. But as I spun out on a hill, with two very young kiddos in the car, it's not stupid. I had doubts that I could get home.  The drivetrain (from the rear-end hit, I guess) on the Pilot was puttering like a helicopter. i wasn't sure the car was ok.
As the day rolled on, and as I got closer home, I checked on my people:  Mountain Goat, Coach T-Bone (who had walked 3 miles each way to retrieve his kiddos from school), Yoda, the Coach Formerly-Known-as-Monster (who was in-process of walking 4 miles as I spoke with him)… everyone I could think of.
Are you okay… text after text, call after call.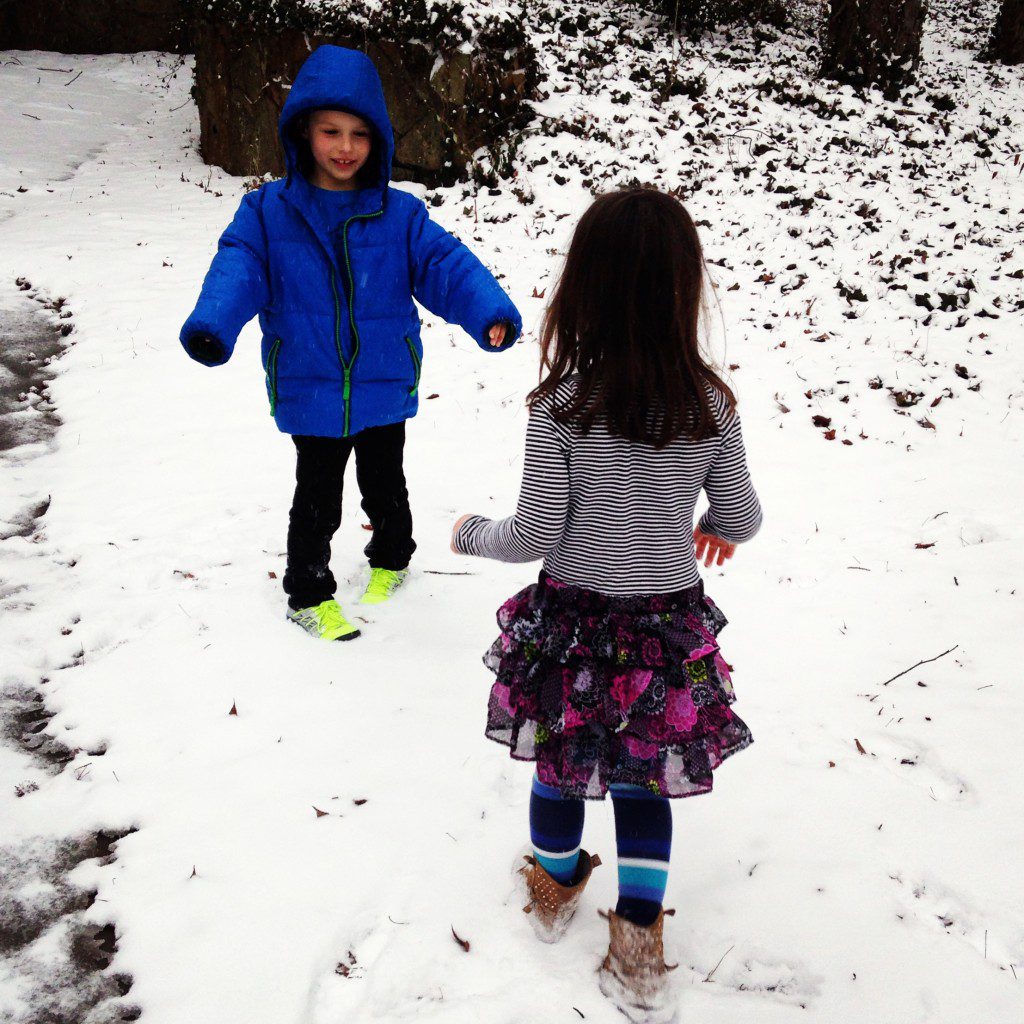 Everyone was there.  But I watched the news. And so many weren't even home yet.
We got home, and the kids are like, "Let play in the snow!"
I looked, horrified, and them, and I said, "Really!??!"
And they said, "Will it be here tomorrow?" I nodded.
They said, "Oh good. Let's go inside," obviously tired too.
There it was… 5.5 hours later, we pulled into the driveway.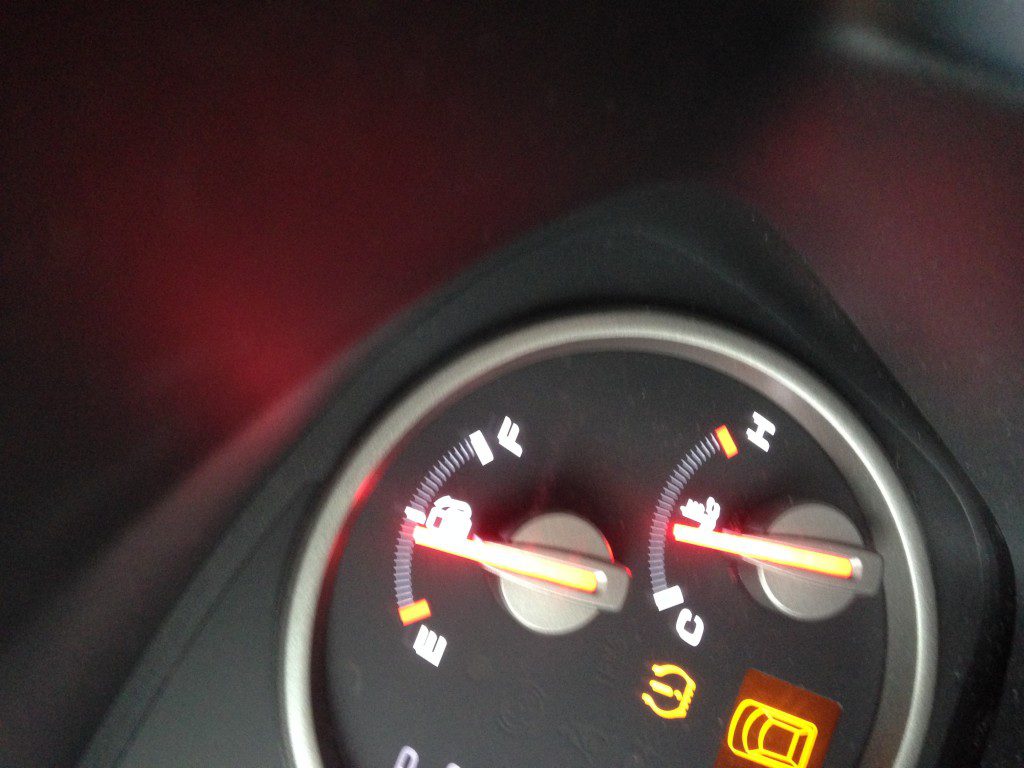 6.5 hours later, the Expert rolled in.
Now that it's 1:00 am, and the Expert has settled into the house (he went on a Good Samaratian Mission walk to the neighborhood, saving many people and school buses… I'm not kidding),  and reported that "so many people are still walking home" — I am blown away at how incredibly stupid this incident was.
Atlanta was unleashed….upon Atlanta.
Everyone delayed the school closings.
Therefore, the businesses didn't close. And when they realized, "oh shit, we have a serious storm here" and unleashed millions onto the roads, it was too late. Unreal.
And as I finish the night with my sleeping kiddos, a full-do-you-proud bottle of YellowTail and a hope of a better tomorrow, I'm just glad that all I have is a busted bike rack, whiplash and a piercing headache.
For it could be much worse. I could still be sitting on 400.
Atlanta. You suck.