Best way to kill your budget? Have kids. Best way to be completely broke?  Add triathlon.
You following? Okay, if not, here's some math for you.
Kids + Triathlon = Broke
Kids
–

Triathlon = Insane.

[E.g.,  it's better to be broke, than insane.]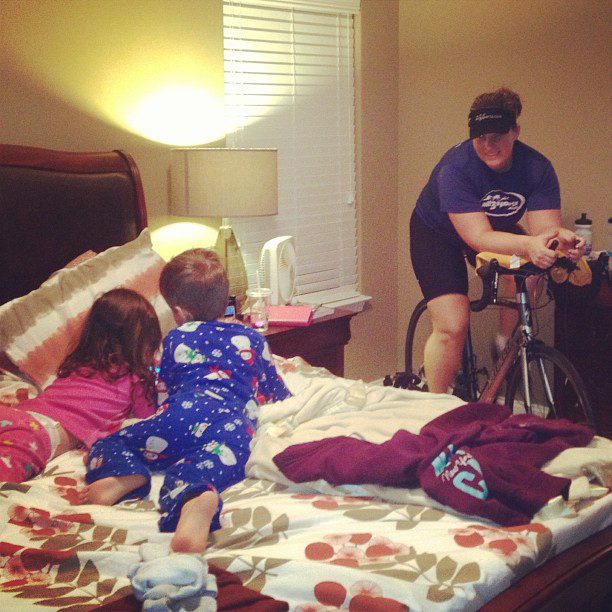 Kids are so, so, so expensive. Understatement of the century.  When people start thinking about having babies, they grossly (and I mean, grossly) underestimate the costs of kid.  And even more so, the costs of kids. (Plural).
Triathlon is so, so, so expensive. OMG.  What are we doing here people? Having babies and doing triathlon!? Dave Ramsay! Where are you!? We need a new money makeover… stat.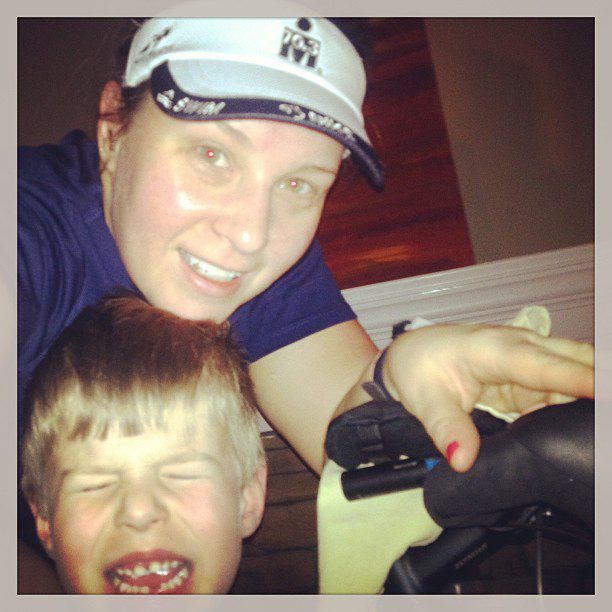 Children
Okay, for my childless friends.  "Wah wah," you say, "YOU chose to have kids. Stop complaining."  Not complaining, just educating my young married childless couple friend out there.
Alright. Just the baby gear alone is a small home equity line of credit.  But …before the baby gear comes the whole new hideous wardrobe of stretchy pants, odd shaped underpants, weird bras, and wider shoes that you must buy for pregnancy. God help you if you need to actually work while pregnant.  Oh hell yes!  Pregnancy suits are so flattering. And cheap. Pfft.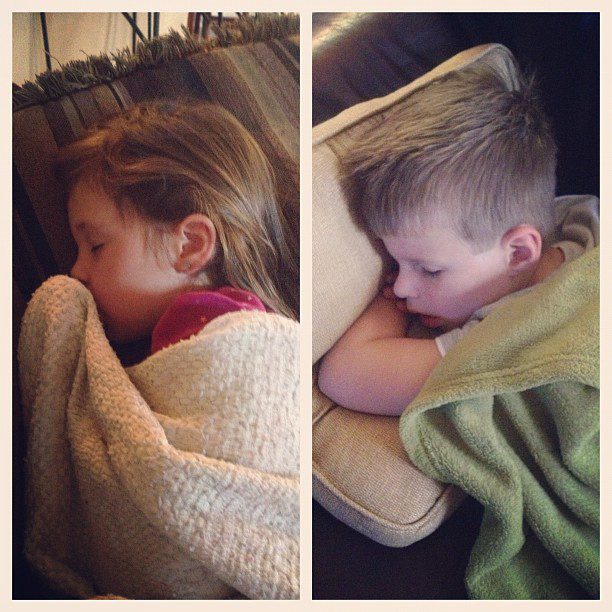 After the little alien(s) arrive, the gear. Crib, bedding, stroller, carseat(s), highchair, humidifiers, swing, bouncy, Boppy, tubby, breastpump (!), formula (another kudos for breastfeeding – at least you'd save money here), diapers (!), nursing bras, the teeny tiny collegiate onesies, Elmo-then Barney-then Dora products, DVDs (oh, the car DVD player if you're not already sporting the Escalade), stickers, crayons, paper, hats, plastic forks, trays, sippy cups, diaper bag, bottles, changing table, rocker, burp pads, rug, nursery decor, and most likely a large humiliating new vehicle, etc. etc.
And then childcare!?  Holy mother of monkeys.  Childcare! I had no idea that it costs more than a house. It does. Really.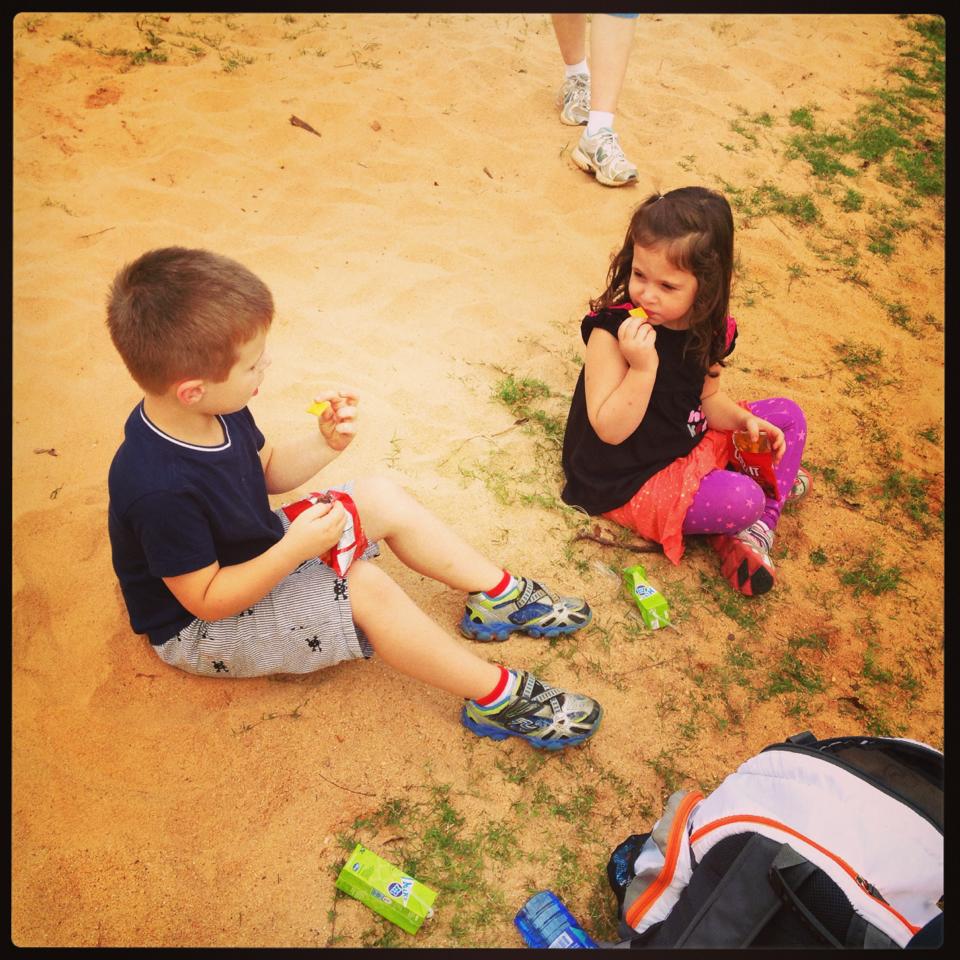 Just wait until the kids are preschool age.  Another bazillion dollars, per child to go to "school" where they fingerpaint and pick noses. Plus the ridiculous projects the school assigns: Bring in $5 for pizza day!  Bring in $25 gift card for your teacher! Bring in an "appetizer" to share!  [The appetizer, hands down, is my favorite – "appetizer" for a two year old's Christmas party.  Slap me. Please.]
Most likely, if you and your partner have been a fabulous single couple – meaning you have a nice car, a snazzy apartment in the city, and other finer things  – say hello to the cost for a new suburban house, an ugly big ole car and monthly storage fees (for all your bear skin rugs and Italian leather things that will become sticky once a child arrives.)
Speaking of sticky.  Kids are sticky.  And childbirth, hurts. Dammmmn.
Triathlon
The cost of triathlon is insanity. "Cheap triathlon" is an oxymoron. But save a dollar and lose your mind, the Expert always says.  I mean, just the general cost of triathlon, if you buy retail, is going to be insane. (Yes, smarty pants people out there, you say, "But Swim Bike Mom, my wetsuit was only $155."  Congratulations.  This is a summary – and yes, we also have $155 wetsuits at Swim Bike Sell. Don't yell at me about these prices.)
If you have and want to sink some cashola into a "hobby," you have chosen the right money pit. You will be surprised how quickly you will justify the extravagant expenditures for the sake of health, when really, you just want the shiny new Shimano shoes and Pearl Izumi arm warmers (in the summer). But I justify blowing cash for the benefit of my triathlon lifestyle because…well, it's for my health.
(Oh, but you can use code "SBM14" at All3Sports.com for 10% off now. That helps.)
Swim: one-piece tank swimsuit ($65); goggles, 2 pair ($50); swim caps ($20); wetsuit ($250); TriSlide ($12); kickboard ($30); fins ($50); paddles ($40); swim mesh bag ($20); hair care for swimming ($40); Bike: bike ($1000-$15,000) and saddle ($200); new helmet ($100); cycling shoes ($200); pedals ($100); water bottles ($15); rear bottle cage/hydration system ($40-150); bike bento box ($25); access to a gym with a cycling class ($75 a month); gloves ($30); winter gloves ($50); chamois (padded) shorts ($90-200); pump ($50); tubes, C02 cartridges ($40); sunglasses ($100); bicycle trainer ($250-450); cycling jersey(s) ($90-200); arm warmers ($30); arm coolers ($30); shoe covers ($30); cycling tights ($60); outer layer jacket ($100); CompuTrainer ($1200); power meter ($600-1600);  Run: sports bras ($100); two pairs of excellent shoes and many pairs of excellent socks ($200); GPS heart rate monitor ($400); wicking running shirts ($150); several pairs of running shorts ($150); running capris ($50); warm-up pants ($60); compression socks/sleeves ($60); visor ($25); Fuel Belt® ($50); Camelbak® ($75); Race Day: triathlon suit / shorts & top ($150); transition mat ($30); gear bag ($75); Race Entries ($100,000,000)
Speaking of sticky.  Triathlon is also sticky.
And like children, painful.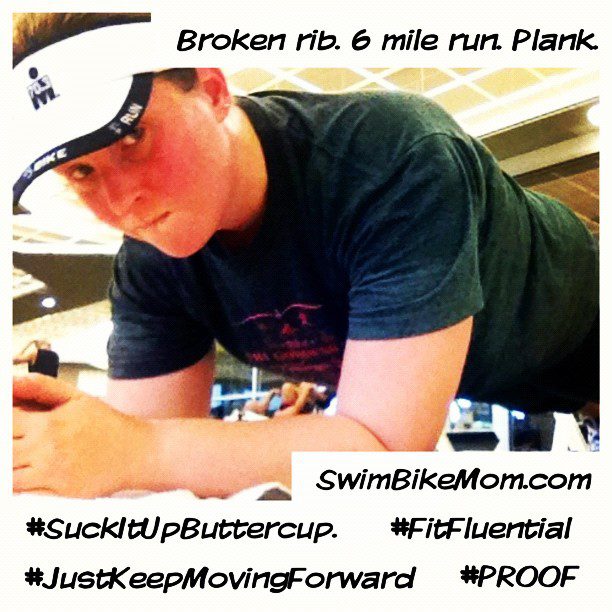 What's the Point?
Well. Are babies in your budget?  Is triathlon in your budget?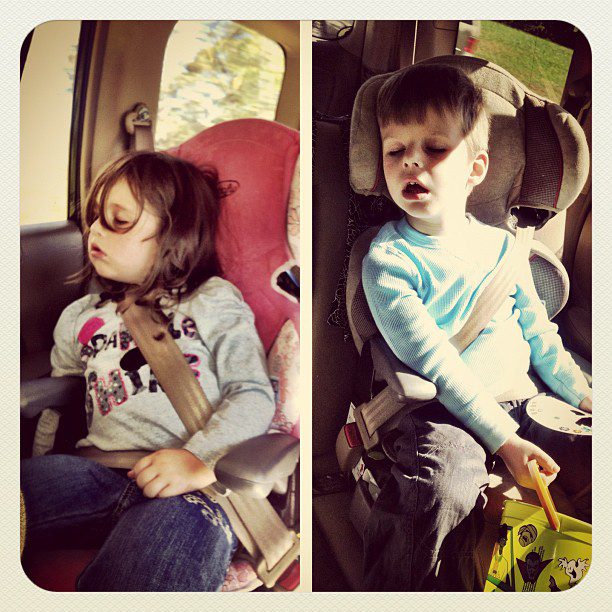 The answer is probably no, and no.
Both are hugely expensive and have a really steep learning curve.  I mean changing a diaper? Changing  a tube? Same thing, really. And equally as dirty if you are inefficient.
The thing is–kids will drive you buck-wild insane. I mean, how many times one must hear, "Mommy mommy mommy" in one hour. Or when they are newborns and all you hear is crying. Insane.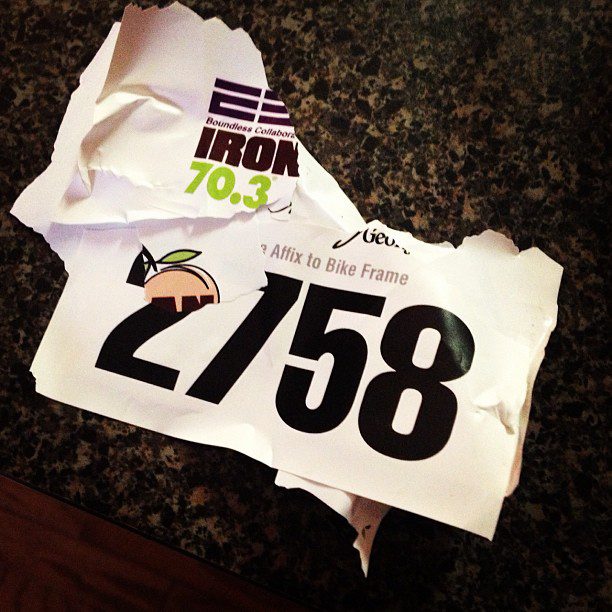 For me, triathlon was a beautiful escape from the chaos–small little snippets where I could escape and do something for me. Too bad triathlon is actually sometimes kinda hard–and really, I just added work for myself.
Neither here nor there.  Okay. So.
Kids and triathlon…. I can say I have  two beautiful components to my life:  my family and triathlon. (Not much else.  Oh yes, my bike.)
Two very different things.  But two things that frustrate the living hell out of me, but keep me moving forward every day.  Running. Children. Nuts.
But once you have children, you realize just how much you need triathlon!  Kids – triathon = insane.  Mommy needs to run.  Now.
And then triathlon helps you show your kiddos just how important it is to be healthy… You lead by example.  You do your best, you show them how to find themselves, their passion and to be healthy… and it's a beautiful thing.
At the end of the day, one really should not hesitate to have a baby OR do a triathlon.
Because both rock.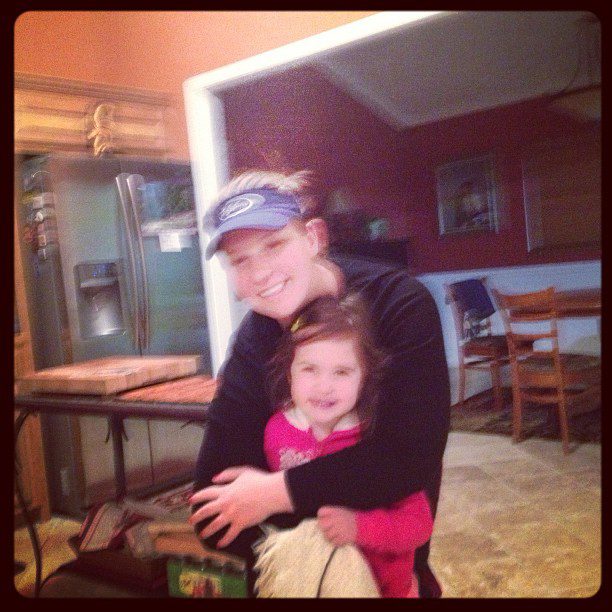 The struggles are there… for both.
But go on, get that kid and the triathlon.
It may not be fun right away, but eventually you'll be glad you did.   🙂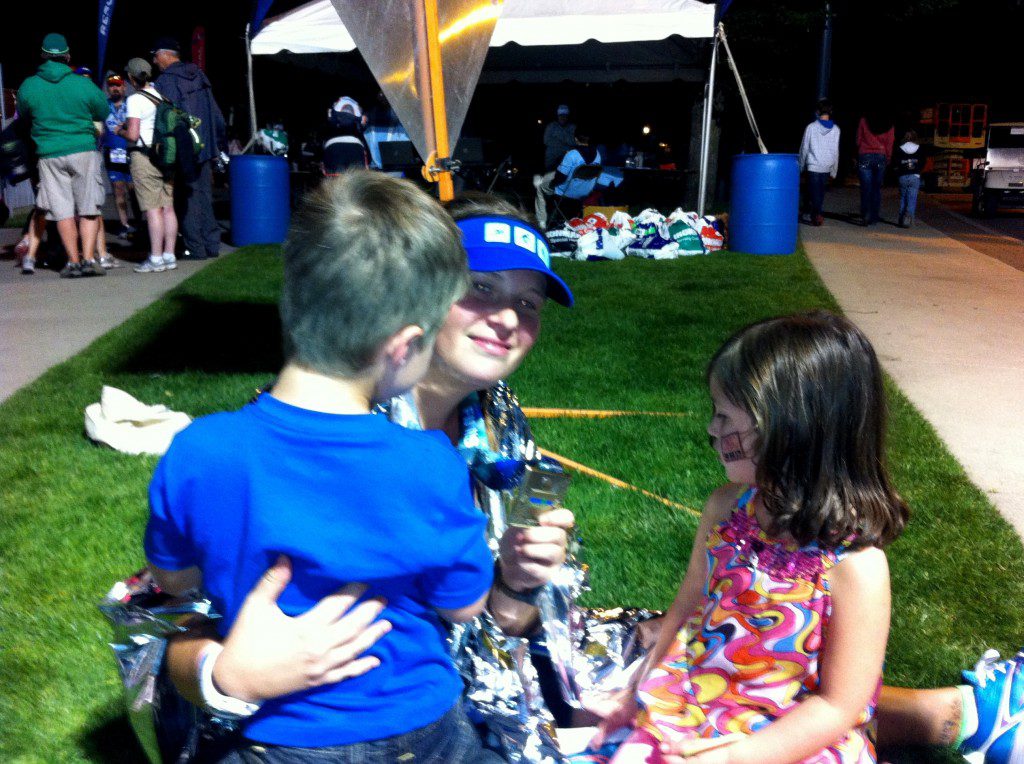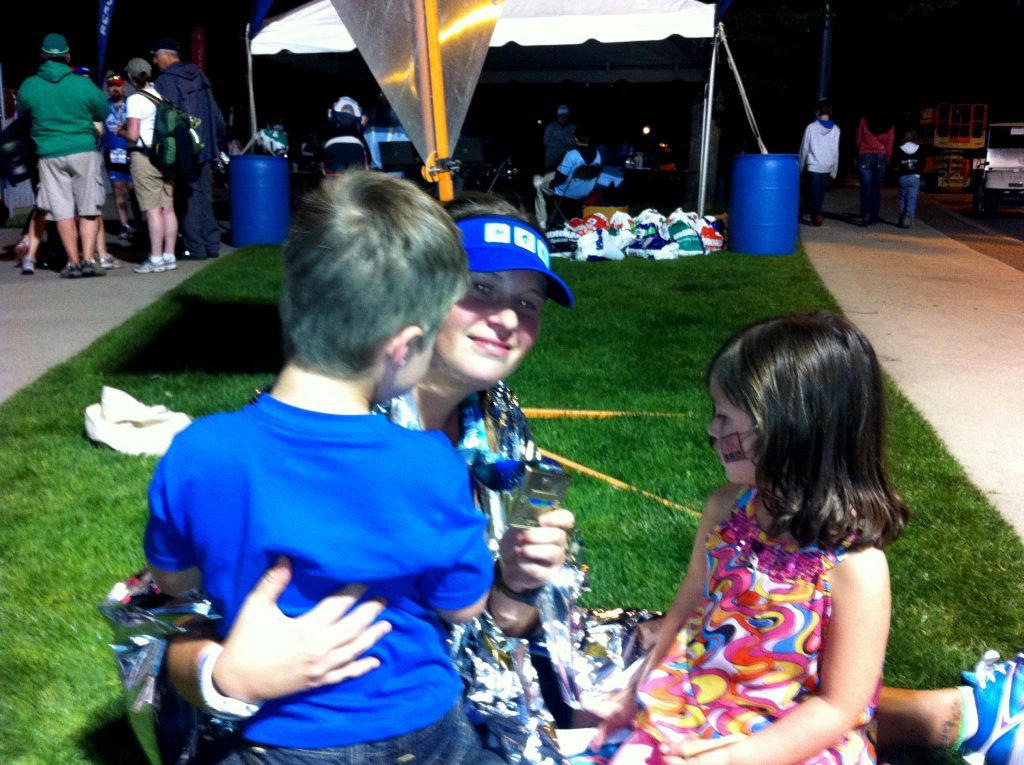 * * * Caveat: This may sound like a negative post.  Not meant to be. Afterall, the two Swim Bike Kids are the best $200,000 (and counting) we've ever spent.  And yes, at that price, they are much nicer than our previous two houses – thanks for asking!
And if you want proof that I really DO love my kids.. listen to my appearance on Dr. Fitness and the Fat Guy… well, that might arguably not help my case. 🙂  They actually give me a really hard time, in retrospect.