Had an amazing indoor cycling class at PTS Sports on Sunday. Wowzers. A two-hour long Queen buster.  (Which I followed up with yoga a few hours later… I was DONE!)
If my ATL area peeps want to join one of the cycling classes, it starts at 8:00 and goes until 10:00 on Sundays in Roswell—and it's FREE until the end of the year. The Expert and I will be there on Sunday, the 15th!  You bring your bike – and they have trainers there.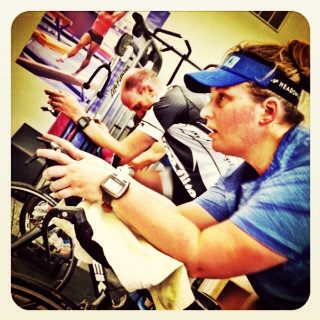 So what's new…
Well, I am feeling amazing and sleeping well since starting the Swim Bike Food challenge eight days ago. Same wonderful side effects that I experienced that last time that I cut out all processed foods and sugar (and wine). Amazing how that happens.  And weight loss is always a nice side effect as well.
I guess I am most surprised by how much better I feel emotionally.  Funny how food really is a drug—it can be the best medicine, or the worst poison. My workouts are great. The inflammation in my joints feels to have decreased. During this crazy time of year, I feel pretty emotionally calm—which is the best blessing of all.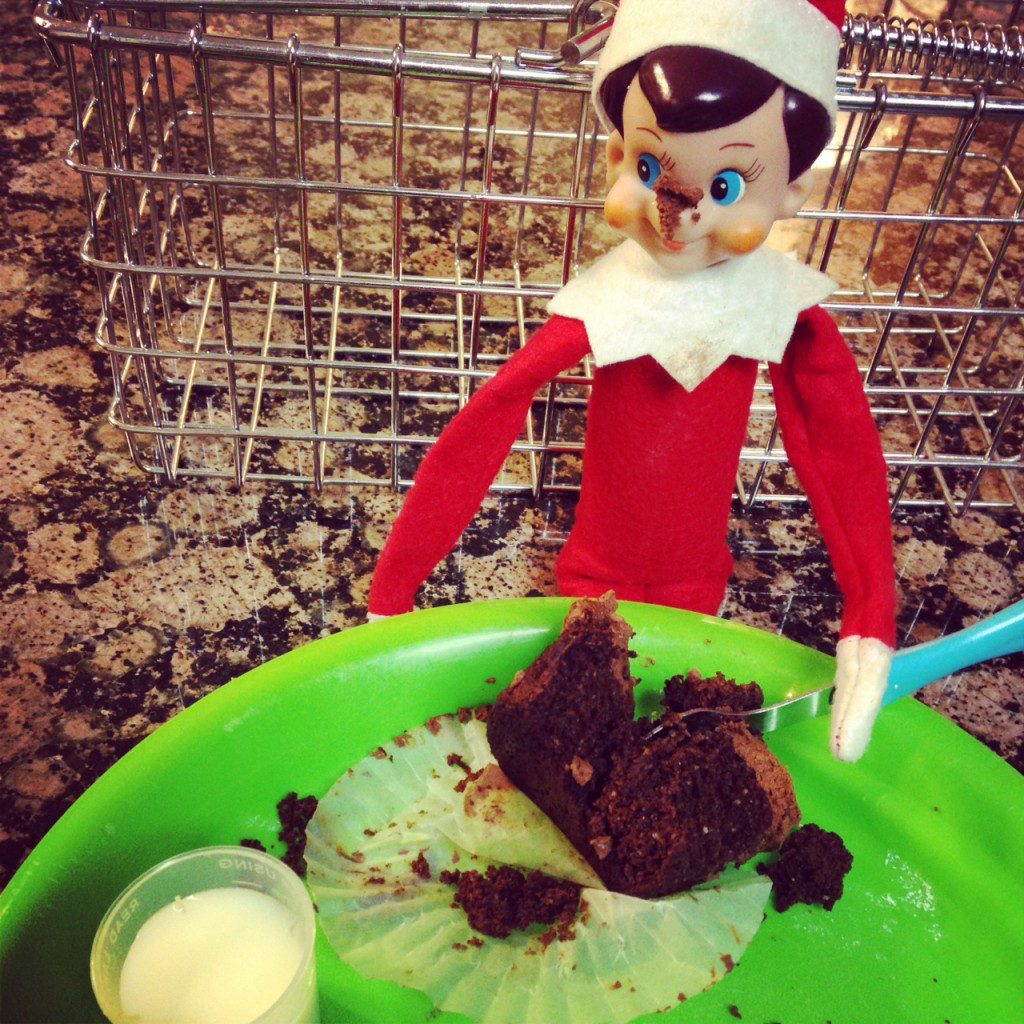 Yesterday, was the Expert's 27th 37th birthday!
I bought him a giant Flintstone steak and made him some paleo cupcakes to celebrate. This was the first birthday that he and I could remember where we didn't ring it in with some crazy, fatty meal and wine.  Now, that steak was crazy, yes… but he ate about 1/3 of it… and saved the rest for 2+ lunches!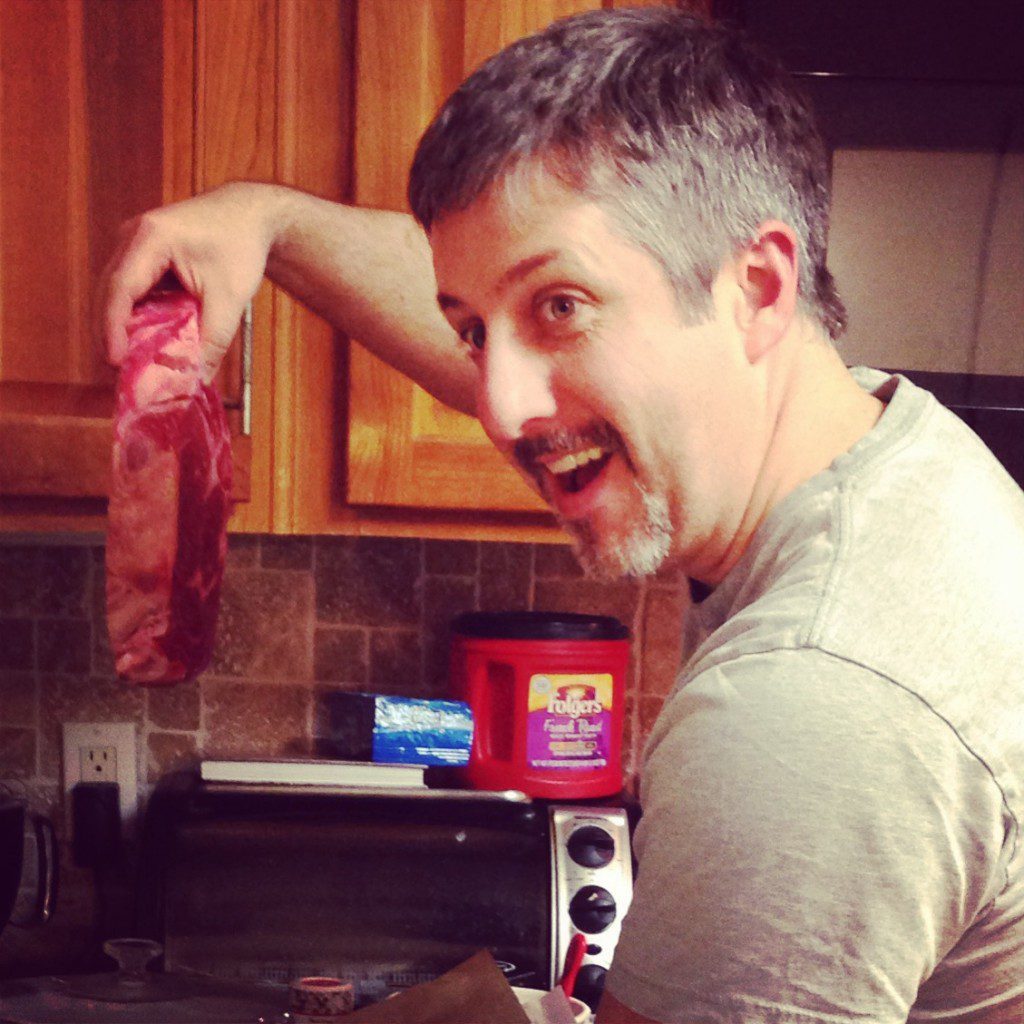 I am working on my relationship with food on a daily basis now. So is the Expert.  I'm down 7.8 pounds today. He's down about 7.  We are both tag-teaming this mission for using food as fuel and nothing more. And I experienced dissecting my first pomegranate this weekend. Man, that was cool!
Okay, so food.  Fuel. Yes. Not a reward. Not a "thing we do to relax at night."
Strange, I know.  Now, I won't pretend to ever have all the answers for getting nutrition and eating under control, that's for sure.  But I know that this is a good thing.  Last night, he and I were all excited to watch "Homeland," which comes on at 9:00.  We looked at each other.
"I'm ready for sleep," I said.
"Me too," he said.
And off we went.  A new theme to our lives: taking care of ourselves and each other.  I'm not sure the two of us have ever been on the same page with this.  It's nice.  I hope we can keep the streak going… FOREVER!  I know we need balance… but our balanced has been heavily weighted towards "fun and food" for way too long. Time to right the balance towards health…
The Friday night Hillary Biscay event was great – and I normally would have had some vodka and snackies.  But I knew I'd have to face my group: the ladies of Swim Bike Food.
The Swim Bike Food group has certainly turned into something much different than I expected.  I would estimate that maybe only 6-8 of us are actually hanging strict compliance with the Whole30 process;  the majority of us are using our own versions (adapting clean eating to how it works best for us); and some are off the wagon, but picking themselves right back up and eating well.  I am learning a lot from the ladies in the group.  And I am learning just how wonderful it is to have this intense accountability.  One of my favorite posts in the group was over the weekend, and went something like this:
"[Our family was roasting marshmallows] —and my son rejected a toasted one, and I held it up to my mouth, thinking about eating it. I put it down knowing that it wasn't worth having to tell [the group] that I ate a marshmallow. It'll take something more than that for me to break my [awesome] streak!"
In our group, we aren't wasting time beating ourselves up for our food mistakes. We are rather admitting them—out loud to the group, most of the time—-getting encouragement and moving on. It's amazing. I love it.
A big theme is: progress, not perfection.  Something that I think we all could use a little more of.  Well, have a great week everyone. Remember to take care of yourselves in this crazy season….
…Oh, I have to share this with you! The Expert and I had the most amazing Salmon Curry this weekend. You may say "eeeeewwwww!" but I'm telling you—-it's amazeballs.  And so pretty, too!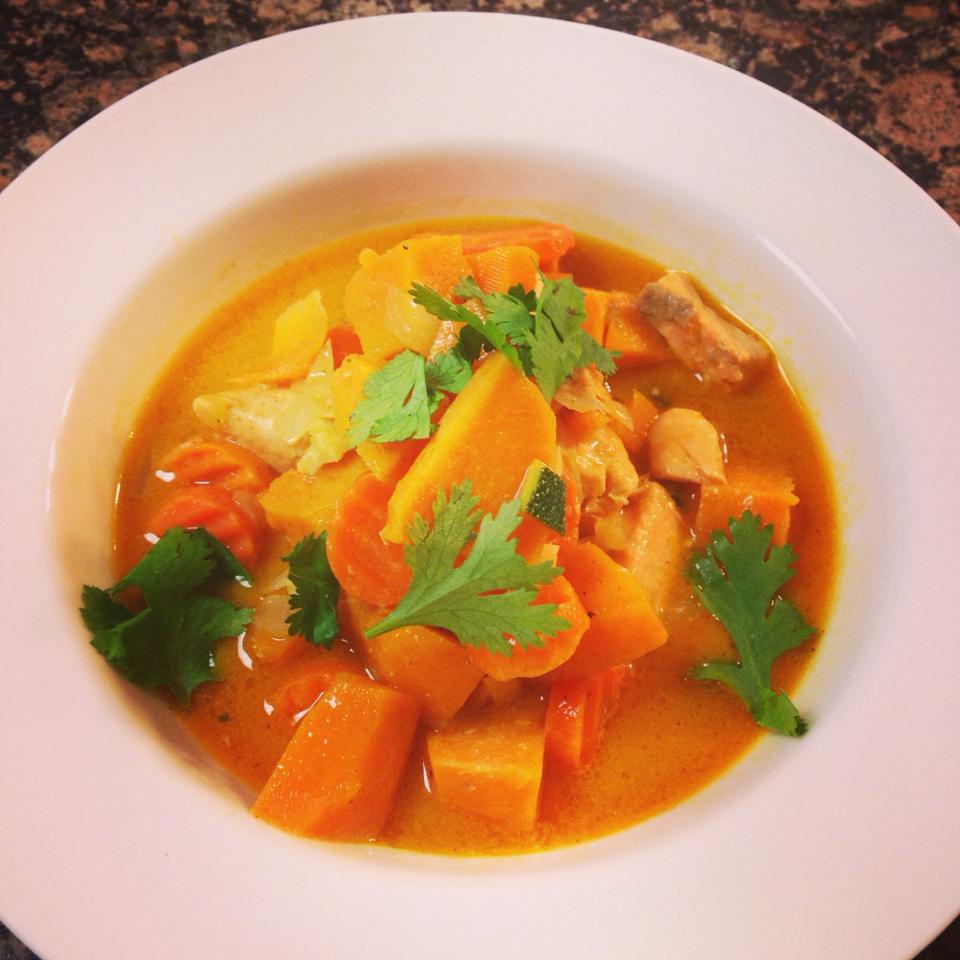 I have adapted this recipe (for full compliance) from the Runner's World Cookbook, and it's here:
Ingredients:
2 teaspoons coconut oil
1 onion, chopped
2 cloves garlic, minced
2 cups vegetable broth
1 can coconut milk
2 sweet potatoes (cubed)
1 zucchini, diced
2 tbsp. tomato paste
1 tbsp. peeled and minced ginger
1 tbsp. curry powder
1 tsp. ground cumin
1/4 tsp. ancho chili pepper (or cayenne)
1/4 tsp. salt
1/4 tsp. pepper
1.5  lbs. salmon (skinless), cubed
2 cups frozen crinkle carrots
Juice of 1 lime
Fresh cilantro
Directions:
Heat oil. Add onions and garlic. Cook for 2 minutes.
Add broth, coconut milk, sweet potatoes, tomato paste, ginger and spices.
Bring to boil. Reduce and simmer 20 minutes. Add salmon. Simmer for 4 minutes.
Add carrots and lime juice and simmer for 3 minutes or until heated. Garnish with cilantro.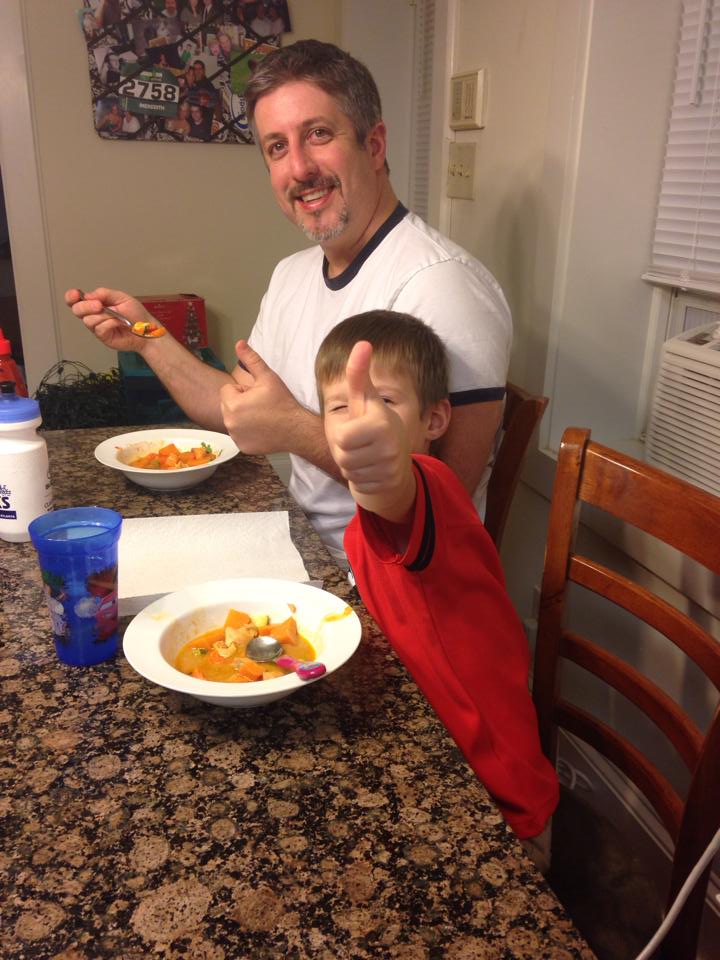 (And the kids ate it!) You may say, "My kids would never eat that!"  But let them taste the sweet broth first… while you are cooking…. that's what hooked ours! 🙂