Yoga this morning.  Unlike my usual days at yoga, I was restless.  Couldn't stop fidgeting. Was struggling with being in the moment, with meeting myself where I am.
I had a long chat with Coach T-Bone yesterday about my laundry list of  real issues coupled with a smattering of first-world problems. Regardless, I'm working through some major bat-shite right now.
The biggest first-world problem I have is my perceived inability to put down the fork. Bat-shite.—–[By the way, sidebar. For Halloween, we got the boy Swim Bike Kid a little stuffed bat… so cute… anyway, he says, "What should I name him?"  and I jokingly tell the Expert, "He should name it Bat Shite."  And the Kiddo heard me. Bet you can guess what that bat's name is. And he carries it everywhere—"Where's Bat Shite?!"  Horrible. I know. #motheroftheyear]
Anyway, so working through some stuff. Yes. Eating everything that doesn't eat me. Yes.  Feeling kind of at peace and miserable at the same time, if that makes sense. Internally, I think I am fighting off some demons, but feeling very thankful and happy for my family. But externally, whoa nelly, I'm like Buddha with the belly I am rocking right now.
Today's yoga introduced me (e.g., gently slapped me across the face) to the concept of Santosa. 
Santosa = Contentment.
Santosa is the "acceptance of what is, without judgment or desires of what you would like it to be.  To practice Santosa is to practice the perfection of every moment, no matter how difficult or uncomfortable. It means being happy with what we have rather than being unhappy about what we don't have."  (Quote, from Yoga Part VIII).
True peace comes from being content, even while undergoing and experiencing the bat-shite that life can throw at us. When we view life as a growing process and that all the experiences are lessons, that everything has a purpose and a time and a season (sound familiar?)… then we are practicing contentment.
I am diligently working on contentment …as it goes against my very nature.  I am a constant striver—always looking for the next thing, the next project.  (In case you guys missed that memo).
To be happy with what I have —is a foreign thing for me. But I am working on it. #swimbikethankful  
Contentment is not only tough in our society, but also in triathlon.  We want to be faster, fitter and stronger.  I don't think triathlon is the polar opposite of santosa however.
I see santosa and triathlon as simply the same idea as being grateful for what our bodies do every day, every workout, every race. No matter the end result. They do. They work. Every body, in every unique and special way.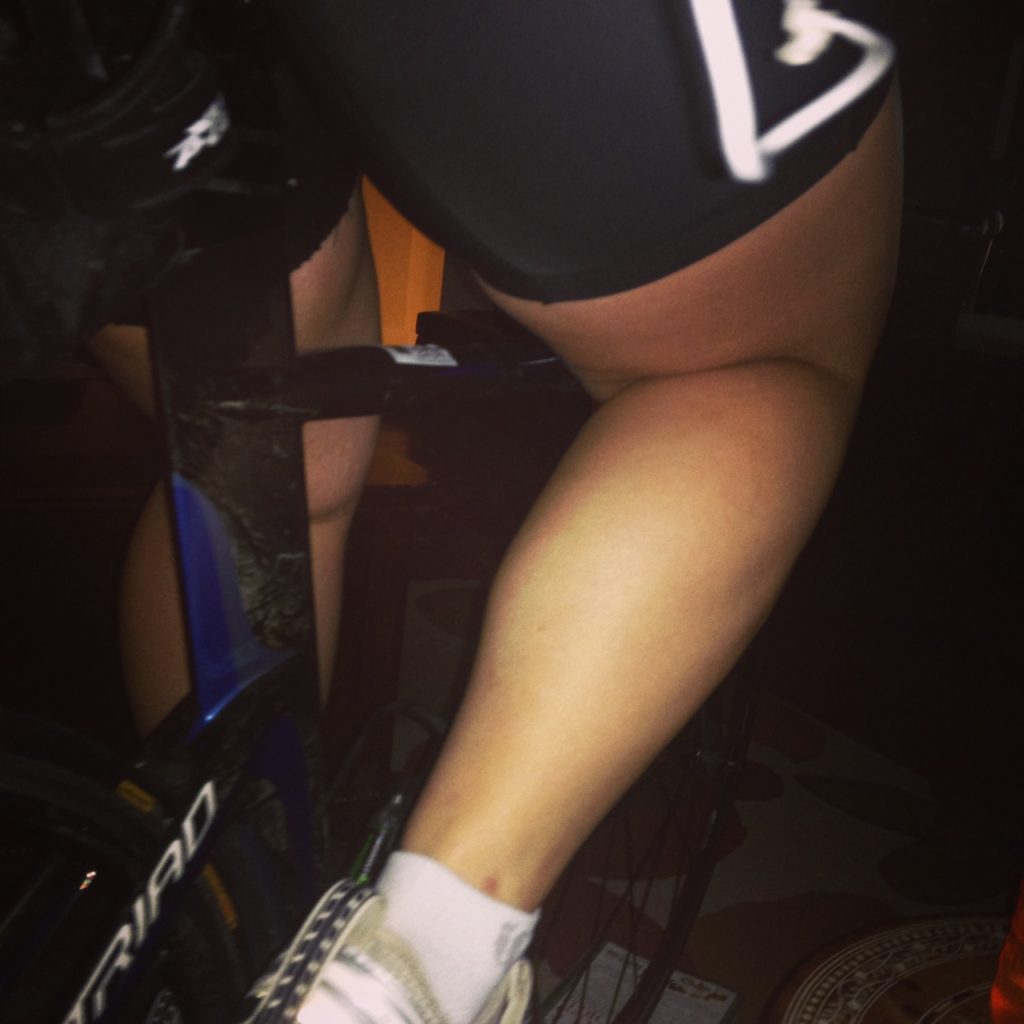 Santosa = to be content in the strength and glory and possibilities of what our bodies can and will do for us?  Yes. If we can try to view our growth in triathlon, in life, while simultaneously being grateful and content where we are—-then I think we're on the right path.
Namaste.