So I guess it's no mystery that the Expert and I are competitive  …with each other.
This morning, the Expert got on the scale – and he has gained NO weight since our round of Whole30 in August/September.  Me?  Oh, I have gained about 16 pounds.  (Seriously).
As I am now Day Two on another round of Whole30, I immediately said to myself, "I'm going to crush him this time."
What in the….  #socompetitive
And we have a long history of this.
Take, for example, the only 5k that he and I have run together involved him muttering, "I hate you" several times during the run. During our early Olympic-style weightlifting days, don't even get me started on his smarty pants-ness.
I mean look at the Anniversary card he gave me last year: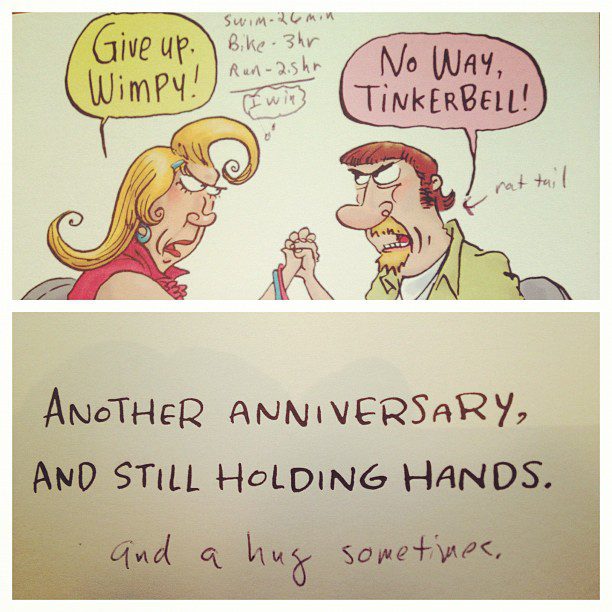 Anyway, Mountain Goat mentioned this Superheroes v. Villains 5k race coming up this weekend, and I thought, "hey, that will be fun with the kids!"  You can dress up and wear capes and run. What's not to like?  
Oh, and they have childcare during the 5k so you can run, then run the fun-run with the kiddos.  How awesome is that? 

Plus, I'm enjoying some 5ks right about now.
Well, then the Expert signed up.  Also, fun… right?
WRONG!
And just like that? …We have a competition.
Saturday is also our twelve year anniversary.  A very serendipitous little factoid for the Swim Bike Battle Royale 5k (which is what we have re-named the event). So.  The Expert and I are putting on our capes and we are RACING against each other on Saturday.
I am searching for my sub-30 5k.  Not sure if it's even possible at this point.  He's searching for nothing more than to beat me.
This could be fun, except the Expert "knows everything," and therefore, he's also a mighty trash-talker.  Which drives me insane.
I went to bed early last night because I am fighting a headcold (just like every time I start eating clean)… and I was hoping he'd just stay downstairs and watch some "Walking Dead" or something.
Instead, dude follows me upstairs, heckling me about the race.
"So my plan is to run the first mile at 11 minute pace, then the next at a 10 minute pace, and then balls out for the last mile at an 8 minute pace."
"You're an idiot," I said.
"What? It's brilliant."  (Of course it is, it's from the Expert. And I can admit it's a pretty good strategy.)
"Whatever. Do whatever you want.  Just know that when I take off, I am leaving you in my dust. It will take a real man to show that kind of restraint as I blow by you," I heckled back.
So we have two strategies:
The Swim Bike Mom Strategy

Race at a decent, "fast for me" pace right out of gate (10:00 pace). But one that is sustainable. Then kick it into a slightly higher gear (9:00) for the last mile, which should squeak me in right under 30 minutes.
The Expert Strategy
As stated above, run the first mile at an 11:00 pace, then the next at a 10:00 pace, and thus, catching and blowing by me in the nick of time with his sub-8:00 pace, and screaming "nanny nanny boo boo" or "take that, beeeeeotch!"
Lawd.
Now, a very important caveat to the Expert:  he is willing to go into the medical tent anytime.  I am not.
I tried to tell him that I'm not sure the 5k will have a medical tent AND that we still must run with our kids in the fun run afterwards (boys vs. girls!), so he better behave.
…to be continued….