I'm not sure why I'm on a roll, entitling posts this way.  Right now, it just feels right.  Because I am on the brink of some kind of breakthrough.
[Or breakdown.  Could be one in the same…]
[So as an initial matter, it appears that I may be leaning on the Army for therapy…. you have been warned.]
Lately, many people are getting to me. Getting way under my skin.  The so-called "haters" are relatively quiet.  So it's a new thing.  It's the people who are not carrying the same stresses and workload and family and job(s) that I am.  And these folks pretend that they are sooooooo stressed out. And they take up my time and energy. And all the while, I'm thinking, Really.  What are YOU stressed out about?  
And it's getting to the point where I'm getting physically sick to my stomach when I think about it and have to listen to these so-called stressors. Really… stop wasting my time… I slept 2 hours last night, and  I have a deadline…  [A real one. Not a massage appointment…]
But then I realize that it's a massive slippery, scary, sliding dangerous waste of time to allow myself to feel this way. I know it is wrong—-all this negative energy that I'm blowing around in my heart and mind—it's exactly opposite of what I am trying to be.
And plus… the number of people who have "real" struggles, like Army member, Jo…. real, real, real struggles.  Forget deadlines.  We're talking cancer. And PTSD.  And sick children…
Real struggles. And my problem… while it might not be so simple as  a scheduled massage appointment, but… it's… a… (gulp)  deadline?
(Face in hands, shameful.  I should be beaten with a club. Really.)
And all the while, I get madder at myself. Because I recognize that my feelings are stupid.  So, no need to say, "Well, you are a stupid dumb bimbo for thinking this way."  Save your breath. I know that it's stupid  to think this way.I know. 
But everyone who has ever done a triathlon knows that it's also stupid to eat a Big Mac Meal from McDonald's… but yet, I can admit to having swallowed whole thing at least once this month…
Wait, so maybe it's just me who is stupid?  Oh lawd…
I am trying so desperately to change.  To keep up with my own damn mantra, for the love! #justkeepmovingforward! Instead, I may be forced to change my mantra to #justkeepwhiningmore  #swimbikewhine
There are plenty of people out there who read my blog and think, spoiled rotten little rich girl.  (Or they sometimes send me an email. I love those emails. I do.)  And these people are totally wrong.  Okay, so I may have been spoiled, but a far cry from rich.  But then again, it depends on what area of the world we using as the definition of rich…  
Slipppppppppery. Slopeity. Splat.
My point is:  I don't like the way I've been thinking lately.  And it's my fault.
But can I be completely honest?
I don't know how to change my thoughts.  I really, truly don't know. I don't know how to deal with my past. With true grace. With forgiveness.  I don't know how to stop the cycle of anger and sadness.  Yes, I pray and pray.   And triathlon certainly helps work out the demons…
And yesterday, I yoga'd at hot yoga for 75 minutes.  And did this move with a vengeance:
Until the sweat was pouring out of me, and I was sliding over the mat like a wet seal. Face all red and breath ujjayi-ing… and searching for my spirit.
Where in the world AM I?   I was screaming internally.
Oh, I can tell you where I was… I was in a hot yoga class.  #spoiledrotten
(Face in hands. Again.)
Ahhhhhh, it all goes back to the key of it all….  Gratefulness.
(I just forced myself to go back and read this post that yes, I just wrote a few weeks ago.) Gratitude. Joy. All the fruits of the spirit… Especially, self-control and keeping my mouth shut.
So I'm leaving my rambles with this ever-so-simple quote that's been circulating for a bit now…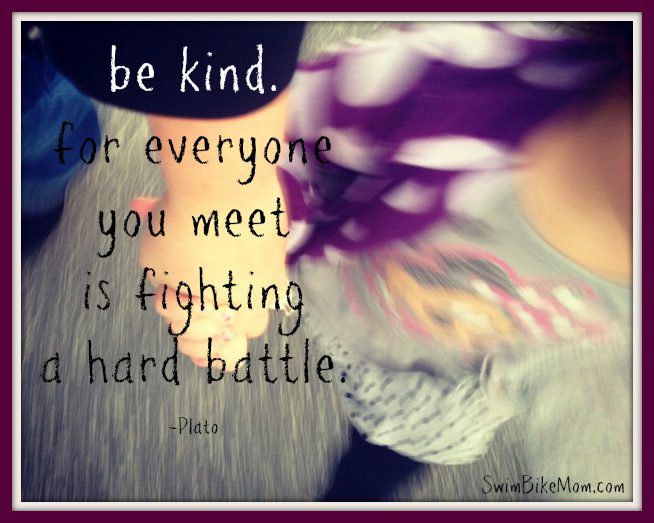 So the purpose of this post is to remind myself… daily…that I have oh, so much, to be grateful for.
And to remind myself to be kind to others (not just externally)… but also internally. To mean it.  To be kind inside and out. 
A hot mess in progress… I'm learning…
Thanks for listening.