Well, you know that I love SBM Army Members who send me pictures with Andy Potts.  But  this member, Jo, is close to my heart for a few reasons.  First, she is one of the original Army members (think: wearing the red triathlon gear!).  Second, she is tough.  Next, she is a TRUE inspiration.  And finally, as my earlier post today focused on grace shown by my four year-old daughter…  then I receive this email from Jo.  Wow.  She is true grace… shown in a Swim Bike Mom.  Read on and learn why.  I am inspired beyond words today. 
Thanks for sharing YOUR story, Jo.   
==============
I spend more time in doctors' offices than I do training most weeks.
I have cancer. I have interstitial cystitis (IC).  I have PTSD (post-traumatic stress disorder). I swim, bike and run simply because I still can. It makes me feel powerful and gives a zen better than any yoga class that I have attended and I don't have to think about being sick. IC is a disease of the bladder where the normal lining is very thin or absent causing pain and frequent trips to the bathroom whenever anything slightly acidic hits it- – which means most good food is off the table (coffee, wine, chocolate!). Sometimes it is just an angry bladder and simply taking a step is painful.
I was diagnosed with PTSD while in the military and don't like new places and people– which is not the most helpful thing when racing. I know that I probably have every reason not to race. I have been told by many it would be okay not to race. And have been told by many medical professionals they don't know how I keep going (sometimes I don't even know). I usually respond with a comment of: I guess they don't race because if they did they would understand. Most of them have gotten use to me not being the normal patient — that after treatment or surgery I will most likely push the boundaries of the no-working-out limit set.
My oncologist has decided to stop giving me limitations because he knows that whatever he says I take it as a personal challenge to prove him that I can do it – I am feisty like that.
I am not a fast runner, swimmer or cyclist by any means. I simply know that when I set out to do something that my athletic brain and heart will be taking charge. Some days after chemo I just want to hide in my bed and somehow I manage to put on my gear and go out and honestly, it does help. And then, there are days when the bed it the only option. I have learned that the first mile always is pure suck and then everything goes away – the pain, the emotions and the "what-ifs."
I just get to be in the moment and that is enough for me.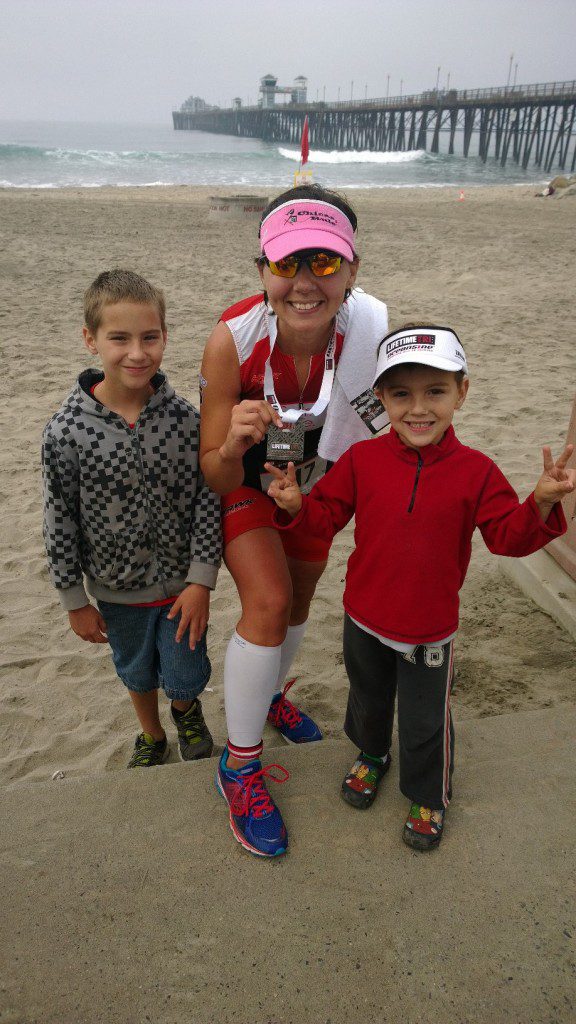 Working out and racing has been more difficult lately and I actually have gotten to a point where I will listen more to my body and not try to out do my previous bests. It took a while to convince myself that it was okay not to PR and okay not to run the whole way. Walking is okay …and sometimes finishing slower is better than not finishing at all. 
I raced this past weekend in Oceanside for a sprint triathlon.
It was my first triathlon in over a year. I have done some 5Ks and Ragnar Napa Valley in an ultra team (6 people instead of 12). The last race I did before my sprint was a half ironman where a fellow athlete passed away during the swim ….and I wasn't able to get in to the water after that. My heart had broken and my racing spirit had gone leaving a triathlete that was afraid to be in the water. I thought since I go to the beach regularly it would pass over time yet, I still couldn't get in the water. It took a while to admit to myself that I was afraid of being in the water and that I was more afraid of a swim taking my life than stupid cancer.
I had to say it out loud to myself and then, to my trusted circle before I was even able to toe the water.
Then, the amazing circle of support that is only found in triathletes came and my group of amazing female Ironman finishers helped me find my spirit. My chicas live around the country and are amazingly awesome athletes and friends. I have them to thank for helping my find my swim and my spirit again. I swam only once in the pool and once in the ocean before my race. Not the best plan, however, it was what I could do and ended up being okay because I started in the last wave. When I swam it was slow and without anxiety because when I entered the water I knew that across the country I had people cheering for me that knew I could swim it even when I did not. I remember telling my husband before I entered the water that I was scared. He laughed and said it will be fine – I called him some choice words for not believing me. Albeit, I exited the water after what I can only describe as what felt like a recovery swim. I remember sighting off the boats in the harbor and stroking but, I can't remember the water flowing around me. I came up the boat ramp and my fan club was there and as I passed to my bike I remember thinking – – I CAN swim now! I felt complete again and no longer wondered if I had the energy to finish the race because I knew I was going to finish.
At the finish line I was surprised that standing there was Andy Potts handing out medals! Yipeeeeeee!!! I asked for a picture and he smiled and said as he pointed to my SBM kit, "she has a whole army doesn't she?" (I think his smile is the best!)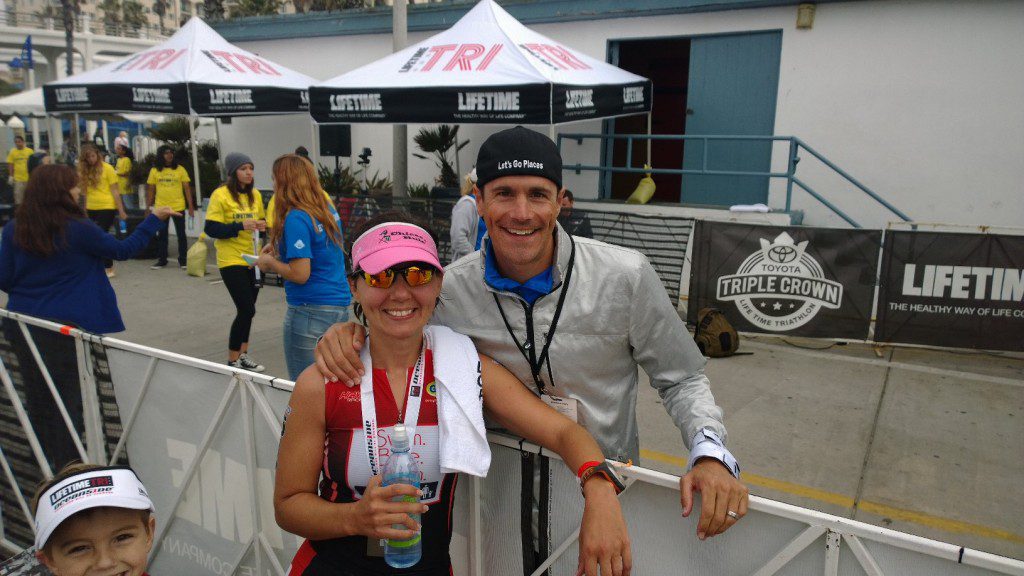 I am astounded by how many people will find out I race and still say they can't imagine running a 5K or completing a sprint triathlon. My five-year old has six 5k's under his belt and a couple of handfuls of fun runs. He loves to pass people during runs that are older and turn to them and smile because he knows that they will turn and ask me if he runs the whole thing. Yep, he does with his "fast legs" that often wind through crowds faster than this mama can maneuver through them. I love that my three kids have no clue that running is not a normal family activity.
I started following Swim Bike Mom because I wanted to be part of group – – I wanted to cheer my teammates who wore matching kits during races.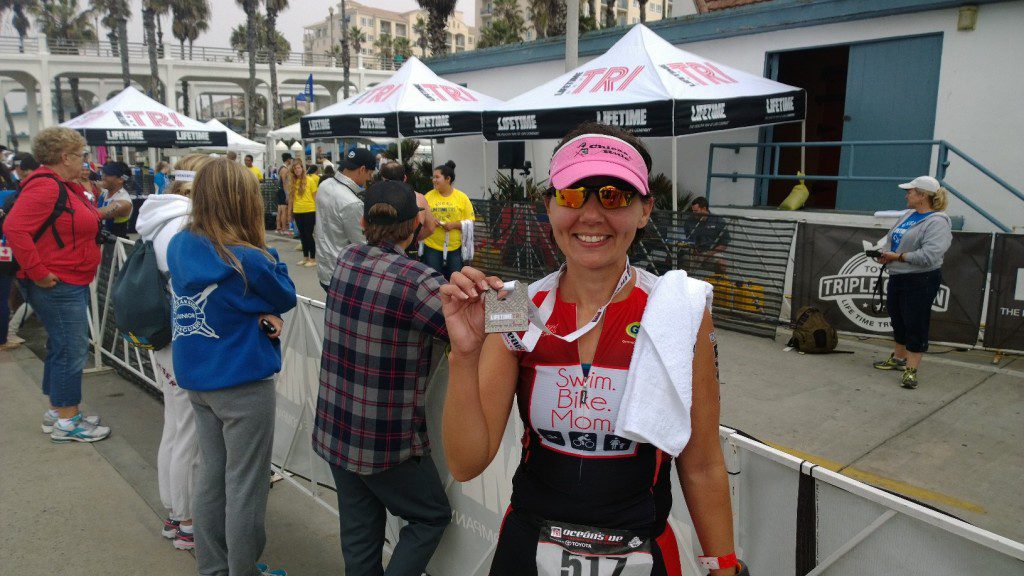 When I joined, I didn't realize that this army of amazing women give more than a cheer during a race, it is a community of wonderfully amazing women that understand why putting on your gear somedays is the only thing that can get your through the day. And, that other days, those same women understand that not putting on your gear …tears at your heart even when it is the right choice.
It is this SBM army that I wish to thank for giving me the mentality in everything I face to simply "just keep moving forward".
With strong heart and mind,
SBM member, Jo 🙂
======================
Do you have a story to share?  Send your story (with picture(s)) to swim bike mom at gmail dot com.
You may be included here as a guest post, if chosen. However, ALL stories submitted will be posted on SwimBikeMomStories.com.