Coach Monster writes "race plans" for his athletes before any "A" race.
One of his athletes, Justin (pictured below), just finished his second half Ironman in Augusta.  Coach M is racing the half at Rev3 Anderson on Sunday, and forwarded me this email that Justin wrote.
I asked Justin if I could re-post, because it was HILARIOUS.  Good job, Justin.  Not many can get the Monster into giggles.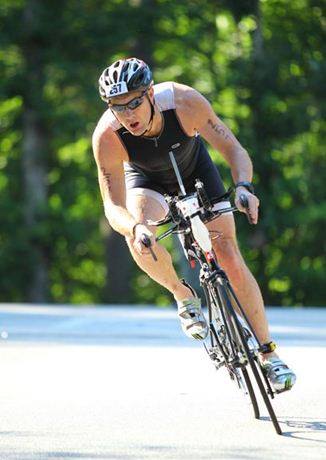 As a little background, usually a person wants to do a half Ironman in Zone 2 or 3 for the heartrate – pushing steady effort, but not going into the red zone. Gotta save energy for the longish hours ahead. You don't push hard right out of the gate (unless you're a pro)…. Anyway, hope ya'll enjoy!
"Hey man,
As your race plan was so successful for my Augusta "A" race, I did you the honor of preparing you a race plan for Rev3 this weekend.
Before Race 
You need your beauty sleep more than most people,  so make sure that you wake up 30 mins before the race.  Don't worry about being late. Just call ahead and say you're running late, don't they know who you are… As soon as they realize, they'll put your wave back… trust me on this!
Swim
Fast. Immediately.  If you think your lungs are burning because you're pushing too hard–don't fret–you're in water! If your lungs catch fire, they'll get put out fairly quick— just push harder.
Bike
Get to Zone 5 immediately and hold… no wimping on me now, this Zone 5 all-out commit is a key component of your success in Anderson!
Nutrition is overrated! You don't have time for eating… eat when you finish.
Also, forget liquids… they are just too heavy on the bike.  We're going with the light-weight strategy for this race. Remember your body composition is majority water. Use what you have! Suck it up, buttercup!
Run
You're doing good now.  I need you running out of transition as

fast

as you can for the first 4 miles. Don't worry about HR—its just a number and 200 is always better than 100. Bigger is best… trust me.
Settle into the run at Zone 5. Feel free to push to Zone 6, if you're a real man. You only have 9 miles. You can do anything for 9 miles.
Don't stop for Gatorade, GUs, etc.  You are a lean mean running machine. You don't have time to slow down. Remember my advice on water and nutrition on the bike—same here.
Win!