I work full-time.  For years, I was an attorney.  Then I had a short 4-6 month stint where I wasn't an attorney. But then I was again. Now? Yes. Attorney title has returned. Whatever.  But I can say that I'm busy.  As we all are, I know.
Work is busy, yes. But I have been mainly in the business of PMP. [This PMP, not PIMP, for the record.]
PMP stands for the business of PILING MY PLATE.  
And I have been piling my plate in the metaphorical AND real sense (oinky oinky) for years.  PMP is this frenzied state where I fill every corner of my life with something to do, something to accomplish, some new project, person, life, article, or whatever… Just PMP full of all sorts of shenanigans. All sorts.
Over the last thirty days of trying to clean up my life and continuing on, I have realized that PMP is my primary side business.  I am an entrepreneur —not of Swim Bike Momish things—-but of filling my life with so much stuff that I can't see straight.
[Case in point: I wanted to do Ironman Chattnooga. Bad.
I also kinda want to have another baby – but not as badly as I want to do another Ironman.
Last chance baby! Last chance Ironman!
Priorities!? Oh, lawdy.]
Needless to say, focusing on clean eating and health has really made me sit down (Sit down?! What? I'm allowed to SIT DOWN? Hallelujah!)….
I has made me think…. and slow down.
I am forever trying to do too much.  Always some big goal, some crazy stretch of the goals… and sometimes, for all the wrong reasons.
What will that person think about me?  What will the SBMs think if I don't sign up for this race? 
"What other people think of me is none of my business." – Wayne Dyer
Interestingly, a revolutionary pair of conversations have brought these findings to hardcore white, flashing light.
First, the Expert.  Of course.  His conversation was less of a philosophical debate, and more of a directive. Like from the Boss. And I don't mean Springsteen.
As in, "You are going to calm down and not create any havoc in your life for the next year." Oh, okay.  I understand.  He's tired of fifteen years of my constant PMP. Got it.
Next, was the Coach Monster.  I called him to discuss my reasons for wanting to sign up for Ironman Chattanooga — all of the reasons, which I mentioned, he confirmed my deep-down fear as not being the right reasons for a second Ironman.  But rather my continued case of PMP.
In fact, I said something like, "Maybe I can convince [the Expert] to let me do Chattanooga if I…."
To which, Monster mentioned something like, "What are you trying to do? Blow your marriage apart?"
Oh. Of course not. Right?  Riiiiiight?
Those two conversations snapped me out of it. And snapped me into the realization that I am in a constant state of self-induced, PMP stress.
Where does PMP come from?  Well, I think I have finally figured it out.
PMP is the subsidiary of its parent company:  The Real Business of "I Am Not Good Enough."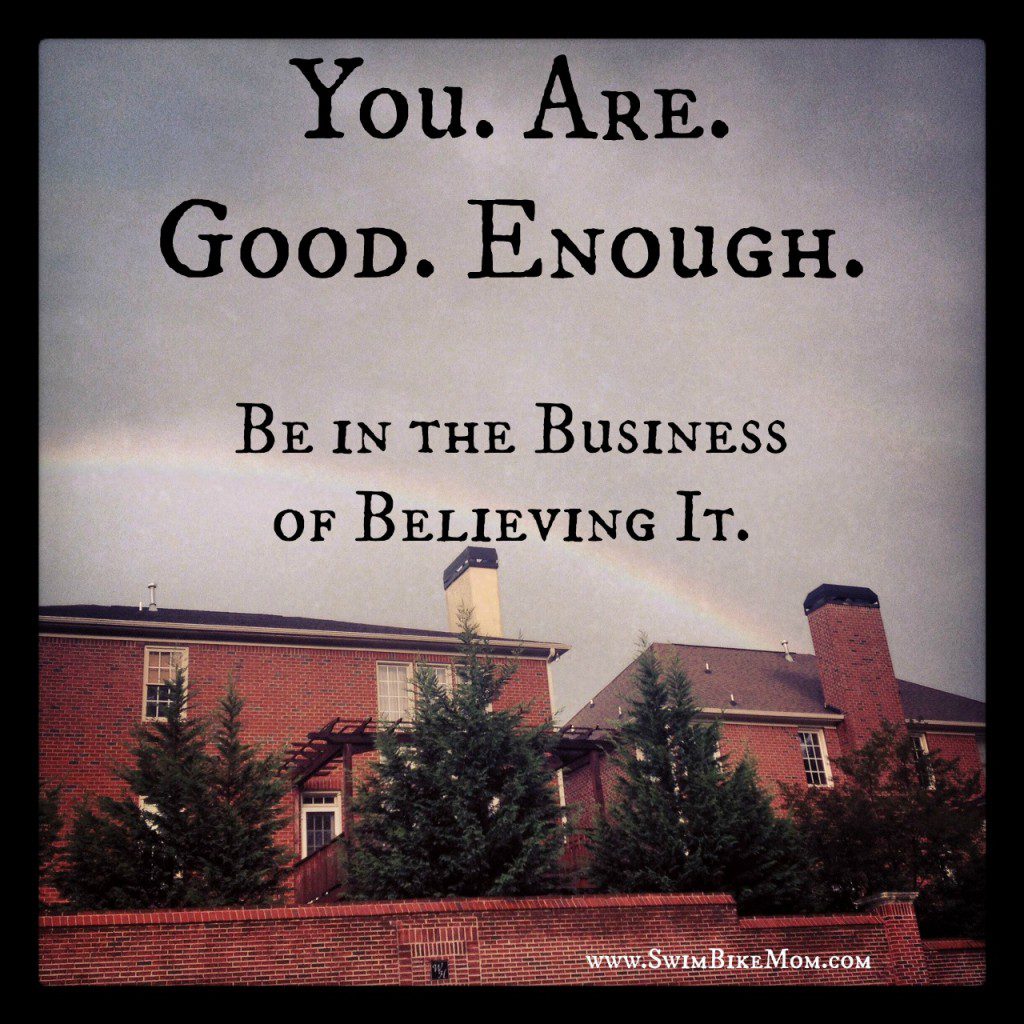 For all these years, I have not (in my own mind) been good enough to have peace.  I have not deserved to rest. To sit down, relax and stop acting crazy. To stop eating like a rebel.  To savor life. I have not been worthy of any sort of real life consistency, enjoyment or success.
And because I have internally believed this, as much as I believe that the sun will set this evening, I never have taken time to enjoy any of the good things. Never really appreciate and enjoy.  Don't get me wrong… I am grateful.  I know I am blessed.  I recognize these things.
I mean, that I don't take the time to savor the good, to reflect, and to just be.  I just push on, PMP full of more things to do, more goals to reach.  More instances to beat myself up when I fail, or go manic when I think I am on a good streak.
Speaking of manic…. this post…. ah-hem. Okay.
I am not only spending an additional 30 days working on my physical health, but I am going to take the time to untangle some of the psychological messes I have made in my own brain matter…
Therefore, perhaps the most ridiculous posts in the three years of blogging are heading your way!
So, I encourage you to look at what's going on in your life… and join me in the journey… let's get down to the root of our real life "businesses."  Are we in the "right" business?  Or are we working in some shady business of "I Am Not Good Enough"?