Hi Folks! Virginia, here.
Sometimes life just "clicks" and it all moves along well. I think that may have happened for me. That doesn't mean things are perfect, but they have "clicked."
I get a daily running quote to my phone. Sometimes it is stupid, but sometimes it is RIGHT ON and just what I need. This quote is why I think things have clicked for me.
My mind is my biggest limiting factor.Yes, big things beyond my control get in my way (namely my darn IT Band for the past 6 months), but my biggest issue is my mind. Lately, I am feeling ZEN and have honestly pushed by the limits of my mind.
Now…I will admit that I am still running slower than I wish, and I am not any faster on the bike (though I think STRONGER), but I am feeling limitless. I am LOVING training, and I am embracing my imperfection.
Last week I got to go to Augusta twice to train on the course. Thursday I went with a group of ladies from town and we swam the river. (Let the sun shine down and the angels sing "AHHHHHHHHHH".) It was awesome! For those of you doing Augusta who have not yet been in the river, the swim is glorious! SO VERY FAST! Sunday I went down with the same ladies and rode the bike course and swam again. I rode the bike alone (we all left at different times), and I did well (for me). I am a weak biker, but I felt pretty strong throughout. Despite getting lost and doing and extra 1.5 miles, I had fun. The swim was, again, AWESOME. I am excited for Augusta….and maybe even ready. Opps…I shouldn't say that.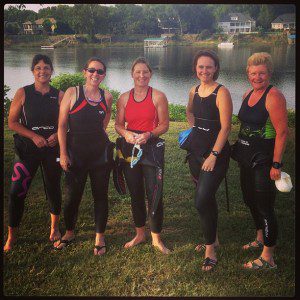 So…CLICK….It's all coming together. Click…the "no sleep triathlete" is figuring it out. Hey, what more could I ask for?