Hi world! Virginia here with my Augusta 70.3 update! (AND IT IS LONG) First, let me say that it was AWESOME to get to see so many SBM folks out there. Meredith certainly has established her "army," and I am so pleased to be a part of it.
Before I get into the details of the race, I want to say that I had a great day. There were moments of pain, but overall it was so fun. I have so many folks who I owe a lot, but yesterday I just felt so proud of my husband. He has supported me through so much and has taken on this training of mine with such enthusiasm. Things sometimes end up falling to him, and he never complains. He is my #1 cheerleader, and I am so proud to get to love him. Ok….enough cheesy stuff. Here are the race details.
Saturday:
My hubby and I rode to Augusta on Saturday morning via Aiken for the soccer game of our 8 year old (who rode home to his grandparents with another friend after the game). We headed to Augusta, checked in easily at the Marriott Convention Center (great & organized system) and went and had lunch. We then made the mistake of parking by the church and walking my bike down for bike check-in. STUPID! It was about a mile and a half away. NOT FUN. But, I got the bike in and was happy. After the bike check-in we headed to BFE to check into our hotel, rested a bit, and headed to dinner. We attended the $10/person spaghetti dinner at St. Anthony's. It was sponsored by the church and TriAugusta, and was a lot of fun. The BEST part of the dinner was that I got to catch up with my camp buddy, Heidi, and meet her husband and daughter. It was a fun and relaxing early evening. We left dinner, went back to the hotel in BFE, and I was asleep by 9:00. NEEDED!
Sunday:
First, the TMI – I think my race time would have been so much better if I could have just gotten my stomach in order. From the start of the morning at 4:45 am, it was OFF, and I needed to turn it ON before the race. No action. SO….that plagued me for the rest of the day. BUT…..that's life…no excuses!
I got up at 4:45 am on Sunday to get ready and leave. I had a light breakfast of a bagel with peanut butter and realized that the hotel room coffee was not drinkable. My hubby took me to get a coffee, and I met a SBM fan in the Krispy Kreme at 5:30 am! Such a small world!! We chatted for a moment about her long drive from St. Louis and her love for Meredith, SBM, and then I was on my way. We picked up Heidi, and this one step saved my morning sanity. Because I had a tri friend with me, I was able to remain pretty calm all morning. My hubby dropped us off at the bike check in, I unpacked my bag and set up the bike, and then we headed to get body marking. Oh, but not before I checked my tire pressure and found that the back tire was at 40! Ouch! So glad I checked!
After body marking we got in the bus line and headed up to the swim start. The swim start was perhaps the most "alive" place I've ever been. It was packed with participants and families (mostly waiting in lines for the porta potties). There was also a super cool start with three people parachuting in.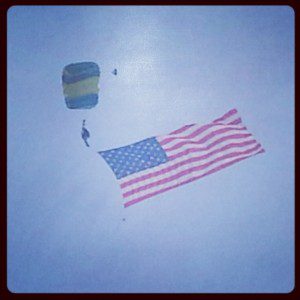 While waiting to check my morning clothes bag, I saw Meredith (SBM) and chatted for just a second. I really wanted to see her again and get a picture, but it never happened (BOO HISSSSSSSS)! Heidi and I waited a long time until it was time to line up for the swim. She was in the wave two in front of me, so I only had about 8 minutes of alone panic time. THANK GOD! I wasn't TOO panicked until I sat down on the dock for the swim.
From the moment I got in the water, I just couldn't really get it together. I was swimming hard, but I realized I was at the back of my wave. After a while the male waves behind me started to catch up and it got a bit congested. The men were fairly aggressive, and I just wasn't sure why they felt the need to push right into me in the HUGE OPEN RIVER. One guy elbowed me in the head so hard that I had to sit up for a minute and shake it off. Never-the-less, my swim time clocked in at 33:11, so I'll take it. I had an "under 30 minute" goal, but ….AWWW HELL….I was out! The run from the swim to the bike was SO long, and my T1 time ended up being about 5 minutes. It certainly didn't FEEL that long.
While the swim was pretty mediocre, the bike was AMAZING. Seriously, I felt crazy fast. My goal was 3:30 for the bike (the time I rode it in a few weeks ago), but I ended up at 3:11:59. WTH? My nutrition plan for the bike was to take a nutrition bar in the first 10 miles and then a gel every 10 miles after. I also had NUUN in my water bottle and planned to grab water at the hand-offs. I took the bar at mile 10 and immediately my stomach cramped into a big knot. Despite it, I was able to keep a really steady pace and to keep the speed up, but I was afraid to put anything else on it. I sipped water and took 2 tums that I had in my bag, but I never took a gel. That was probably a big mistake.
The only frustration on the bike (other than the massive cramp) was a couple of girls who clearly didn't know the rules of the race. They were riding beside each other. Both kept flying past on the down hills and then screeching to a  slow climb going up, forcing me to pass wide as they peddled beside one another. I so wanted a race official to come by! I finally got far enough in front of them about mile 25 or so that I lost them, but they seriously annoyed me for the first part of the race. JEEEEESH!
Oh the bike I did see a few friends. I saw my friend Heidi (GETTING IT DONE & DOING HER JOB), and I saw my camp friend Kim. She was a bit bummed from a disappointing swim, but she was working hard and looking awesome! It was so inspiring to see athletes working so hard. It really kept my spirits high!
When the bike was over I walked it into transition. I knew I should run, but I just didn't. My stomach was in pain, and I was just moving forward. I changed shoes and stuck on my hat and headed RIGHT for the porta potty. Seriously folks, I was PRAYING for relief. NOTHING. So, after 9 minutes in transition….NINE….I headed out. I knew from step one that it would be a painful run. I ran for the first three miles (slowly) and then I decided to give myself a 2 minute walk break. I saw a friend and walked with her a minute, and then I began to run again. Every step was a deal with myself. I took another 2 minute walk break and a 3 minute walk break. Honestly, they saved me. I felt super nauseous, so I was afraid to take anything but water, but I know I NEEDED more. I just couldn't make it happen. Miraculously, around mile 11 my stomach got a lot better (maybe it was seeing the mile 11 sign?). I started to run stronger at that point. All along the course my hubby kept popping up to cheer me on. It was just the sweetest thing ever. I think he ran more than I did yesterday.
Here's where it gets funny. About 300-400 yards from the finish I was rounding the corner…running fast….right by the TriAugusta tent. The nicest guy ever screamed out, "You are almost there! Keep going." I smiled big and waved. At that moment, my foot went off of the road into the ditch and I SPLATTERED onto the pavement. HARD. People came running towards me, but I hopped up and kept running. I was a little scraped, but fine. I came across the finish at 6:25:09 (4 minutes and 51 seconds ahead of my goal)!!! I was very, very, happy!
I waited around for a bit, had some food, stood in the morning gear bag line, and was able to see my sweet friend Heidi finish. She was so emotional, and it was so beautiful. I was so proud of her.
When we headed back to the bike and packed up, I was fairly exhausted. As we were leaving, I heard someone saying my name, and it was Mike from Tri Coach Georgia. He asked how I did and told me about his relay. He was super encouraging. I was so touched that he remembered me and that he was still so encouraging. I was reminded of how awesome that group (Tri Coach Georgia trainers) and how welcoming the triathlon family is, in general.
I really can't say enough good stuff about this race. Though my race wasn't perfect, it was my race, and I AM PROUD. It was probably my best day racing in sheer experience and joy (not time).  I WILL BE BACK!
| | |
| --- | --- |
| Swim: | 33:11 |
| Bike: | 3:11:59 |
| Run: | 2:25:11 |
| Overall: | 6:25:09 |