This is a sponsored post. All opinions are my own. FTC Disclosure here.
Coach Monster has had me heart rate training since the beginning of my triathlon journey.
So when I was asked to demo the Pear Sports products, I was pretty stoked. (You can save 30% on this product now. Keep reading!)
How it works & set-up
Pear is a personalized audio coaching system that uses the top training science (and the voices of some famous coaches!) to help you perform at your best with running, strength training, weight loss plans & more.
It comes with awesome headphones and a heart rate monitor strap (just like the ones we triathletes are accustomed to – same as the one that comes with Garmin 310XT and up).
There are two ways to get connected with Pear – through the Pear Pro or the Pear Mobile (a/k/a YOUR PHONE! Woot!)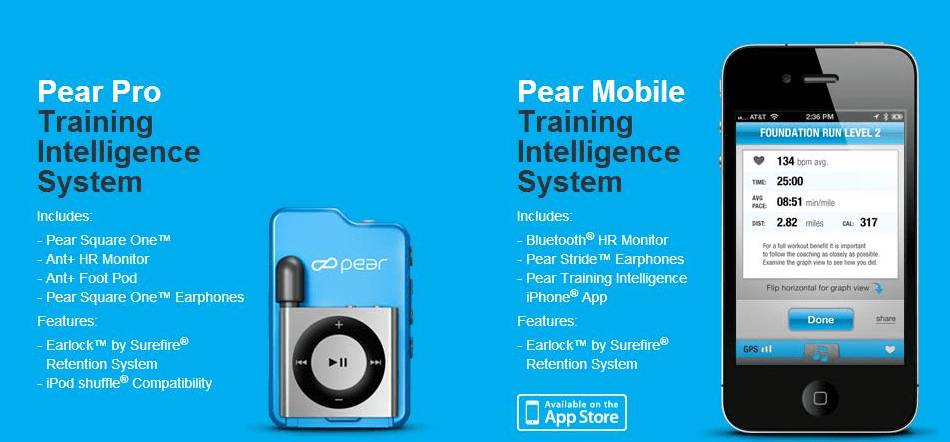 I downloaded the Pear Sports app in the iTunes app store for my iPhone 4s.
The initial setup was super fast and easy. Just register and enter some basic data and that's all.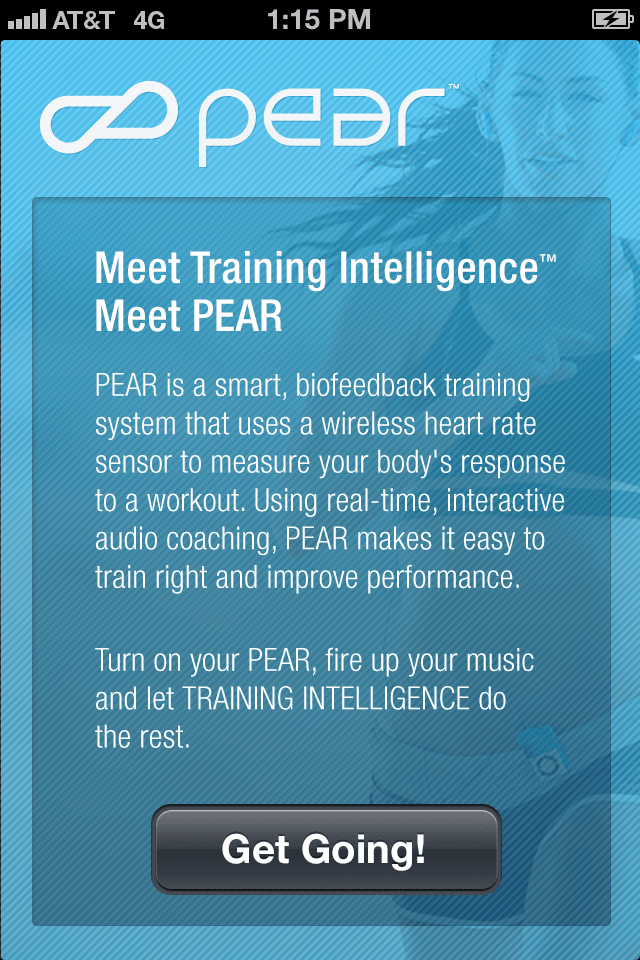 The next step is having your Bluetooth enabled on the iPhone and have the Pear app search for it and connect.
Then as you train/workout/whatever, you have your music AND the data right at your fingertips.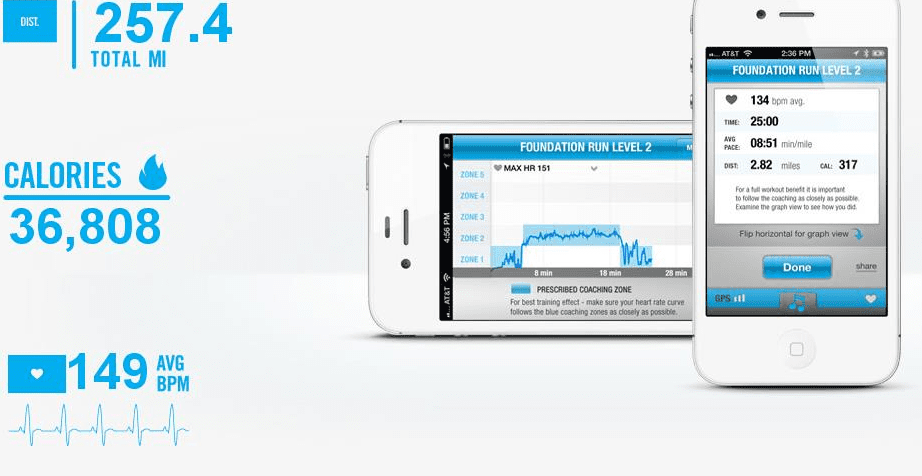 The Workouts
What a super neat idea. Kudos to Pear Sports.
I mean, I can listen to the music I want, while someone's essentially coaches me.
I did my first workout with Matt Dixon, triathlon coach extraordinaire, and it was a 98 minute endurance bike ride, which I did on the spin bike at the gym.  I was blown away at the quality of the workout using this device than when I am on my own. When my target heart rate was Zone 3, and I was in Zone 2, I could hear Matt's voice, "Pick it up. You should be in Zone 3."
[See below. You can see my heart rate, zone, time AND music track.  If I had been outside (this was indoor cycling), then you'd have distance data as well.]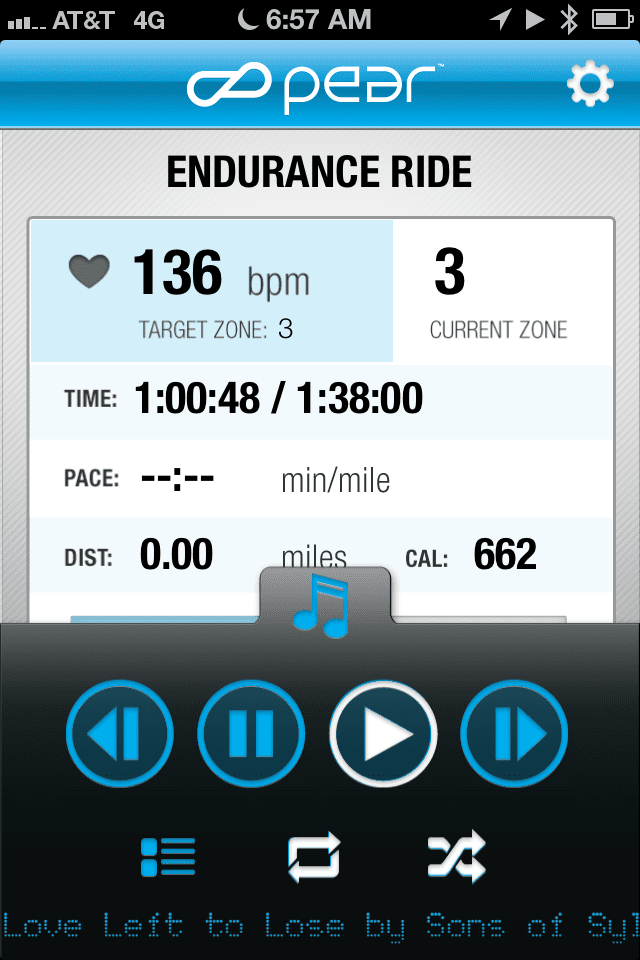 The best part is that the commentary during the workout was just enough. It wasn't too often where I was missing out on my music or getting annoying. Just enough.  Like Goldilocks for workout out.  Just right.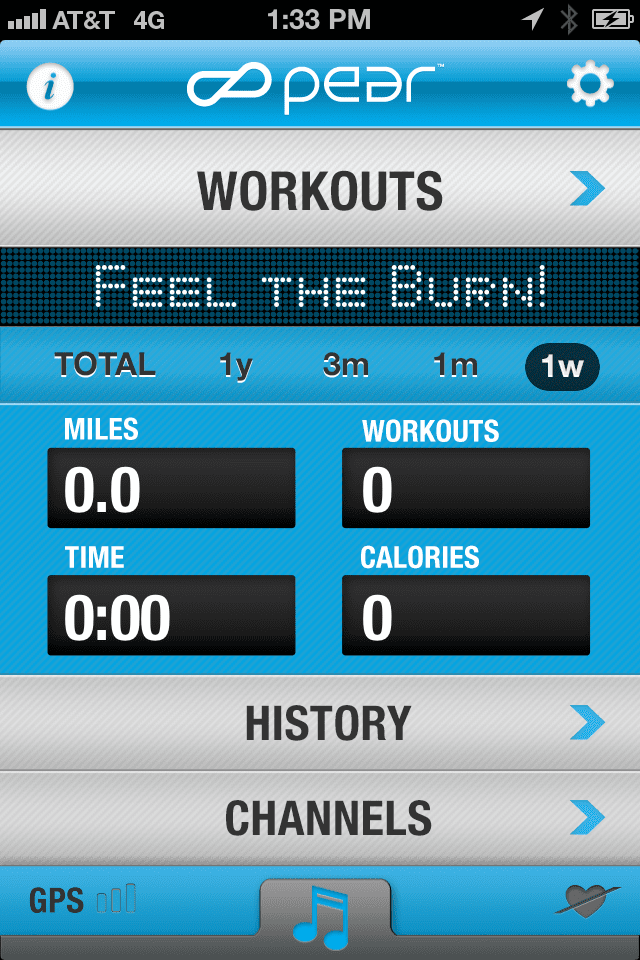 My long run was 10 miles this past week, and I used the Long Run – 10 Mile plan – coached by Jenny Hadfield—-and really thrived on it.
Best long run I've had in ages.  Just when I would start to fall down in my form, or staying in Zone 2, a voice would pipe in over the music: "You're in Zone 3, slow it down a little" or "Halfway home, 5 miles down, 5 miles to go" or "Your pace is 11:20 a mile, you've been running for 60 minutes, and have gone 5.2 miles."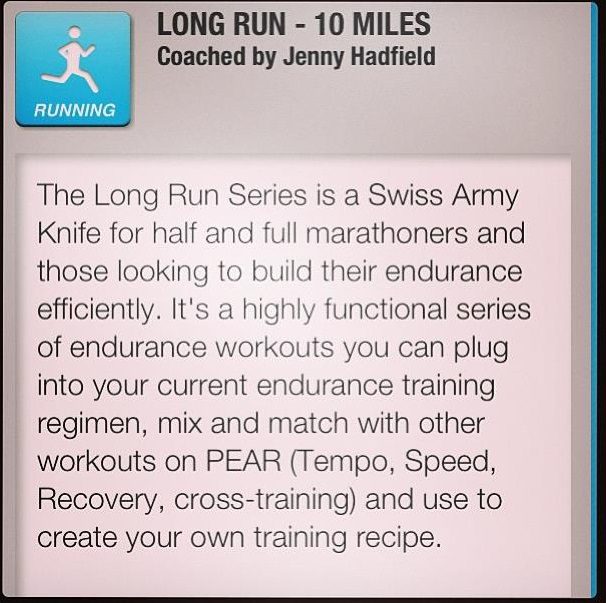 LOVE.
I have actually used the Pear Sports app for SEVEN workouts over the past couple of weeks! SEVEN! And not because I felt like I "had" to for the product review—-but because I wanted to!
Being a full-time working mom, I have to squeeze in workouts where I can. And this device allows me to have "someone" with me on the training sessions. Which is really nice!
On Sunday, I used the Fast Finish run workout by Matt Fitzgerald, and again, had a GREAT run.
Maybe I just needed someone to talk to me all along? Is that really  what my run was missing??? 🙂
Don't feel like following a plan?!
Pear has a "free format" workout which calls out your heart rate and time and distance every so often—-no matter what your workout is.  Boo-yow.  So you have your data (pace, distance, calories, average HR, time and max HR) AND you can save you results – and do what you want.
Ask any questions you may have.  I really had an amazing experience with Pear and will continue to use on my long, lonely workouts. 🙂
Want to get PEAR?
Until August 30th, you can save 30% using the code: FITFLUENTIAL
Find out more at:  www.PearSports.com
Facebook: www.Faceook.com/PEARSports
Twitter: www.Twitter.com/PearSports
Instagram: http://instagram.com/pearsports
#whatpushesyou #pearproof