DAY EIGHTEEN (Thursday)
Woke up sicker than ever on Thursday and skipped my run.  Didn't feel any better about skipping the run, but I knew it was necessary.
Managed to stay on nutritional target.
Salmon and sweet potato "fries" for dinner. Blech – this green mix had argula. Blasted PEPPER LETTUCE!!!! Argh.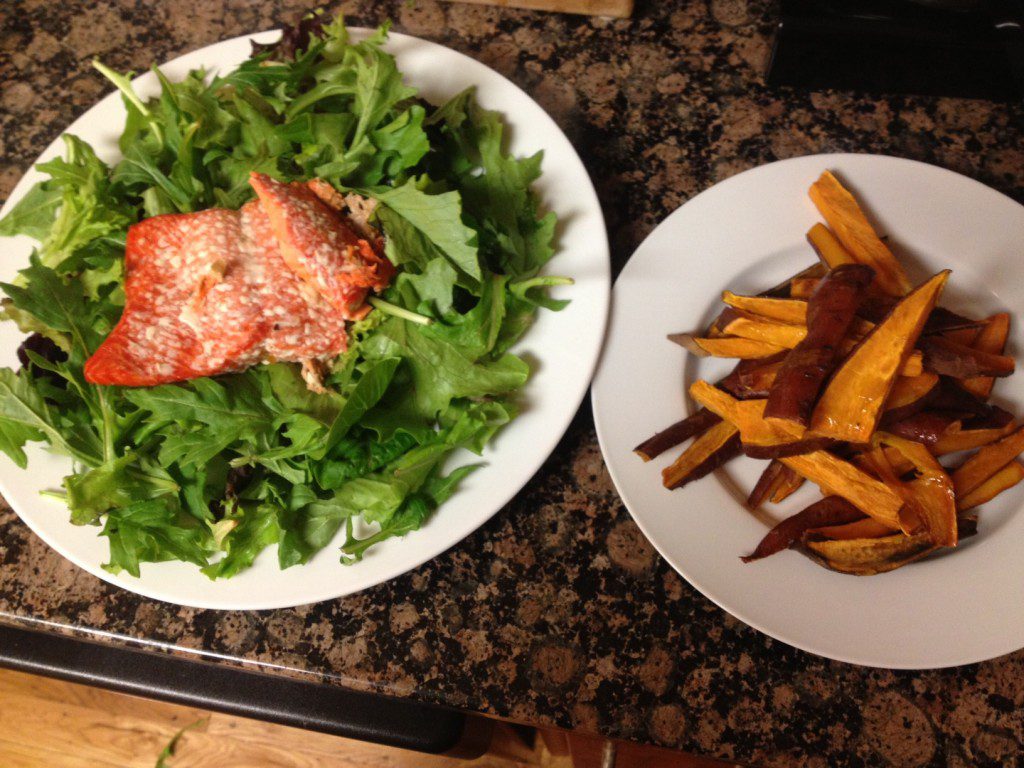 I made some extra sweet potatoes in the microwave (just sticking them in a casserole [lid on] dish with olive oil and microwaving for 6 minutes) for during the ride planned for Saturday.
DAY NINETEEN (Friday)
Today, I did a sprint triathlon before work.  (And all on a hard-boiled egg. Hello, fat adapted!)  Man, I love those kinds of days.  Wake up at 4:30 am, and rub my eyes and read crazy coach's workout:  1600m swim, 60 minute spin class, 5k run.
Yawn.  Now I'm feeling it.
The point of the above picture is to show that I have less arm jello, people.
Less arm jello, hello.  A kin to butt pudding.  [Whole30 is good for something other than frustrating the hell out of me.]
I hate my arms. I am hating them less now. Next step, the gun show.  [Now, to work on belly jelly and continued butt jam.]
My chronic cough and sickness is still here, in full force.  Someone asked me if I thought this "cold" might be the body detox happening, but I think it's virus, because we have all been sick.  Although come to think of it —-we have all been detoxing—-even the kiddos.
Despite the ickies, I had a great run after spin.
I gave the new Newtons from Swim Bike Sell a spin (SBS is adding tons of new shoes… all Newtons to arrive early next week) —-only used for one mile of my three miler, because I had been greatly cautioned about breaking them in—-and I really, really liked them!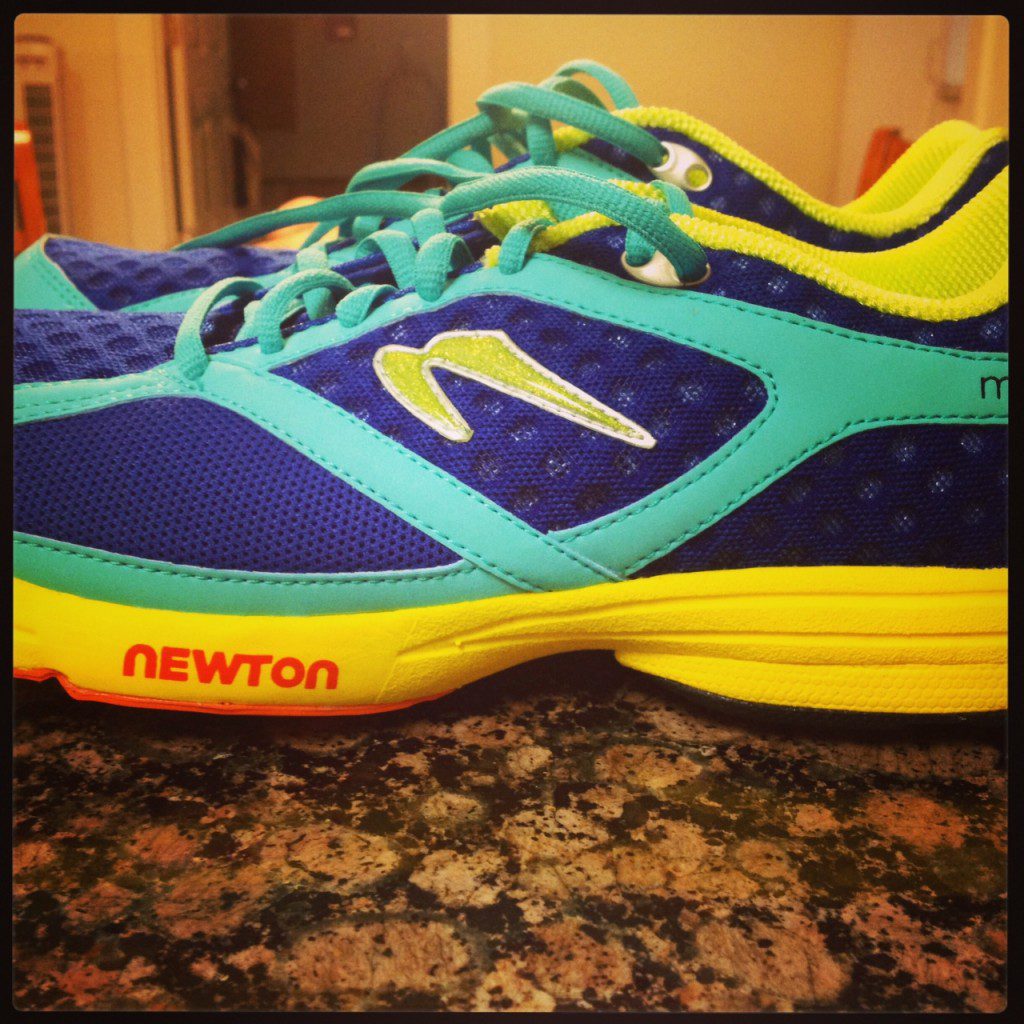 Like the Saucony Kinvara 4s that I have been swearing by, they feel super light. But I liked that the Newtons seemed to have a little more support (these were the Motion line, so they are a little more of the stability trainer that I was accustomed to using prior to Saucony). I also liked that I knew I was running correctly with the midfoot guides.
I'm still a big fan of the Saucony's, but I am going to give the Newtons a fair shake —mostly because I have heard from a few that Newtons are great for those with hip retroversion... and I need all the help I can get.
In other news…
Today, I picked up Andy Potts from All3Sports. (Andy Potts is my bike, not the real dude…. I haven't met him, unlike SBM friend, Monica!)…
Although I do have this amazing gem from the real dude…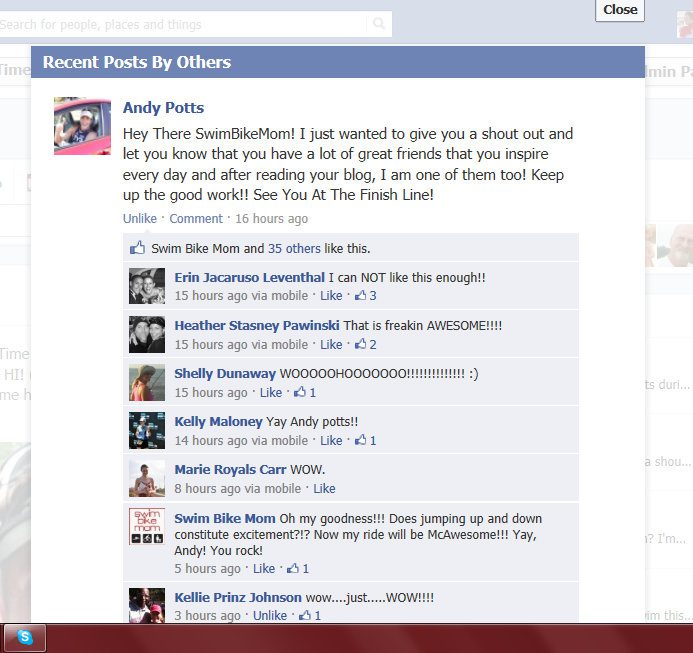 Oh! And the sunglasses he gave me… (oh, but only because he met Monica…. AGAIN!)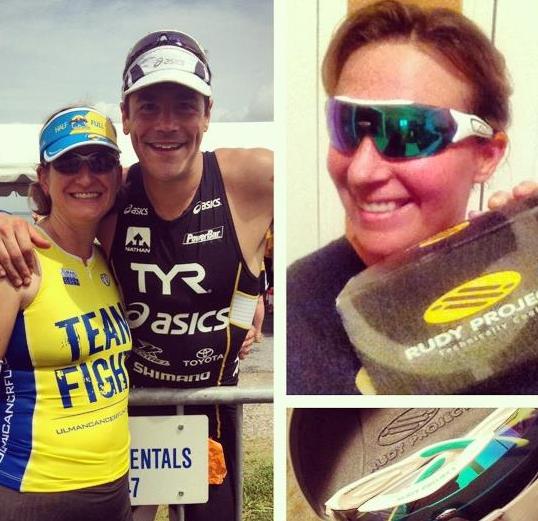 …and the time he touched my book which was held by someone else, SBM friend, Leah….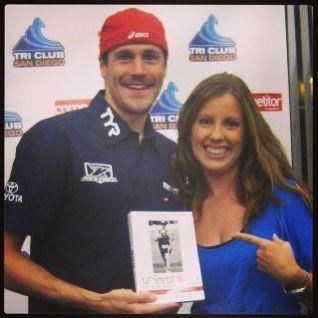 …and when SBM friend Robyn stood next to a cardboard figure of Andy, holding the book and her newborn baby, Ruby…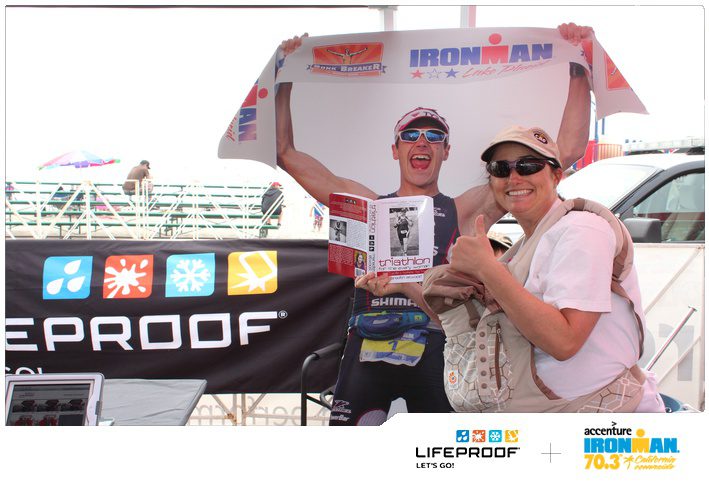 Alas, I digress.  The bike… yes.
Anyway, Andy (the bike, yes) was getting new brakes. Remember how I thought something was up with my brakes at Ironman? Well, turns out I was correct. Very correct.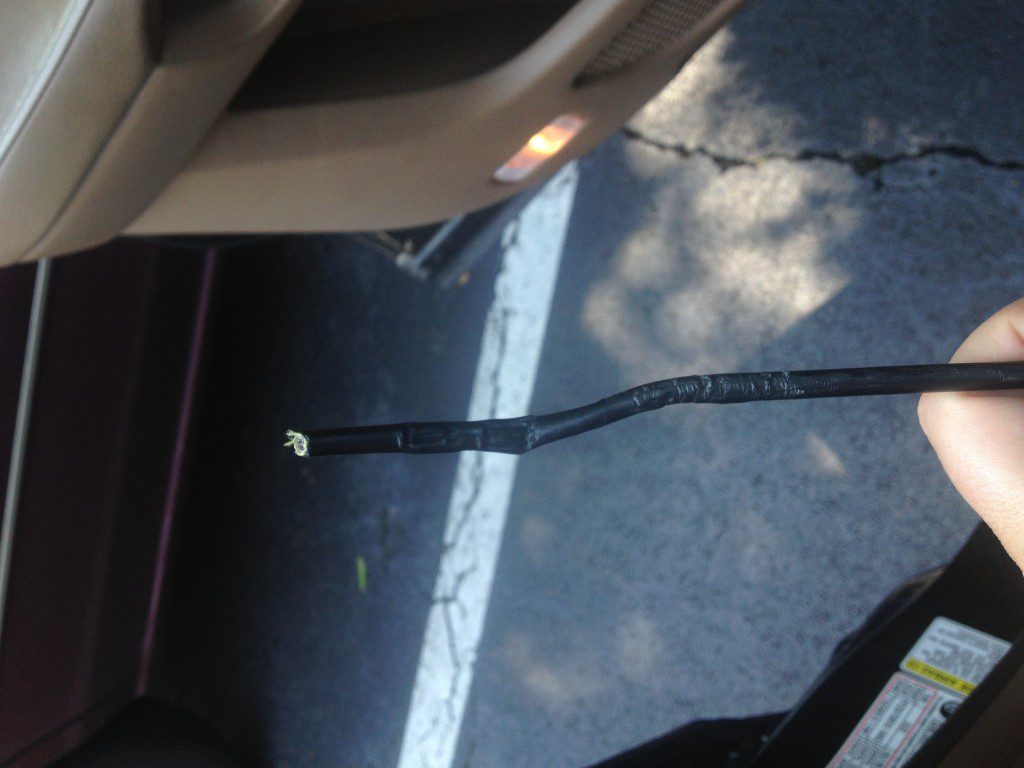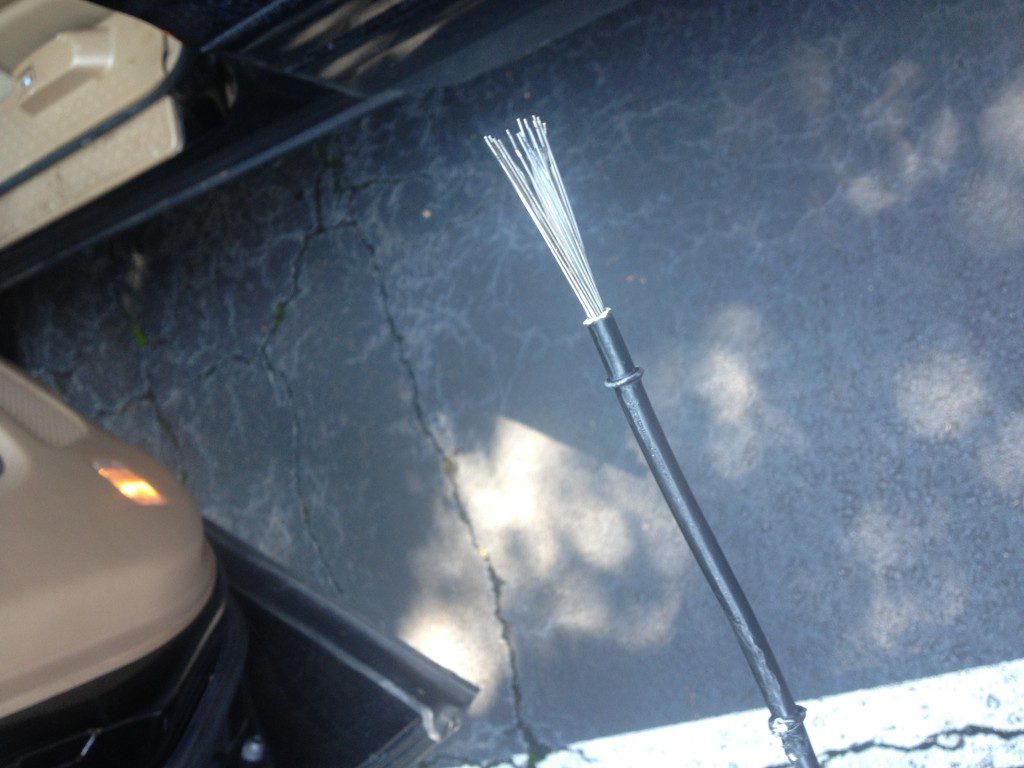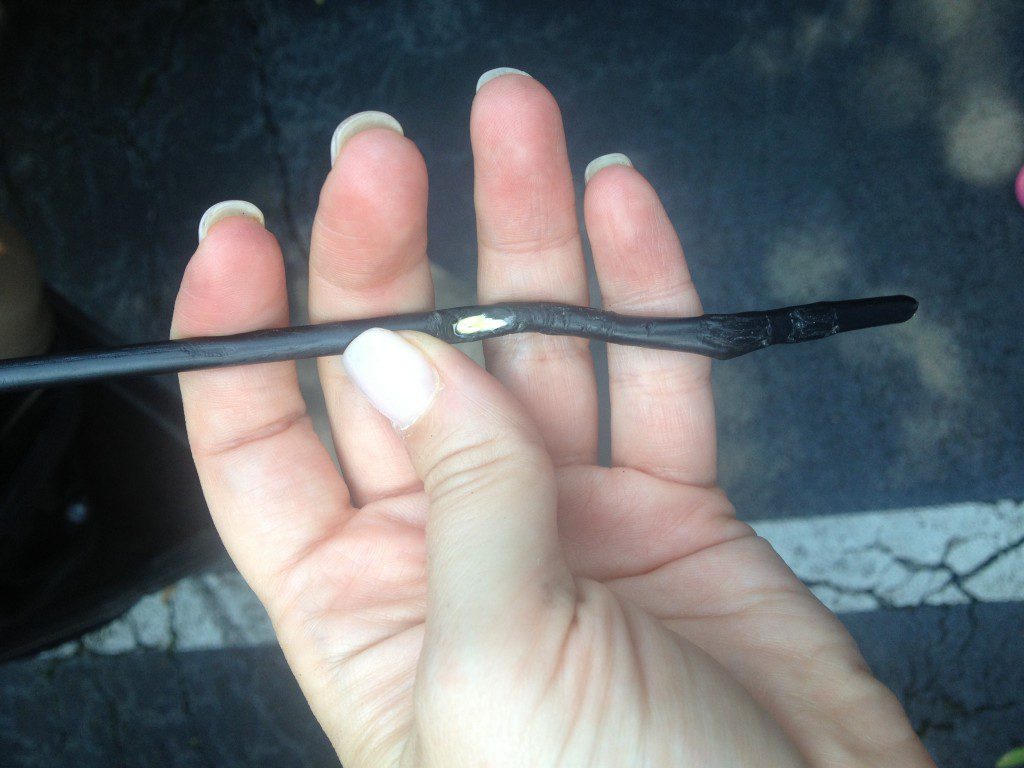 The scary thing is that I rode IM CDA with this brake cable.  Wowzers.
All fixed now, though.  [Mom, you can breathe now.]
The Expert was going to the gym after work, so the kiddos and I went to dinner at Gengis Grill — total mongolian stir fry with no soy, no oil and just a bunch of goodness. I am totally addicted to that place. The bottomless bow is a-mazing.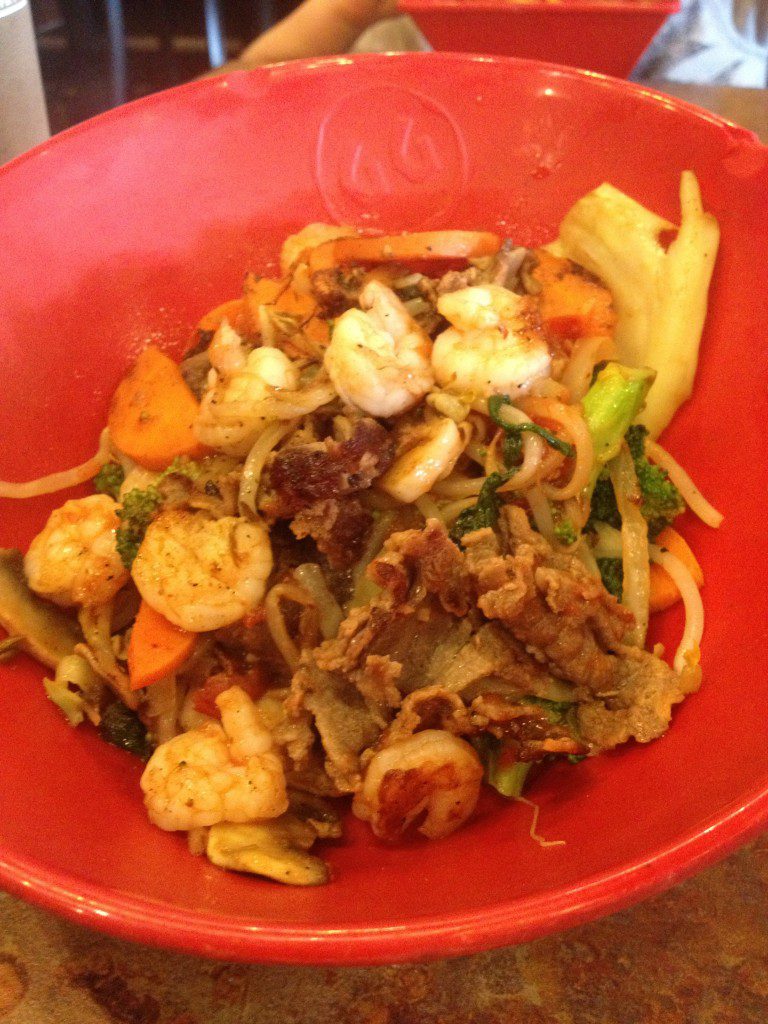 And I was only a little jealous of Stella's chocolate torte from La Madeline afterwards.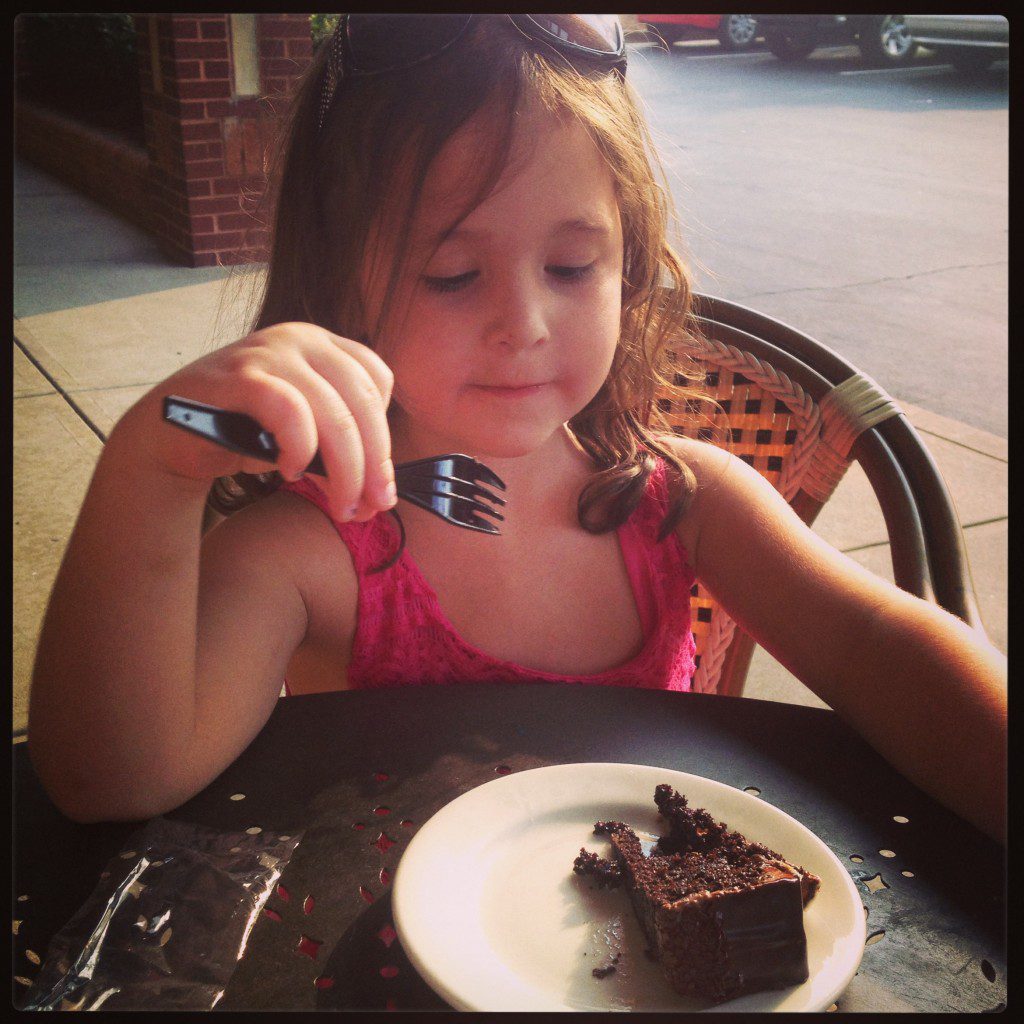 Tomorrow is a long ride and swim with the Expert and company. Bunch of dudes.  How do I end up with the dudes? 🙂
DAY TWENTY (Saturday)
See. Dudes. (Swim Bike Dads —-Cyclocross Brian and the Weatherman)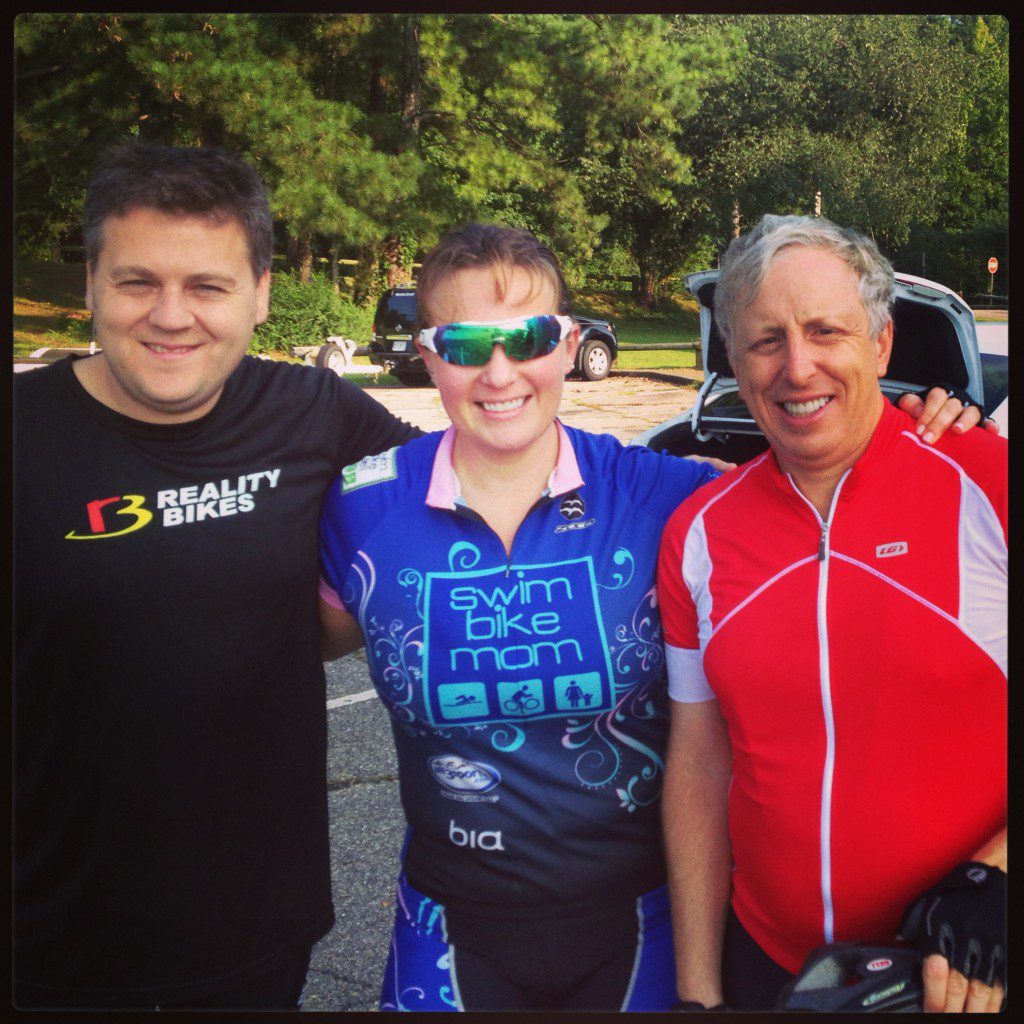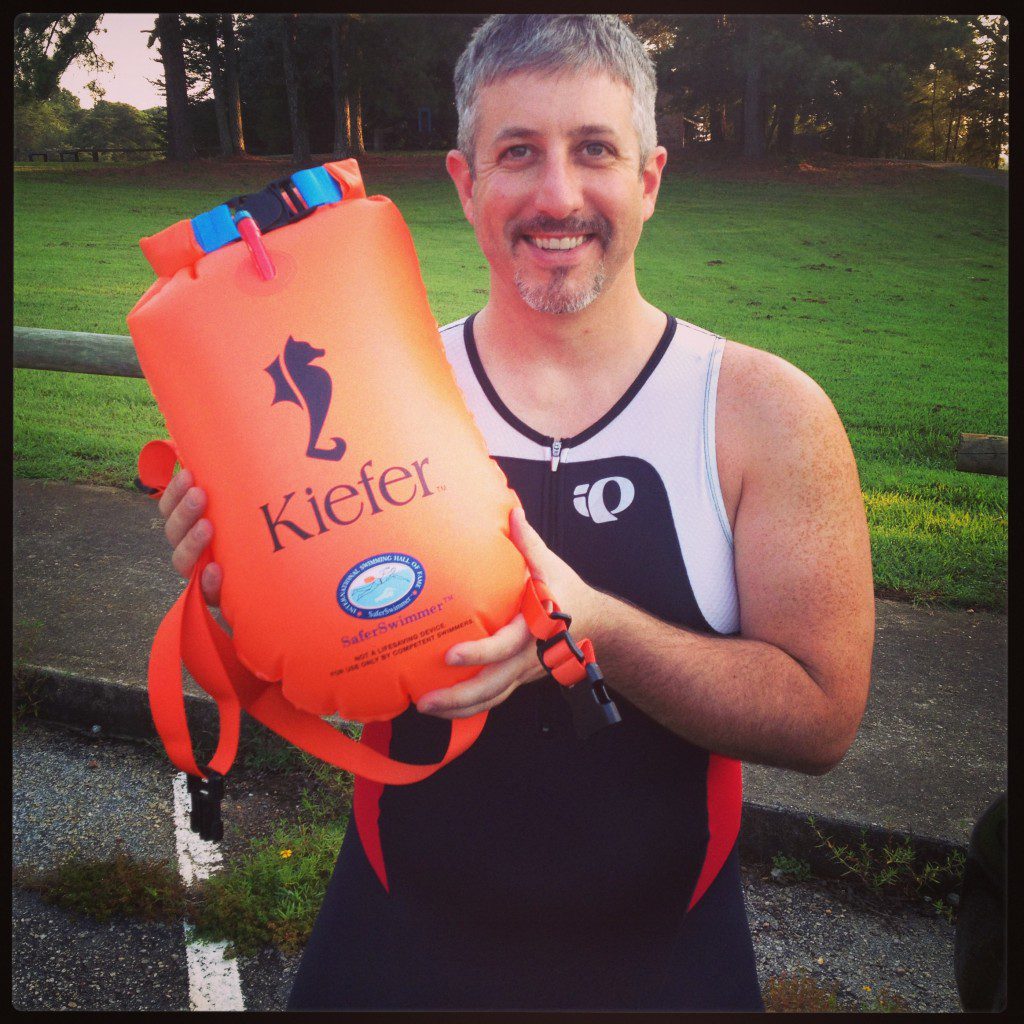 The Expert purchased a safety buoy thing for swimming.  Pretty neat idea. Fixes around the waist, and you can grab it for flotation if necessary. Nice bright color, floats behind you as you swim.  He brought me one too, but I told him I'd just grab his if I needed it. 🙂
Because it's such an awesome safety device, I'm going to give one away to you guys! It's really that sense of security and safety in the water – especially sans wetsuit!
a Rafflecopter giveaway
Just enter above.
Anyway, we swam for 30ish minutes in another episode of "Why is this LAKE so choppy?" and then headed out for a bike ride.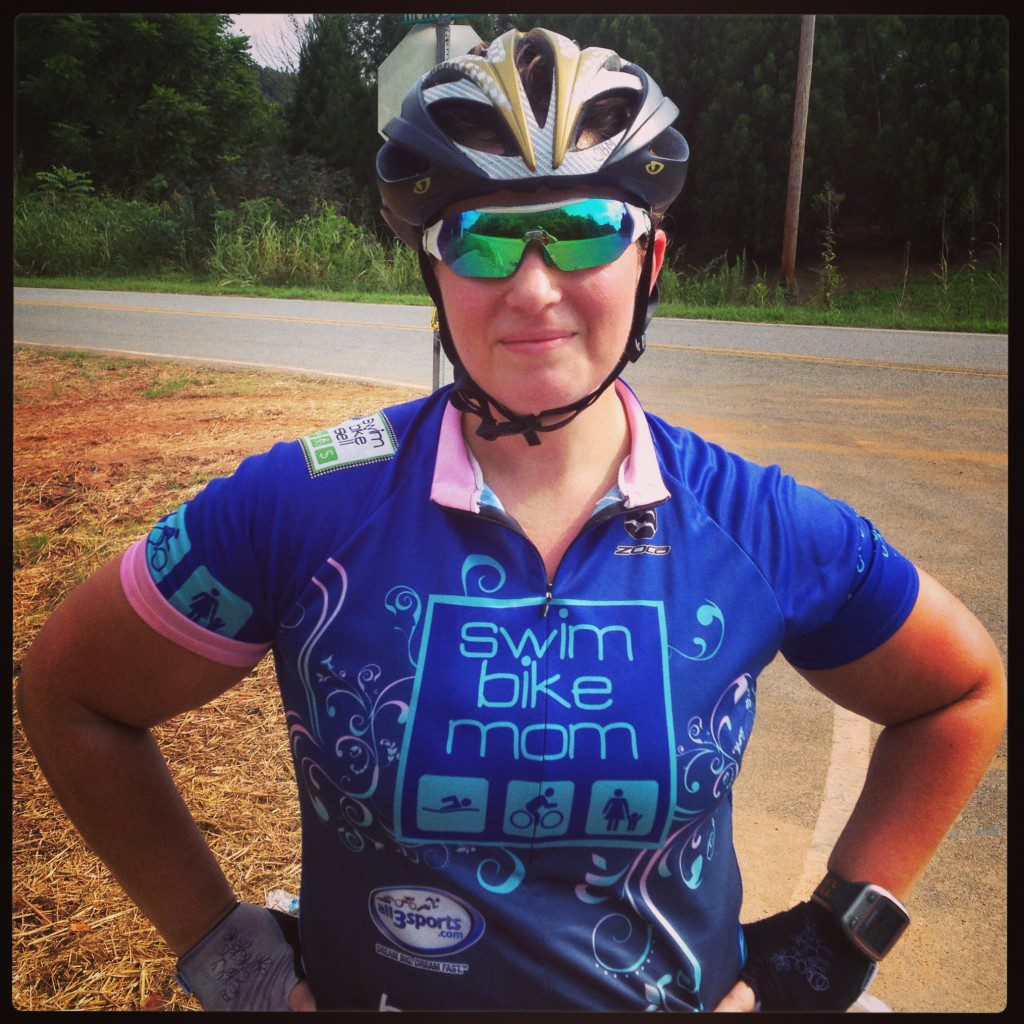 I fueled FIFTY miles, about 2600 feet of elevation, and a 30 minute open water swim on:
-two hard-boiled eggs (pre-workout with coffee)
-250 calories of dates
-1 bike bottle of cocunut water, 3 bottles of water
– 1 sweet potato.
And it was perfect. Seriously, the Whole30 way is agreeing with me, finally. I also woke up without feeling terrible. I think the cold is on its way out.  Despite coughing from midnight to two in the morning. At least my abs got a workout.
This was the longest ride for the Expert in a long while.  He did great.  He told me several times, "Get your butt out in front, Ironman."  It was still a really tough ride, Ironman or not.
"I don't know how you did an Ironman," he said when we finished, as I offered him some of my boiled egg whites (heh heh).
Honestly, I don't either.  The whole thing still blows my mind and still seems impossible to me. Even though I know I was there. Bizarre.
We finished it off with a Five Guys Burgers & Fries Whole30 compliant lunch—- double burger, bunless, with tons of veg and (sigh)…no fries! Totally "legal."  How about that.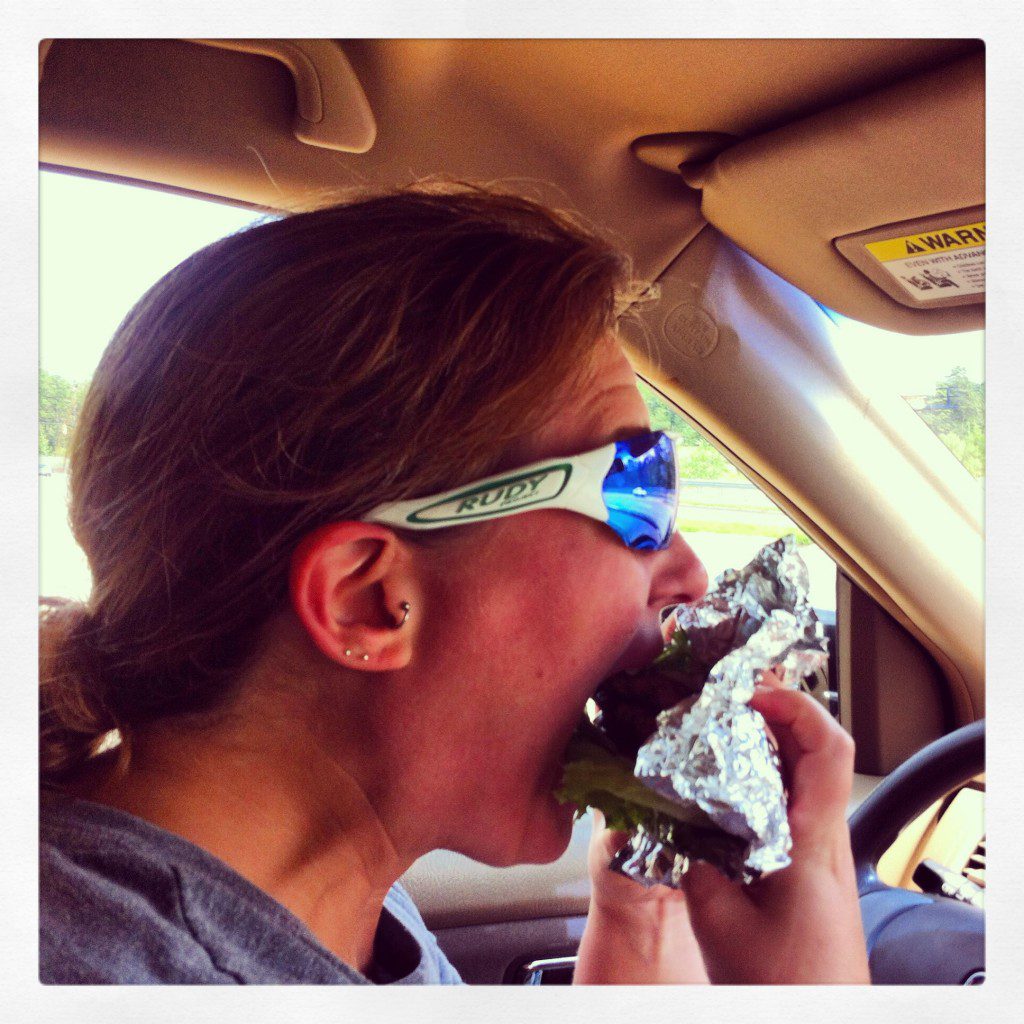 All in all, a solid training day, and now some quality time with two Swim Bike Kids and an Alvin & the Chipmunks movie.
Monday will be three weeks of Whole30.  Feeling pretty good. I am seeing the greatest gains in the workouts and the fact that I'm not that hungry.  I estimate that I am consuming about 1500 calories a day.
I'm going to weigh tomorrow, even though I'm not supposed to.  I have five more weeks until Augusta 70.3—-and 5 more weeks of the Eight to Great… so I'll be doing TWO rounds of Whole 30. Woot. And then I might just keep going. Who knows. I'm wild.
And I would like to get rid of ALL arm jello. Hello.
Tomorrow is Ironman Louisville… lots of good friends racing —-to name a few: Yoda, Rick, Jillian, and Jeff…wishing you the best race EVER!
TNT and SBM friends—-Brenda, Danielle, Heather and Lauren—- the same to you!  Go get 'em!
===========================================================
What is SBM's Eight to Great?
So I started the SBM Eight to Great to give us all some motivation and incentive to be better together.  Eight weeks of full commitment. So whatever changes are you are going to make, whatever eating regime you plan to follow, let's do the healthy things together.  We already have over 700 people on the Facebook group! You can join the Facebook group here.  And yes, you can start anytime.  This is about changing YOUR life. So let's go!
The main tenets of the Eight to Great are:
1) Eat clean– no junk food, no (or very limited) processed food, low (or no) sugar, no booze or Filet-o-Fish sandwiches (written more with myself in mind here). I am following Whole 30, but there are many ways to get to healthy—-we all must find what works for us.
2) Train hard – work hard in your workouts with your big goals in mind. If you need a free beginner tri guide, go here.
3) Just Keep Moving Forward – if you fall down, you pick yourself back up and go!
Go here to sign your commitment to GREAT, and get ready for an amazing, life-changing 8 weeks! Go here to download an awesome goal-setting worksheet from Whole 30.