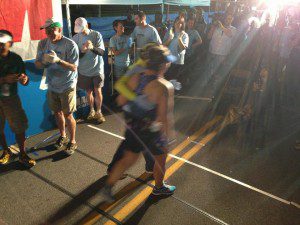 You can read my giant novel of a race report about Ironman Coeur d'Alene here.  I claim it's my "First and Last" Ironman. You all laugh at me. Don't laugh too hard.
Usually in a race report, I include a list of things I learned, what worked/what didn't, but I was actually tired of writing that report.  So this is more like a Part II, if you can imagine that I actually have more to say.  Alas, I do. Disclaimer: I am not an expert on this stuff. This is just what I learned and my perceptions. Take it with a pack of gel.  (Oh, I'm soooo funny.)
I'm sure there's things I'll remember later and add… but for now, this is the scoop.
The Number One Rule
Lube. If in doubt, put some lube on it.  It's like Momma's spit – can fix anything.  Put it all over your body. If in doubt, lube. (Aquaphor, TriSlide, Body Glide —three of my faves. Each serving their own lube-a-licious purpose. I almost slide off my bike, I'm so slippery…. oh the jokes that can come from this. But we'll move on.)
General Geniusness
Okay, I can't claim the "General Genius" tidbits, because this was the stuff that I learned from others. But passing along what I learned is a big deal of mine, so I want to include it all.
Breathe. When you get injured or sidelined during training, remember to breathe and do the best you can… with what you have. I had less-than-stellar health and an injury roster a mile long rolling into this Ironman, but I continued to focus on what I could DO. And I did it.  Coach Monster stayed on me about this, "Do the best you can. Let the rest go."  Hard to execute, but necessary.
Patience. Patience. Patience.  Yes, Ironman is a race, but it's also a very long day (some days are longer than others. In my case, long day. Period.)  Coach M reminded me to be patient.  A couple of times, I felt myself getting aggressive on the bike, and I remembered his words. Staying patient may have made my day slower than it might have been—-but then again, staying patient was probably why I finished.
Choose a beautiful place to race.  This was Coach M's advice.  While Coeur d'Alene is one of the most difficult US Ironman races, especially for a first time klutz like me, it was absolutely stunning.  I am glad that I listened to him on this. I could look out on the run or bike and just be blown away with the scenery.
Be grateful.  I always say this, but it's 10,000,000 times more true in a race that takes an entire day. Be thankful, race with a happy heart, and smile when you feel like crying—these things will save you more than you know.
Thank the Volunteers.  Goes without saying, I would think. But it feels difficult to say thanks when you are wetting your pants or Swim Bike Tooting. Take the time to smile and say thanks, because saying "thank you" makes you feel better too.
Respect the Race.  Coach M reminded me to respect the race distance from the get-go.  Even when I first signed up, I never took for granted just how far 140.6 miles is.  Some people may sign up for an Ironman without proving they have the fortitude to even stick to Olympic distance training for a month. That's fine—the past is the past—- but you better (going forward) dig in and belly up to the occassion… because there's no way (no way in hell) that a below-average Jane like me could have done this without dedication and determination—-and that's TRAINING dedication and determination.  Nevermind what race day takes from you. It's hard.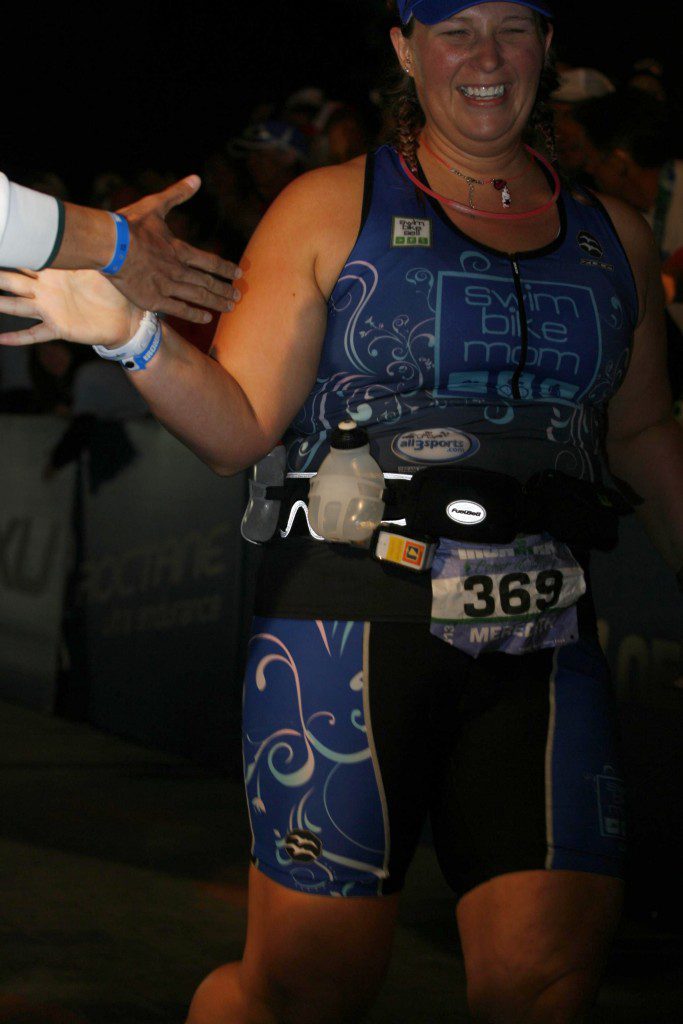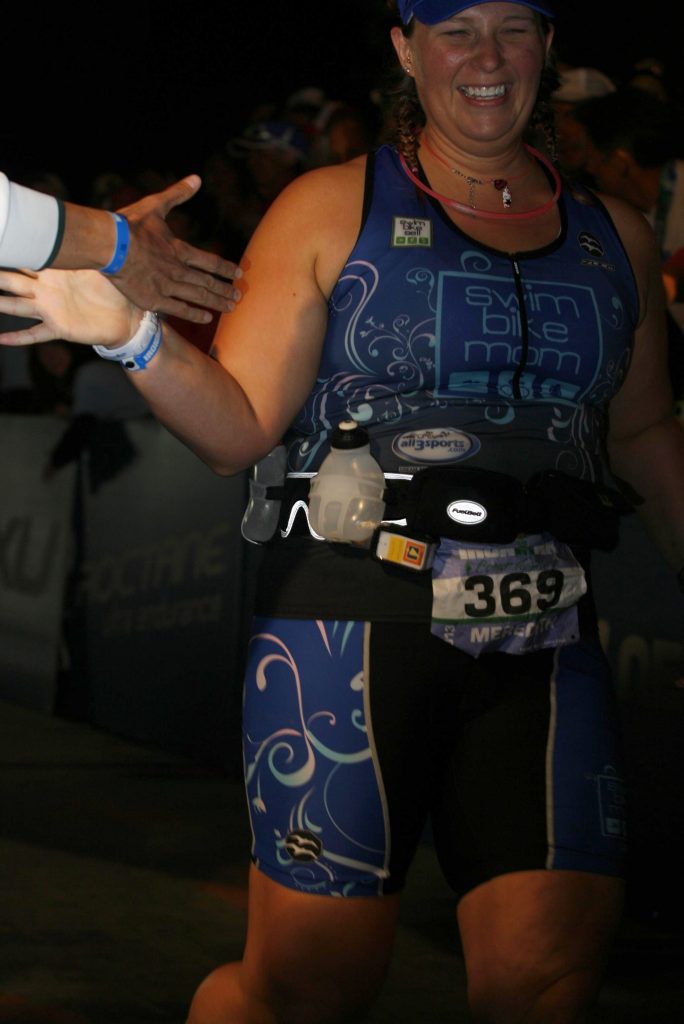 Training
I don't have an Ironman training plan to share because: 1) mine was all over the place with my injuries and I wouldn't recommend never running more than 14 miles before an Ironman (necessary evil), and 2) I had a coach, so it was a personalized plan and also, not mine to give away freely.
That being said, in the final throes of training, I pretty much swam about 10,000-12,000 meters a week (divided over 2-4 workouts), biked 7-11 hours a week (with a 5-7 hour ride on the weekend), and ran/walked/elliptical'd 4-5 hours a week.  Some weeks were 15 hours of training; others peaked at 25 hours. It was madness, overall. Madness.
I would say if you can't devote 15-20 hours a week in the peak weeks of Ironman training, don't even bother.  Because those hours actually turn into 25, when you are stretching, icing, seeking mental health therapy, shopping for gels, packing your bags. Then you are so exhausted, you sleep more. It's madness. You have been warned. 🙂
Packing for the Race
Should be an event all in itself.
Three words: Tri Bike Transport.  You drop your bike at a local bike shop, then you pick up at the expo. Then they ship it home for you too. You can also check a gear bag—helmet, wetsuit, etc. (saves airline fees!!), then you can pick up on Thursday usually before the race, along with your bike. Tri Bike Transport also introduced a new Valet service – for $30-50 they will pick up your bike AND your bags the night of the race- and have them waiting for you the next day in the village. (If they are shipping your bike home, you just take your pedals and are on your way—-they don't ship with the pedals on—but they do put them on/take them off for you.) TBT was awesome—especially the Valet Service. There was NO way I could have gotten my bike on race night—I was dead. And to have asked my family to do it when they were there all day… the Valet service is a MUST. Even if you don't ship your bike with them.  [Yes, I am a part of the TBT Team, but this advice is completely the same no matter what. Just disclosing my relationships.]
Best advice I received on packing was from my friend Yoda and also reiterated by several others dealt with packing all the bags.
In Ironman, you are given five bags when you check-in at registration: Morning Clothes bag (you get this back after the race); Bike Gear Bag (T1 bag; for your cycling shoes, helmet, gear after the swim); Bike Special Needs bag (this is handed to you around halfway on the bike); Run Gear Bag (T2; your running shoes, clothes); and Bike Special Needs bag (this is handed to you around halfway on the run).  The best piece of advice was to pack these items in trashbags, label them and then just transfer them to the Ironman bags before the race.  Excellent advice. It helped me organize my stuff AND my thoughts.
Don't bother bringing C02 cartridges on plane; they aren't technically allowed. Buy at the race expo.
Here's a list of things that I had in each bag – not all of it was necessary.
Morning Clothes:
wetsuit, Trislide, 2 pairs of goggles, timing chip, swimcap, water bottle with Gatorade, pre-race gel (I forgot mine… so don't forget yours), iPhone (once I was done with the stuff in this bag, I handed to my folks. If you are traveling alone, you can turn it in and get it back after the race). I also brought my 4 bottles of Gatorade and bike nutrition to add to the bike which had been checked in transition.
Bike Gear Bag (T1):
helmet, cycling jersey, cylcing shorts, socks, cycling shoes, gloves, arm warmers, arm coolers, sunglasses, Body Glide (feet, discussed later), race number with belt, sunscreen (spray), 6 Huma Gels, 2 Apple Sauce packets, 1 pack of Shot Bloks, 1 Go Macro bar, small tube of Aquaphor, hair rubber bands, baggie full of: inhaler, salt tabs, and Aleve.  In my jersey, I put all nutrition. I looked like a Camel, but it was fine.
Bike Special Needs
4 bottles of Gatorade (3 bottles switched out on bike, 3 other bottles abandoned, 1 bottle used to refill my aero bottle), special snack (for me, Peanut Butter M&Ms), tube & CO2, 6 Huma Gels, 2 Apple Sauce packets, 1 Go Macro bar, sunscreen (sprayed on another round, yes)
Run Gear (T2):
tri top and shorts, sneakers, socks, Body Glide liquified powder (feet and armpits), deodorant (used it!), visor, sunscreen, bandaids (just in case), 8 Huma Gels (pre-packed in Fuel Belt), more salt tabs and aleve
Run Special Needs:
second pair of shoes (discussed later), socks, Body Glide, bandaids (didn't use, should have), more Huma Gels, 1 shot Bloks, Peanut Butter M&Ms, compression socks (didn't use, should have), cooling towel (didn't use, should have), and clip light (didn't use, should have).
Bike Check & Registration
If you are nervous about your bike mechanicals, harass the Expo on-site bike techs until you are sure that you are ok. I had some issues that I was told was resolved before leaving ATL, only to arrive in CDA and see it wasn't so.  I took my bike to the techs TWICE and bothered them until it was fixed. It was. And I felt 1000000 times better. And I was very appreciative.
Try to enjoy the registration process. The lines are long and in CDA's case, it was raining and cold, but I thought about how cool it was to pick up my stuff and get the IRONMAN band on me.  And it was. Especially the backpack.
Go shopping. Get a few Ironman goodies. They are motivating. But the real deal is getting up SUPER EARLY on the day after the race and standing in line for the FINISHER goodies. That was a pretty special time. Despite how sore and tired I was. It was just special. Don't miss out on it. Especially if it's your "First and Last" Ironman.
Clothing
This is, of course, a matter of personal preference. Here's what I did, and it worked well for me:
S: I wore a tri kit under my wetsuit for the swim.
B: In T1, (in a changing tent!) I changed clothes into a cycling jersey and cycling shorts.
R: I changed into another tri kit for the run.
So yes, I wore one kit to the venue and placed one in my cycling gear bag, and one in my run gear bag. I think it was probably unnecessary, but I was very comfortable on the bike for many more miles than I otherwise could have been.  So in the end, it was worth it. Also, nice to have "clean" clothes after 112 on the bike. Again, it's just a preference. I was just rejuvenated by changing.
I have long been hooked on Moving Comfort sports bras. No chafing, even after 140.6. But it was also accompanied by Aquaphor.
Socks.  I usually run with socks no matter what.  In a half Iron, I may or may not put on socks for the bike.  But in 140.6, yes I did for bike and run. And I'm glad I did. My feet were so hot and swollen after the ride, it was a good thing.  I changed socks in T2, discussed later. Good move.
Equipment
Many of you asked what kind of gear I have/used on the course.  Please note that I am not sponsored by any of these companies (unless otherwise noted), this is just for informational purposes only.
Goggles:  TYR Special Ops
Wetsuit:  ORCA S4  (I think this was a great beginner wetsuit. A little thicker than some of the expensive ones, but pretty comfy as far as wetsuits go.)
Lube for wetsuit: TriSlide
Lube for feet: Body Glide liquified powder
Lube for the Queen: Aquaphor (SHOULD be a sponsor! As much as I advertise for them. LOL!)
Tri Suit/Cycling Jersey/Shrts:  SBM gear made by Zoca Gear (partnered with SBM)
Tri Bike:  Blue Triad  (partnered with All3Sports)
Cycling Shoes:  Shimano WT52
Helmet: I can't for the life of me remember what kind. It was fancy Giro – and I got it on wicked sale at All3Sports.com.
Aero Bottle: Profile Design. It's the little cheap one that has flexible straw. I'm a fan.
Running Shoes:  Saucony Kinvara 4 (sponsored; best shoes EVA).
Visor:  Headsweats
2 bottle Fuel Belt
GPS tracker was from MyAthleteLive.com.  And while I heard (from you guys) that it sucked as far as time tracking, it was a very useful tool for my family on the course because they knew where I was at any given time, so they could plan to see me on the course.
Nutrition
Again, this is just what worked for me.
Practice your intended race day nutrition in EVERY workout. I worked hard to try and eat just like I planned to do on the course.Those super long century rides were perfect opportunities to practice. (Except the one where Yoda and I pigged out on all the snacks. In that ride, I learned that I have iron stomach for cookies.) Early on, everyone said, "Eat potatoes in an Ironman!!"  And I thought, well, that's a great fuel source, I'll do that.  But turns out potatoes do not agree with me after an hour or two. In fact, they tear me up.  So it was a good thing I practiced.  By the time I raced, I knew exactly what worked and what didn't.
As a rule, I eat every 30 minutes on any long workout- Ironman was no exception. I did pretty well with it, and then some.
Goal was to try and pound down some serious calories about 2-3 hours before the race. For breakfast at 4:00am, I had my standard "power breakfast": brown rice (or quinoa), cream, almonds, banana and raisins, which was about 550 calories. Some people swear by Ensure drinks (Columbus, for one), but I can't drink them. However you can get the calories in, it's a good deal—because you'll need them.
Before the swim, I intended to take a gel or two for the extra calories, but I forgot to bring one. So I took a juice box from the kids and that seemed to work. Poor kiddos.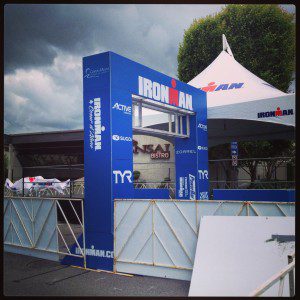 Learn what's on the race course. If you can race with what they offer —-do!  Because you won't have to carry it. But consider that sometimes they might run out of what you need. I went through one or two aid stations that were just "out" of things, and I heard other racers losing their minds about it.
I did not use the course gels or drinks, because I have a corn (maltodextrin) allergy. Ironman provided Perform and GU is what was offered at IMCDA– I can tolerate in small doses, but not over long times. I didn't think Ironman was the race to test my allergy strength. So I packed my own bottles of Gatorade (4 on the bike to start and 4 in Special needs), and carried my own nutrition.
In addition to the 8 bottles of Gatorade I brought, I had 3-4 bottles of water from the aid stations along the way.
I used Huma Gels as my main source of gel nutrition.  Over the course of the race, I consumed 15 of them (1500 calories in gels…but they are delicious).  No GI distress. Wonderful product. Can't say enough.

2-3 Apples sauce packets (you know, the kiddo kind). They just taste good on a ride.
2 GoMacro cashew butter bars – one at start of bike, one at end of bike. They pack a 230 calorie punch, and are easy to choke down. I would not call even close to call them delicious. But they are useful.
I used the margarita flavored Shot Bloks in between for extra salt (2 packs total during race – I think both in run. Forget now.).
For my special treat on the bike and on the run (in my bike special needs bag), I used a small bag of peanut butter M&Ms.
I took one Salt Sticks capsule every hour.
I took 1 Klean Endurance cheweable every 2-3 hours.
At almost every aid station on the bike, I grabbed 1/2 banana. On the run, I would grab that or a few orange slices with a handful of potato chips. And I had one cookie at some point, and then thought, don't start that.
After Mile 18, I started taking a cup of chicken broth whenever it was offered to me, along with 1-2 cups of cola at the end.
In addition, I took a Dramamine at the start of the swim, and an Immodium after the bike.
During the run, I popped an Aleve for my massive headache.
Does that seem like a lot of food?  Well, it was. And I felt pretty good the entire race, so I would have rather over nutrition-ized than not.  I imagine that from the time I woke up, to finishing IM, that I consumed probably 6,000 calories during the race (not counting the pre-race meal)…. which if you divide by almost 17 hours… puts me at 352 calories an hour.  I was aiming for 300-400 an hour.  So I was about right.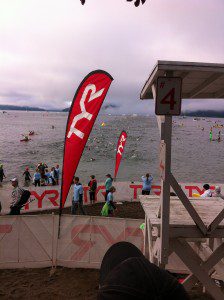 Swim
I need to practice my sighting. I really get off course, and for no real reason other than I just wander, and I don't seem to care that I am wandering. I probably could cut 5-8 minutes off my time if I'd swim in a reasonable point-to-point manner.
Don't forget to lube around your timing chip. That can make a NASTY chafing mess.
I forgot my pre-race snack.  Even with all the stuff and lists, I forgot something so simple.  Luckily, it didn't seem to matter.  But it could have.
Dramamine.  Best swim trick ever. No sea-sickness.  Also, trying to look ahead rather than straight down helped a friend during his race with the motion sickness.
Earplugs on the swim. A good idea. Drowns out the water, some of the commotion, and prevents the brain freeze from cold water.
Used lots of lube around the neck to prevent wetsuit hickeys. Lots. Lots and lots.
I appreciated my sense of non-panic in the water. I think there's very easily ways to wig ourselves out in the open water. I mean, it's completely terrifying if you investigate it too much. I remained calm and didn't get flustered when I was kicked or punched, and I remembered to be grateful in the swim.  Try not to panic.  Seriously. Stay calm.
Taking my time coming out of the first loop was good.  Taking my time going into T1 was good.
T1
No need to pack an entire store of triathlon supplies. There is such thing as too much of a good thing—-when I was dizzy from the swim, couldn't use my fingers very well, having an overwhelmingly large supply of things in my T1 to process was tough… and it wasted time.
Move faster than you think you need to in transition. I spent like 14 minutes in transition and swore I was only in there 5 minutes.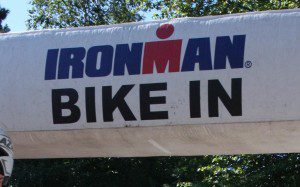 Bike
There is really no reason to carry around 3 tire tubes and 4 C02 cartridges. This goes back to my too many supplies. But then again, if I had needed 3 tubes… I might be writing a different bullet point.
Learn to take the bottle handoffs at aid station. Practice. I did that before Augusta last year, and it helped. Just focus on the handoff, yell out to the volunteer that has what you want and point at them, "Water" or "banana" – it helps them help you.
Be grateful. Look around. But look forward. Yes, I said be grateful earlier. But 100 miles into a bike ride, it starts to be difficult. But enjoy the scenery, the others on the bike.  It makes a difference.
Learn to pee on bike. Do not STOP to go potty seven times during a bike leg.  Do not spend 10 minutes at the special needs station putting on sunscreen and chatting with a volunteer who is a Realtor in the city.  You will get distracted.  [But I really am interested in moving to CDA. Just saying.]  These several stops may have helped me, energy-wise, but they actually cost me probably 45 minutes.  And with my race time, I kinda needed those.  If I could do it again, I would have cut out every other potty stop (e.g., held my bladder).  And for the next one (ha!), there will be a clinic on how to pee on the bike. I still can't manage it. No matter how hard I try.
Contradictorily (is that a word?)— if you aren't "racing" for time, then go slower than you think you need to (as long as you actually have the time to spare) to try and conserve your legs. I'm not sure this line makes sense. But I know what I mean.  So ignore me.
If someone is going just slightly slower than you are up a hill, just fall behind them and spin it out—don't blow up your legs for a slight advantage. The trade-off isn't worth it. I did a good job with this except one time… and I felt like I paid for it for miles.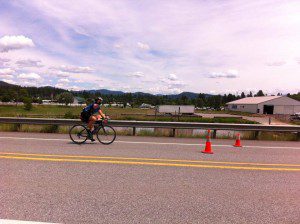 T2
My run bag was significantly more organized than my T1 bag, so that helped. But I think there's less to think about in T2… plus, was so bloody glad to be off the bike.
I also let a volunteer help me more in T2… like actually change my clothes. Take my shirt off for me.  Get entirely too close to help me with my shorts. I would have been embarrassed any other time. But man, you just don't care. Those in-tent volunteers are saints.
Try and have a snack here. I didn't and wish I had.
Run
Body Glide Skin Glide Liquified Powder on the feet.  Buy it, slather it on feet. That is all. I still had pretty messed up feet, but I can't imagine what they would have been like otherwise. In a 13.1, I have run the whole way without a single blister and in the rain.  I just think 26.2 becomes ridiculous and feet start to hurt.
Chicken broth – drink it at every stop.  It's gross, but it's nectar from the gods.  The salt, the warmth. You just wanted to curl up with a blankie and rest.  But alas, move forward lady!!
Peanut Butter M&Ms – I carried a pack and ate a few at each mile past 20.  It was something to look forward to.  And there's not much out there to look forward to from Mile 20-25 when you're alone in the dark.
Changing shoes at the 13.1 mile mark didn't make that big of a difference for me, but changing SOCKS felt huge. Recommend. Also added a new layer of Body Glide liquified powder.
[It also helps if you have a really cute four-year old girl to stand near you.]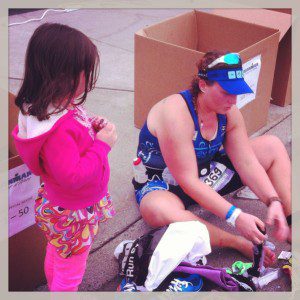 Hug your family everytime you see them. Even if your husband says, at Mile 14, "Stop hugging us and RUN!!! Go!!!" Hug them. For me, my family was the reason I was out there, moving forward. I figured that they were sitting out there supporting me, so I should slather some sweat on them. Plus, the extra boost translated to extra speed—I'm convinced– and I swear that there is absolutely no time disadvantage because of the family-hug-boost. See?
If you are a slower racer like me, don't let the loop course get you down.  I loved seeing my friends who were racing on the course. Each "go Meredith" or "yeah, Swim Bike Mom" was a huge boost.  But almost ALL of them were heading home for their last 7-8 miles when I was heading out for my first few… that can be discouraging, but my advice would be—-don't let it be. You too can encourage —and realize that everything has a time and place.  And your time just may be slower, and your place further down in the finish. But it's all good.  Plus, all the crazy crowd cheering comes out in the last hour of an Ironman. That's the slow people bonus! 🙂
Everyday I'm Shuffling. Sometimes walking hurt worse than running or shuffling. After Mile 15, I invented this hybrid walk-run-shuffle, and it served me well.
Know where you are on the course (timing-wise), but don't obsess about it.  I had my deadlines in sight the entire race, but I didn't mull over them. I think it's good to find a happy place of balance with the time you want, and the time you "need." And have a focus somewhere around it all—if that makes sense. But yes, know the deadline… if you are that close, like I was.  Then let your family know too, if you are on a rolling swim start (which causes Midnight to not matter as much). I could have shouted out to my husband that I had until 11:43pm, and that would have helped him not fret as much.
Just Keep Moving Forward. (Really? Yes, really.).  I sat down in a porta-potty once and emerged 10 minutes later. I was just hanging out. Acting like I had nowhere to be. That was NOT moving forward, in case you were wondering.

When you slap hands down the finish chute, make sure you stop running and don't start again until you find your five-year old son and high-five him… if you don't, you'll never hear the end of it.  ("Mommy never high-fived me. Mommy doesn't love me."  Oh lawdy, boy. I was doing the best I could! :))
Enjoy that last 0.2 of a mile. Savor it. Love it. Smile. Cry. Look foolish. I didn't plan a finish line pose… instead, I just soaked it in. I may have nothing but ugly cry pics for my finish. But I have a distinct, fabulous, ugly-cry memory of it burned into my brain forever.
In Closing
I learned that I am stronger than I ever thought possible. (Which means, so are YOU, by the way!) It sounds braggy and someone who finished just barely probably shouldn't be braggy—-but I have a point, so bare with me. I can't believe that I went the entire race without wanting to quit. That my mind was focused enough to never think "quit."  My body wanted to… I could hear it whimpering ("Dear God, please stop this insanity"), but my mind was so much louder ("GO Go go!").  And I KNOW that's because of my mind—not my flailing body. Coach Monster gave me all the tools to focus my mind and sharpen it to endure the pain—-those endless trainer rides—my lawd.  It was because of this, I was able to endure the pain. And guess what… Ironman. Woot.
After the race, don't start the crap list of things that went wrong and how you suck. If you did it, you are an Ironman. Don't forget that.  If I hadn't peed 15 times during the race, yes, I probably would have finished an hour earlier. But so what. I keep reminding myself of that. I set the goal to finish an Ironman, and I did. So I'm going to stop with the "what ifs."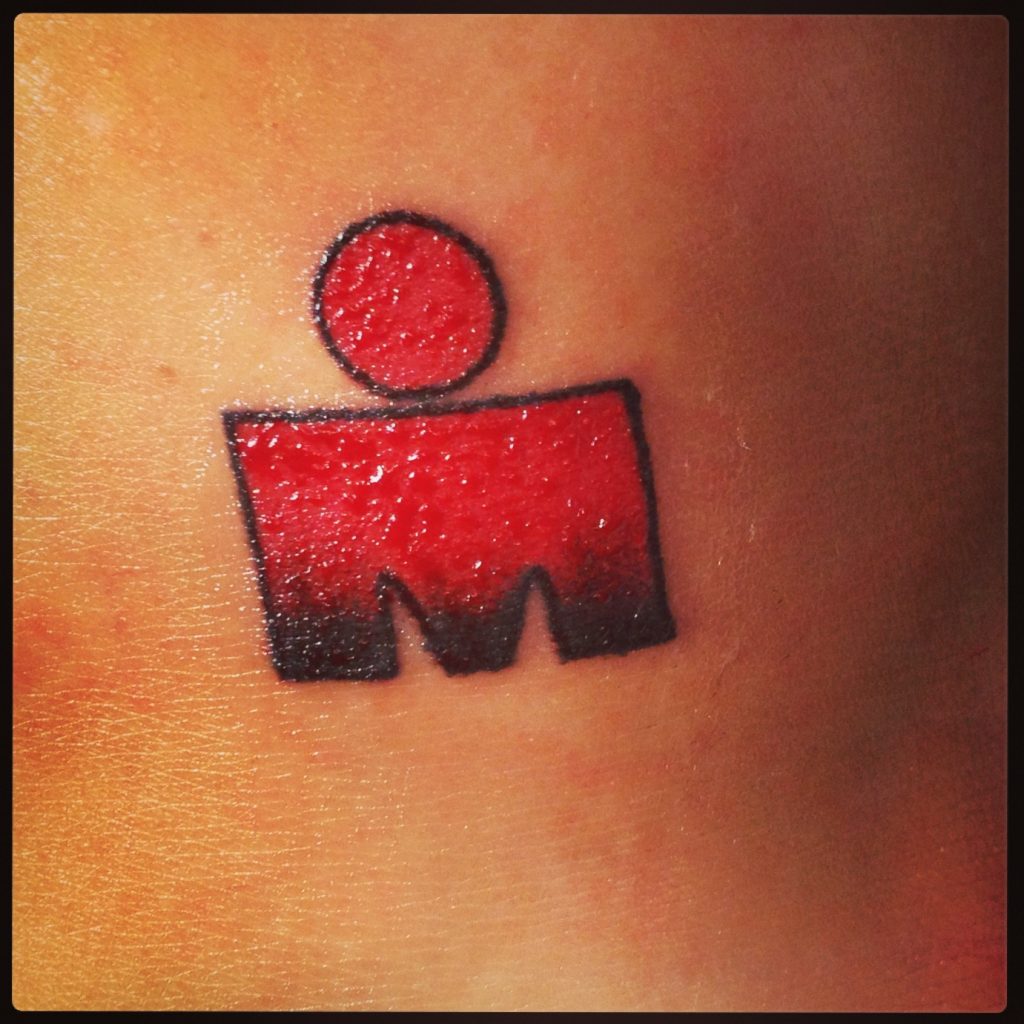 And yes, I went for the tattoo.  Because I never wanted to forget that I had that experience. And because I hope it will make me think twice about stuffing that Twinkie in my face. And because I will always welcome an excuse for a tattoo.
Oh and everything is different… and NOTHING is different after Ironman. I'm still Mom. I'm still wife to the one and only Expert (which is a good sign… we survived!???). And I'm just me at work.  I don't really feel that different. I just feel like, "Whew. Glad that went well. Because I'd hate to have to do it again." ;))
What's Next?
I do intend to publish a helpful checklist for you guys someday. Bear with me.
Well, when Coach Monster told me "no" to Ironman Louisville (6 weeks away), I decided that I might try and relax for a bit. But that didn't work out well.  So I signed up for a marathon. Rock 'n Roll Savannah in November.  And I'm running a 5k on July 4th to see if I can break the 30 minute barrier.  And I'm still on the books for Ironman Augusta 70.3, though only time will tell.
I am definitely going to incorporate yoga again into my training.
Trying to breathe. Take better care of myself. Really lose weight. The same things I always say. But little by little… it gets better. Every day, every month. Moving forward works.
#justkeepmovingforward