The Taper Worm.
Ahhhhh… it's back.  Hadn't seen it since September 24th, 2012.  Oh, TW…how I've missed you.  I had a good chuckle at this post from one of my favorite bloggers, Jen Hatmaker—where she's talking about the absolute hell that is the end-of-the-school-year.  I laughed out loud at the line, "What in the fresh hell is this?"  and will henceforth be adopting it as my own (But unlike some Atlanta-area-mantra-and-tagline-stealing people, I give credit where credit is due. Thanks, Jen. A fresh hell indeed.)
Because taper time… it's seriously a question of what in the fresh hell is this??? 
What is the taper?
Well, it's a time before a big race where you greatly reduce your training to give your body a chance to recover, and your mind an opportunity to sink into the deepest depths of triathlon fresh hell – full of doubt and fear and general insanity.  Hence, the Taper Worm.  It's gross and it wiggles and slimes its way across your entire body, finally settling in the little wiggles in the brain, and camping out there… placing its little TW poos all over the place.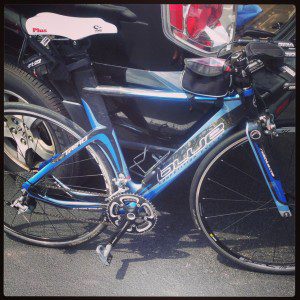 I went back and reviewed my post about Augusta 70.3 last year.  And I had forgotten what kind of mess I was before that race.  At least three times the mess I am now.  At least. I wrote:
"I can literally only control what I think.  My thoughts and my attitude.  That's it. The race preparation and training is done.  The logistics…will fall in line. The race course, the heat, the weather, the marine life and my body… are… all out of my control."
And like before Augusta, I am making my "control" lists.
Things I Can't Control
The temperature of the lake
How far my body decides to go before it revolts
Pantsing my poops
Things I Can Control
Swimming with a strong mind and freak-like fast windmill arms
Telling my body that it's will not completely revolt until Mile 140.7
I can take some stinking Immodium, and hope for the best.
I started packing last night.  Well, not really packing so much as piling.  Creating the piles. Pre-race. During race. Post-race.
It's Thursday.  I will be in Coeur d'Alene in 6 days.
And in 10 days… it's GO time.  And no matter what kind of fresh hell I experience between now and then, I can keep going back to what I can control… and what I can't.  Knowing which category to pop the fresh hell into, and let the rest roll off…