Hi all! Virginia here, mom to some awesome Swim Bike Kids! This weekend has been a giant blur, but it's been great.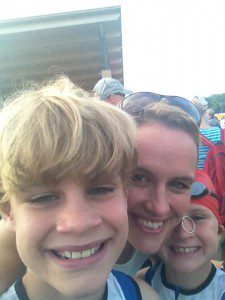 Saturday morning we left for Jacksonville, FL for the FIRST COAST KIDS TRIATHLON! It was awesome. We didn't know this, but this is actually the largest kids triathlon in the nation. There were nearly 2000 kids there. On Saturday they had an expo, bike check, and PEP RALLY….it was huge. Sunday morning was the awesome event. For an event that attempts to wrangle hundreds and hundreds of kids, the whole thing is pretty seamless.
I have to take a moment to brag because my boys were AWESOME! Will was 7th out of 141 10 year olds. Darden was 19 out of 120 8 year olds. They were WORKING. Every time we saw them on course, there was an absolute determination that was so inspiring. I am totally inspired by my kids today. WOWsers!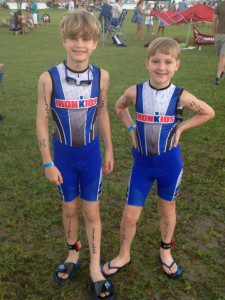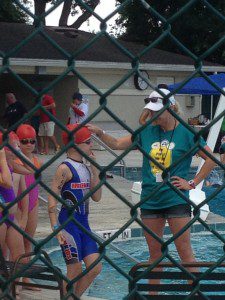 The swim was a short 100 meter swim that was really funny to watch. My boys swim on a swim team, so they are pretty fast, but many of the kids were beginning swimmers. At the end of each lane there was a traffic jam of very sweet kids trying to "take turns" to go under the lane lines. They don't know yet about the competitive nature of passing in a pool swim!
The bike and run were fairly typical for kids events, but I was stunned at how their biking is improving. I guess that whole "more time in the seat" thing is really true. The run was so cute to watch. MANY, many kids were just beat. It was HOT and sunny, so a lot of kids were pushing hard and seeming exhausted. Precious. Will flew in at a 7:10 pace and Darden at an 8:02. I want their speed!
They are bound and determined to do many more kids triathlons, and I hope we can find a bunch to make it happen. As I've mentioned many times, I love to find heroes. Today, my heroes are my kids…..little SWIM, BIKE, KID WARRIORS!
Yep, KIDS TRI HARDEST!