Pour yourself a glass (or a bottle) of wine. This here's a long one!
(The Ironman Supplemental stuff: "Things I Learned from my 'First and Last' Ironman" is here, and the SBM Ironman Checklist Spreadsheet is downloadable for free here.)
If you only want the race report, scroll on down… and scroll some more.  You have been warned.  (Also, I'm extremely brain dead… I am not sure if this report makes sense. I did the best I could with what I have right now. Ha!)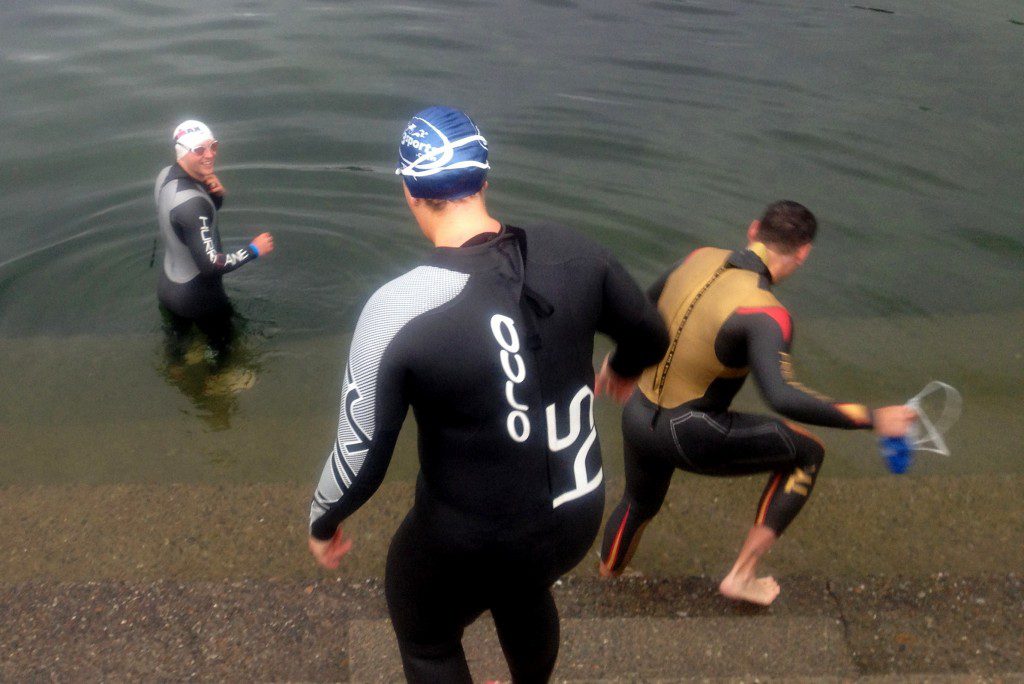 Wednesday, June 19 
I woke up at 3:30 this morning.  Wide awake with minor heart palpitations concerning race day.
Today is travel day, and I realized at 3:30 that I forgot to pack my giant bottle of melatonin.  I don't take melatonin all the time, but I know that I won't be sleeping much during this trip and I can't kill two bottles of wine to knock me out before the race, so…. check, check, melatonin, allergy medication, shoes, shoes, bike shoes, helmet..
MAN! Once I started one list (melatonin), all the other lists started going nuts (bike, race, run, holy moly).
I got out of the bed at 4:00, telling the Expert I couldn't sleep. Got on my computer. Paid the water bill (which was subject to disconnection.. lovely. How I missed that one, not sure.  Ironman.)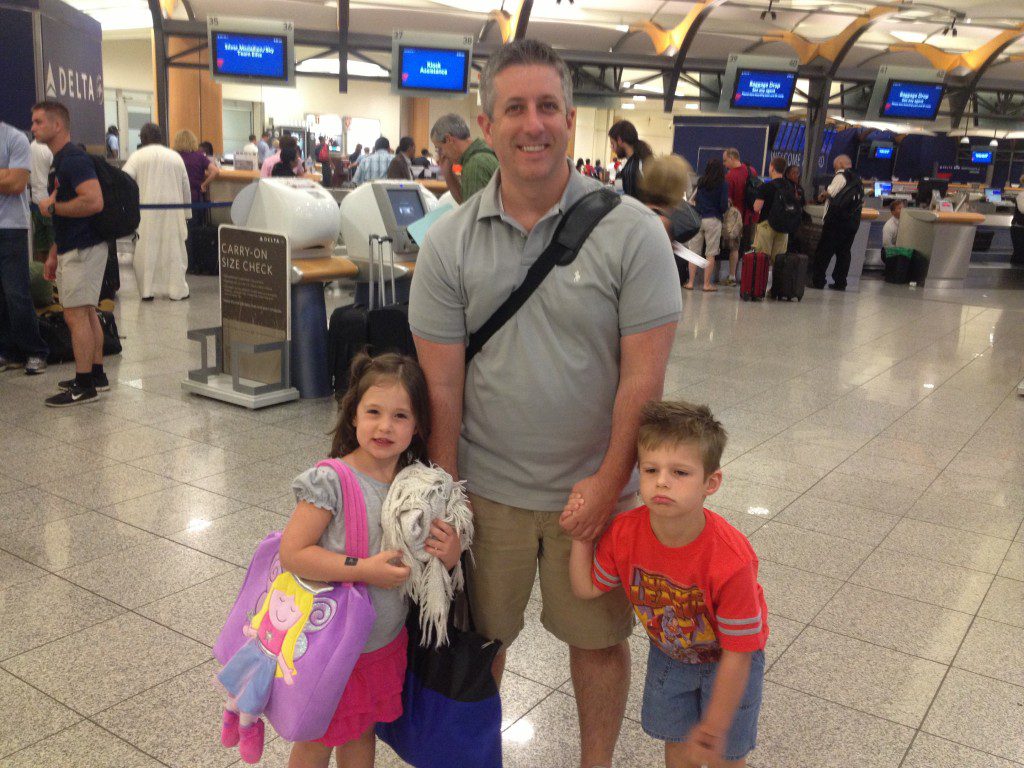 About five minutes later, the Expert was sitting across the table with me.  He couldn't sleep either.
Now that it's 5:00am, it's time to get the kiddos up and head on to the airport.  Idaho, here we come—-ya'll won't ever be the same once the Swim Bike Family is through with ya!
On the Plane
Nothing like traveling with kids.  That is all.  Total state of crazy. But the kids have been amazingly good and calm.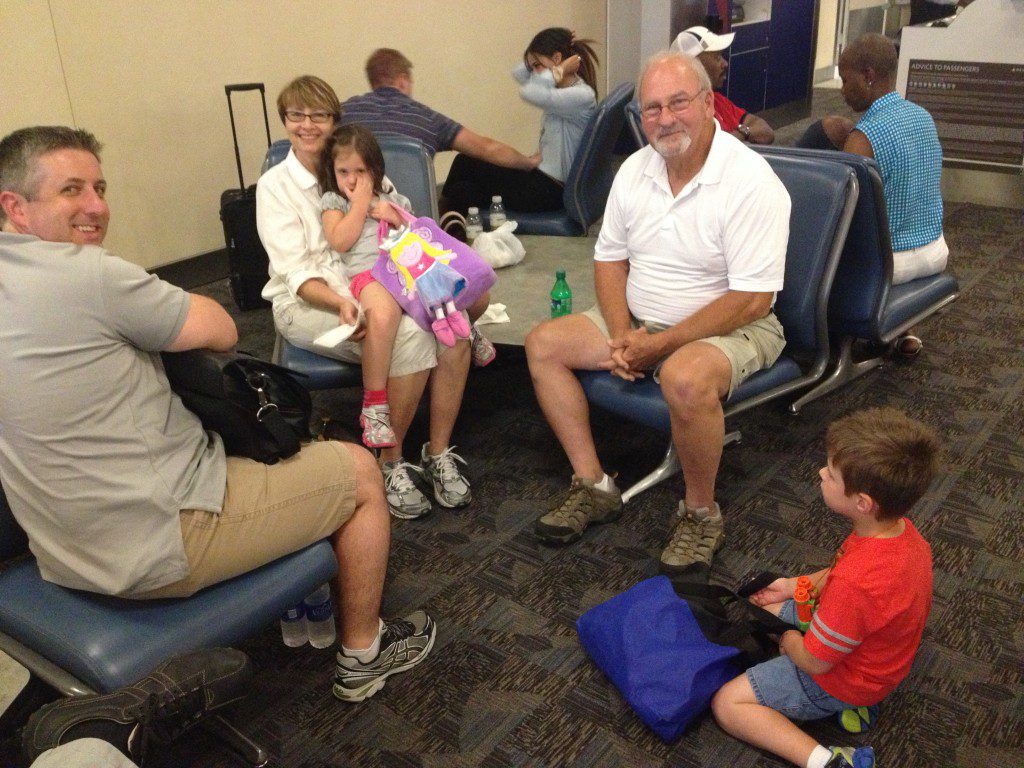 My parents met us in the ATL airport, as they flew in from Savannah.
We hopped the flight from Atlanta to Salt Lake City, which was longer than I anticipated.  For no other reason than I just made up a time in my head. I think it should take 2 hours to get to Utah.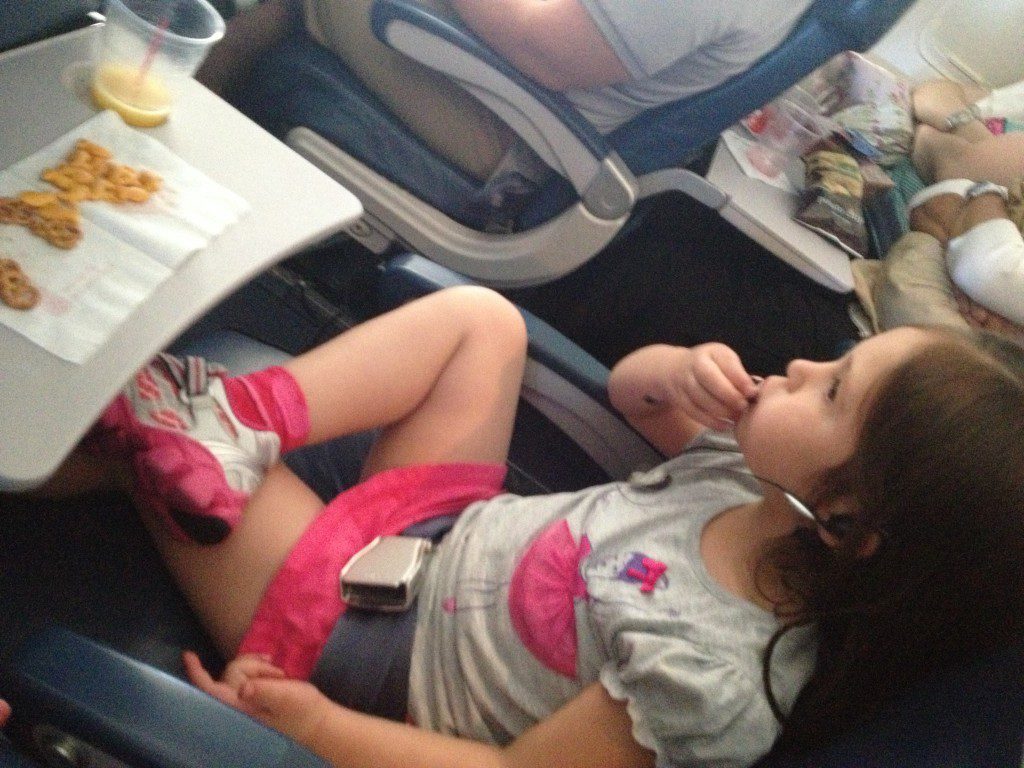 We were on the same flights as the Atlanta Team in Training … they raised over $200,000 for their cause, which was pretty inspiring. Met several of the TNT athletes and was in awe at Mark (who's on his NINTH Ironman) and Rachel, who finished IM Arizona in 16:40:00 last year and said, "Well, I can do better than that."  So here she goes. I really love learning everyone's story.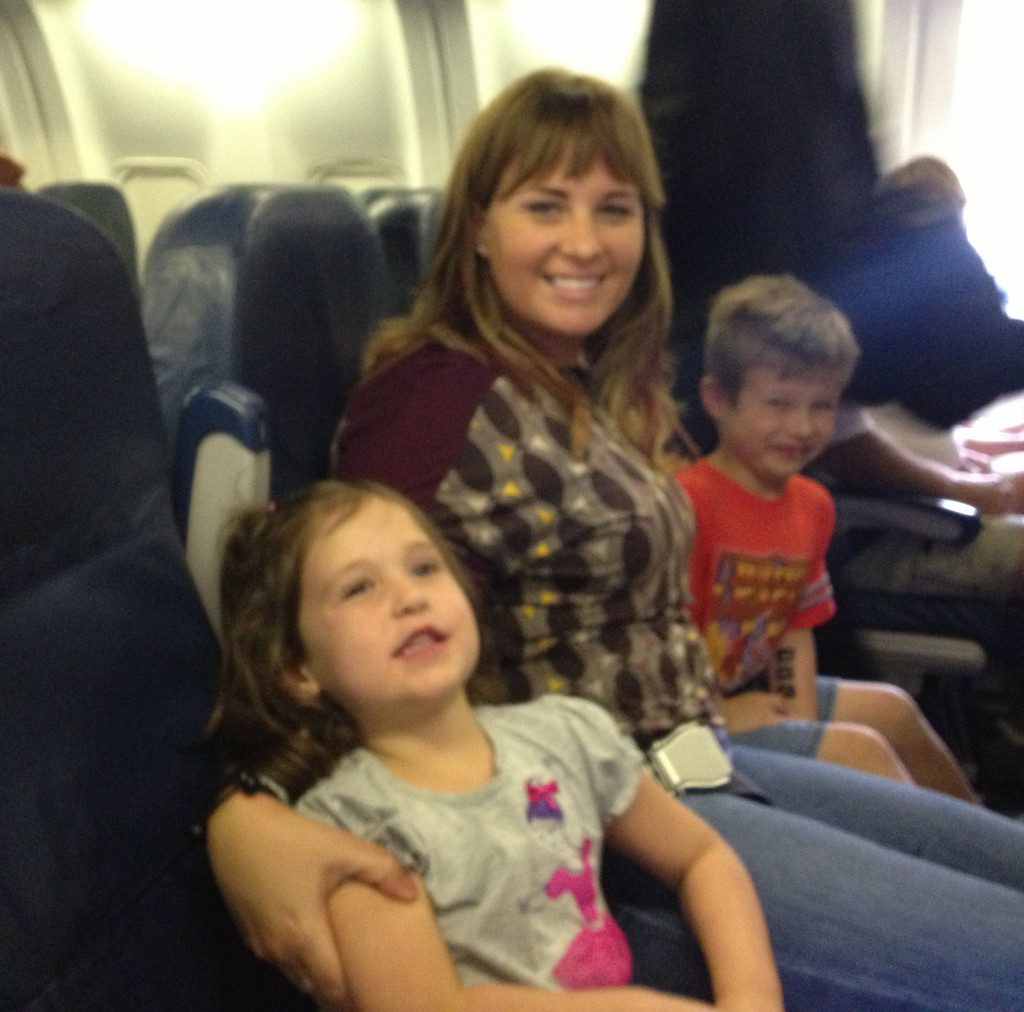 After landing in SLC, we had a quick layover and then took a plane into Spokane, Washington. We planned to rent a minivan to take us into Coeur d'Alene.  I can't imagine what I was thinking in planning to drag the whole family to this particular race—-Florida would have been awfully easy to get to in hindsight.  But I'm also counting on spectacular weather, views and crowd support in CDA.  #willbeworthit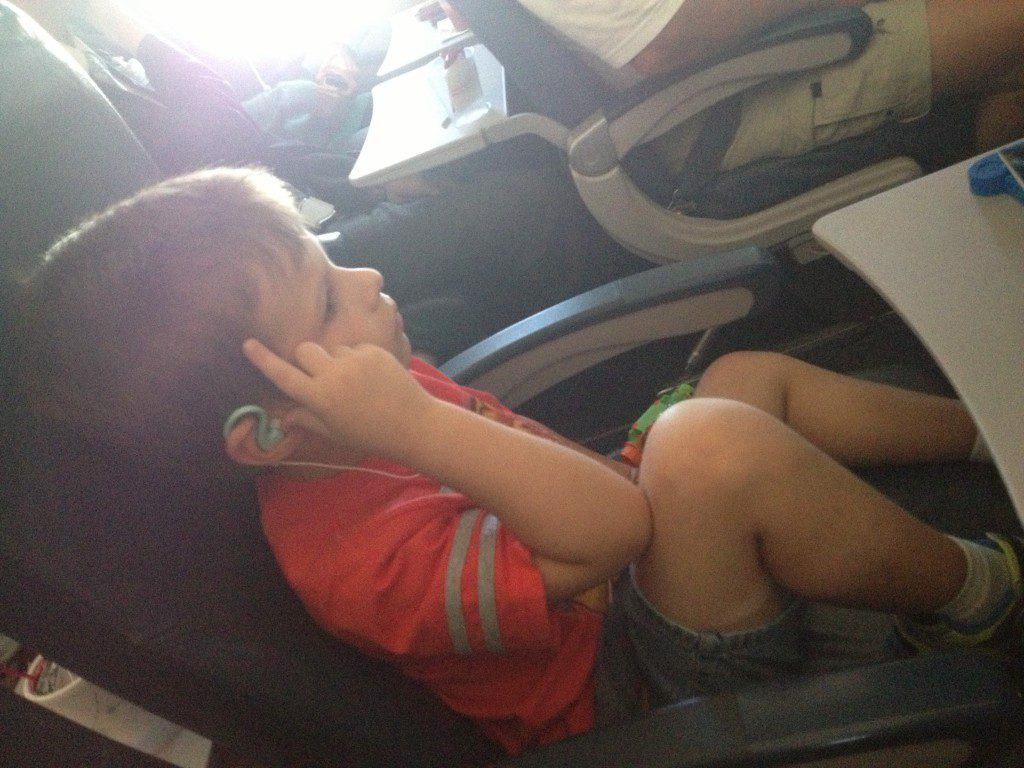 I was definitely Swim Bike Mom today.   I spent most of the time in the air sandwiched in between the kids.  And they were super-de-duper annoying.  It started out fine.  But about thirty minutes into the second flight, I was losing my mind. Stop kicking the seat. Sit down. Buckle your belt. Do not touch the flight attendant's butt. (Seriously.)
But even though I was pretty annoyed at the crazy kids, I was more annoyed at one particular flight attendant.  Before we took off in SLC, there was a gaggle of slow plane people in the back of the plane, and my son (age 5) screamed, "I have to go potty."  I grabbed one flight attendant and asked if we could quickly go.  She said to hurry, but yes.
As I dragged James to the front of the plane, this other flight attendant started giving me the hairy eyeball stink eye.
"Ma'am! We can't take off until you sit down."
"My kid has to pee, I'm sorry. That's going to be a bigger problem on your hands if he can't hold it," I said.
As I ushered James into the potty, he sat down on the seat. Oh no, I thought, Not poop! We don't have time for poop! This could take awhile.
So I'm encouraging him through the door… "Hurry, hurry! Poop fast, buddy!" And he did.  SO fast. So proud of him.
We were back to the seat in, like, one minute.  I wanted to pop that woman.  I mean seriously.  Poop?  You're damn right a plane is going to wait for poop. What could I have done with poop in pants? On a plane?  He's FIVE. That's like adult poo volume. Seriously.
Crisis averted.  Nice flight.  Kudos to the pilots on the plane, who took the Swim Bike Kiddos for a tour de cockpit.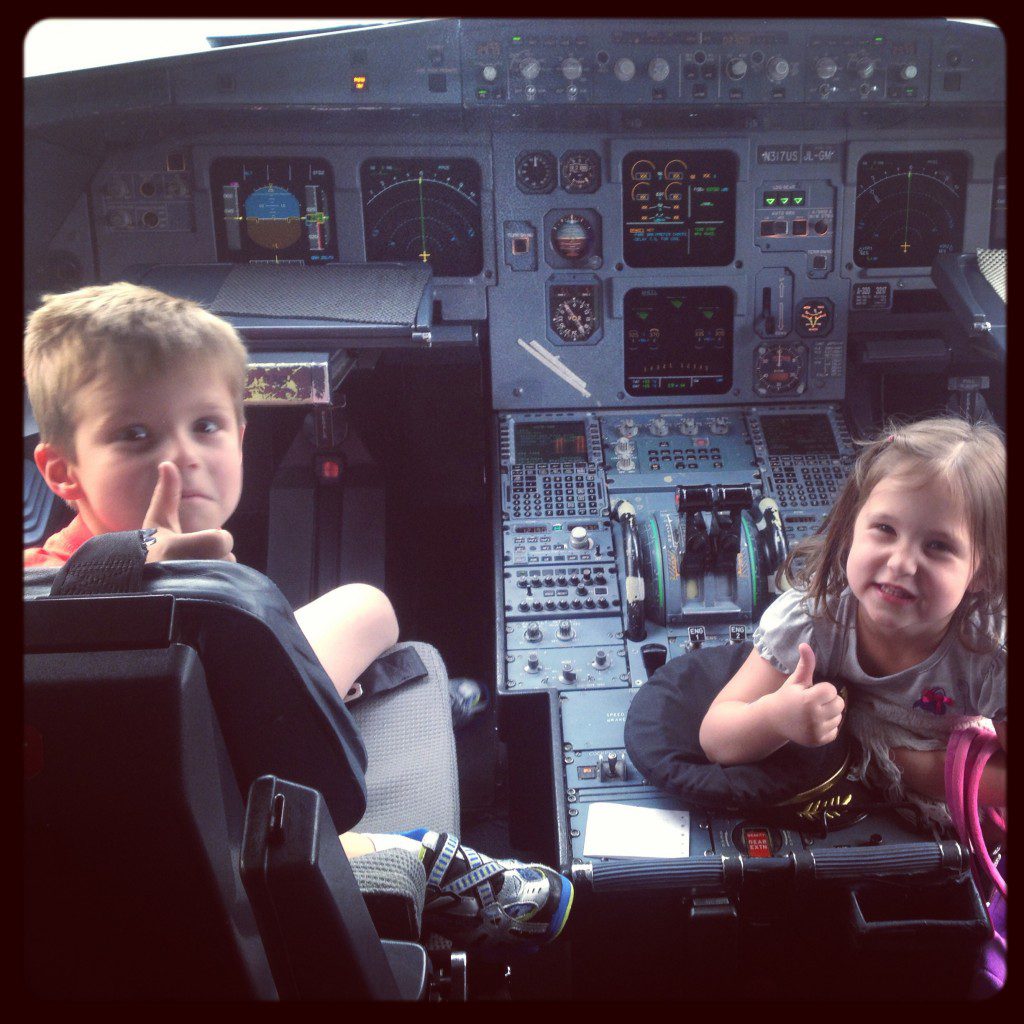 And on to the rental car. A MINIVAN!!  Ahhhhhh!  We were caught dead in one.  And I liked it. (Shhhhhhh!)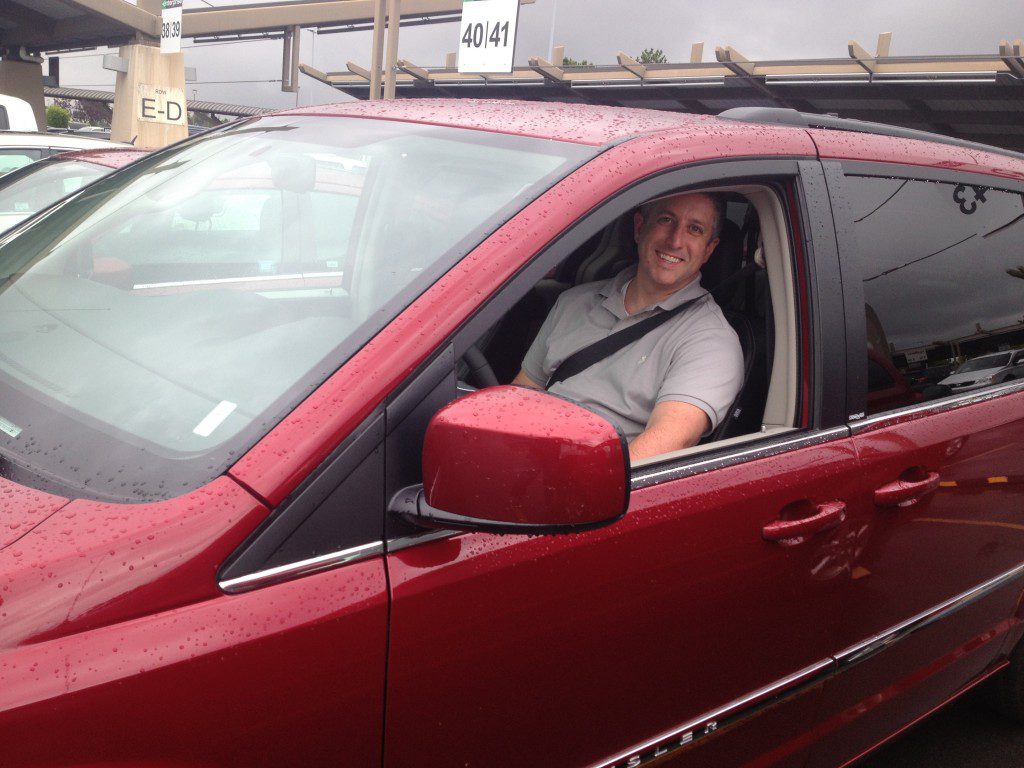 And driving in the rain to Coeur d'Alene.  So much rain. Check out our "kids" in the back.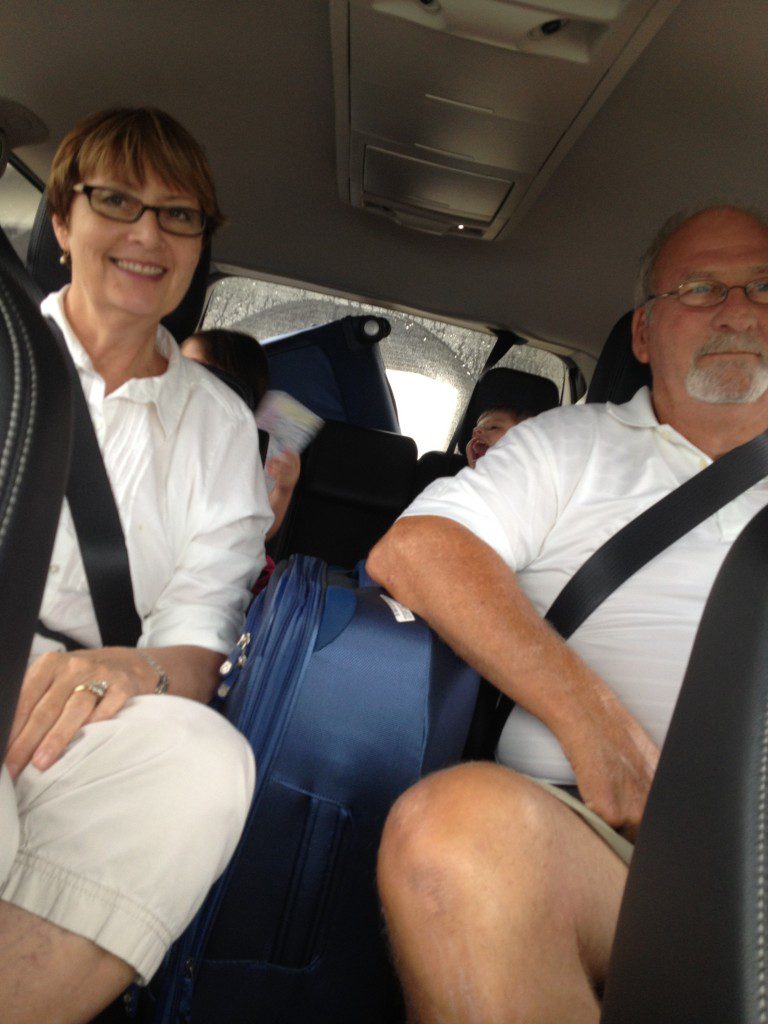 Then a $250 grocery trip (feeding 6 people for 4 day—- #nottooshabby).
In the rain. A quick visit with Columbus and his wife, Paige, and family (they are staying in the house across the street), a chat with Coach Monster, and I was ready for bed.
The kids were wild today.  My parents and the Expert are not bothered by the noise and the crazy. I am a little on edge. I'm trying not to be.  Really I am.
The views, however, are spectacular, and the countdown to race day just ticked down another day.
Tomorrow… race packet pick-up.  Bike pick-up.  Quick ride. Quick swim. Quick massage of the neck that isn't turning to the right very well, and then another day…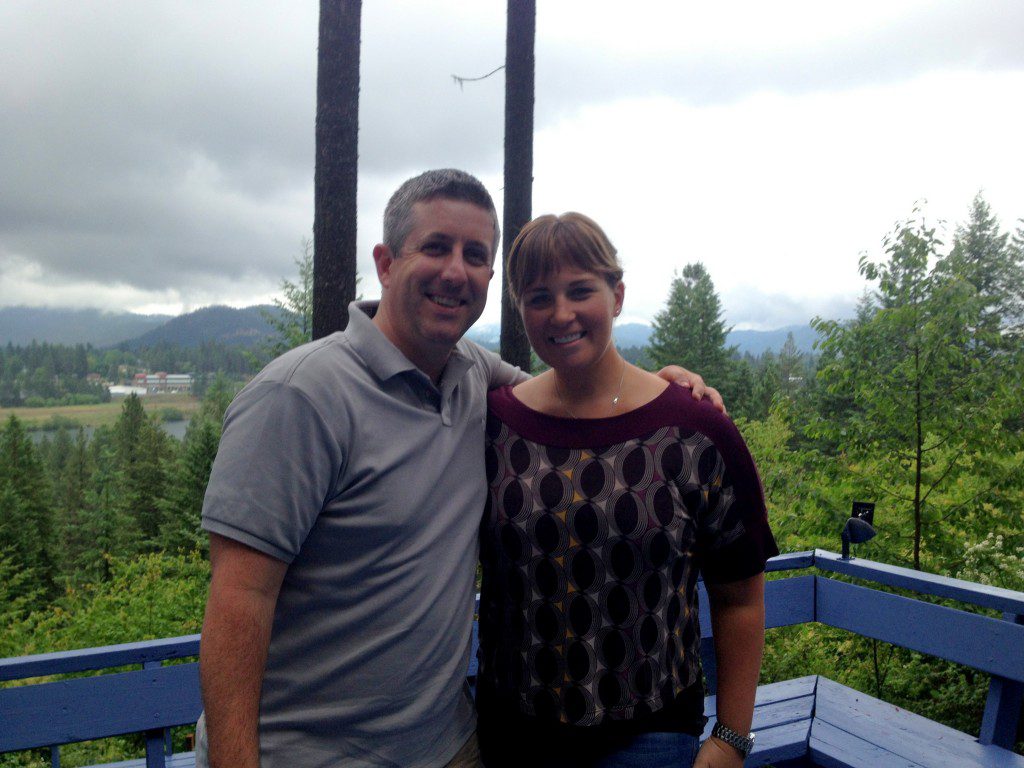 Thursday, June 20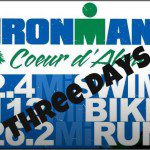 It's daylight in CDA until about 9:30 or 10:00 at night.  And it's morning daylight at… (drumroll, please…) 4:45 am!  The kiddos came bounding into the room at 5:00.
I'm still on Georgia time, but slept really well with the windows open, freezing cold and the sound of rain.  I love a cold bedroom (actually, not metaphorically), and this was perfect.  Feel rested and ready to go today.
The house we are renting is pretty cool.  Except I couldn't find the coffee filters.  I texted Paige (Columbus' wife) and they had filters, so I walked across the street in the rain… very carefully, watching every step, and ignoring the fact that I was huffing and puffing up the stairs (not a good sign as to my cardio fitness? Hello.)… visited with them for a bit. Then I found out that it was Columbus' birthday!
The plan for today is still the same, so I'm pounding down some coffee with my Klean Electrolytes, and hoping to meet up with some new friends from the CDA Tri Club who are helping out with practice swim.
Three days.
I'm not sure how I feel today.  I feel overwhelmed, because I'm up with the kids while the rest of the house is asleep. I'm really trying to do my part being with the kids for the next day or so… because I know I'm going to be a zombie on Saturday and absent on Sunday.  But I'm pretty tired and overwhelmed internally. I'm trying not to take it out on anyone… I don't want to fight or have my energy spent on anything other than the task at hand. Because it's a big task.
I have a room full of tri gear that I haven't organized yet.  And I know I will do it sometime today, and it will all be fine.  Because one of my favorite quotes: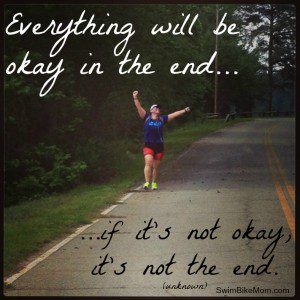 It's 9:00pm, and I should be in bed because Coach Monster decided that 5:30am is a reasonable time to swim and bike in the morning.  "It's 8:30 in Atlanta, crazy girl.  Be there."
[Yes, but it's 5:30 in CDA, and I'm already on CDA time.  So that means I should be in bed.]
So today was pretty miserable, triathlon wise. It was bitter, bitter cold and wet.  The rain was miserable.  There were only 3 lonely souls at the lake when I went into the water.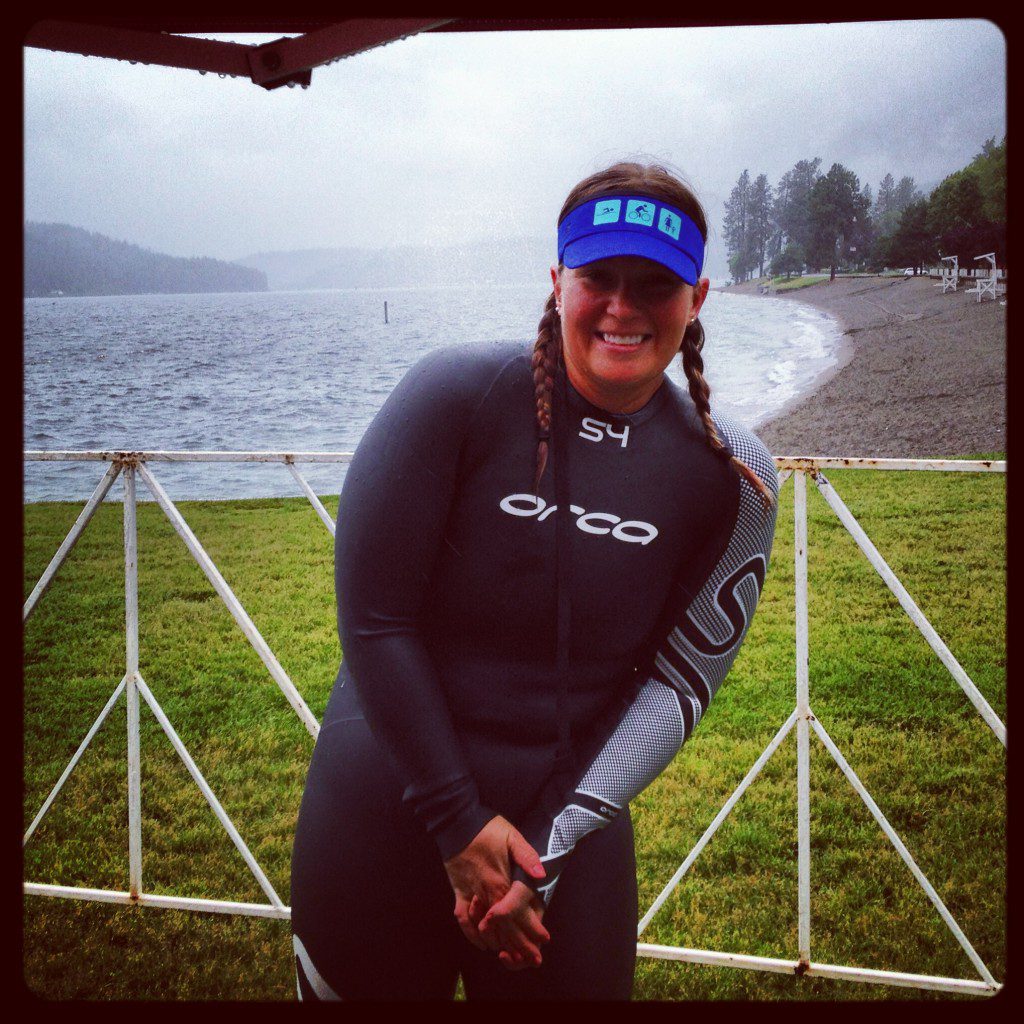 But two very sweet ladies from the local tri club, Teresa and Anna, took good care of me and my Dad.  They let Dad under their tent while I went out for a very quick and very choppy swim.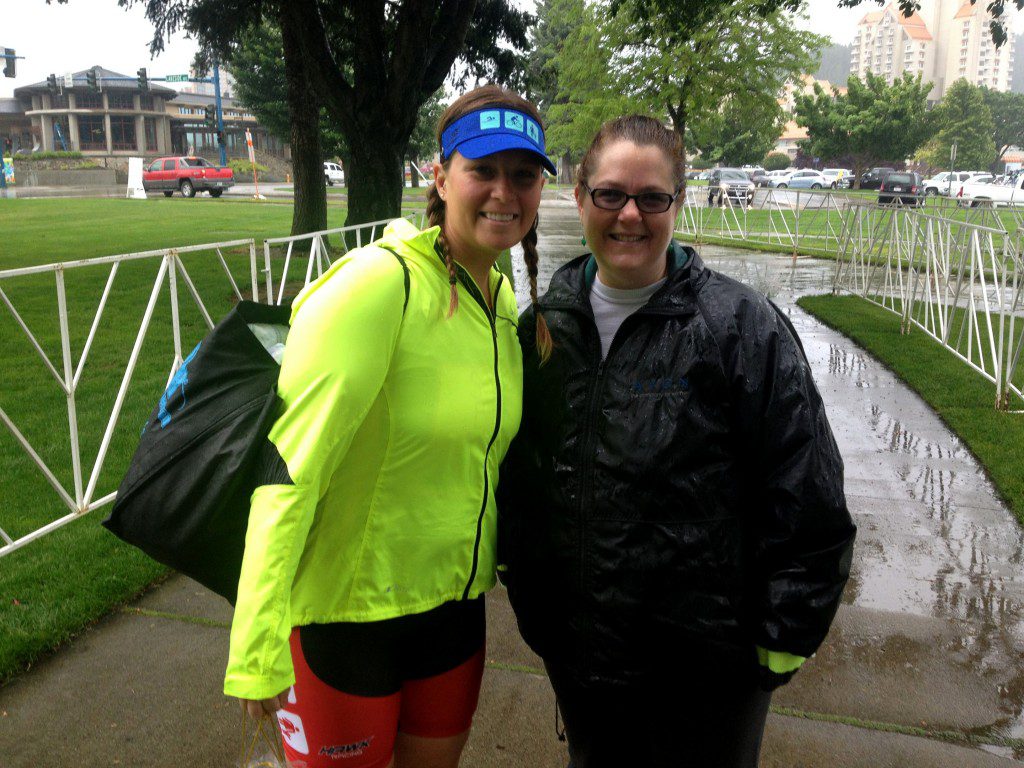 I had a few pretty panicky moments.  Like, I'm out here by myself and this water is insane.
But I got out pretty quickly and called it a swim day.
I am not very smart.  I decided that I would swim first… THEN go to athlete check-in.  With flip-flops.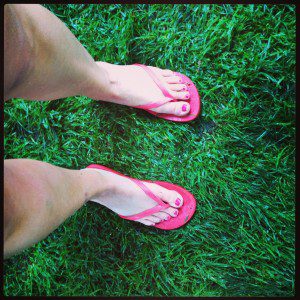 I froze.  Seriously.  I haven't been this cold in a while.
Froze through Athlete check-in… but the darn backpack was totally worth it (right, Yoda!?).  Spent a little too much money in the merchandise tent, but it was fun.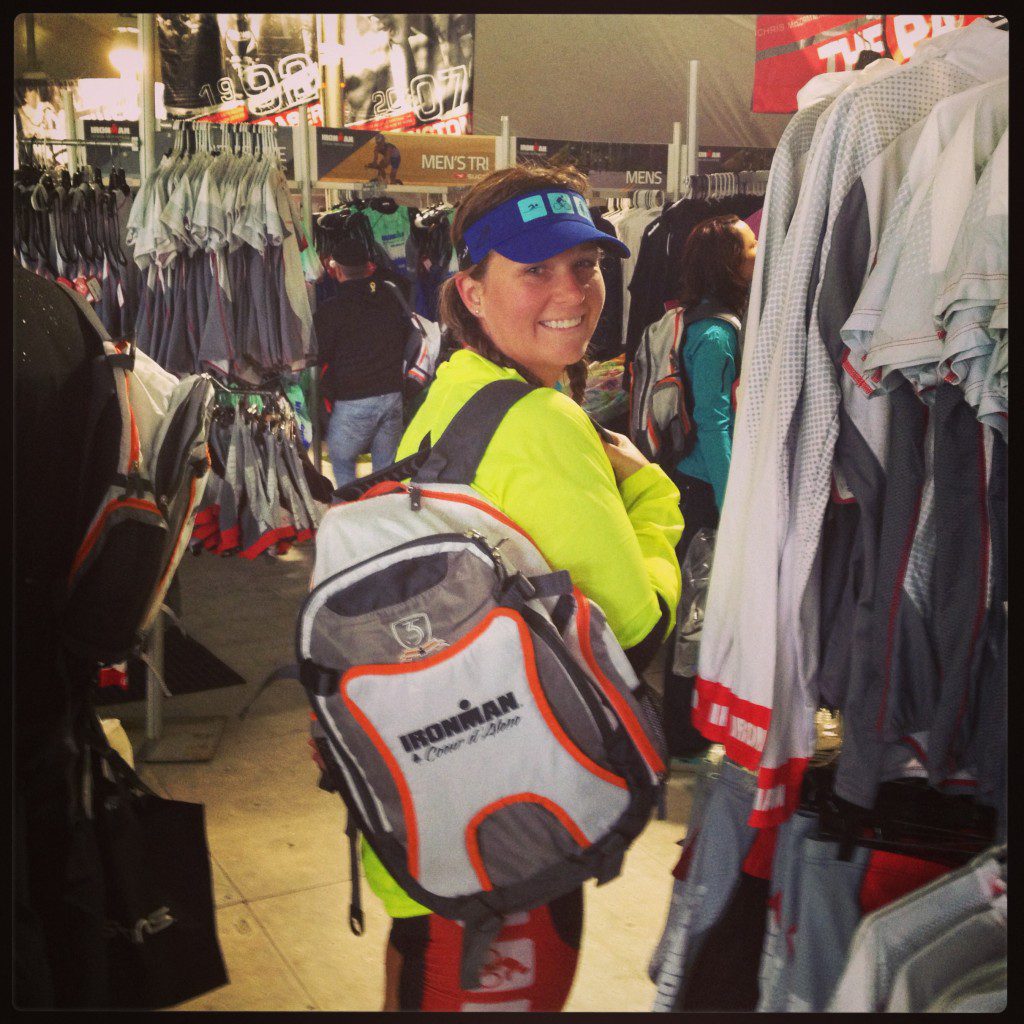 During this crazy time, the Expert and my mom had gone to get ponchos, umbrellas and chairs for the day and the race.
My dad was with me, out in the cold and rain.  Eventually, we all reconvened.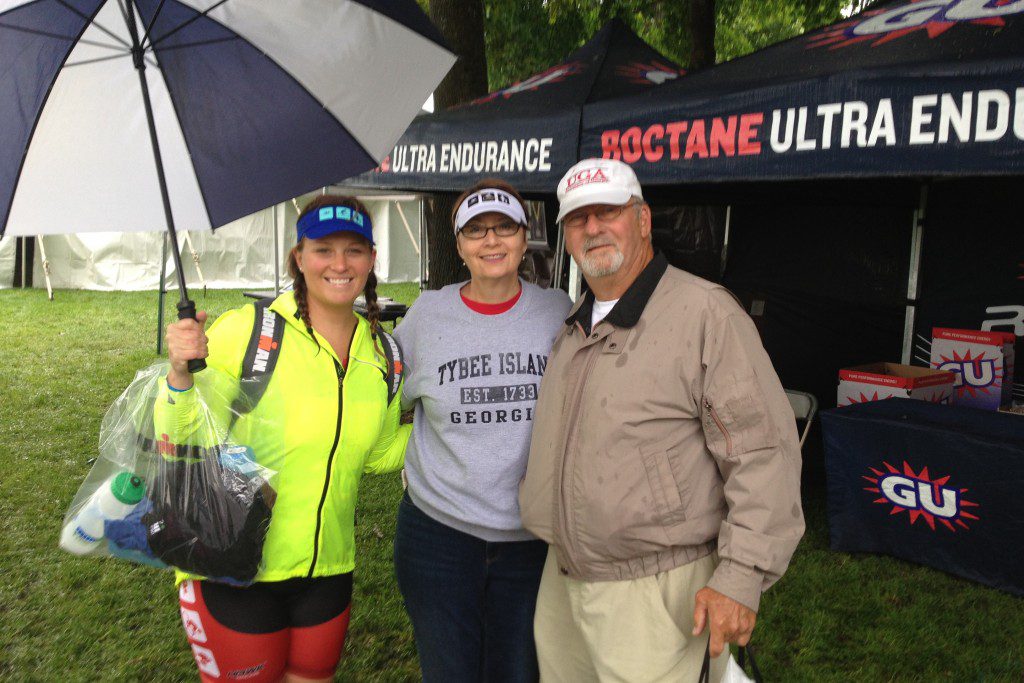 Then they tolerated me while I whined and turned the heat up to depths of hell in the minivan.  Then the whole caravan stopped at Starbucks and bought me coffee, and I used ALL the hot water in a ridiculously hot shower back at the house.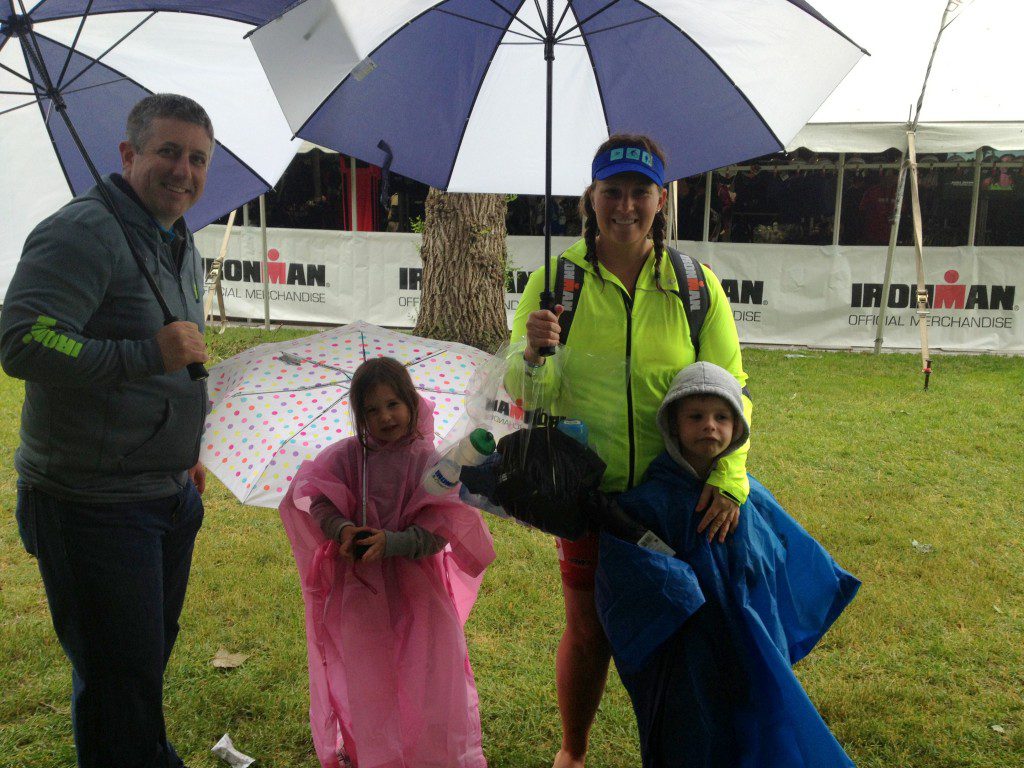 This was me. In the bathroom right before the shower. Frozen.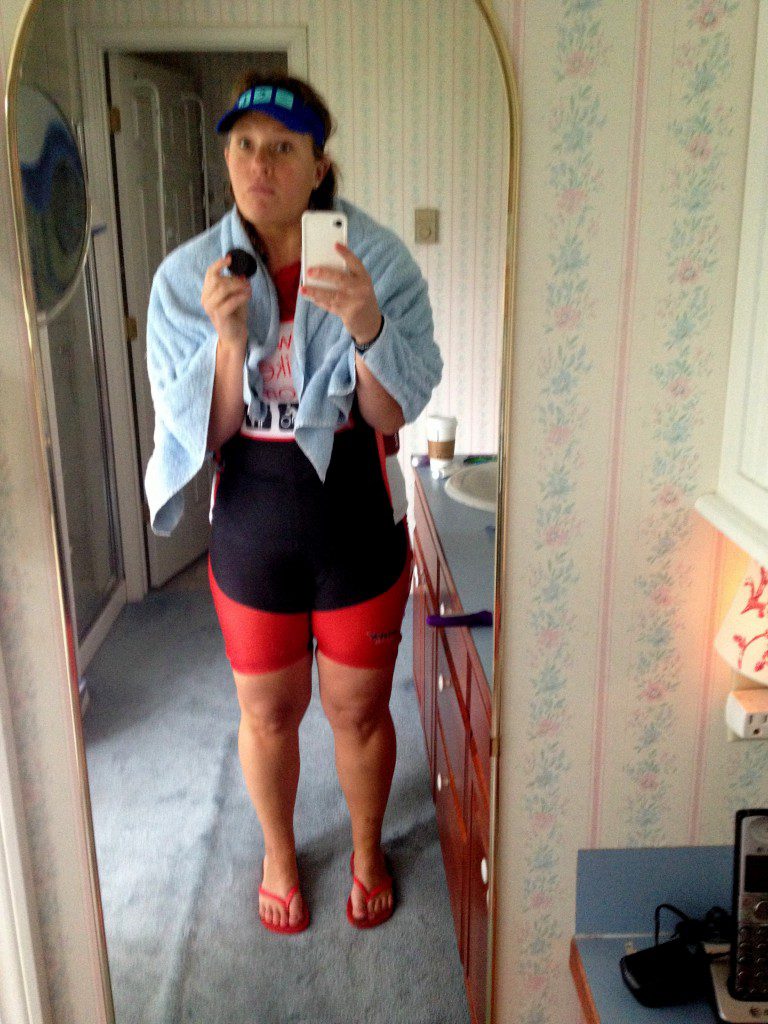 [And yes, that is an Oreo cookie.]
After the shower and some reasonably warm clothes, the Expert and I went back to the race venue to pick up the bike from my team folks, Tri Bike Transport.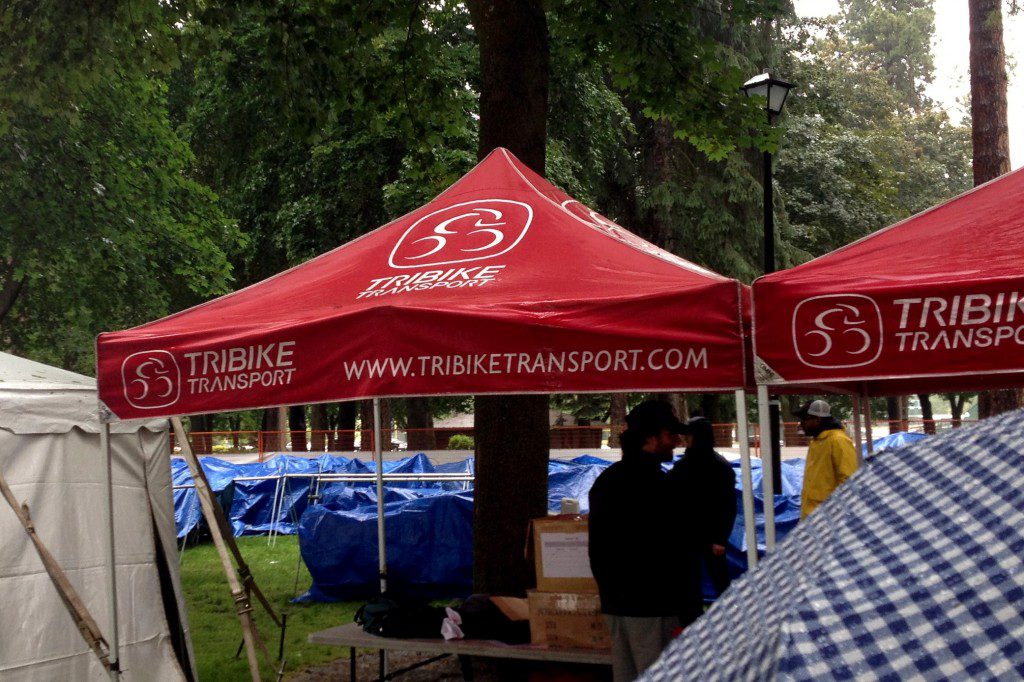 It was still raining.
Met up again with a few folks from the Atlanta TNT team, and finally met Lauren, a FB friend on the team.  Great group of folks. I'm rooting for all of them.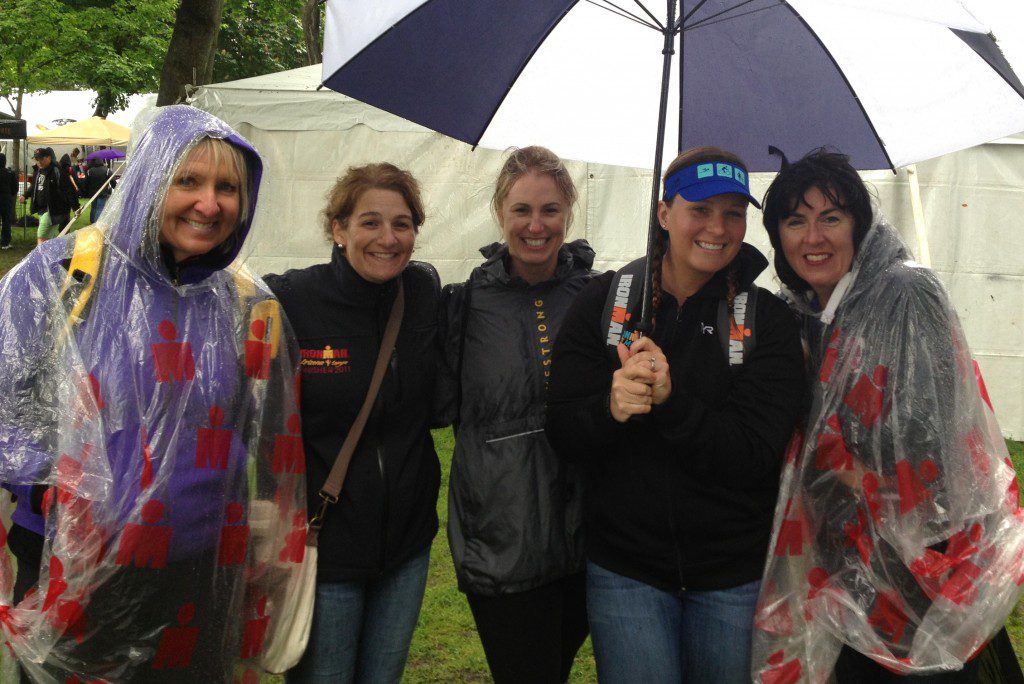 So Andy was secured from the trip, and I dropped him off for a tuning, and the Expert and I returned home.
Another hour or so later, I took advantage of the race massage tent.  I had never gotten buck naked outside in a tent before for a massage, and I hadn't planned on it here… but I did. And I froze, but it was one of the best massages ever.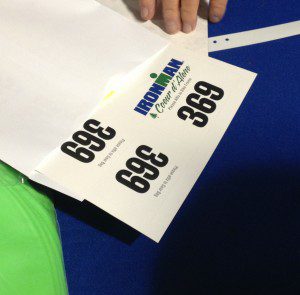 Finally, picked up Andy, went to the grocery store to buy a ton of junk food (I'm on a streak… it's bad).
Once back at the house, we put in Madagascar 3 in the minivan, loaded up the kids, the parents, and the Expert took us on a tour of the bike course.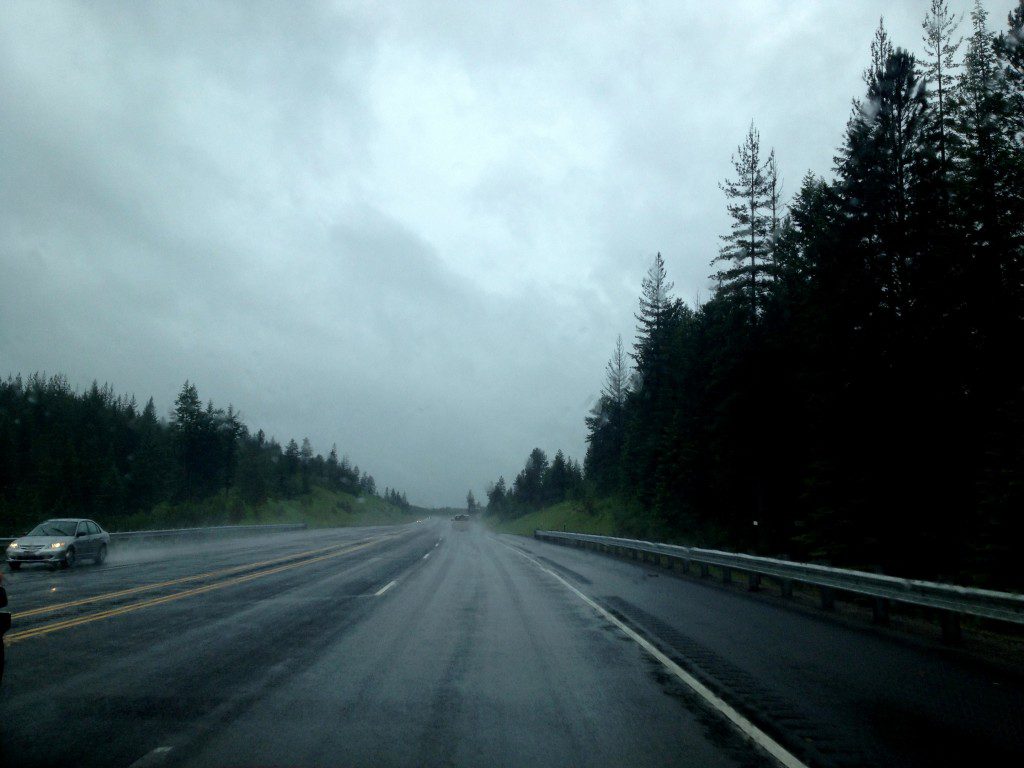 I felt better after seeing the bike course.  Not sure why. Maybe because North Georgia hills really pitch up, and I hate STEEP.  These CDA hills aren't steep… just l-o-n-g, and for me—- I feel better about that. [Ask me after Sunday.]
A dinner later, and it's time for bed.
Tomorrow is a very early swim and bike, then the Athlete Banquet and some serious fretting over some special needs bags and the like.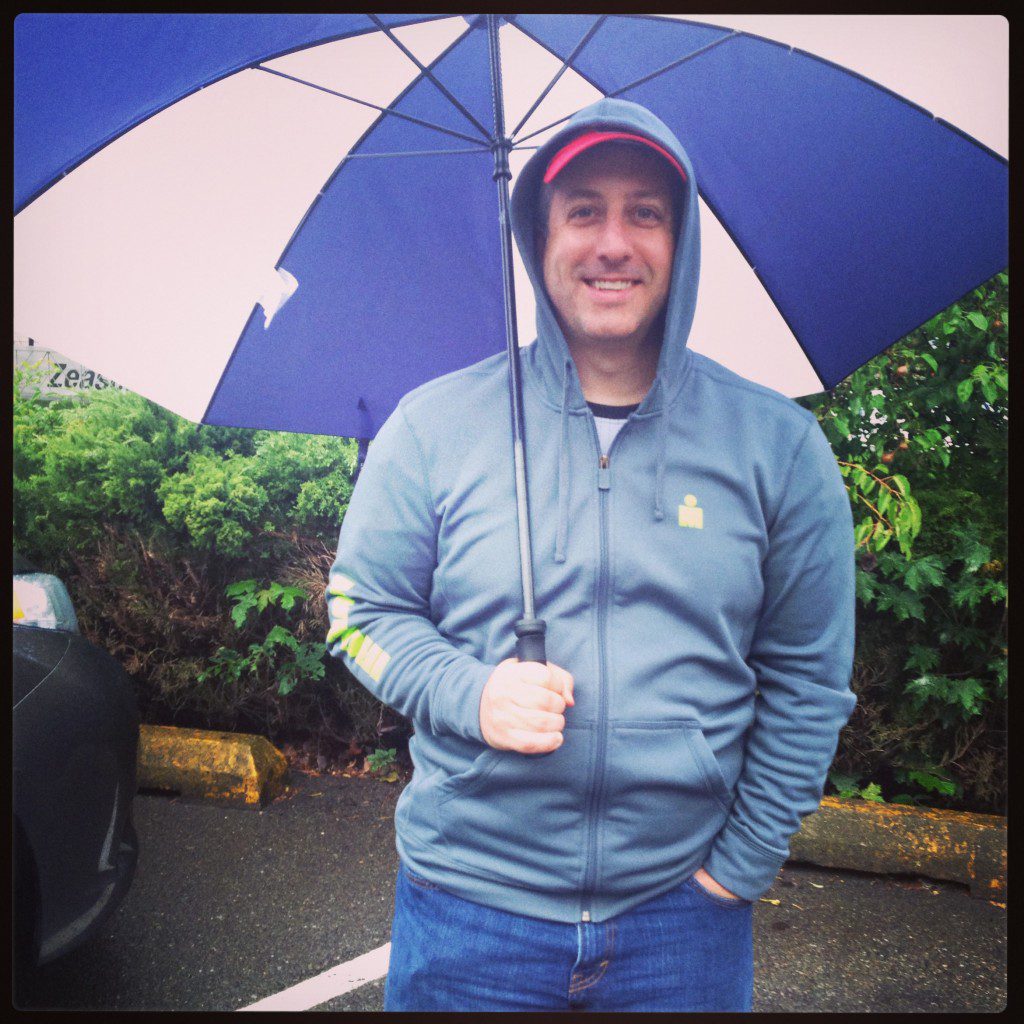 Friday, June 21st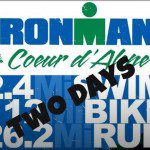 I woke up at 2:30am, and I looked out the window of the bathroom at the CDA mountains and lake. And I had a weird moment.
I am here.
All the times I never thought it would be here.  Well, it is.
All the months of training. All the doubt. All the fears.
It's almost game time.
Bizarre.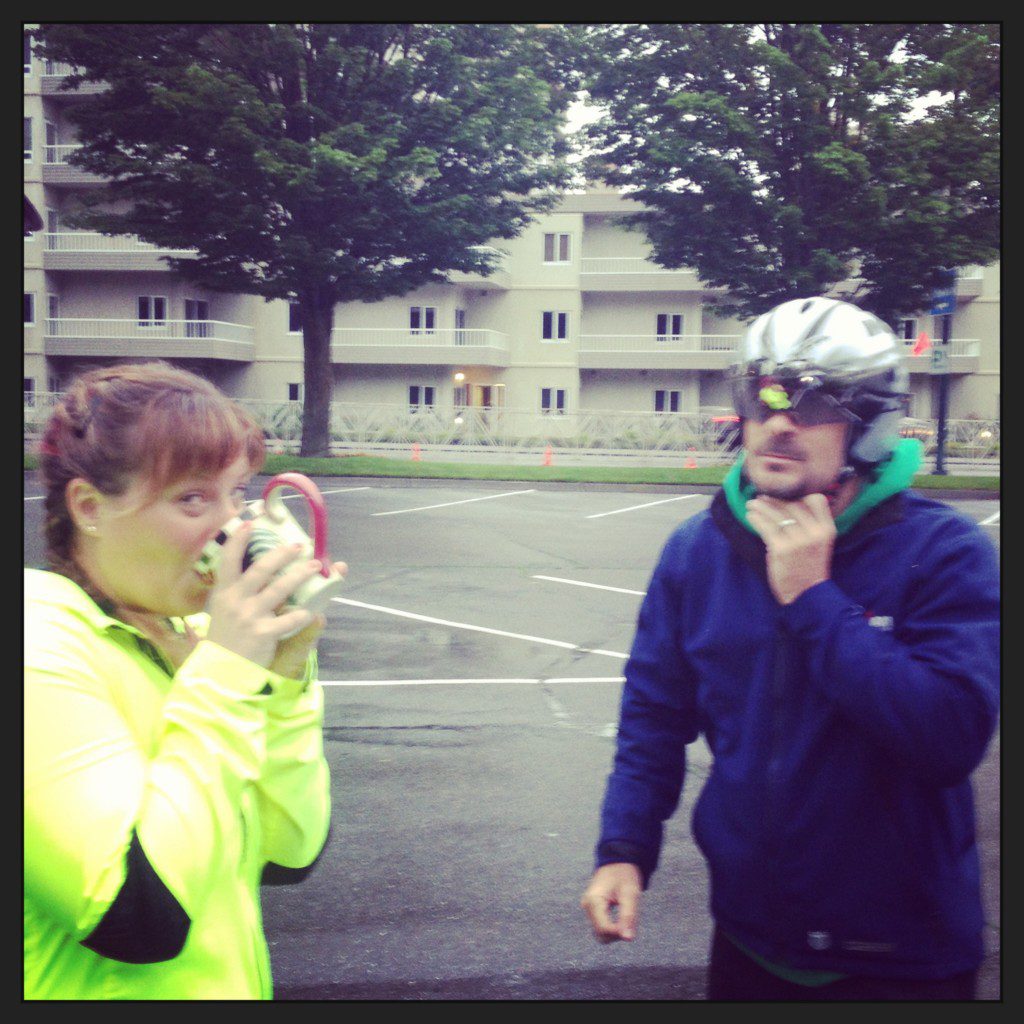 The Expert and I met Coach Monster a few others at the Lake for an early morning, cold (freezing) swim.
I really appreciated the Expert going to crew with me.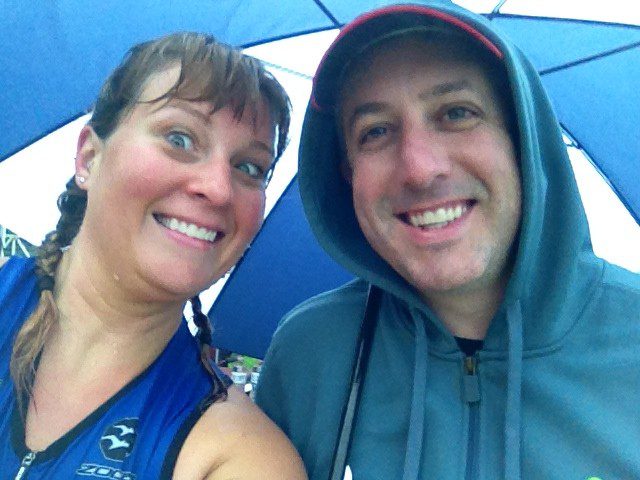 And he got some great photos.
For example, this ridiculous one: Coach Monster wanted to show off his new helmet.  In his wetsuit.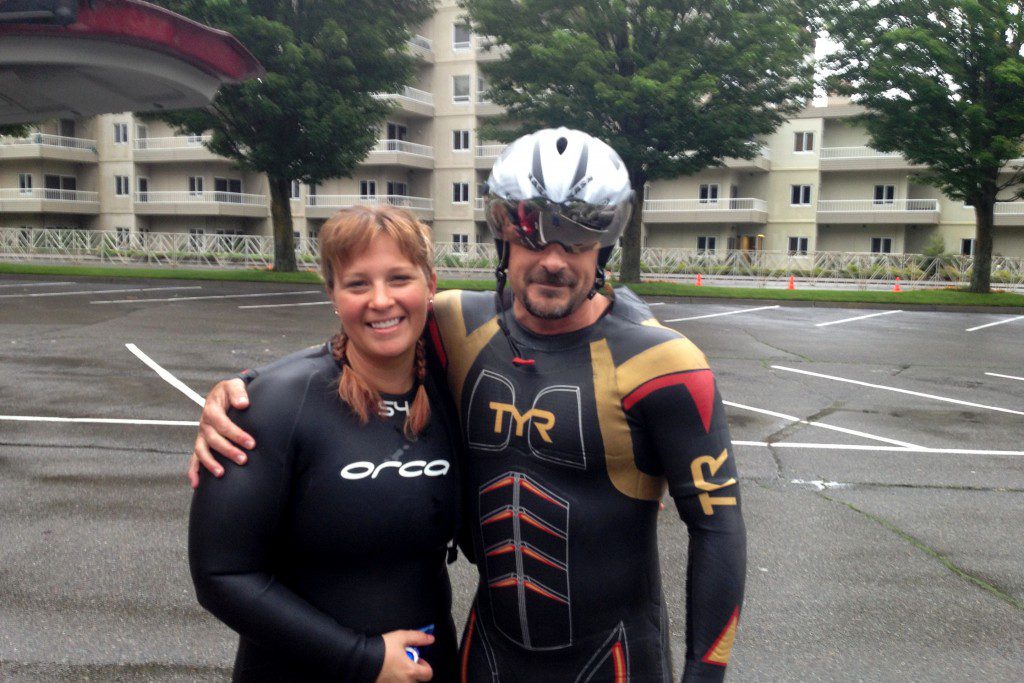 Silly Monster.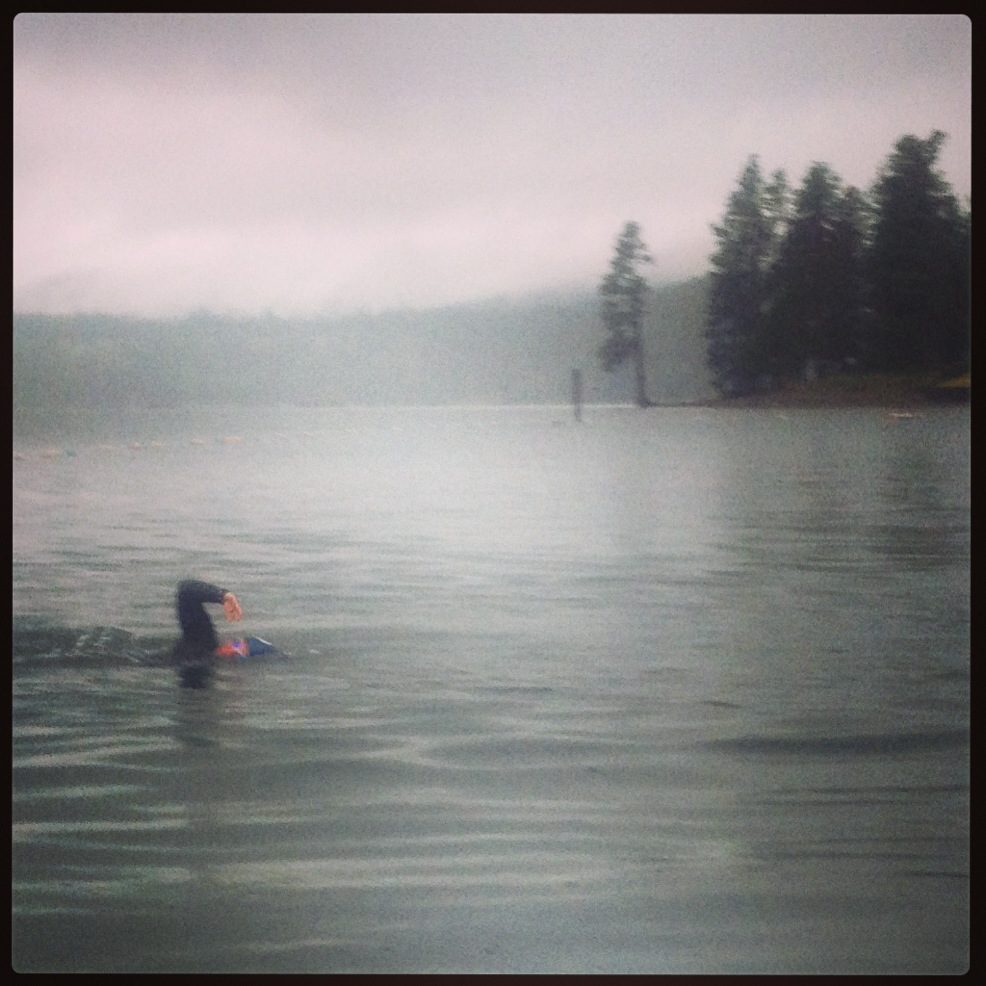 However, the water was so so so much better than yesterday.  While still cold, definitely it is warmer than some years here in CDA.  I think the water is about 62 degrees.
We had a good 10-15 minute swim.  Nice, calm water.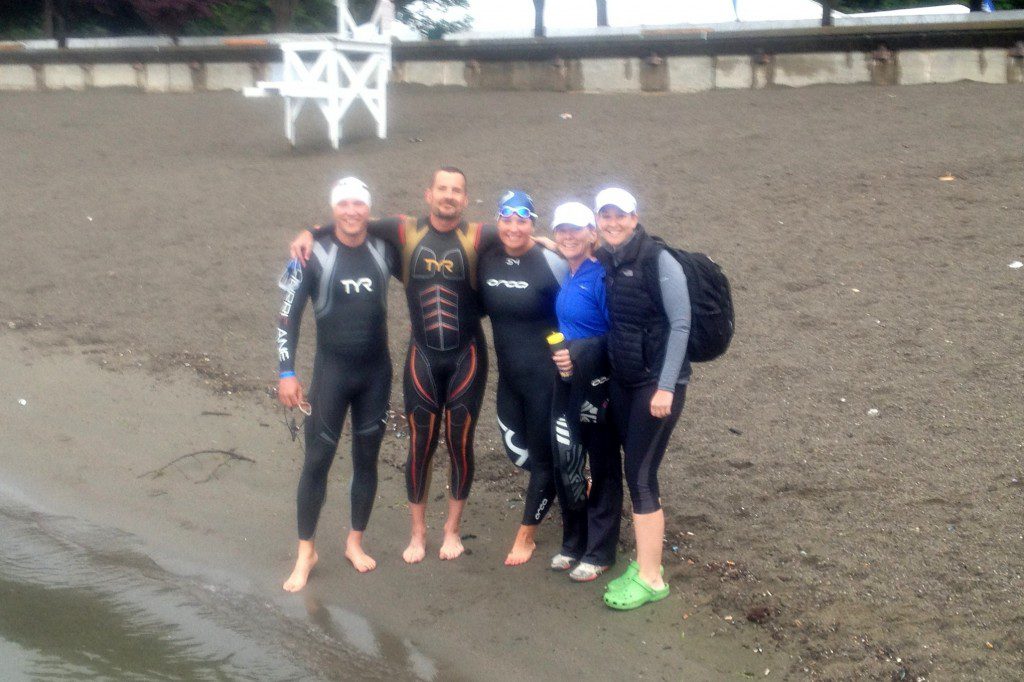 Afterwards, the Expert, Coach M and I and headed to Starbucks to warm up and talk shop.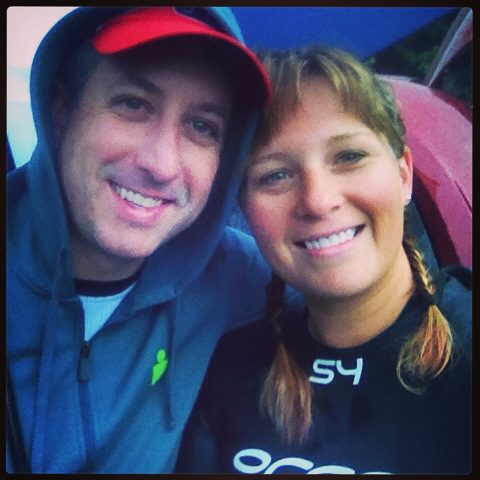 I came "home" and took Andy for a quick spin to test out my gearing, etc.  The rain was coming down, and I only rode a short while, but it was all I needed.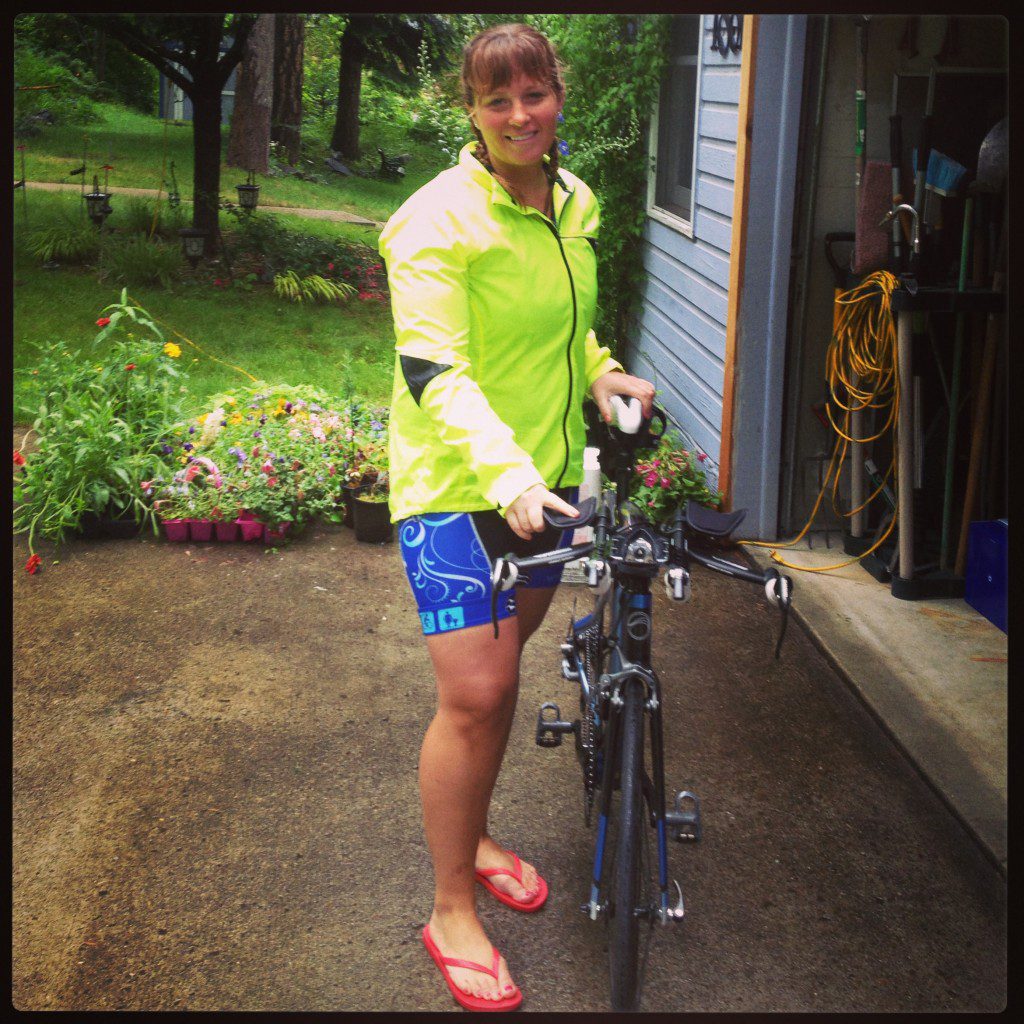 I packed my bike and run gear & special needs bags, with the exception of the things I need for tomorrow's swim and run… and that's about it.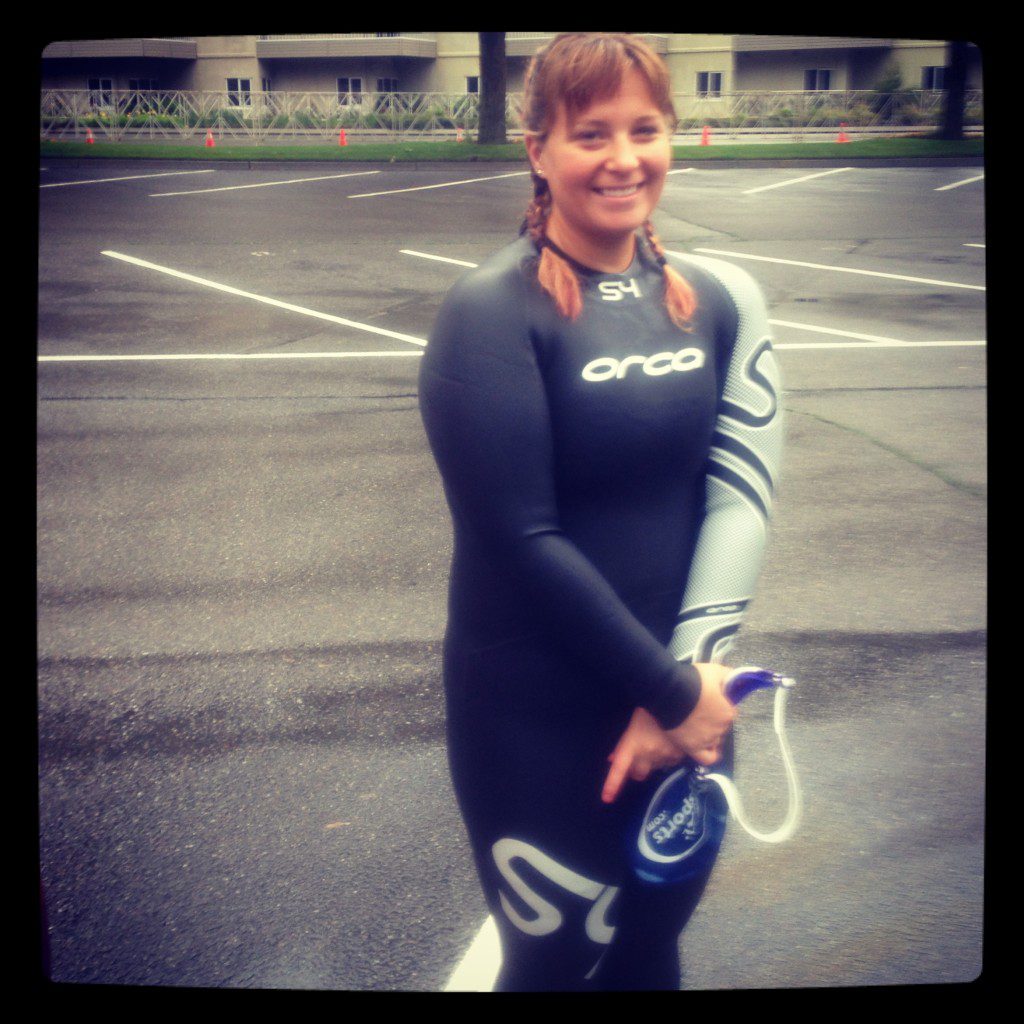 I'm weirdly calm.  I'm weirdly content. I'm weirdly not worried.  It's not because I feel super prepared (I don't).  It's because I feel super fit (I'm totaly not).  But I do feel that I have set a dream, that I have worked for it, and I want it.  SO I just feel like, "Time to go get it."
And that's what I'm going to do. Word.
Tonight is the athlete banquet and race briefing.
Tomorrow is bike check and rest day.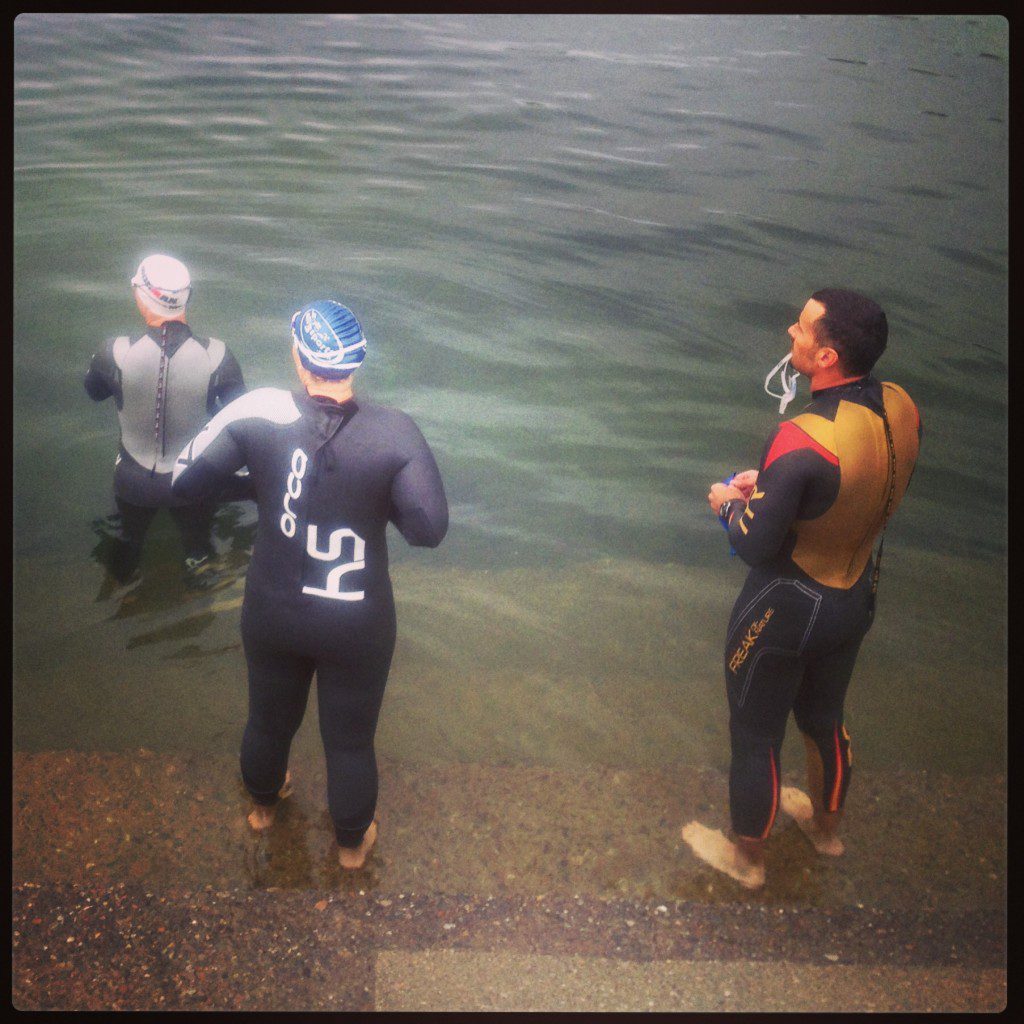 Then…. well, we know what comes next.
Saturday, June 22nd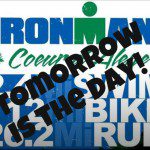 The Friday night Athlete Banquet was really inspiring.
I had gone back and forth if I should bring the whole family there… just bring the kids.  Go by myself.  Go with the Expert.
In the end, we ALL went.   And I am so glad we did.
The food was horrendous (really, Ironman… shame)… but Mike Reilly hosted the event and that part was wonderful.  My daughter really got into it, and I saw my dad's eyes glistening a little here and there.
Ran into several SBM friends, including Dimity from Another Mother Runner.  Yes, she really is that tall. And I am no short gal.
A few more friends, Amanda, and Andrew and Ben from Tran Creative (creator of the inspiring "I AM" posters you have seen).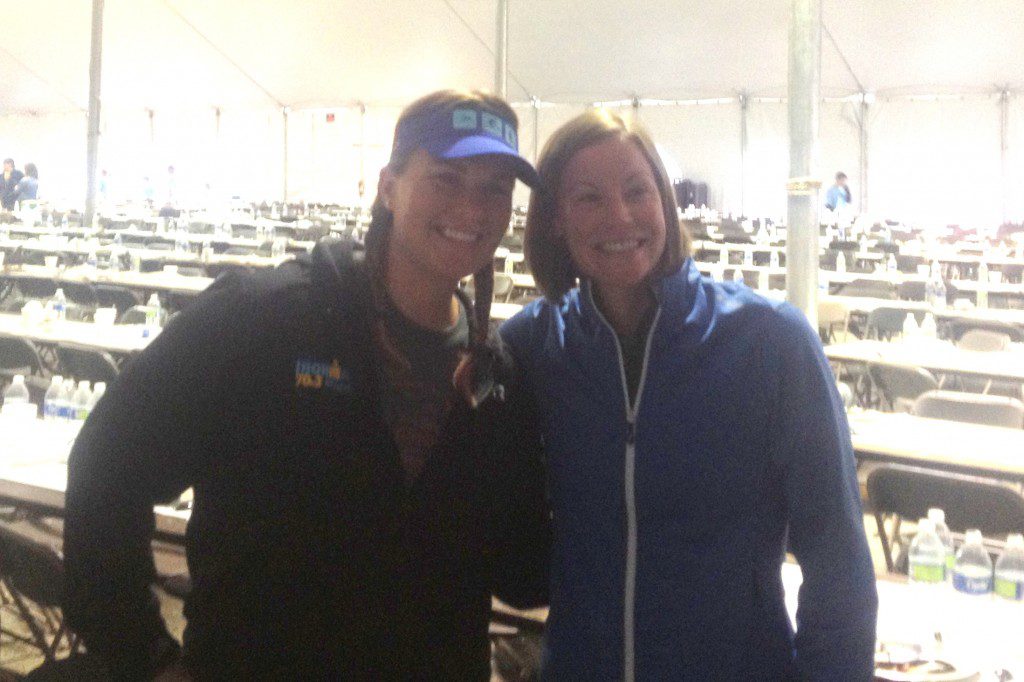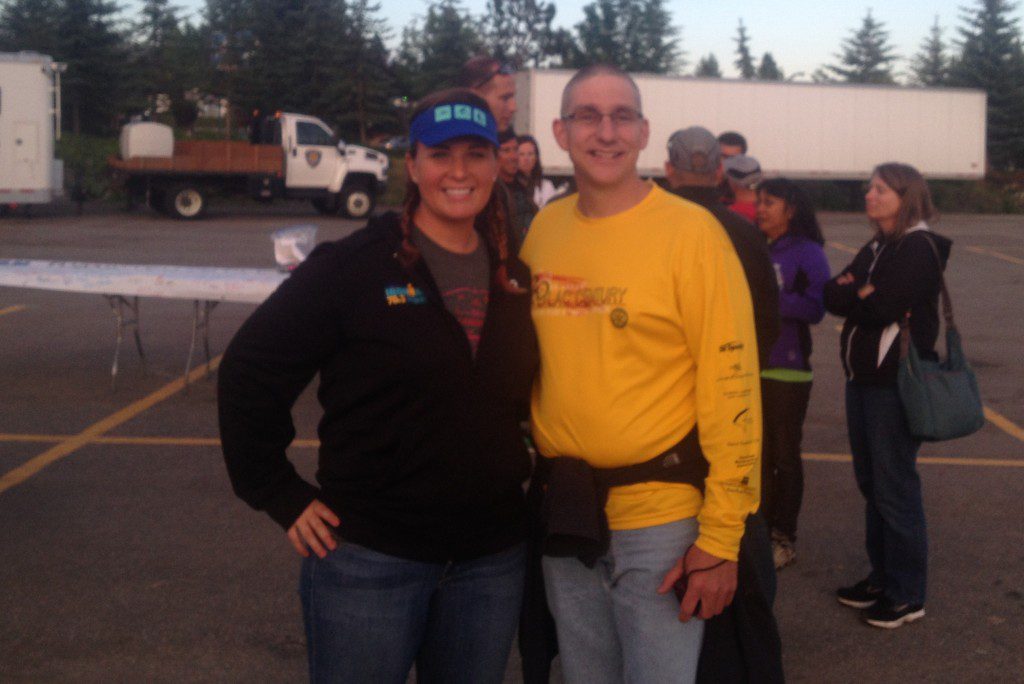 And I forgot to get a good picture of the whole family, because they left after the banquet… where Columbus and I stayed for the athlete meeting.
And seriously, this was the best smile the boy child could muster. #stinker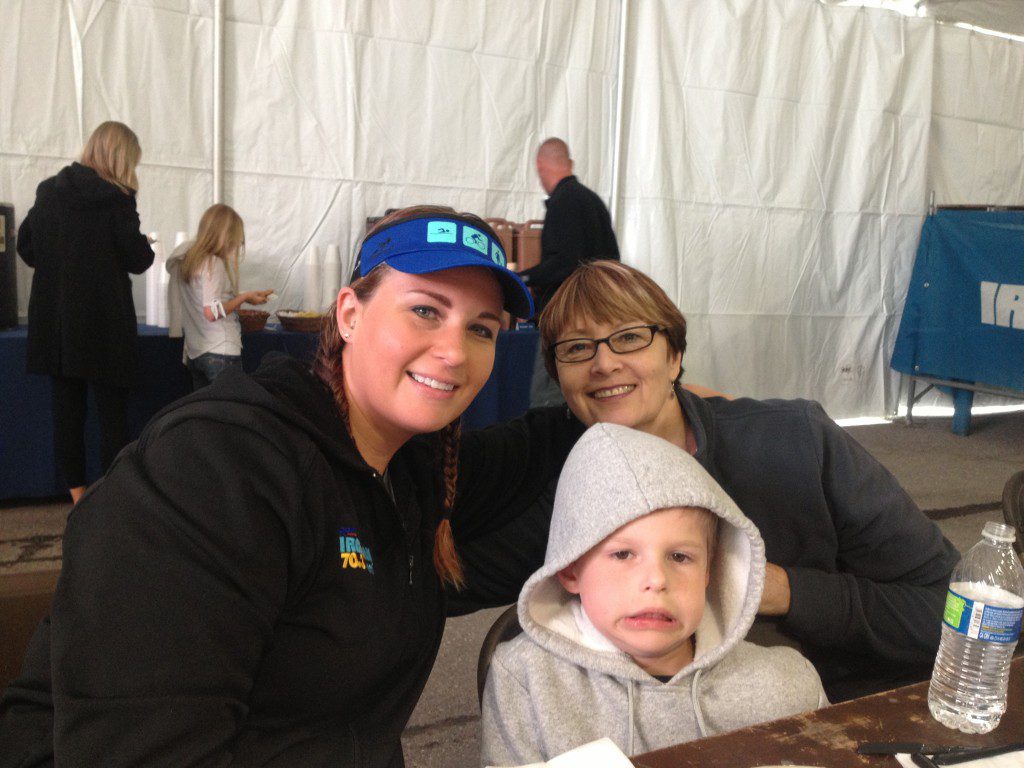 That crazy Coach Monster once again said to meet at the lake at 5:30 in the morning.  But he was right. It was another great swim with him and Pickups.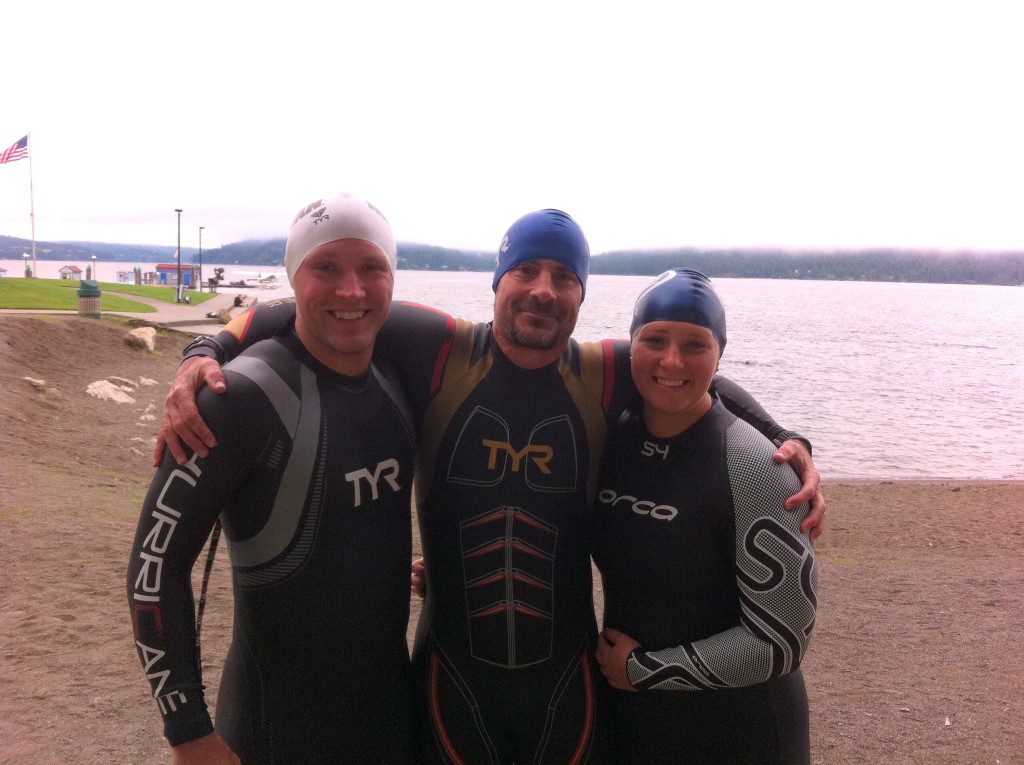 I have swam three days in a row, so I think I am finally acclimated to the cold water.  After swimming in the cold and standing in the rain, I feel that I can handle the water now.  The brain/sinus freeze isn't really there.
After the quick swim, I changed into some running shoes and ran for about 10 minutes.  My legs wanted to run. My heart wanted to explode with gratefulness… I was truly excited for tomorrow.
I even practiced a crappy yoga pose (I didn't want to get my inside thigh dirty.)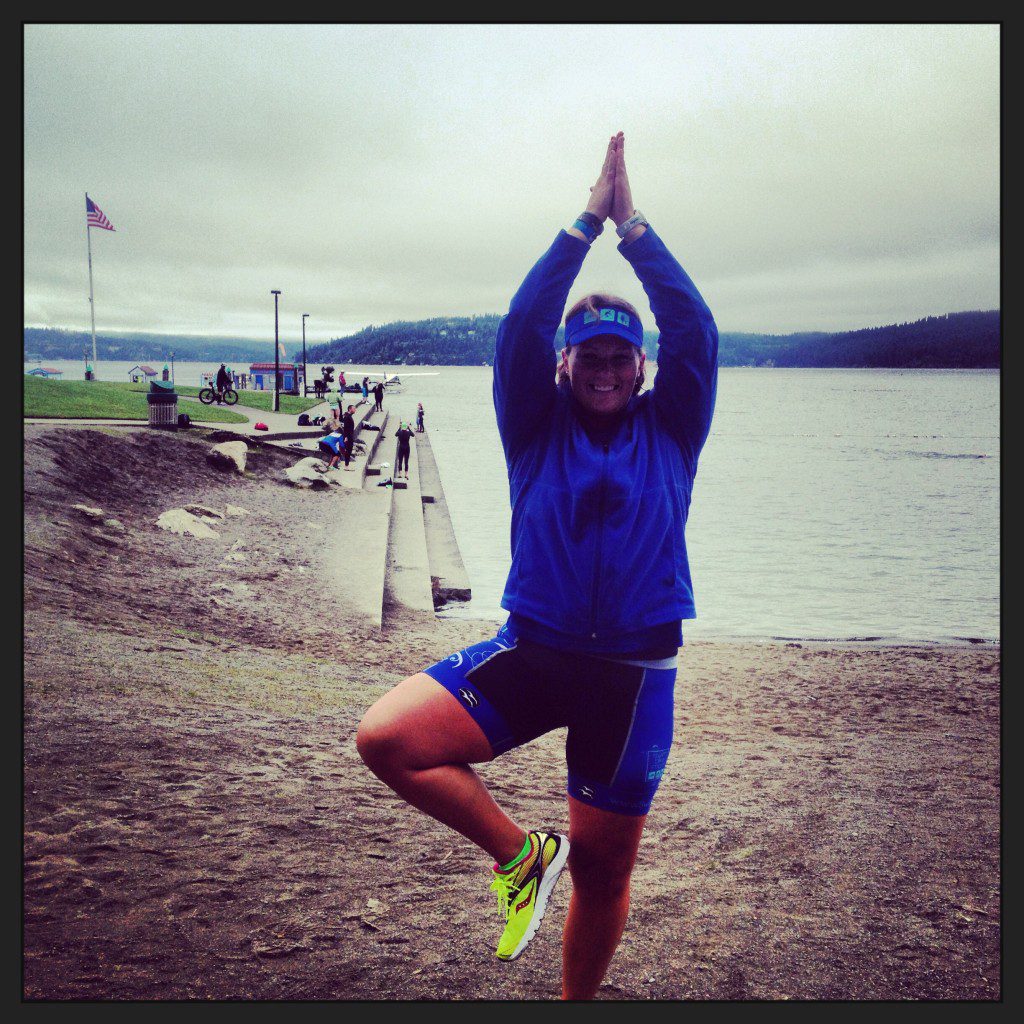 The Expert spent two mornings at the cold lake with me, just taking pictures and rooting us on. It was nice to have him there. Very, very nice.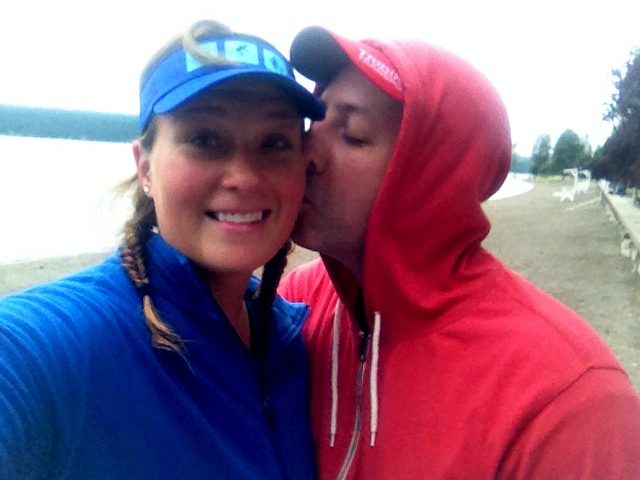 I realized I don't have many pictures of my mom, dad and kids to date on this trip… that's because my parents have been doing some seriously baby watching.  And I am so thankful.  Thanks Mom and Dad.
Oh, I do have this one of my dad.  Where he's carrying in all the groceries in one trip. It's a family tradition.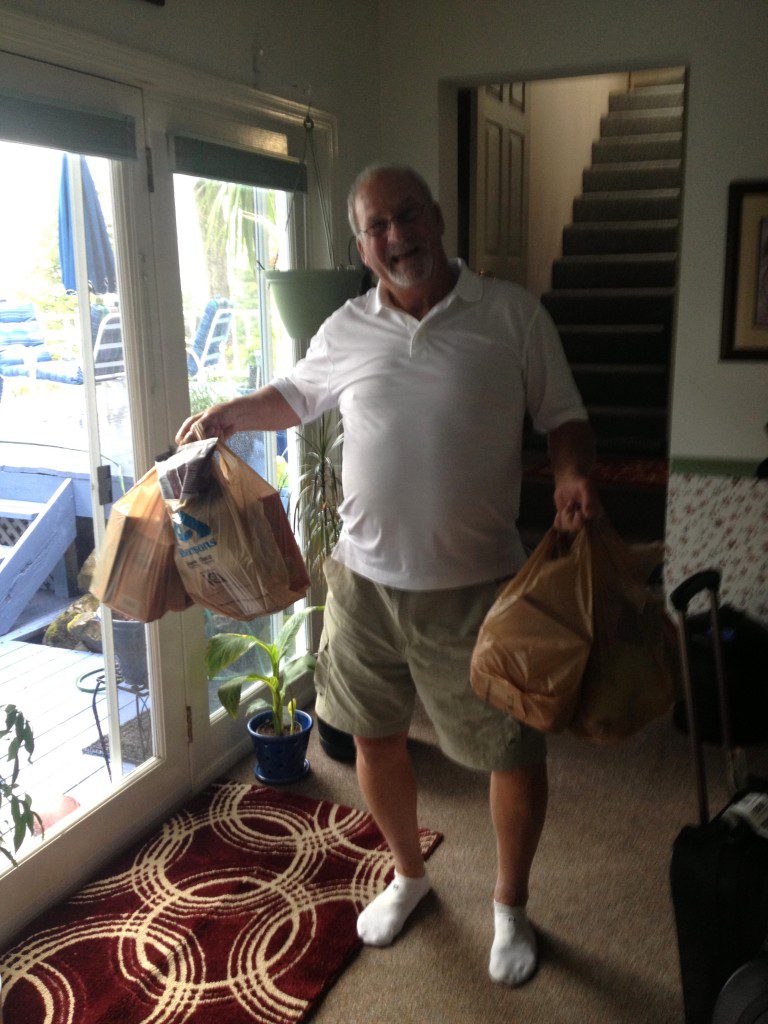 After the swim and run, the Expert and I made a Wal-mart run for posterboard and sign-making materials.  The Expert pretty quickly realized exactly how OCD and Type-A I am… when I tried to take over the making of my "Go Mommy" race signs.  Ridiculous, I know.  I am trying to dial it back.
As the Expert and I went back to the venue to check the bike and the gear bags, I was getting increasingly antsy and nervous. I've had some trouble with Andy's brakes for awhile now, and despite the race-day checkdown I purchased at the venue, I wasn't feeling great about my rear brakes.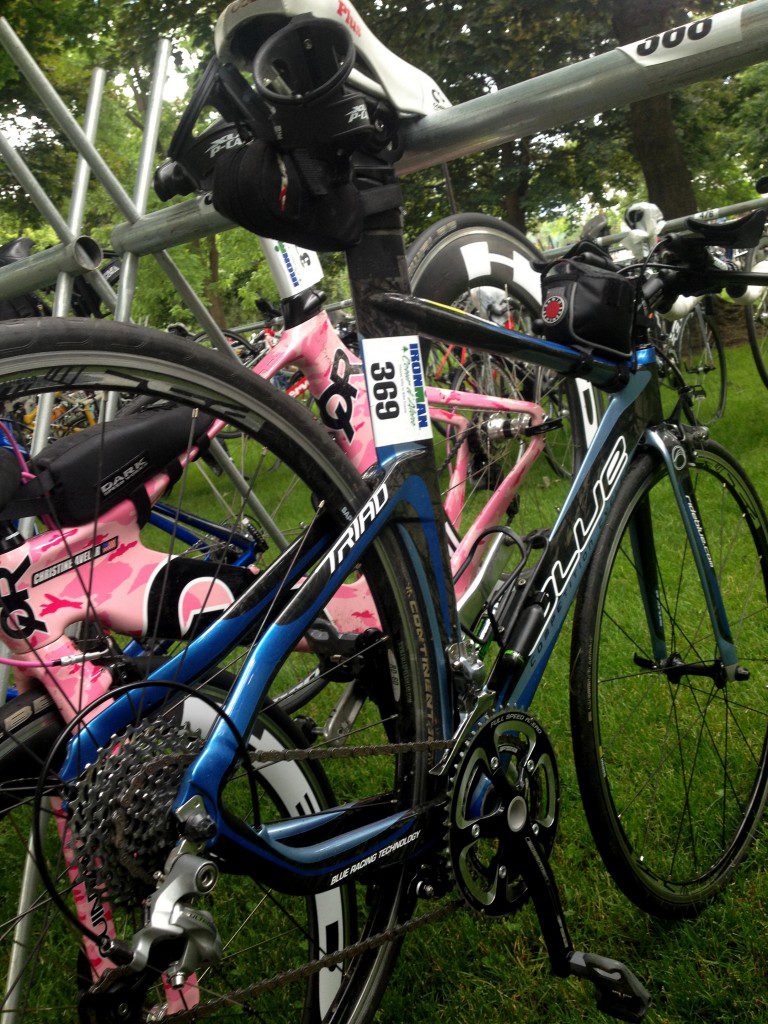 Took him back to the Inside Out Sports bike tent, and pleaded with my eyes for them to do something about the brakes. Basically, I need new cables/brakes, but they are "okay"—-it just takes alot more force to squeeze them than I am accustomed to—-so while my brakes are technically perfectly fine, I was uncomfortable.
I wanted to cry.  Just for the first time since arriving in Coeur d'Alene, I just wanted to weep and cry about the whole thing.  The danger, the enormity, all of it.
But I didn't.  Instead, I warned the Expert… "I really want to cry right now."
He looked at me, "So do I," he said.
That made me feel better.  The Expert doesn't cry very often.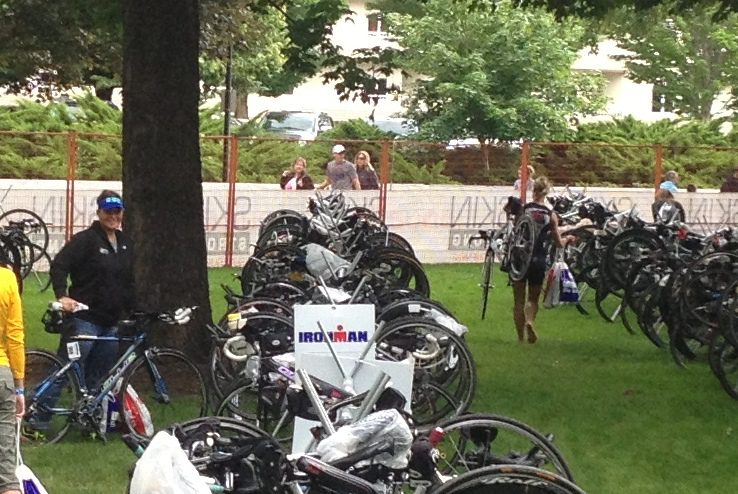 Andy was returned to me, and the bike tech was amazing.
She fixed Andy alright, and I felt a HUGE weight lifted off of me.
I checked Andy and racked him… and that's was that.  Dropped off the bags.
The Expert then gathered the family and they all headed to the showing of Monsters University in 3D.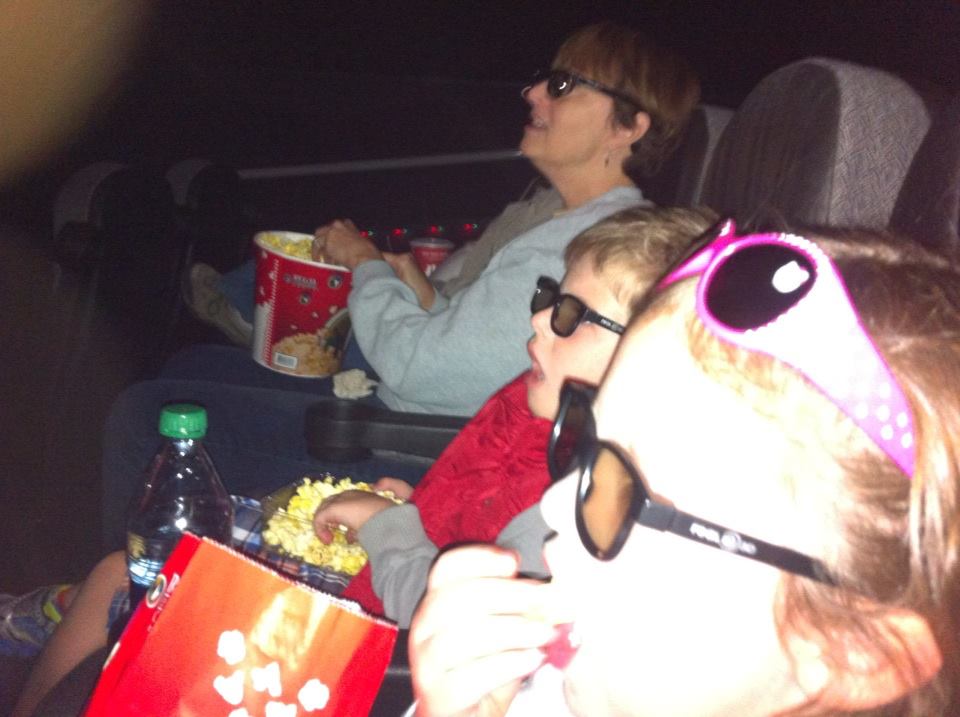 I wanted to see the movie, but I resisted the urge to be out and about. Instead, I crawled up in the bed and tried to rest.  But really, I just wrote and worried and thought about how much my neck is hurting me.
What a mess.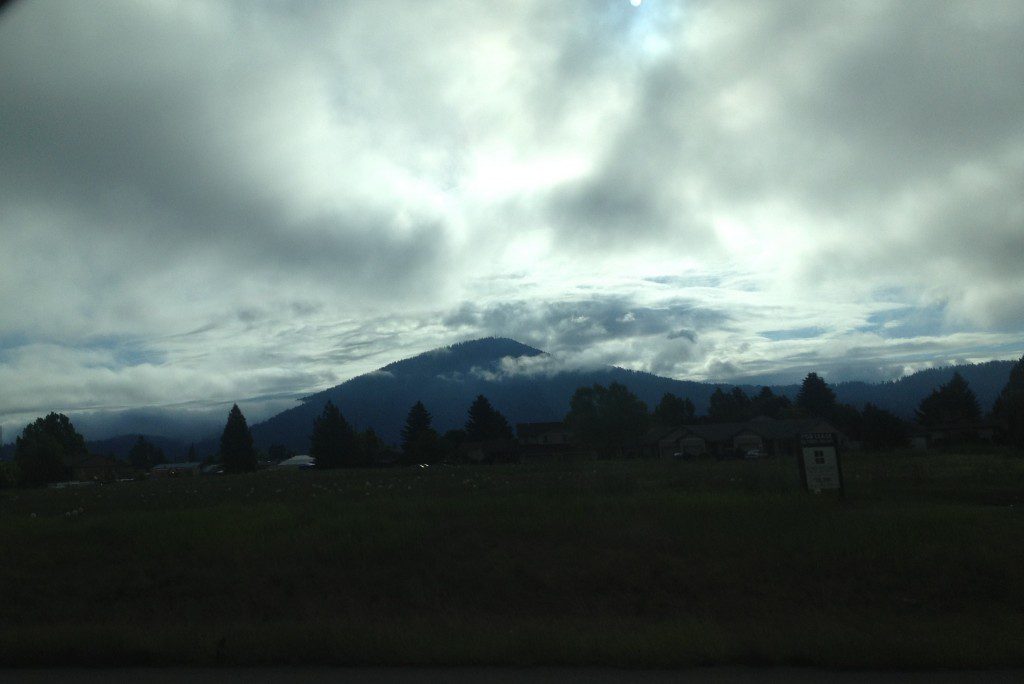 So how am I really feeling right now?  12 hours from now, I will be hopefully wrapping up my final 30 miles on the bike course. Right now, I am overwhelmed thinking of that.
But I do know that CDA is beautiful and that I must just keep moving forward the entire day, and I will finish.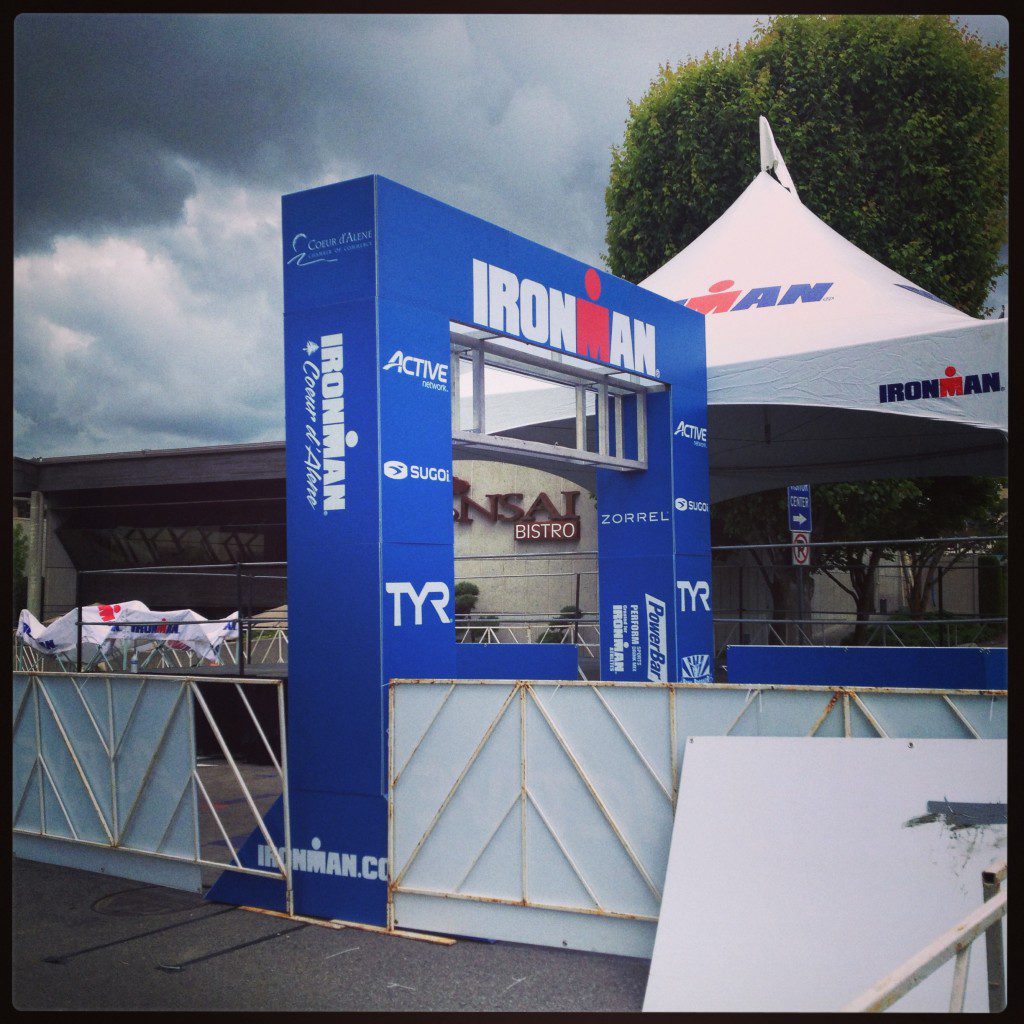 I hope to see this tomorrow night.  Closer to 10:00pm than midnight… but we'll take either.
THE RACE REPORT
Sunday, June 23rd – THE RACE DAY!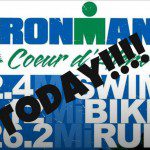 Race morning began at 3:45am.
I woke up.
I looked in the mirror, and true to total cheeseball form, I said to myself, "Today is the day. You can do this."
I ended up in Columbus' rental house driveway at 4:27, and we were heading down to the venue. The transition bags. The energy of the race.  I still wasn't sure if it was real.
It was.  It was damn real.
But I was goofing around… checking race bags, giggling, being stupid.  But then it was time. Quickly… it was time.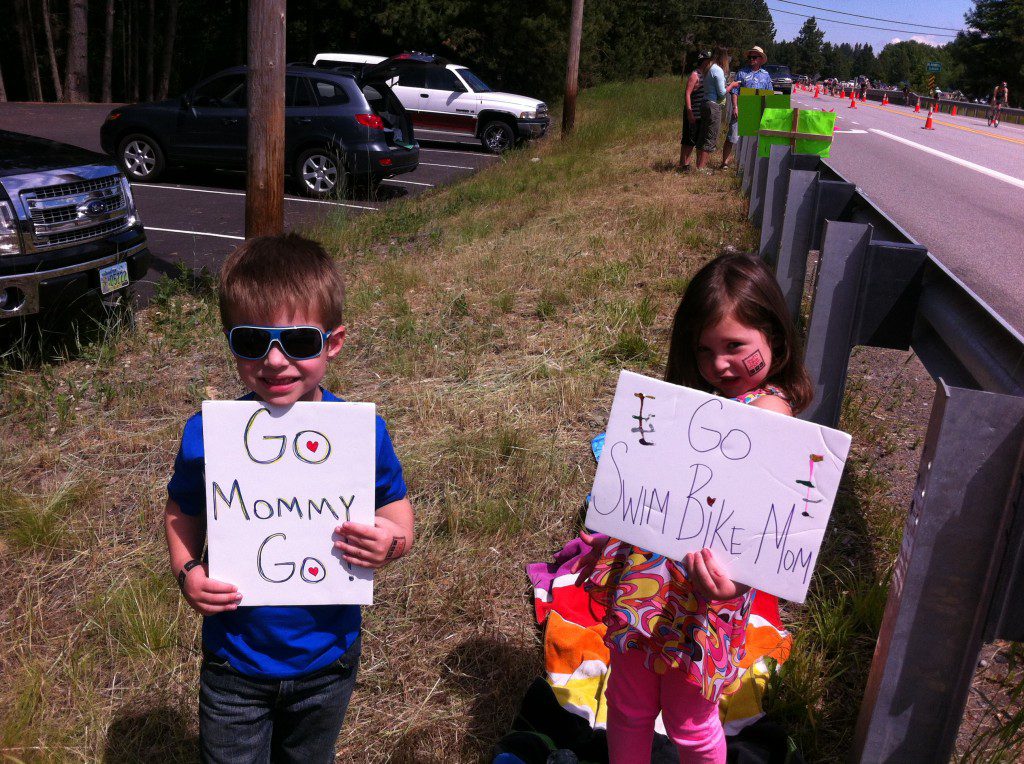 When the National Anthem played, it got very, very real.
In a million ways.  I had been so calm, so normal (well, normal is relative).  But truly, I had been pretty calm during the whole process. I was crabby on travel day and a few times, I wanted to lose my mind from the stress of it all.  But overall—I was pretty calm.
But once at the race venue on race day…once I heard the Anthem, I lost it. (Stand at the near-start of an Ironman and don't cry—I double dog dare you.)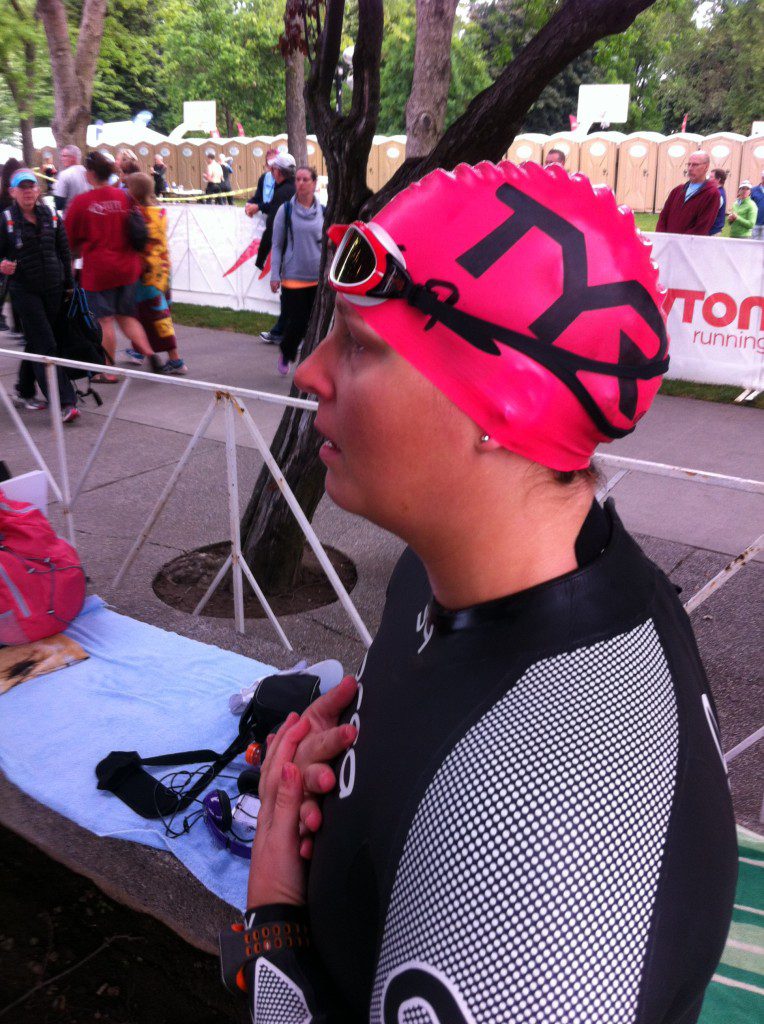 And then, it was time.
But I forgot a gel at the race start.  I had a big breakfast of rice, almonds, banana — like I always do (either rice or quinoa)— but I forgot my pre-swim gel. I needed that.  2.4 miles? Without a snack? Holy moly.
So I did the next best thing.
I snatched one of the kid juice boxes.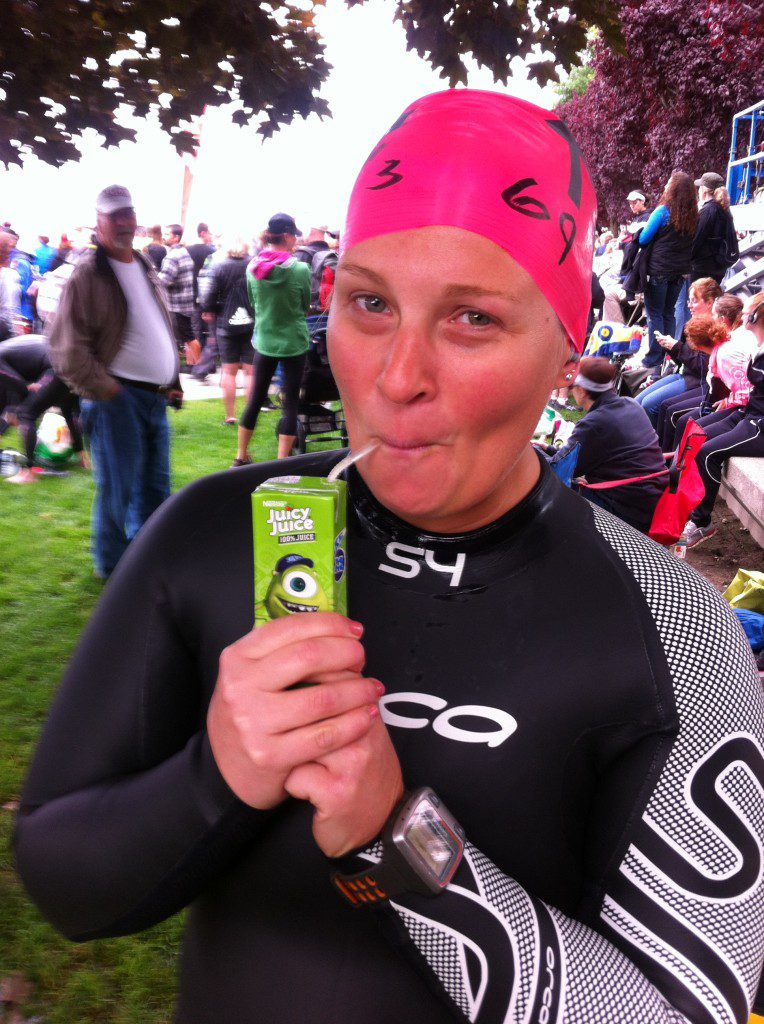 …from the kids. Oh well.  Mom of the Year.  Mommy needs your juice. Mommy wants to be an Ironman. Suck it up, Kid Buttercups! Gimme your juice!!  
(Don't try anything new on race day?  Out the window.)
Thanks to the Expert for actually doing the snatching of the juice box. (Quit judging! They didn't starve. :))
I was so so so glad to have my family at the start. Even though I stood in line at the porta-potties for 10,000 years, I was so glad to have them there. I love them. Seriously, I love these people more than I can say.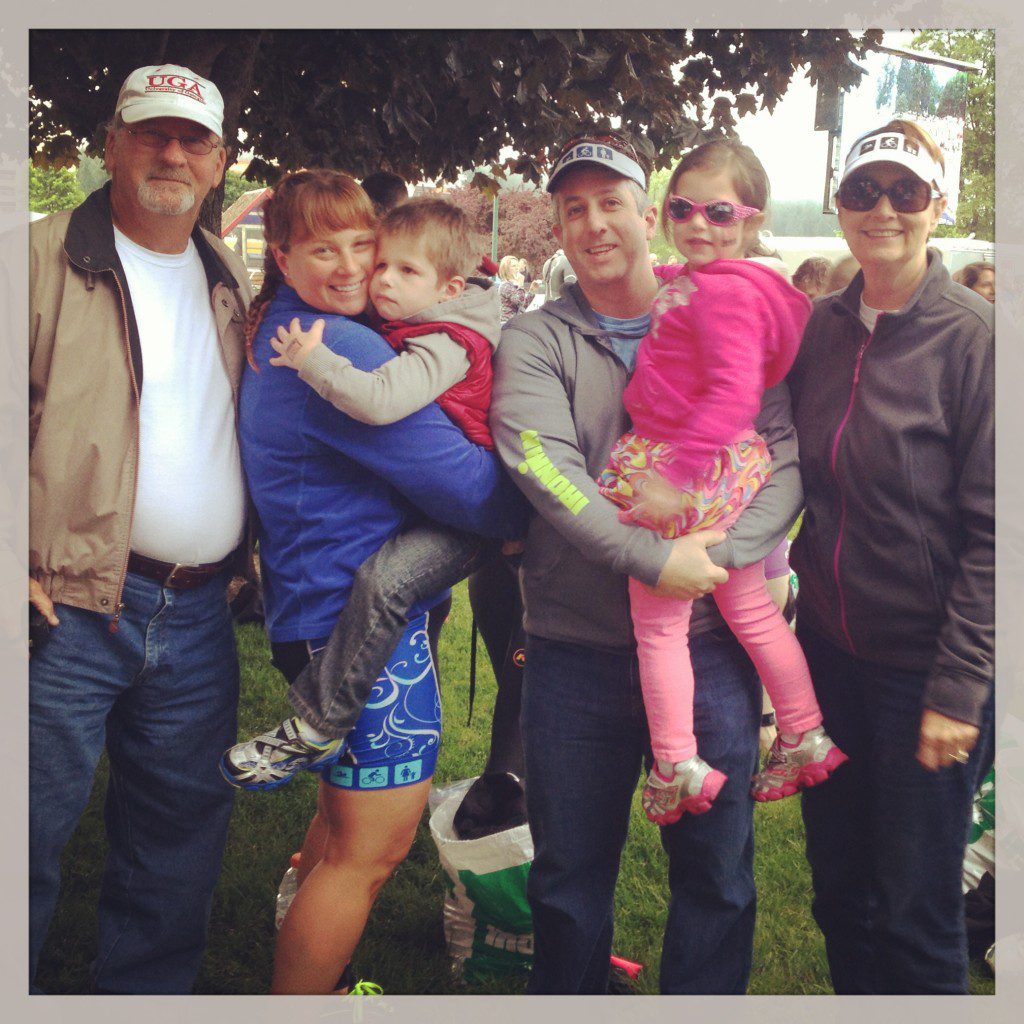 I'm not sure where I was mentally all morning.
I "knew" it was coming. But I'm weird.  I don't dwell on what's coming. I ignore it until it's on me. Then I just jump in.
And it was time to jump.  Holy Ironman. 
THE SWIM – 2.4 Miles 
This was the first Ironman CDA with the new rolling swim start. (I think the first.. if not, close to it. Don't email me and say,Well actually this wasn't the first time… blah blah… My point:  it was pretty new to Ironman.)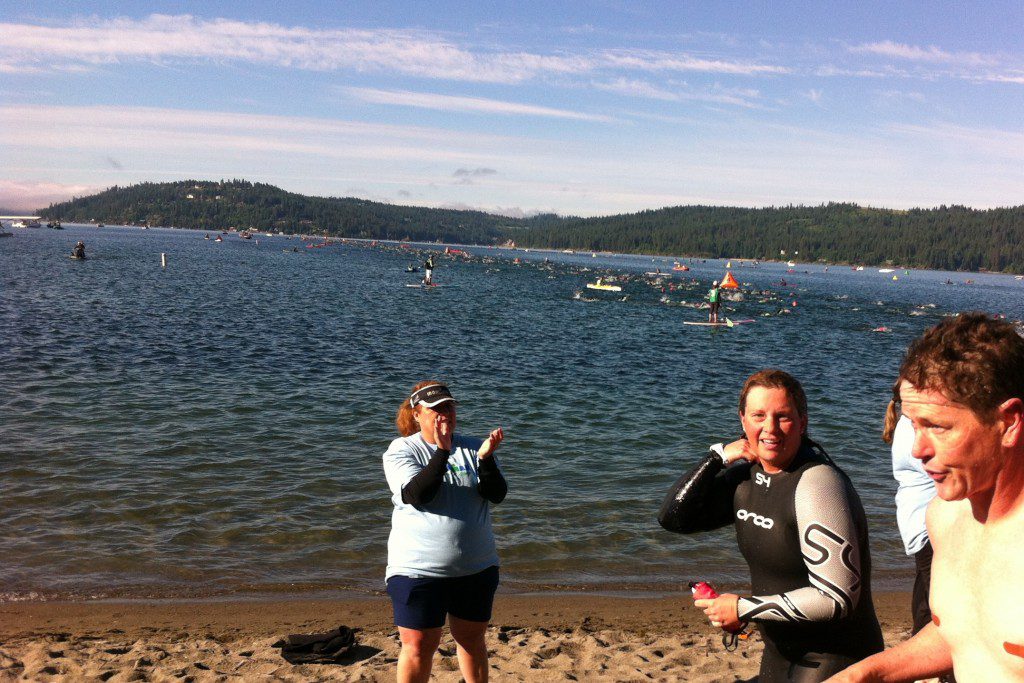 I'm thinking the naysayers about this swim start were pleasantly surprised.
The rolling start was like one in a marathon —- they basically corralled us and let the groups "go" and pour into the water.  The time for each racer started when that person crossed the timing mat.  In the picture below, you can see one of the corral signs (far right):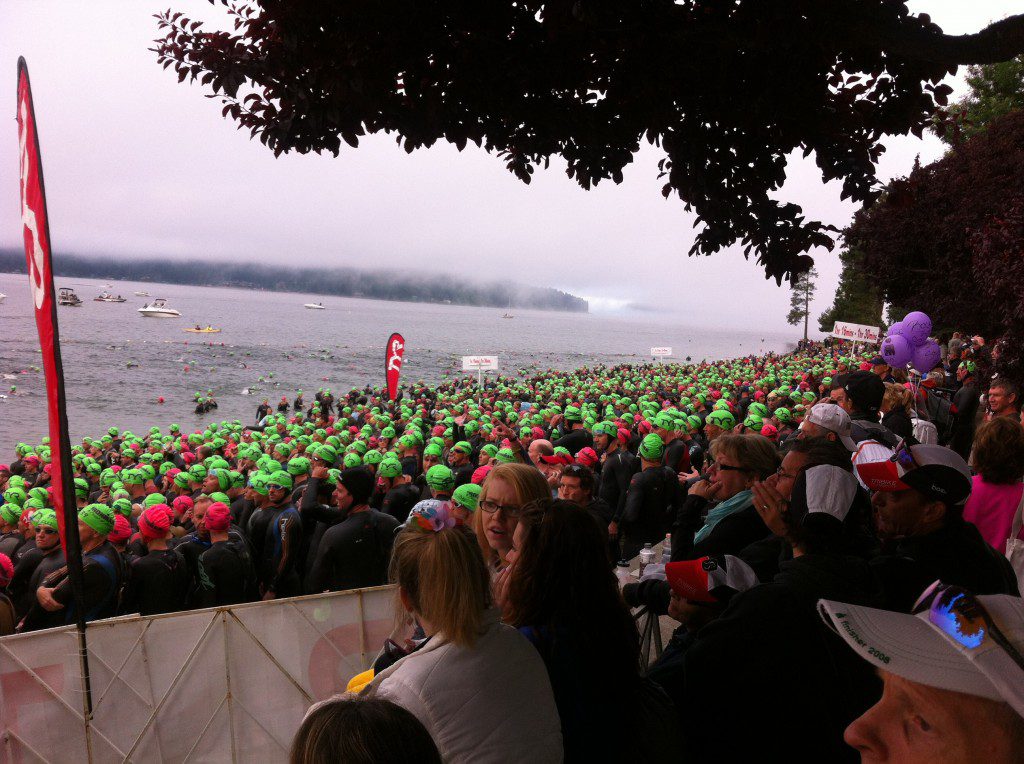 First, the rolling was fast enough where you still had the joy of getting punched in the face or kicked in the shoulder.  They said, "Everyone with your projected swim time between 1:00 and 1:15… go!"  And everyone in that group rolled in… it wasn't 2×2 or slow. It was pretty fast. It was still crowded. The water was still nuts around the buoys.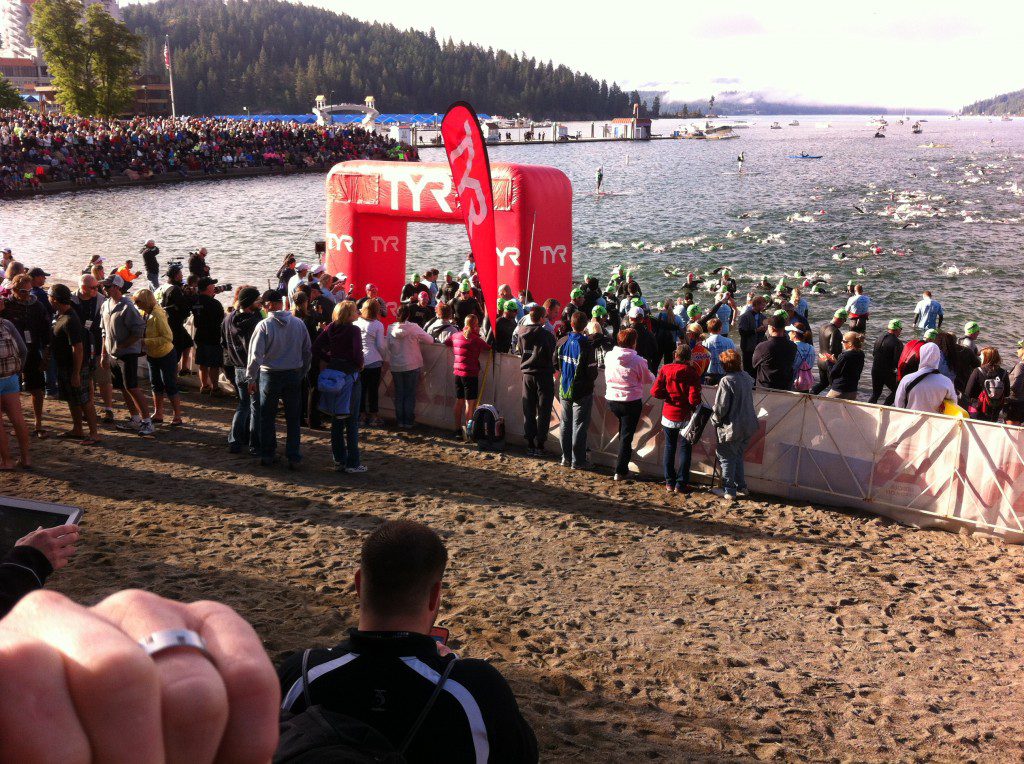 I mean, it was still 100 times worse than any sprint tri I have been in.  I say, Kudos Ironman. Everyone was safer, and the experience and energy for the crowd was still there.
There were six groups in the swim based on projected finish time: 1) Under 60 minutes, 2) 1:00-1:15, 3) 1:16-1:30, 4) 1:30-1:45, 5) 1:45-2:00, and 6) 2:00-2:20.
I seeded myself with the group with a projected finish time of 1:00-1:15.  I knew I would likely finish between 1:15-1:30, but I also knew that I might be at the top end of that group.  So I decided to go into the other group. It was kind of a scary move, but it was a good one, because I ended up swimming with everyone in this group. I wasn't crawled over. It was good.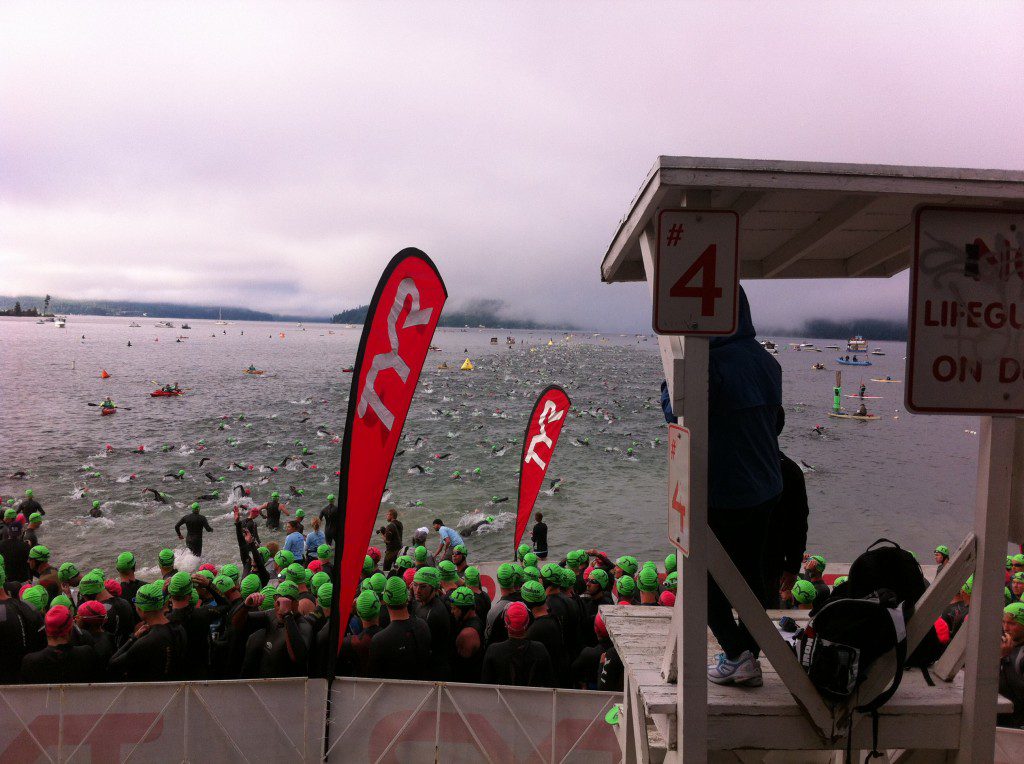 I remembered my friend, Colleen, saying to me, "Just repeat, 'I'm doing an Ironman!' all day long. When you feel scared or tired, just say, 'I'm in an Ironman race' and it will snap you out of it."
She was right.  I needed  it most in the swim.  I said it many times… "I'm swimming in an Ironman! Yay me!"  And it worked.
During swim practice in the days leading up to the race, I took Dramamine before swimming—-to make sure that it agreed with me.  I highly recommend taking some before a swim of this distance, because it totally helped with any sea-sickness.  That second loop of the swim was a washing machine.  Many, many people came out sick.  Luckily, that was one thing that went right for me.
I had done A LOT of swimming leading up to the race.  Coach Monster had me doing 3000+ meter swims for over a year.  I have been lucky with minimal shoulder issues, and because of all my klutziness, I was in the water more than I was on my feet.  So I wasn't too worried about swimming 2.4 miles.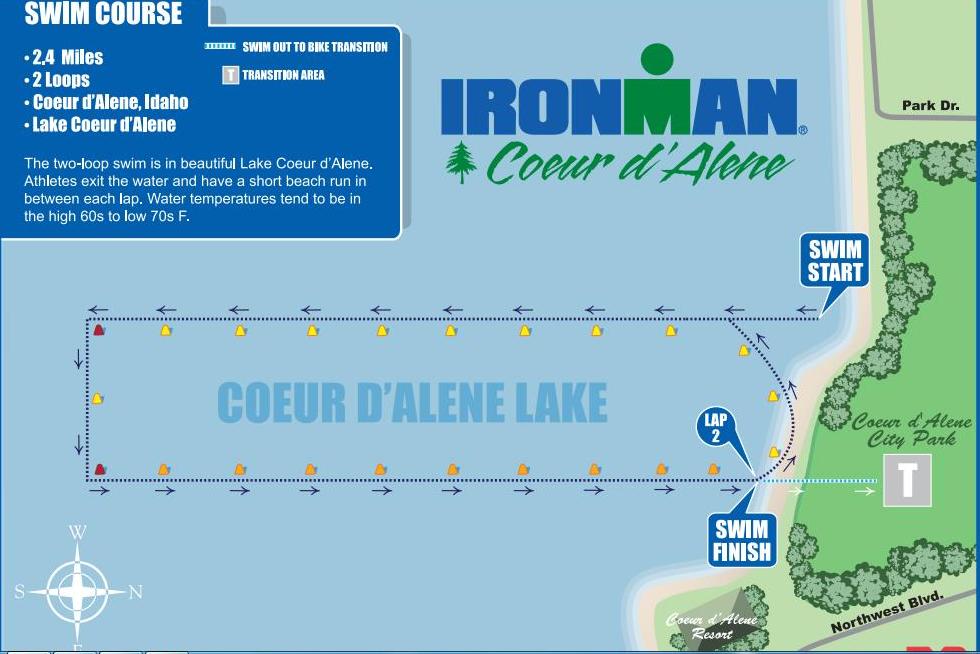 The water was cold, yes.  Not sure about official race day temps, but I estimate the water was 62 degrees. But I felt fine about that.  I didn't go with booties or two swim caps.  I did have earplugs, but other than that, the water was tolerable.  Could be because of the three swim practices the Monster ordered (he was right, BTW).
But I will tell you.  2.4 miles is just as long as it sounds.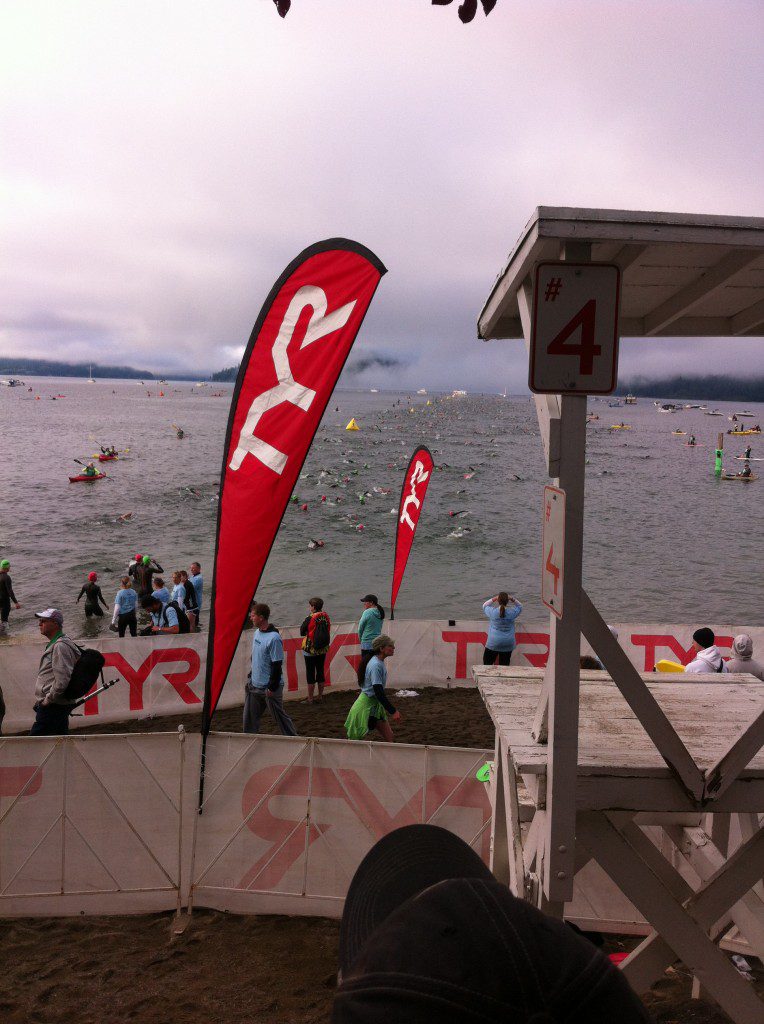 The "out" on the first loop was so long.  I saw buoy after buoy… the yellow ones.  And I was like, "Where in the hell is the RED turn buoy!?!"
Eventually it showed up, and that was a nice boost.
But also shocking.  Wow. I have to do that like 3 more times.  But reminder… "I'm swimming in an IRONMAN!!" Woot.
I had a swim buddy on the swim back to shore in the first loop.  He was to the right of me.  And we were in the same swim cadence.  He was breathing on the left side; I was breathing to the right.  So it was stroke, stroke, "Oh hi!" as we looked at each other to breathe.  We probably swam the last 600 meters just like that.  I swear I saw him crack a smile a few times.  Because I was cracking up.  Only me.  Only I would be goofing off in the middle of the swim.  Stroke, stroke, 'What's up dude?"  Stroke, stroke, "Nice day for a swim, eh?"
Out of the water for the first loop, then right back in.  I glanced at my watch, and saw that I did the first loop in 38 minutes.  Whoa!  I was stoked.
The second loop got a little crazier.  The water was more turbulent, people were more aggressive, but overall, it was uneventful.  A few times, I sucked in way too much water as I sighted, and I had to sit up, but it was only for a second. I never once stopped swimming or breast-stroked. Not that there's anything wrong with doing that—I just didn't feel the need.  Plus, I knew that the bike and run would take enough out of me. I wanted to have a strong swim. I needed a strong swim.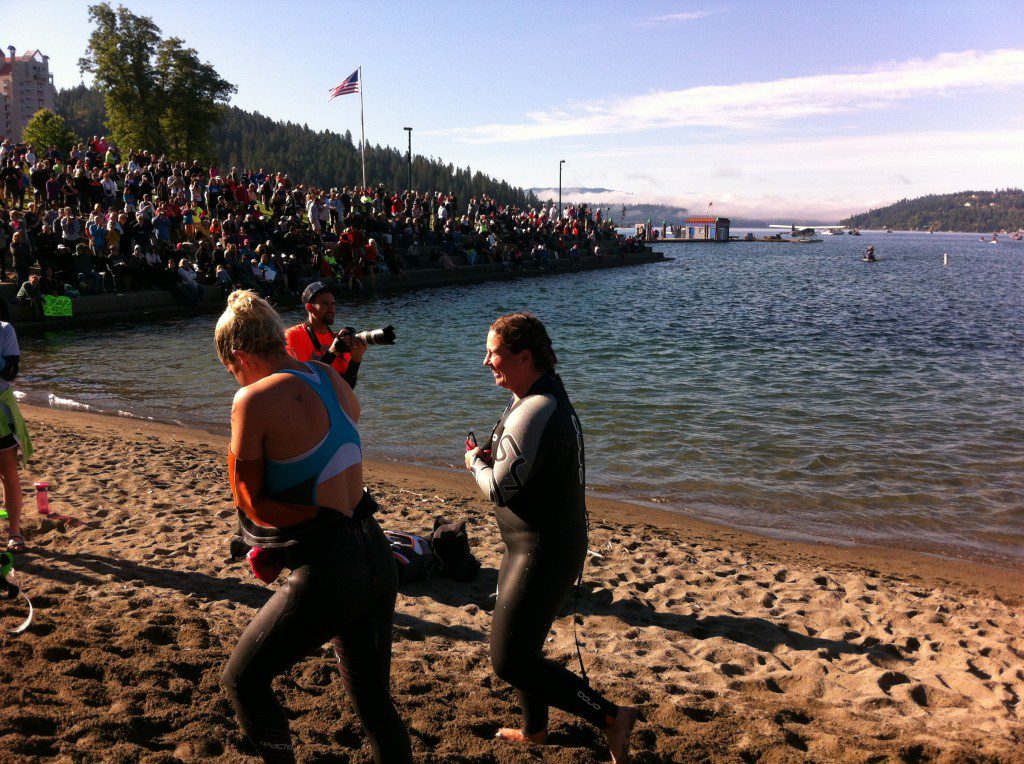 I wanted to be moving forward at all times. Seriously.  Coach Monster told me, "Just keep moving forward the entire day. Don't stop.  No matter how slow. Go forward."  I kinda like the way he thinks.  You know, moving forward and all.
The last 200 meters to shore were glorious.  I have finished the swim!
My swim time was 1:20:24.  Totally happy with that.

But then… I realized what was coming.
I hadn't thought about the bike. I try and take each portion of the race as it comes.  Kind of like my don't worry theory—-when I swim, I just think about the swim.  But that also causes quite the shock on the way out of the water.
Whoa. Now I must bike.  A really long way.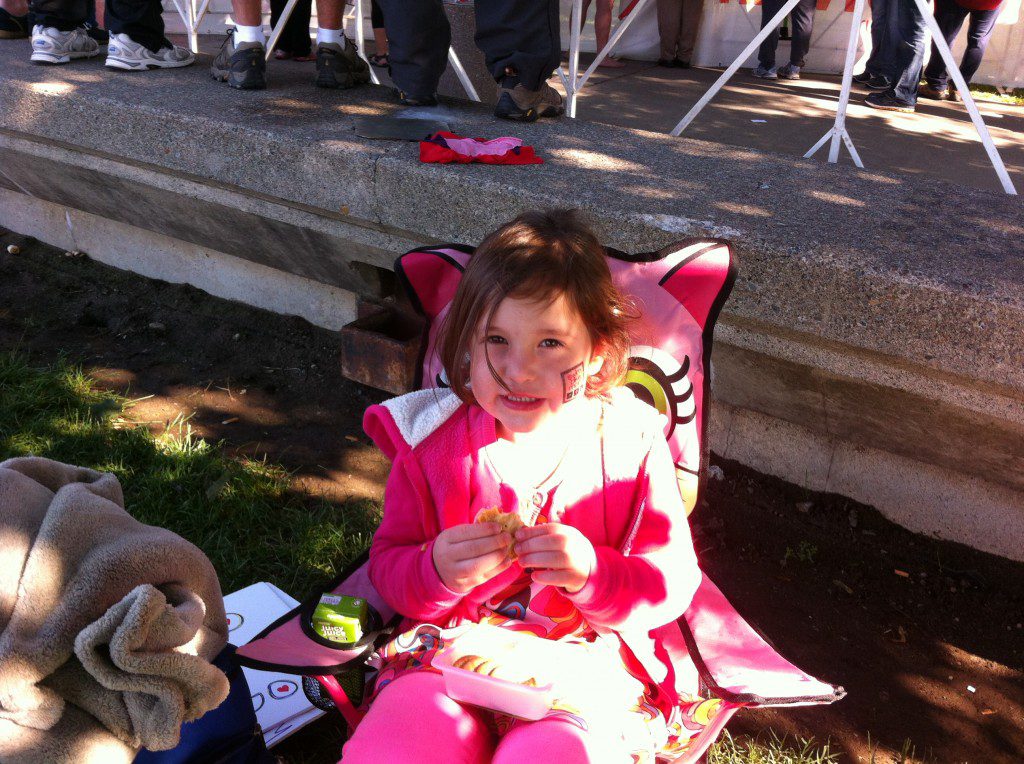 THE BIKE – 112 Miles
I don't remember seeing my family on my way out of the water, or as I headed out on the bike.  I may have seen them. I truly don't remember.
I grabbed my bag and headed into the changing tent.  Sister Madonna Buder was in the tent.  I thought she was racing, but then I think she was actually volunteering.  Or maybe I made her up.  Either way, I thought… that's a good sign. Seeing the Iron Sister in the tent.
My hands and feet weren't working very well.  I dumped out my T1 bag and thought, Boy, I have a lot to do right now.  I had way too much stuff in the bag. In my quest for being prepared, I was way too prepared. I don't know if I was packing enough nutrition for a 10 day hike through the Rockies, or what.  But I had plenty of food.
Well, I can't carry all this, I thought.  So I ate two Huma Gels immediately. (BTW.. I love these gels. I had about 16 on the course. They are amazing. That is all.)
I figured since I planned to eat every 30 minutes, and I already missed my pre-race gel, that I should double up.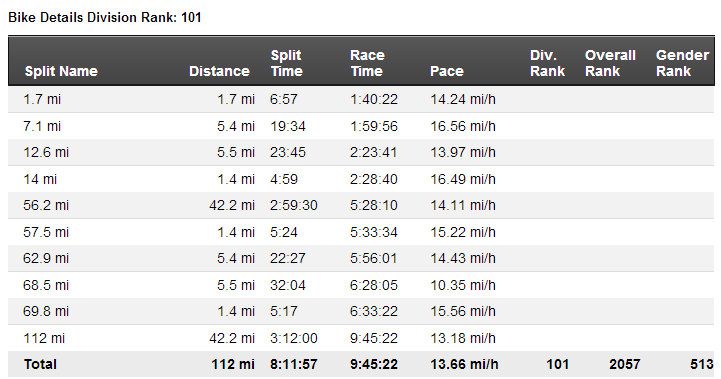 The next task was changing my clothes. You will note that I am adamant about not changing clothes in a sprint, Oly, or half Iron race. But that's because there are no changing tents and you should NOT show your goodies in transition. I was in a tent.  You are allowed to show your goodies in the tent.  And man, did I.
I wanted to put on a bike jersey (for the warmth and sun coverage) and cycling shorts (for the thick chamois pad).  So as I stripped off my wet tri shorts and attempted to stand up and put my leg into the cycling shorts, that didn't work so well.  (Awkward showing of Goodies #1.)
So I sat my bare butt on the chair, and apparently, someone had built a sand castle on the chair.  Tons of sand on the chair.  Was now on my butt.  As I pulled up my shorts (Awkward showing of Goodies #2.), I could feel the sand.  As I slathered on the Aquaphor (Awkward showing of Goodies #3.), I thought, I'm probably going to feel this sand later.
I should have stripped the shorts back down and rinsed the sand off my bum.  But for some reason I thought, Sand on the bum for 112 miles ain't that bad.
[Oh, yes it was.  Oh, hell to the yes… bad.]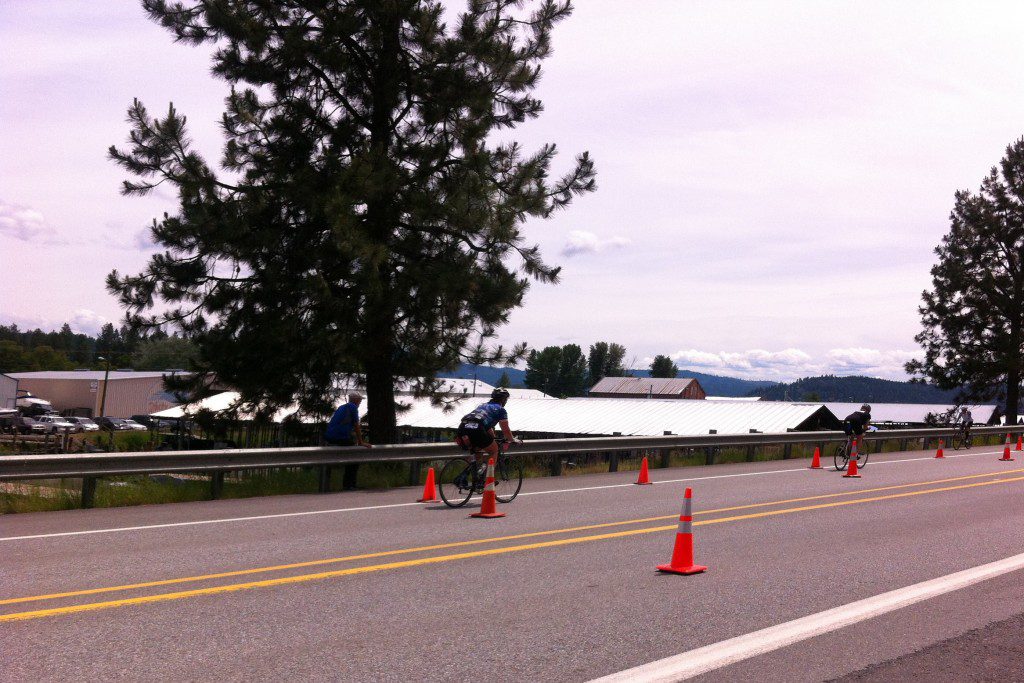 I pulled on arm warmers.  Made an executive decision not to wear a vest or jacket, because I really wasn't that cold.  Slathered on some Body Glide liquified powder on the feet, pulled on socks, shoes (which had shoe covers on them), helmet, sunglasses, (fought with the blasted MyAthleteLive tracker which apparently lied about many things during the day) and then I was wandering out of the tent and into transition to grab Andy.
The ground was muddy, which made for a troublesome clipping in with my right foot once on the bike.  I think my cleat was full of mud.  So for the first 100 yards, I couldn't get clipped.  So I banged my shoe on the pedal, and I guess that shook off enough mud.  Click!
And I headed off.  Just a little 112 mile ride. Oh. Em. Gee.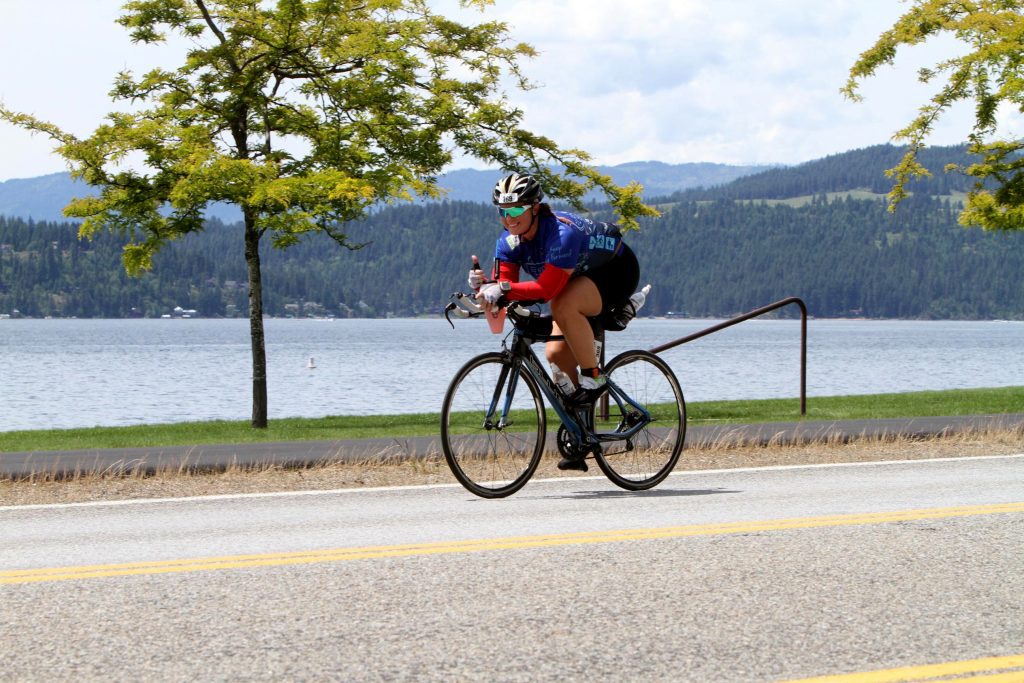 The bike course was bullshit. I'm sorry, but there's no other way to describe it.  Okay, so maybe other adjectives might work:  difficult, long, scary, with long ridiculous hills that never end then when you get to the top of that hill you have more miles of false flats. 
I had said my projected bike time of "hell in a handbasket" would have been 8:15:00.
Well, I was 8:11:00.
But interestingly, it wasn't hell in a handbasket.  It was my bladder. But at least I was hydrated.
I pulled over and got off my bike SEVEN times and peed.  SEVEN. (I still can't pee on the bike, unfortunately.) I can't imagine the kind of time that SEVEN stops took off my bike.  And at Mile 60ish—-the Special Needs stop—I took 10 minutes there.  I would be willing to bet that my moving time on the bike was actually 7:35:00.  I probably wasted 45 minutes stopping.  But in hindsight, I don't think it was a waste.  Because it made me rest, hydrate and deal with all the sand in my shorts (which really started to wreak havoc around Mile 50).
I had my eye on the bike cutoffs, and at the turnaround on the second loop, I made the cutoff with an hour and a half to spare. Safe.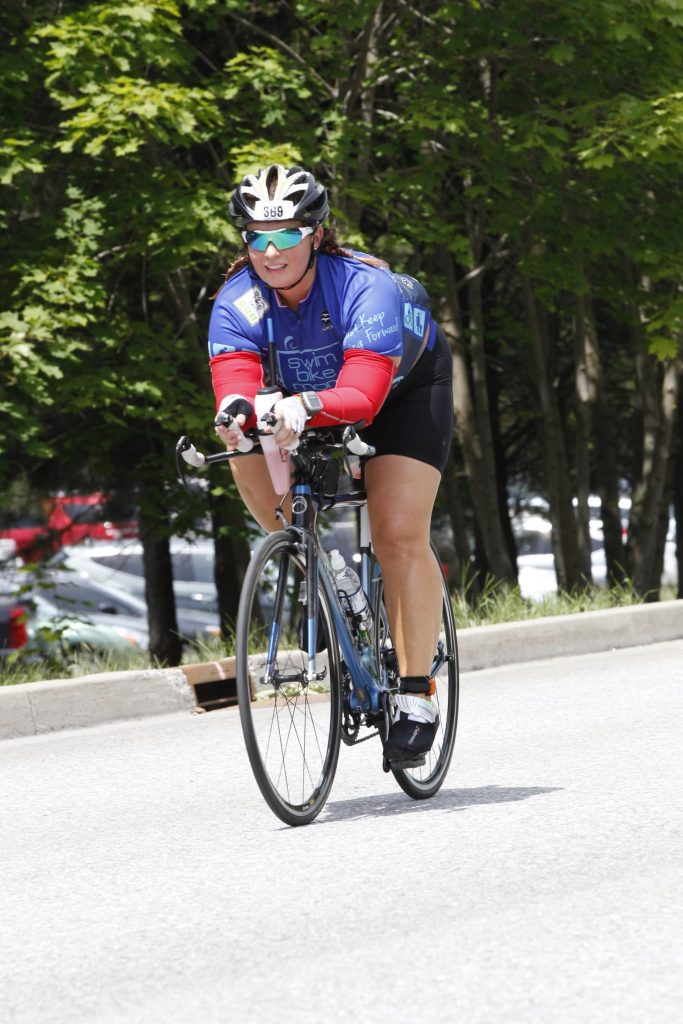 I underestimated the bike course.  But at the same time, I was fine.  I had ridden my tail off in training. All those trainer rides paid off.  The mental suffering of being on those endless hills compared rightly to 5-6 hours on the trainer.  It made sense.
The two hills that I recall with pain was the first big one heading out from town, and the big one heading back into town.  They were each 3-4 miles long, with 4-6% grades.  Just brutal and long.  #thatisall
When you see super fit people off their bikes, walking… you know that you're in Bike Hell.  And it was.
Mentally, I was tough.  That's the advantage of the long training and rides. Not just to build physical toughness… but to crack your mind, to break it down, to build it up and to believe your brain is unbreakable.  I wasn't quite at that point—but I was close.
With 12 miles to go, I knew I would make it back… the end was in sight!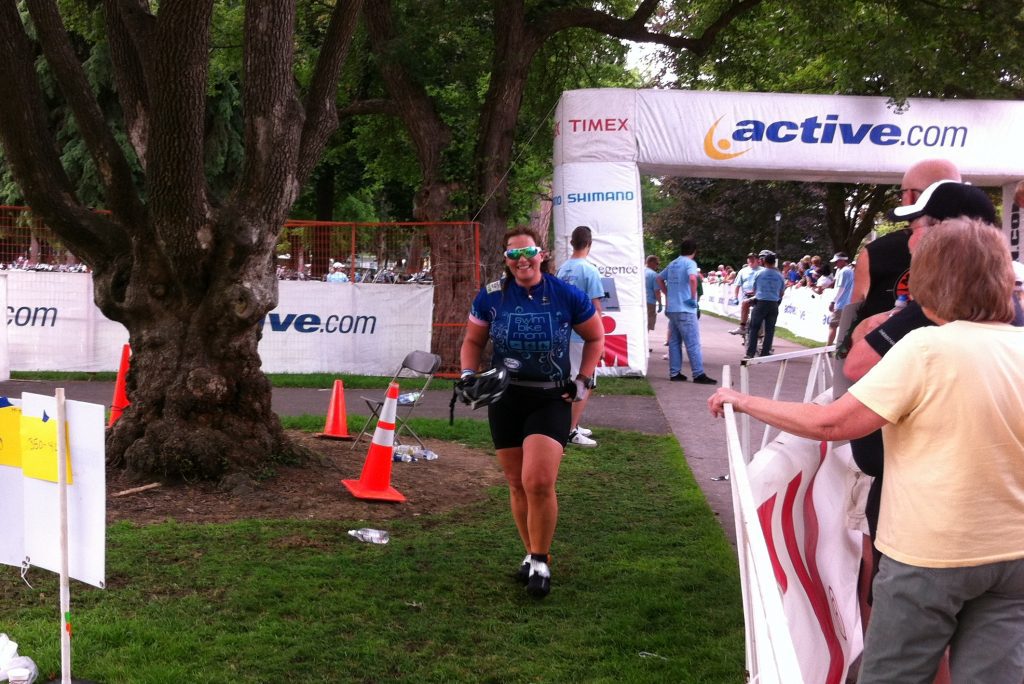 So the bike was done, and it was hard (understatement, much).  But I felt okay.  The real problem was the tiny fact that a marathon was on deck.
Oh, and my longest run EVER? My longest run in the history of my life?  Oh, that'd be 14 miles.
At that point, I felt like a lunatic.  What in the world was I thinking?  I blame Coach Monster.  It was his idea.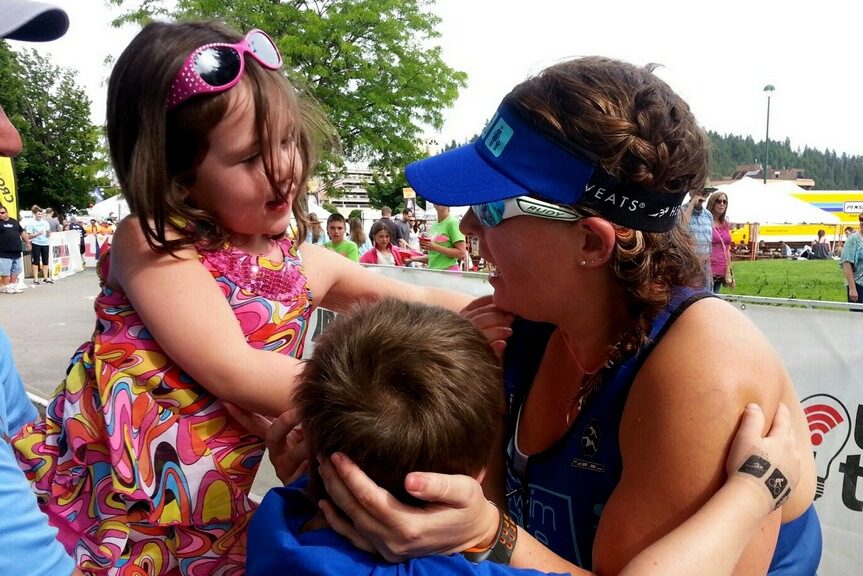 THE RUN – 26.2 miles
Oh, just a little marathon.  Have I mentioned that this was my first marathon?  That my longest run ever was 14 miles? Okay, just so I was clear.  And that's not because I didn't TRY to run or because I slacked—- but I just couldn't run with all the physical obstacles this season.  That's what I had.
The changing tent for T2 was signficantly less crowded and more manageable than from the swim to bike.  At least my hands and feet weren't numb.  Okay, yes —- my feet were numb from the bike.  I could not feel four of the five toes on my left foot.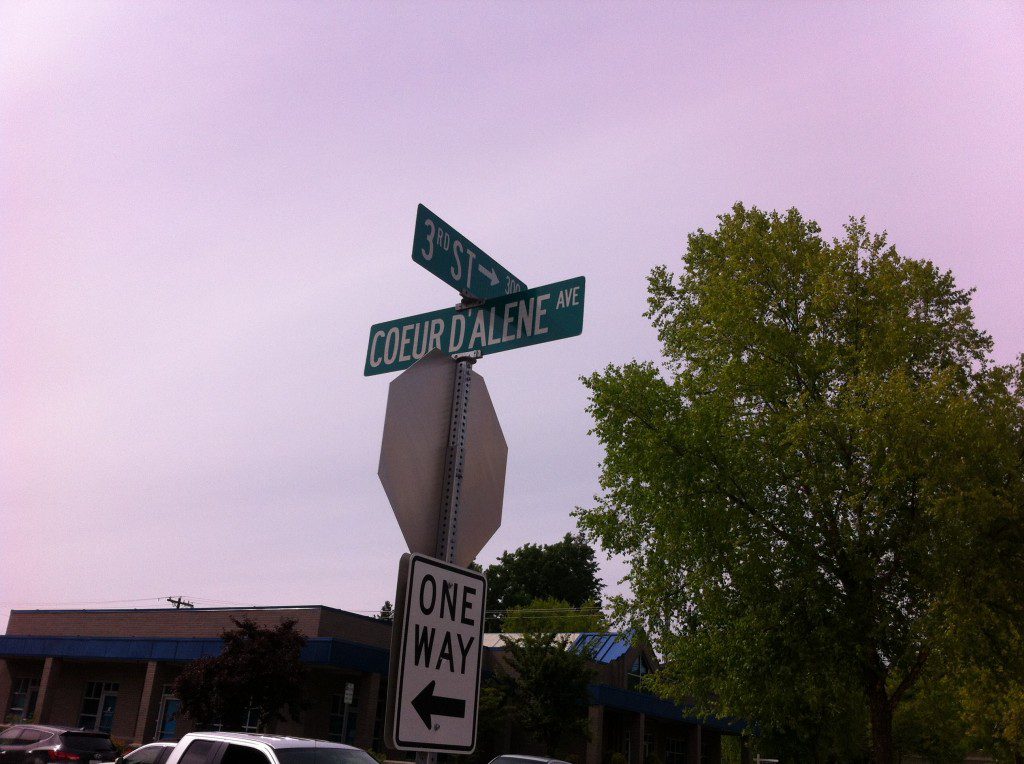 I changed and walked out of transition pretty quickly.  Stopped and hugged the kiddos and my parents.  Took a breather to not think about the torture that was about to start.
I glanced down at my watch.  I had over 7 hours to make the marathon happen.  Seven hours? That's forever!  I should be fine!
Amazing how long it can take to go 26.2 miles. After an Iron swim and bike. And with a broken down body.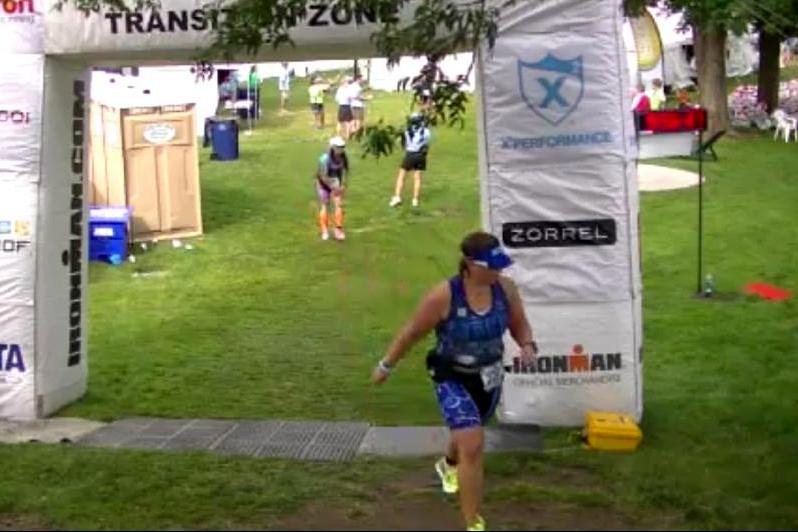 I started out slow and steady. I ran a lot of the first 10k.  Okay, shuffled.  But I was moving and trucking along.  Little by little.
I did not think about the enormity of the marathon.  Really.  It would creep into my head, and I would deliberately push it out. I took each mile as it came.  And surprisingly, nine miles went by very quickly.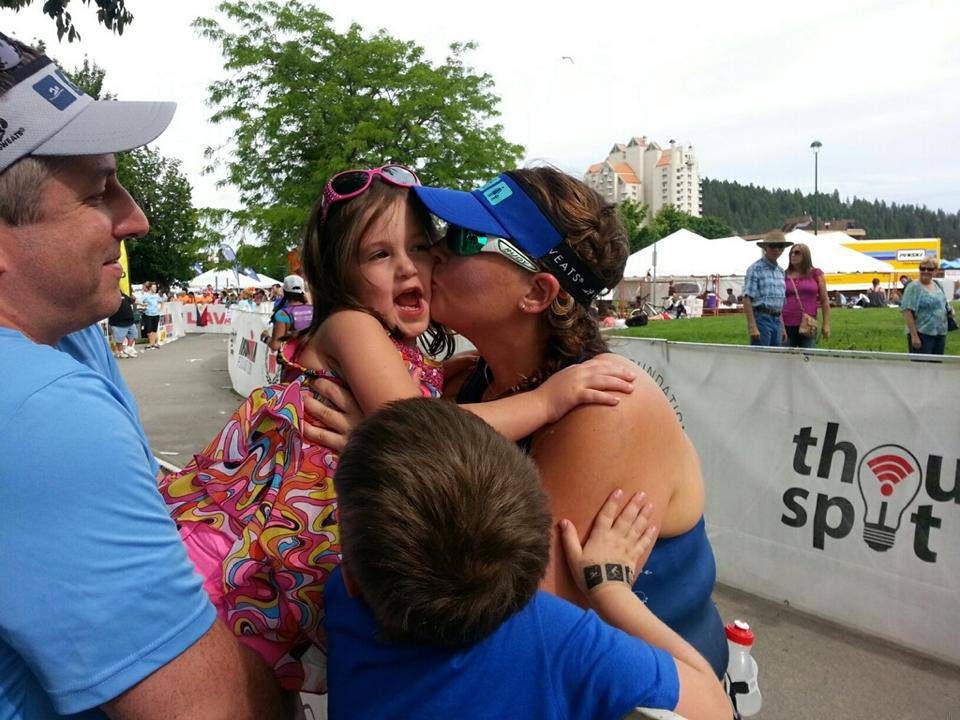 But that's when time (and miles) began to stand still. I ran about 15 miles before I ever even saw Mile 10.  If that makes sense.
The last three toes on my right foot began to hurt. I could tell that I had blisters forming.  So my goal from Mile 9 was to make it to Mile 13.1—-where Special Needs was— and where I had a fresh pair of shoes and socks in the bag.  And a tube of Body Glide powder to put on my dying feet.
Four miles to new shoes. Four miles to new shoes.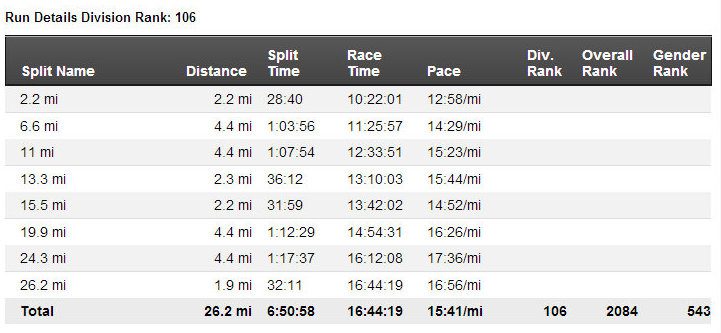 I shuffled along.  Going and going.  Mile after mile.  Tick, one mile down. Tick, another.
My stomach was bothering me a little. I felt like I had to poo all the time, but then I would get in the porta-potty and nothing would happen.  So I just tooted my way along.  That seemed to help.  And offend some people who passed by me.
Swim Bike Toot. 
But really, between all the gross things I saw on the course, I didn't feel bad.  People throwing up.  The porta-potties were unreal disgusting.  Ironman is Irongross.

Coming back into town, was tough.  Mentally.  Because my body was starting to break down… and I knew I still had about 15 miles to go.  Mentally, that was a big hill to climb.  15 more miles.  On blistered feet. 
I looked at my watch.  I ran calculations the entire run… not because I needed to do so, but because it kept my mind busy on something other than the pain.  You have 4.5 hours to do 15 miles. That's plenty of time. 
You have 3.5 hours to do 9 miles. 
You have 2.5 hours to do 6 miles…
At Special Needs, I saw the Expert and Stella.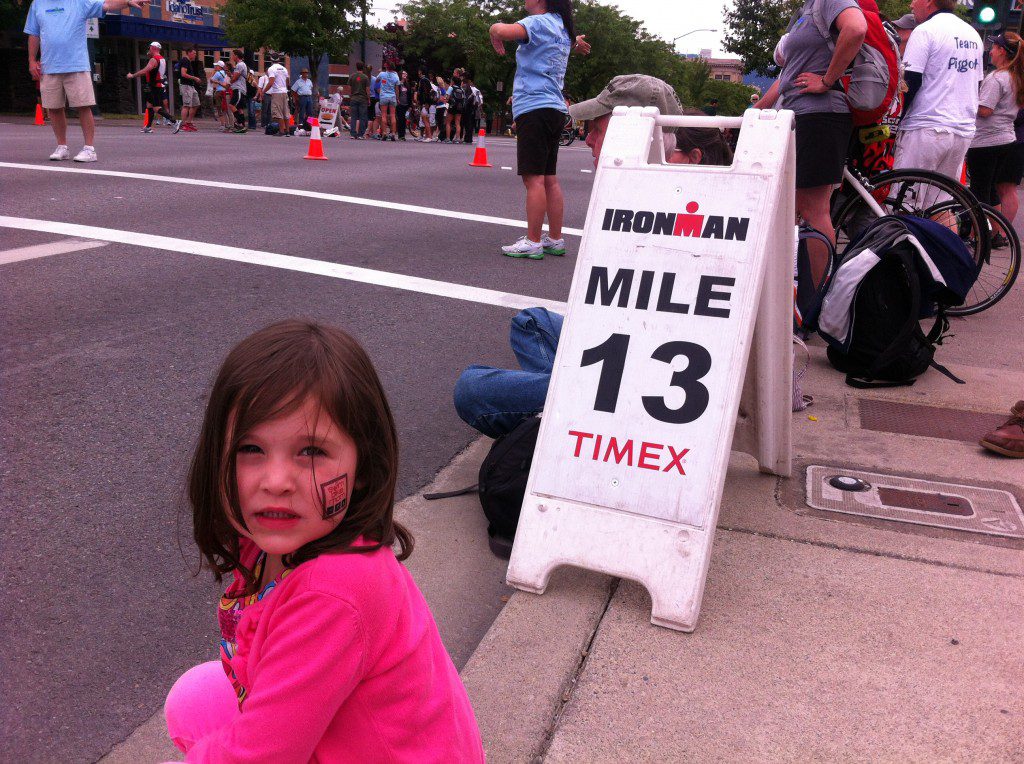 I was so glad to see them.
The Expert was a big motivator at this point. I think he could see the hurt on my face.  The grimacing as I changed shoes and socks.  He told me, "You need to keep your pace below a sixteen minute mile.  Just do that, okay?"
He wasn't exactly sure of my start time, so he thought I had a tad less time than I actually did.  (Remember with the rolling swim start, everyone's "midnight" was different.  For me, I had to finish by around 11:43pm to be an Ironman.) But he was very close to correct.  I worked hard the entire last 13.1 to keep below a 16 minute mile.  I came pretty close.
"Get moving," he said. "You have this.  You will do this.  Next time I see you, I'll be at this turnaround on your way back out for 13.  Then the next time, will be at the finish.  Get your shoes on and go. Go."
That pep talk helped me big time.
I ran towards town, saw my Dad… hugged him, and waved to my Mom who was under a tree, holding a sleeping Swim Bike Kid.
Then I dug in for another 13 miles.
My feet felt better in the fresh shoes, but not by much.
The enormity of the 13 miles was a lot to breathe in… so I didn't think about it.
SBM friends, Jennifer and Connie (who took the awesome pic of me and the kiddos on the course, and below with the Expert), were a HUGE boost to me. I saw them (and a few others) four times on the course and they jumped and screamed "Go Swim Bike Mom!"  I love you guys… thank you!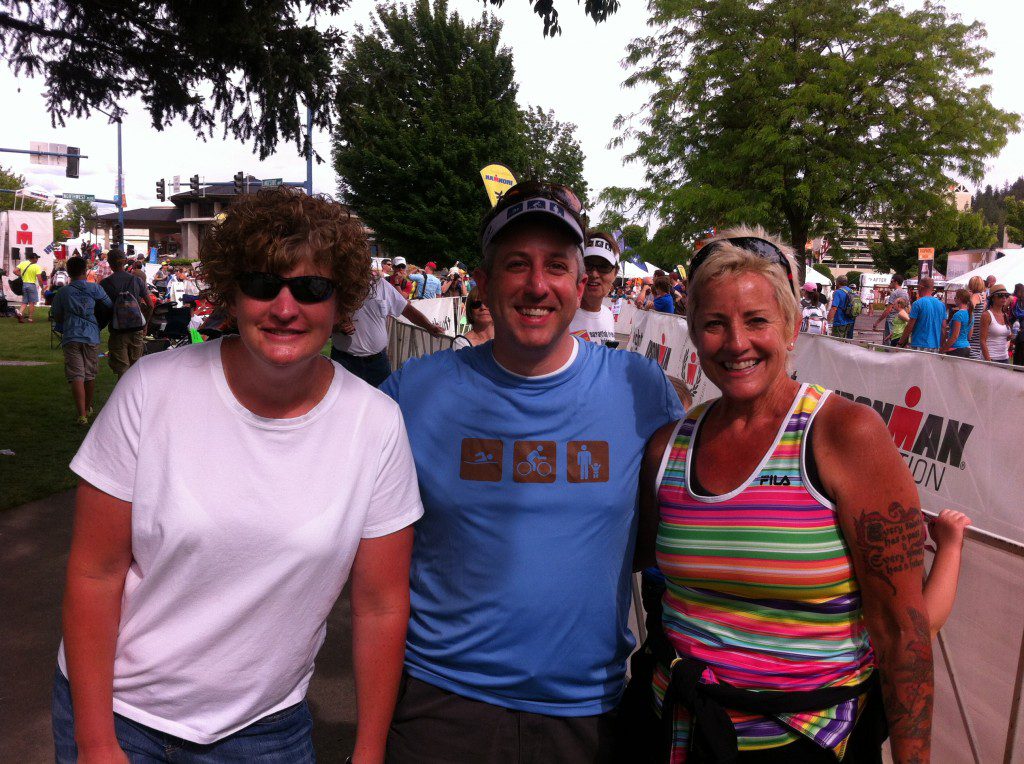 Heading back towards the last turnaround, many groups were having block parties.  The crowd support at CDA is unparalleled.  So amazing. So wonderful.
I mean, a keg party with "Ice Ice Baby" playing?  My kind of people. That is all.
The 6 or so miles out was painful.  Somewhere someone said, "The Ironman marathon doesn't start until Mile 18."
At Mile 19, my hip quit.
And my feet began to suffer.  Really, really badly.
I could run a little—running actually hurt less than walking.  So I shuffled along, with my eye on my Garmin constantly. Stay below a 16:00 mile.
The CDA run course has a long uphill on the back end… and I forgot about it.  So I slowed signficantly, and looked down at my watch, thinking, Crap.
But I still had time.  I made the Mile 20 turnaround at 9:00.
The run cutoff at this turnaround was 10:30.
I asked a volunteer, "This is really the last cutoff? Right?"
"Right girl.  You've done it. Just make it  back.  You'll be an Ironman!"
I have 2 hours and 45 minutes to do 6.2 miles.  I can do this. Shame on me if I can't. 
The next 6 miles were the darkest of my life.  Literally.  It was dark outside. I was in pain. But I knew I would finish.  So many emotions. So many feelings at this point.
I made another executive decision at this point.  I knew that I could run/walk the 6.2 and probably finish in right under 16 hours.  To have a fifteen-something hour finish was my secret goal.  I felt like I had it in me to do it.
But I decided to be smart.
Coach Monster's big thing for me, for this race, was "Be Patient."  He told me, "When you think you can go faster—don't.  Just steady movement forward.  Don't burn your matches.  Just go slowly, and forward and be patient. All day. It's a long day."
With so much time left to do 6 miles, I decided to go slow, steady and patiently.

Being in the dark, exhausted… I could easily see myself turning an ankle. Falling in the mud.  Tripping and breaking my face.  I wanted the finish. In one piece.
So I walked. Every step of the next 5.5 miles.  During the prior 20 miles, I had run/walked.  I decided not to run a single step at this point.
And with 0.8 of a mile to go, I began to run/walk.
When I turned the corner onto Sherman (the finish line), I began to just run.  I had 7 blocks to run to hear Mike Reilly… to see my family. And I was going to run it.  I glanced down at my watch.
I could see the tiny light in the distance.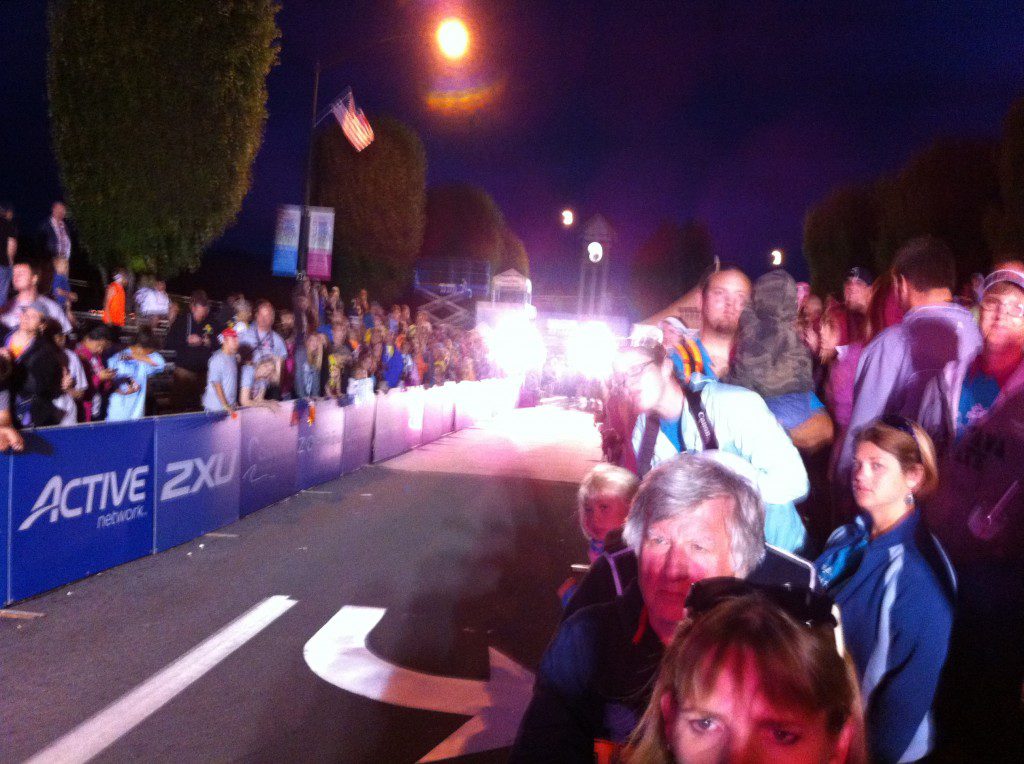 Sixteen minutes to spare.
The crowd lined down Sherman brought tears to my eyes.  The encouragement, the kind words, the cowbells (didn't need more… just perfect amount of cowbell, BTW).  Once again I was overwhelmed.
Out of the darkness, emerged a blinding light, a pounding on the bleachers, screams and shouts. The finish chute.
I couldn't see my family. But I could see hands and hear screaming. Music.  It was blinding. I was crying. And it's what I had been waiting for… for 16 hours and 44 minutes.
"Here she comes…
…Meredith Atwood, you are… an Ironman!"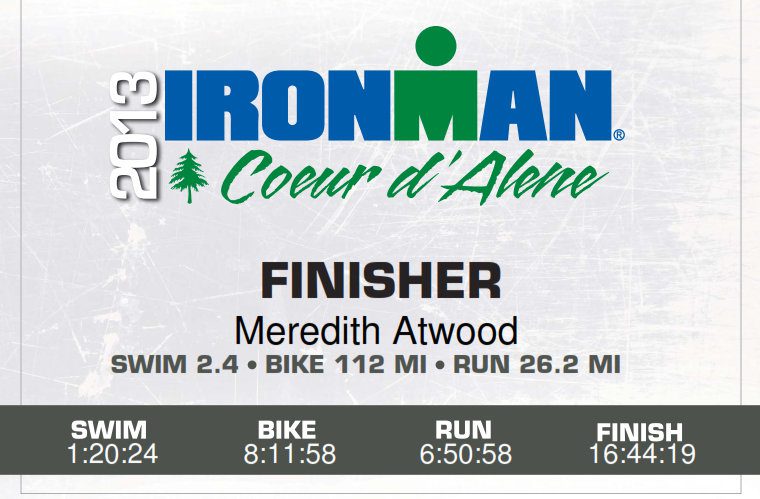 And I was.  I am.  An Ironman.  (Wowzers. Who knew.)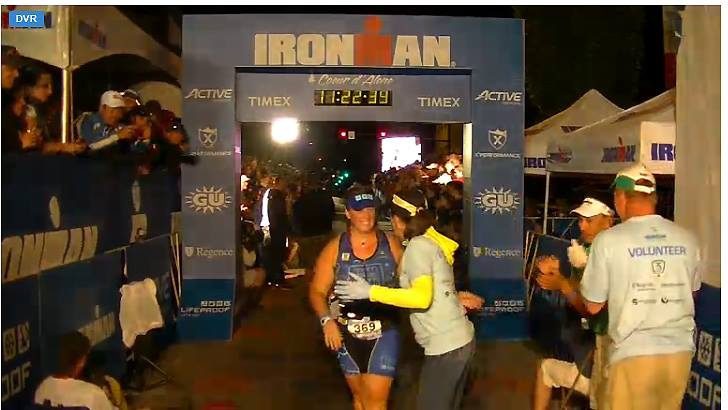 THE FINAL MOMENTS
The medal was hung around my neck.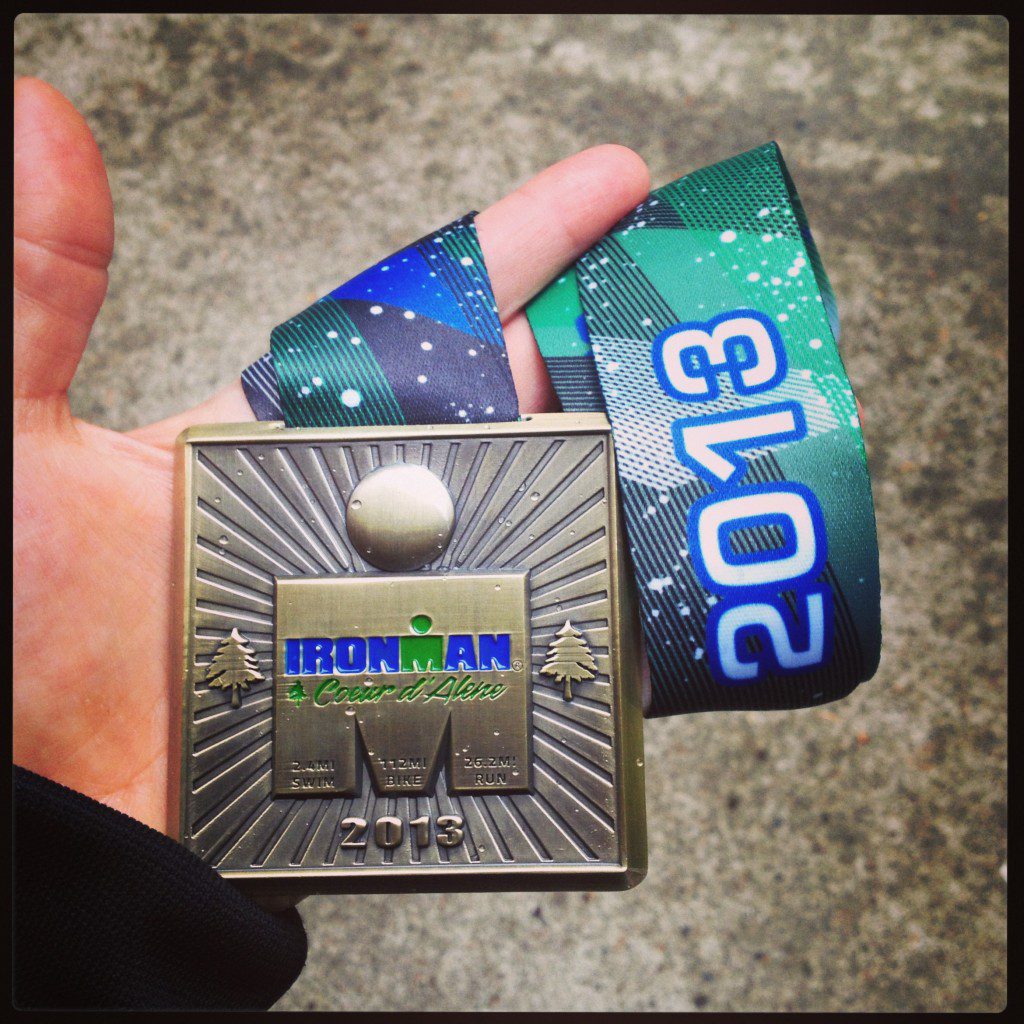 I had the nicest race "catcher" lead me to photos, get me water, and find a foil blanket for me… oh, and she directed me to pizza.
I found pizza, and I sat on the grass.  My family emerged from the crowd and I was so happy.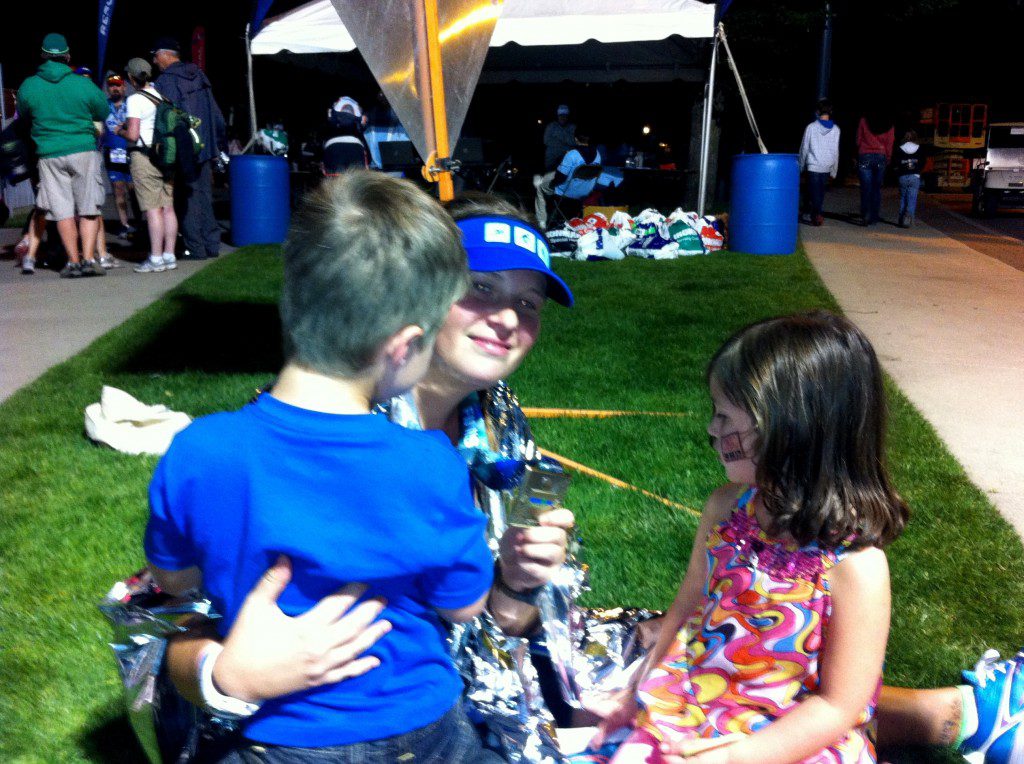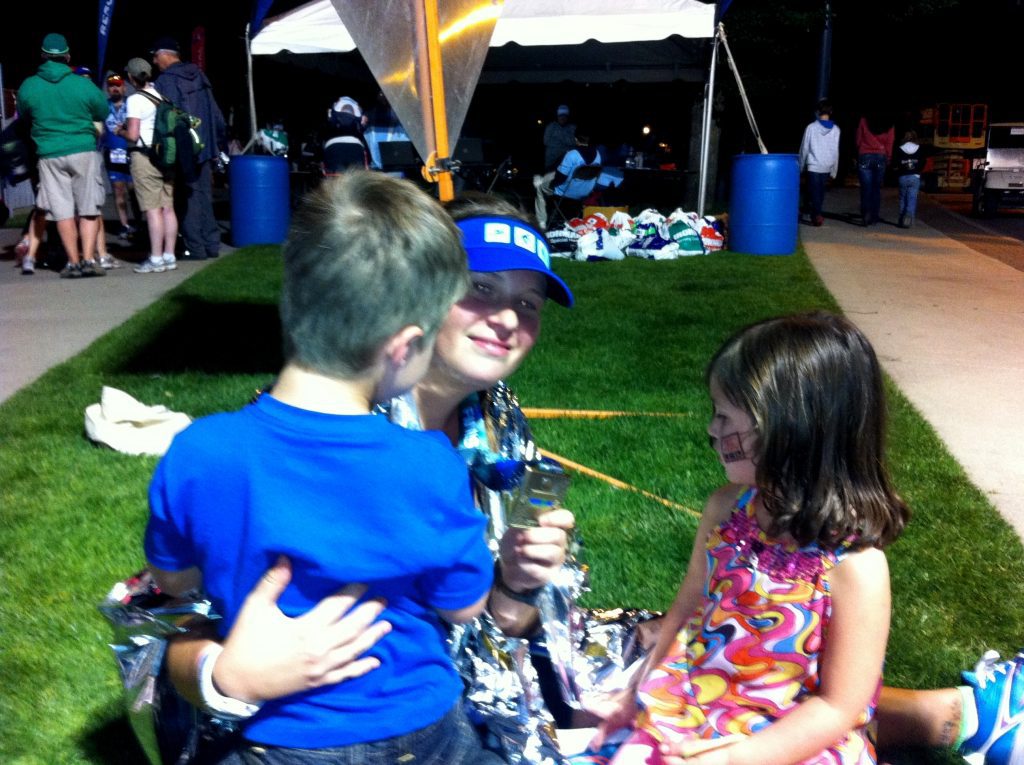 They looked like they had been through hell with me.
And they had.
That was when I realized they didn't know my race time… they didn't have an exact idea of where I was time-wise… that I had made a decision to take my sweet time to come home.  Poor guys. I felt bad.
But they were so happy.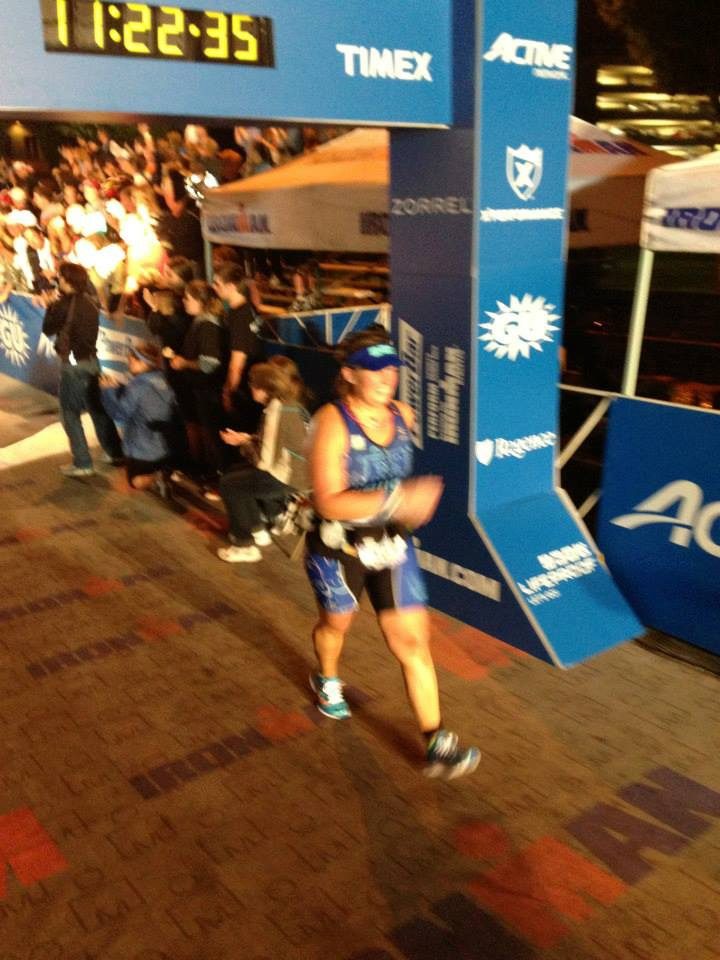 I was also very nauseous.  I kept trying to pass out… and this continued until the Expert threw me into the shower and into the bed.  I couldn't even drink the beer I wanted to badly.  The beer I dreamed about for 140.6 miles.   My mind had carried my body the last 13.1 miles.  When my mind said, "okay you can stop now," my body gave up.
The Expert said that he checked my pulse three times after I fell asleep because I looked dead.
I woke up at 6:15… just a mere 4 hours after going to sleep.
I inched my way out of bed.  Went to the Ironman village and stood in line for the jacket in the rain. I didn't think I would bother with getting one.  But I needed nothing more on that morning.  I talked with Kristi, a SBM friend, who also finished her first IM.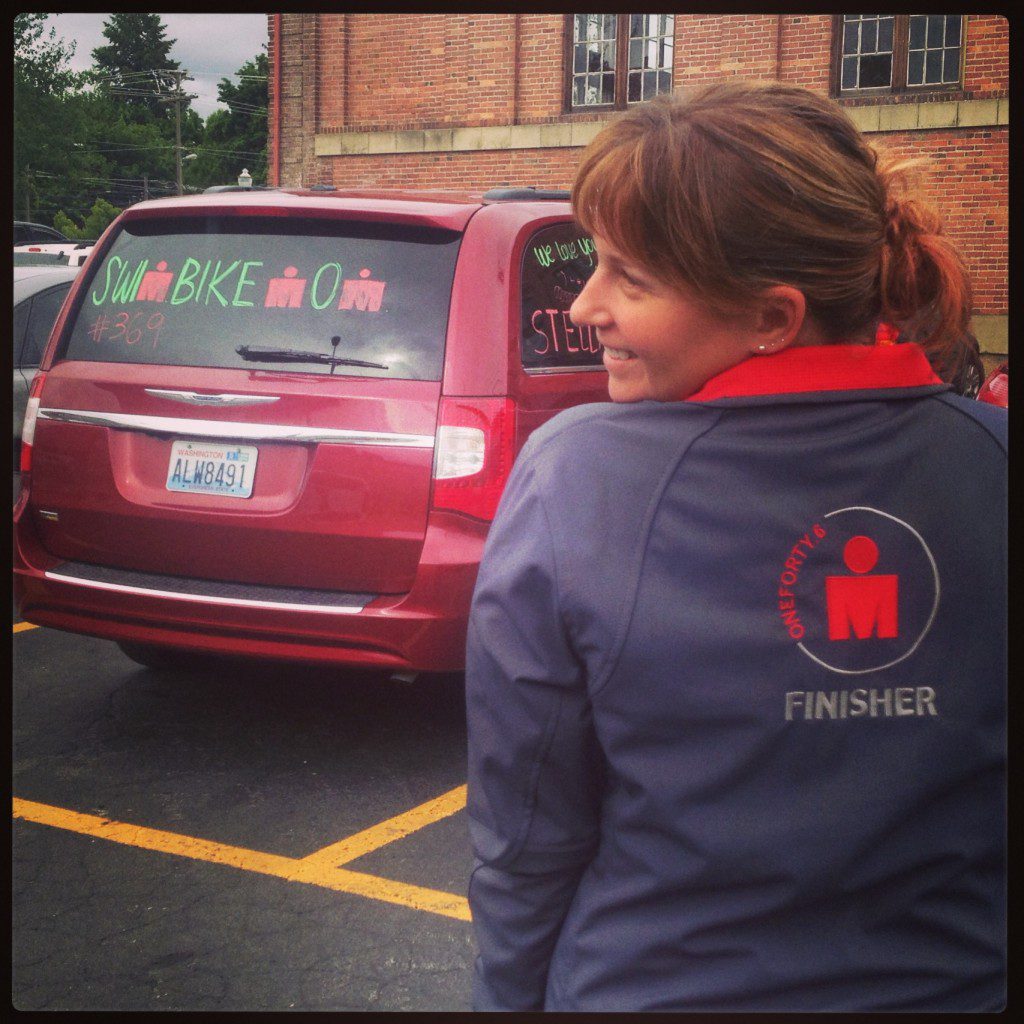 [Check out the awesome van decorations from Columbus' family.  I loved it!]
Someday, I will write a post about the lessons and tips and tricks for Ironman. Because I did learn a great deal. [For now, here's the Cliffs Notes:  If you decide to do CDA… swim in cold water often, ride really long hills until you want to poke your eyes out, and make sure you put lots of lube on your feet for the run. Oh, and drink the chicken broth and eat the potato chips.]
For now, I am closing the race report and am simply filled with love, and thankfulness. Coach Monster had said, "Race with a grateful heart, and you cannot go wrong."
All day, I thanked God for my family. For my health. For the beautiful scenery. For my broken and beaten up body at Mile 22.
I remained grateful, and not once… not even a single second… did I want to quit.  Well, my body was begging, but I refused to listen. And I knew the gratefulness got me through.
My race wasn't fast.  And the projected time chart I had made… actually my time fell under the "all hell breaks loose," but for me—it was a perfect race.  My nutrition was dead on.  I never stopped or gave up (with the exception of 15 total porta-potty stops during the race. Ridiculous, I know.)  And I had my family here.
What more could I want?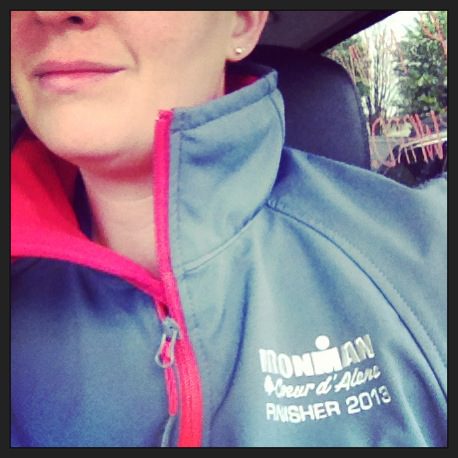 To the Expert, wow… you were an amazing Iron Partner on race day.  I am thankful that you were there—and that you were glad to be there too— your encouragement and support was amazing. I have no words.  Thank you. Thank you.
To my parents… I am so glad you were here to be a part of this.  I loved seeing you on the course, and I appreciate you trekking all the way to Idaho. You are the best. Although, I did have to laugh when I jokingly said, "Maybe I'll do Ironman Louisville in a few months" and you, Mom, said, "Oh, we won't be coming to that one." I love you all so much.
To Coach Monster … you know how special you are. In this race, the Monster proved that he not only coaches a certain method, but he lives by it as well—when his calf gave up during this same race and he didn't walk off the course—-rather, walked the remaining 23 miles of the marathon, encouraging me and others along the way.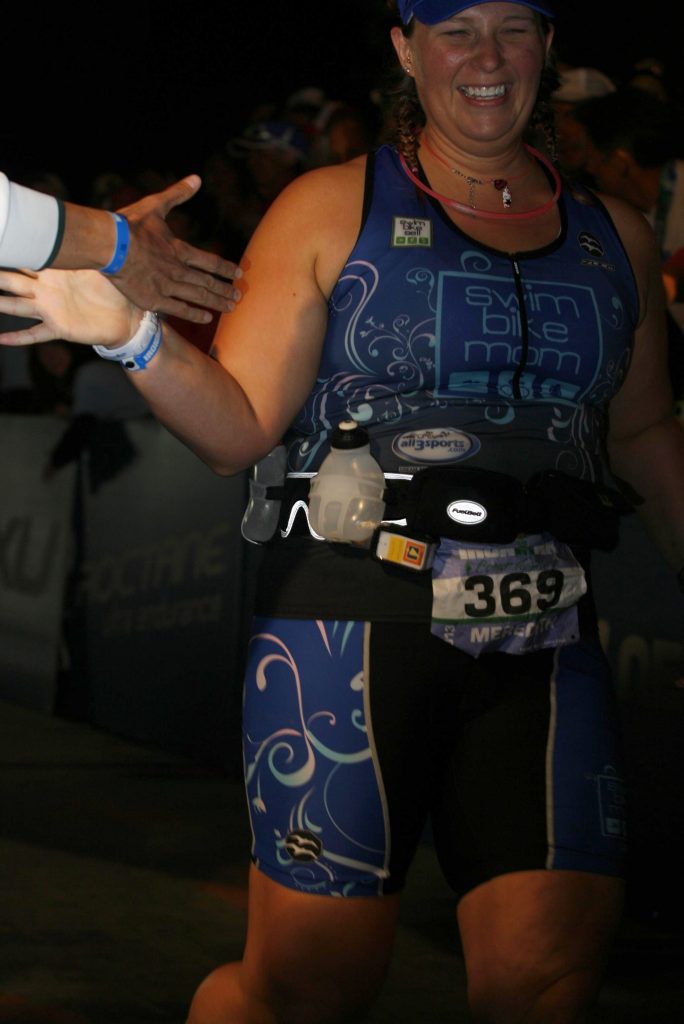 Finally… for the SBM friends… thank you all for going on this 140.6 mile journey with me.  I could feel your encouragment the whole race. I really could.  Thank you.
Two days have passed since the race. I can't really walk or sit or lay without pain.  But it's glorious. In a very weird way.  Glorious.
JUST KEEP MOVING FORWARD.  The sky is the limit. That is all.
(The supplemental post, "Things I Learned from my 'First and Last' Ironman" is here.)